I knew that my Osaka autumn trip would be successful as soon as I landed—and not just because the sky blazed a fluorescent pink (something I almost never see with my own eyes) as I emerged from Kansai Airport earlier this morning.
Nor was it simply the fact that the Osaka weather in November, at least for the day I was in the city, was forecasted to be fantastic. Clear—minus, of course, the clouds that caused the crazy sunset; chilly in the morning, but mild in the afternoon.
My hope was tangible: I saw a kaleidoscope of colored leaves out the window of the train from Osaka Airport to Osaka Station, which helped soften the blow of my having inadvertently boarded the slow one.
And while it's true that I never would've stopped in any of the nondescript towns and villages I passed during my 80-minute journey, their beauty portended good things about what I would find in the heart of Osaka.
Persimmons and Pine Needles
Arriving in Osaka in November wasn't strange on its own, though I felt like the number was wrong. "It can't have been 19 months since I was last here," I said partially aloud as I boarded the Osaka Loop Line at Temma Station. My fellow passengers didn't flinch, though I'm sure at least one thought I was a weirdo.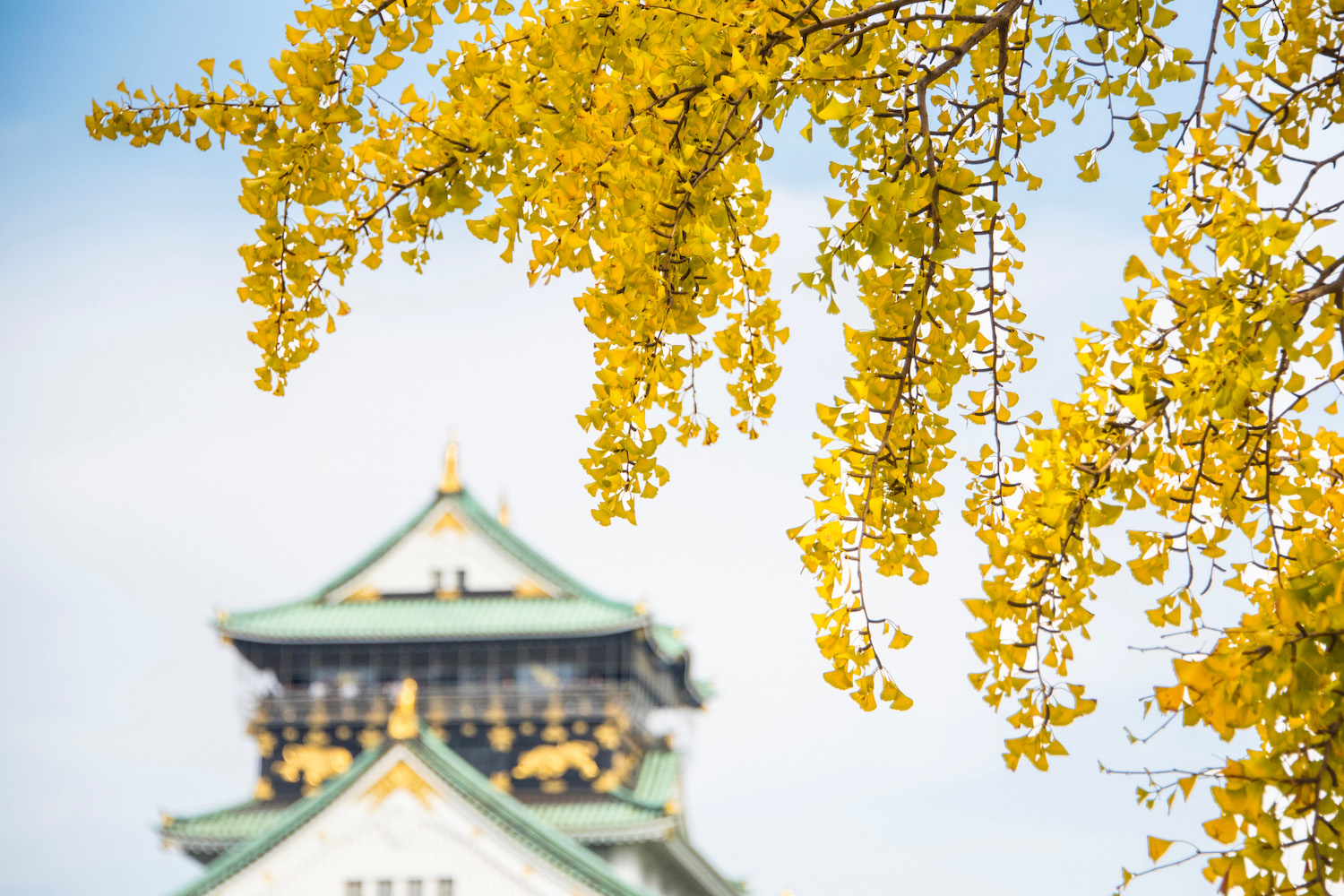 I disembarked three stations later, and looked out onto the grounds of Osaka Castle from the 18th-floor restaurant of Hotel New Otani. I'd snuck into the hotel—and to the abandoned eatery outside business hours—and it seemed, at least in that moment, that my gamble had paid off.
Still, something felt amiss. And not just how strongly I started to believe it had been this spring, not last, when I walked amid the ready-to-burst cherry trees that were now blazing yellow, red and orange.
The year notwithstanding, the Osaka autumn was profoundly different from my past spring and winter experiences, from the persimmons (and, for a reason I haven't yet determined, pine needles) being sold on seemingly every street corner, to the fact that the particular way the sun shone meant that the light, at least for photography, was perfect all day.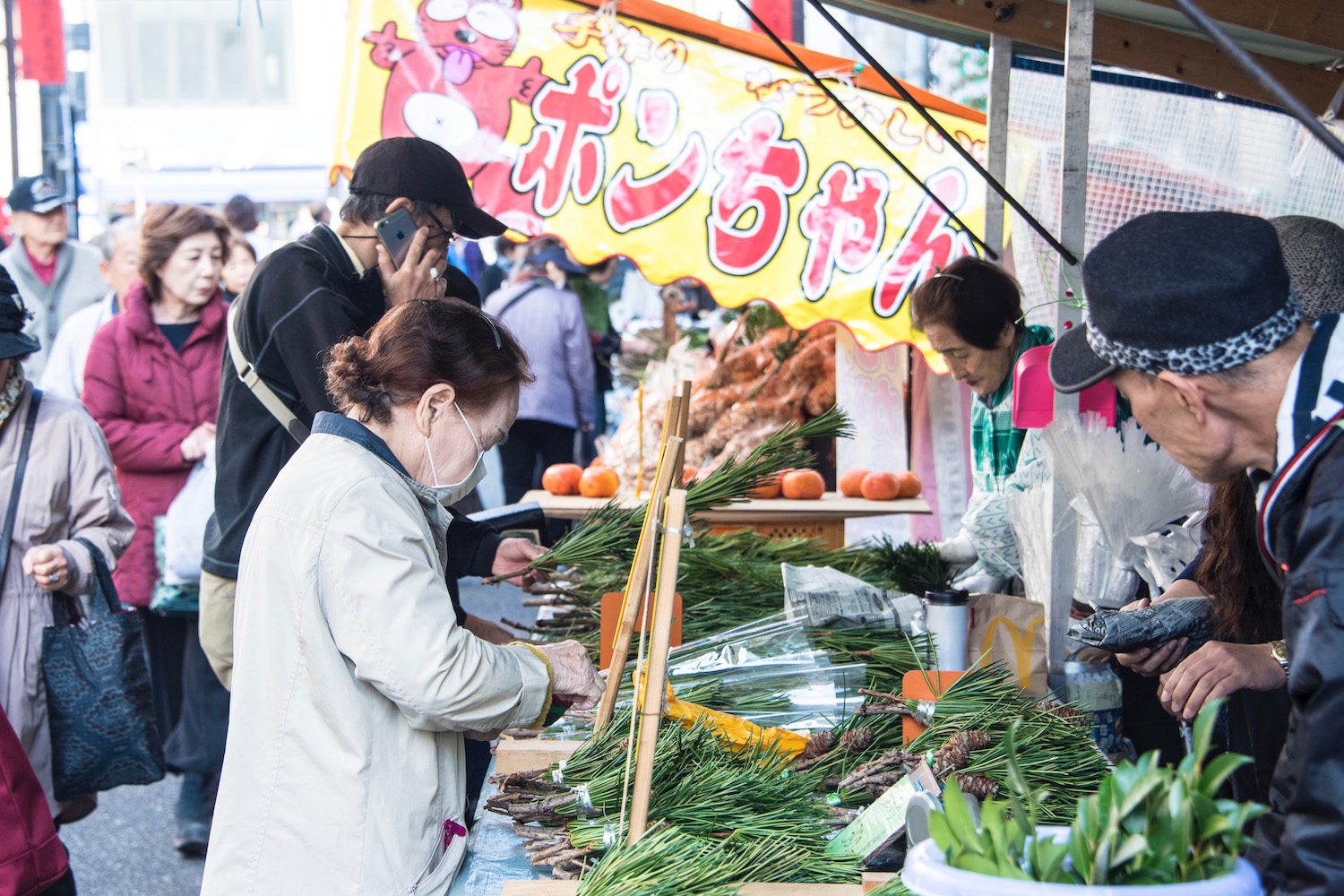 Minutes details informed my feeling as well. I was shocked, for a moment anyway, to find that the vintage streetcar connecting Shitennoji Temple to Sumiyoshi Taisha is not, well, vintage anymore.
It was a nagging sort of feeling, the kind I never felt back when I was a worse blogger (but, perhaps, a better traveler): I hadn't gotten the right perspective on Osaka Castle in autumn—I just knew it.
The Wrong Bird's Eye View
Or, to be more accurate, I'd chosen the wrong bird's eye view of Japan's most famous urban fortress, which would be wrong in autumn in Osaka or any other season. I realized this when I compared the shots I'd taken from Hotel New Otani to a stock photo that randomly appeared in a spam email from Booking.com.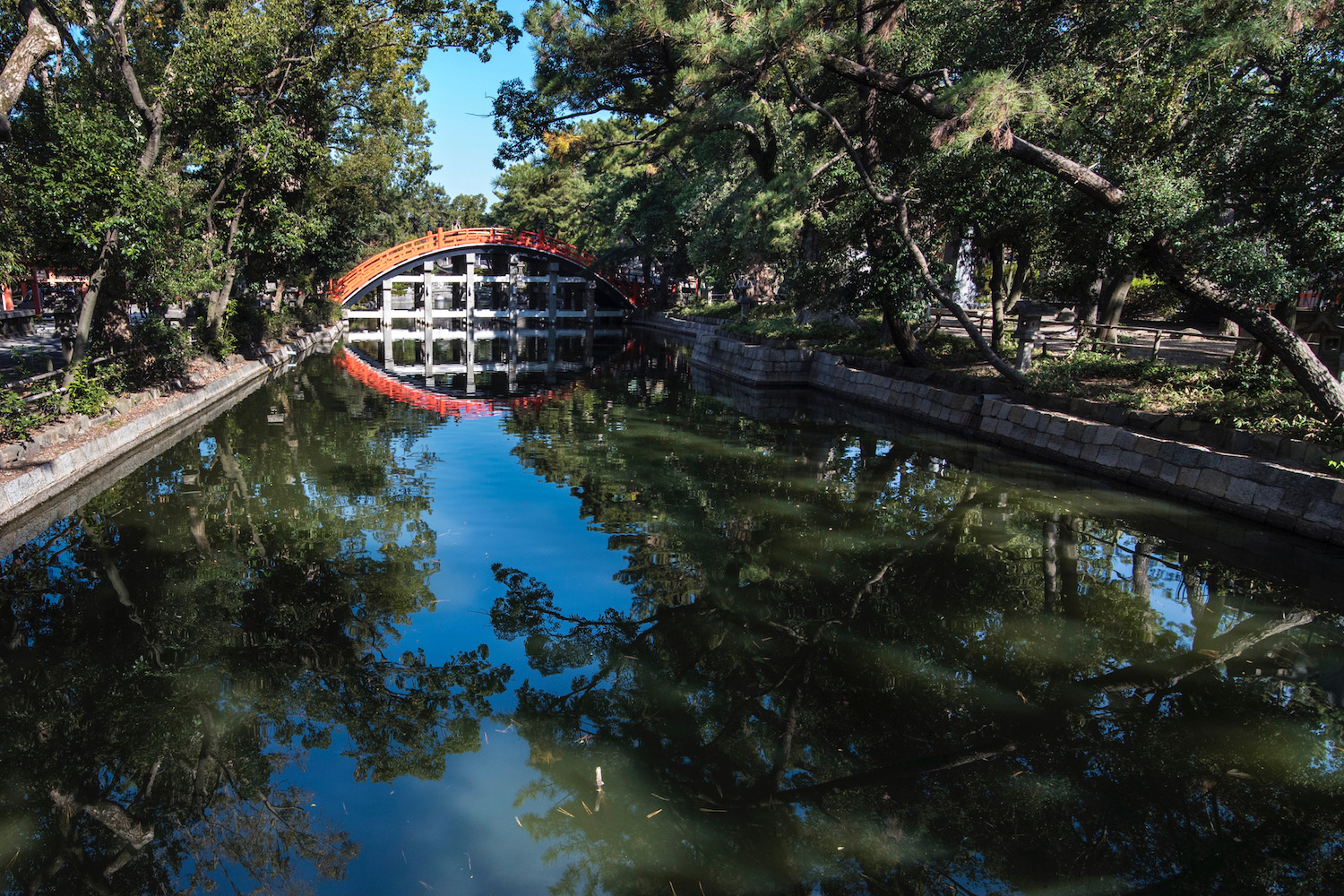 The angle is wrong, I judged myself, silently this time—if I believed in it, this would be an example of karma biting me in the ass. And so is the height from which I took it.
After some messing around in the satellite view of Google Maps, and comparing the tops of buildings that border its moat to the north, south, east and west with the ones in the "Money Shot" I was trying to emulate, I realized that I'd need to head to the Osaka Museum of History.
(I'd actually nearly gone in earlier in the morning, but decided against it because but security guard gave me the stink-eye.)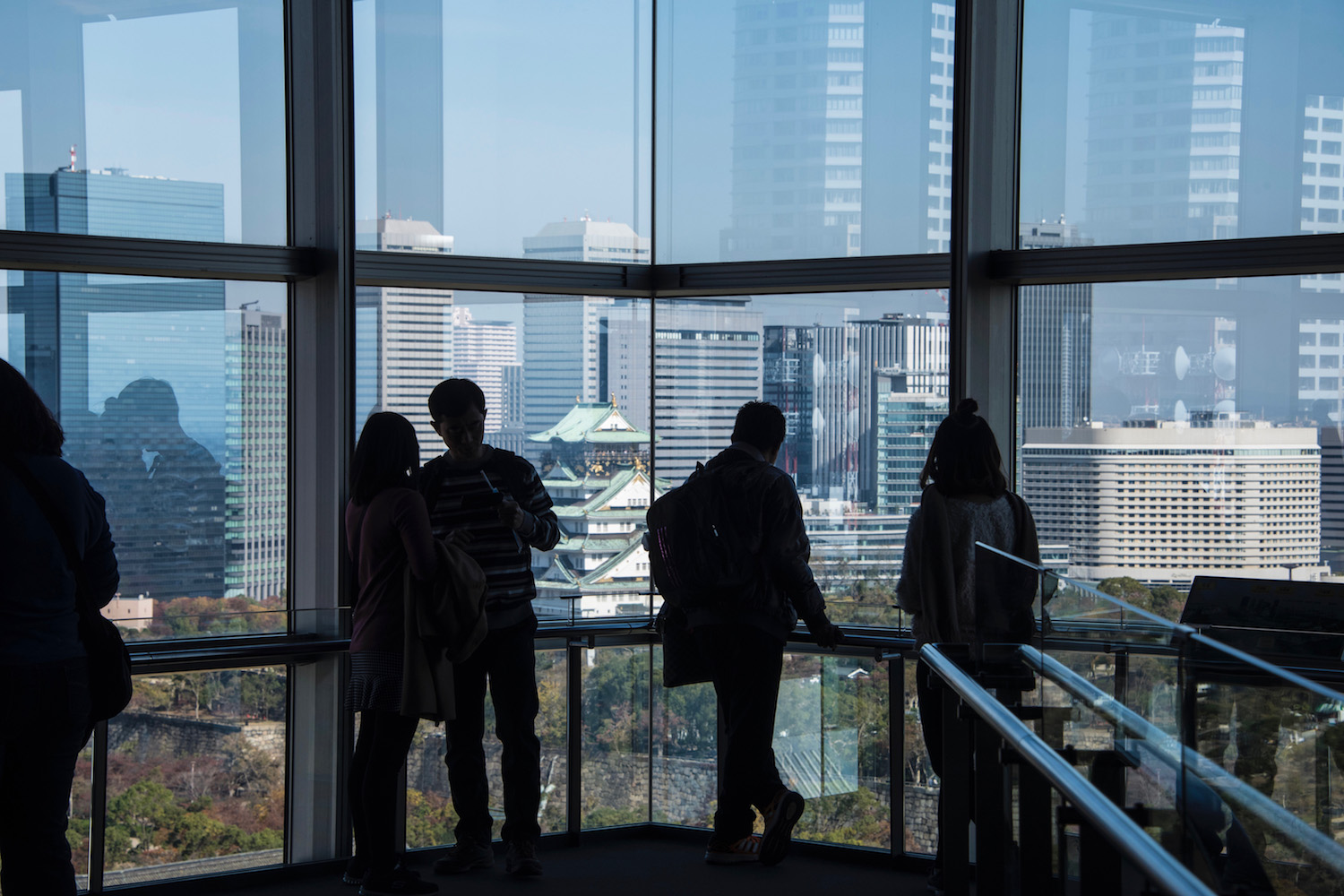 At any rate, I modified my day's plan slightly. I penciled in a return trip to the vicinity of Osaka Castle before (and, likely, due to the time of day, instead of) my planned foray to Osaka Aquarium, where I'd planned to spend the days' "bad lighting" hours before I realized there wouldn't be any.
Bonus History Lesson
I must've looked like a madman slapping down my thousand-yen note inside the museum, making my way up to the 10th floor of the facility as if I had an hour to experience Osaka autumn instead of a day. The view was absolutely perfect, even if I'm going to have to Photoshop away the window glare in several shots.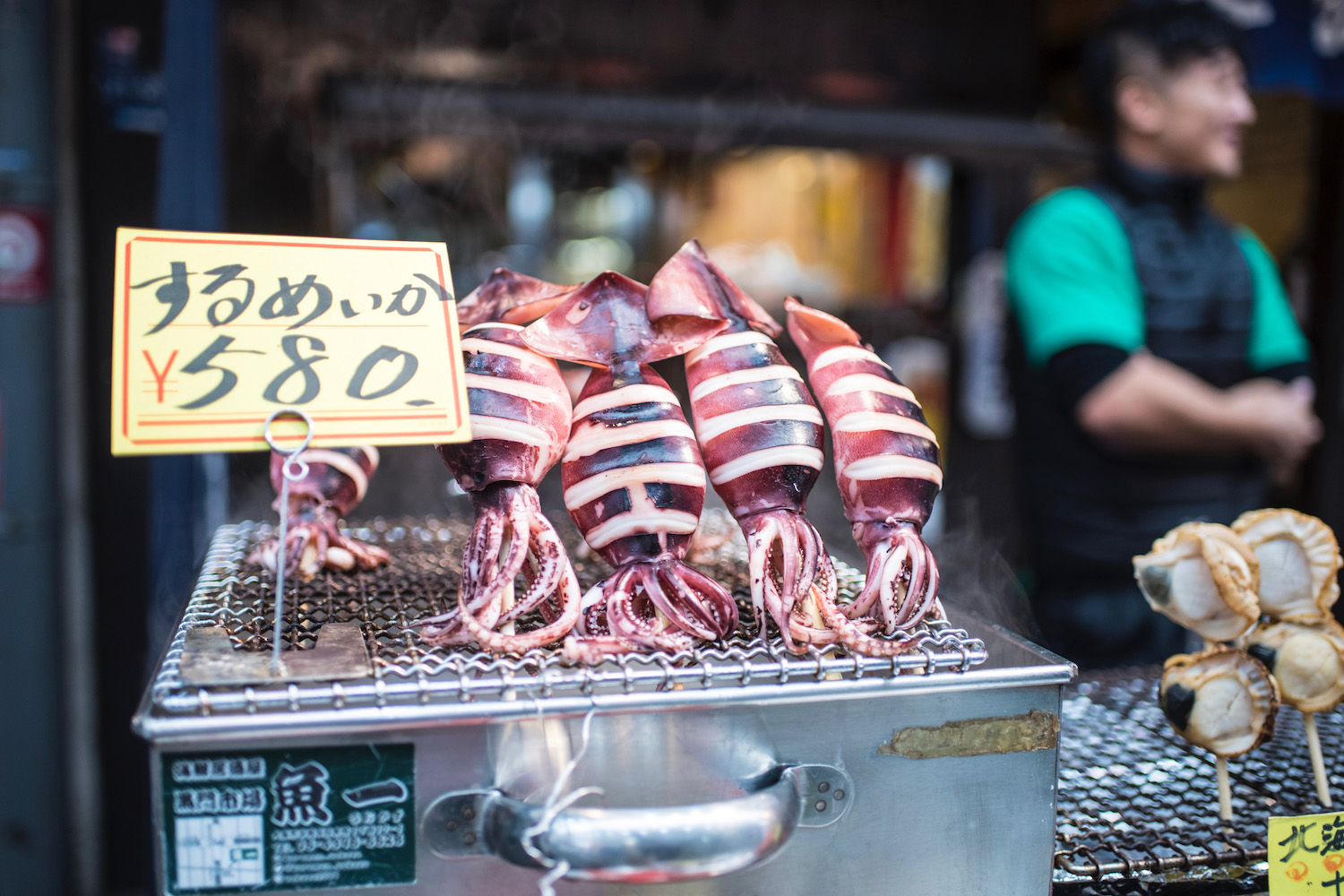 The exhibition was quite interesting too—modern, cosmopolitan Osaka is never a place I really think of as being historical. Seeing replicas of the city during the Asuka, Nara, Hei-an and Edo periods (hell, even walking down a reconstructed pre-war street) gave me a new appreciation for the city.
I was elated, both because I finally got the shot I wanted and because of the bonus history lesson, and further right-sized my plan for the afternoon accordingly. I decided to visit a ferris wheel in the city center rather than the one near the Aquarium, but to take my time strolling through Ebisu Bashi Suji market en route to Kuromon Ichiba—I usually just zoom through it.
Just as the museum had juxtaposed a panorama of modern Osaka with the city's surprisingly rich heritage, I split my day between nostalgia (exploring Osaka things to see I first visited on previous trips) and revelation. And I largely passed my time re-visiting places I already know and love, which is a rare pleasure for someone who's made a career of exploring new ones.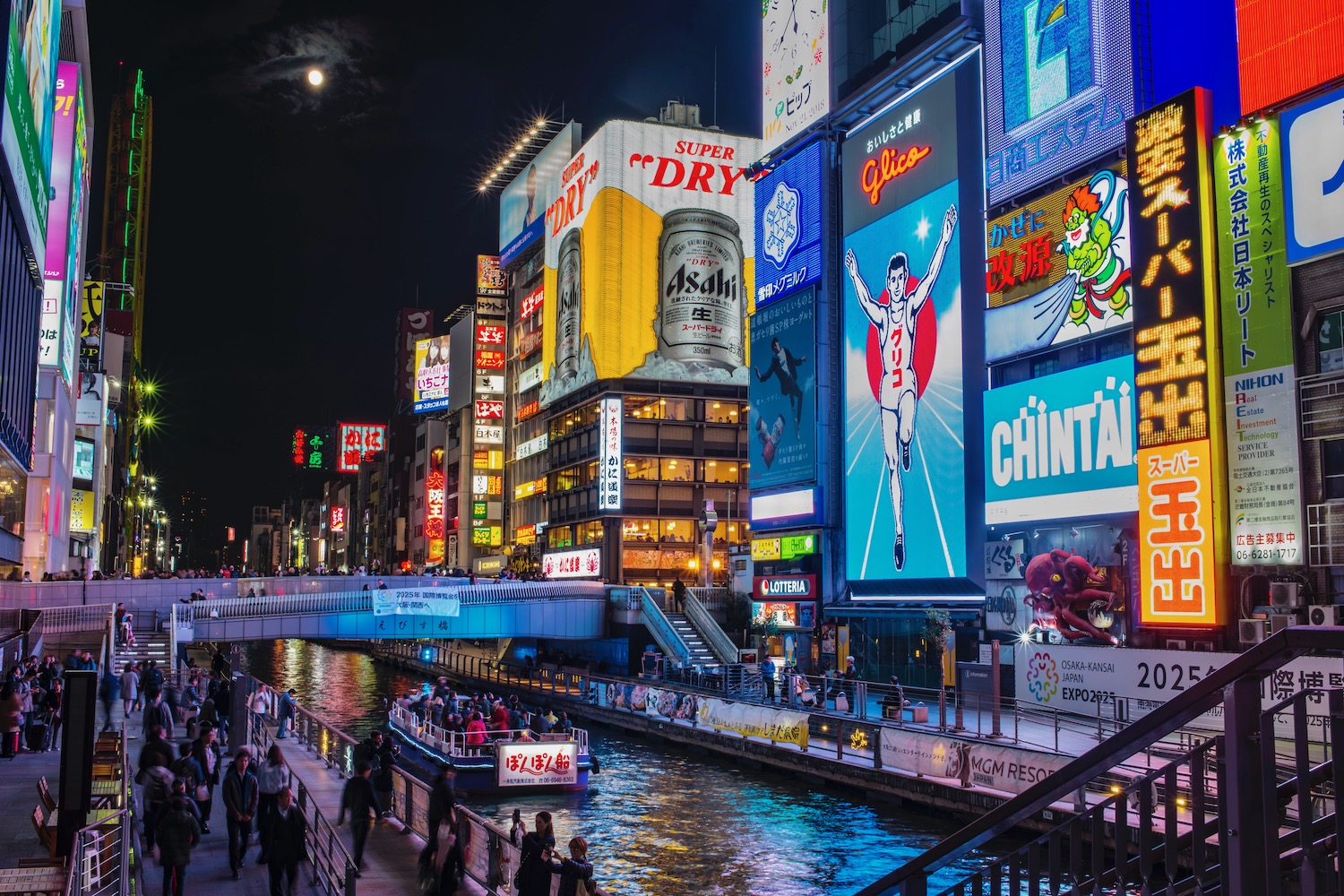 Sadly, I couldn't end my day with a panorama of Osaka at night: The Umeda Sky Building's rooftop observatory was still closed from this summer's typhoon Jebi.
The Bottom Line
Still, I feel as triumphant as the Dotonbori "Glico Man." my Osaka autumn day was exactly what I needed: An opportunity to re-visit an underrated city even I don't give enough love; and a perfect pre-cursor to the next week, which will see me base myself in Kyoto. I'm excited about what beauty I'll find elsewhere in the Kansai region over the next several days, and hope I'll feel as satisfied going to bed after each one as I do tonight.
Other FAQ About Osaka Autumn Travel
Where can I see autumn leaves in Osaka?
Within Osaka City, the most popular destinations for autumn leaves are Osaka Castle Park and Shitenno-ji temple. A compelling autumn leaf destinations just outside of Osaka, meanwhile, is Minoh. Here, you can see a dramatic waterfall flanked by beautiful fall foliage.
What is there to do in Osaka in autumn?
Obviously, many travelers who come to Osaka in autumn want to see autumn leaves in the city. However, in addition to this, the cool nights of autumn are perfect for enjoy famous Osaka street food along the Dotonbori pedestrian street in the Namba district of the city.
What months are autumn in Osaka?
Autumn in Osaka technically runs between September 21-December 21. However, you can generally only expect to see autumn leaves during the last couple weeks of November, or the first few days of December in some warmer years when the leaves change later.