The topic of what to buy in Japan can be nebulous. After all, Japan isn't just a top tourist destination—it's the third-largest economy in the world!
I mention this fact not to begin a treatise on something more complex than tourism, but to hammer home that tourist trinkets are only the beginning of what you can bring home on your next trip to Japan. Among other sorts of items, Japan is a fantastic place to buy electronics and foodstuffs.
I'm getting ahead of myself, however. Allow me to start the discussion with something more fundamental, would you?
The Truth About Shopping in Japan
Frankly, many people discount the idea of shopping in Japan because they assume it will be too expensive. Whether traditional items or futuristic gadgets top your list of what to buy in Japan, it's easy to revert to the lazy (and largely 1980s) reputation of Japan as unaffordable, and to do away with the idea of any serious shopping there based on this falsehood. In fact, a steady lowering of prices over the years has been one of the main impacts of Japan's long-running economic decline.
Likewise, the growth of inbound tourism (which has taken place largely to address said decline) has seen the introduction of many promotions aimed at foreigners, including tax-free shopping and discounts for using certain credit cards. Japan will even soon be opening its first in-person casinos (known as Integrated Resorts, since the casinos are "integrated" into luxury hotels), although for now you'll need to visit Caxino and try your luck online.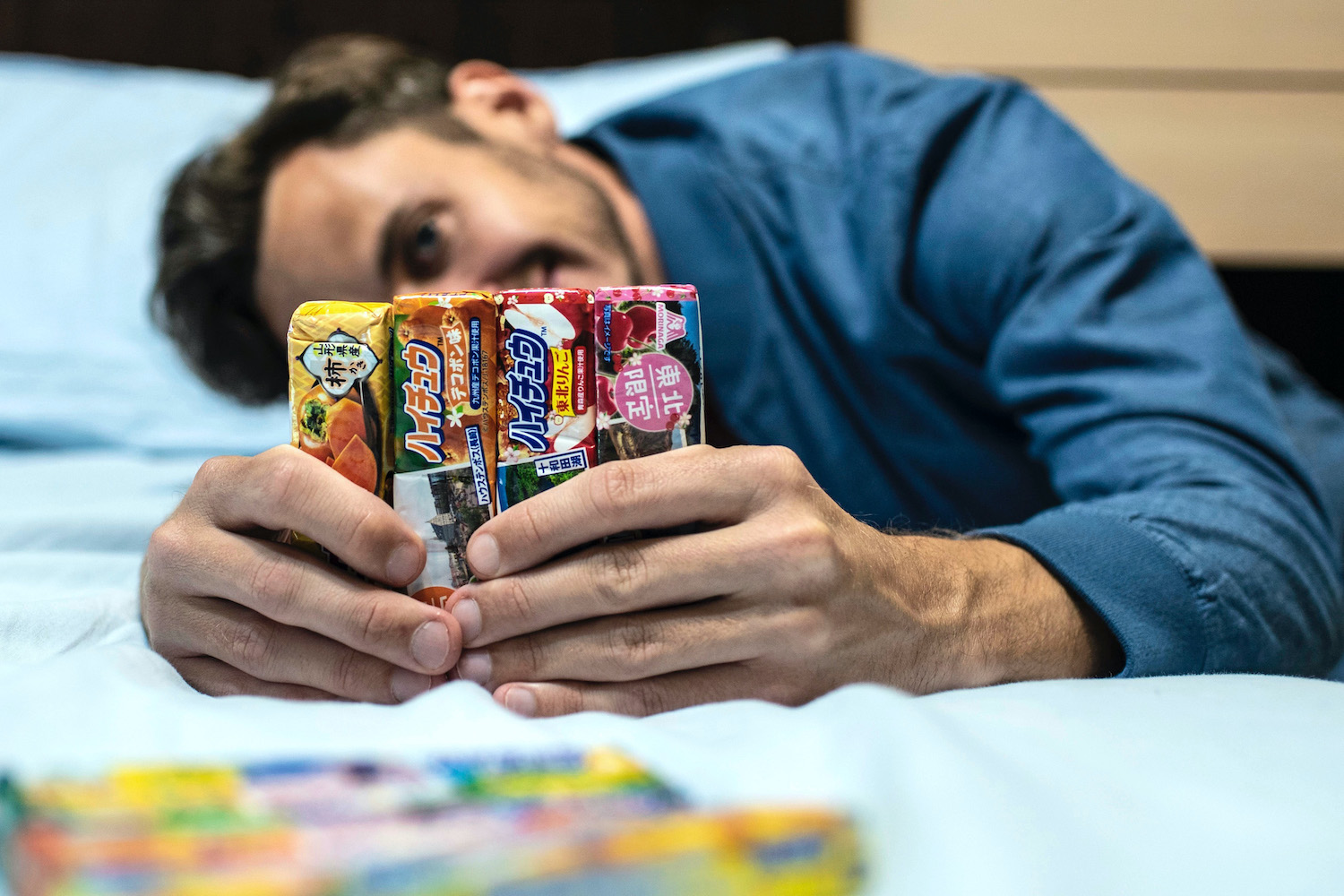 My Favorite Things to Buy in Japan
Cameras and lenses
It might sound counterintuitive, but Japan is actually one of the cheapest places in the world to buy camera, lenses and other photography gear. This makes sense, of course, when you consider that top camera companies like Nikon, Canon and Sony are Japan-based, and also when you consider the size of the local market. I personally love the BIC Camera outlets you find in busy areas like Tokyo's Shinjuku and Osaka's Namba, but many other choices exist.
Traditional (and local) Japanese gifts
Not shockingly, the second category on my list of what to buy in Japan is traditional Japanese gifts. However, I'm not just talking about cliché items, such as the elegant fans you'll see as you walk up to Kyoto's Kiyomizu-dera temple. Rather, I recommend buying local gifts whenever possible. One of my favorites are sarubobo, a faceless doll sold in the bucolic village of Shirakawago not far from Kanazawa in the foothills of the Japanese Alps.
Candies and cooking ingredients
Japanese food is some of the most delicious in the world, so it should come as no surprise that foodstuffs are among the top things to buy in Japan. Some of these are traditional and hyper-local, such as the momiji fried maple leaves in Minoo near Osaka. Others are somewhat ordinary, like the various flavors of Hi-Chew candies sold in convenience stores. Still others pay dividends long after you return home, such as tempura salt infused with matcha powder.
All things kawaii
As is the case with travel in Japan in general, the concept of kawaii (cute) figures heavily into what to buy in Japan. In particular, I love characters and mascots, from internationally famous ones such as Sanrio's Hello Kitty and Gudetama, to more local ones, like Kumamoto city's Kumamon bear, to Miykan, the citrus-themed canine mascot of Shikoku island's orange-producing Ehime prefecture.
Cellphones (with a caveat)
The good news? Cellphones, like cameras and lenses, tend to be cheap in Japan. The bad news? Due to a decade-old scandal involving pervy salarymen on the Tokyo Subway, cellphones sold in Japan all feature camera "shutter" sounds that can't be turned off. When you see the low price tag on the new iPhone or Samsung Galaxy you're eying on your next trip to Japan, make sure and keep this in mind.
The Issue of the Exchange Rate
Alongside the deflationary nemesis that has plagued the Japanese economy in recent decades, the Japanese yen has gone through various phases of weakness. This was especially pronounced in the late 2010s, when the currency approached an all-time low of around 130 to the US dollar. Needless to say, shopping in Japan (and traveling in Japan, in general) was absolute paradise during this time.
Unfortunately, in more recent years, the yen has rapidly regained value, hovering at between 100-110 USD per JPY. While this doesn't make the idea of shopping on your next trip to Japan completely unattractive, it might make you think twice when contemplating a purchase. After all, even if you consider items on your list of what to buy in Japan essential, a big price tag is unappealing in any currency.
FAQ About Shopping in Japan
What should I bring home from Japan?
I recommend buying traditional Japanese souvenirs, Japan-specific food and drink items and certain consumer electronics from your next trip to Japan. Some people also like purchasing niche products such as Samurai swords, but these can present security concerns, among other difficulties.
What things are cheaper in Japan?
Generally speaking, electronic items like cameras, lenses and cellphones tend to be cheaper in Japan than in many other countries. However, the exchange rate of the Japanese yen to your home currency can have a major impact on prices, so keep an eye on it.
What are the best things to buy in Tokyo?
My favorite things to buy in Tokyo range from electronics at BIC Camera in Shinjuku, to maneki-neko lucky cats in Asakusa near Senso-ji temple, to niche items such as the fabric on offer in "Textile Town" near Nippori station.
The Bottom Line
The topic of what to buy in Japan is, at once, simple and complex. While some travelers arrive in Japan with the intention of going a more traditional route, and still others vow only to buy fancy electronics, the reality is that most people leave Japan with a mix of ancient and modern goods that reflects the contrast of life on the ground there. As you prepare for your trip to Japan, be mindful not only of the exchange rate, but the space available in your luggage. What you can buy in Japan depends not only on how much you can spend, but also how much you can carry back home with you!