I've always loved performing arts in Japan, but as time passes, I appreciate them more and more. As you plan your own trip to Japan, I have a feeling you'll want to see Japan's artistic side as well.
For some travelers, this might include Kabuki or Noh performances in Kyoto or Niigata. Others might head off the beaten path to see Awa-odori or Yasugi Bushi, on Shikoku island and in the San'in region, respectively.
Arguably, the famous tradition of Sumo wrestling is also a performance of sorts, although I've made that one last on my list because it's controversial. Let's get start with the list, shall we?
Can I Enjoy Performances in Japan Without Speaking Japanese?
Not surprisingly, basically all performing arts in Japan are performed in Japanese. Unless you can speak relatively fluent Japanese, it's difficult to imagine that you'd be able to comprehend the meaning of the words. That's the bad news. The good news? As is the case everywhere in the world, performances are about so much more than the spoken word—Japan in particular has a rich tradition of visually expressive art.
Even if you don't speak a single word of Japanese, you can easily get the gist of a performance, whether that's ascertaining who's good or bad in kabuki, or feeling the emotion of awa-odori dancers during your trip to Shikoku. Likewise, language is almost entirely superfluous in sumo. Your strength in sports betting has much more to do with your understanding of match rules than it does your proficiency in Nihongo.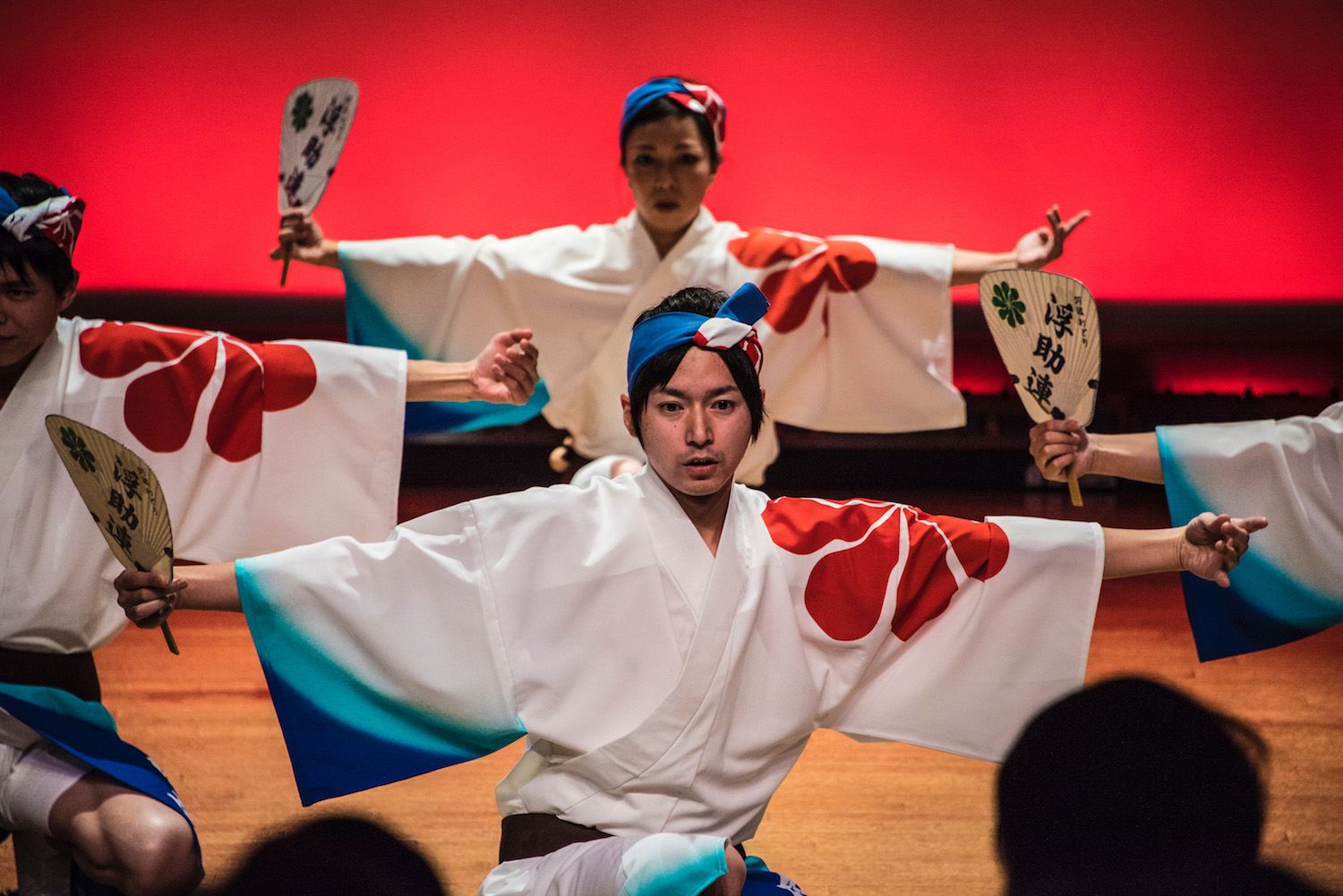 Top Performances in Japan
Kabuki in Kyoto
If you've ever walked down Kyoto's Shijo-dori, you'll have seen the magnificent Minami-za theater near the Kamo River. If you have a spare evening and around ¥20,000-30,000, you can enjoy Japan's most famous type of theater performance, which melds history and religion with often biting humor, with exquisite detail paid to costumes and set design. Another interesting fact? All kabuki characters are men, even those who play female characters.
Awa-Odori in Shikoku
A lesser-known example of performing arts in Japan is awa-odori, a type of dance native to Shikoku island's Tokushima city. Although awa-odori performances are most spectacular during the festival and parades that take place each August, you can catch them any time of year. Specifically, you'll want to head to awa-odori hall, which is right in the center of the city.
Yasugi Bushi in San'in
An even more obscure Japanese performance style is yasugi bushi, the main theater for which is located right beside the Adachi Museum of Art in Yasugi city, Shimane prefecture. The entire show, which dates back to the late Edo period, is based upon a popular Japanese folk song called…"yasugi bushi." One sad thing about this particular tradition is that as the population of Shimane ages, it gets closer to extinction.
Noh in Niigata
Apart from kabuki, noh is probably the best known type of Japanese theater, certainly among Japanese people. It's also the oldest, and puts together a unique tapestry of song, dance and acting to bring ancient fables to life (primarily those based on Buddhism), often using scenes from classic Japanese literature. Noh is native to Sado Island, which sits just off the coast of Niigata.
Sumo in Tokyo
I'll be honest: Sumo is not a performance in the sense that many other items on this list are. At the same time, the tradition and sheer visual splendor of watching two super-sized wrestlers battle it out has got to be up there with kabuki and noh, in terms of an essential Japanese spectator experience. Although sumo matches also take place in cities like Osaka and Fukuoka, the best place to see sumo is at Kokugikan Stadium in Tokyo's Ryogoku district.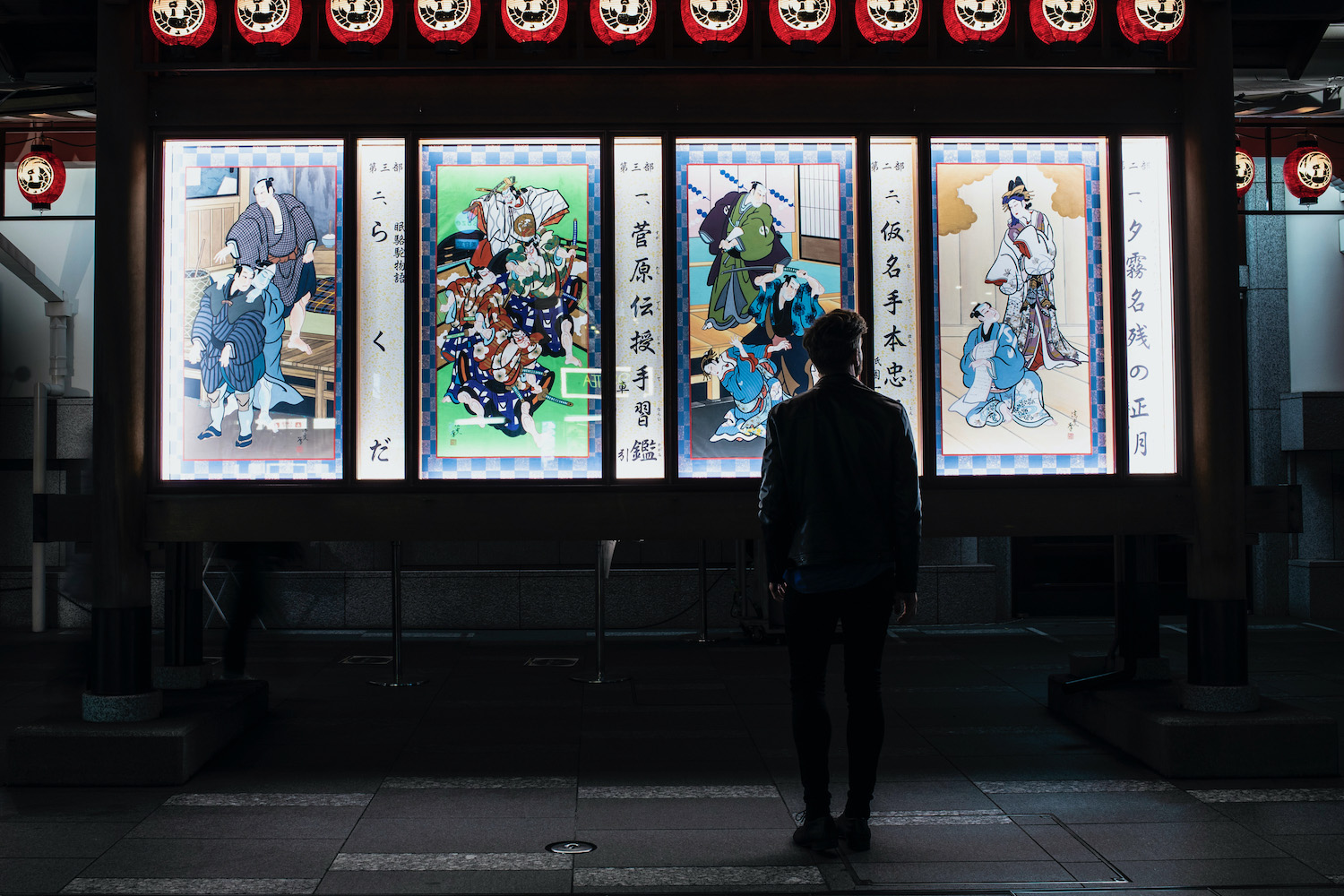 Can I See a Geisha or Maiko Performance?
Another well-known type of Japanese performance art are the Geisha or Maiko that roam the streets of Kyoto. Well, that roamed the streets of Kyoto—these days, they very rarely appear, in full make-up, outside the private businesses and residences where they perform. This makes sense, of course, given how different today's Kyoto is from the one portrayed in Memoirs of a Geisha.
If you do want to see a Maiko or Geisha performance, and don't want to depend upon the relatively rare chance of happening upon one in the street, the best course of action is to book a dinner performance online. Many such options exist in Kyoto, from ones that include a kaiseki-style formal Japanese meal, to those that focus instead on the traditional Japanese tea ceremony.
Other FAQ About Performances in Japan
What are the three types of Japanese theater?
Generally speaking, the three types of Japanese theater are Kabuki, Noh and Bunraku. Although many Japanese people are familiar with noh and bunraku, Kabuki is the style of Japanese theater that is best-known abroad, to the extent that "kabuki" is used to describe deceptive behavioral maneuvering, particularly among politicians.
Is Kabuki still performed today?
Kabuki is still performed in Japan today, although it's not nearly as popular as it once was. Guaranteed places to see kabuki performances include the Kabuki-za theater in Tokyo's Ginza distract and at Minami-za, a Kabuki theater on Shijo-dori in the heart of Kyoto's Gion, the city's de-facto Geisha district.
Where is Japanese theater performed?
Japanese theater is performed in a variety of settings in Japanese. While kabuki and bunraku often take place in purpose-built theaters, noh is more spartan. It's not uncommon to find noh performances at random temples and other venues in Niigata prefecture's Sado Island, which is understandable given how rural it is.
The Bottom Line
It's not surprising that you'd be eager to see performing arts in Japan once the country reopens. For some travelers, this will be a straightforward experience, booking tickets for a kabuki show in Kyoto or Tokyo months in advance of travel. Others will road trip around rural Sado island in Niigata prefecture, and happen upon noh performances at seemingly random temples. No matter how you end up sampling Japanese performing arts on your next trip, even if that's sumo, I hope you'll consider hiring me to plan your trip. I'll sweat all the details of putting your itinerary together—all you have to do is show up!