Recently, a reader of mine expressed concern about taking a Kamakura day trip, on account of all the attractions on offer in Japan's former capital—this was before she even realized Kamakura was once the capital.
"Now," she conceded with a chuckle, "the sheer number of things to do in Kamakura makes sense to me. It was puzzling when I thought it was just another town near Tokyo, like Kawagoe or Nikko."
Is Kamakura worth a day trip from Tokyo? Certainly, it's one of the easiest excursions you can take from the capital, and also one of the most satisfying. On the other hand, spending a night there is also a great idea, especially if you visit nearby cities like Kawasaki or Yokohoma. But more on all that in a second—we don't want to get ahead of ourselves, now do we?
How to Reach Kamakura from Tokyo
Getting from Tokyo to Kamakura is simple, and can be done entirely using the Japan Rail Pass. The simplest way to do this is to ride one of several southbound rail lines from Tokyo Station, the most frequent of which is the Yokosuka Line. Note that while many trains per day travel directly to Kamakura from Tokyo, some require a transfer, usually at Yokohama.
You should also note that you don't necessarily need to ride all the way to Kamakura Station—especially if you come to the city during cherry blossom season, since many of its most scenic attractions at that time of year are located just north of the city center. (I'll be saying more about that in a minute, however, so hang tight.)
Top Things to Do on a Kamakura Day Trip
See the Big Buddha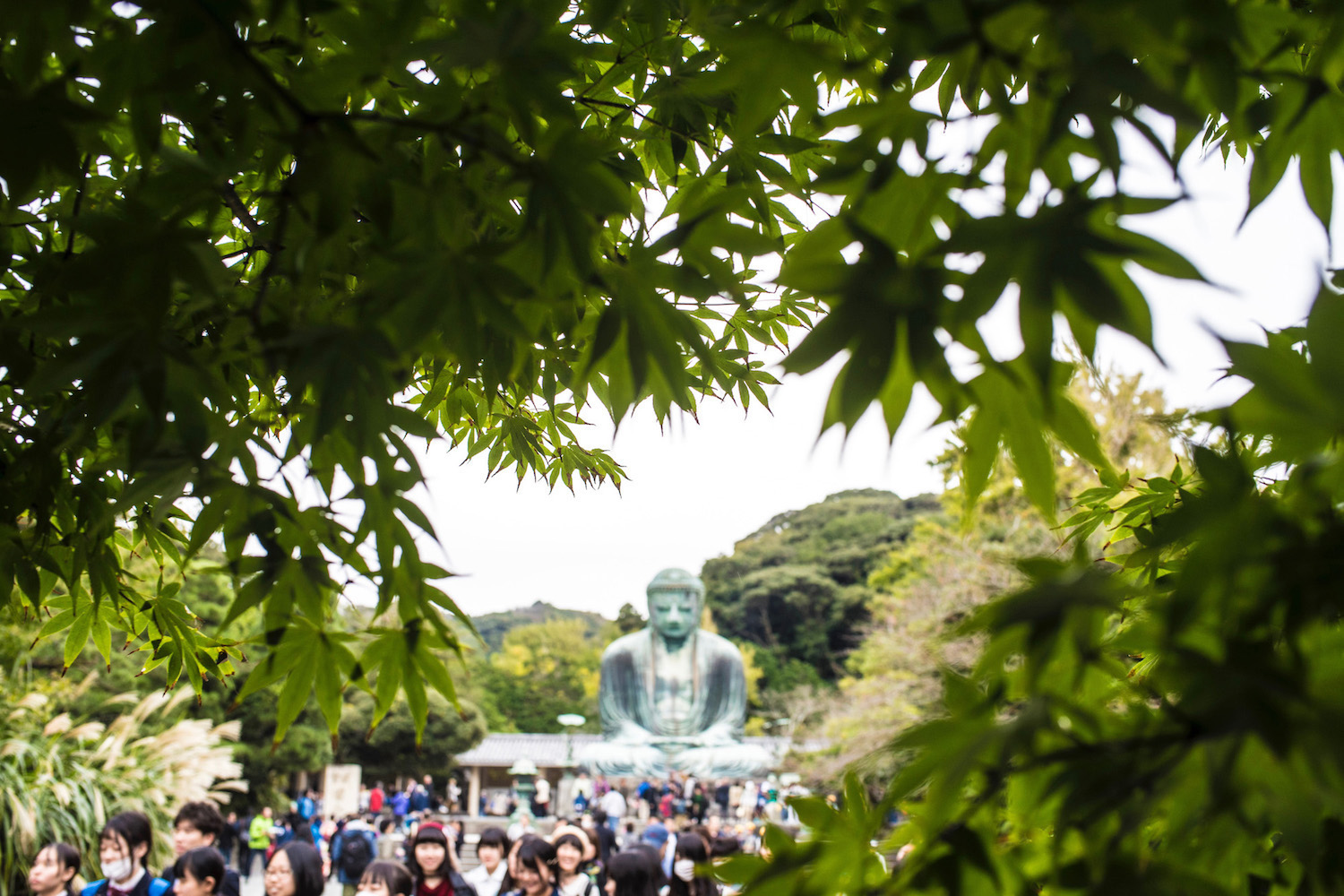 Known in Japanese as Kamakura Daibutsu, the Kamakura Big Buddha lives up to its name (although, notably, it is only the second-largest bronze Buddha statue in Japan). Another thing that's big here is the crowds, so you'll want to visit during the week if possible, especially if you come during the busy spring or autumn seasons. The statue dates back to the 13th century, during the century-and-a-half Kamakura served the capital of Japan.
Visit a Shinto Shrine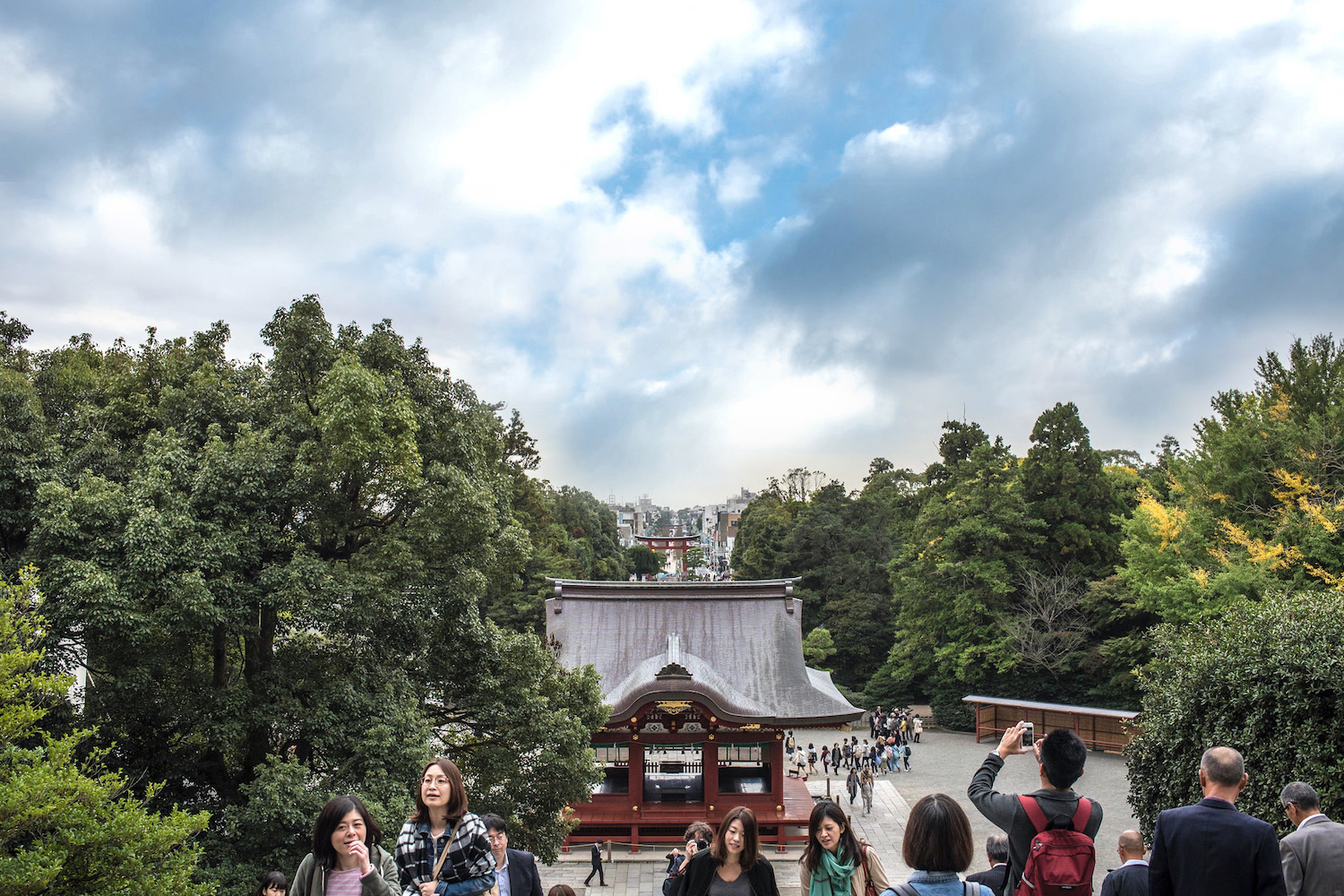 If you have to choose just one Kamakura temple to visit, make it Tsurugaoko Hachiman-gu. Although this Shinto shrine only dates back to the 19th century (more than 500 years after Kamakura ceased being Japan's capital), it is huge and impressive. The view from the top of the stairs that lead to the shrine is also impressive, especially if it's a clear and sunny day. There are some other temples to see in Kamakura as well, but I'll mention those in just a moment.
Walk Through a Bamboo Forest
Is Kamakura worth a day trip from Tokyo? Well, one of the highlights of a day trip to Kamakura from Tokyo, particularly if you won't be able to make it to Kyoto on your Japan trip, is the bamboo forest of Hokoku-ji. This place isn't as expansive as Sagano Bamboo Grove in Kyoto, but it's also not nearly as crowded—at least not if there are no buses filled with Chinese tourists nearby. As its name suggests, Hokoku-ji is also home to a small temple, though the stalks of bamboo are much more impressive.
Savor Local Flavors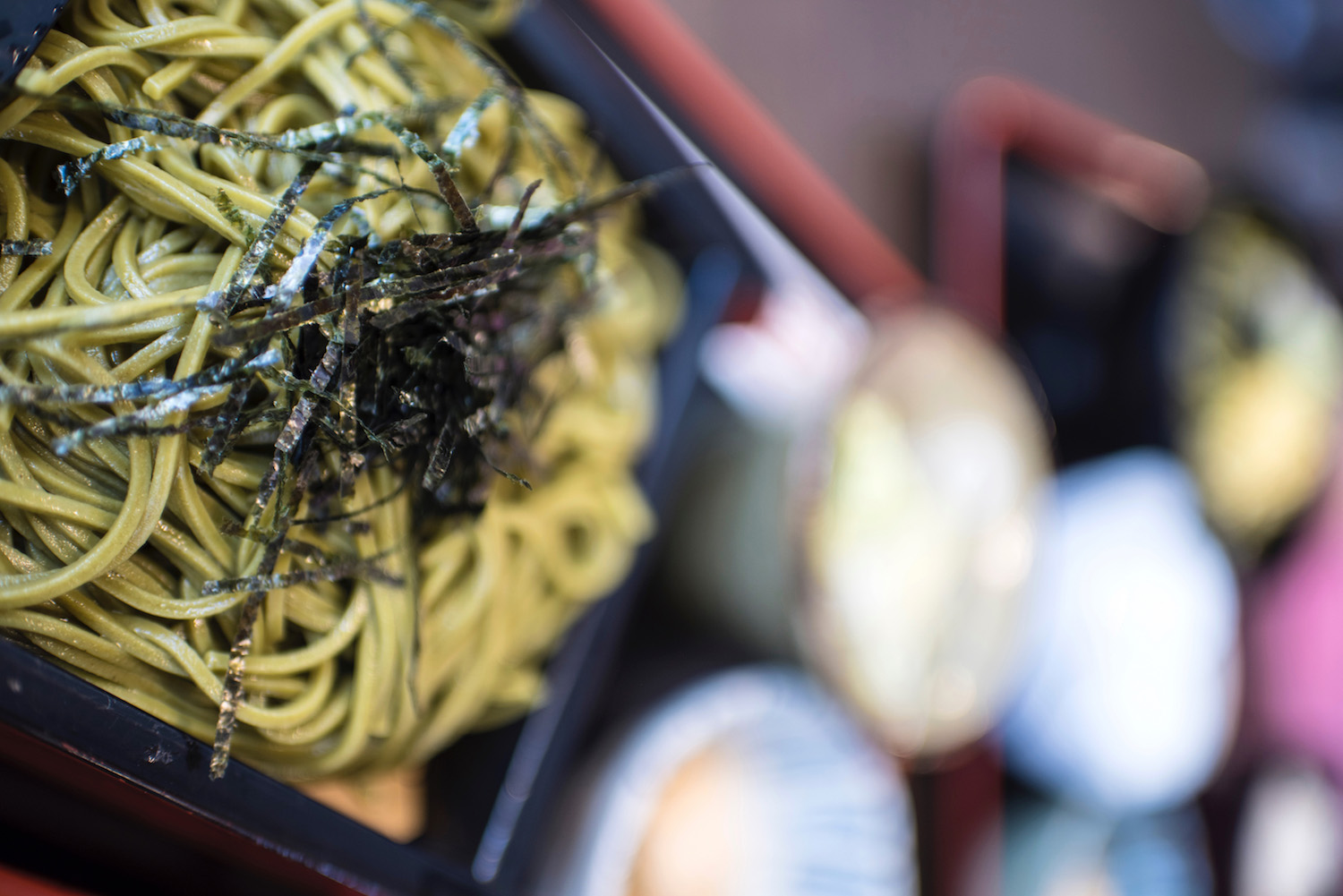 My favorite Kamakura restaurant is Satonoudon. Located just steps from Tsurugaoka Hachiman-gu, this place specializes in udon served with delicious pork belly. Of course, this is one of just many delights to enjoy in Kamakura, which has a surprisingly robust street food scene for a city its size. Highlights include dango (soft mochi), fish cakes and crepes, which are less dramatic than those you find in Harajuku, but every bit as delicious.
Enjoy Seasonal Spectacles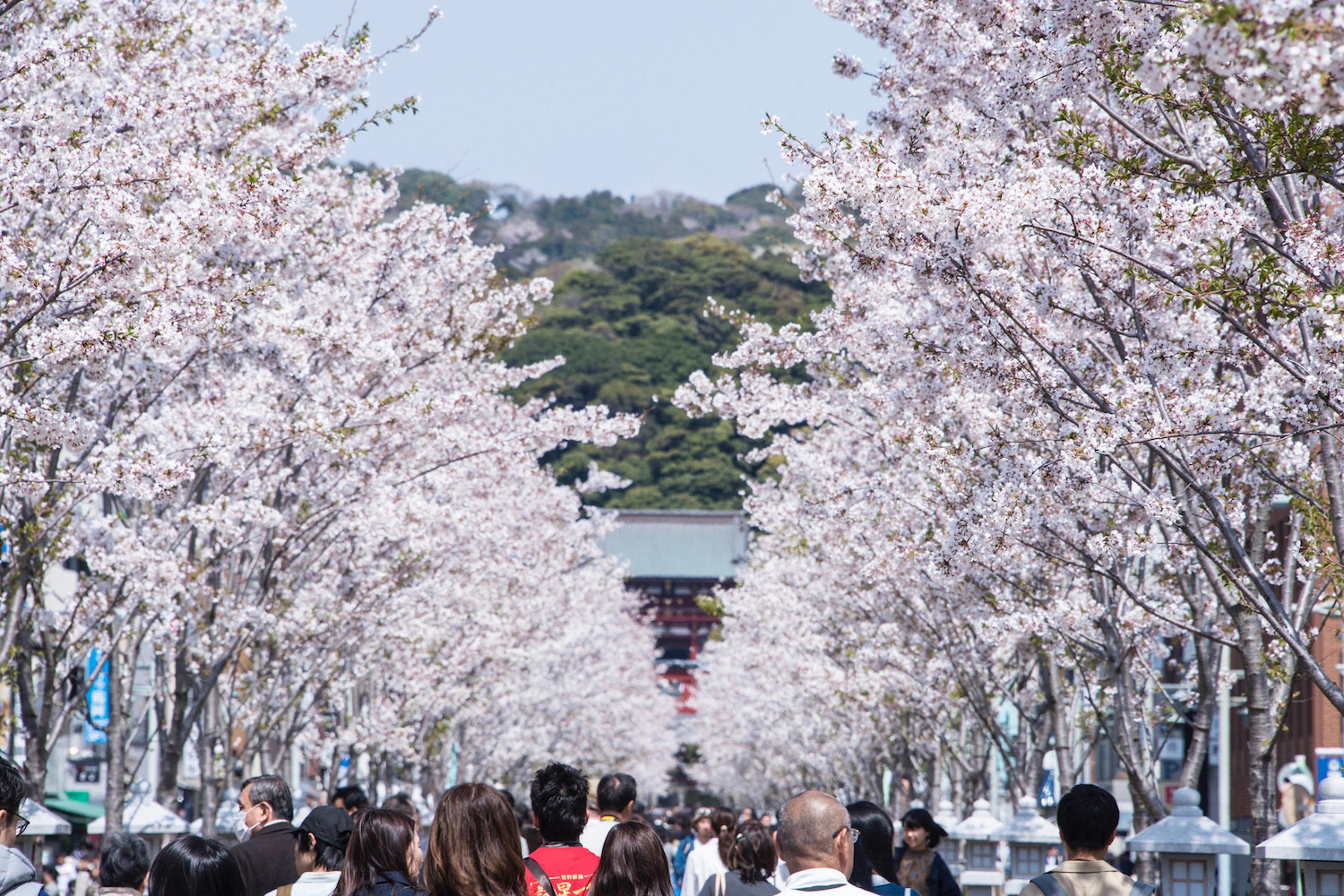 Want to enjoy Kamakura cherry blossoms, or plan to be in the area in late November and early December, when Japan's autumn colors are at their peak? Get off your train inbound from Tokyo at Kita-Kamakura, which is just north of the city center. Walking along the east side of the railroad tracks will take you to temples such as Engaku-ji and Kencho-ji, which are beautiful 365 days per year, but which are just stunning amid Japan's seasonal spectacles.
Should You Stay Overnight in Kamakura?
This post is meant to answer the question "is Kamakura worth a day trip?". And as you've seen, it's very easy to do any (or all—if you're fast) of the activities I've listed above and still get back to Tokyo in time for dinner. On the other hand, there are some reasons you might want to spend the night in Kamakura—many of them are outside the limits of Kamakura city, elsewhere in Kanagawa prefecture.
Specifically, reasons you'll want to book Kamakura hotels like luxurious Zen Vague and simple Irodori Guest House include the beach at Yuigahama, scenic Enoshima island, gritty Kawasaki city and eclectic Yokohama, where lush Sankei-en Garden juxtaposes with the quirky Cup Noodles Museum. Sound like a lot? It is! You could actually spend several days in Kanagawa, if we're being completely honest.
Other FAQ About Visiting Kamakura
Is Kamakura worth visiting?
Kamakura is absolutely worth visiting! To make the most of your trip, I recommend starting in the north, at the temples of Kita-Kamakura, and making your way through the city center en route to Kamakura station en route to the Kotoku-in "Big Buddha." If (and only if) you have time, make sure to continue westward to Enoshima Island.
What is Kamakura known for?
For tourists, Kamakura is known primarily for Kotoku-in, aka the "Big Buddha." Other famous attractions include Enoshima Island, as well as the fact that Kamakura is home to some of the best beaches near Tokyo. All these factors combined mean that Kamakura is generally known as one of the top day trips from Tokyo.
How do you get around Kamakura?
Kamakura's immediate city center—the temples of Kita-Kamakura to Tsurugaoka Hachiman-gu shrine and down to Kamakura Station—is pretty walkable. Heading westward to Kotoku-in and Enoshima, you can ride the Enoden tram. Beyond this, buses and taxis are the best way to get around Kamakura, assuming you don't have your own vehicle.
The Bottom Line
Is a Kamakura day trip worth it? Whether you end up visiting for the day, or end up spending a night in Kanagawa prefecture, Japan's ancient capital is a great excursion from its current one. Take a selfie in front of the famous Big Buddha, or explore deeper, traipsing through a scenic bamboo forest or taking in the view from a massive Shinto Shrine. For an extra-special treat, make sure to visit Kamakura during the beautiful autumn or cherry blossom season in Japan, or combine it with a trip to the more modern Yokohama city.