If you want to experience the magic of cherry blossom season in Japan, 2024 will be your next chance. 2023's season (which was magnificent, by the way) is now over.
Of course, no matter when you end up making it to Japan, the so-called "cherry blossom front" begins in the south and west—Kyushu and Shikoku islands—in late March, moving northward and eastward across the country until early May, when the last flowers in Hokkaido fall to the ground.
Sounds poetic doesn't it? Well, if you've started to plan your Japan cherry blossom season 2024 travel yet, you've also seen the prosaic side of visiting Japan in spring.
You'll need to arrange your itinerary such that it follows the typical progression of the bloom and secure accommodation far (but not too far!) in advance. Once you've done that, it's essential to keep tabs on Japan's weather in late February and early March, as temperatures during these months determine the particulars of a given year's season.
The devil is in the details when it comes to seeing cherry blossoms. Luckily for you I've got quite a few details to share—and a halo instead of horns.
The 2024 Japan Cherry Blossom Forecast
In recent years, Japan's sakura have bloomed significantly earlier than in preceding decades. 2021's and 2023's seasons were especially notable, seeing the earliest attainment of mankai (full bloom) in at least 1,000 years. However, there have also been a few "late" years—2017 springs to mind—so I've tried not to draw too many conclusions.
This table provides a general idea of what the Japan cherry blossom season might look like in an average year:
| Destination | First bloom | Full bloom |
| --- | --- | --- |
| Kochi | March 17 | March 25 |
| Kumamoto | March 19 | March 28 |
| Hiroshima | March 26 | April 3 |
| Kyoto | March 26 | April 4 |
| Nagoya | March 24 | April 1 |
| Kanazawa | March 31 | April 6 |
| Tokyo | March 19 | March 26 |
| Matsumoto | April 2 | April 11 |
| Fuji Five Lakes | April 2 | April 10 |
| Sendai | March 31 | April 6 |
| Hirosaki | April 20 | April 26 |
| Hakodate | April 26 | May 3 |
As far as when you should start planning for cherry blossom Japan 2024? If you're in the US or Europe and want to book your flights for sakura season Japan 2024, it's not too early to start thinking about the broad strokes of your trip. Assuming you are flexible about where you see cherry blossoms, traveling in Japan between the last week of March and the first week of May guarantees you'll enjoy some hanami magic.
This is true whether you spend one month in Japan and enjoy Japan cherry blossom 2024 all over the country, or stay a week or two and enjoy a more limited array of festivities. In either case, I suggest you wait until as late as possible to hammer down the specific details of your 2024 Japan cherry blossom itinerary.
Top Destinations in Japan for Cherry Blossoms
Kyoto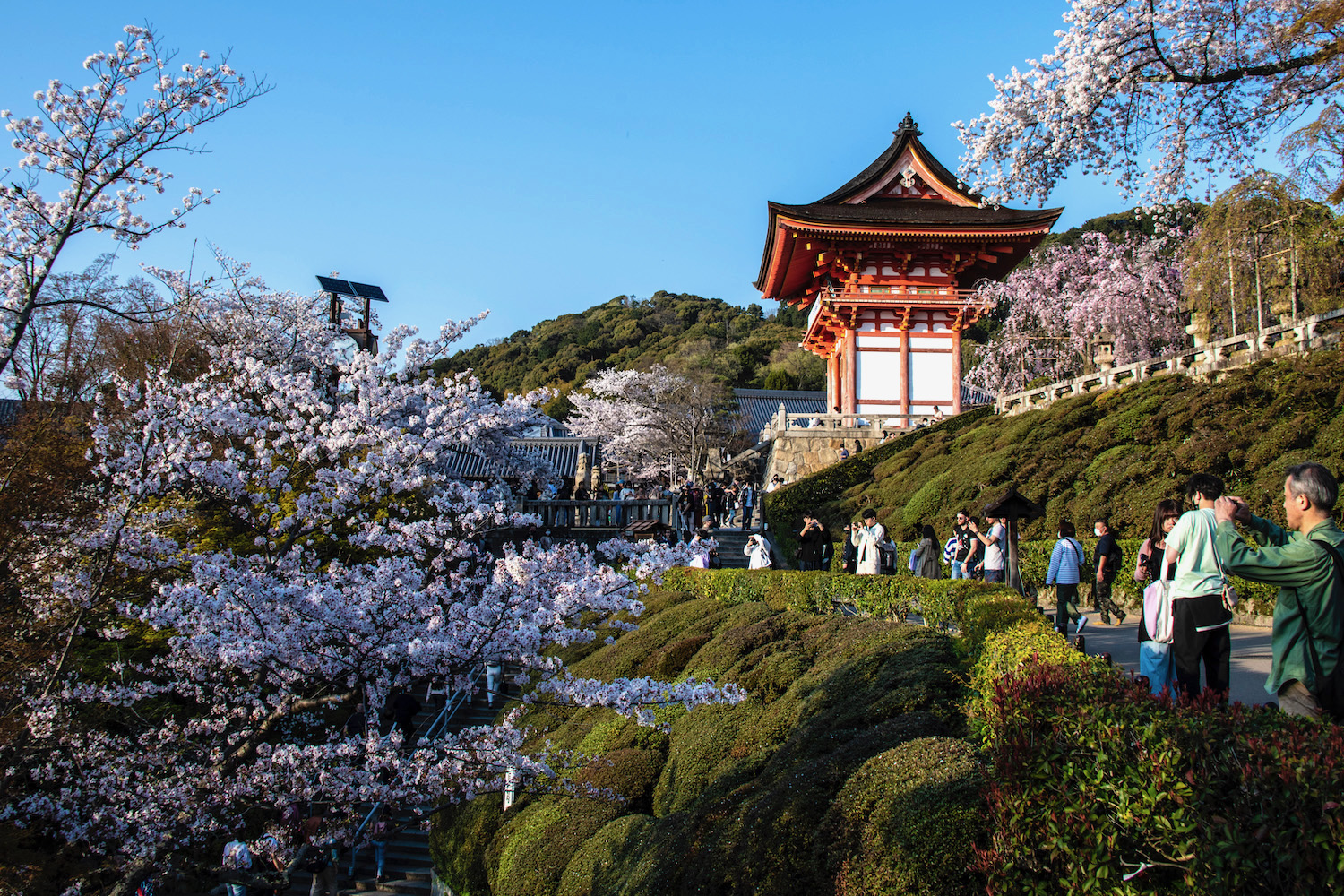 There is no travel experience in the world like the Kyoto cherry blossoms. (There's also nowhere in the world quite as crowded as Kyoto in late March or early April, but that's a topic for another post.) Whether walking down the Philosopher's Path to Higashiyama sakura spots like Maruyama Park and Kiyomizu-dera, or enjoying hanami at Arashiyama's Tenryu-ji before strolling through the mysterious Sagano Bamboo Grove, or simply having a picnic along the banks of the Kamo River, Kyoto during cherry blossom season more than lives up to the hype. Just wake up early (like before the crack of dawn) if you want to enjoy the beauty in relative solitude!
Mt. Fuji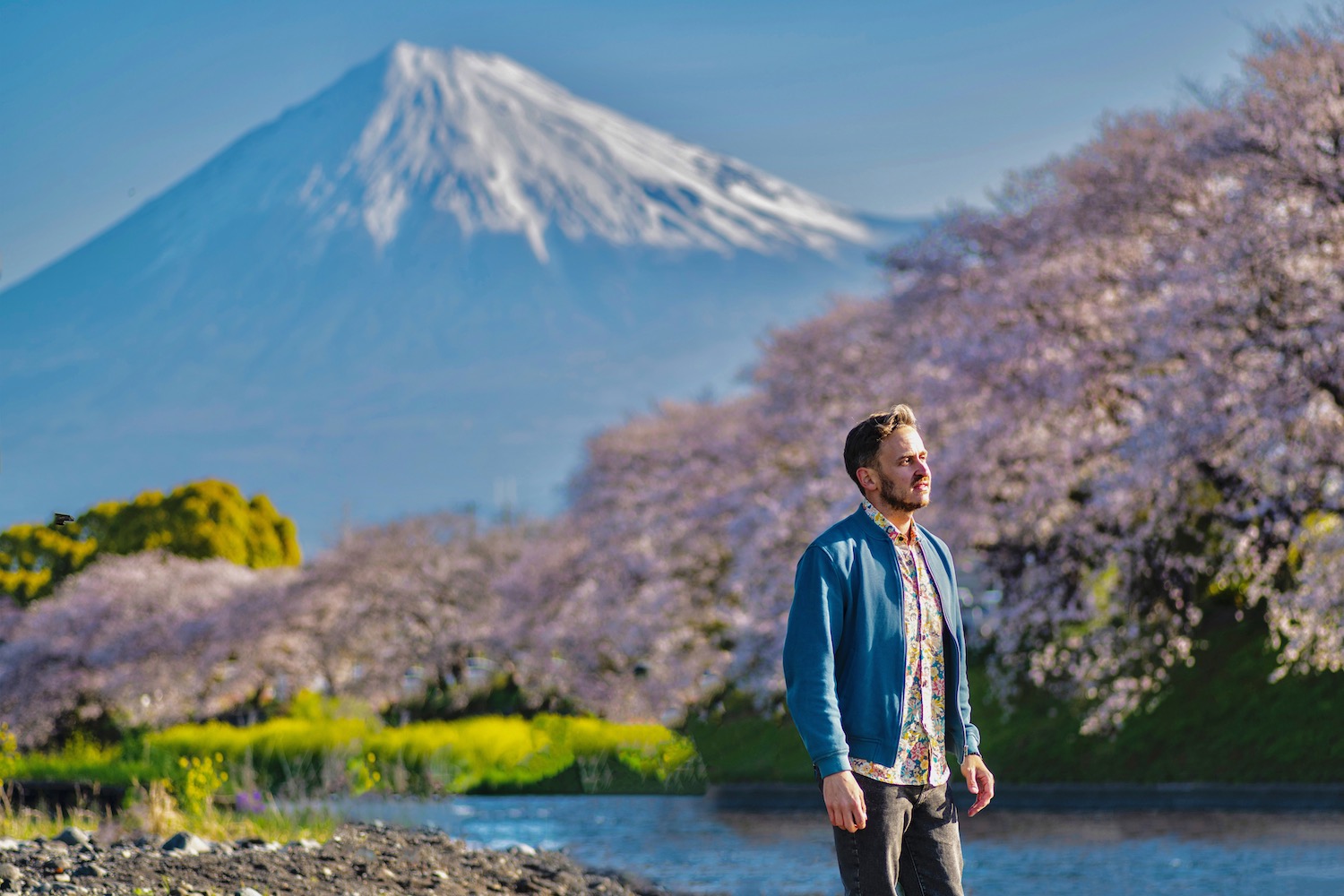 The bad news? The Fuji Five Lakes and other regions around Mt. Fuji are absolutely swamped during cherry blossom season, particularly the Urui River pictured above and the Chureito Pagoda featured as the main image of this post. This was true even in 2021 and 2022, when all the foreigners in the world (besides me and a few others lucky enough to reside in Japan) were locked out. The good news? The sakura around Fujisan are stunning enough that they're still near the top of my 2024 cherry blossom bucket list. TIP: If you travel all the way to Fuji, check out these other places to view the mountain, which extend far beyond the region's best hanami spots.
Yoshino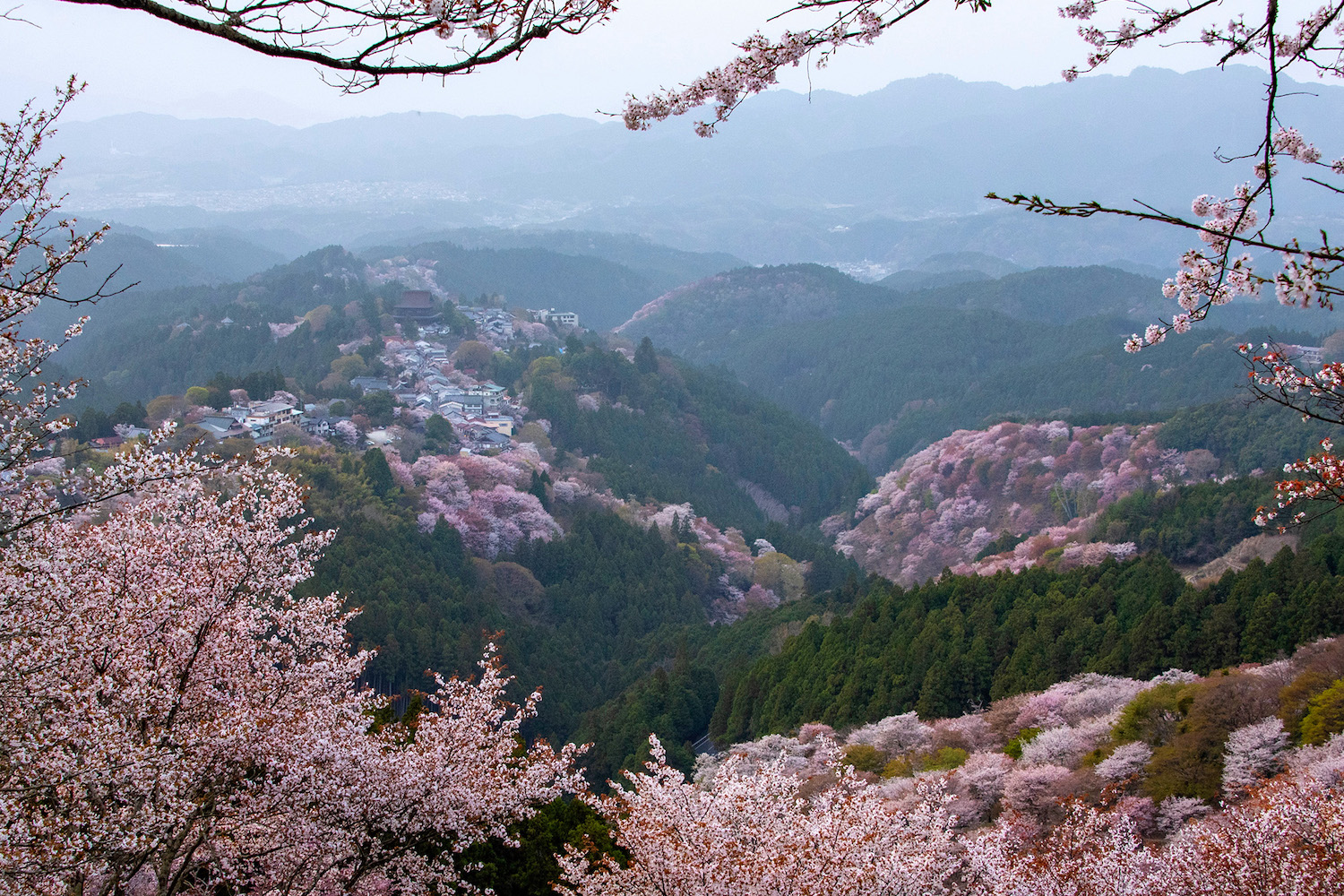 Although its deer are famous among Japanese travelers, most foreigners are unaware of Nara prefecture's Yoshino. This is not the only irony surrounding the mountain. Among other quirks, while it's the namesake of the somei yoshino (Japan's most famous cherry tree), the most beautiful sakura here actually bloom on the yamazakura, which feature bright, almost fluorescent flowers, and are prominent at Takami no Sato Sky Garden about an hour's drive from the main Yoshino tourist area, assuming you don't mind renting a car.
Tokyo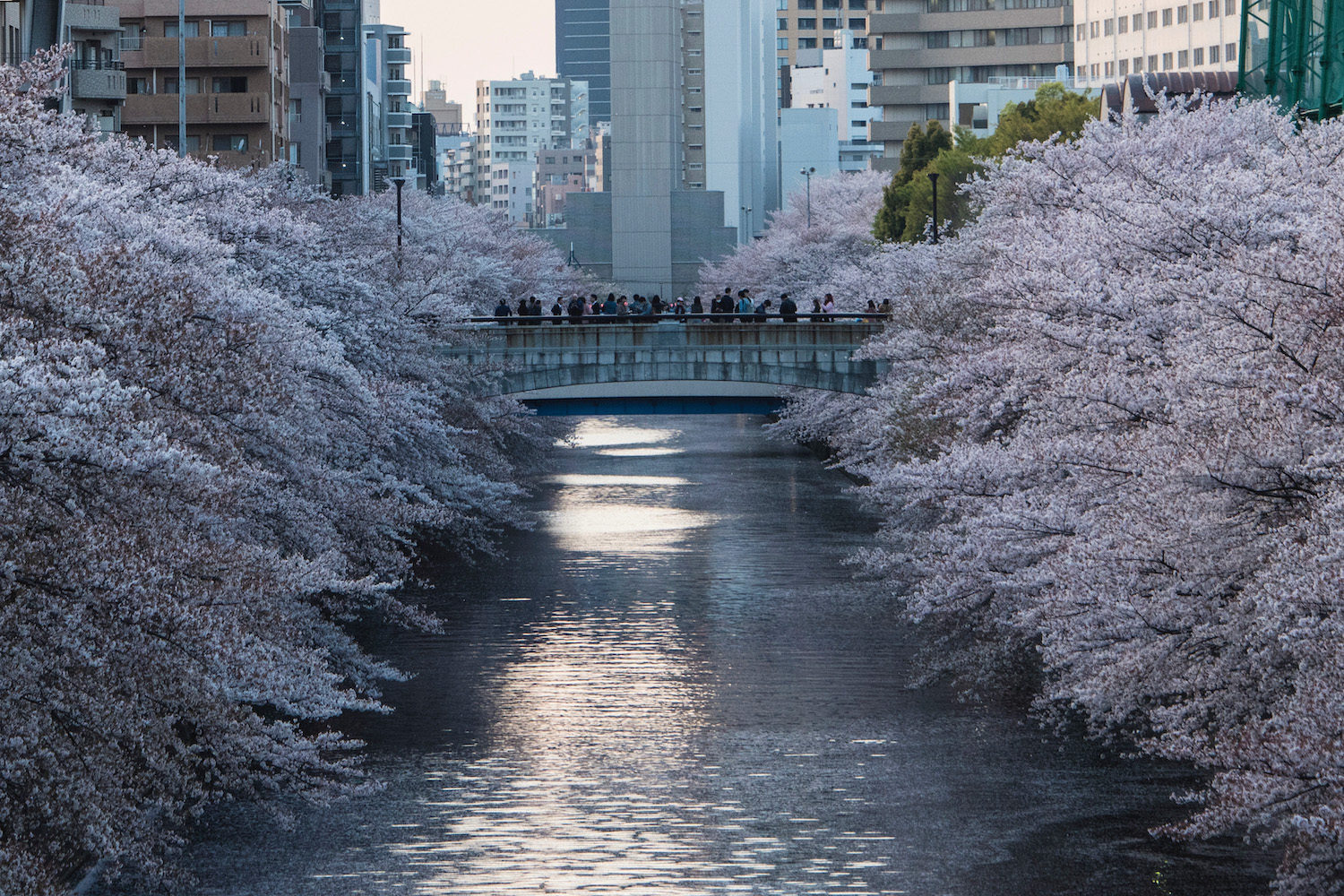 Although it boasts neither the scenery of Mt. Fuji nor the historical architecture of Kyoto, Tokyo is nonetheless high on the lists of many hanami goers. This is not a surprise, at least not to me. In spite of being one of the most urbanized cities in the world, Tokyo is one of the very best places in Japan to see cherry blossoms. From popular spots like Chidorigafuchi moat and the shores of the Sumida River in Asakusa, to green spaces like Ueno Park and Koishikawa Koraku-en, Tokyo is chock full of cherry blossoms.
Himeji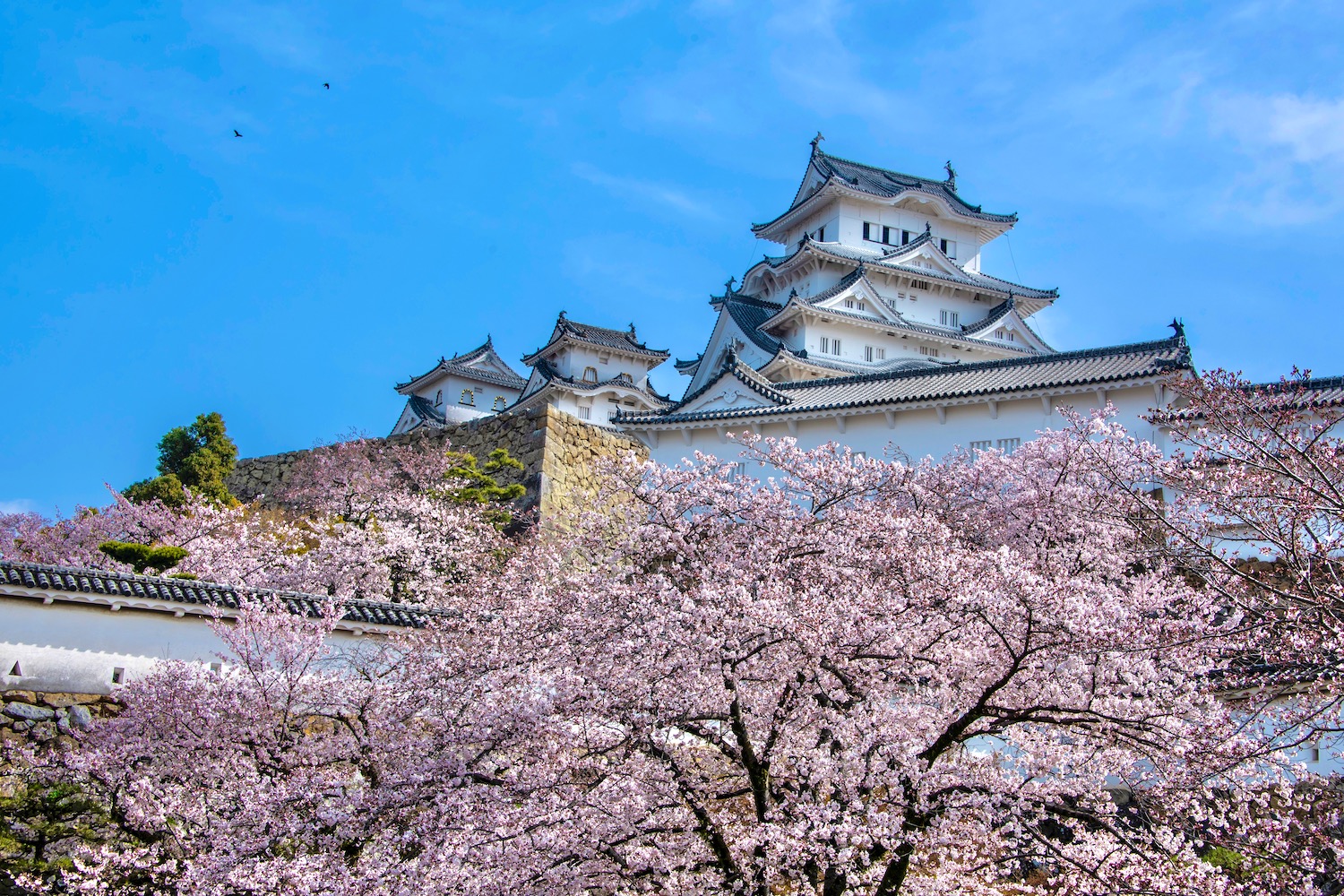 There are few more iconic sakura photos that you can take than cherry blossoms at Himeji Castle—I know this personally. In fact, I was so intent on getting my so-called "Himeji money shot" that I actually returned on two separate days in 2019, since the blossoms hadn't quite peaked the first time I went. For cities like Himeji, where only one spot really sees the bulk of cherry blossom beauty, dedication is everything. If you travel to Himeji to see cherry blossoms, you could also stop in Kobe on the way back to Osaka (assuming this is where you're coming from).
Hirosaki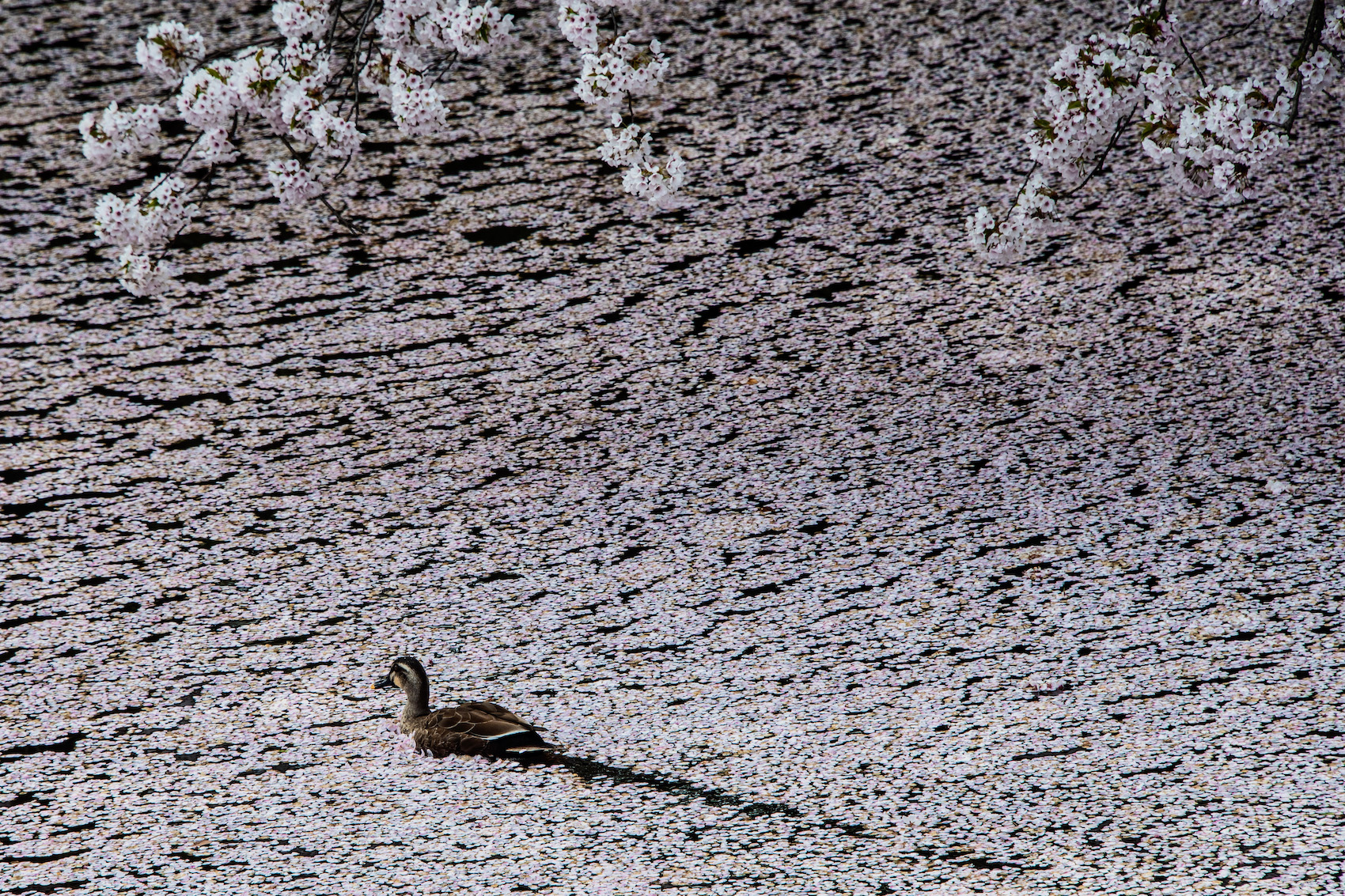 I know I never shut up about Japan's underrated Tohoku region, and I can also understand why you might be skeptical to see yet another castle on this list—I hear you. The thing is, Aomori prefecture's Hirosaki Castle itself is not terribly impressive, even if Mt. Iwaki towering behind it gives it an atmosphere few other such fortresses can claim. The weeping shidarezakura all around it also add a nice touch. However, what truly makes this place special is its outer moat, which fills with so many petals during the last week of April they literally cover the surface.
Honorable mentions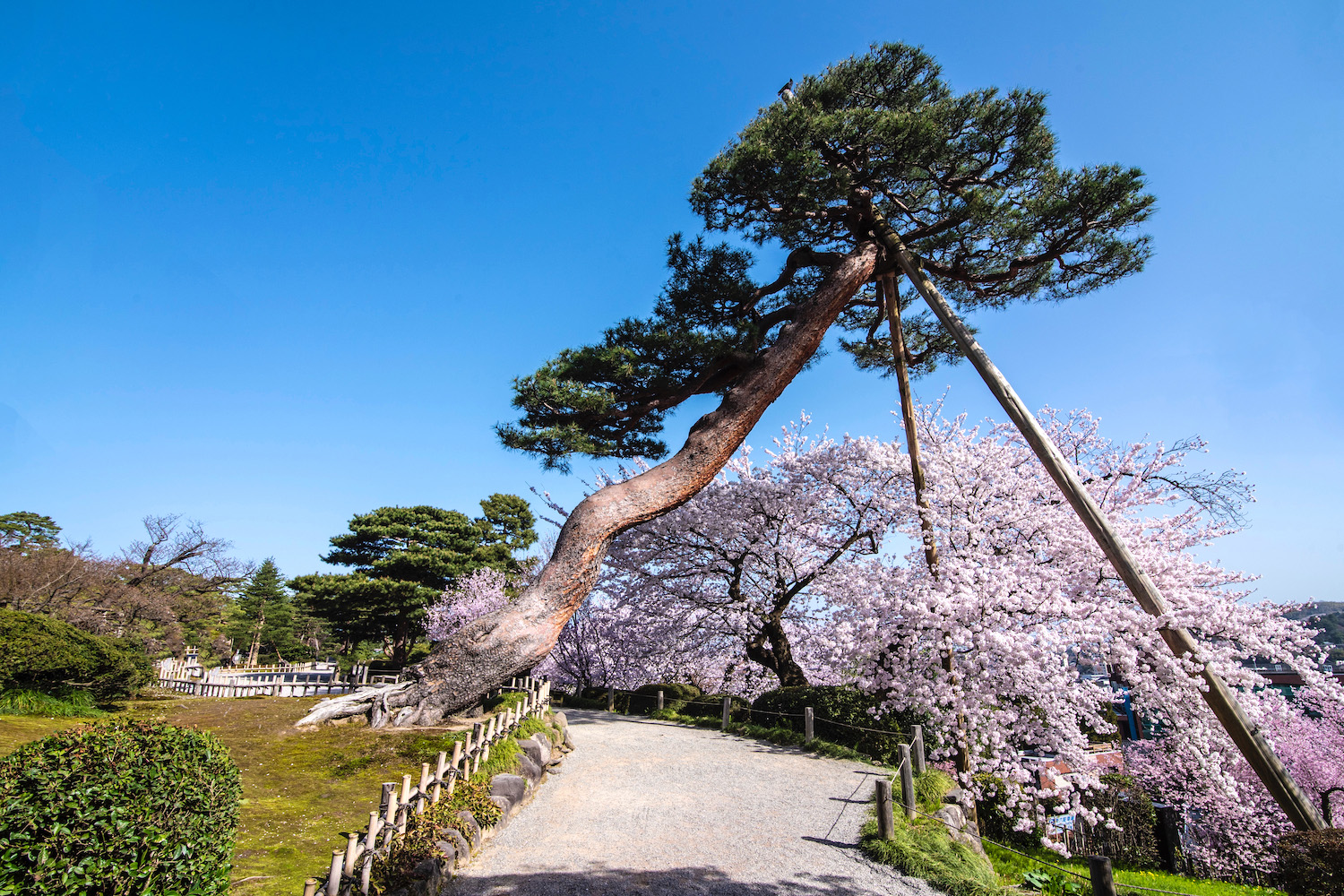 Whether for sakura Japan 2024 or another year, here are some other top cherry blossom destinations in Japan that are absolutely wonderful to visit if you're so inclined:
Kamakura, Kanagawa prefecture
Matsuyama Castle, Ehime prefecture
Kotohira-gu, Kagawa prefecture
Hanamiyama Park, Fukushima prefecture
The star-shaped Goryokaku fort in Hakodate city on Hokkaido island
Hiroshima prefecture's Miyajima island, which is home to a "floating" torii gate and a popular of local deer
Kanazawa, the capital of Ishikawa prefecture and hub of the underrated Hokuriku region
These, of course, are only the beginning—there are so many amazing places to see cherry blossoms in Japan you'd need a lifetime to enjoy them. I've personally taken nearly a dozen separate sakura trips at this point and I feel like I've just scratched the surface!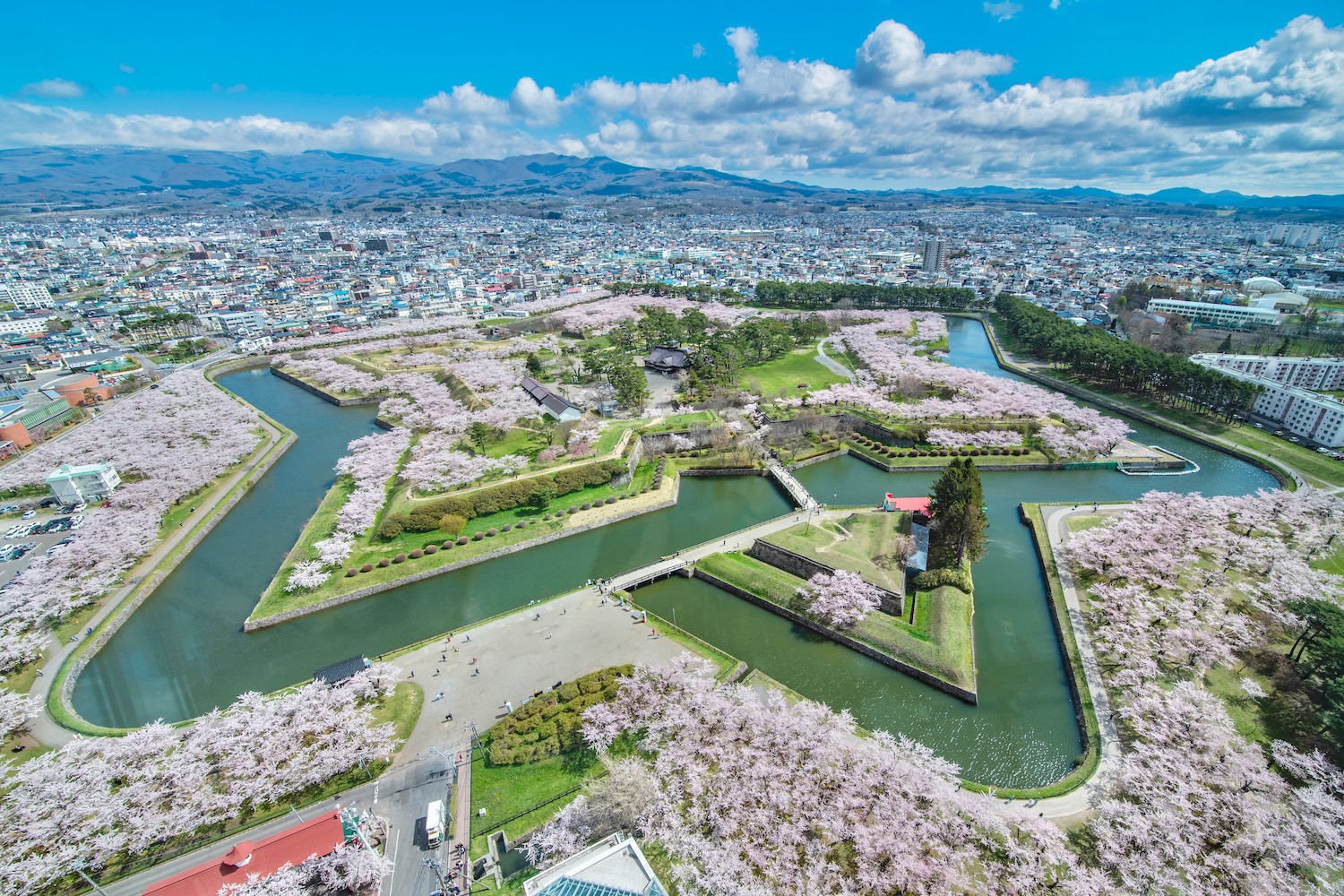 When Does Japan's Cherry Blossom Season Usually Take Place?
When is cherry blossom season in Japan? As I mentioned earlier, recent seasons have begun freakishly early.In an ordinary year, however, cherry blossoms reach mankai (aka full bloom) as follows:
Additionally, whether during sakura season 2024 or any other year, cherry blossoms briefly spring up in Okinawa in late January or early February; in Shizuoka prefecture just west of Tokyo, you can also enjoy Kawazu-zakura around this time. Note, however, that these are both a different species than the classic somei yoshino tree that blooms in the rest of Japan.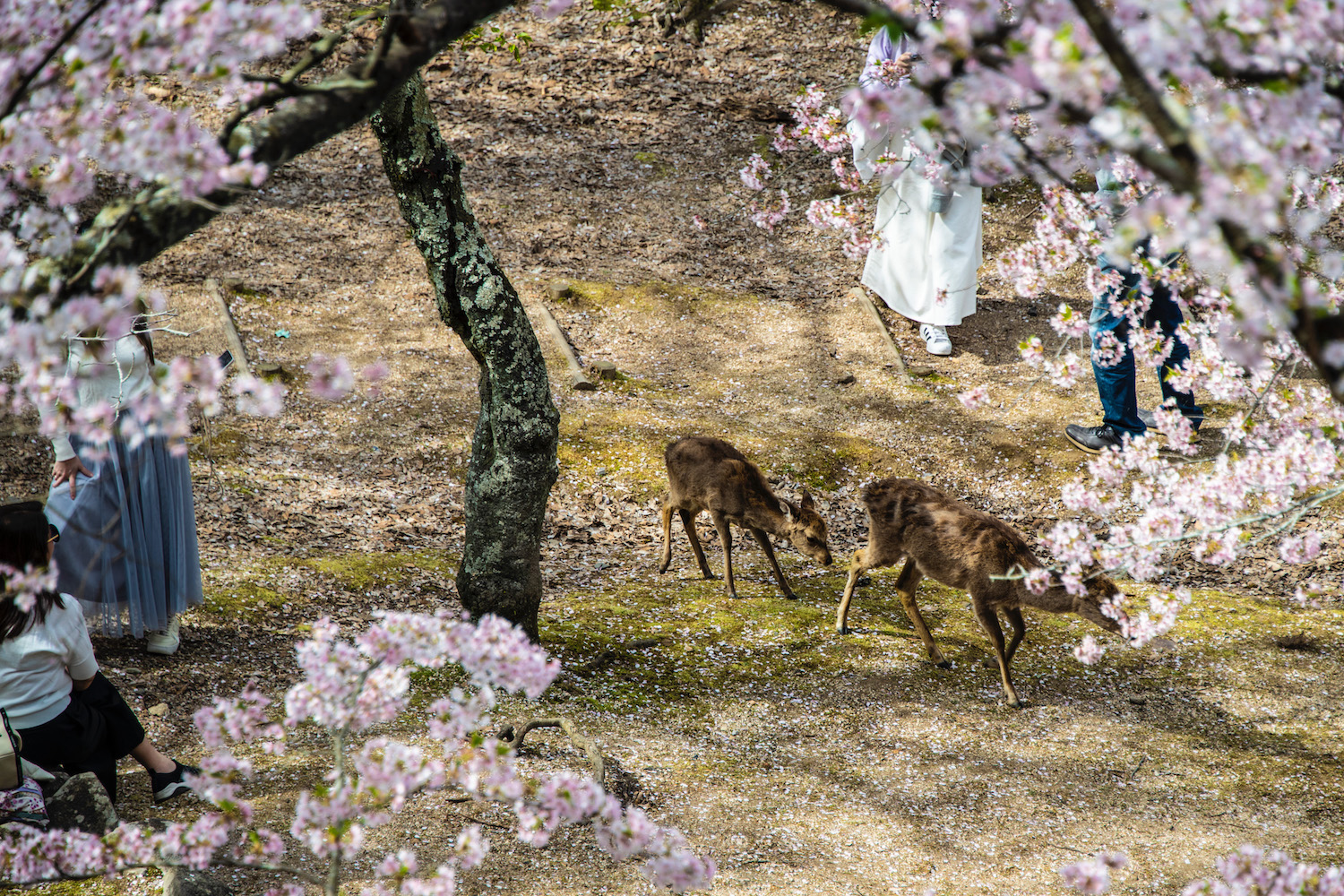 How Can I Predict When the Sakura 2024 Will Bloom?
The bad news? We're a long way away from being able to predict even the general contours of the 2024 cherry blossom season. The good news? The criteria I and other cherry blossom forecasters use are the same every year, whether for the sakura forecast 2024 or any other:
Temperature: Generally speaking, the first cherry trees in a given city or location have their first bloom shortly after the last hard freeze of the season. Full bloom (mankai) can occur anywhere from a few days after this to a couple weeks. How soon mankai arrives and how long it lasts also varies depending upon how warm or cold it is.
Precipitation: Even if temperatures are relatively mild, heavy rain can delay the arrival of the first bloom (and, even more frequently, the full bloom) during the Japan cherry blossom season. Additionally, if rainy or windy conditions arise as the blossoms approach mankai or after it has been reached, this can drastically shorten the amount of time available to enjoy hanami.
Specific sakura spots: Although there is an official date when a city or region sees its first bloom and full bloom, there is variance (often significant) between different sakura spots within one region. For example, the weeping shidarezakura in Kyoto's Maruyama Park blooms before the Philosopher's Path, which in turn blooms before Kiyomizu-dera.
Past performance: Regardless of temperature, precipitation and when the season starts, the progression of the sakura in the past can provide clues about what will happen this year. While it usually takes cherry blossoms in Kyoto a full week to reach mankai after they initially bloom, I've noticed Kanazawa's progress much faster, often in only a few days.
I expect meteorologists to make their initial predictions about the 2024 sakura bloom in January or February, when it becomes clear whether that winter is warmer or colder than average. Visit this page often, as I'll be updating my own predictions in line with what the experts have advised!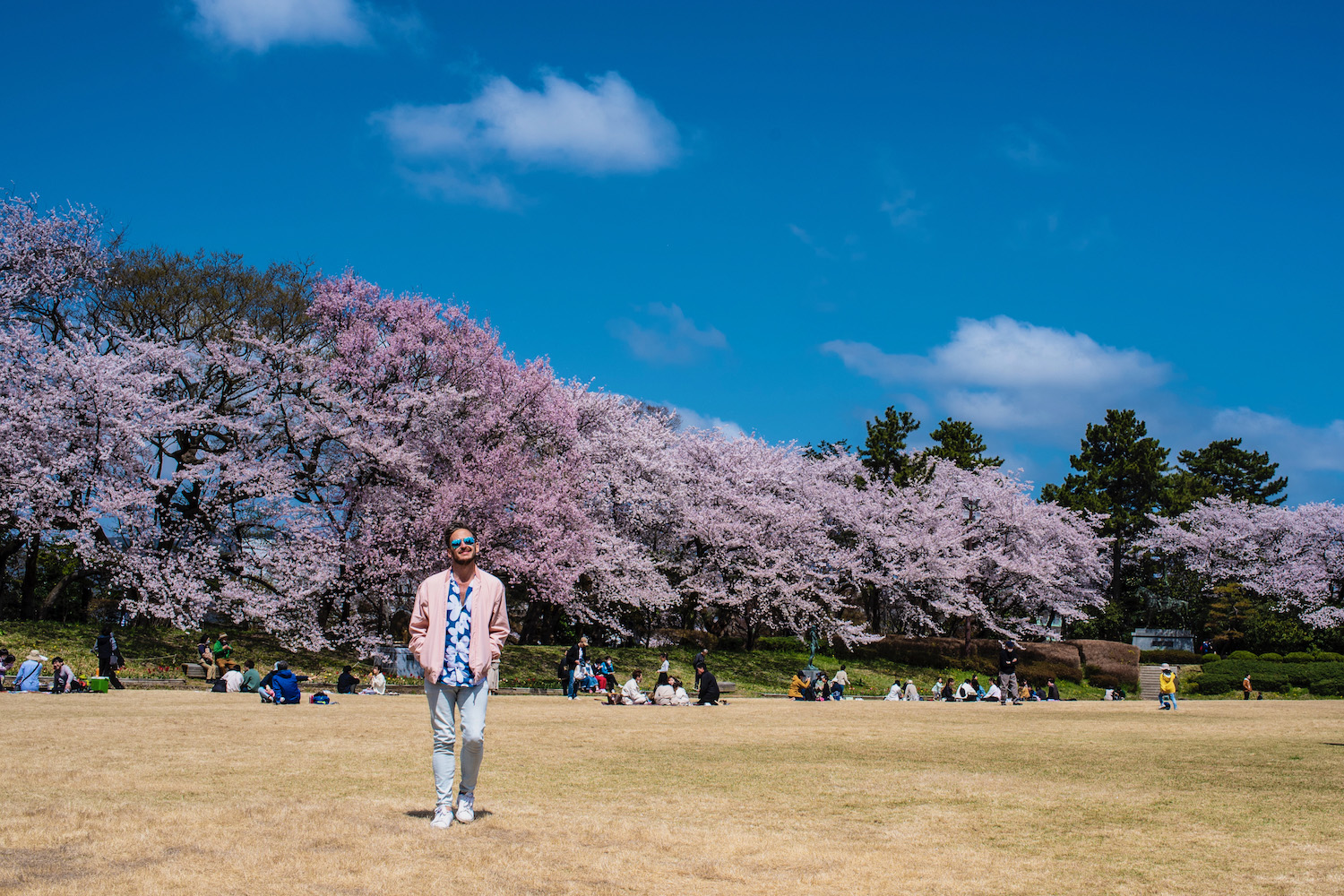 Other FAQ About 2024 Cherry Blossoms in Japan
Which month is cherry blossom in Japan 2024?
Japan's cherry blossoms begin blooming in mid-March in Shikoku and Kyushu islands, as well as in Tokyo. They reach full bloom in major tourist destinations like Kyoto, Osaka and Kanazawa during early April, while mid-to-late April is the best time to see sakura around Mt. Fuji and in the Tohoku region. The cherry blossom season ends in early May, after it reaches Hokkaido island in Japan's far north. This general pattern is the same for the Japan sakura season 2024 and every other year.
How long do cherry blossoms bloom in Japan?
The entire life cycle of the cherry blossom, from bud to leaf, is about a month. However, the mankai (or full bloom) only lasts between 1-2 weeks, with the fullest and most gorgeous period of blooming sometimes just days in length. Weather events such as wind, rain or sudden cold snaps can impact the longevity of the sakura bloom.
Where are cherry blossoms in Japan?
Cherry blossoms exist all over Japan, from towns and villages in rural areas like San'in and the Japanese Alps, to huge cities like Tokyo and Osaka. While the majority of cherry blossoms in Japan are of the iconic somei yoshino variety, other species exist, including more brightly colored ones in Okinawa, and the picturesque shiderazakura, or "weeping" cherry trees you find in certain gardens.
The Bottom Line
If you want to experience Japan's famous cherry blossoms, 2024 will be a year like no other, with the coronavirus pandemic far in the rear-view and things fully back to normal. Because of the difficulty of forecasting full bloom dates, I would wait until next February or March to finalize your 2024 cherry blossom trip, if you can. With this being said, you should definitely brainstorming about a trip to see next year's cherry blossoms now! Come back to this page often, as I'll be updating it with essential facts and figures as the next season approaches, and as the one after that draws nearer. Also remember that you don't have to sweat the details of cherry blossom season Japan 2024 alone. Hire me to plan your 2024 cherry blossom trip to Japan!