It would've been easy for me to forget, as the Kanazawa winter rain poured from the dark sky, that the city's name means "Marsh of Gold." But as I exited the train station directly into the elements, a shiny object across the way evoked the legend of Imohori Togoro, the local peasant who allegedly discovered gold while bathing in a marsh I imagine no longer exists.
I guess this is the closest thing I'm going to find to gold dust, I laughed, feeling tempted for the first time ever to purchase gold-leaf soft cream. At least for today.
Concession
I decided against buying the gaudy confection, though I fixated on the thought of it as I traipsed through Omicho Market, the only place in Kanazawa I could realistically explore before the rain turned to snow. Several stalls had signs advertising the dessert, including one whose sweet potato flavor seemed particularly appetizing, but all were either closed or sold out for the day.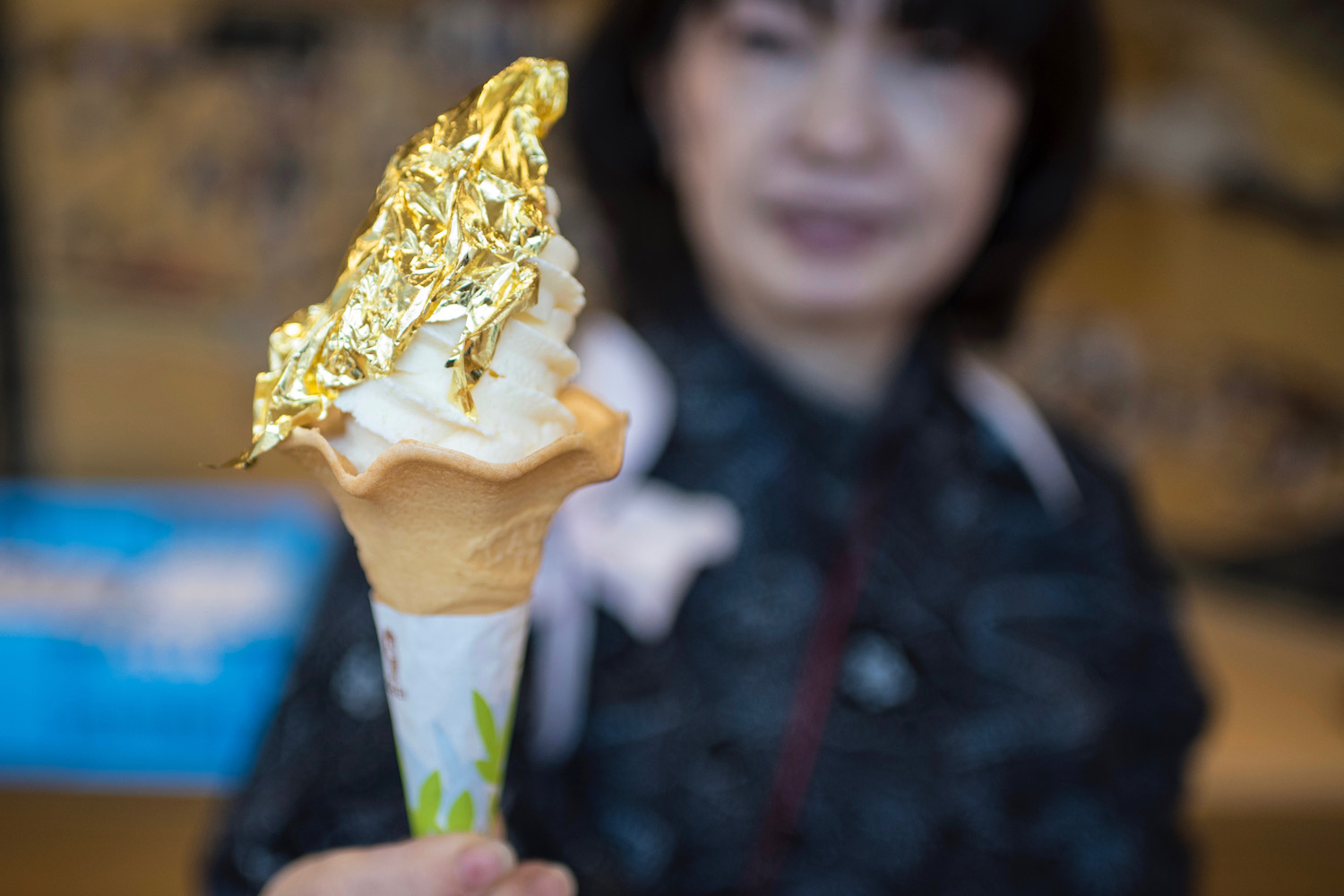 During the three hours it took for the precipitation to freeze, I walked no less than a dozen times down and back each of the market's corridors, and made eye contact with no fewer than 100 individual snow crabs—I mean this literally, since many of the creatures were still alive. I say "freeze" because that's exactly what the rain did.
You see, while an ever-thicker layer of silvery dust accumulated on the ground of a Kanazawa garden near the city's castle, the substance falling from the sky was closer to sleet than snow. When it landed on my camera lens it melted immediately, blurring every photo I took to the point it rendered even iconic subject unrecognizable.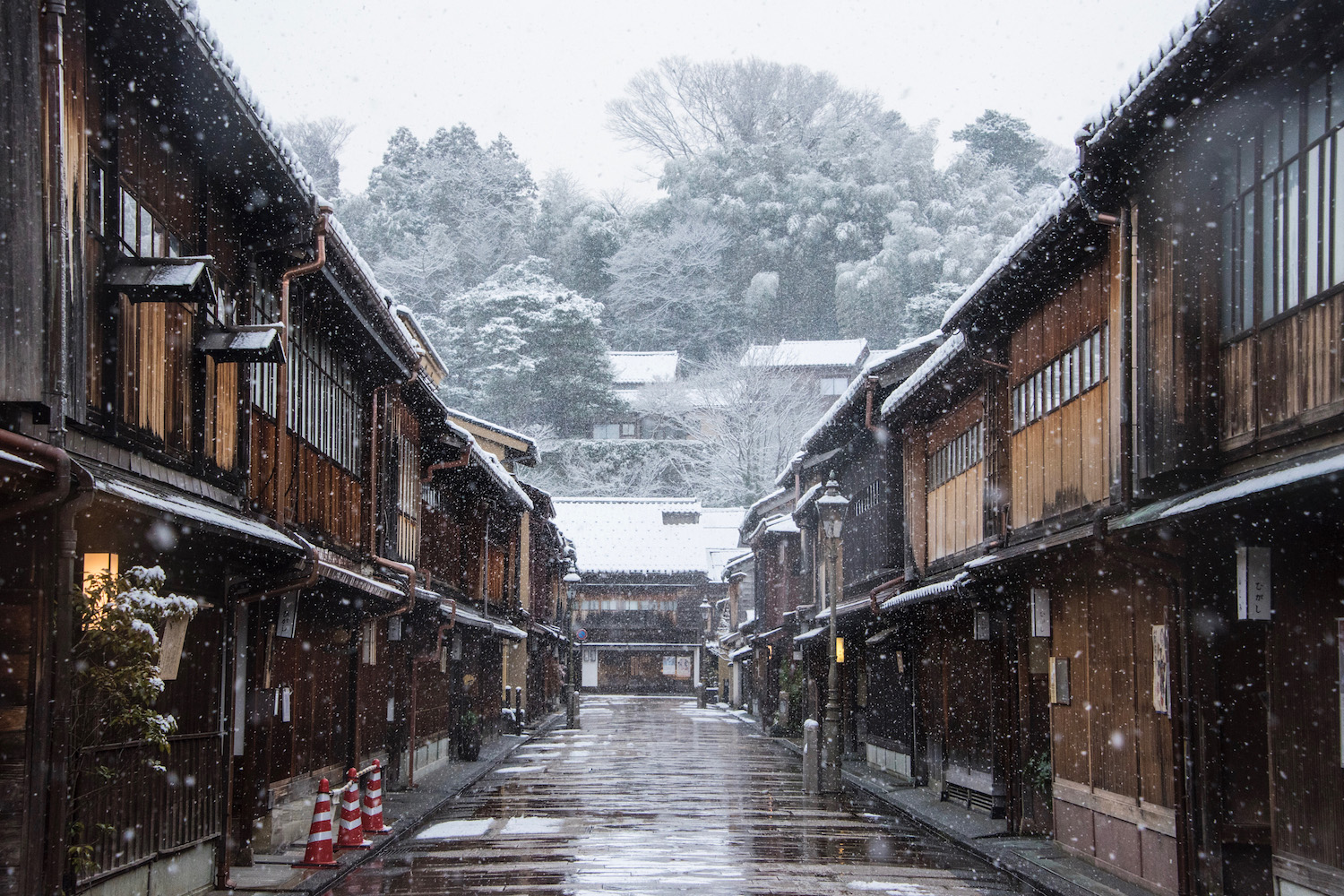 I stayed out in the mess for over an hour, even after the wind thrice inverted the umbrella I'd borrowed from my hotel. Shortly before dusk, however, I had no choice but concession. I dropped my ice-encrusted backpack in my room, making sure to remove all electronics so they wouldn't short-circuit as it melted, and made my way to the nearest sushi bar for a dinner that couldn't possibly disappoint me.
As If to Consecrate
I feared the worst as I woke up this morning, but as I emerged into the Kanazawa winter for my morning run, I was surprised and delighted. Neither rain nor sleet greeted me, but rather Kanazawa snow so light and fluffy I couldn't even feel it falling on me, even if the city's bizarre de-icing apparatus (think a suburban sprinkler system in the middle of the street) created puddles I ultimately couldn't maneuver around.

I won't mince words: I fell in love with Kanazawa this morning. I liked the city well enough during previous visits, mind you, but I always felt it was slightly overrated, even though I've recommended that more than a few travelers come here.
But from the moment I started wandering around the Kazue-machi Geisha district completely alone just before dawn, to my emergence onto the Asano riverfront right as blizzard conditions oh-so-magically set in, to arriving in iconic (and usually tourist-infested) Higashi Chaya so early that even delivery trucks hadn't arrived yet, today was the first time I considered a curious possibility: Kyoto might not be Japan's most beautiful city.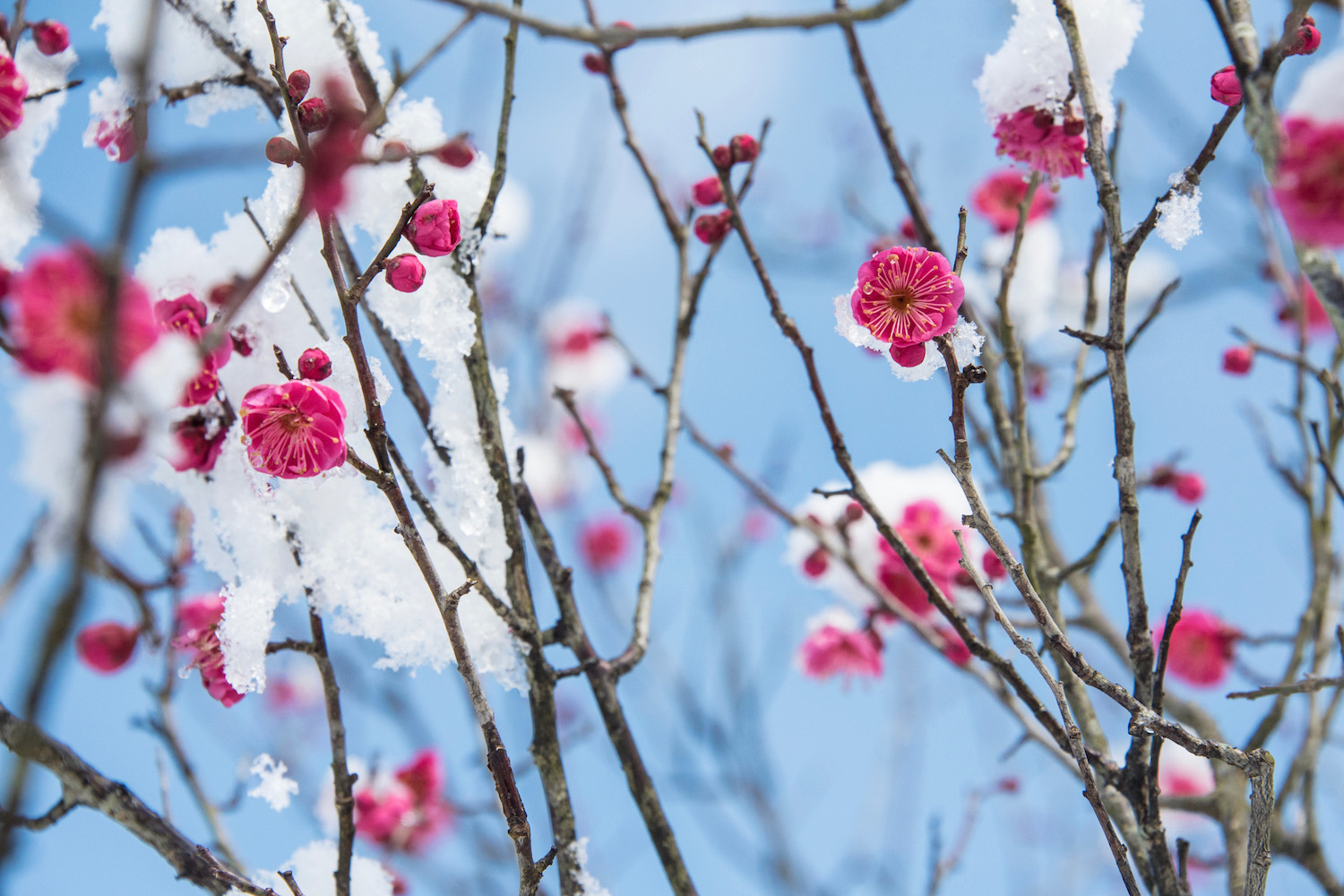 After finishing up my first few things to do in Kanazawa, I got slightly lost climbing a staircase just north of Higashi Chaya and happened upon a snow-covered bamboo grove—this, whether you can believe it or not, was at the top of my Japan winter bucket list. As I approached my hotel following this dream of a morning, I noticed that the shop across the street sold gold-leaf soft cream and bought one, as if to consecrate the revelation I'd just had.
Still-Blue
I tried not to get too excited as I saw the small sliver of blue sky above Kanazawa Castle this afternoon, though it was hard to ignore its beauty. Though I'd walked all over these grounds less than 24 hours earlier, they seemed like an entirely different place.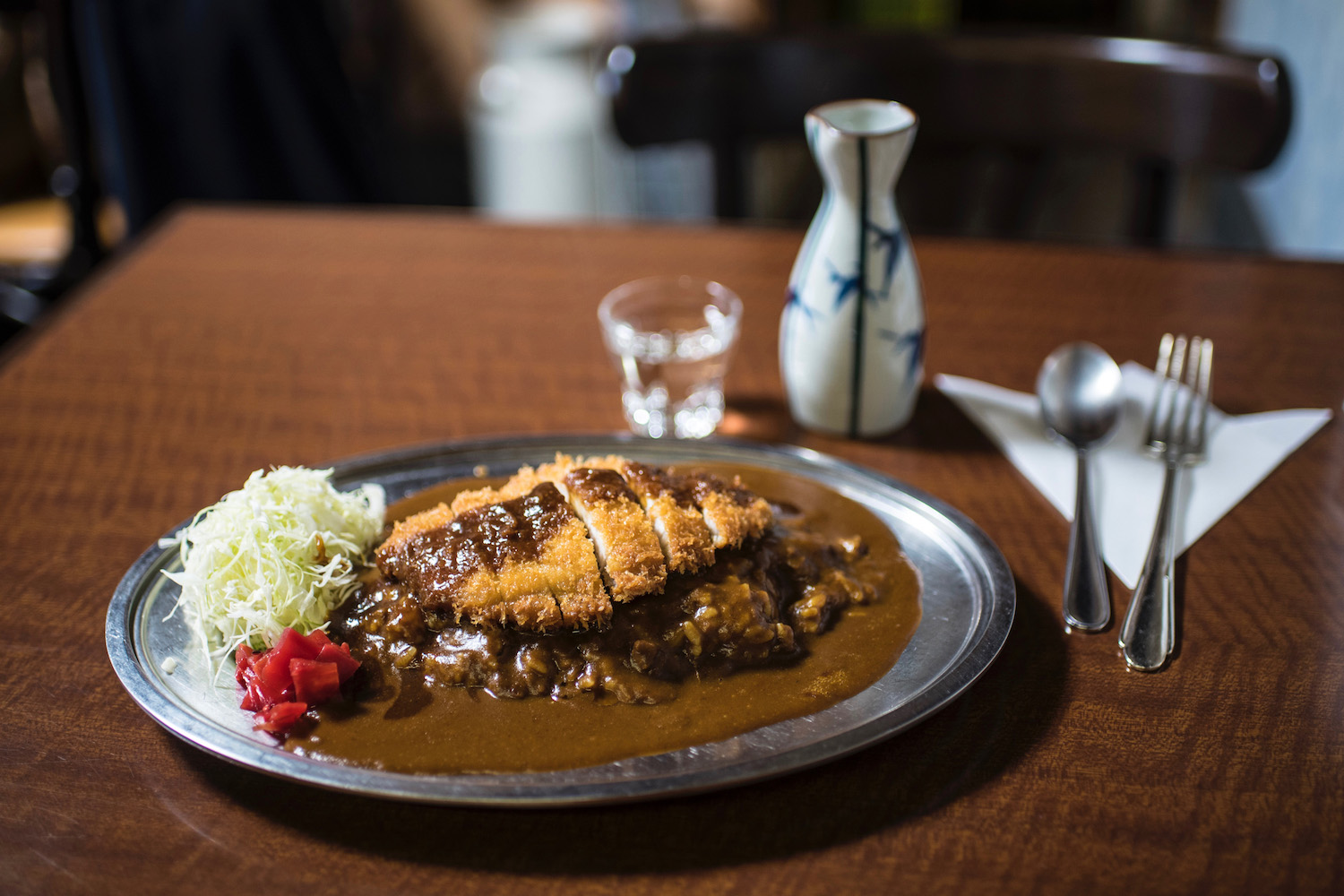 But as I moved eastward toward the main gate of Kenroku-en, my jubilation was an un-contained as the cerulean of the sky, which now occupied about 80% of it. Japanese garden aficionados say you need to see Kanazawa's most famous one in all four seasons to have the complete experience—and I honestly can't imagine a better way to see it during winter, with a carpet of fresh snow, a sky as deep in color as cobalt in certain places and magenta ume blossoms trying desperately to escape from their frozen blanket.
I left Kenroku-en after around an hour and, as I walked south and westward toward the Nagamachi Samurai district, took one last glance at Kanazawa Castle—I didn't know whether skies would still be blue when I made my way back. After making my second visit to the former home of the Nomura Clan, whose utter desertion stood in stark contrast to the mob scene that had been there on my last trip, I sat down for an Ishikawa-style tonkatsu curry that was beautiful and delicious, but tasted no different than others I'd had elsewhere.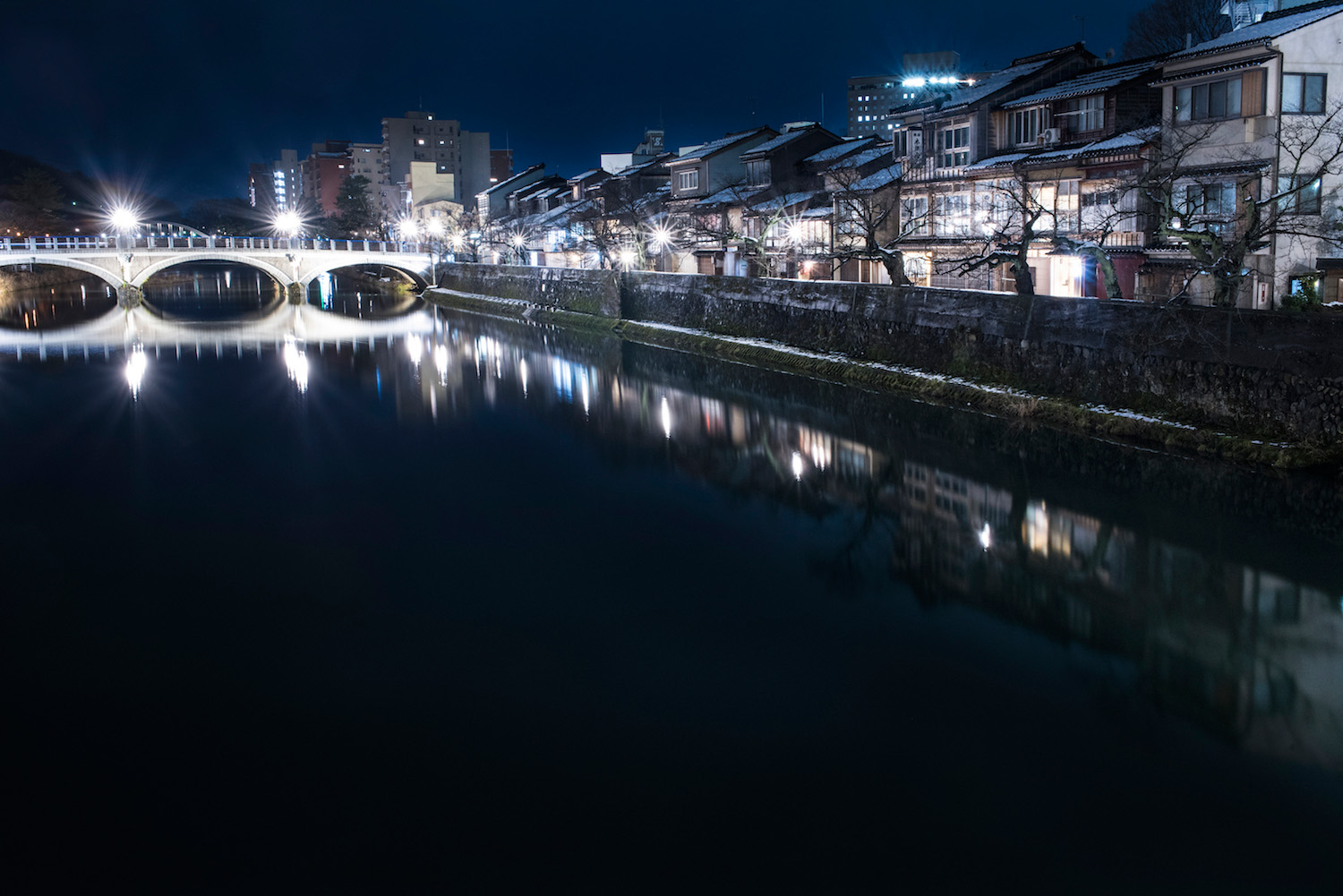 My last stop would be the "ninja temple" of Myoryu-ji—or at least I thought it would. In addition to the fact that I ended up having to trespass slightly to get a shot of the temple (to see the it the legal way, you need to make a reservation at a desk that was un-manned), I felt inspired to stay out longer by the still-blue sky, making an unplanned pit stop at Nishi Chaya, the smallest of Kanazawa's three Geisha districts, and putting another in the cards.
Gold Dust in the Snow
When you fall in love with a person, it can be fun to return to where you had your first date, so I spent today's last hours of daylight winding through the streets of Kazue-machi, before crossing the Asano River to Higashi Chaya and seeing how a clear sky (and hundreds of tourists) changed its ambiance. I made a brief stop in a museum dedicated to the production of gold leaf (Kanazawa, I learned during the brief tour, is responsible for 99% of all gold production in Japan, even to this day) and noticed, upon exiting, that the snow that had fallen earlier in the morning was rapidly melting.
Maybe there was gold dust in the snow, I half-joked to myself, inspecting the droplets dripping from the shrunken icicles to make sure no flecks of precious metal were catching the end of the day light. I wondered how Imohori Togoro had determined what he found in the marsh was gold, anyway, or whether a man with that name ever existed.
Other FAQ About the Kanazawa Winter
What is there to do in Kanazawa in winter?
Most things to do in Kanazawa in winter are similar, if not identical to what you do in the city in other seasons. If you're lucky and get snow, outdoor attractions like Kanazawa Castle, Kenroku-en garden and the Nagamachi Samurai district are at their most unique and beautiful.
Does Kanazawa have snow?
Kanazawa occasionally gets snow, although the more likely precipitation in winter is rain. The day I finally saw snow in Kanazawa, one February morning in 2019, rain was actually in the forecast; it was only because it was a bit colder than expected that snow fell instead. My advice is not to expect snow if you visit Kanazawa in winter, but to be pleasantly surprised if it happens to fall.
Does it snow in Kanazawa in December?
If you do experience snow in Kanazawa, it is likely to fall later in the winter than December, the first few weeks of which are technically the autumn. To maximize your chances of snow in Kanazawa, schedule your visit for late January or early February, the coldest months of the year.