I had many expectations about what my trip to the Satsuma Peninsula would bring, though none were rooted in reality. The word—"satsuma," this is—always makes me think of my sister, whose entire vanity once consisted of toiletries from The Body Shop scented with the tiny fruit.
In the context of Kyushu and Japan, Satsuma refers to the feudal domain that once existed in this country, administered by the Shimazu Samurai clan, who had close ties to Edo and whose maneuverings were key to the modernization of Japan as a whole. I don't believe they grew oranges.
For my part, I didn't see any conspicuous citrus groves as I drove from central Kagoshima and onto the peninsula, though to be fair I didn't know if they were in season.
Renegade Mimosa
My first stop was Chiran, an expansive Samurai town that dates back about 250 years, or more than half a millennium after the Shimazu seized power. Literally no one else was on Chiran's streets when I arrived, apart from a car full of salarymen and landscapers who were tending to the iconic hedges that color the settlement its iconic chartreuse.

At least that's what I thought until I thought I heard a viper hissing—it turned out to be the coughing of an old woman, whom it seemed administered one of Chiran's seven traditional gardens. I'm not sure what she was trying to say to me when she stepped into no less than a dozen of my shots of the otherwise empty district, but it didn't seem to be aggressive.
To be sure, I moseyed in the opposite direction from her, wandering for an hour or so—my Satsuma Peninsula itinerary would be far from packed, so I had no reason to rush. Prior to visiting the six other gardens, I took a moment to appreciate the thickness of a particular hedge, which was uniform apart from some renegade mimosa flowers that had taken root in its greenery.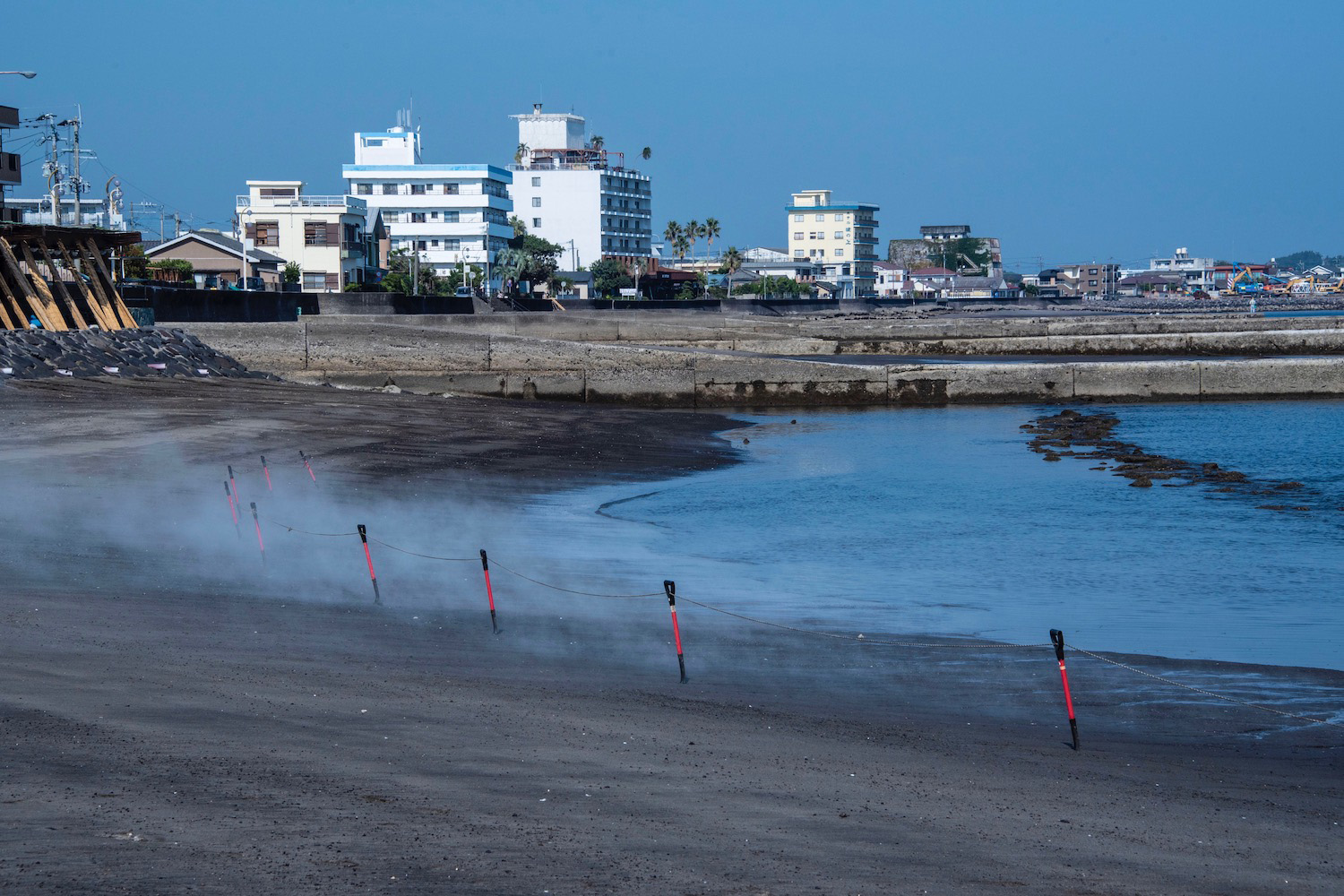 As I headed back toward where I parked my rental car I stopped in at each garden I passed, though no one asked me to show a ticket even once. This was good since I didn't have one: No one had been at the admission booth when I arrived, even though the place was ostensibly open already.
Actual Satsumas
There was a certain irony in having passed through property formerly owned by the fierce Shimazu without having paid a single yen, though I'm certainly not proud of having done so. Nor do I think anyone would've checked my ticket if I'd had one, given that a massive group of JTB tourists arrived right as I was leaving.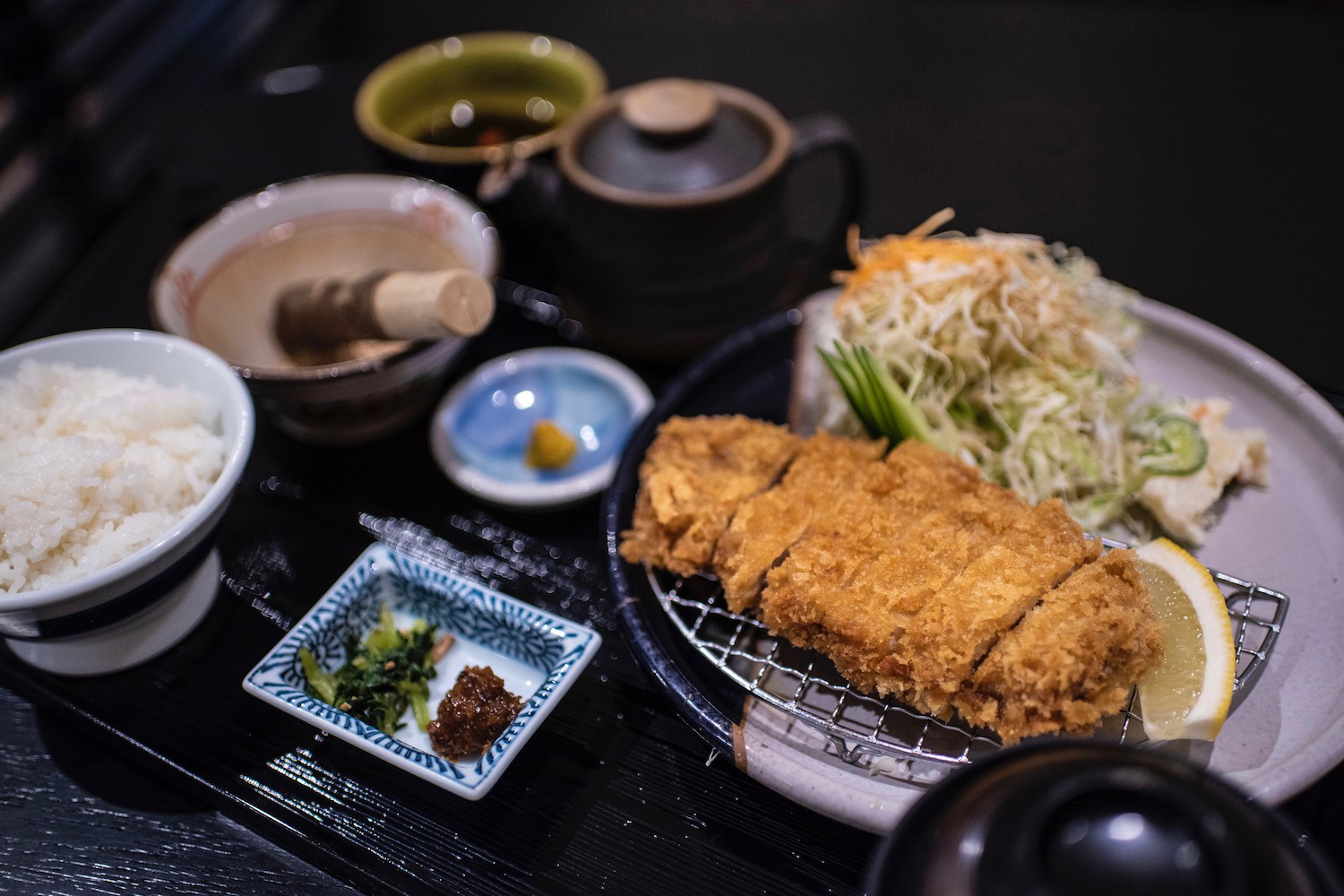 My second Satsuma Peninsula destination peninsula was Saraku Sand Bath, a beach where volcanic gases flow through sand such that being buried in it has a similar affect to an onsen. Not that I planned to try: I detest getting sand anywhere but my feet, and in fact still find it in bags and compartments of them from trips years in the past.
As I was photographing the sand bath area, steam rising off the beach in the foreground, I found it notable how attractive the buildings along the beaches of Ibusuki were (in a very small town Japanese way, of course), and thought I should find a place amid them to eat lunch.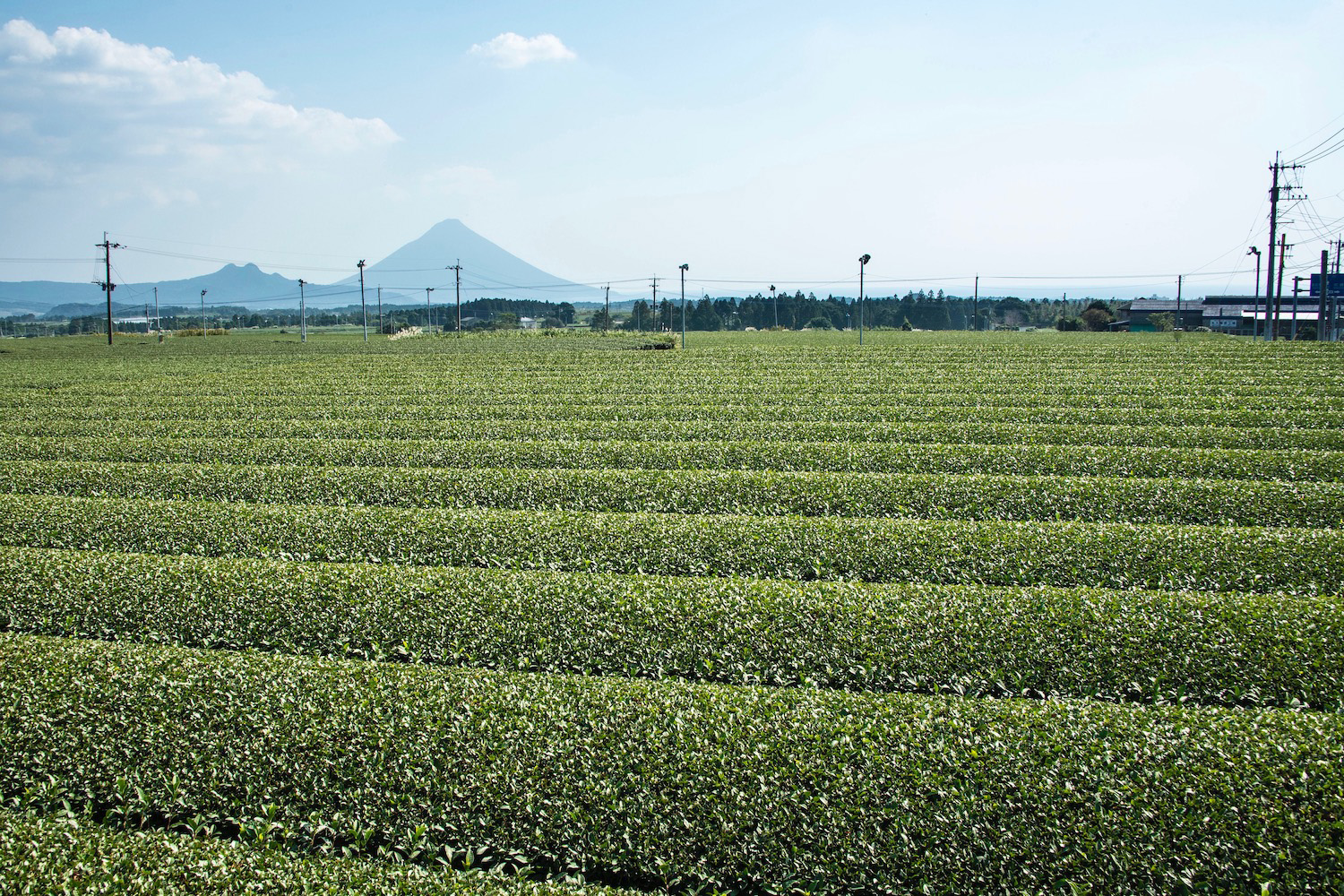 I ended up settling on an Izakaya and choosing Tonkatsu. It was allegedly made from the Kurobuta pork that's famous around these parts, though I didn't taste anything special about it. Plus, I still hadn't seen any actual satsumas.
Where the Tea Fields Roll
And I did search for agricultural sights on the Satsuma Peninsula, even if citrus groves were not high on my list. After leaving Ibusuki and driving west, I found myself tempted by a billboard that advertised rolling fields of perfectly-manicured tea bushes.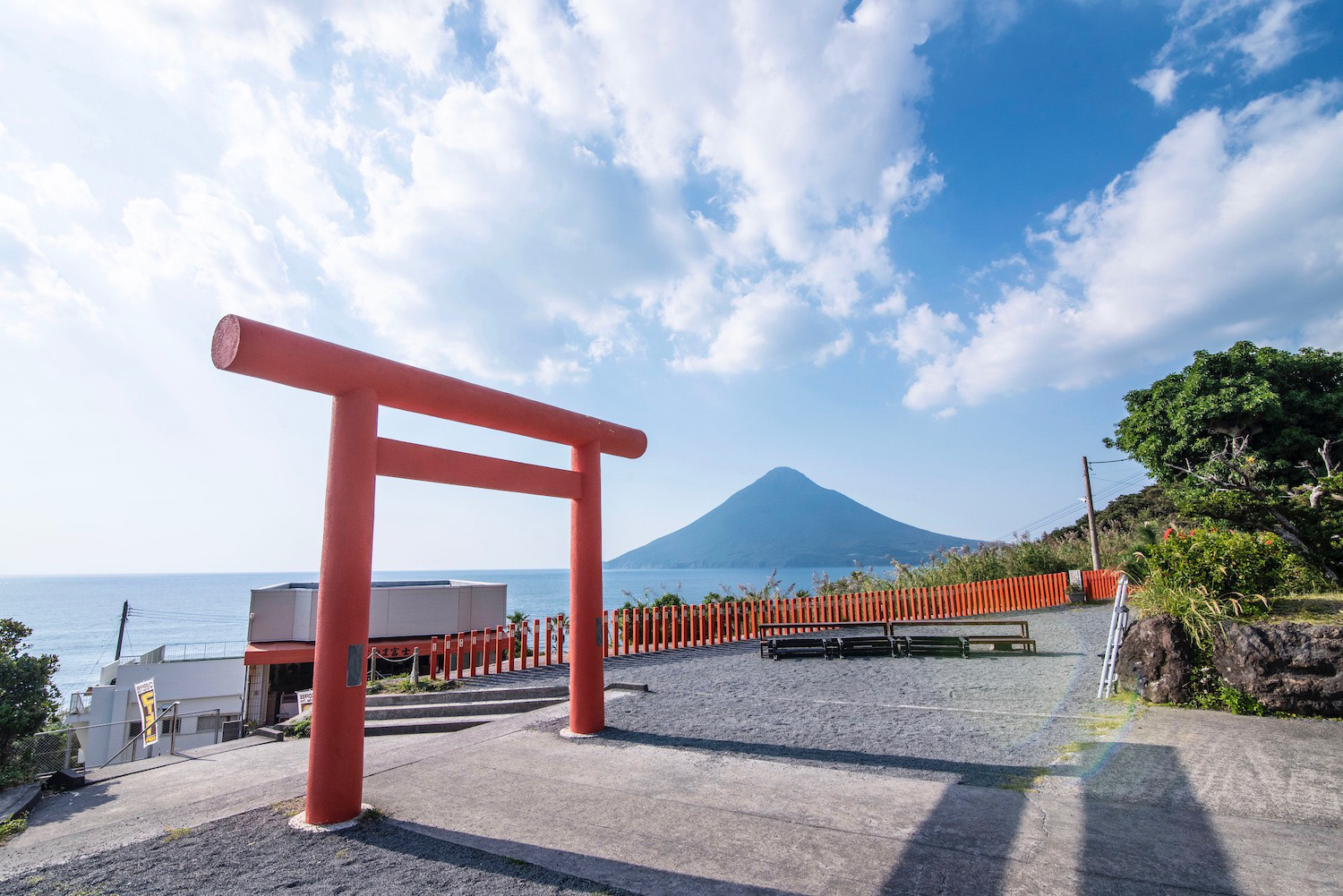 It didn't say a name (in English, anyway), but my research told me they would exist somewhere between Minamikyushu and Minamisatsuma, so that's where I went.
In fact, the city where the tea fields roll is called Ei, and once I finally arrived there, they were overwhelming in their expanse. Most were relatively un-photogenic, at least initially, but eventually I happened upon one where I could see Kaimondake volcano rising in the distance.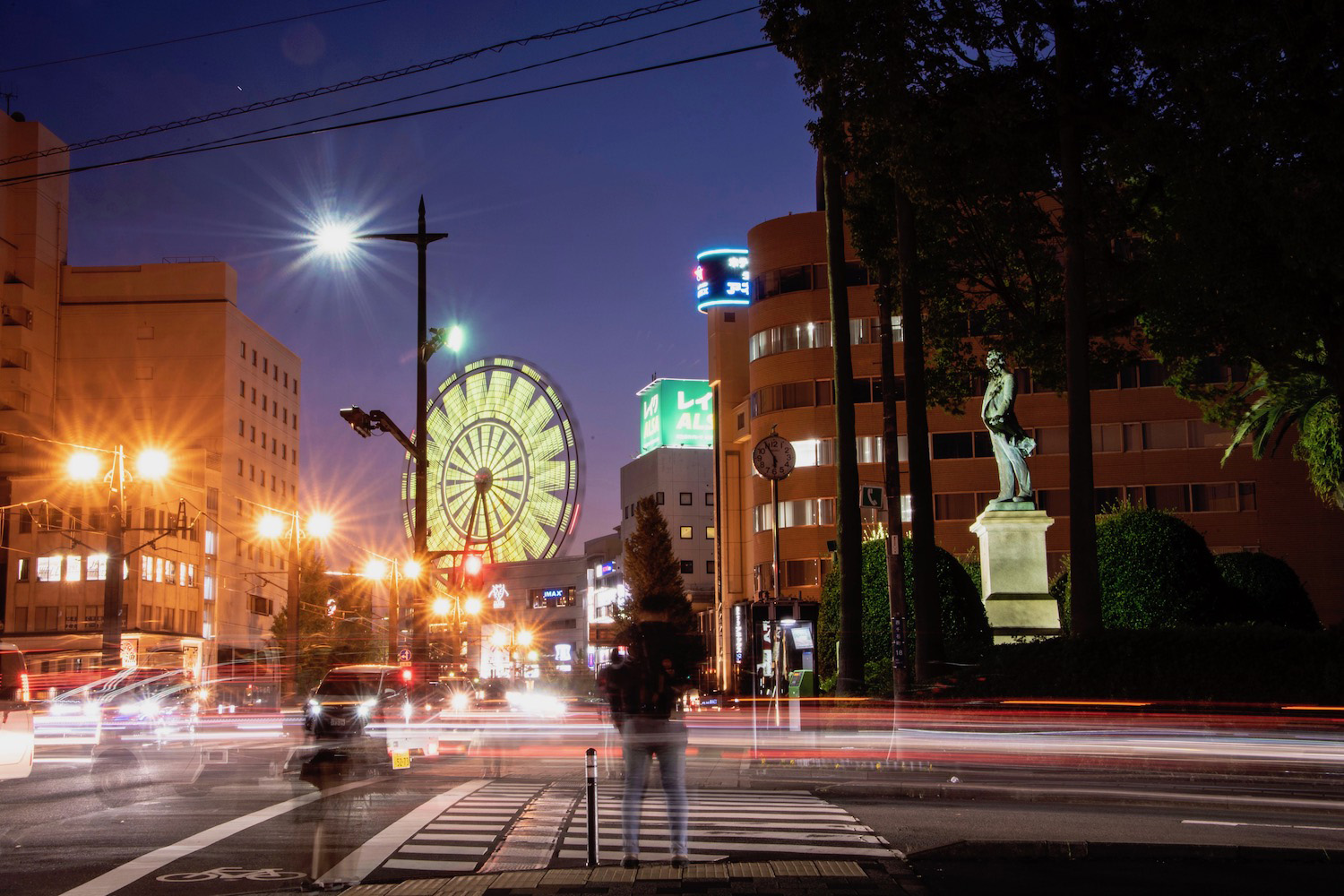 It was iconic (I mean the photo I took) and it was instructive. I was ultimately bound for a cape just behind the volcano's perfect cone shape, where I imagined I would enjoy the best vista on the entire Satsuma Peninsula.
Ghosts of the Shimazu
The bad news? Cape Nagasakibana did not live up to my admittedly lofty expectations, and not only because I got scammed into parking at a filthy zoo and paying ¥1,200 in the process. Perhaps this how the ghosts of the Shimazu screwed me for having trespassed earlier in the day.
The good news, of course, was that I had successfully explored the peninsula, though I would be disappointed to tell my sister I hadn't seen a single satsuma. I thought back to the Friday nights our parents used to drop us off at Crestwood Plaza in suburban St. Louis, and how we'd sometimes just go in The Body Shop and smell things.
I certainly never imagined one of those little monsters would set foot on the actual Satsuma Peninsula. As I fired a text off over the Pacific, it dawned on me that I only had two days left in Kyushu.
Other FAQ About Visiting the Satsuma Peninsula
Where is Satsuma, Japan?
The Satsuma Peninsula is located about 1-2 hours southwest of Kagoshima, Japan, depending upon how you get there. Kagoshima, for its part, is located near the southern tip of Kyushu island, which is itself the southern- and western-most of Japan's four main islands.
How do I get to Ibusuki?
If you don't rent a car (which I honestly think is the easiest option), the best way to reach Ibusuki from Kagoshima is one of the following. If you don't ride a local or limited express JR train from Kagoshima-Chuo station, you can stop in Ibusuki after boarding the high-speed hydrofoil ferry to Yakushima island.
Are there Samurai villages near Kagoshima?
Although modern-day Kagoshima was once an important Samurai outpost, you have to search relatively hard to find traces of that heritage today. Apart from Sengan-en garden, just west of the the city center in the shadow of Sakurajima volcano, you can also enjoy Samurai architecture in Chiran on the Satsuma Peninsula.