I didn't think much of Churei-to when I first laid eyes upon it—and neither did the guide leading the media trip I was on. "Foreigners love coming here," he explained, noting that the seemingly ancient structure was only about 50 years old, and asking us to imagine Mt. Fuji rising in the cloudy skies above the structure, "but very few Japanese do."
This was late 2016, when I'd only been to Japan a few times—I wouldn't launch this website for another 18 months. If you'd asked me back then, I'd have set my odds of returning to the pagoda in the future at close to zero.
In reality, I've been back probably half a dozen times, in relentless pursuit of that postcard-perfect shot (which, you'll be happy to know, I finally got). Is Chureito Pagoda worth it? Absolutely, but with a few important caveats.
When is the Best Time to Visit Chureito Pagoda?
If you happen to be in Japan during cherry blossom season, I definitely think that Chureito Pagoda is worth visiting. In fact, I'd go so far as to say that the scene you encounter—the towering pagoda, the tufts of voluptuous sakura and of course, snow-capped Fujisan rising in a perfectly clear sky—is the single most iconic image of Japan you could possibly see or capture.
Now, with that being said, the stars really have to align for you to be able to achieve this. You'll not only need to time your visit to Fuji Five Lakes just right for the notoriously fickle sakura bloom; you'll also need to come on a day with basically perfect weather, which can be difficult to ascertain from any forecast. On the other hand, if you deliberately come when conditions are less than perfect, you may one day look back on this decision with regret.
My Top Tips for Visiting Chureito Pagoda
Check the weather—obsessively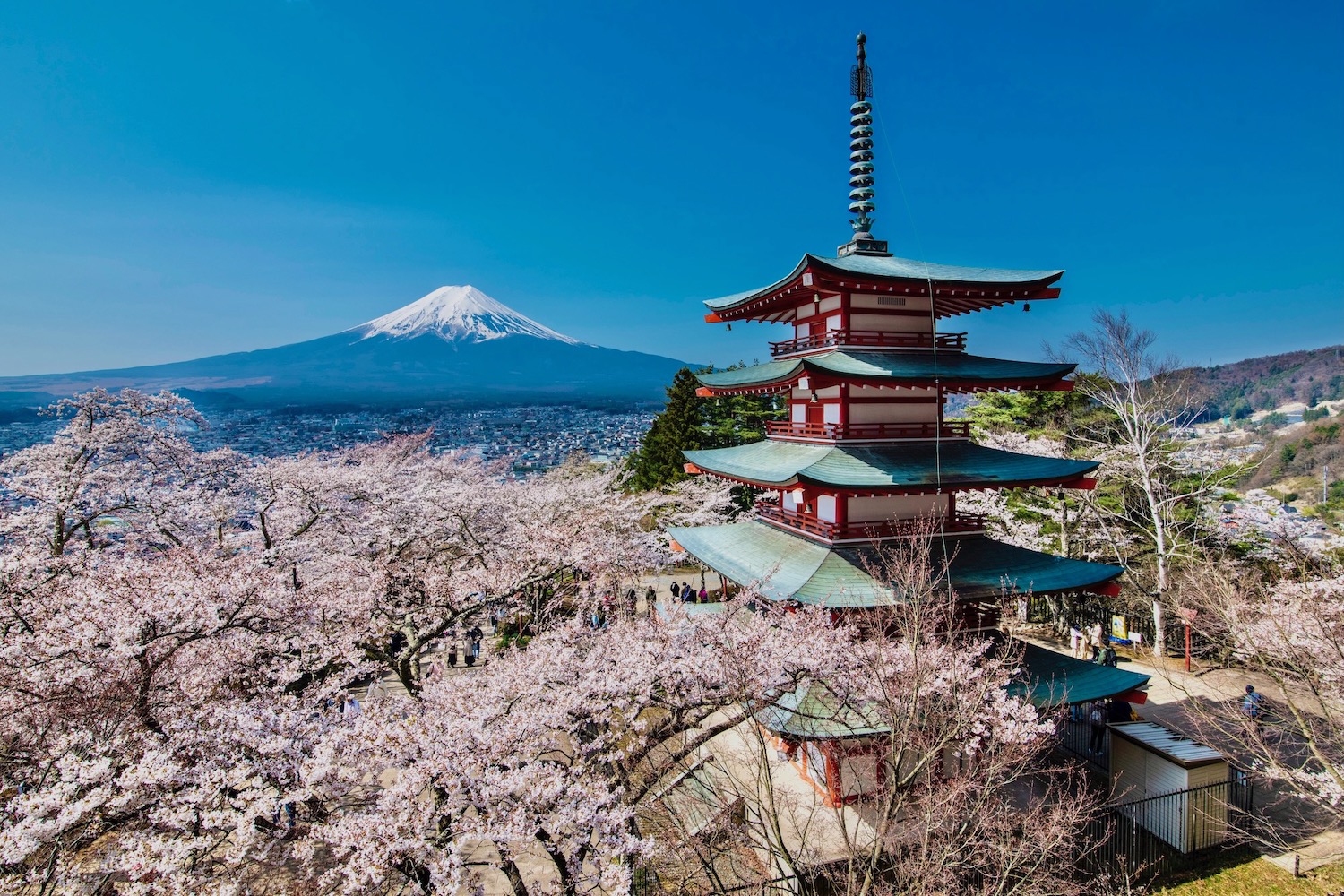 Mt. Fuji is difficult to see any time of year, let alone if you're trying to come when the cherry blossoms are fully bloomed. You'll want to monitor the sakura forecast if you come in early April; no matter when your trip is, however, peruse local Japanese weather forecasts to get the base idea of what weather near Mt. Fuji is like. You want as close to perfectly clear skies as possible!
Go early
Getting the right shot is most of what makes Chureito Pagoda worth it. Since having lots of other people in your photos is a great way to get the wrong shot, consider going earlier rather than later. While there are crowded from open until close during cherry blossom season, an added benefit of going early is that this is when lighting at the site is optimal.
Set realistic seasonal expectations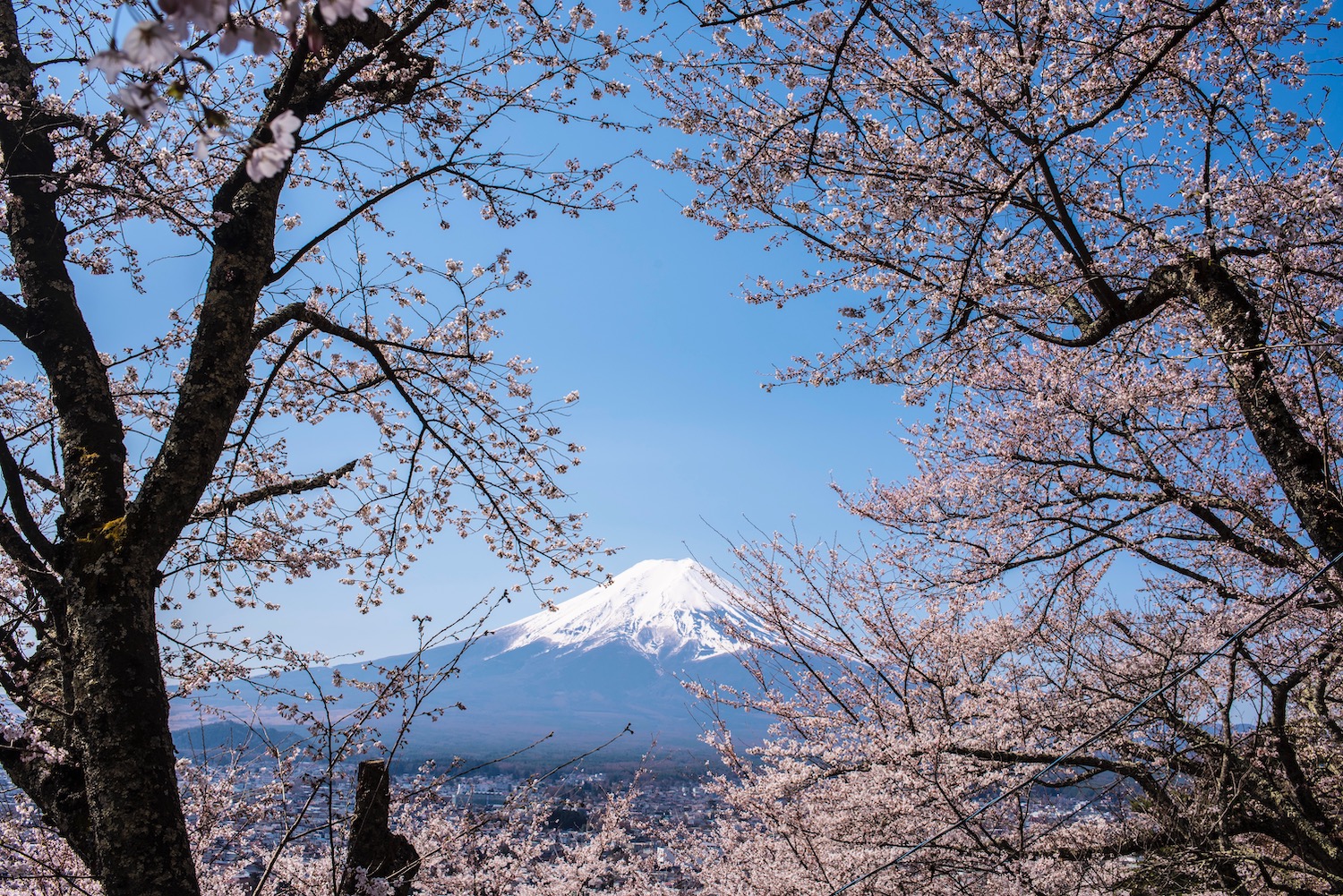 If you go during cherry blossom season or the peak of autumn colors, you'll not only encounter a lot of crowds; you'll also need to line up (potentially for as long as an hour) to be able to access the observation platform behind Churei-to. Once you get there, you'll only have a few minutes to get the perfect shot. Which is not the end of the world, but it is something you should try to anticipate.
Sort out tech issues in advance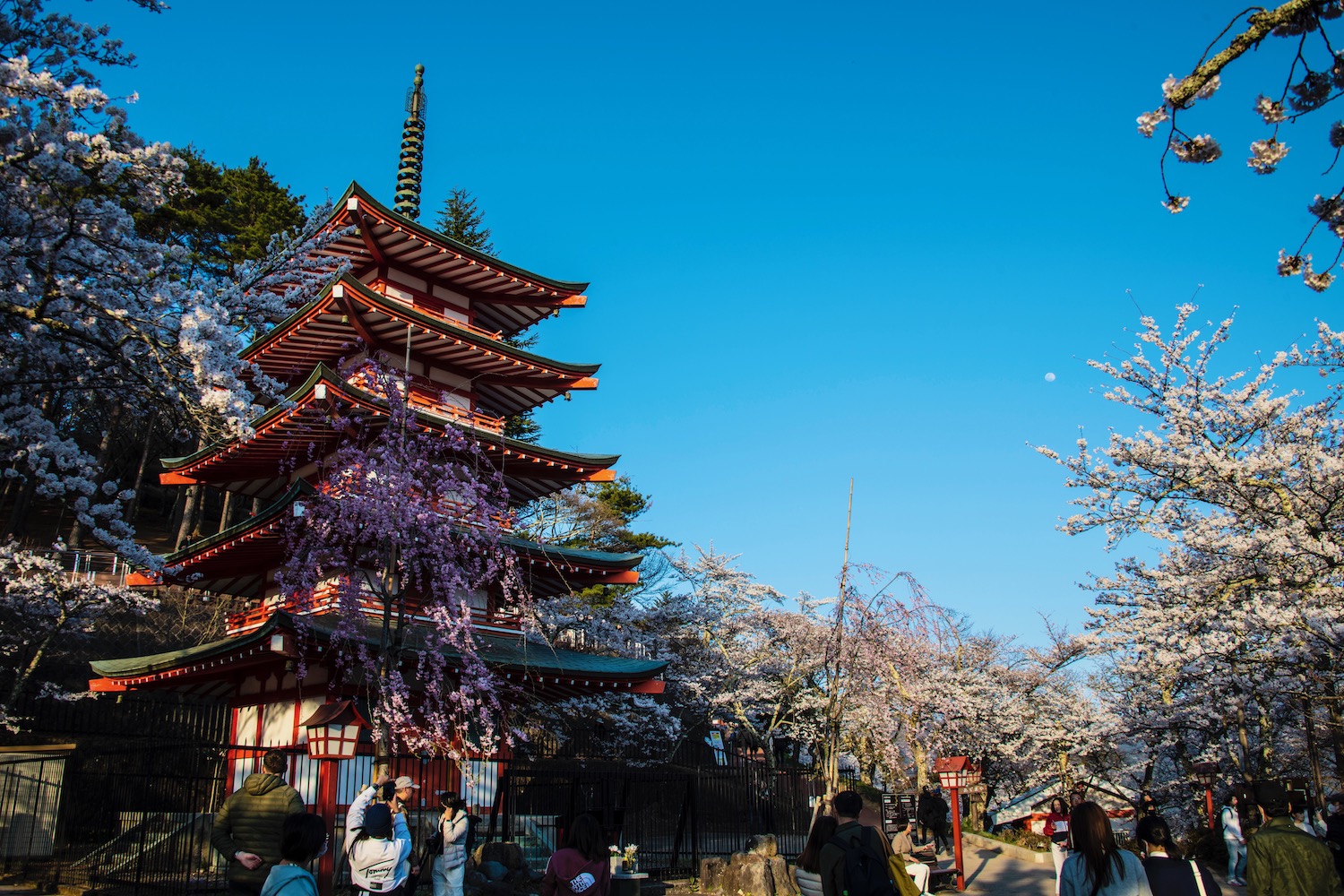 In retrospect, you might not find Chureito Pagoda worth visiting if you fail to get the shot you really want. As a result, I recommend making sure that all your camera settings are precisely how you want them before you access the photography platform, especially if you plan to hand your camera off to someone else who can take your picture.
Give yourself more than one day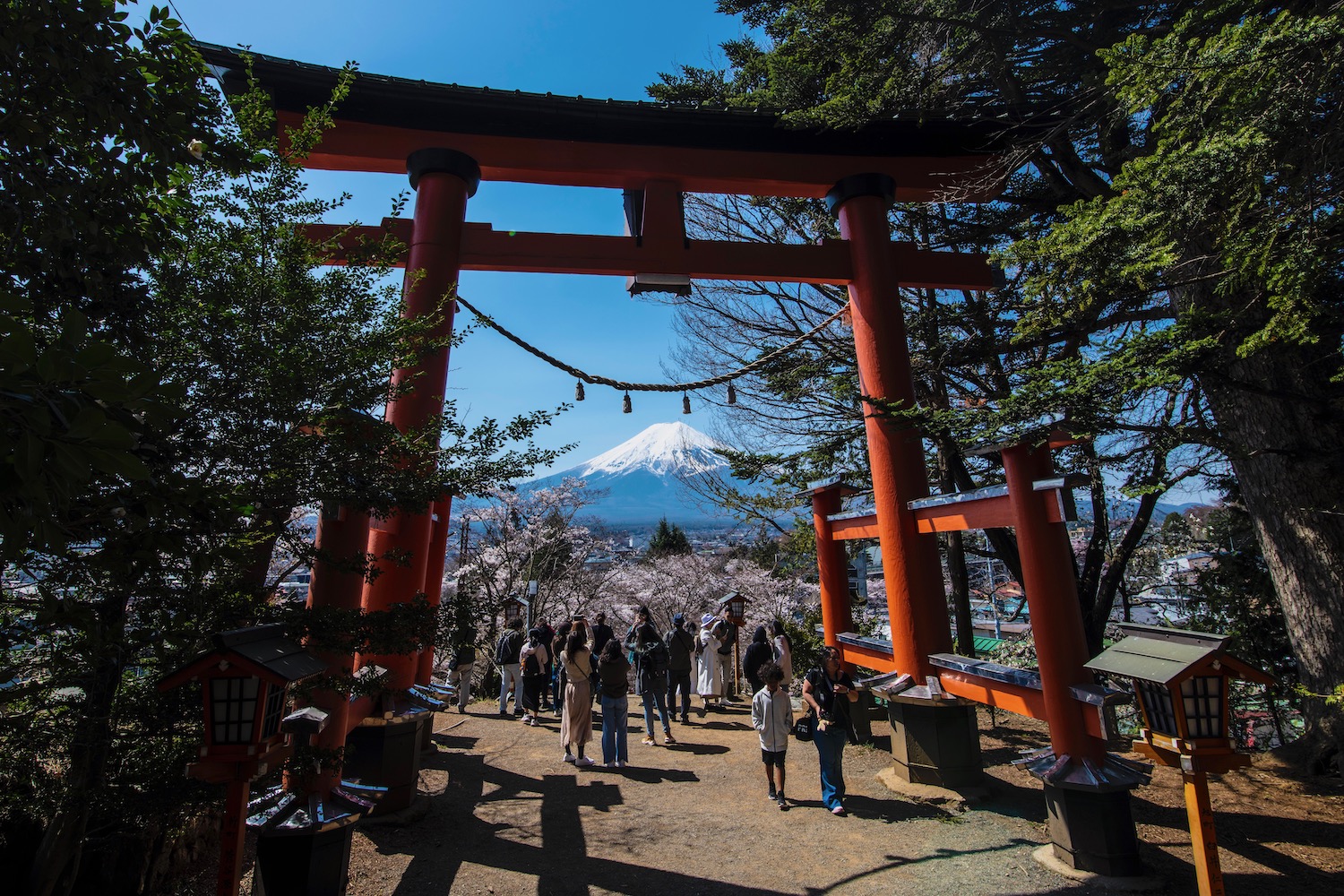 It took me seven years—and several distinct trips—before I was able to photograph Chureito Pagoda in a way that really did the place justice. While most of you are not as obsessed as I am (and many of you probably won't be as unlucky as I was at various junctures), you should at least give yourself 2-3 days in the Fuji Five Lakes region to account for the possibility of bad weather, or that you're too early for the sakura.
How to Get to Chureito Pagoda from Tokyo
For reasons I hope I've made clear in this post, it's really best to visit Churei-to from a base in the Fuji Five Lakes region. This will not only allow you to maximize your chances of Fujisan being visible when you're there, but also unlocks other vantage points for seeing the mountain, including along the north shore of Lake Kawaguchi, and from Fuji-Q Highland amusement park.
With this being said, it's relatively easy to visit Chureito Pagoda from Tokyo—specifically, from Shinjuku Station: Either on the Fuji Kaiyu (Excursion) limited express trains that depart several times in the morning, or by riding a Matsumoto-bound Azusa limited express to Otsuki, and connecting to the Fujikyu Line there. Alternatively, you can ride highway buses from Tokyo and Shibuya Stations, or ride a Shinkansen to Mishima and transfer to a bus there.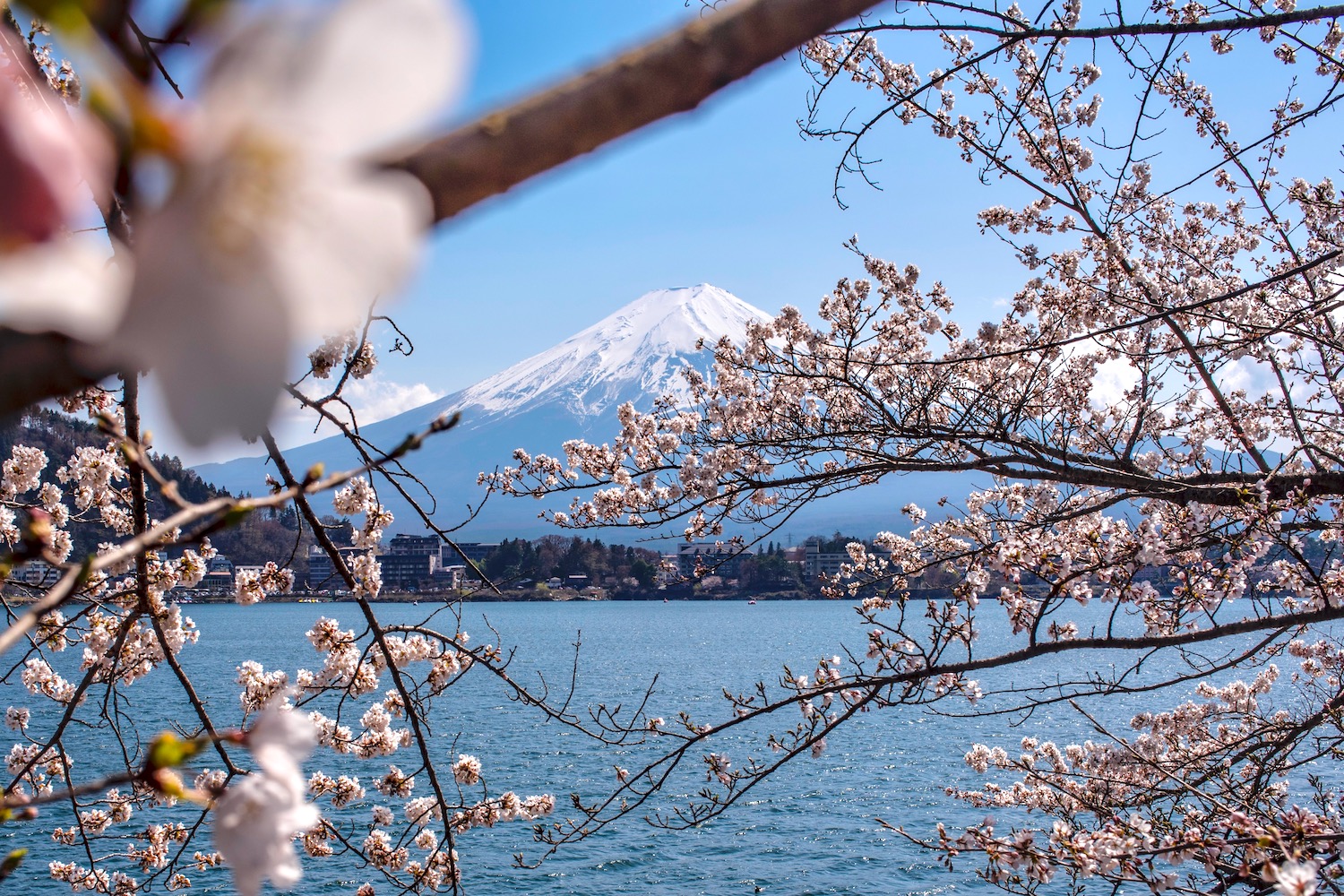 Other FAQ About Chureito Pagoda
How long does it take to walk up Chureito Pagoda?
Depending on your fitness level, it can take anywhere from 15 minutes to an hour to reach Chureito Pagoda from ground level; getting up there requires walking up several dozen steps. Additionally, while travelers using public transportation will start at Shimoyoshida Station, those with their own cars will start at the parking lot, which is slightly closer to the trailhead.
What time of day is best to visit Chureito Pagoda?
Morning is the best time to visit Chureito Pagoda, for two main reasons. First, because Mt. Fuji is far more likely to be visible during the early part of the day. And secondly, because the lighting at this time of day is most optimal (although to be fair, lighting is never really fantastic at Churei-to, which faces south, i.e. the direction the sun is coming from during most months of the year).
What is the nearest station to Chureito Pagoda?
The nearest railway station to Chureito Pagoda is Shimoyoshida, which is served by local (and some limited express) Fujikyu Line trains. However, the nearest JR station to the pagoda is Otsuki, from which you must connect to a Fujikyu train (and ride it to Shimoyoshida) if you wish to visit Churei-to without taking a taxi or renting a car.
The Bottom Line
Is Chureito Pagoda worth it? Yes, particularly if you're mindful about when you visit, and allot at least a few days to account for the notoriously temperamental weather near the base of Mt. Fuji. Mindful, and maybe a bit obsessed: The peak of the sakura bloom, which is the best time to photograph the pagoda, is notoriously difficult to predict. While you may opt to visit at another time of year to save yourself stress and disappointment, this may instead lead to feelings of FOMO, only fixable by coming back in some future cherry blossom season. Commission a custom Japan itinerary to get personalized advice on all the destinations and experiences you're dreaming of.