I'd had a bird's-eye view of Sakaiminato, the primary port of Yonago City, on both the nights I watched sunset from beneath the temple at Mount Daisen. Problem was, apart from its name and the fact that the crab sold in its seafood market was supposed to be the most delicious in all of Japan, I knew almost nothing about it.
To be sure, I had no real idea why Mizuki Shigeru's manga was so beloved, though I did my best to read up on it as my bus headed north toward the harbor from downtown Yonago at around 8 this morning. It seemed, based on my cursory research, that a decades-spanning franchise about Kitaro, a boy born in a cemetery, was Shigeru's main claim to fame.
Not that I dared confirmed this with the two-dozen Hong Kong tourists enjoying a guided tour—in Cantonese—of a street with statues of characters from GeGeGe no Kitaro on either side of it. I had places to be.
Audrey Incarnate
Certainly, I found the atmosphere of Mizuki Shigeru Road electric, even if I didn't really stop and smell the proverbial flowers. As a result of the packed day I'd planned, I needed to shave at least a few minutes off the 28 Google Maps told me it would take to walk to the aforementioned seafood market, at least if I didn't want to have to choose between eating crab and photographing it.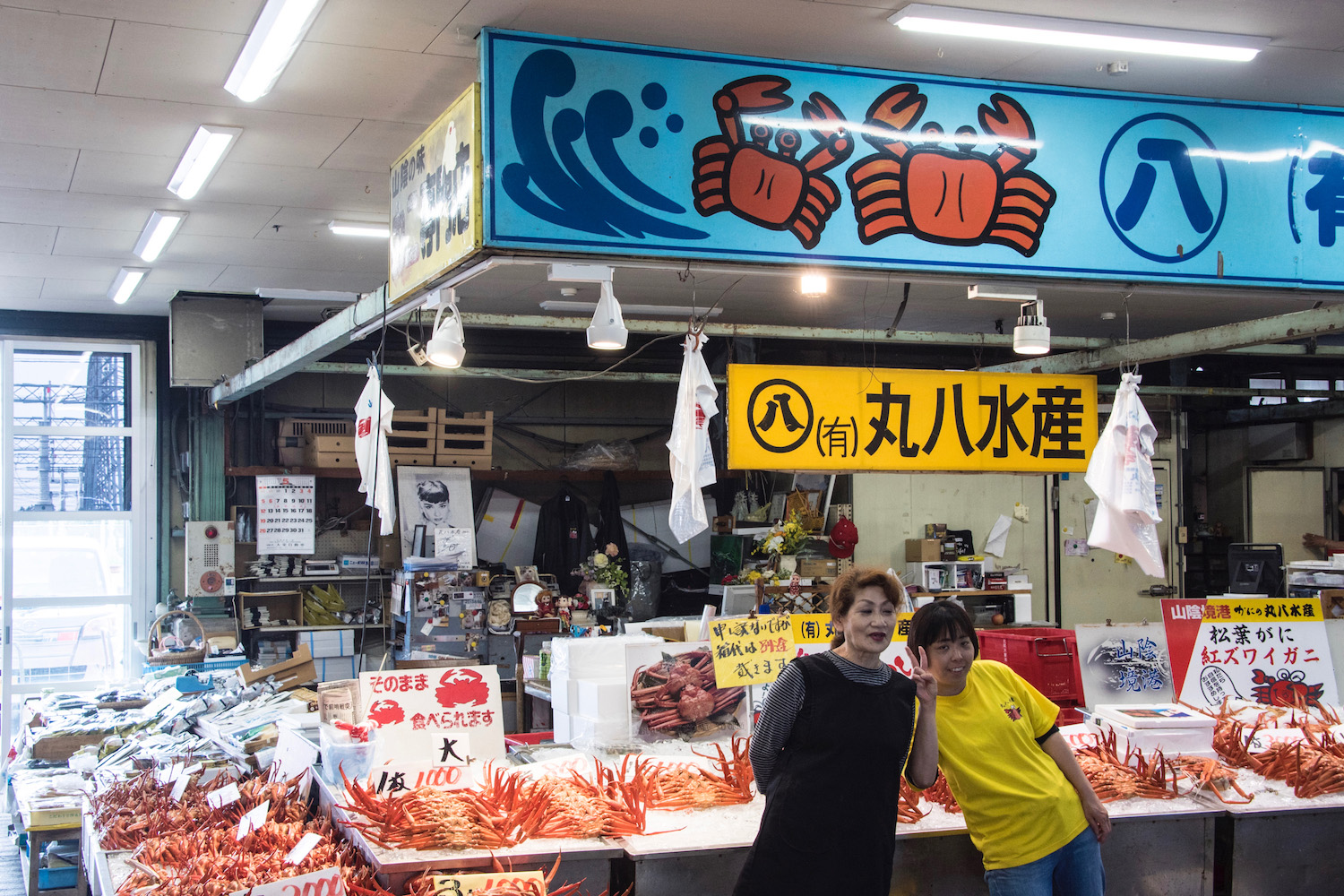 When I arrived to the "Marine Product Direct Sales Center," which looks (at least from the outside) about as appealing as its name, the first thing I noticed was the stench of decaying fish parts. The visible periphery was spotlessly clean, however, so I wasn't sure where it was coming from.
Certainly not from the first kani seller I happened upon, whose catch had been brought in so recently from Sakaiminato Port that the animals were still moving, bless their hearts. The young woman standing in front of the stall was sprightly and energetic, as if she was trying to conjure the energy of the Audrey Hepburn poster hung non-ironically above a computer station.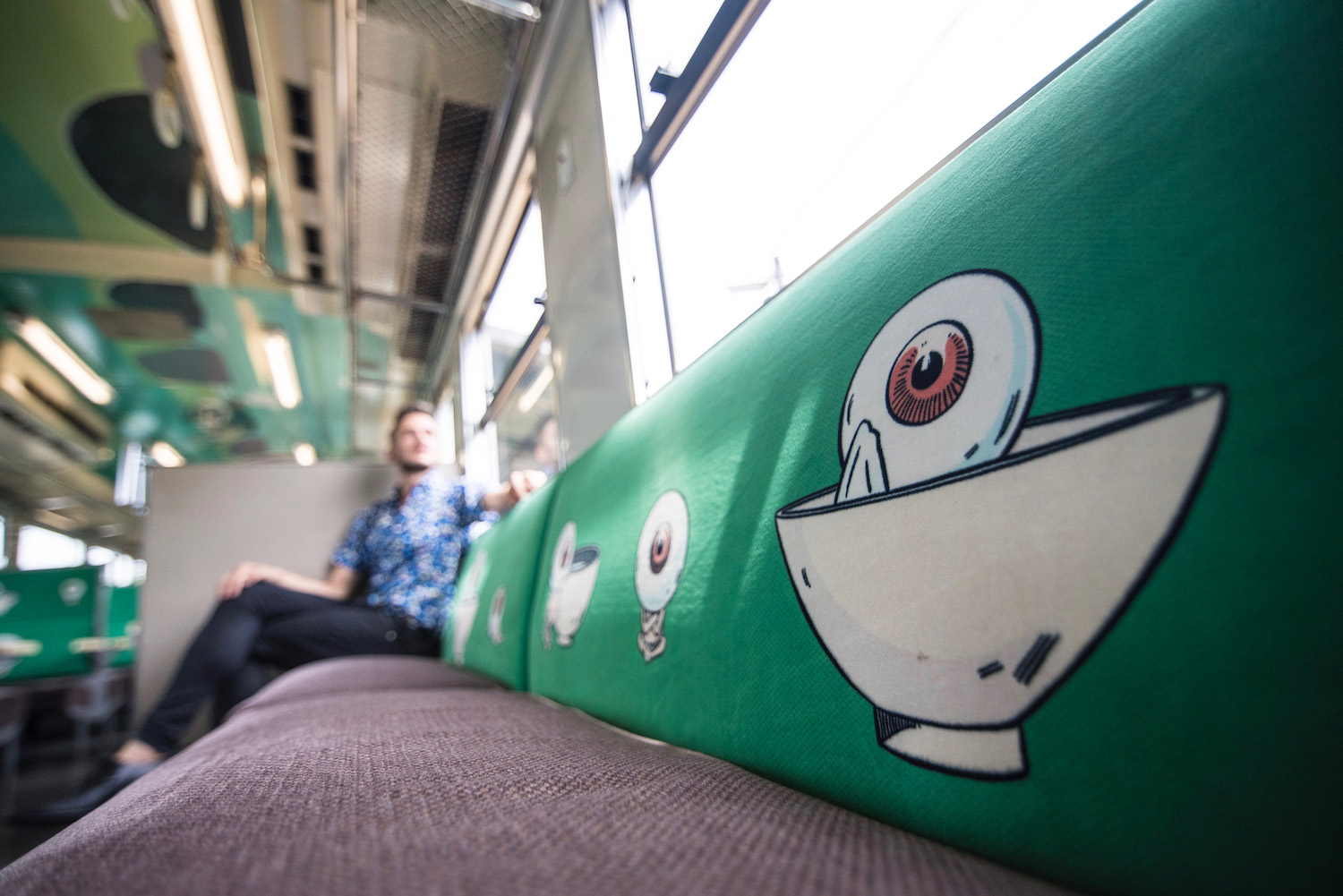 The bad news? I literally only had time for only a single walk through, at least if I wanted to get back to Yonago Station in time to transfer to Kurayoshi's Japanese Pear Museum (which I'd missed on Monday due to it being closed) as planned. The good news? Audrey incarnate, clearly aware that I wasn't able to purchase any of her stock, offered me an entire leg and craw of crab as a free sample.
Daddy Eyeball
I'm usually good at adhering to tight schedules, but I ended up lingering at the market longer than I should've. So soaked in sweat was I by the time I arrived back at the train station (I ran most of the 2.1 km, in leather oxfords no less) that the ticket machine rejected the  ¥1,000 bill that had been in my pocket—this almost never happens in Japan.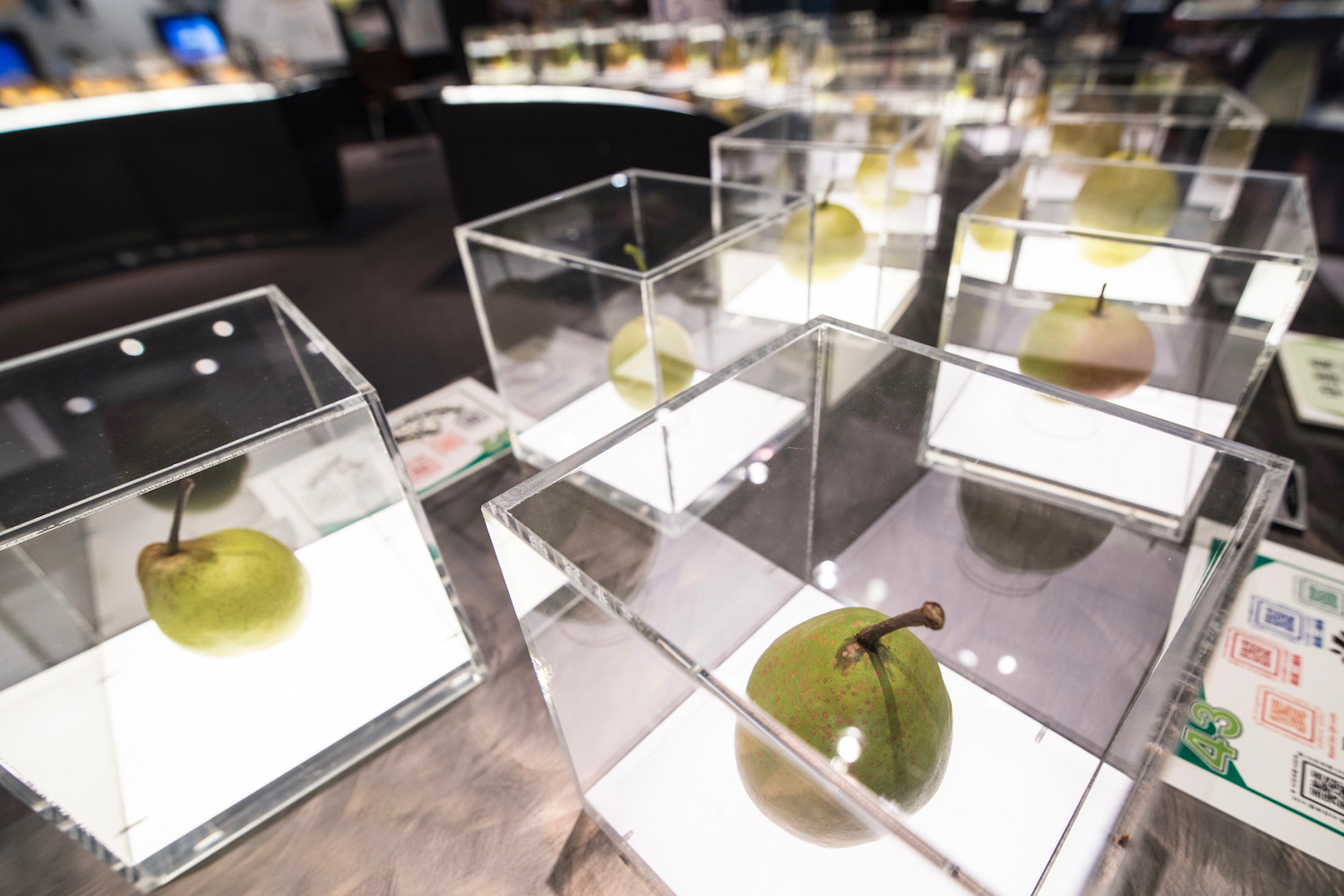 As it turns out, my Sakaiminato experience continued even after the port disappeared—slowly—behind the train. The vehicles were themed to GeGeGe no Kitaro both visually (a character I believe is known as "Daddy Eyeball" appeared no less than 50 times inside the two cars of the JR Sakai Line locomotive) and auditorily, with a voice I can only assume belongs to one of the characters making station announcements.
My shirt hadn't fully dried, even 42 minutes later, as the train arrived back in Yonago. But I was going to get to the Japanese pear museum on-time and unscathed, so I was able to look past how disgusting I felt, even if I can't say the same for all my fellow passengers.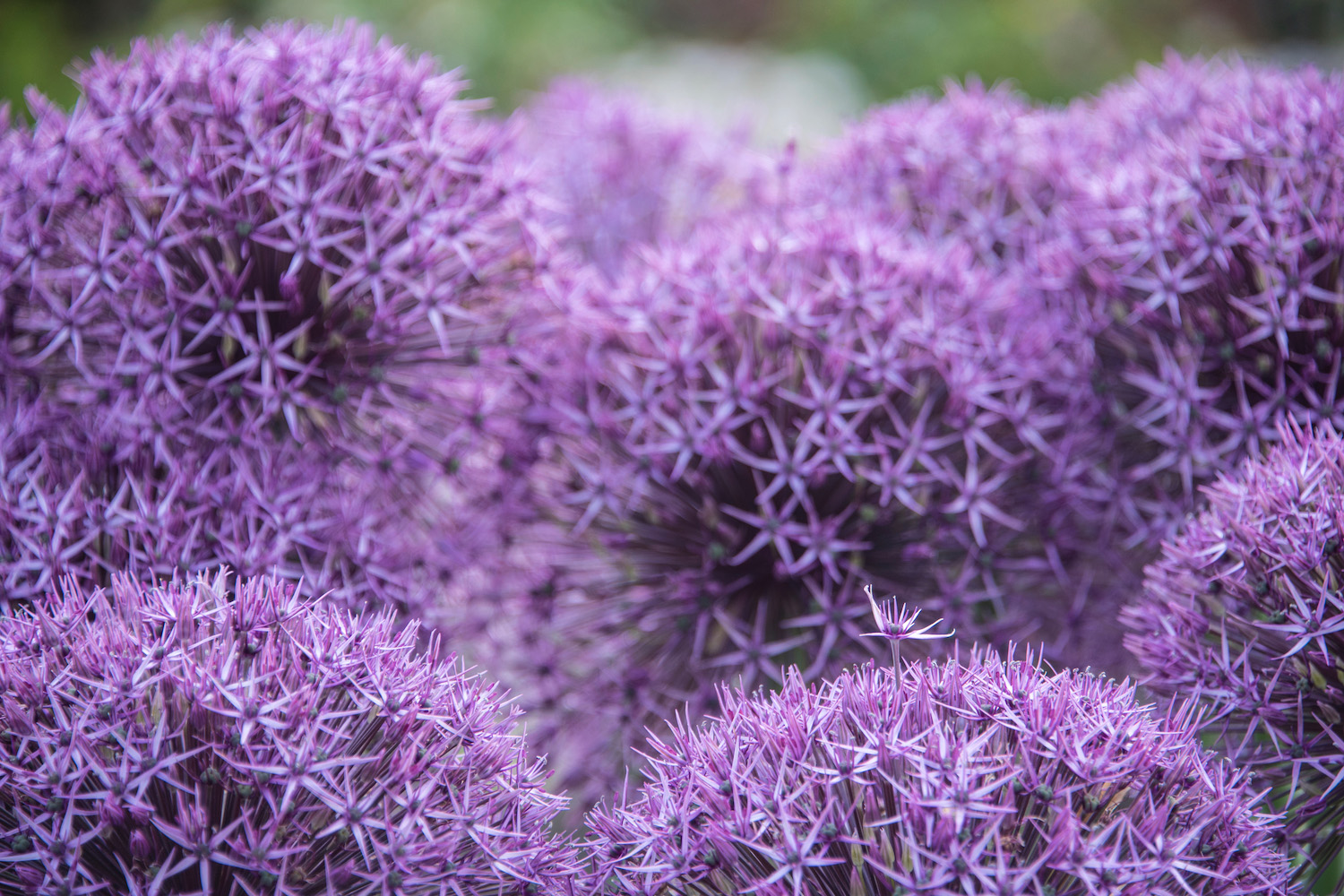 Arriving in Kurayoshi was like déjà-vû—and not just because it was the second time in three days I'd done so.
Expanse and Color
Indeed, as had been the case in Sakaiminato, I would have less than an hour at my primary destination in Kurayoshi, a place officially knows as Nashikkokan Nijisseiki Pear Museum. Thankfully, the exhibitions were rather limited in scope (and were exclusively in Japanese)—apart from the free tasting room inside the ticketed area and the ¥300 Tottori Nashi soft serve available just outside it, there wasn't a whole lot to see.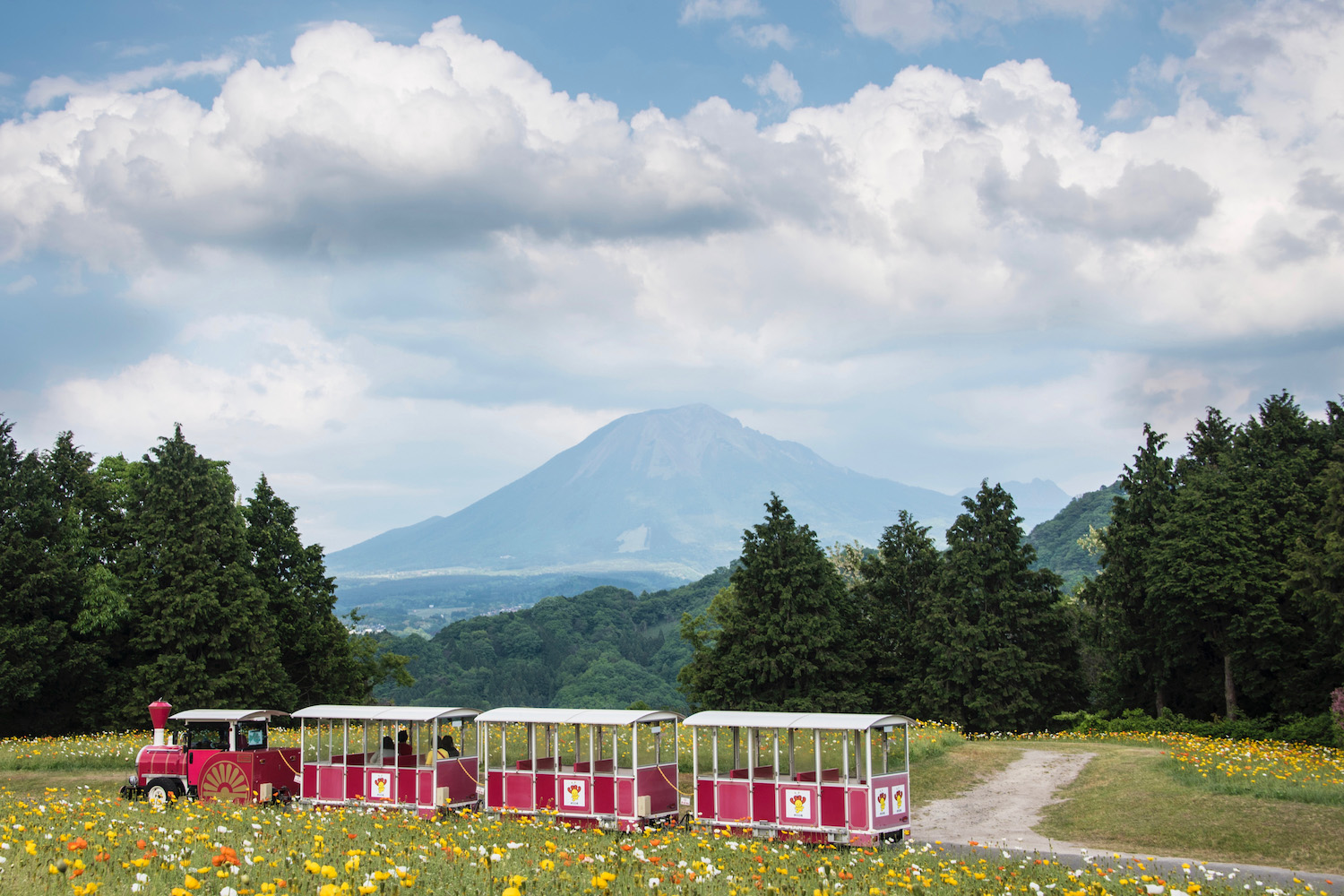 My third stop of the day would be Tottori Flower Park, where I fully expected to be the only person under the age of 40, and the only man not dragged there by his girlfriend or wife. I also expected to be the only foreigner, though I almost immediately encountered a couple from the Philippines, whose asked me to take their picture at the aster-accented koi pond near the entrance, Daisen looming in the background.
The complex was more thought-provoking than awe-inspiring, centered around a geodesic dome filled with an orchid exposition that paled in expanse and color compared to see what I see on the streets back home in Bangkok, even if the blooms were immaculate. The park had its own pear-flavored soft cream too, this one with the aftertaste of caramel candies.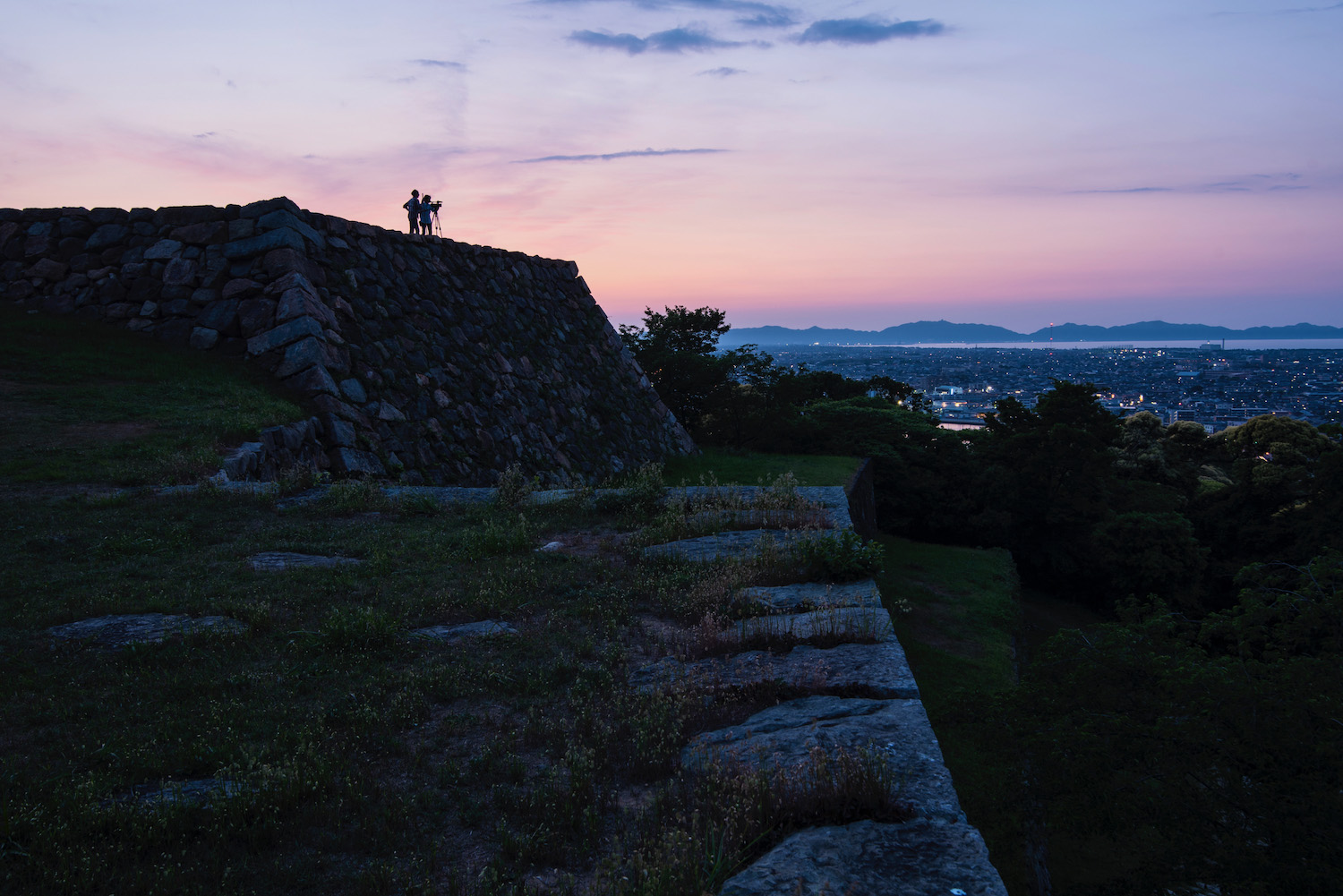 I exited the park just moments before it closed (5 pm, if you're keeping track), and though the sun was still almost two hours from setting, I couldn't help but wonder what Sakaiminato would look like bathed in kaleidoscopic light—or if I'd get to see it again.
East of Due North
Not that I was planning to go all the way back there. Rather, I was hoping I'd be able to see the sun sink into the shipping channel from atop the ruins of Yonago Castle, assuming they even faced that way.
Upon reaching the summit, I could technically see the port from where I was standing, though most of the pink and purple streaking through the sky was relegated to the more westerly portion of the horizon. In fact, I'd never have known there was a place just east of due north where fresh seafood catches came in every morning at all, had I not been there and seen it for myself.
No part of my day had lasted very long or, on its own, been singularly impactful. But the threads I'd first noticed in Sakaiminato, with its manga-flanked boulevard and its markets with complimentary crab, wove together into a tapestry that transcends the sum of its parts, if nothing else.
Other FAQ About Visiting Sakaiminato?
Is Sakaiminato worth visiting?
Sakaiminato is a quirky port, but also a pretty small one. If you aren't set on exploring the seafood market or don't have a deep interest in the anime of Shigeru Mizuki, I'm not sure traveling here makes sense, unless it's just the short journey from Yonago.
How do I reach Sakaiminato?
Sakaiminato is accessible via local train from Yonago, a city in the Tottori prefecture of Japan's San'in region. These trains only come about once an hour, so if you don't plan to methodically arrange your itinerary, I recommend giving yourself at least half a day to visit.
What is there to do in Sakaiminato?
Travelers to Sakaiminato can occupy themselves in two basic ways. If you don't eat your way through the town's colorful seafood market, you can appreciate monuments dedicated to Shigeru Mizuki, a famous anime illustrator who hails from here.