Thursday morning I was undertaking my first of two Okinawa day trips in 48 hours. But 48 hours before that, I hadn't planned to come to Okinawa at all.
That's a lie and you know it, I reminded myself as I raced up a flight of steep stairs to the summit of Mt. Gusuku, my skin already slicked with a salty glaze of perspiration and melted sunscreen on account of my having trekked to the trailhead from the ferry terminal. You were just waiting for the right moment.
Indeed, I've been tentatively plotting a return to Okinawa since my disastrous trip to the archipelago two winters ago, which saw me succeed at seeing the islands' peculiar sakura species and fail at literally everything else—it was the coldest beach vacation I've ever taken to this day, and the most overcast, too. Thursday morning was sweltering, the passing clouds overhead mere decoration.
Almost Metallic
Wednesday had been leg day; I felt this in every part of my body as I descended from the Gusukusan parking lot and onto Ie's main east-west road. I hoped the dried, supernaturally sweet pineapple I'd bought at the Gusuku sundry shop would provide me with energy of a similarly supernatural sort; instead the excessive fructose made me nauseous.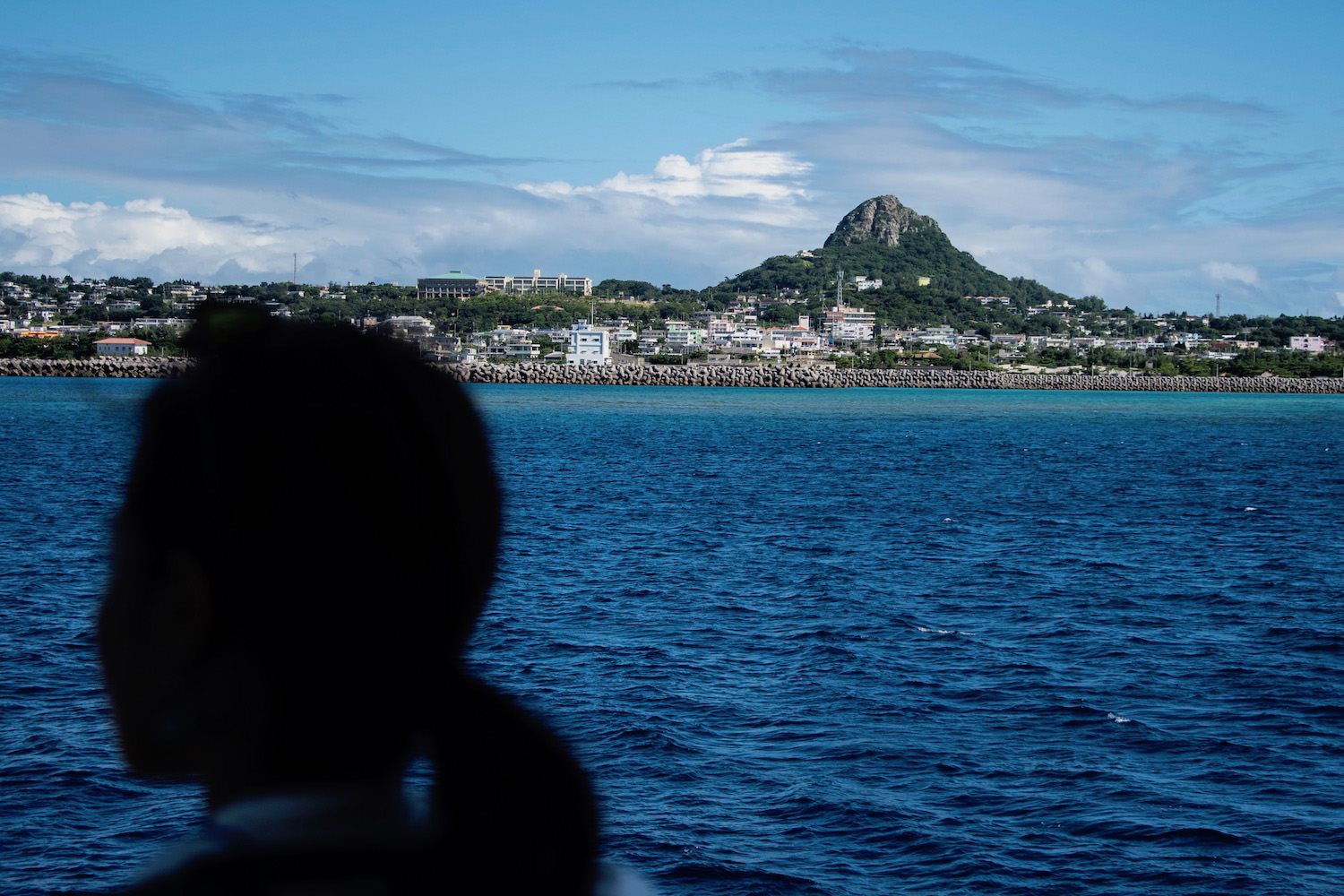 The walk to so-called GI Beach was flat and largely shaded; it was easier than what I'd endured two weeks earlier in Shimoda, though I clearly hadn't learned my lesson. The fluorescent water, which appeared almost metallic in the mid-morning sun, motivated me toward the pure-white sand, where I imagined several dozen beach bums would be bronzing their backsides.
Not so. In fact, apart from an Ie Island ferry heading back to the mainland very far in the distance, there were no signs of human life for at least the first hour I was at the beach, where I alternated between dips in the cool, clear, shallow sea and walks up and down the beach to a series of sea caves.

The young Japanese man who descended to beach level during one such swim was so deliberately un-intrusive that I forgot about his presence shortly after I first noticed him, at least until he tapped me on the shoulder. "Could you take my picture?"
Not the Aleutians
Yuta, as I soon learned his name to be, was visiting from the Tohoku region, and unlike me he'd decided to use taxis to explore Ie Jima. "I bet that's not cheap," I quipped, assuming he was around my age; I felt even worse for how much he was probably out when I found out he was only 20.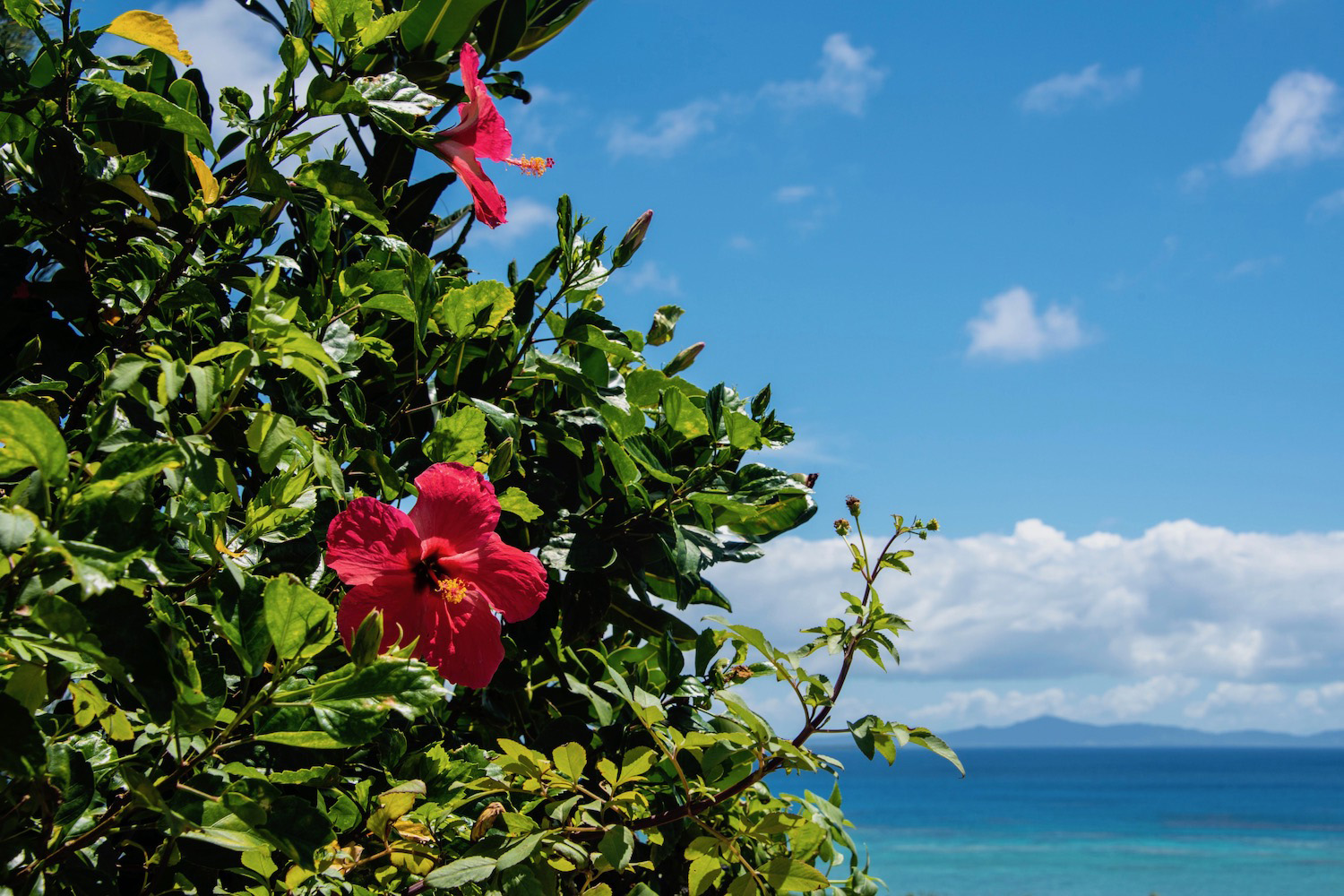 I left GI Beach just before 1 PM, wanting to get back to the port area by 1:30 so that I could order food in one of the restaurants there before last call; every single one of them closed at 2. Unfortunately for me, keeping in mind that I wanted to devote both of my Okinawa day trips to discovering local food, I had to make do with something pan-Japanese: Tonkatsu, which was the only item whose name I could read from the all-Hiragana menu.
As it turns out, the pickled green onions on my tray were something of a local specialty, even if I didn't pay the bulbs much attention as I inhaled them. Certainly, I didn't notice any abundance of paraphernalia related to peanuts, which are both Ie Jima's prize crop and, roughly, what the island is shaped like.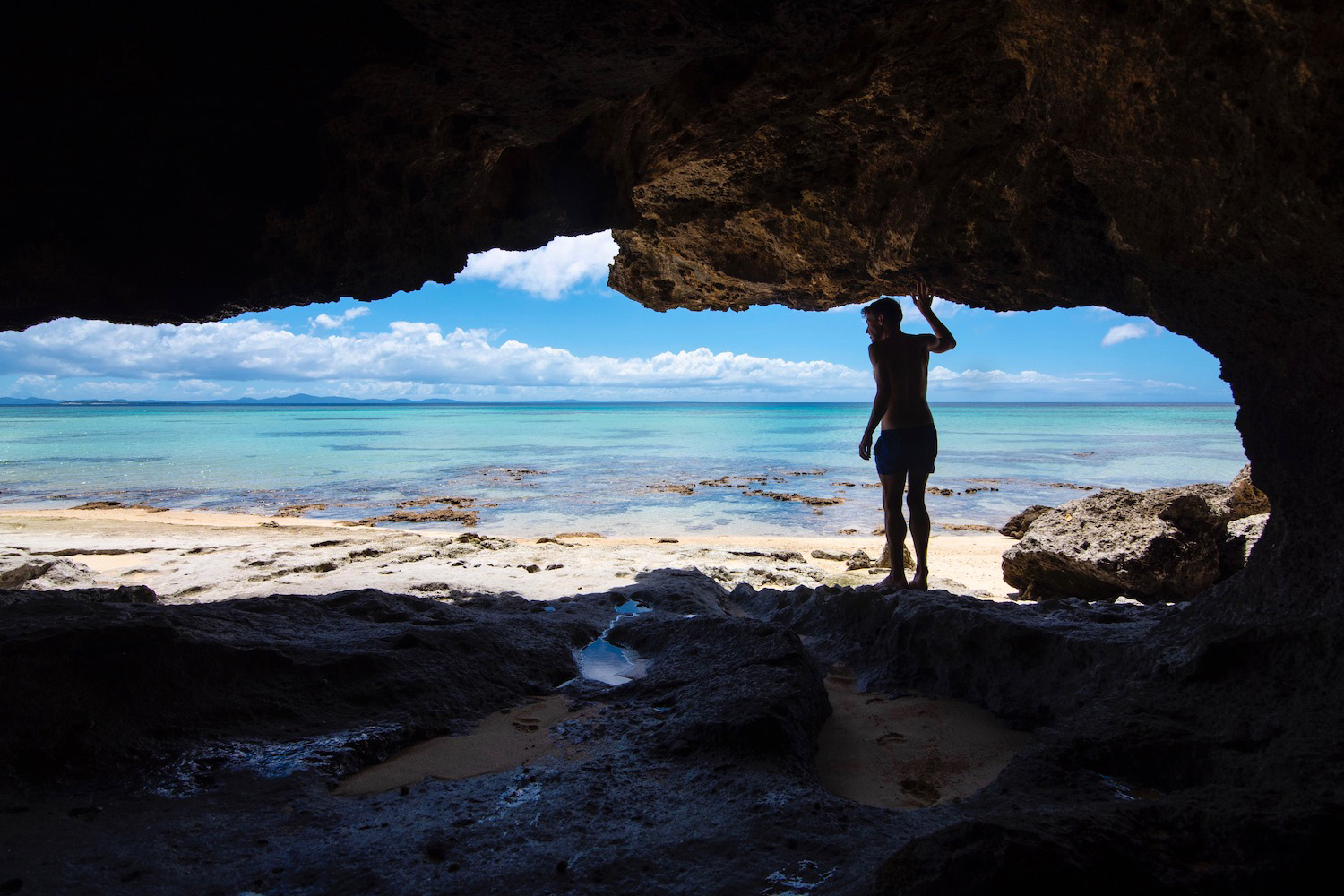 I spent the entire rest of the time until my 4 PM ferry decompressing in an air-conditioned room, where a quick scroll through my camera reassured me that the main goal of my trip—getting photos of Okinawa looking like the Hawaiian islands and not the Aleutians—was already realized, even if Friday's day trip to Tokashiki were to end up being dreadful.
Slow Boat to Tokashiki
Before I tell you about my Tokashiki Island adventure, I should briefly return to the opening conceit of this post—and indeed, this trip: That my return to Okinawa was spontaneous, even by my standards. I'd seen that the weather on Thursday and Friday would be excellent, but it wasn't until I come upon a deal so good I still fear it might have been a mistake (it's a holiday weekend in Taiwan, so the majority of fares for the one-hour flight late this week were exorbitant) that I pulled the trigger.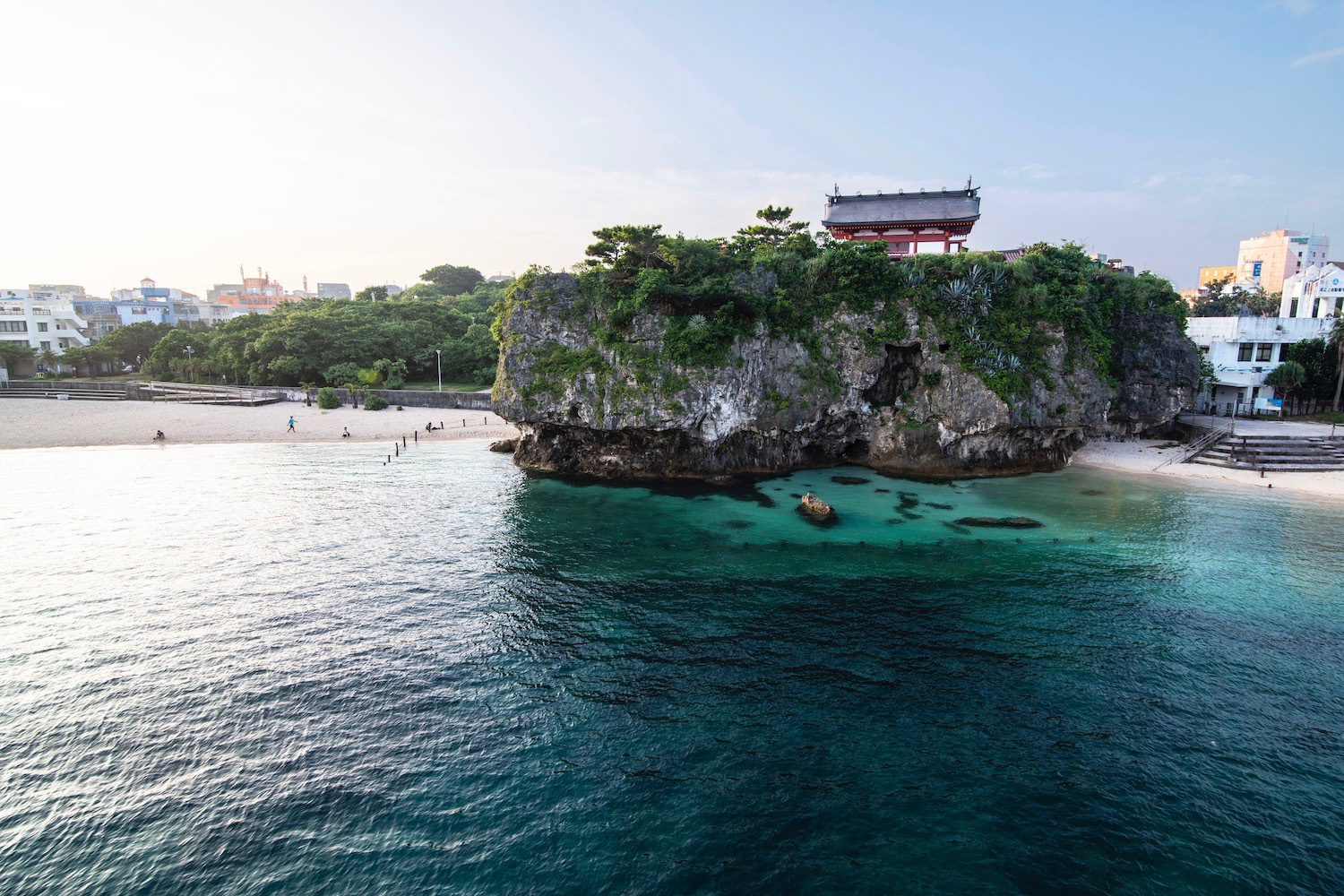 It was a thrilling feeling, both Tuesday (and especially Wednesday) as I powered through my heavy workload to get it all done before the flight, and as I boated out to a pair of paradise islands Thursday and Friday. Especially Friday: From my perch on the slow boat to Tokashiki, the Pacific looked just like the Aegean, even if Aphrodite and Jupiter probably aren't friends of the gods here.
The reality that greeted me upon disembarking the Tokashiki ferry was less pleasant, and not only because the island was enveloped in an ugly haze. All the rental cars on the island were "reserved" (which is strange, considering the fact that online reservations are not possible); the queue at the bicycle rental shop was so long I feared I might not get one, and have to choose between heading back to Naha empty-handed, or embarking upon another epic day of walking.

Or not: It turns out the bike rental company also rented cars—and they had one available, seemingly with my name (or the word gaijin, as it were) on it. It smelled like cat piss, but I was convinced it would get the job done.
A Terribly Hazy Day Indeed
It was a terribly hazy day indeed. With that being said, the thick air could not block out just how fluorescent and pure the waters of the Kerama Straits were, the fact that seeing the islands on the other side of them was a challenge notwithstanding. I still felt optimistic by the time I reached the observatory at Aharen Beach, even if it did require me to park and trek up a flight of stairs.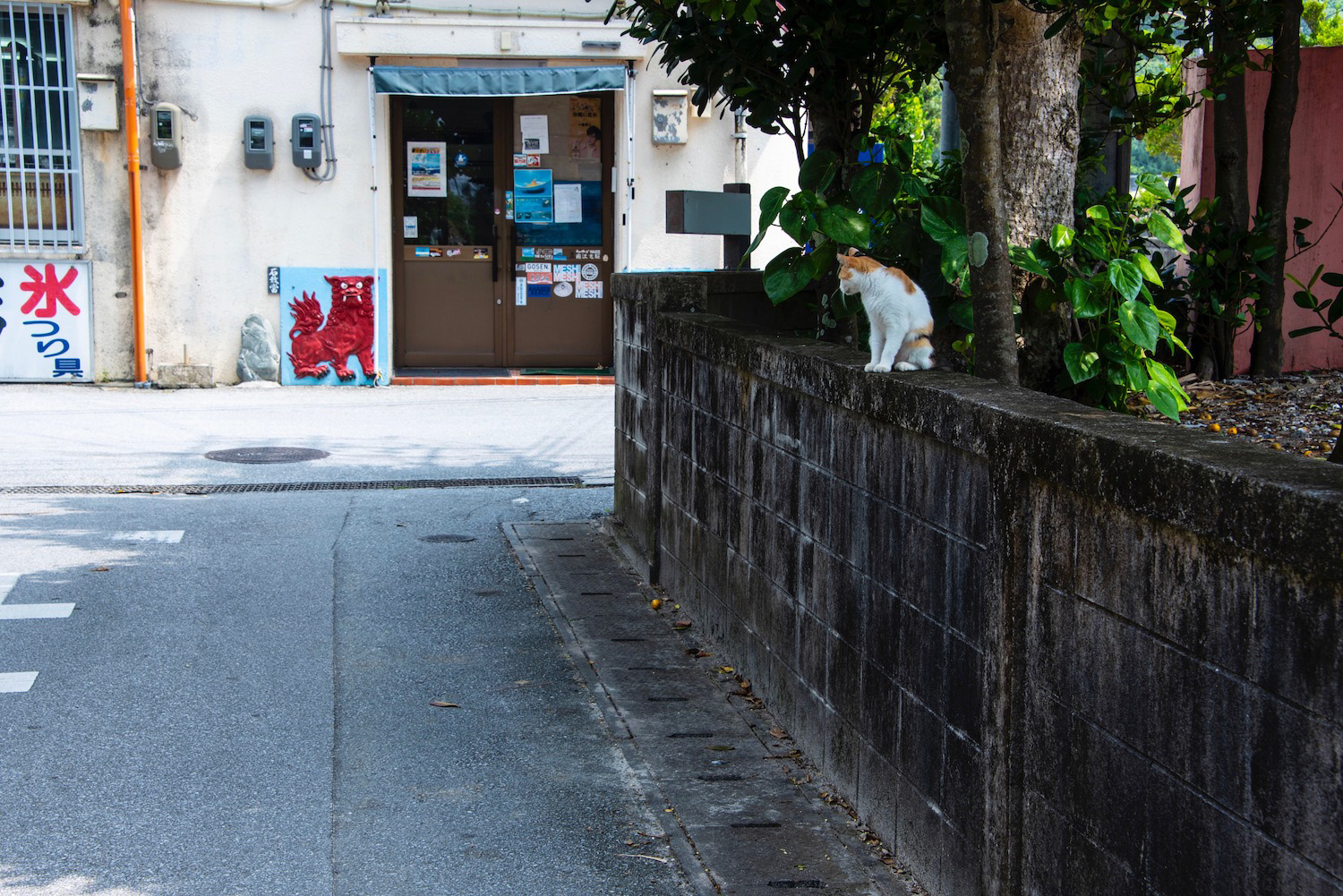 As for Aharen Beach—what words could I say that pictures don't? Even if the color of the water hadn't perfectly matched the Frida Kahlo-themed Hawaiian (well, if Hawaii were part of Mexico) shirt I was wearing, it would easily be the best beach I have ever seen on an Okinawa itinerary—and that's including Kabira Bay on Ishigaki.
After a lunch of taco rice, I drove to the third and final viewpoint of the island, where I looked out onto a patch of sea I can only describe as having permanent waves. Waves, it should be noted, that also seem to be stationary in terms of their position above the crystalline shallows.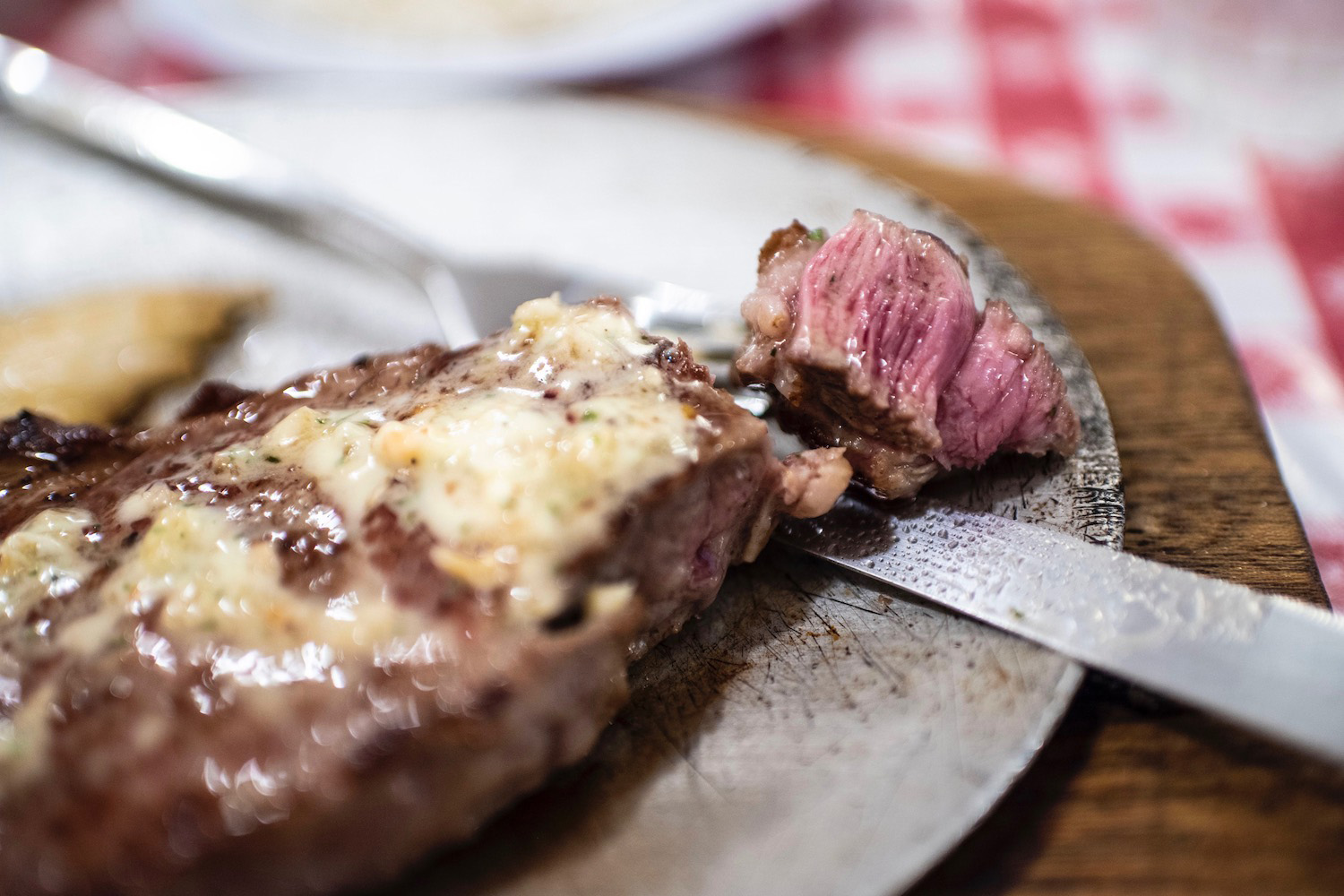 What struck me as I drove, apart from realizing I had forgotten my sunscreen on the mainland, was that I didn't see a single other car on the road—where were they? On boats, I guessed, but then where were those?
The Truth About Okinawa
My incredible weekend in Okinawa very nearly didn't happen. Actually that's not completely accurate to—it's only because I acted on a whim, which is rare for me these days, that I was finally able to see the truth about Okinawa. Or at least the version of the truth I've always chosen to believe.
I said goodbye to Okinawa with a second meal at George, an unassuming eatery where I'd eaten surprisingly good tacos the night before. Tonight I opted for the New York Strip, which had looked delicious even in the plastic incarnation of it displayed in the window.
It was strangely fitting to conclude both of my Okinawa day trips—my trip to Okinawa as a whole—here, in a restaurant that looked and sounded American, complete with checkered table cloths and a long-forgotten 90s MOR song that was only slightly louder than the sizzling coming from the open kitchen; every other person dining there besides me was local. It looked and sounded American, but it felt Okinawan, or at least the version of it I've always chosen to accept as Okinawa.
Other FAQ About Day Trips from Okinawa
What are the best day trips from Okinawa?
My favorite day trips from Okinawa are to nearby islands. Closer to the city center of Naha is Tokashiki, although you need a car to get around there. Ie Island requires a two-hour bus ride, although you can see most of its sights on foot once you get there.
Is Tokashiki worth visiting?
Tokashiki is home to some of the most beautiful beaches in Japan, and some of my favorite beaches anywhere in the world. With this being said, you do realistically need to rent a car to get around the island. If you can make peace with this, Tokashiki is absolutely worth visiting.
Can you travel in Okinawa without a car?
You can travel in Okinawa without a car, although having one will make your life dramatically easier. In particularly, a car will allow you to explore the coast between Naha city and Churaumi Aquarium and also, to get around outlying islands such as Tokashiki with ease.