It took me two trips to see Mt. Aso for what it is. On my first visit, in late 2019, a combination of bad weather and a distraction in my personal life had prevented me from capturing the essence of Kyushu's most famous volcano, let alone the scale and majesty of the caldera that swirls around it like a conch shell.
When I returned in mid-2021, on the other hand, everything was different—well, internally anyway. While I was stressed and sad because of how awful everything about life was in the late-Covid era, the Aso-Kuju Geopark was at the peak of its beauty: Lush emerald vegetation shining under a clear, cobalt sky.
Whether or not you've been to Aso before, and no matter what you're expecting, I have a feeling you're going to want to read my Mt Aso travel guide. I'm excited you're here!
How I Came to Love Aso
As I described in the preceding paragraphs, my first time at Mt. Aso was less than charmed. Not only had I arrived less than 12 hours after being dumped (by text, no less); my arrival at the base of the mountain coincided, unluckily enough, with my first (and what would end up being my only) cloudy day on that particular trip to Kyushu. For these two big reasons, and some smaller ones I won't go into, I left Aso feeling severely underwhelmed.
The second time, everything changed—and not just because I possess the clarity of someone who's been happily single for more than a year. I specifically timed my trip to two days with perfect weather, which was easy given that I lived in Kyoto at the time. From sweeping panoramas to the individual blades of grass that carpet the crater floor like a lawn trimmed with scissors, seeing Aso in brilliant technicolor elucidated its truth to me, even if it did so nearly two years too late.
My Favorite Things to Do Near Mt. Aso
Hike the Kishima and/or Eboshi Trails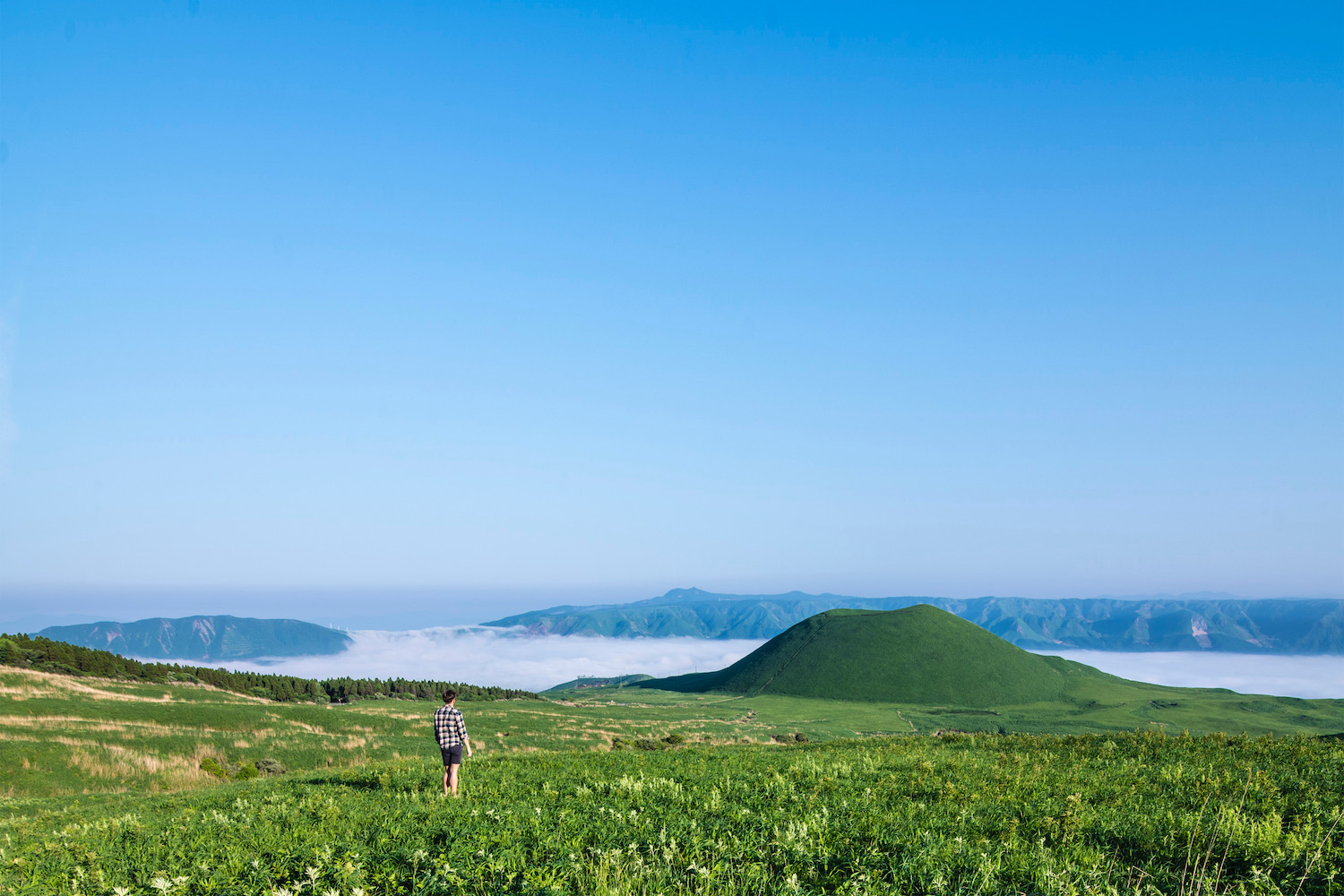 As is the case if you climb Mt. Fuji, most Aso hiking begins halfway up the mountain. Arriving by car or bus to Kurasenri Observatory puts you at the confluence of the three main trails. Given how often the Nakadake Trail is totally or partially closed, I'm going to advise you to choose between the other two: Eboshidake, which offers the most straight-on view of the main crater; or my personal favorite Kishimadake, which looks down on the caldera floor and Kami-Komezuka.
Forest bathe at Kamishikimi Kumanoimasu Shrine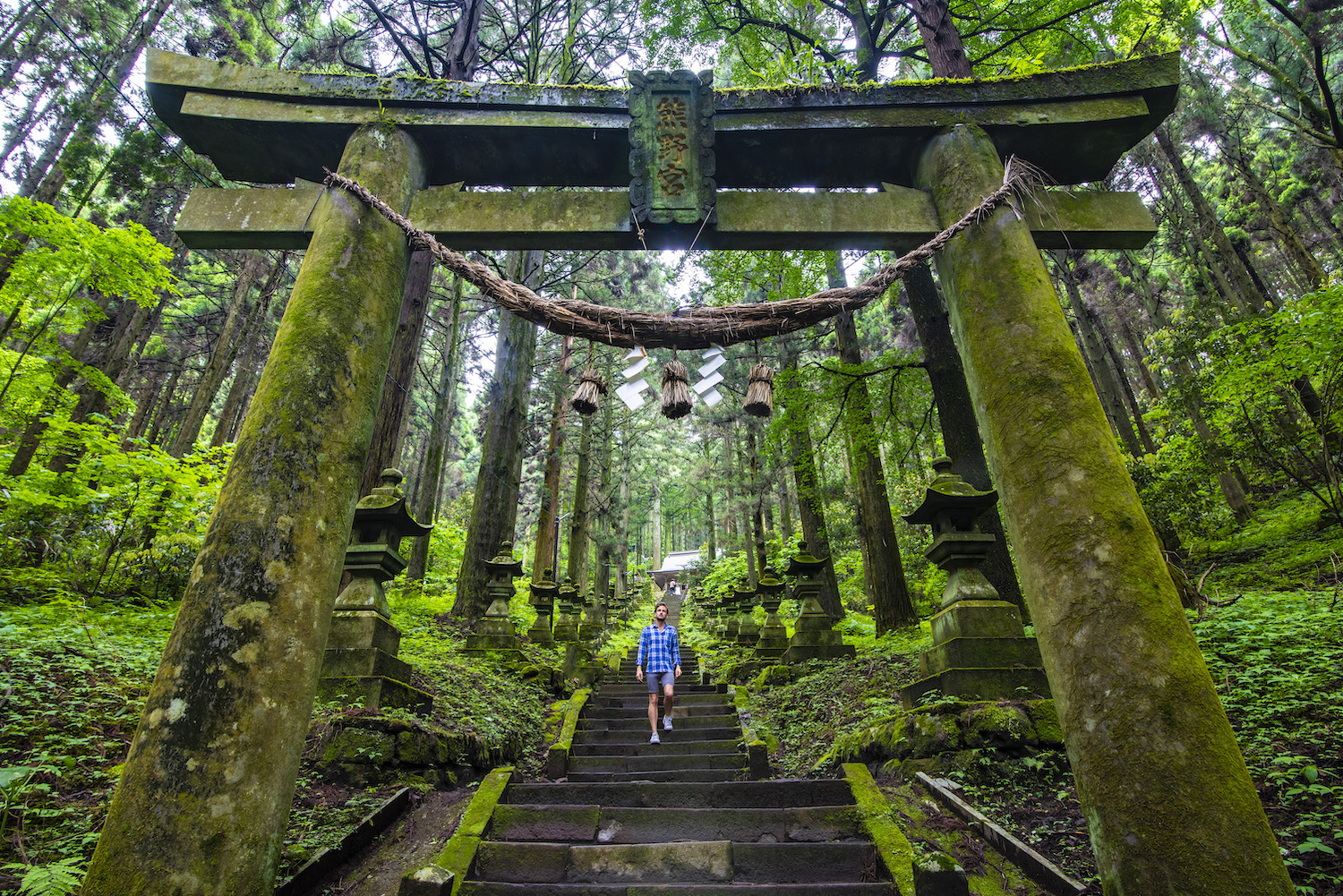 While my Mt Aso travel guide highlights some of the best views in Japan—I'll mention a couple of others later—not everything in this part of Japan is pomp-and-circumstance. For example, the mysterious Kamishikimi Kumanoimasu Shrine (whose existence no one, not even locals, can really explain) snakes through a mysterious evergreen forest about 30 minutes' drive from the top of Mt. Aso.
Make friends at Ogi Rice Terraces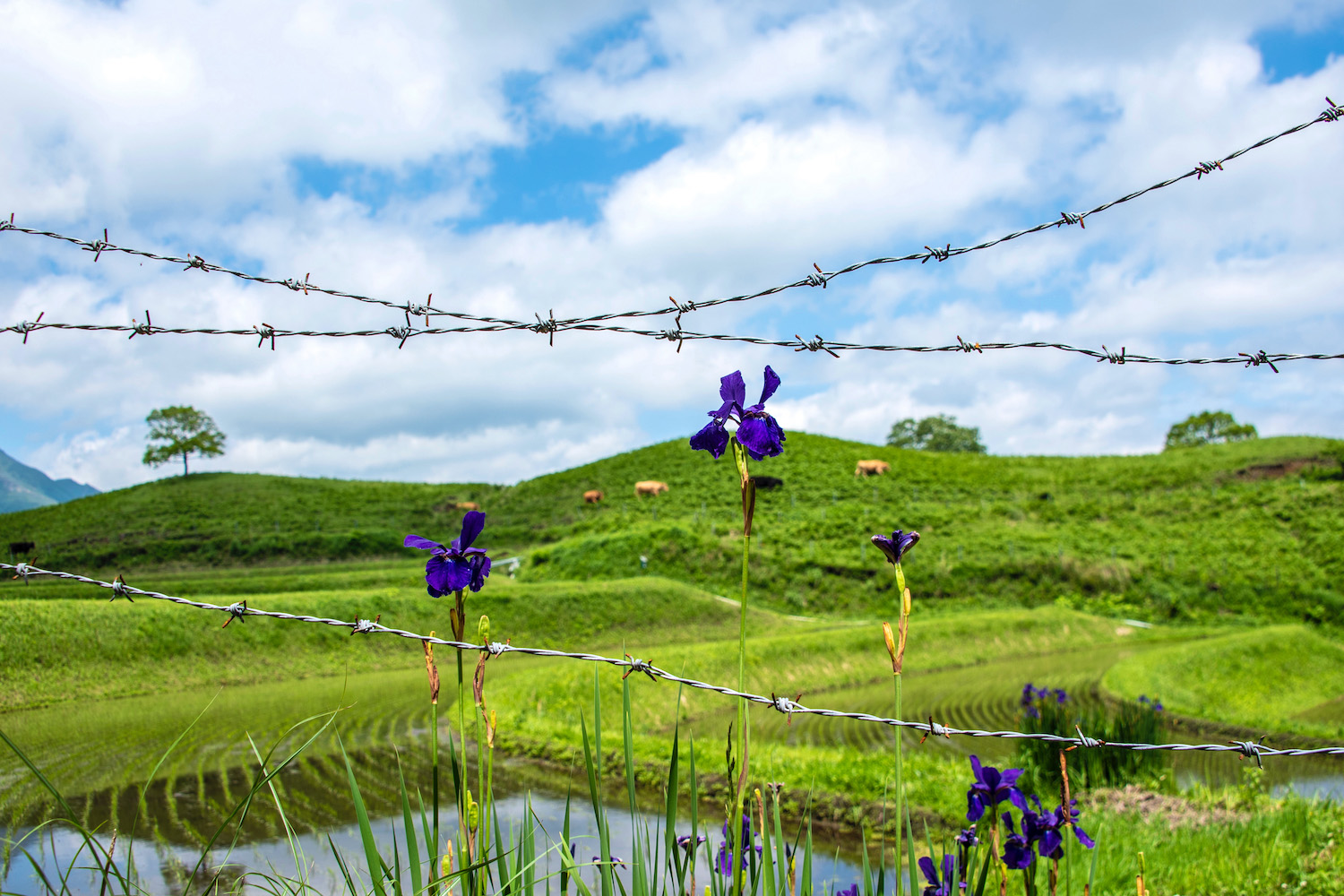 Continue your counter-clockwise drive around the mountain to Ogi Rice Terraces, where Mt. Kuju rises above lush paddy scenery, which varies in color and composition depending upon the season. An added benefit of visiting here is the nearby Yamabuki Springhead, the approach to which feels like walking into a painting. I also recommend Nabegataki Waterfalls, even though it was "closed for corona" (to whatever extent nature can be "closed") the last time I tried to visit.
Take it all in on horseback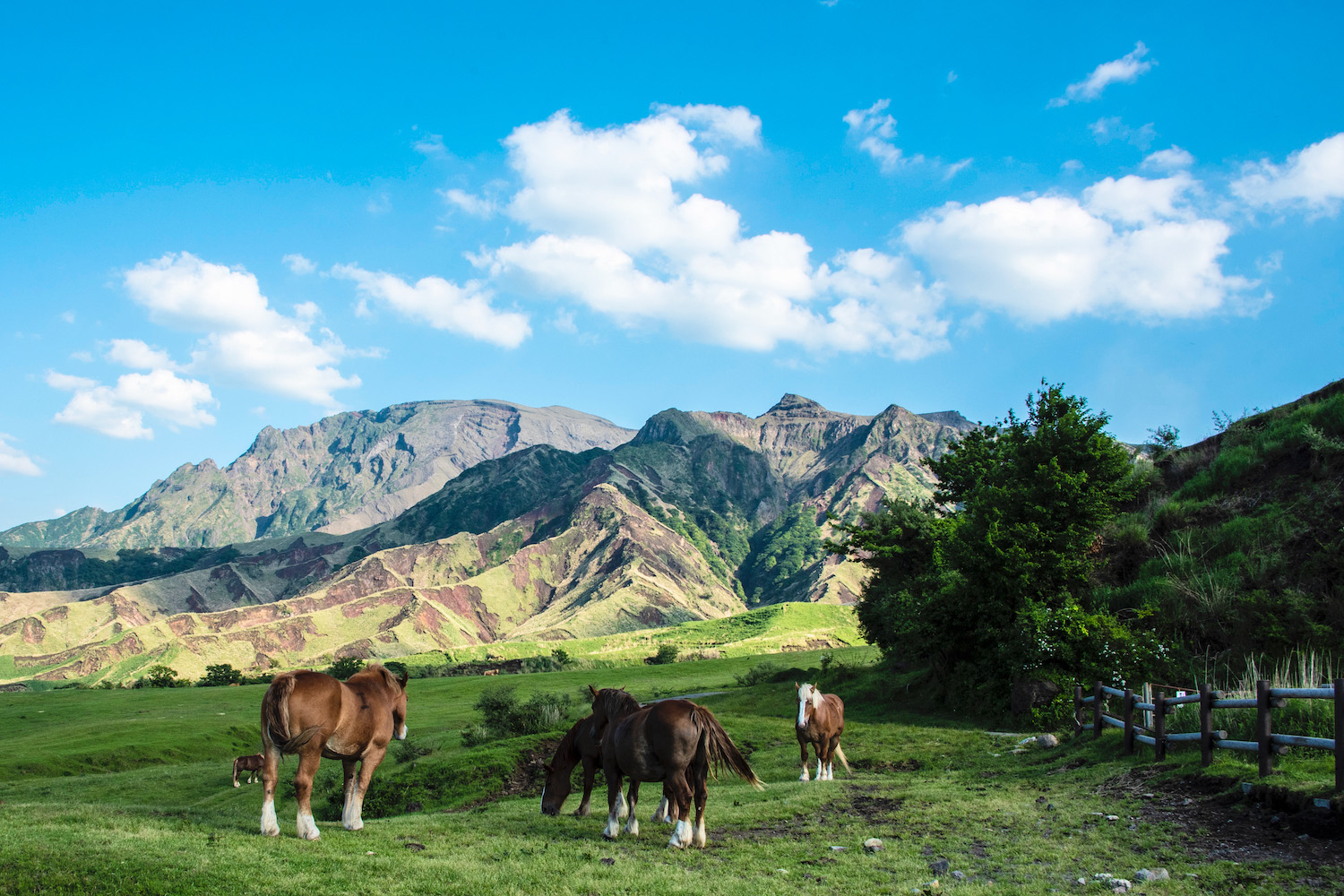 Mt. Aso (and Kumamoto more broadly) is famous for its horses, although not always in a sense I find appealing. I'm talking, of course, about the delicacy of uma niku, which I don't ever intent on trying, in spite of how oishi it apparently is. The good news is there are plenty of opportunities to ride horses rather than eat them, whether at aforementioned Kusasenri, or at many spots along the winding road leading up to it.
Enjoy the panorama from Daikanbo (or a helicopter)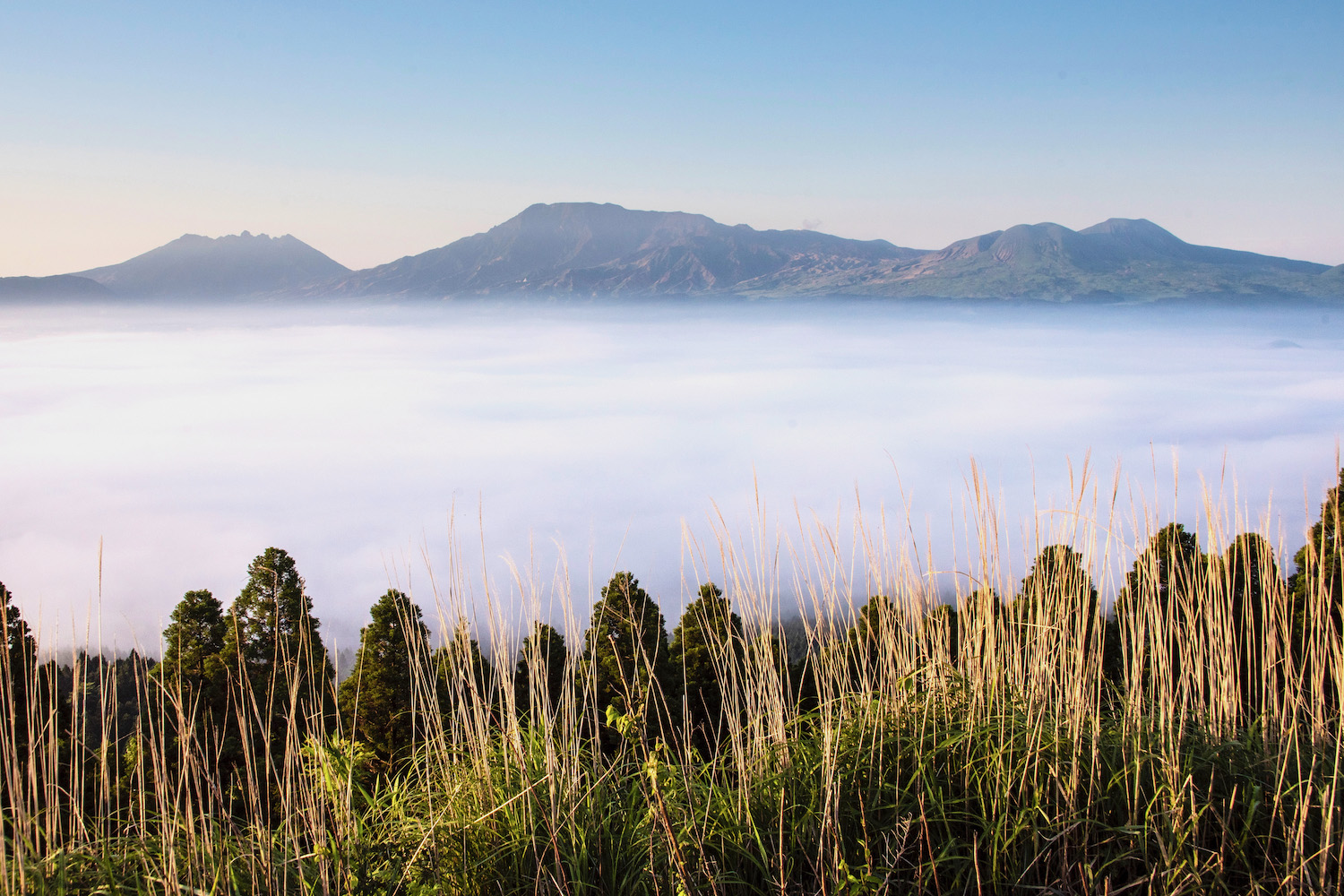 The weather had been so bad during when I first wrote this Mt Aso travel guide that I barely remember what I saw from atop Daikanbo—it certainly wasn't the legendary keshiki for which the viewpoint is famous. This time, I not only saw the entire caldera sprawled out under pristine skies, but also in the morning when the unkai ("Sea of Clouds") was swirling around the basin like waves and whirlpools. Another option for some Aso-area higher love is to take a helicopter, which costs a cool ¥5,000 for five minutes.
Where to Stay in Mt. Aso
I'll be honest: Hotels and ryokan in the vicinity of Mt. Aso leave a lot to be desired. The ones that are truly nice are far too expensive to be practical for most travelers; the cheaper ones (and also the Base Backpackers hostel) are outdated, uncomfortable and will leave you unable to relax, which is especially problematic if you end up participating in Aso's most exhilarating activities.
Although I am, at best, agnostic about Airbnb under normal circumstances, I definitely recommend you searching the site for properties near Mt. Aso. Whether you choose an entire home, a private room or a homestay, the properties here are more enjoyable, authentic and cozy than any Aso hotel I've ever stayed in, to say nothing of the fact that they tend to be much better priced. This can be especially beneficial, depending upon how many days in Aso you plan to spend.
Other FAQ About Visiting Mt. Aso
Is Mount Aso open?
Although the Aso-Kuju Geopark is open 365 days per year, the main Nakadake Crater is often closed, given how active it is—it's been on the brink of eruption, it seems, for years now. I recommend that you visit this link in the days leading up to your trip, as well as on the day of your planned visit, to avoid disappointment (or, more preferably, to confirm news).
Is Aso volcano active?
Aso Volcano is extremely active, having erupted more than a dozen times in the last half-century, most recently (as of this writing) in mid-2019. Even when it's not technically erupting, plumes of gas are almost always spewing out of its main Nakadake Crater, which is both picturesque and problematic: If you can see smoke, you won't be able to approach the crater rim.
How do I get to Mt. Aso from Kumamoto?
The good news? The JR Hohi Line, which was damaged by a severe 2016 earthquake and closed for many years as a result, had since re-opened. The not-so-good news? The Aso area lacks good local public transportation, which means that renting a car is the only way to see things in an efficient way.
The Bottom Line
Mt. Aso eventually blew my socks off, even if I didn't see what the fuss about it was the first time I visited. More than most other destinations in Japan, a visit to the Aso-Kuju Geopark demands great weather: Without sunny skies, the lush greenery of the volcano and the caldera around it are so muted that neither their scale nor splendor clearly comes across. Certainly, I now consider it to be among my favorite places in Kyushu; the view from atop Mt. Kishima is probably the best I've seen anywhere in Japan. Planning your own trip to Japan's southernmost main island, and need more than my Mt Aso travel guide? Consider hiring me to plan your trip, and learning from my mistakes without having to make them yourself.