Today was about serenity—or at least, my best attempt to find it as I took in the Arashiyama autumn morning.
Imagine the Togetsukyo Bridge, which stretches maybe half a kilometer over the Katsura River, so packed with people that it takes you 30 minutes to walk across. Now, imagine fixating only on the brilliant colors that flank the mountainside, or how the cold, blue sky reflects in the water rushing beneath you. Being blissful, in spite of the pandemonium around you on all sides.
Sound like bullshit? It is, kind of. Thing is, the Arashiyama autumn leaves are anything but—if you spend enough time here, no matter how impassable the crowd becomes, you will eventually succumb to its magic.
Dollar Store Mantras
Of course, my survival of the Arashiyama autumn was more than silently repeating mantras you can buy at Dollar Tree. The first tangible step I took, after a somewhat painful stroll through Tenryu-ji temple and exiting directly into Sagano Bamboo Grove, was paying the steep ¥1,000 fee to enter Okochi-Sanso Villa.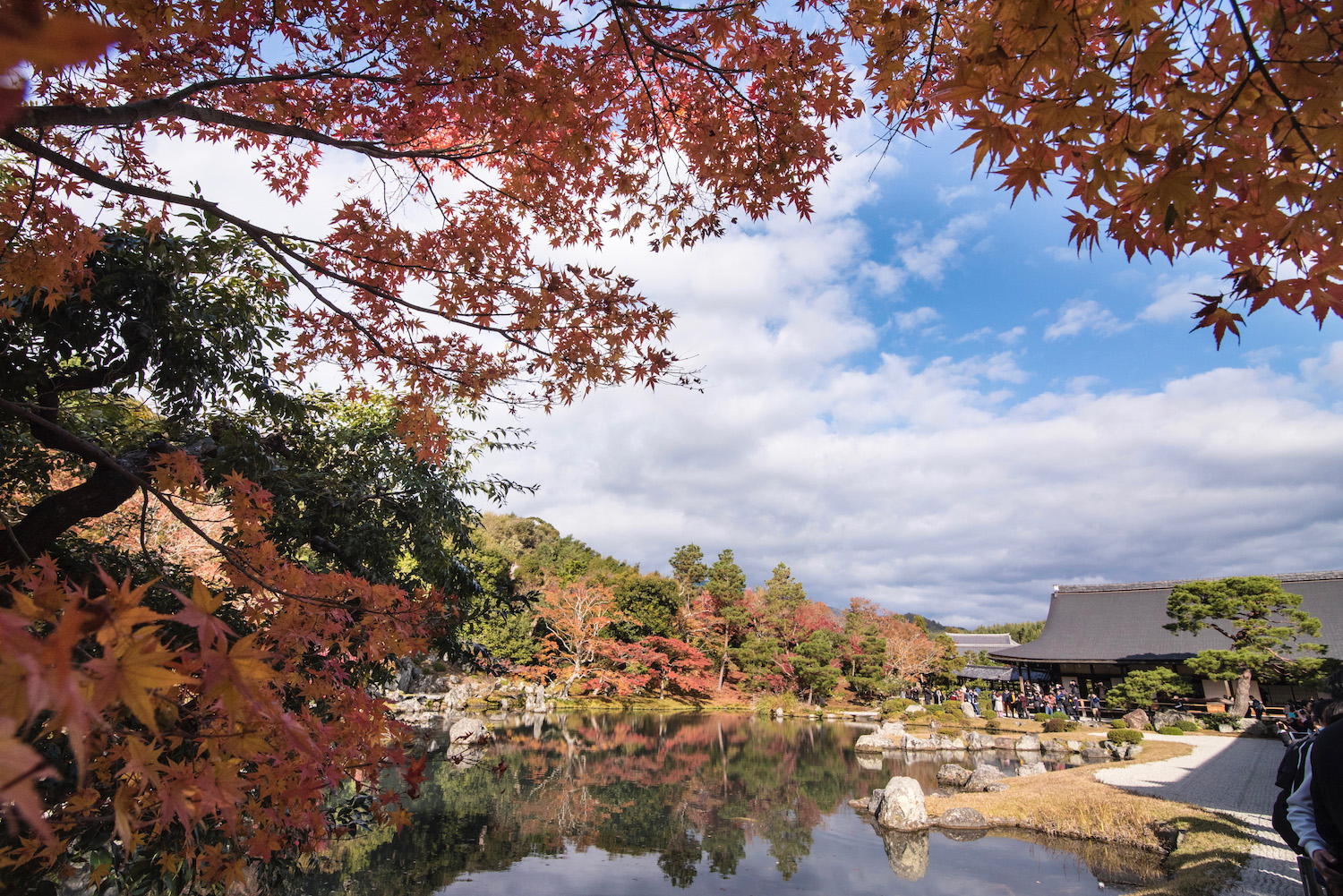 Now, I have to be honest: I initially thought I had made a mistake. You see, after you enter this little slice of paradise, the attendant guides you immediately toward the underwhelming tea house, where you have an underwhelming cup of matcha and a rather nice Japanese sweet that creates a huge mess when you try to open it.
Once I wiped the crumbs off my lap, however, it quickly became apparent just how much Arashiyama's cheapskates were missing out. About three quarters of the way along the garden's circular path, I reached what is probably my favorite viewpoint of Kyoto so far (keeping in mind that I'm always freaking out about rabies when I hike up to Iwatayama Monkey Park).
The panorama is even more spectacular during the autumn season in Japan, thanks to the curious juxtaposition of scarlet maple leaves with jade-colored bamboo stalks from the villa, and the way they match perfectly with the faces of Iwatayama's macaques, though I do my best not to make eye contact with our temperamental cousins.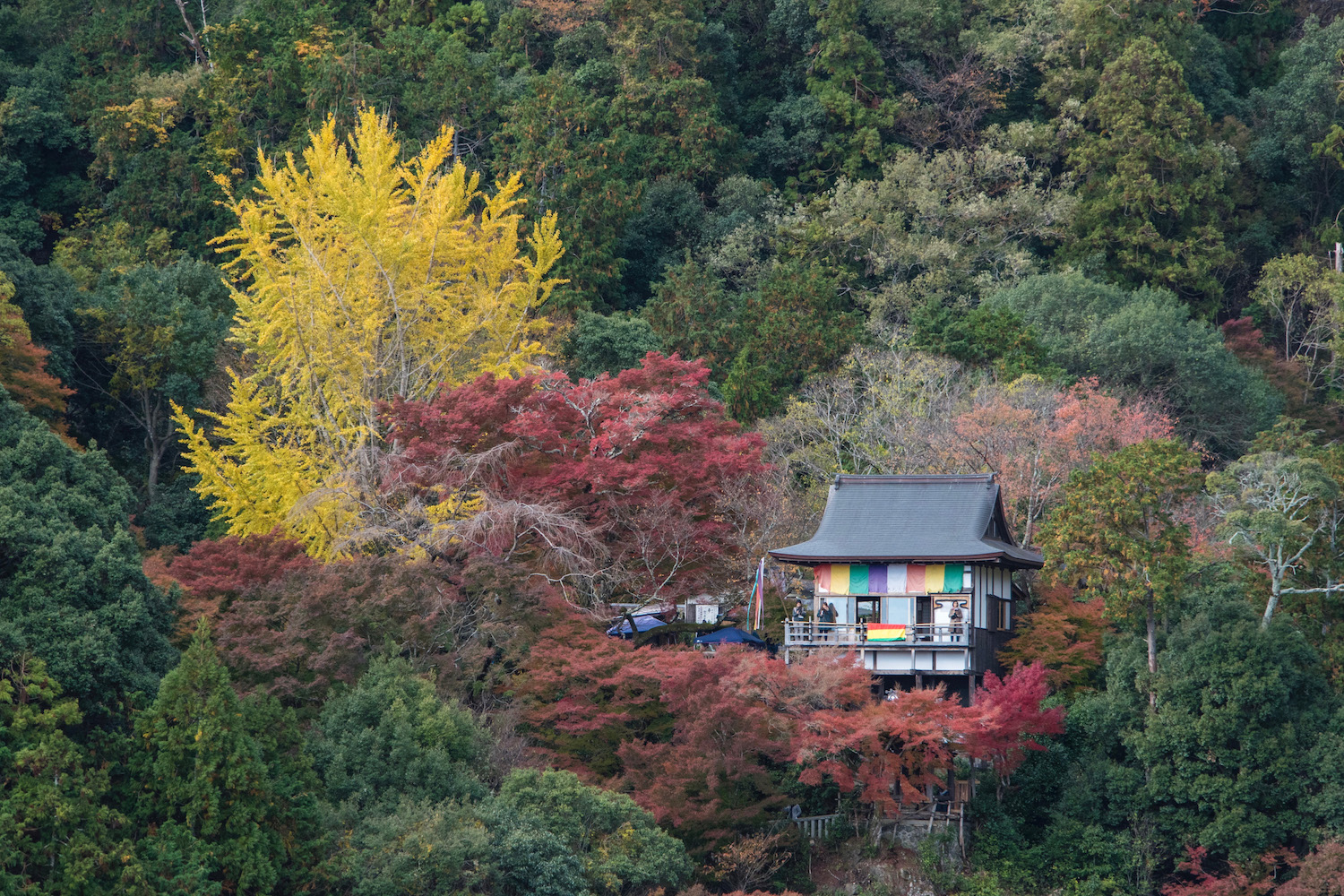 Memories of experiences like these ones whirred around my dollar store mantras, the way the clouds oscillated through the cobalt sky, as I was trapped on Togetsukyu Bridge for what felt like a lifetime.
Not-Quite-Bottom of the Barrel
I made sure to take care of myself after the ordeal as well, though in a way that might surprise you. See, while some travelers come to Japan and eat kaiseki meal after kaiseki meal, conveyor belt sushi places are my jam. I order off the menu, mind you, and always wash down my not-quite-bottom of the barrel nigiri with the hottest sake I can stand, but it's still a pleasure of the somewhat guilty sort.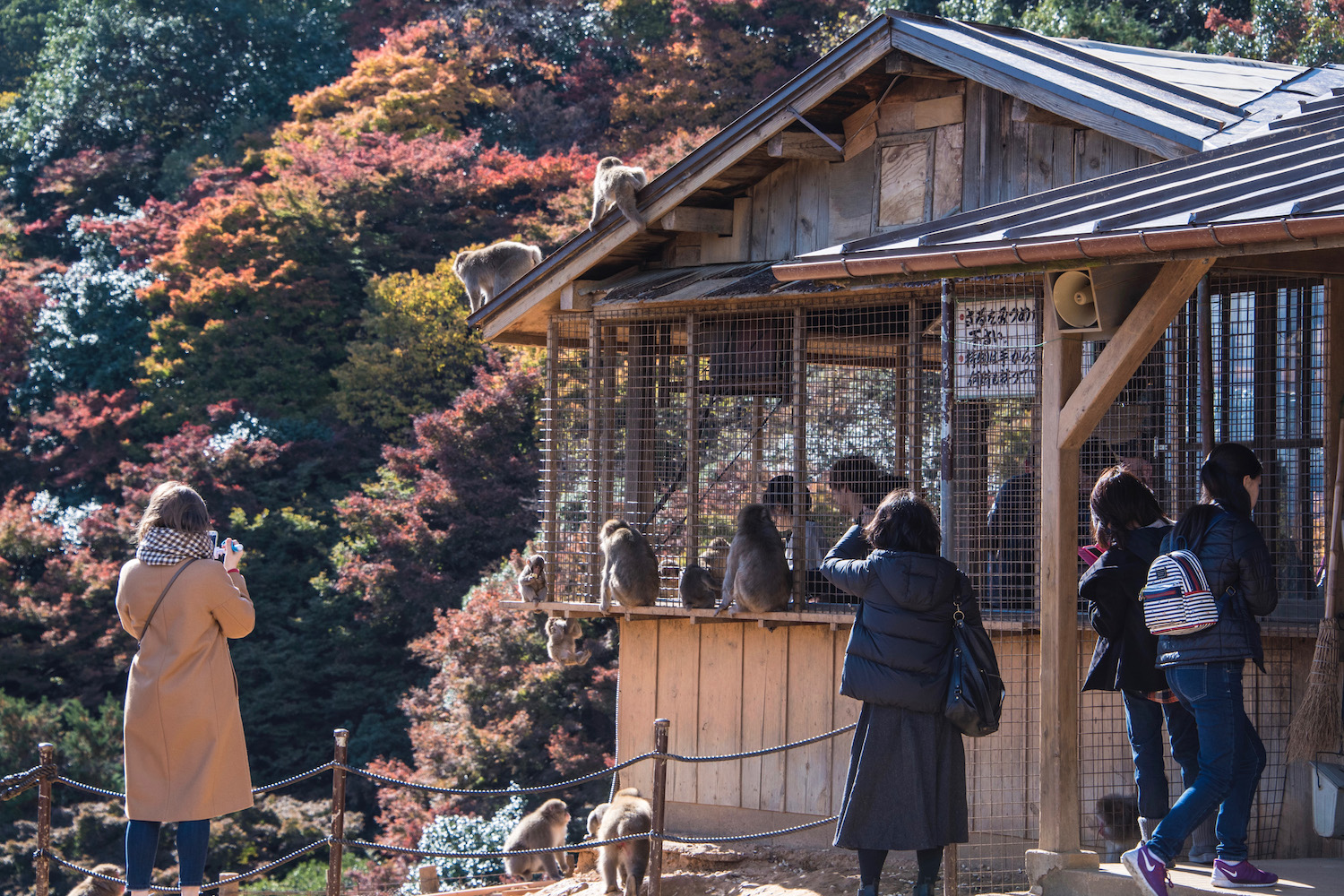 And a great way to loosen up before heading to somewhere like Tofukuji, which I had a feeling would be crowded—it's one of the top places to see in Japan in autumn, not just in Kyoto.
I didn't realize, however, that the bedlam here would make my Arashiyama autumn experience seem like a yoga class by comparison, though I have to say that as is the case with most places in Kyoto in the fall, Tofukuji's beauty far exceeded my expectations.
Somehow, I managed to make it to Tobakaido Station in time to reach the Fushimi district by three. A company based there had contacted me a few weeks ago to ask if I'd be interested in reviewing their sake tour; I had a feeling I'd be needing a drink at this point in my trip so I agreed.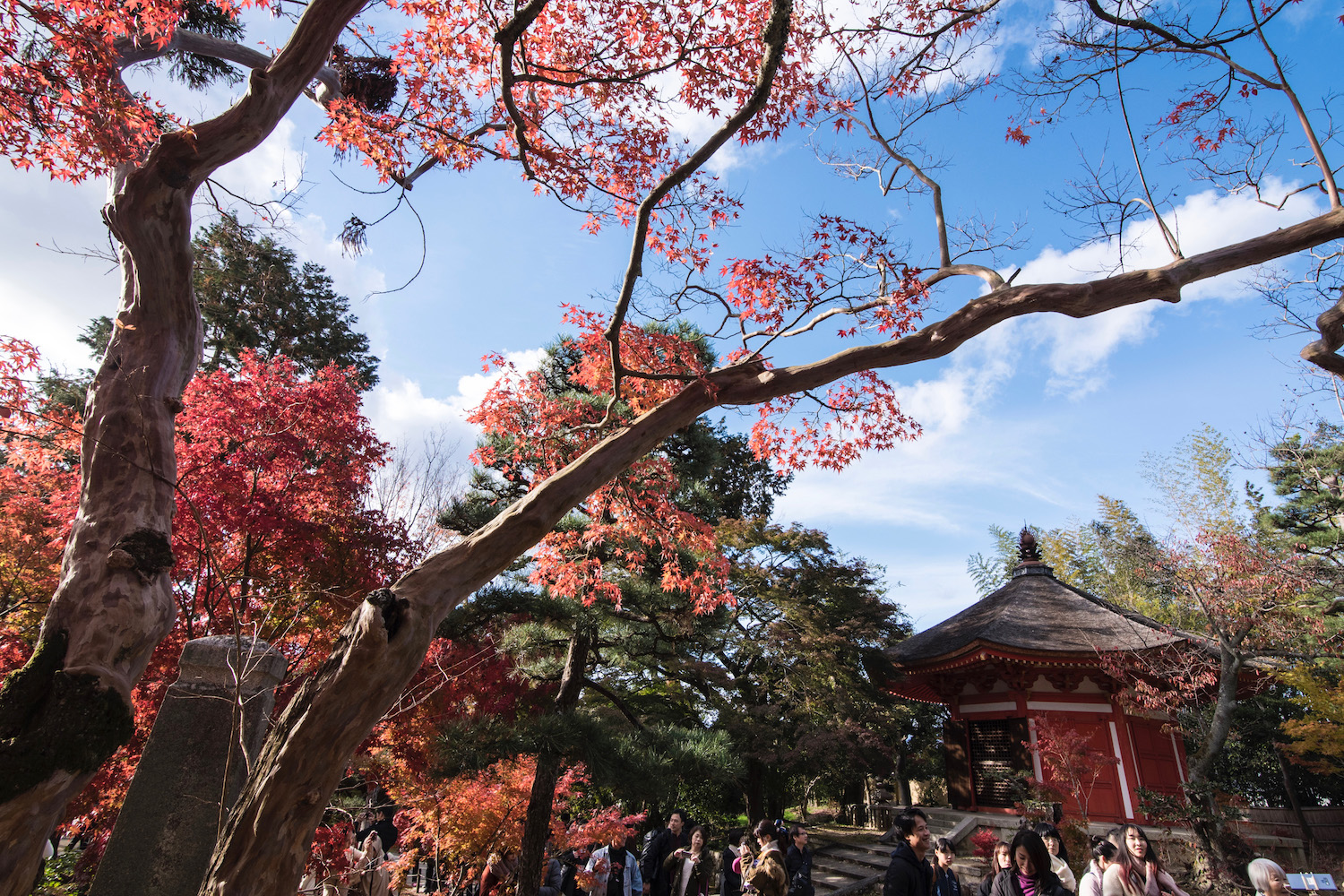 As the others on my tour arrived, I realized I wasn't the only one who'd had a somewhat stressful Arashiyama fall day. A couple from New York, in fact, complained about being stuck on the very same bridge as I was, and I wondered whether they had coped in the same way.
Intangible Serenity
Though I'd previously toured the Shuzo Sake brewery, in Hachinohe city in Japan's Tohoku region, the tour I had in Fushimi proved substantially more interesting, even if few Kyoto autumn leaves were on display there.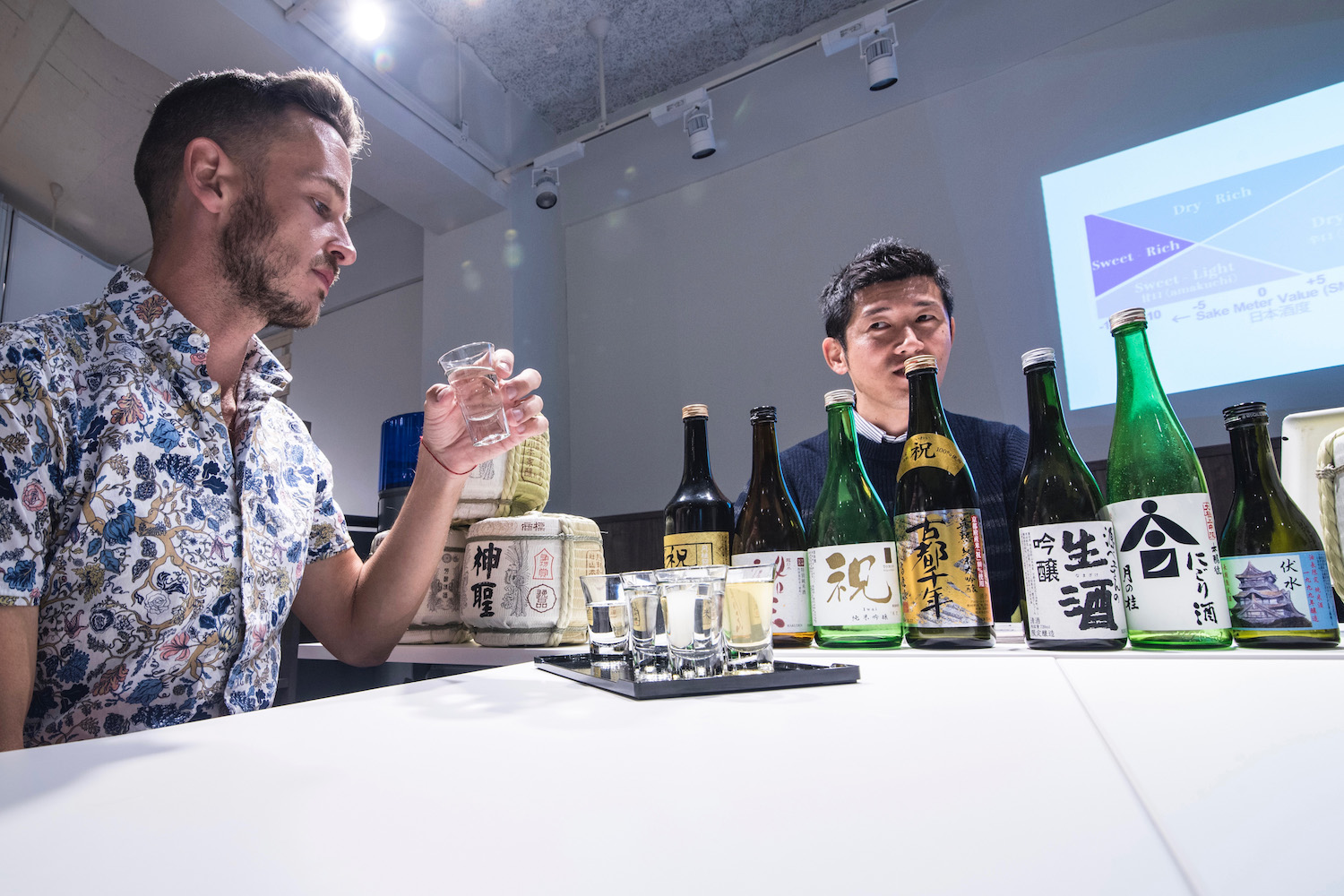 Previously, I always assumed there was little more to do in this part of Kyoto than Fushimi Inari Shrine—and, a bit further east, Daigo-ji. I had no idea Fushimi was the capital of Japan for a hot minute at the end of the Samurai era, or that it had seen a sake-making hub for more than three centuries. Its location near the confluence of two rivers, and its plentiful supply of soft, sweet groundwater had apparently been unmatched around the time of the Meiji Restoration.
Of course, I always pair a morning in northwestern Kyoto with an afternoon in the southeast, both in itineraries I make for others and those I write for myself. I'd always planned to juxtapose my Arashiyama autumn morning with a Fushimi Inari Taisha afternoon, which I modified to an evening visit one I committed to the sake tour.
My first visit to the shrine at nighttime did not disappoint. The pathways under the mesmerizing torii of Japan's most popular selfie spot were all but clear of foot traffic, and that was a delightful surprise. But every aspect of being here in the pitch dark (and I do mean pitch dark—lighting was intermittent, at best) was calming. Hypnotizing. Disarming.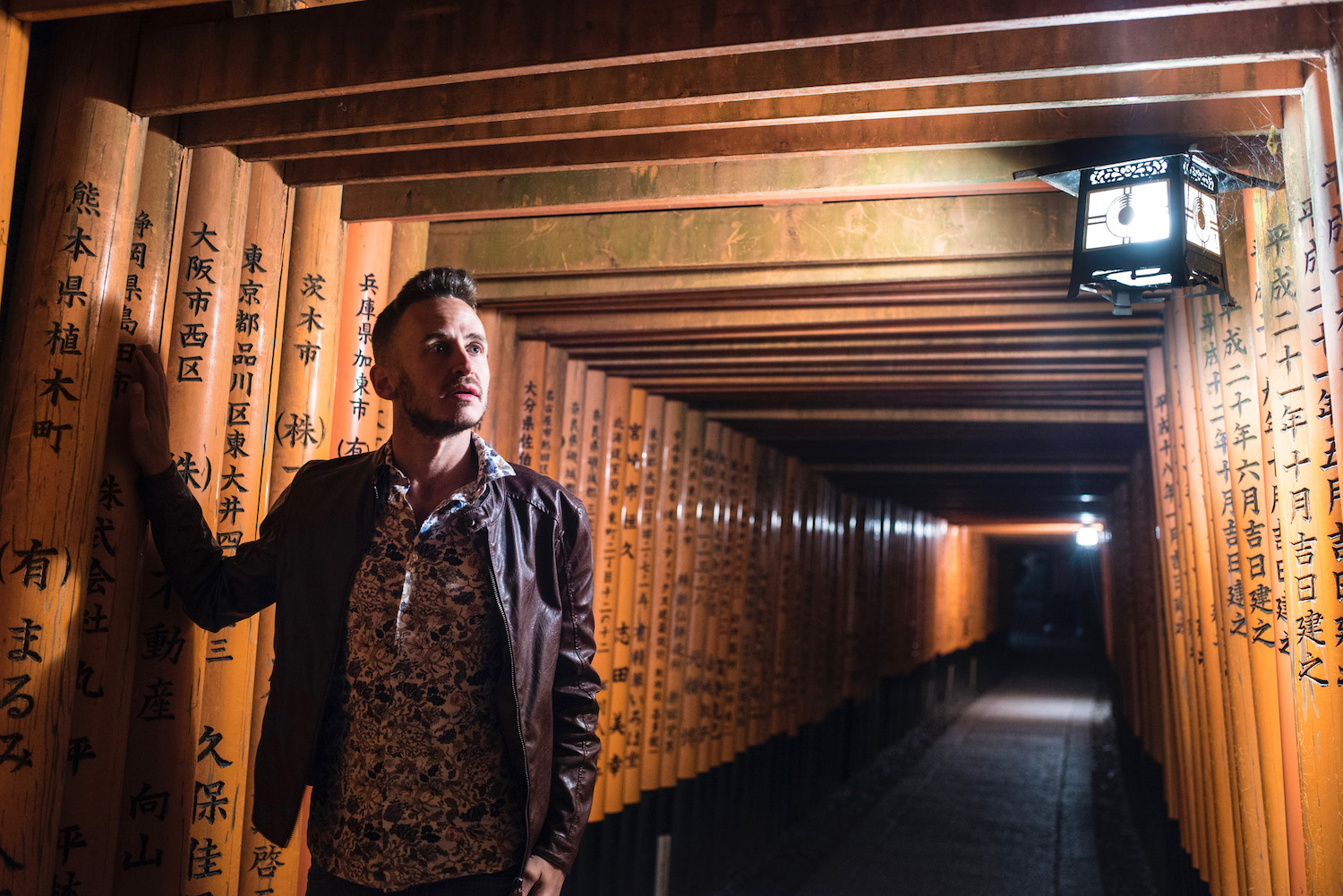 It was as if the intangible serenity I'd pined for atop Togetsukyu Bridge hours earlier had suddenly manifested itself, like I'd poured a bottle of Junmai Ginjo Iwai into the night sky and this place had dripped down from the stars like icicle meltwater.
The Bottom Line
Impenetrable hordes of my fellow tourists or not, the Arashiyama autumn experience is a truly special one. Pairing this with a somewhat different activity, be it a trip to Fushimi Inari like I'm fond of doing, or a sake tasting and brewery tour of a Kyoto district you've probably never heard of, helps take the edge off any tension you built up in the bamboo grove. And it further hammers home a sentiment this trip re-affirms for me every day I'm here: Kyoto truly is the most beautiful city in the world.
Other FAQ About Arashiyama Autumn Sightseeing
Why is Arashiyama famous?
For most tourists, Arashiyama is synonymous with Sagano Bamboo Grove, which is one of the most famous landscapes in all of Japan. However, Arashiyama is also home to historic Togetsu-kyo bridge, spacious Tenryu-ji temple and Iwatayama Monkey Park, among other attractions.
Is Arashiyama Bamboo Grove free?
It is totally free to walk through Sagano Bamboo Grove in Arashiyama—the path that goes through it is essentially a public road. Keep in mind, however, that unless you come very early in the morning, the grove will almost certainly be swamped with tourists.
What time should I go to Arashiyama?
I recommend going to Arashiyama as early in the morning as possible. While there's no sense to come here when it's dark, I would advise you to look up the sunrise time for when the day you plan to visit, and board your train or bus bound for Arashiyama right as the sun is rising.