I kept today's breakfast simple and sweet, washing down my fresh toast with black coffee, and trying not to think too much about Takamatsu. The journey, I reminded myself as I arrived at Matsuyama Station with just a few minutes to spare, not the destination.
Quite an irritable person's temper. I'd noticed the misspelled mantra scrawled on one of the decorations at my table, and wondered if the person who put it there had even known what it meant. I calmed myself by thinking back on this observation, as rain pelted the window of the train.
I didn't feel upset or even anxious—or irritable, as it were—as I disembarked in Kotohira. But I was lacking focus, and not just because The Temple of Dawn failed to stimulate me in the way the first two books of Mishima's "Sea of Fertility" tetralogy had.
Tufts of Fluffy Pink
Visions of Takamatsu cherry blossoms flickered through my mind as I entered the 7-11 store. The jazzy instrumental version of "I Just Called to Say I Love You" put a smile on my face, which the lack of sugar-free Redbull quickly turned upside down.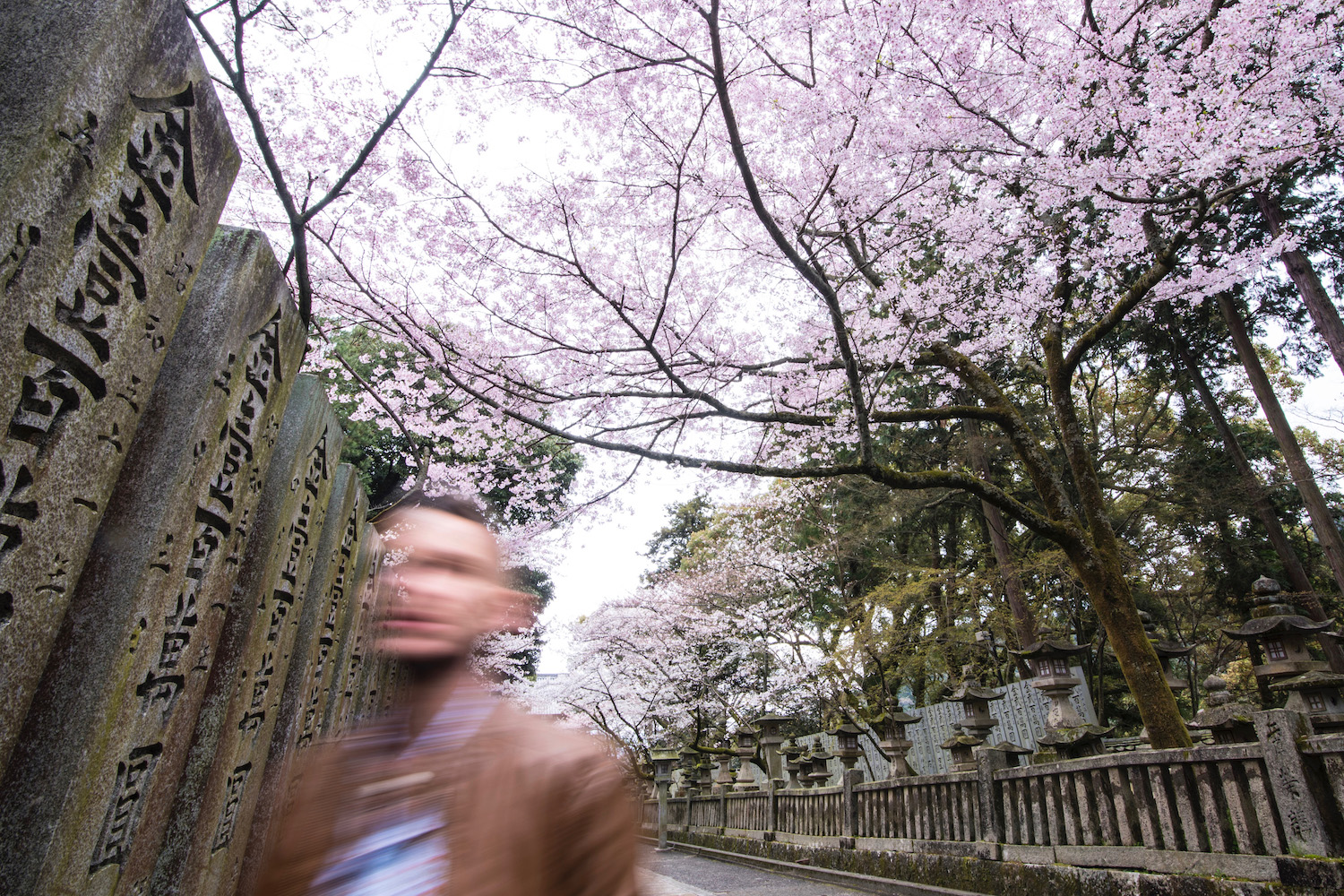 Not that I needed the extra jolt. My trek up to the precipice of Kotohira-gu would shake off any sleep that remained inside me, especially if the sakura were at least as profuse as they'd been in Matsuyama.
I noticed tufts of fluffy pink flowers around the main shrine building, even as I strolled along at ground level. They looked like the sticks of cotton candy being sold in the snack stalls I passed—I couldn't help but be excited.
I mean, even if Takamatsu's flowers were several days from mankai, as I feared they would be, I'd get my fix long before I arrived in the city.
Back to Blue
The Kotohira hike was much easier than I remembered, taking me less than 20 minutes from base-to-precipice, albeit at a pace significantly faster than the average person's. It was more enjoyable than I'd anticipated too, in part because the sun had come out and dried up all the rain.
The voluptuousness of the cherry blossom billows, too, exceeded my expectations, even if they were mostly confined to the first flat section of the trail. I didn't dwell too much on any of it, however, and made my way back to the station so early I made the train before the one I was supposed to take.
Although the sky clear significantly during my intercity train ride, it had basically blackened by the time I boarded the bus to my Takamatsu hotel—a particularly unfortunately turn of events, given that I left the umbrella I purchased just that morning inside the vehicle when I exited.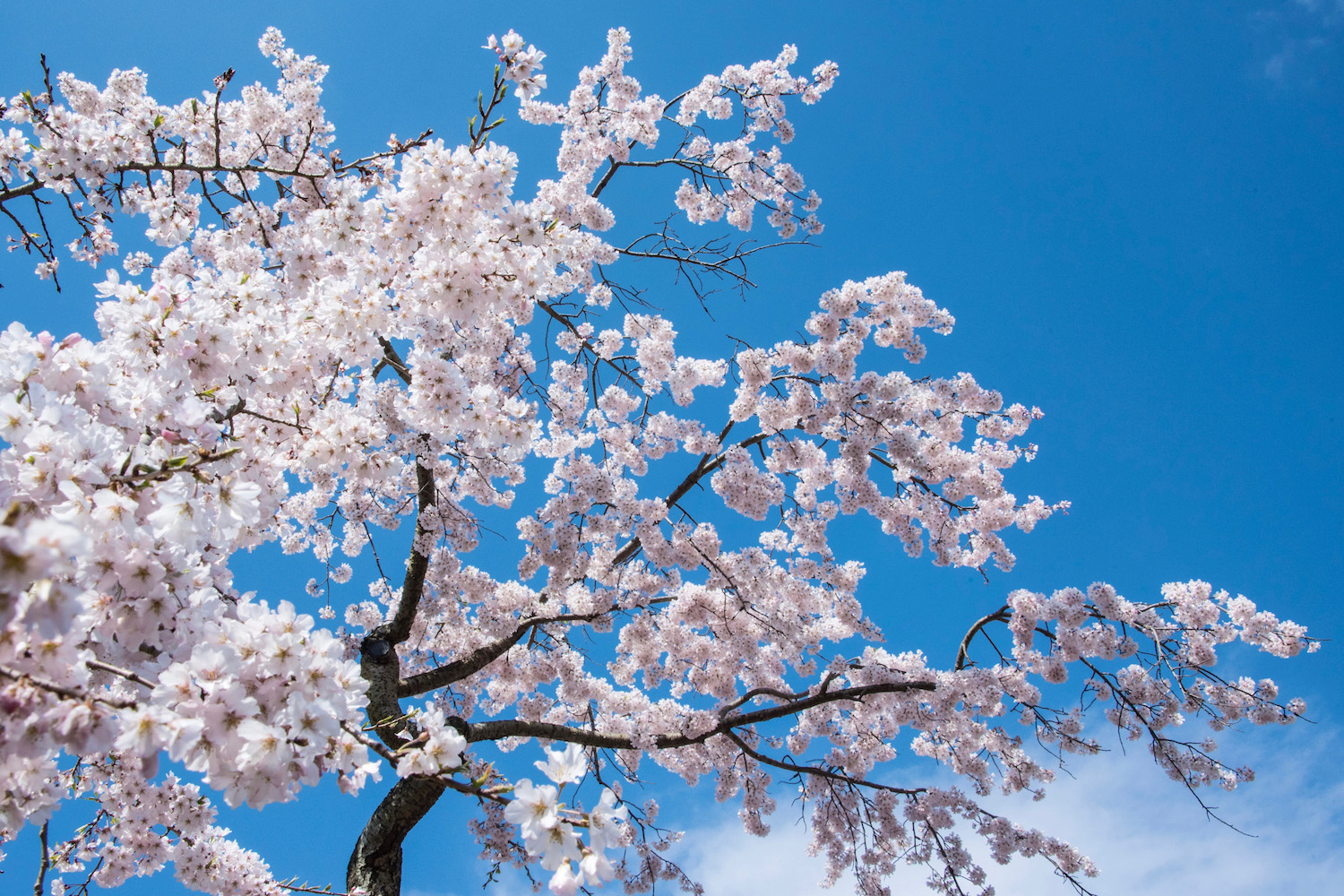 No sunny 1970s song, instrumental or otherwise, was playing when I ducked into the Kokoro udon shop for an unplanned lunch. But the sky was back to blue by the time I emerged; it was bright and almost cloudless by the time I entered Ritsurin, my favorite garden in all of Japan.
Just High Enough
I'd noticed a weeping cherry tree as I entered the grounds of the garden, though I tried not to get distracted by it.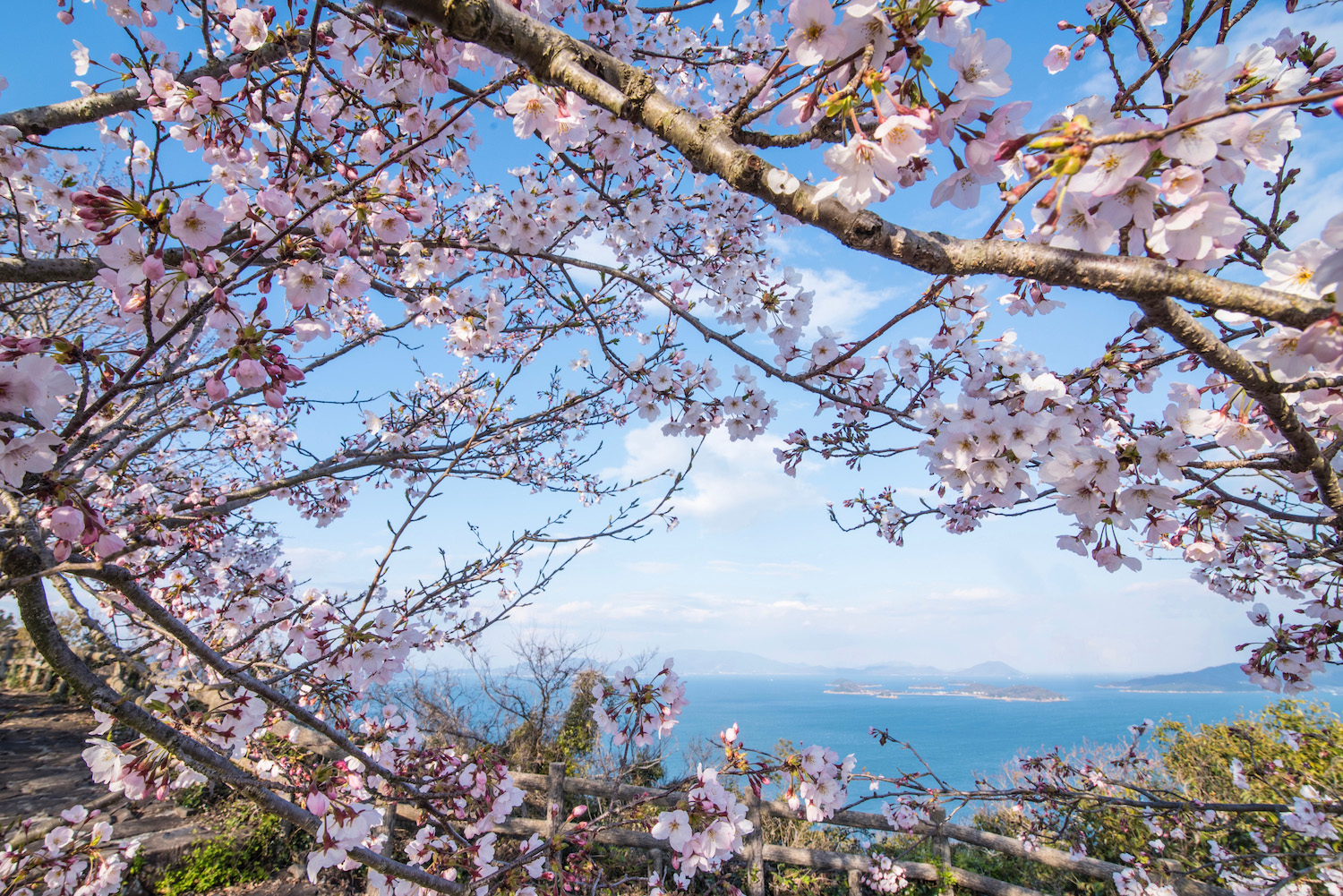 The last time I'd been here, after all, it had been dark and overcast; I wanted to see how sunlight changed as much of the green space as I could, from the twisty pines that lined all the paths, to the emerald waters just outside the tea house.
Even the unkempt 80s buildings of Takamatsu would look gorgeous, I imagined, though they peaked out over the tree line just high enough to be hideous.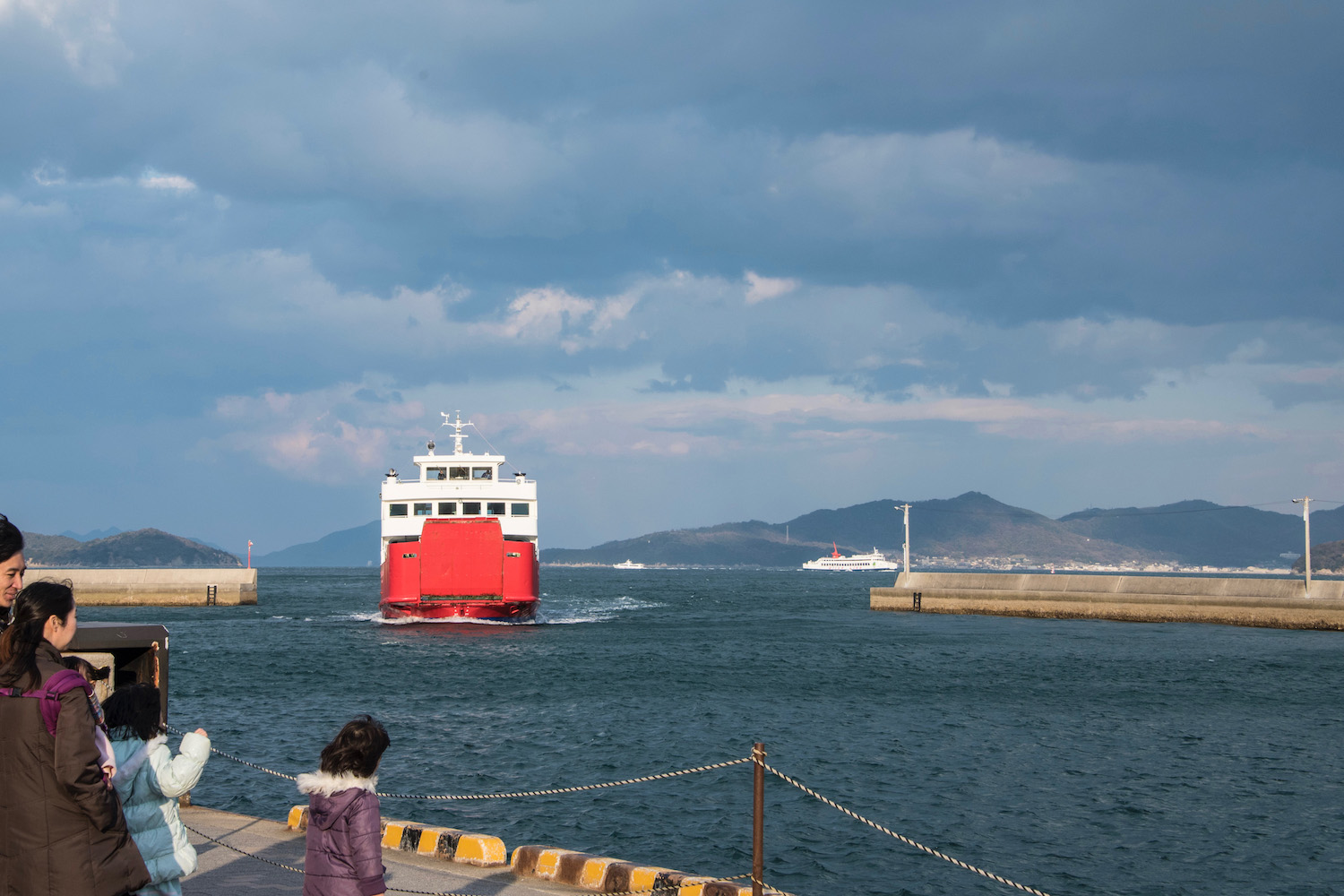 I returned to the shidarezakura after my lengthy stroll, nearly drunk on the beautiful day that had suddenly been born. An elderly woman greeted me as she guided her husband's wheelchair around where I was standing, and I wondered how many times they'd seen this particular tree, and if they still thought it was as astounding as I did.
Morning Mantra
Sakura makes you do crazy things—at least it makes me do crazy things. I paid ¥730 for a round-trip ferry tickets to Megijima island. There, I'd need to catch an ¥800 bus to enjoy just 25 minutes at a viewing platform, where cherry trees in various states of bloom would frame several outlying islands—perfectly, if I was lucky. (Spoiler alert: I was lucky.)
Descending from the viewing platform to catch the bus back to the ferry back to the city ( the last one of the day—tomorrow's Takamatsu to Osaka wouldn't happen if I missed it), I noticed a large oni sculpture. His red face clashed with the blooms of tree a few days from peaking.
I wondered if this was the encounter my morning mantra had foreshadowed, at least until I returned to my hotel. There, I nearly smashed an automatic light that wouldn't turn off, and had to be talked down by staff who taped a piece of black paper over its sensor—quite an irritable person's temper, indeed.
Other FAQ About Visiting Takamatsu
Is Takamatsu worth visiting?
Takamatsu is one of my favorite secondary cities in Japan. If you aren't charmed by Ritsurin Garden (its star attraction) or any of the other city-center activities, the accessibility of Takamatsu to day-trip destinations like Kotohira-gu shrine and Marugame Castle absolutely make it worth visiting.
How do you get to Takamatsu?
Takamatsu is accessible via nonstop flight from Tokyo-Haneda airport, by train from Okayama Station (a Shinkansen hub) or by various trains and buses from Shikoku cities such as Tokushima and Matsuyama. In spite of being rather remote compared to larger cities, it's still pretty easy to access.
Why do people visit Takamatsu?
People visit Takamatsu primarily to visit Ritsurin Garden, although several other reasons exist. Beyond enjoying locally-famous udon, Takamatsu is also a gateway to smaller cities such as Marugame and Kotohira, which are home to a castle and a shrine, respectively.