On my way to the mountain town of this Tsuwano I stopped in Masuda, a coastal city that is unremarkable apart from a pair of temples just south of its railway station. I also hear it has a nice beach, though I didn't want to swim this morning.
Initially, I didn't think much of Ikoji, the more famous of the two, notable for having hosted the Buddhist monk Sesshu during the mid-15th century. However, while walking someplace I probably shouldn't have, I stumbled upon a seemingly forgotten staircase, which snaked at least a kilometer up the mountain behind the sacred site.
I chose this verb deliberately. After walking up (and back down) 200 or so steps in hopes I might get a view of Masuda's well-regarded beach (spoiler alert: I didn't), a small black serpent slithered across my path.
Left the Sea
I quickly forgot about my close encounter, washing down my nigiri set lunch with a small bottle of sake I thought cost less than half as much as it did. (I wasn't nearly as quick to forget the ¥1,300 I literally pissed away an hour later.)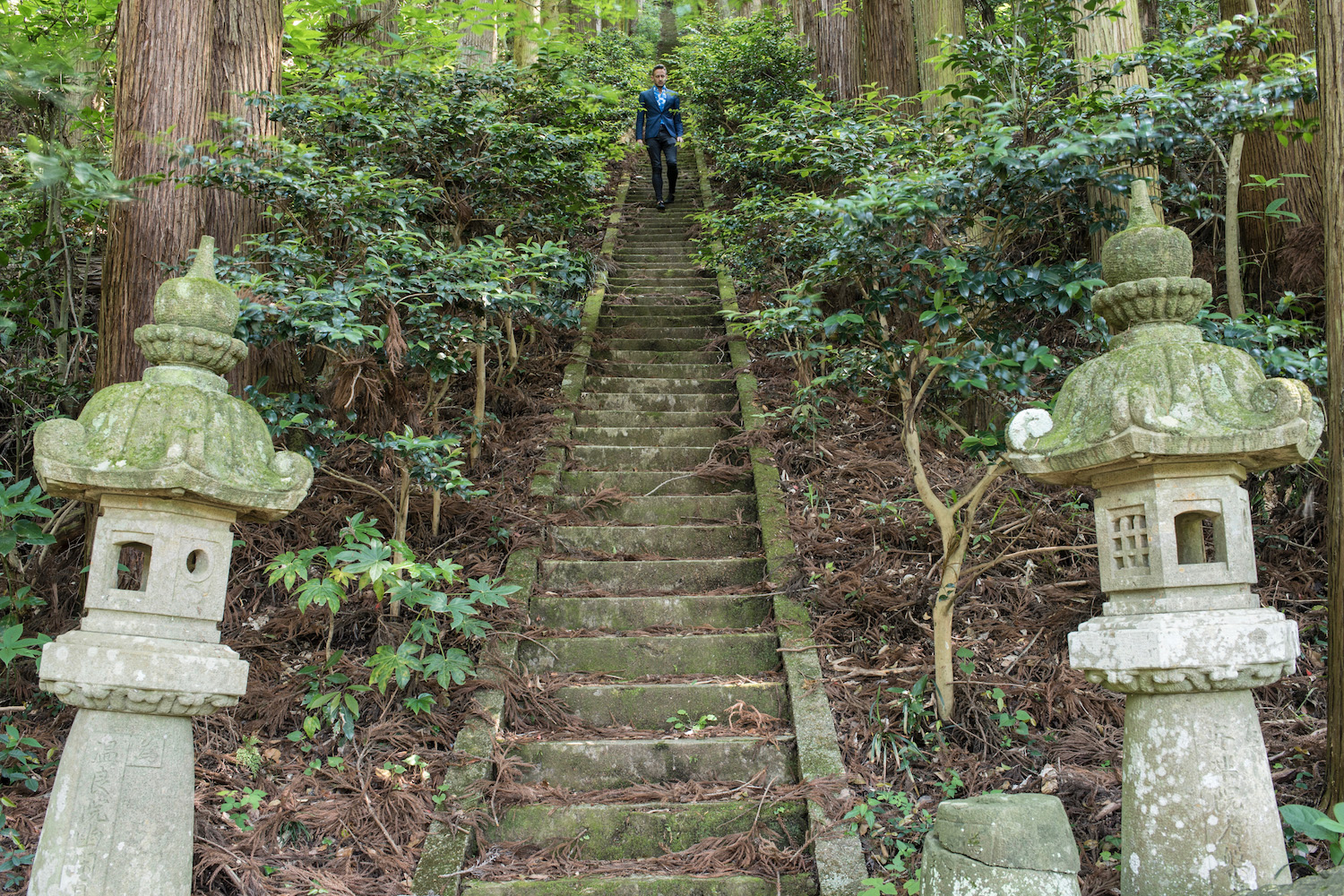 Thoroughly buzzed, I passed the next couple of hours wandering around Masuda Station, vaguely searching for a spot high enough to see the ocean. I scaled parking garages, cemeteries and Shinto shrines (oh my!), but my effort ended up being worthless.
Which was just as well—when I boarded my train bound for Tsuwano, which is nestled in the mountains near Shimane prefecture's border with Yamaguchi, I quite literally left the Sea of Japan behind.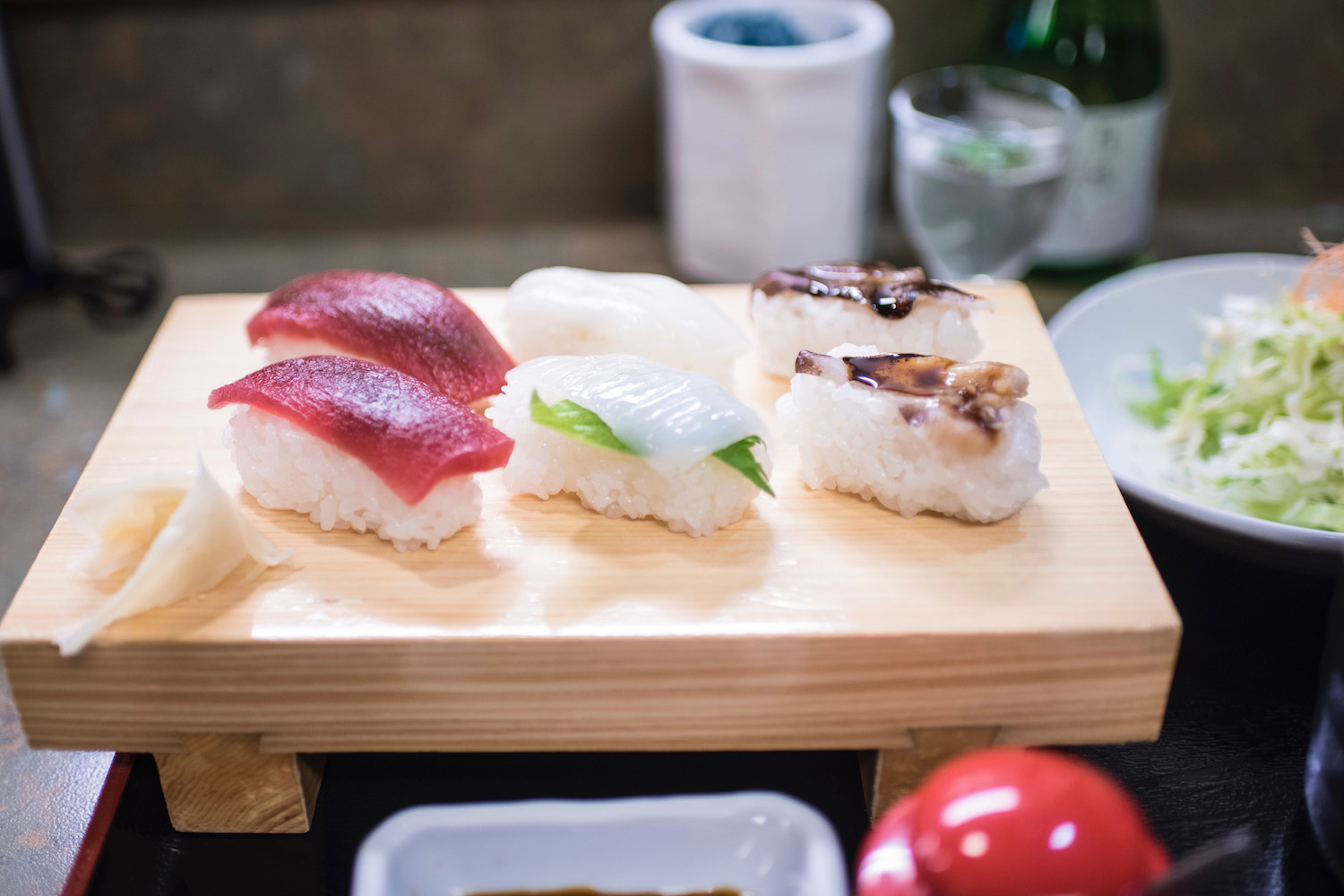 As the locomotive sped over rivers and through ravines, the fluffy tufts that top bamboo groves increasingly interrupted the evergreen forests that carpeted the mountainside. I had few expectations for my destination.
Me and T-Cho
Having dozed off once or twice during my journey as the the alcohol finished metabolizing, I headed immediately to my ryokan upon disembarking. I found the town charming and picturesque, though not enough to halt my southward march and snap a photo.

Yet as I awoke from the power nap I took after my host was kind enough to let me check in nearly an hour early, I felt more than a little excited to begin exploring Tsuwano—especially since the golden hour would soon be upon us, me and T-cho.
I marched back in the general direction of the station, but stood along Tonomachi Dori, whose Samurai-era buildings reminded me superficially of the white-walled warehouses in Kurayoshi. I had nearly reached the Gothic-style Tsuwano Cathedral, where dozens of Japanese Catholics were brutally massacred during the Meiji period (they believed, mistakenly, that Christianity had become legal in Japan) when a flash of gold in my peripheral vision stopped me in my tracks.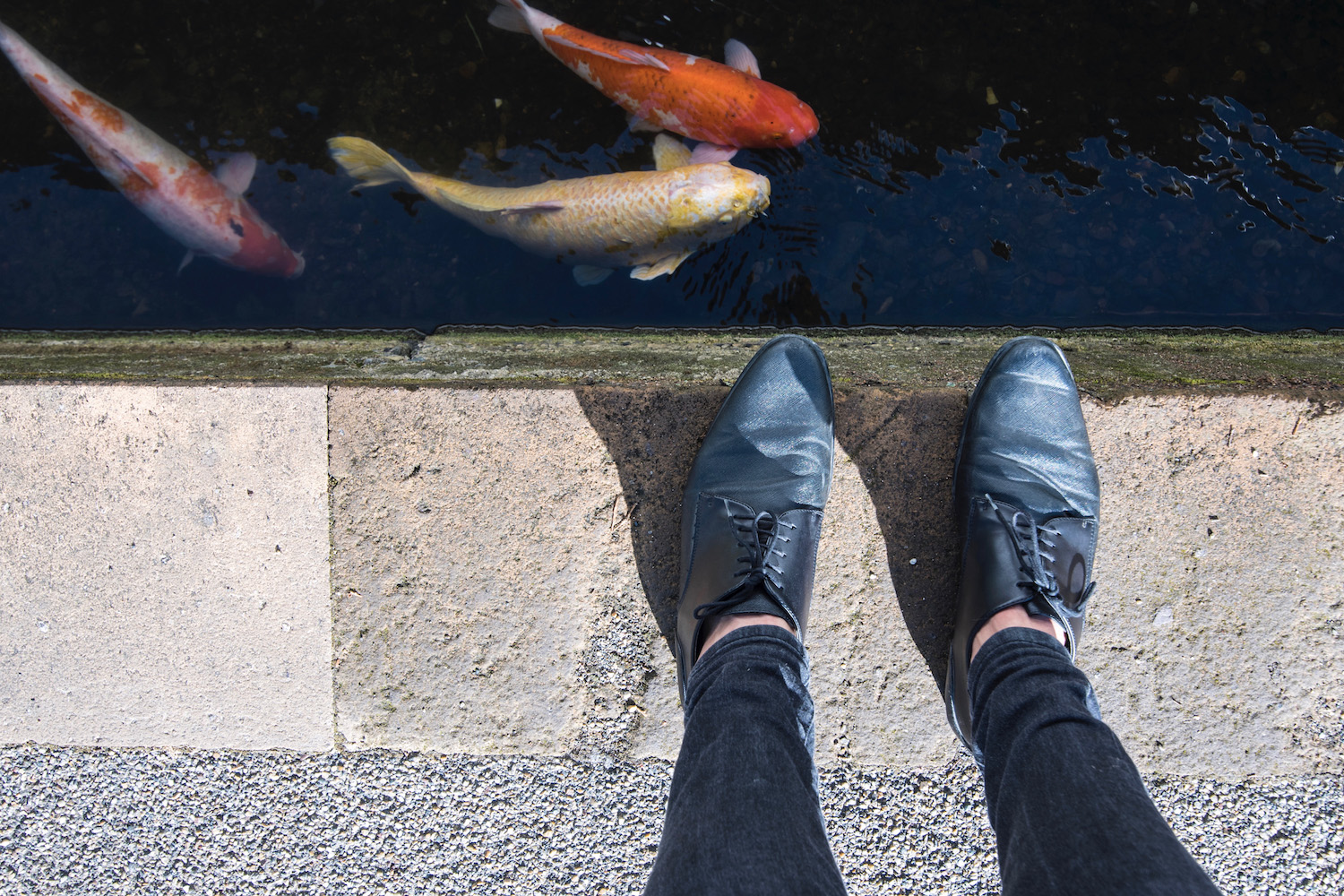 In the drainage ditch just beside where I was walking, no less than three dozen massive koi were swimming—I'd heard this phenomenon mentioned while watching some viral Facebook video, but had never before seen it with my own eyes.
The Day's Best Light
Tsuwano continued to delight and charm me, even before I reached the ruins of the town castle, which burned down after a lighting strike in the late-17th century. It took me a full hour, to be sure, to make the 12-minute journey from Tonomachi Dori to the cable car station at the base of the ruined fortress.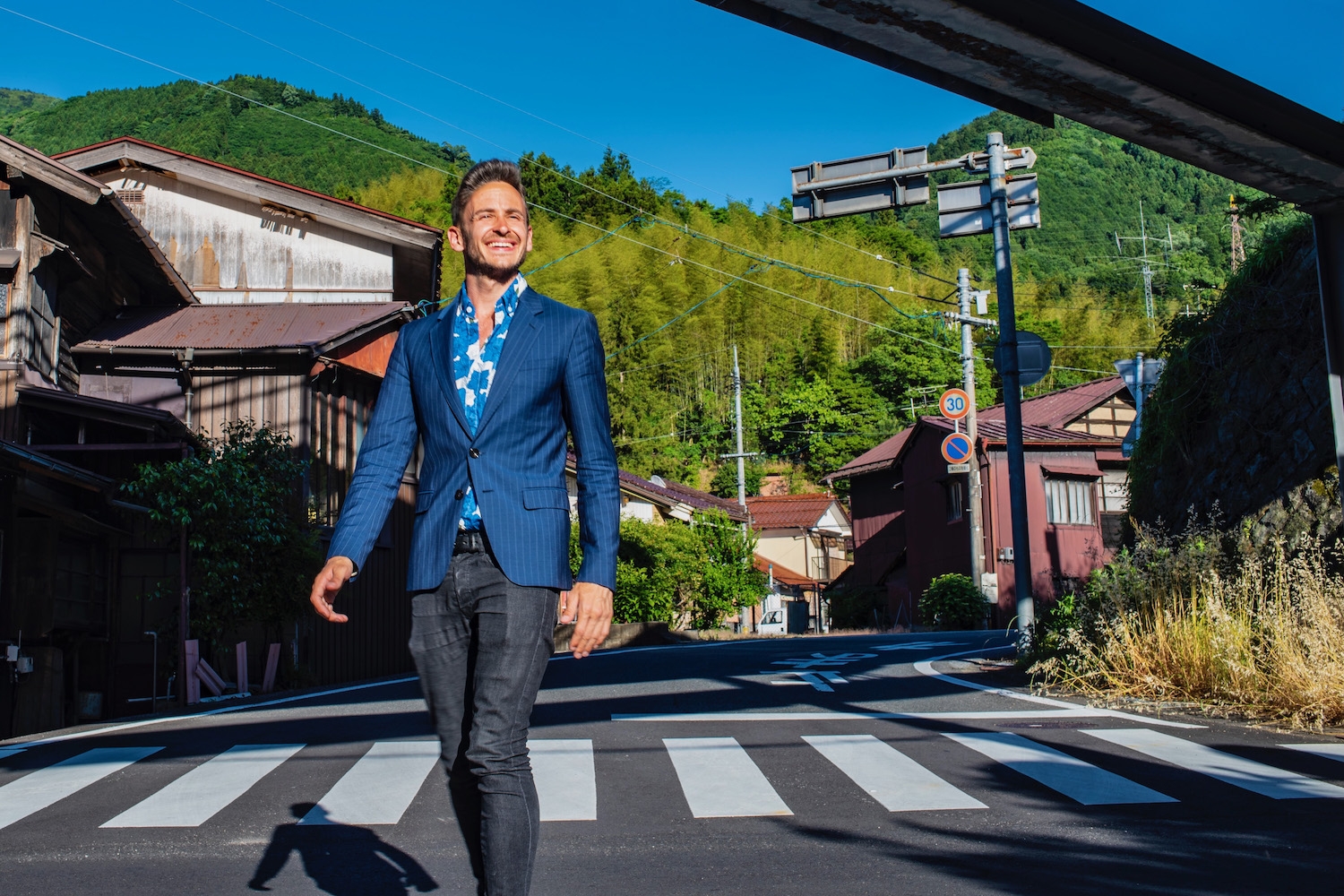 I can't lie: The fact that the day's best light was setting in probably had to do with just how enamored I become during my stroll, and how quickly. But whether I was inserting myself into an impossibly charming street scene, or finding the perfect spot to frame the ginkgo-flanked bridge over the Tsuwano River, I was smitten.
I got two pieces of bad news upon arriving at the base of the castle ruins. The first was that the chairlift only operated until 4 pm, which was nearly two hours in the past by the time I arrived.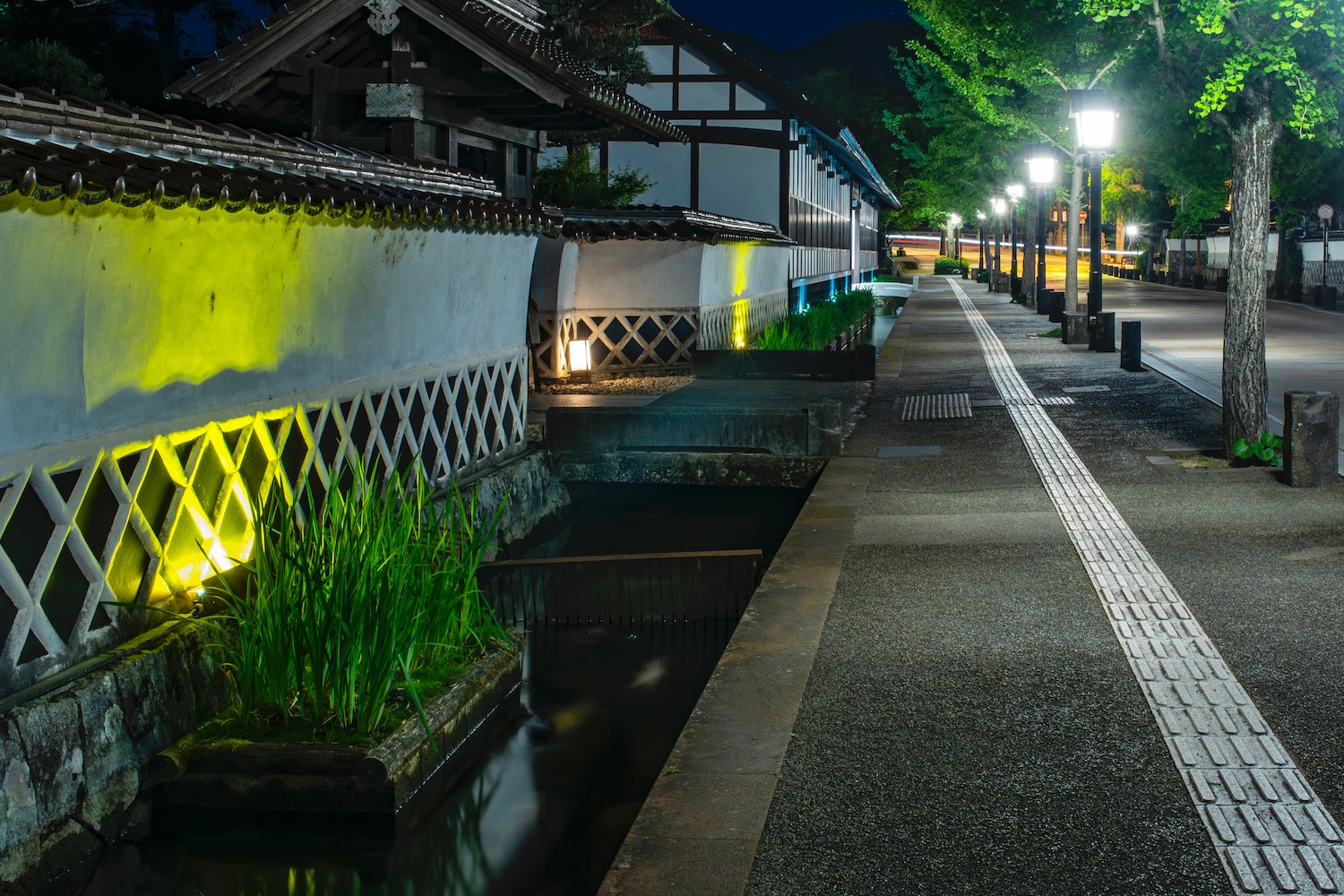 More unfortunately, I realized that the site of Tsuwano Castle itself was closed indefinitely for repairs only after hiking the entirety of the steep, poorly-maintained trail that leads to the top. Needless to say, I climbed over the "Keep Out" sign (as I'd done on Monday in Matsue) to get a picture—I scaled too many mountains without getting rewarded with a view to miss this one, too.
At Your Own Risk
I heard a lot of slithering as I hiked up (and especially down) from the ruins, but didn't see another snake—the one from my morning in Masuda was vivid in my mind's eye by the time I got back to street level, needless to say. At that point I noticed a sign I'm thankful I didn't see before I ascended: Natural bear habitat, it read, in English. Enter at your own risk.
I capped off the evening with a light dinner, bookending my dreamy day with a second sushi meal, this time with reasonably-priced Nihon-shu. My having ordered a small size further reduced not only the price, but my chances of getting drunk twice in 12 hours.
Sad I wouldn't be spending much longer in Tsuwano but thankful for the perfect experience I'd had, I savored a twilit last trek amid the ginkgoes and goldfish of Tonmachi Dori. I was completely alone—except, of course, for the koi.
Other FAQ About Visiting Tsuwano, Japan
Is Tsuwano, Japan worth visiting?
Tsuwano is without a doubt one of my favorite small towns in Japan. From the super clean drainage canals in town (where koi swim!), to old-style buildings, to great hiking just outside the town center, Tsuwano is absolutely worth visiting if you happen to be traveling in San'in.
How do you get to Tsuwano, Japan?
Tsuwano is accessible via bus or combination of bus and train from Masuda Station, itself accessible by train from larger cities in the San'in region such as Matsue and Izumo. The other option for accessing Tsuwano is to rent a car and drive there, although I understand that this is not an option for everyone.
Is Masuda, Japan worth visiting?
Masuda is a necessary stop off on the way to Tsuwano if you plan to go there by public transit, although not an indispensable destination on its own. As is the case with many places in San'in, I think it's worth visiting if you happen to be in the area, but not if you end up needing to go out of your way.