I have a recurring dream about Japan, though I've never explicitly tied it to any of the things to do in Kumamoto. It's more of a hallucination, really (it usually occurs during the day, when I should be thinking about something else)—but it's always the same.
The sky is perfectly clear and the cityscape is unambiguously Japanese, with tiled temple roofs and stone grave obelisks peppering an urban landscape that is otherwise dominate by aging vestiges of a 1980s economic boom. The density of the buildings I see around me suggests that I'm in a medium- or even large-sized city, but I'm alone as I explore, except for a passing student or elderly person. I'm on the way somewhere, but I don't have a destination.
This dream never comes to me when I'm actually in Japan—certainly, it was the farthest thing from my mind as I made my way to Kumamoto yesterday morning, a journey during which I had luck enough to pass through Saga right after the launch of its annual balloon fiesta. But by the time the sun set, I couldn't get the hallucination out of my head.
Secondary Mistake
Early in the day, I was firmly rooted in reality. And the reality of Kumamoto, certainly on the grounds of its earthquake-damaged castle, is that it's among the biggest tourist traps in Kyushu.
A particular Chinese patron to the castle was so fascinated by my tripod-selfie technique in front of one of its remaining intact towers that he not only stared at me as I posed, but actually looked into my camera's viewfinder as it fired, as if he was somehow within his rights to do that. Members of another group (also Chinese) took no less than 15 minutes doing at least a dozen variations of the same pose each next to a Kumamon statue. The youngest person in this group was 50, which makes shenanigans that might simply be ridiculous among people my age unforgivable.
The next item on my list of things to do in Kumamoto, the Hosokawa Mansion, was still closed indefinitely as a result of damage from the 2016 tremor, so I made my way instead to a lunch restaurant that was not as iconic as it billed itself to be. It was delicious however, serving up a rare slices of "red wagyu" atop a sumptuous donburi rice bowl, so I couldn't really complain. (Plus, Kumamoto's most famous meat is horse—I wasn't about to eat that.)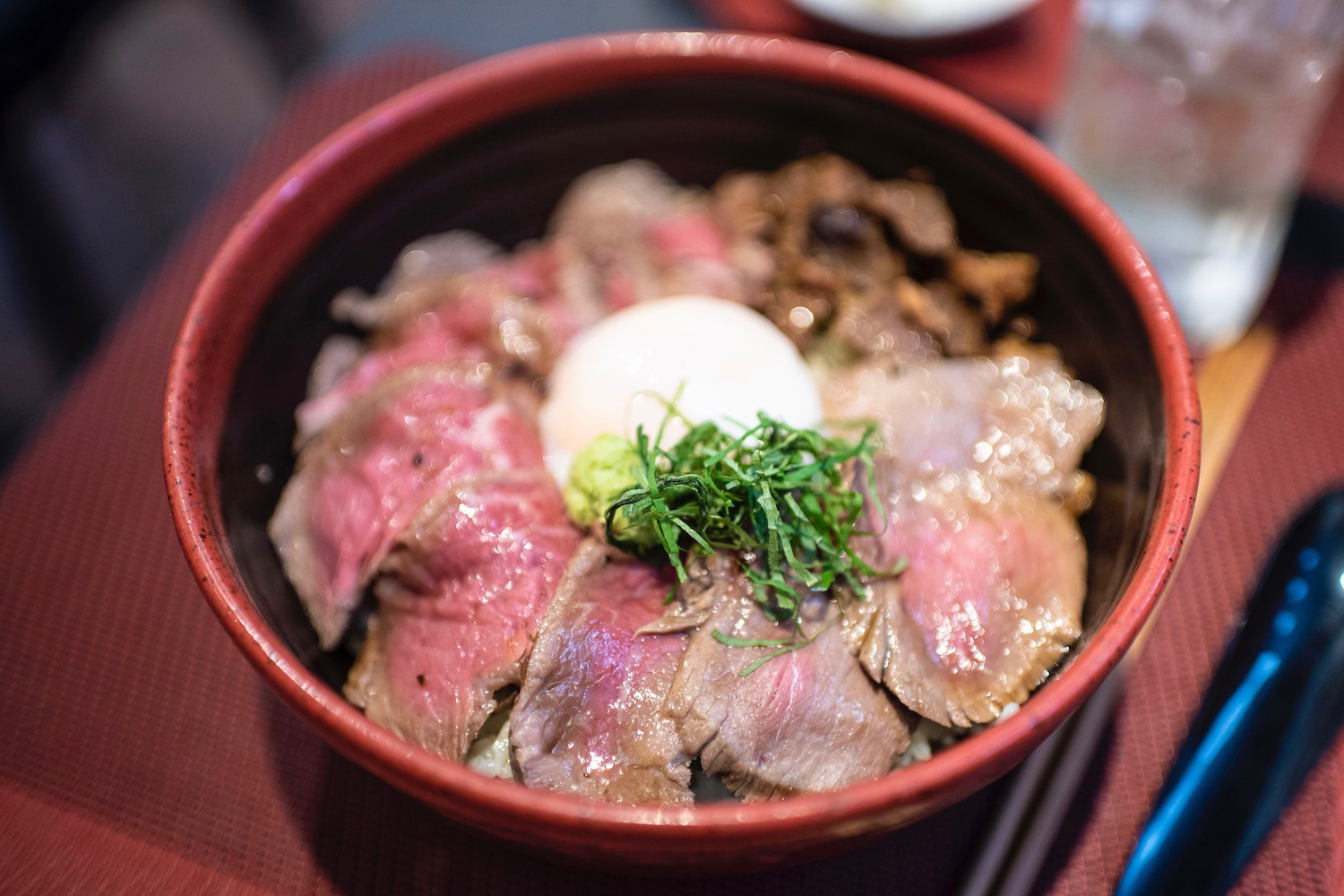 I did make the mistake of sending a video (one that showed me breaking the yolk of the onsen egg that topped the Wagyu don) to you-know-who. And I made the secondary mistake of seeing whether or not he saw the video (he did, about an hour later).
The Carp and the Dove
By that time, of course, I was sipping a foamy matcha inside the tea house at Suizenji Joju-en—I was the only person within it, at least for the 15 or 20 minutes I slowly sipped. More importantly, I'd cracked the riddle of where my dream took place, or at least one place where it might have happened.
Certainly, I hadn't included the canalside path that leads from the Suizenji Park tram stop to the entrance to the garden on my list of things to do in Kumamoto. But as I strolled slowly, under the cloudless sky and without a single other set of footsteps pounding the greying asphalt, it clicked: I had been here before, even though I hadn't.
Looking out onto the perfectly manicured landscape before me, my tea long since depleted but my mug to my lips anyway, I opened up myself to the likelihood that he would have nothing to say to my #foodporn, and the possibility that we might not exchange a single word until we scheduled our mediation session in Taipei for the middle of the week after next. I swallowed this reality and bit my tongue, and tried to hone in on the profound contentment I always felt in my hallucination as I made my way through a city (Kumamoto, I guessed), bound for a destination I still didn't know.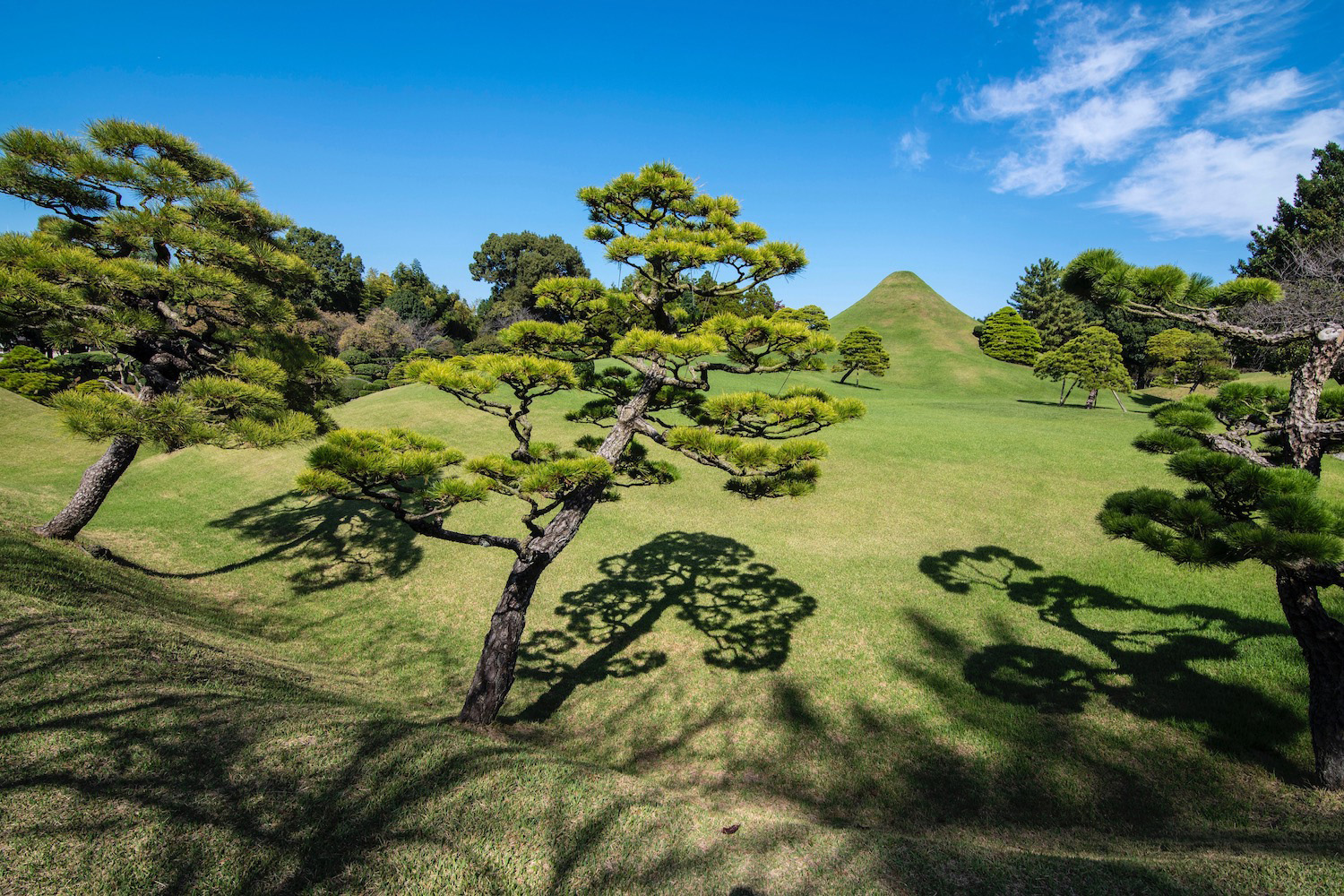 As I made my way toward the garden exit I passed an unmanned storefront. Bait of the carp and the dove, the sign said (in English—I imagined the Japanese word translated to something other than "bait," though I suppose there would be worst pets to have than a dove).
Sleep Samurai
Here's a bit of free advice about things to do in Kumamoto: Don't stay at "Hotel" the Gate, which is actually more of a hostel in spite of its high prices, and whose staff patrol the halls of rooms separated only by curtains, policing even too-loud coughs and breaths like sleep samurai. (I was lucky enough to receive a full refund when I pushed back on their thuggery, and found a much better accommodation at the same price point.)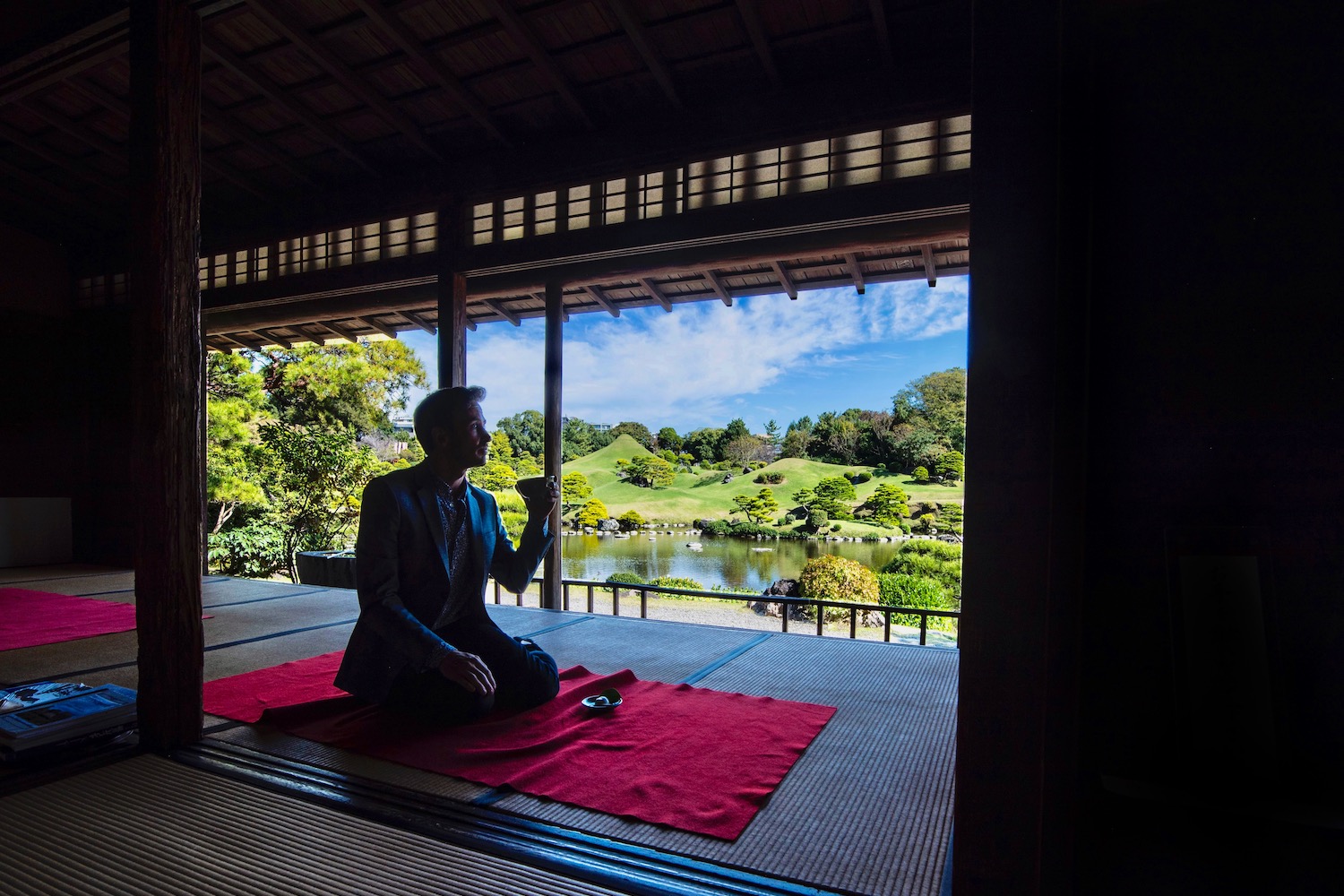 Once I sorted out my hotel situation, I boarded a tram bound for Honmyo-ji, a temple I initially imagined would be a perfunctory stop en route to Hanakoyama, from whose observatory I assumed I would be watching the Kumamoto cityscape light up—not so.
And not just because the park behind Honmyo-ji offered an absolutely perfect panorama, saving me several kilometers of walking and at least two hours of time. No, it was that dream again, that hallucination—it was definitely set in Kumamoto, there was now no longer any question about it. It was set there, in that very place, at that very time.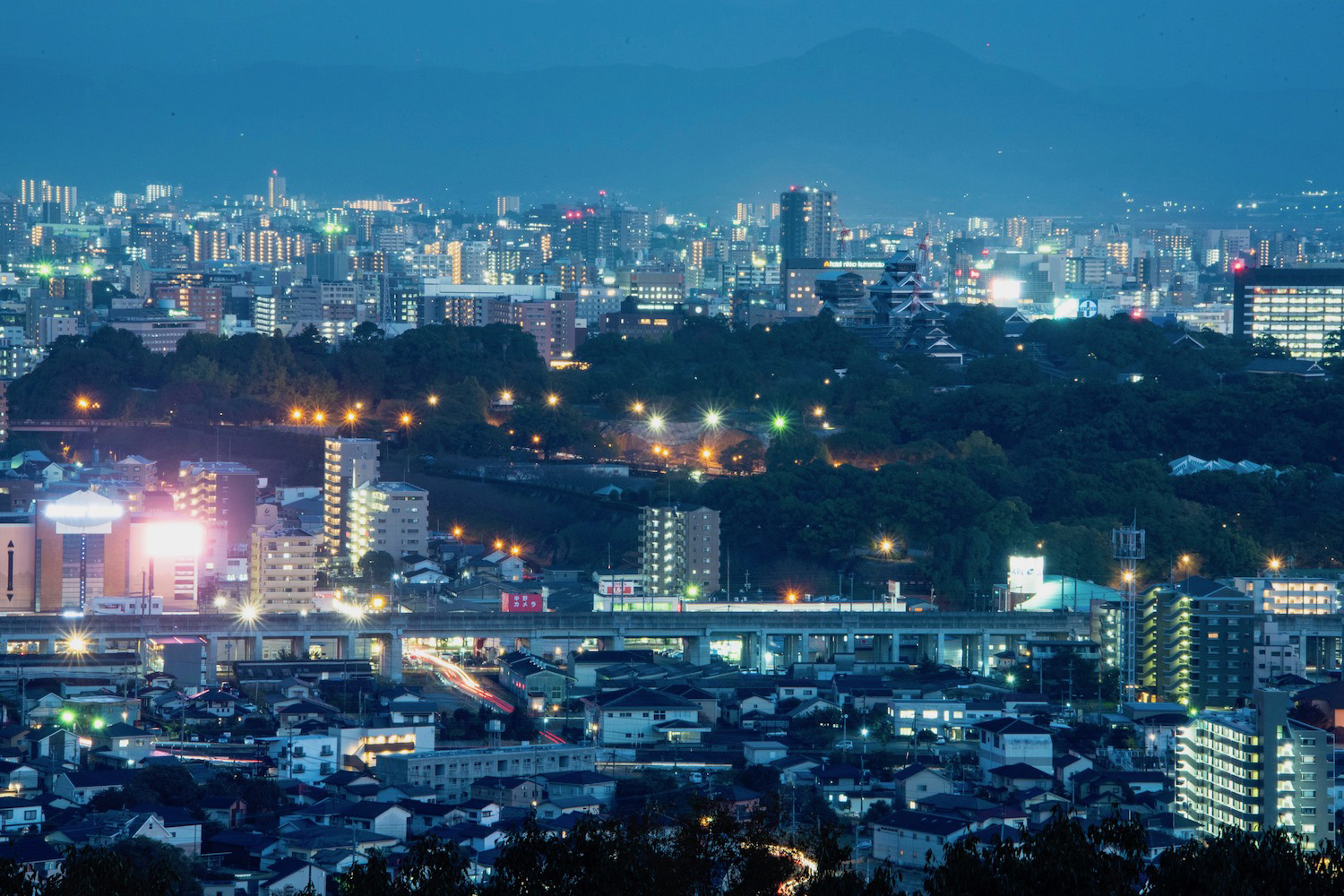 It was the peak of the blue hour by the time I descended from the precipice of Honmyoji Koen (yet another place I'd never imagined for a second to include on my list of things to do in Kumamoto), and a monk at the temple was feverishly ringing the bell that faced the city to mark the arrival of 6 PM. I briefly considered busting out my camera to capture, for my records, a place I'd only seen in my dreams, but decided to simply take it in—the columns of worn gravestones recoiling from the amber street lamps that pierced the cobalt sky—and to live in it, in case my having stepped into the dream expels it from my psyche once and for all.
The Concept of Baiting
I never thought I would walk into my own dream, and I've never wanted to have a pet carp—but I'd be lying if I said the concept of baiting wasn't relevant to me right now, whether or not the sign in Suizenji Koen had simply been a poor translation. Problem is, I'm not trying to lure a koi (or the general fortune seeing one suggests to the Japanese); I prefer to live in the waking world, as wonderful as it has been to experience the dreamworld I only imagined before today (but with my eyes wide open).
How do you make a person take bait when you've determined you can't give him any more? What is the logical next step forward, in reality, when it merges with your dream as you walk through both?
As was the case in Fukuoka and Nagasaki, and at Karatsu Castle and Yutoku Inari Shrine, exploring all the things to do in Kumamoto has comprised an important piece in the puzzle of my understanding of Kyushu, and of Japan more generally. But a carp circles a particular pond only until it finds an opportunity worth swimming upstream for—that's where I am with him right now, only I don't know what will await me if I'm lucky enough to escape the current.
Other FAQ About Visiting Kumamoto
What is special in Kumamoto?
Kumamoto is famous primarily for Kumamoto Castle, which in spite of not being one of Japan's "original" castles is one of the country's most charming. It's also the home of Kumamon, which is probably the most internationally known of Japan's city-specific mascots.
What is Kumamoto, Japan known for?
For travelers, Kumamoto is known for Kumamoto Castle and also, for being the home of the Kumamon mascot. In the global news, Kumamoto's most prominent recent turn was a strong 2016 earthquake, which largely destroyed the castle (although it's not being rebuilt).
What does Kumamoto mean in Japanese?
Kumamoto (熊本 in Japanese) literally means "origin of the bear." While this makes some sense when you consider that Kumamon is a bear, you aren't likely to see many wild bears in the city center, or even in quasi-rural areas outside the city center.