I was not excited by the thought of the Kanazawa autumn, at least not as I sat onboard a Shinkansen inbound from Tokyo last Thursday afternoon. I was struggling to stay awake but The Hokuriku Shinkansen, unlike just about every other bullet train line in Japan, did not serve fresh coffee on board.
The gloomy scene outside the window matched the muddled one behind my eyes: A damp and cold world with flourishes of red, orange and yellow speeding by so fast they were almost imperceptible. For weeks the dull ache of heartbreak had plagued me; short spurts of touch and adoration (like the out-of-this-world sex that had kept me up so far past my bedtime on Wednesday) provide needed—but fleeting—relief.
A fine spray of semi-frozen rain slowly woke me up as I made my way eastward from the station, toward the same hotel I'd called home when I explored a slightly wintrier Kanazawa in early February. I imagined my body pressed against the man who had held me the night before, a meaty fellow whose English name, quite appropriately, was "Angus."
Flecks of Gold
I rushed through freshening up, though I had no reason to do so. The only thing awaiting me, at least according to the itinerary I'd prepared weeks before, was a twilit stroll through Kenroku-en, which would be illuminated in an hour or two after the sunset.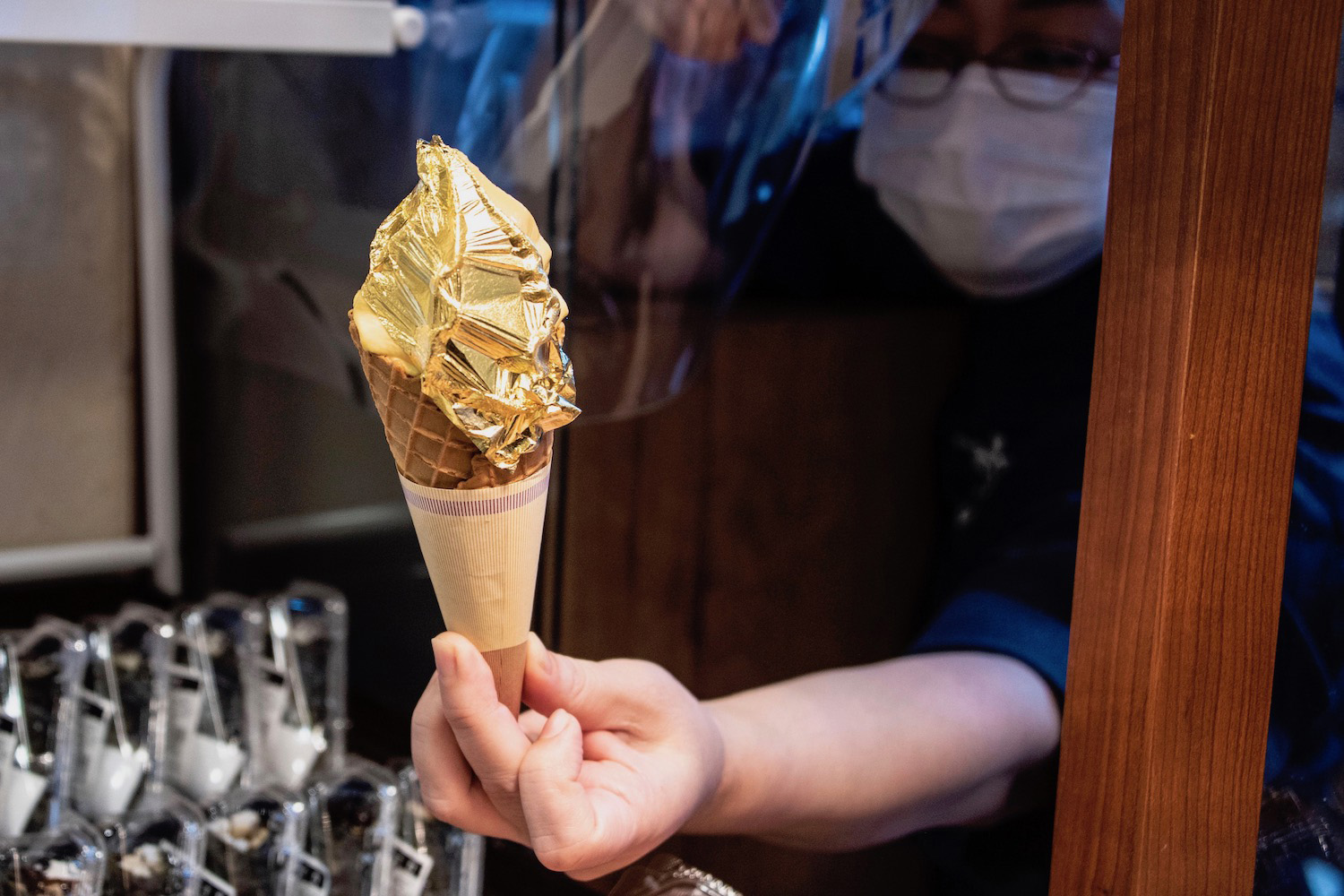 The pep in my step paid off, however. As I exited the hotel and walked southward toward a lesser-used gate of Kanazawa Castle, a bright burst of sunshine was peaking through the blanket of clouds that had swallowed the sky. It didn't quite last until I reached a vantage point where taking photos might be worthwhile, but it put me in a better mood nonetheless.
Ephemeral rays of sunshine, and flecks of gold leaf on my lips. Upon arriving at the station, I'd indulged in sweet potato soft cream emblazoned with the city's namesake precious metal, a way to honor both the Kanazawa autumn and the Thanksgiving holiday, which my family would soon celebrate without me for at least the fifth year in a row.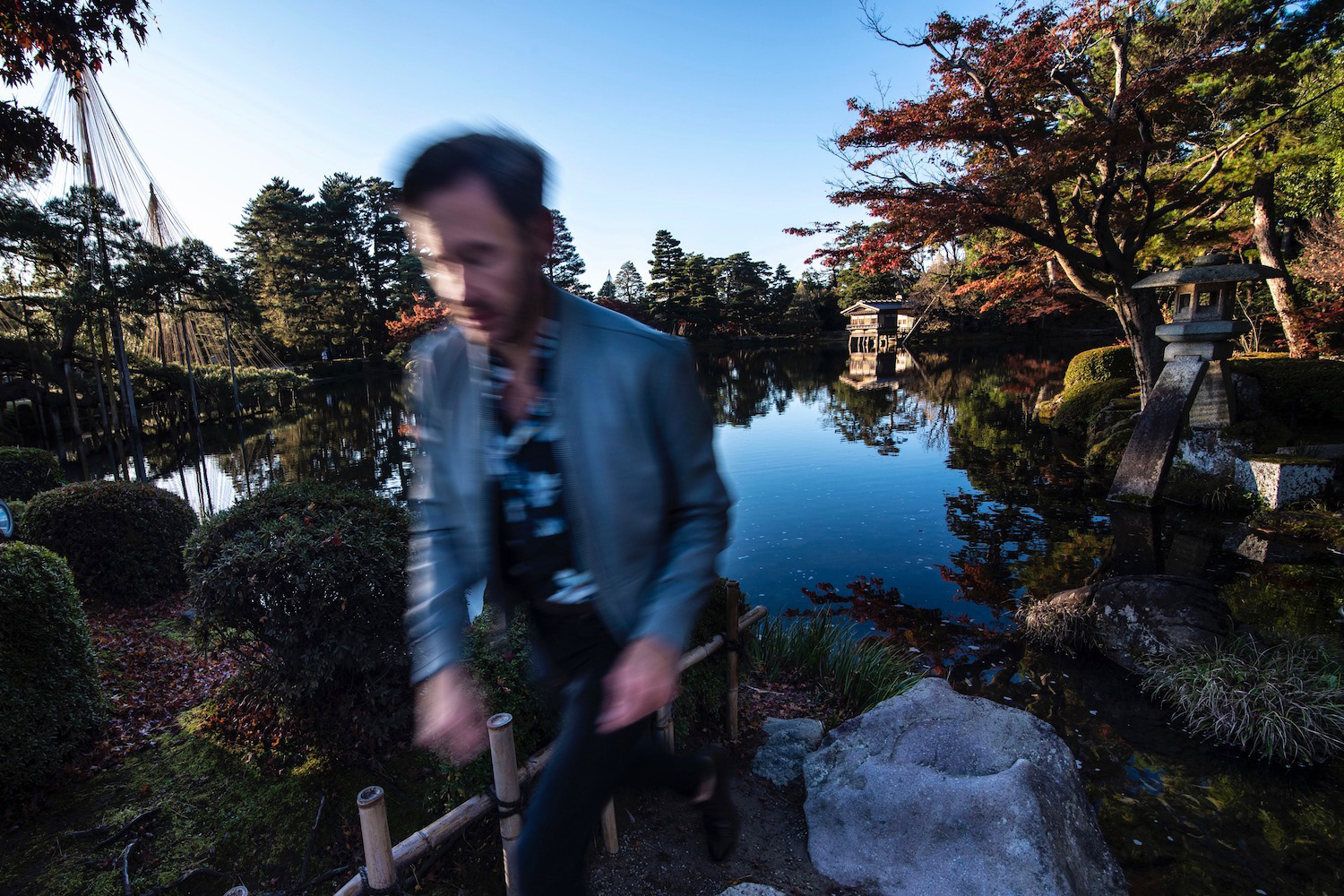 A lone scarlet maple stood just in front of the tenshu, a reproduction that looked less impressive glistening with semi-frozen rain than it had covered by fresh snow. As I headed toward the the castle's eastern gate, I passed a handsome and obviously gay Western tourist, who motioned to me to come over to him when I looked back to see if he was looking back at me. I didn't take him up on his offer.
Back to Hotel Pacific
"No illumination," the woman wove her hands frantically, as if she was trying to extinguish the flames that would've burned in a more awake, less frozen version of me. Instead I felt relief: It was far too cold to be outside taking photos, certainly at a venue that almost certainly would've banned the tripods necessary to take proper night shots.

Having given up on the Kanazawa autumn, at least for the night, I headed toward Kourin Sushi, where I'd eaten my first meal in the city during my aforementioned winter visit. To my shock (and, when I realized I really was in need of a chat with a native English speaker, delight), a Western woman was seated at the barstool next to the one I'd been assigned.
As I tore into my tuna maki (and a bowl of edamame) and she into the chef's choice nigiri platter I'd enjoyed nine months earlier, we enjoyed an innocuous back-and-forth that largely—mercifully—stayed within the confines of travel. She'd be spending two weeks in Japan (and a long weekend in Seoul) before heading back to England; I managed to promote both of my travel blogs and wax poetic about my life in Taipei without mentioning he-who-really-fucking-should-not-be-named.
Walking back to Hotel Pacific in air that had to be freezing now that it was pitch dark, I opened each of the gay sex applications on my phone to see if the handsome stranger I'd locked eyes with at the castle was online. He was nowhere to be found.
Numerous Enough
Initially, I'd planned to structure my second Kanazawa autumn day as follows. After finishing my 5 am run and round of calisthenics I'd make my way immediately to Kanazawa Station, where I'd travel by train and bus to Maruoka-jo, the oldest of Japan's 12 remaining original castles. I'd then return to Kanazawa-proper, visiting Kenroku-en (at long last), then wandering through Higashi Chaya, where I hoped I'd see some additional foliage.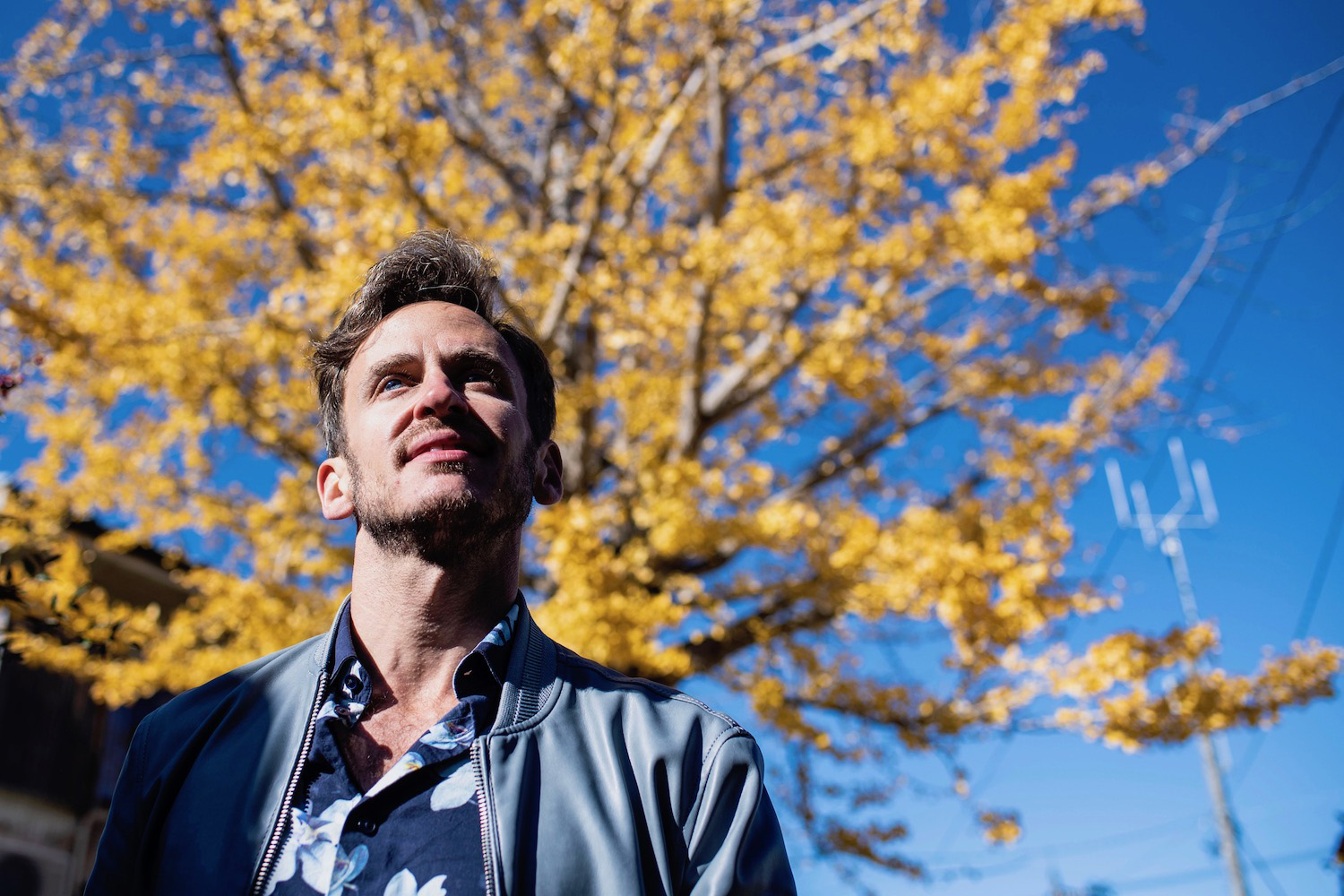 I quickly abandoned this plan, in large part because of how clear the sky showed itself to be as light appeared on the horizon. A clear sky, and a revelation: Kenroku-en's gates were unlocked daily for two hours before the general opening time; admission was free during this period.
Although the morning was at least as frigid as the previous evening had been, the perfect light quickly excised whatever cynicism I felt as I'd walked through Kanazawa and its spray of semi-frozen rain. After staying at the garden until literally the last moment I could, I made my way up to the observatory at Utatsuyama, from which the view was slightly less impressive than I'd hoped it would be.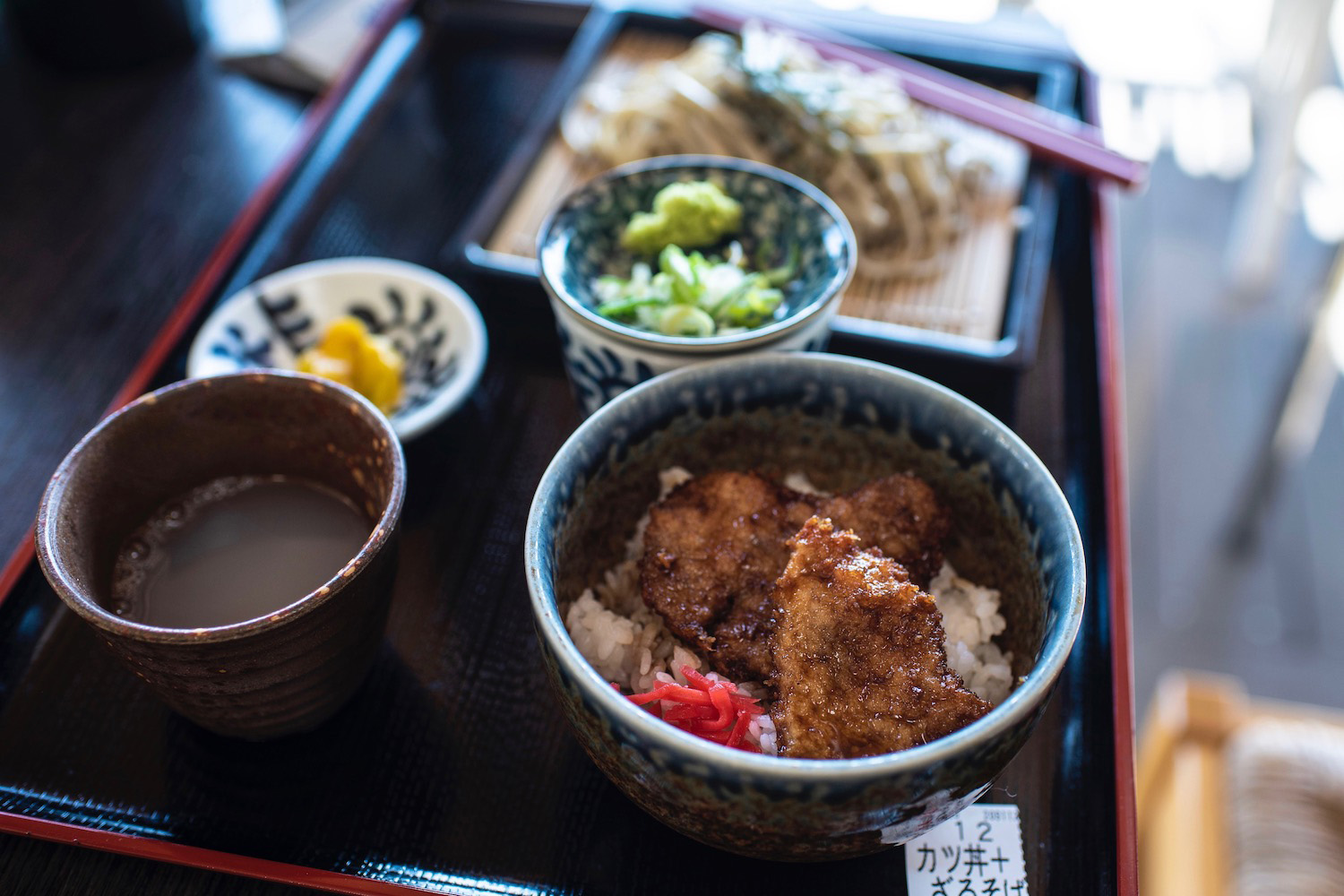 I ended my Kanazawa autumn experience (in the city center, this is; and after my perfunctory promenade through Higashi Chaya) in the city's samurai district, where the leaves were exactly numerous enough to have made my detour there worthwhile.
Cerulean and Scarlet
I use the word "detour" because the warrior homes and canals of Nagamachi were not my final destination. I'd been bound for Toyota Rent-a-Car, where I'd be indulging my bad habit of paying slightly more to hire my own vehicle for a day trip (but saving a ton of time, to be fair) instead of using public transportation as conscious travelers (such as the one I claim to be) do.
It's a shitty addiction, but worthwhile in this instance—it took me under an hour to reach Maruoka Castle, whose grounds were completely empty, no doubt because of how difficult the fortress is to access via train and bus. It's hard for me to say whether it met my expectations. It certainly didn't exceed them, though it's difficult to feel anything but elated when the sky is cerulean and the leaves are scarlet.
By the time I got back to the Hotel Pacific, all the boxes of my Kanazawa autumn trip ticked, it was mild enough that I could move all 10 of my fingers without added effort. Without thoughts of Angus' warm and solid body to ward it off, the dull ache of Special K's betrayal seeped back in.
Other FAQ About Kanazawa in Autumn
Where are the best places to see autumn leaves in Kanazawa?
Not surprisingly, top Kanazawa attractions like Kanazawa Castle and Kenroku-en garden are some of the top places in the city to see autumn colors. Another amazing spot is to walk along the Asano River in Kazuemachi, where the leaves of sakura trees fluoresce a vibrant crimson in late November.
When is autumn in Kanazawa?
Kanazawa's autumn is a bit earlier than Kyoto's or Tokyo's, but is still later than you might think. As a general rule, being in Kanazawa during the last week of November will guarantee you being able to see most leaves at or just past their peak.
When is the best time to visit Kanazawa?
Kanazawa is beautiful 365 days per year. With that being said, for the purposes of this post, I really enjoy visiting the city during the autumn. Whether walking in classically beautiful places like Kenroku-en garden, or in more understated parts of the city center, autumn is a time when Kanazawa comes alive.