A Himeji day trip is without a doubt the most popular excursion travelers to Japan's Kansai region want to take—and not just during cherry blossom season, when Himeji Castle is at its most resplendent. Himeji-jo is doubtlessly the most impressive example of Japanese castles, both among the 12 original structures that remain and in general.
Not surprisingly, most of the things to do in Himeji relate to the castle, whether it's finding different vantage points from which to photograph it, or eating at the food stalls set up around it during festive seasons. Himeji Castle is quite literally the focal point of the city—you can even see it as your Shinkansen pulls in.
Is Himeji worth visiting? Absolutely. This incredible structure, sometimes nicknamed "White Egret Castle," is nothing short of a time capsule, having been the finest specimen of Japanese feudal architecture since its construction more than four centuries ago.
How to Reach Himeji Castle
Most people travel to Himeji from Osaka, but this is not a foregone conclusion. One thing to keep in mind if this is you is that bullet trains all depart from Shin-Osaka, which is far north of the city center. If you depart from Osaka Station, you can ride a "Special Rapid" service. Likewise, most Hikari Shinkansen trains departing Kyoto require a change of trains (usually to a Shinkansen Sakura in Shin-Osaka), although a few direct daily departures exist.
One way to make your trip to Himeji Castle (which is really more a half-day trip than a full-day one) is to combine it with the underrated city of Kobe. Head to Himeji early in the morning, and stay until just after lunch time. Then ride a train to Kobe (ideally, a Special Rapid bound for Sannomiya) and enjoy the evening, pairing a Kobe beef dinner with a twilit walk through Nankin Machi Chinatown, or beneath the iconic Kobe Port Tower.
What to Do on a Himeji Day Trip
Explore the Himeji Castle Grounds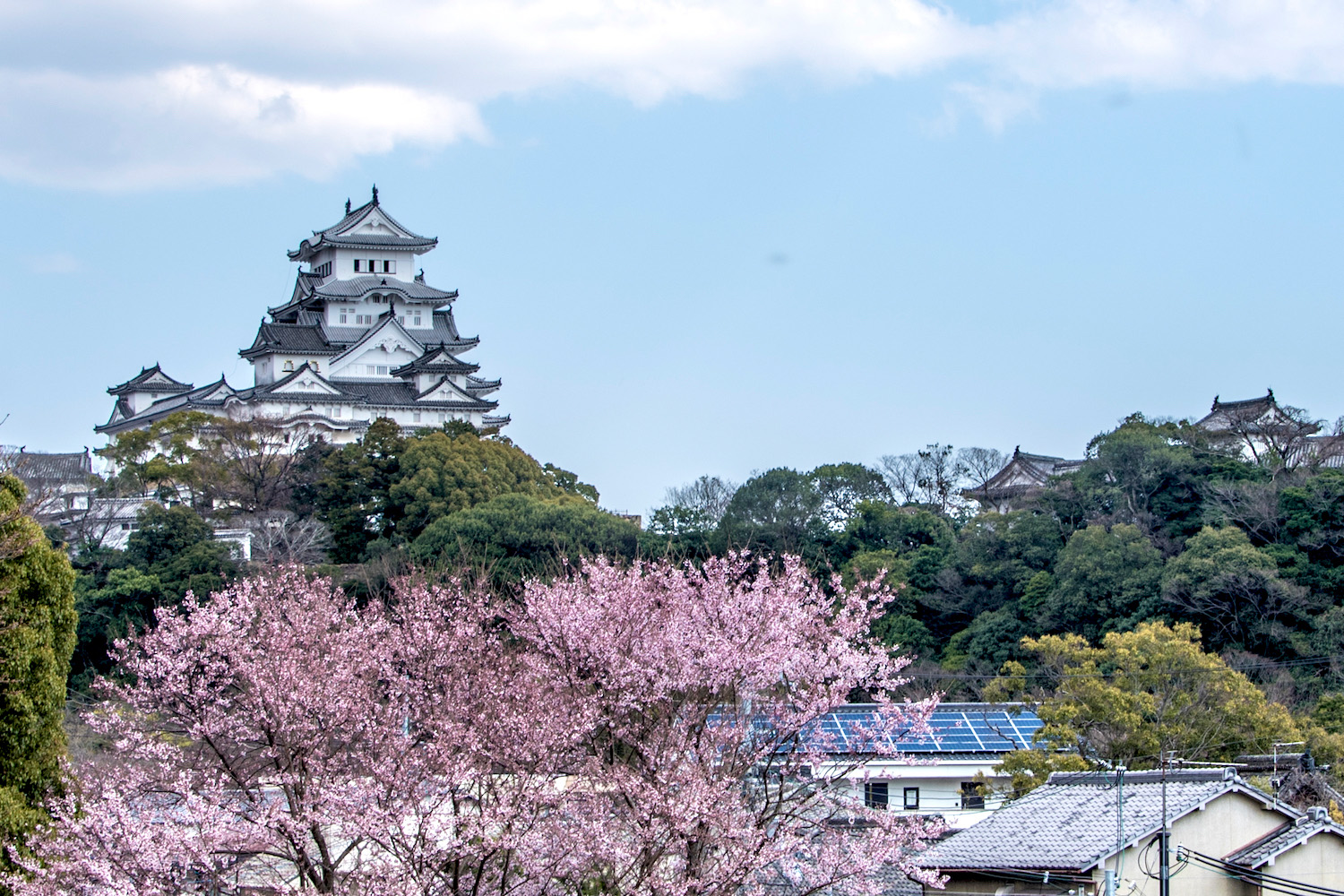 Assuming you don't mind paying the Himeji Castle ticket price (¥800 as of April 2020), you can enter the grounds of Himeji-jo and explore them to your heart's content. Given that it covers about 576 acres, and that many parts of the castle and its grounds bear intricate details worth expecting, I'd plan to spend a minimum of an hour exploring Himeji Castle—and that's at ground level, mind you.
Ascend the Tenshu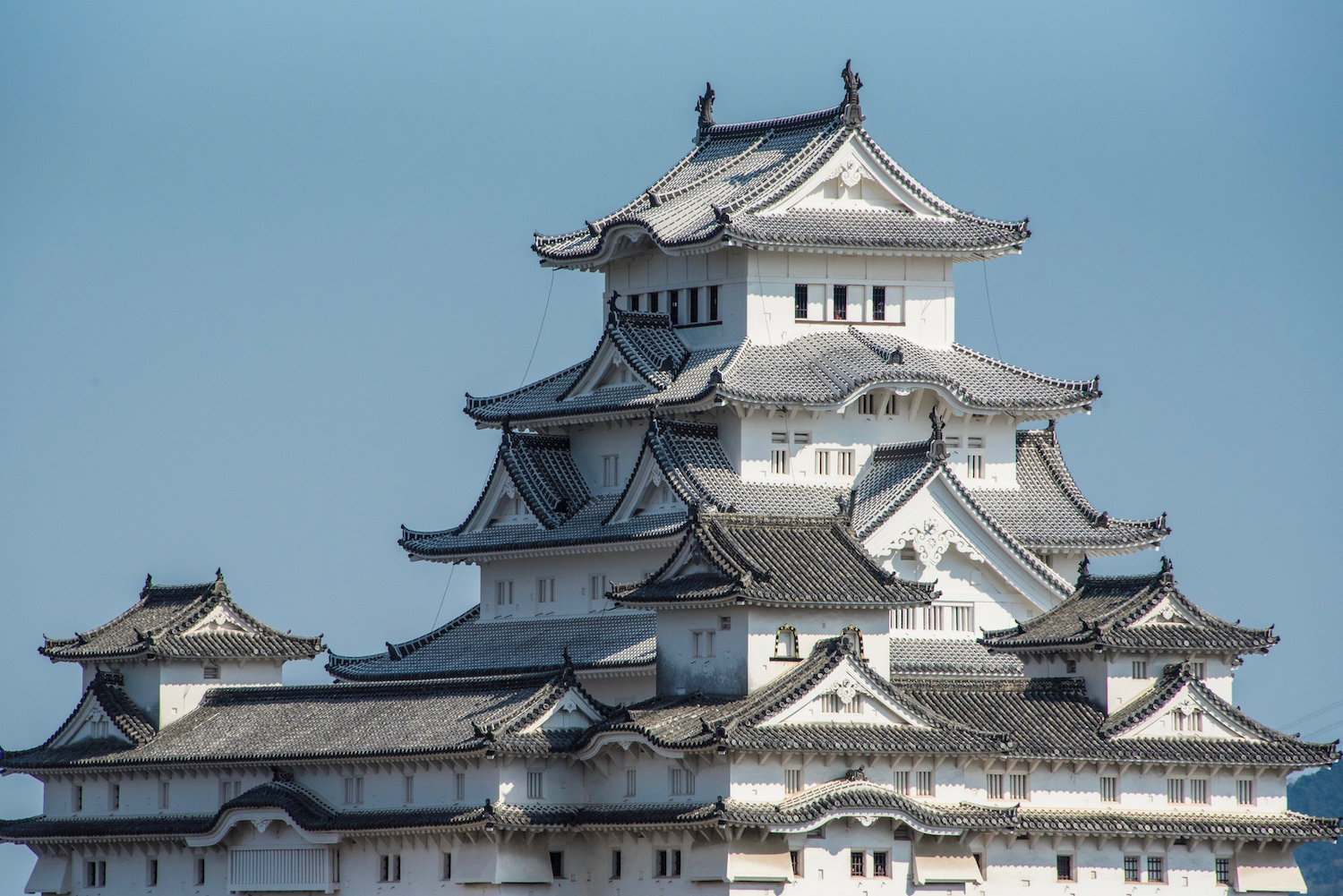 The next highlight of a Himeji day trip, assuming once again that you actually go inside the castle's grounds, is to climb up to the tenshu—i.e. the castle keep. In addition to offering sweeping views that can easily extend as far as the Seto Inland Sea on a clear day, the inside of the castle is something of a museum, giving a glimpse into what life was like when Himeji Castle was a functioning fortress.
Enjoy the View from Otakoyama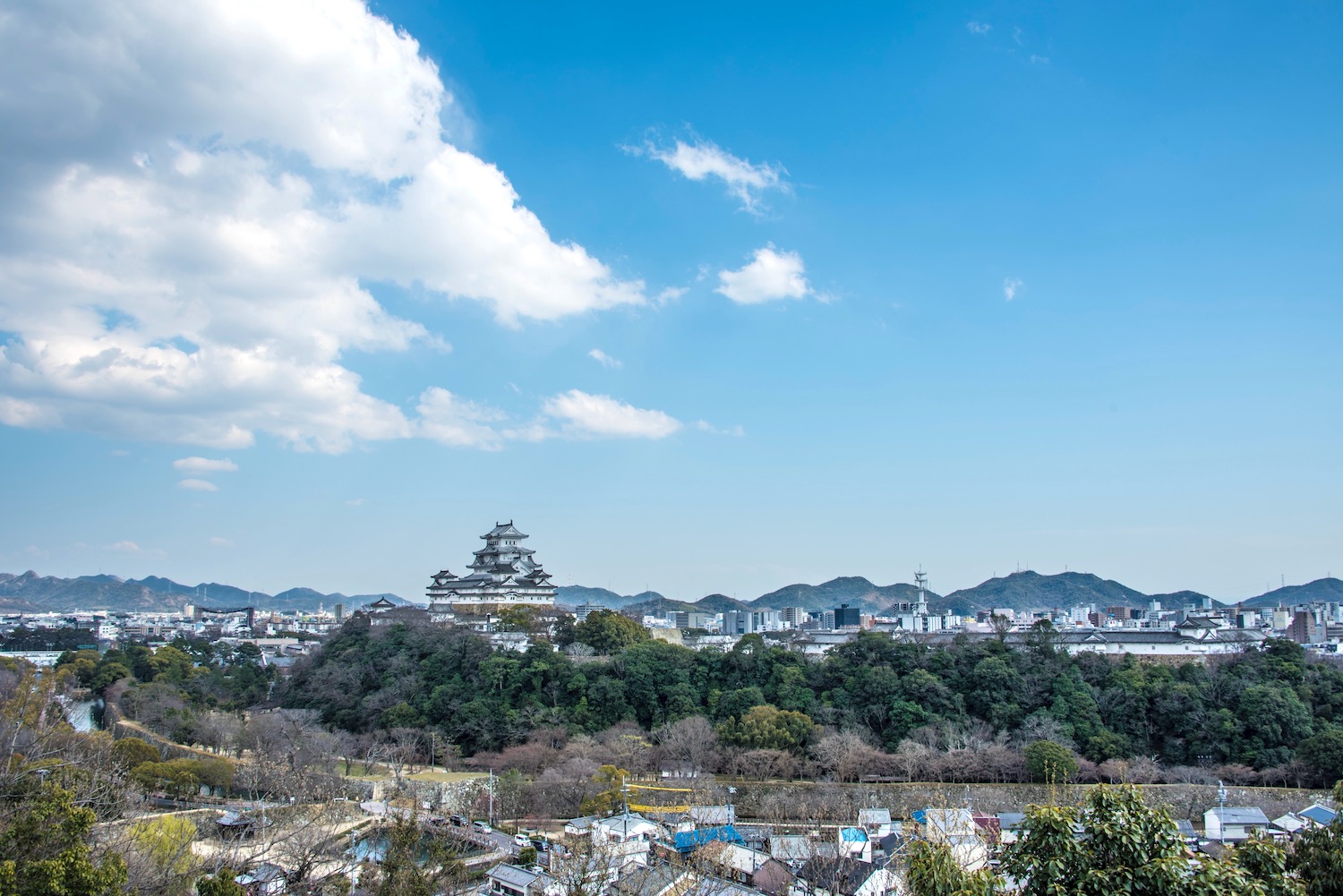 Although the view of the rest of the world is amazing from the keep of Himeji Castle, there's a problem: You can't get a view of the castle itself when you're already inside it. However, the best view of Himeji Castle (well, one of them) is actually located on a hill just northwest of the main castle site. Here you'll also find a small shrine—and, if you visit Himeji during cherry blossom season, a nice cherry tree.
Get Your Himeji Castle Money Shot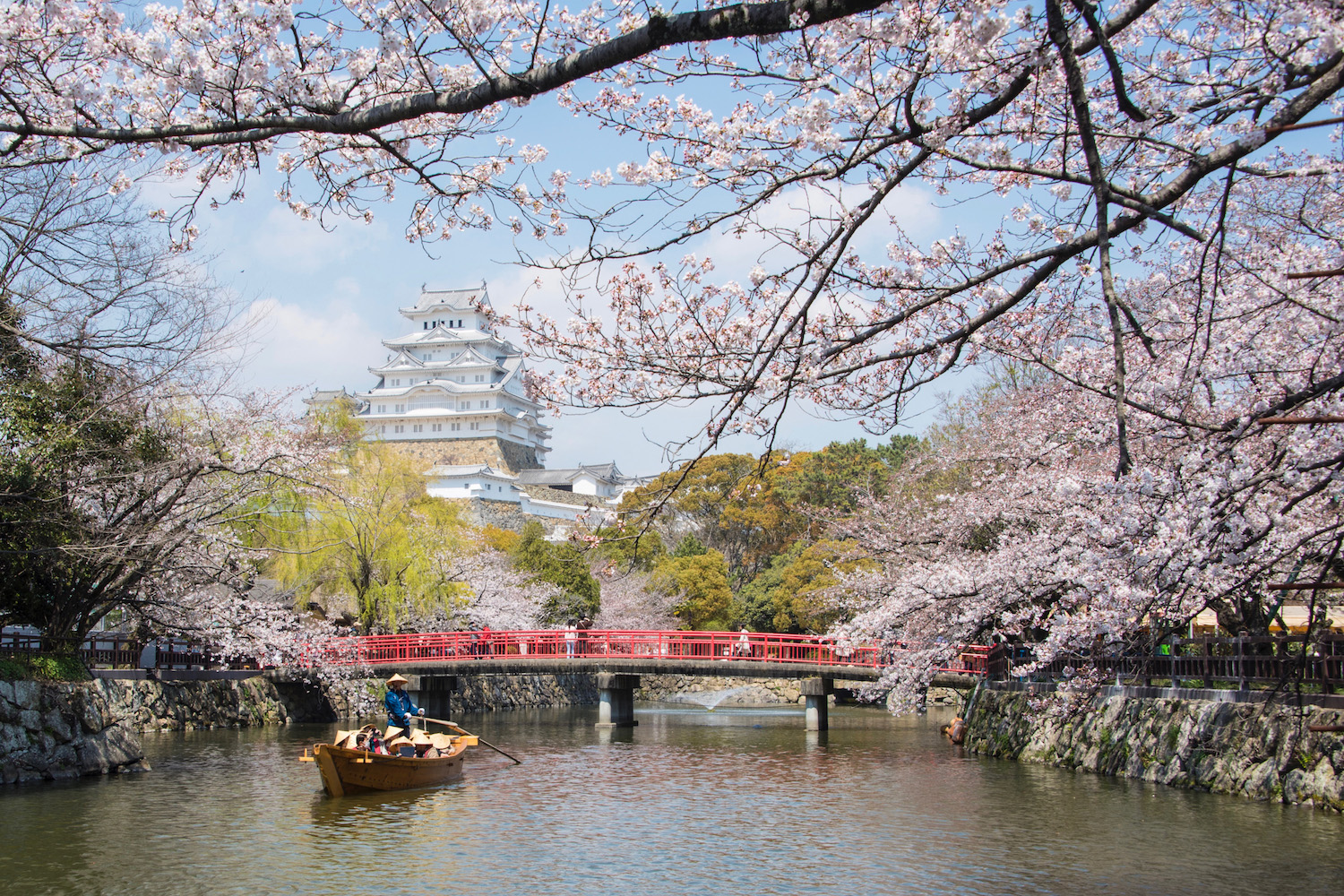 Speaking of Himeji cherry blossoms, it's just not a Himeji day trip in spring unless you get the "money shot." You know the one I'm talking about: Sakura on top; a moat (ideally, with a boat in it) on bottom; and a gorgeous red bridge in the middle. To get this shot, find "Himeji Zoo" on Google Maps (but don't go inside—it's awful) and walk just south of it and voilà! This is probably the best place to take photos in Himeji.
Discover Himeji Street Treats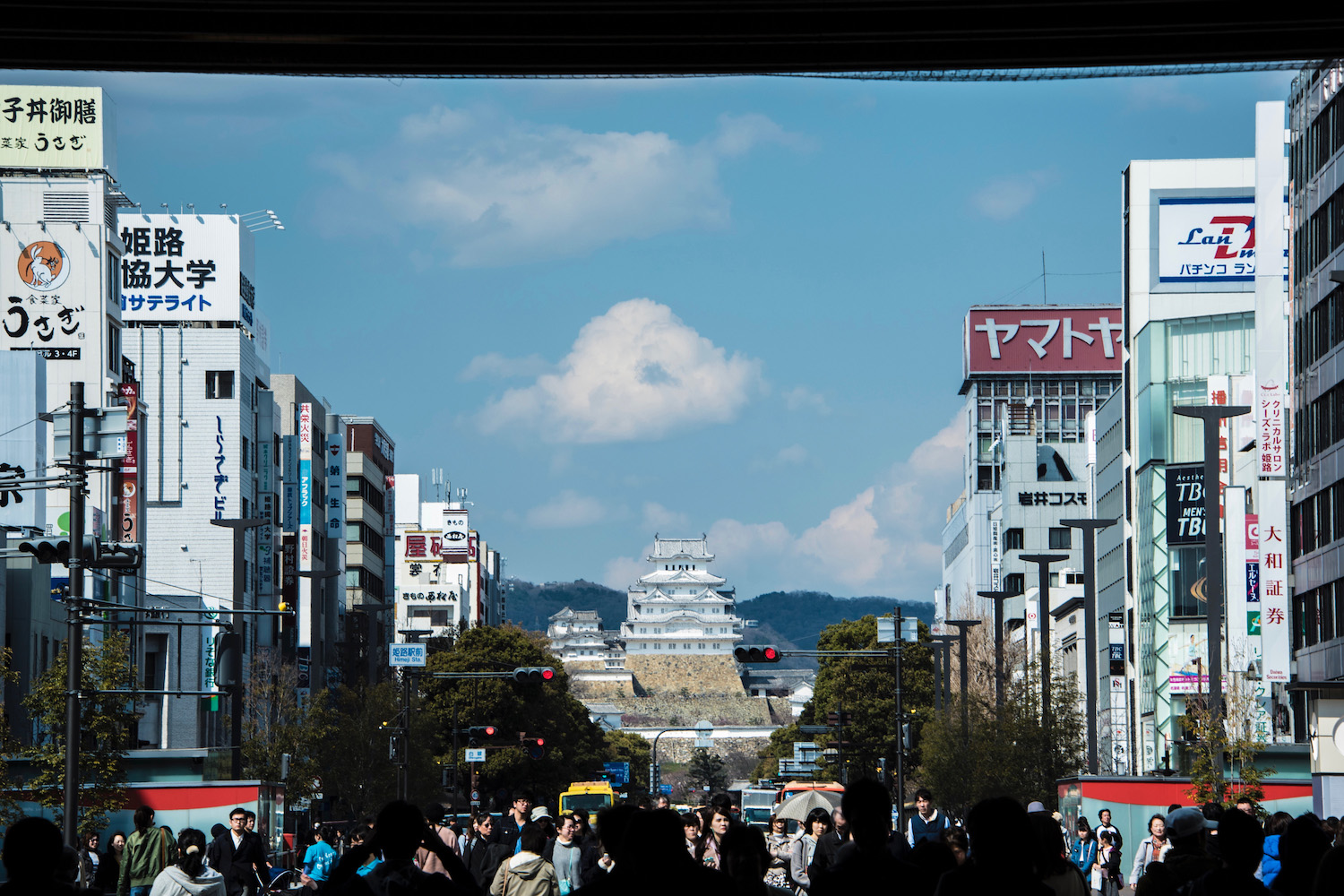 Although Himeji Castle is most famous as a destination during cherry blossom season, there's always something going on here. Specifically, in the small lanes just south of the castle, and extend just eastward and westward off the main street that leads down to Himeji Station. Whether you enjoy sweet treats such as taiyaki and soft cream, or savory ones like takoyaki and Kansai-style okonomiyaki, you won't leave Himeji with an empty stomach.
The Best Time to Visit Himeji Castle
As you can probably infer from several of the images here, I am a big fan of the Himeji cherry blossoms. Of course, Himeji Castle is beautiful in most any season, whether amid the colors of autumn, the lush greenery of summer or winter snow, however rare that may be. With this being said, Himeji Castle is as much about what surrounds it as it is about the majesty of its construction. Which is to say, you don't need to visit at any particular time of year to truly appreciate it.
Another way to look at it is like this: When do you plan to be in Japan anyway? For example, if you're on a trip to see the Kyoto cherry blossom, it makes sense that you would travel from Himeji from Kyoto (ideally, anyway) when the sakura have nearly reached mankai. If you're in Osaka on a business trip, on the other hand, you could literally be in the country on any day—Himeji Castle is stunning all 365 of them, not to worry.
Is Himeji Worth Staying the Night?
The good news? Himeji hotels tend to be pretty affordable, whether you choose a basic property such as Daiwa Roynet Hotel Himeji or a more luxurious one like Hotel Nikko Himeji. Moreover, since most are clustered between JR Himeji Station and the Castle itself, you are practically guaranteed a great location. If you have room in your Japan trip, why not spend a night in Himeji, instead of just taking a day trip?
With this being said, I'll be honest: Himeji, as a destination, just isn't that fascinating. Keeping this in mind, as well as how easy and quick it is to reach Himeji (be that the very short journey from Kobe to Himeji, or the longer one from Kyoto), I wouldn't say there is a huge reason to stay in Himeji overnight. This is especially unnecessary if you're on a shorter trip, such as two weeks in Japan or less.
The Bottom Line
If you're planning to take a Himeji day trip, you're in the right place. Whether you take a full-day trip from Kyoto, or start from Osaka and combine a morning at Himeji Castle with an evening in Kobe, Hyogo prefecture is one of the most underrated places in the Kansai region. Himeji Castle is at its most beautiful during Japan's spring and autumn seasons, but make no mistake: This feudal fortress is a 365-day destination, if there ever was one. Need help seamlessly integrating Himeji into your Japan trip? Commission a custom Japan itinerary!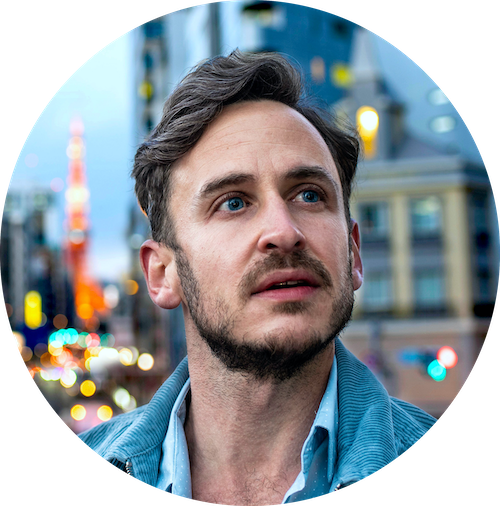 Japan Starts Here is information—and inspiration—for all your trips to Japan. My name is Robert and I'm happy you're here!