When I first started traveling in Japan, I didn't realize the difference between Nozomi vs Hikari vs Kodama. I remember I needed to travel from Tokyo to Shin-Osaka one evening and, not wanting to deal with the queue at the JR office, decided to buy my ticket through a machine. (I wasn't using a JR Pass in this case, if you're wondering).
The "Kodama" train was departing next, so I chose it. The Nozomi isn't leaving until 30 minutes after the Kodama! I thought to myself, feeling good about my decision. I'll definitely arrive faster taking the Kodama.
If you've ever ridden a Kodama Shinkansen more than a few stops, you understand the magnitude of the mistake I'd made: Kodama, the slowest of Japan's bullet trains, stops at every station. By the time you finish reading this post, you'll know all there is to know about the trains on Japan's busiest commuter rail line.
Defining the Tokaido-Sanyo Shinkansen
If you ever find yourself faced between choosing between Nozomi vs Hikari, you're on the Tokaido-Sanyo Shinkansen, which runs between Tokyo and Fukuoka's Hakata Station. These lines are named for the regions they run through: Tōkaidō is the coast-facing area between Tokyo and Nagoya or Osaka, while San'yō extends between Osaka or Okayama and Hiroshima.
The Tokaido-Sanyo Shinkansen is the most important commuter rail corridor in Japan, although it's not just business travelers who avail its services. On a future trip to Japan, for example, you might ride a Nozomi or Hikari from Tokyo to Shin-Osaka to visit one of Osaka's new integrated casino resorts, or IR properties. For now, of course, you'll have to visit 日本のオンラインカジノ.com and play online.
Trains of the Tokaido-Sanyo Shinkansen
Nozomi (のぞみ)
The fastest train that runs along the Tokaido-Sanyo Shinkansen line, Nozomi (which means "wish" or "hope" in Japanese) can complete the Tokyo-Hakata journey in as little as 4 hours, 45 minutes. Although most Nozomi trains stop only at major stations like Shin-Yokohama, Nagoya, Kyoto, Shin-Osaka and Okayama, some stop at intermediate stations like Himeji and Shin-Yamaguchi. You cannot currently travel on the Nozomi using a Japan Rail Pass, although this will be changing when the price increases in October 2023.
Hikari (ひかり)
The key difference between Hikari (which means "light") and Nozomi, for most foreign travelers to Japan, is that you can use your JR Pass to ride the Hikari. The Hikari is slightly slower than the Nozomi, stopping at more secondary stations such as Shizuoka and Mishima. Note that while certain Hikari services operate all the way to Hiroshima and Hakata, most run only between Tokyo and Shin-Osaka.
Kodama (こだま)
As I foreshadowed in the intro to this piece, Kodama (which means "echo") is the slowest bullet train that runs along the Tokaido-Sanyo Shinkansen line. This train stops at all stations, including in Odawara (near the hot springs town of Hakone) and in cities like Hamamatsu and Toyohashi, which are all but unknown to foreign visitors. Unless you are on a very short journey, or bound for an atypical destination, I don't recommend riding the Kodama.
Mizuho (みずほ)
If you're traveling farther west than Shin-Osaka, other trains besides Kodama, Hikari and Nozomi operate. One of these is the super-fast Mizuho (which means "harvest"). Like Nozomi, Mizuho is unavailable to JR Pass holders, at least prior to October 2023. The key difference is that while Nozomi runs between Tokyo and Hakata, Mizuho only runs between Shin-Osaka and Kagoshima-Chuo, the farthest south station of Kyushu island (and, thus, in all of Japan).
Sakura (さくら)
Likewise, the Shinkansen Sakura (I hope I don't need to tell you what this means) is the counterpart of Hikari for trains that operate in the Sanyo region and on Kyushu island. JR Pass holders are welcome to take this train, which stops not only at major stations like Okayama, Hiroshima and Kumamoto, but also in intermedia stations Shin-Iwakuni and Shin-Tosu.
NOTE: If you're curious, the Tsubame (つばめ, or "swallow") is the equivalent of Kodama, and operates exclusively between Hakata and Kumamoto or Kagoshima-Chuo.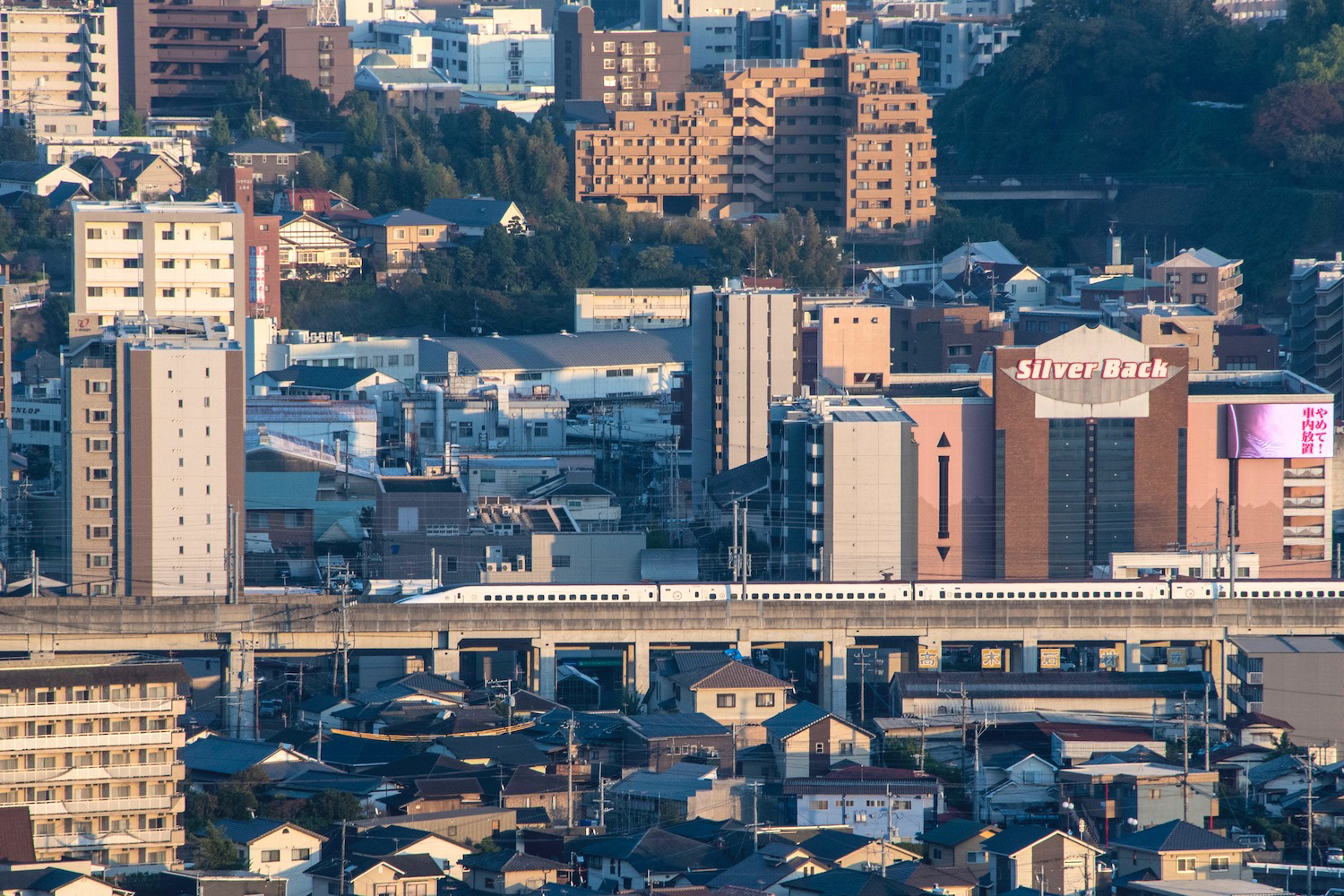 Why is Nozomi Excluded from JR Pass?
Officially, JR Pass holders are forbidden from taking the Nozomi (and Mizuho) trains for two reasons. The first is that these super-fast services are reserved for commuters who are citizens and residents of Japan. I guess this is fair enough. However, I'm pretty skeptical about the second reason given for this—namely, that it relates to cost in any way.
You see, while a Tokyo to Shin-Osaka ticket on the Kodama or Hikari costs ¥14,140 one-way as of August 2023, the Nozomi costs ¥14,450, adding only ¥410 (less than 4 USD) to the price of the ticket. Some make the argument that allows JR Pass holders to take Nozomi trains would require a significant increase in the cost of the pass, but the math just doesn't bear this out. UPDATE: It seems that this is exactly what's going to happen, however—the cost of the pass is going up ~60-70% in October 2023; JR Pass holders will now be able to ride Nozomi and Mizuho tains!
Other FAQ About the Tokaido-Sanyo Shinkansen
What is the difference between Nozomi and Hikari?
There are two differences between Shinkansen Nozomi vs Hikari. The first is that Nozomi is faster and stops at fewer stations. The second is that while JR Pass holders are welcome to ride the Hikari, they are forbidden from using the Nozomi, unless they pay full price.
Is Hikari cheaper than Nozomi?
Hikari is marginally cheaper than Nozomi. While a ticket on the super-fast Nozomi between Tokyo and Shin-Osaka costs ¥14,450 as of late 2023, the slower Hikari (and Kodama!) cost ¥14,140. Given that Nozomi can be nearly an hour faster than other trains, this seems like a minimal amount to pay.
What is the slowest bullet train in Japan?
The Kodama, which operates on the Tokaido-Sanyo Shinkansen between Tokyo and Hakata (Fukuoka), is the slowest bullet train on this particular line. However, the Kyushu Shinkansen's Tsubame (which also stops at all stations) is an analogous service.
The Bottom Line
I hope I've helped to settle the Nozomi vs Hikari vs Kodama debate for you. Basically, the super-fast Nozomi stops only at major stations, while the Hikari calls at a few intermediate stops (and thus, runs a bit slower); Kodama stops at all stations, and is therefore not ideal for long journeys. If you're paying cash, you can avail any of these services, as well as the corresponding Mizuho, Sakura and Tsubame trains that run to Kagoshima-Chuo on Kyushu island. However, Japan Rail Pass holders are not able to ride the Nozomi or Mizuho trains, although they will be able to do so from October 2023.