Is Kobe worth visiting? This question was somewhat irrelevant in advance my recent trip to the city, since I'd been there before. As I queued at a 7/11 near JR Asagiri Station Sunday morning, waiting to meet my friend Eriko, the task at hand was more particular: Just how worthwhile is a visit to Kobe?
Eriko, for her part, encouraged me to do a deep dive—and a solo one—into her home city. "I've got many lessons tomorrow," she explained, referring to her online Japanese language school, dipping a piece of buttered bread into rich seafood pasta sauce as the Akashi Kaikyo bridge loomed behind the fog just outside the window. "So you can spend Monday in Kobe city alone."
On Tuesday, we'd travel together to Awaji Island, which was barely visible through the late summer haze. Sunday evening, we ended up watching night fall from beneath Kobe Port Tower, then having a dim sum dinner, which made me homesick for Taiwan, but was more expensive than what you'd pay anywhere in Taipei.
A Little Fat on It
It was Labor Day weekend, and it definitely felt like the end of summer in Kobe—heavy, misty daytime air that all but blocked the sun; and a clear, cool night perfumed by the song of crickets and cicadas.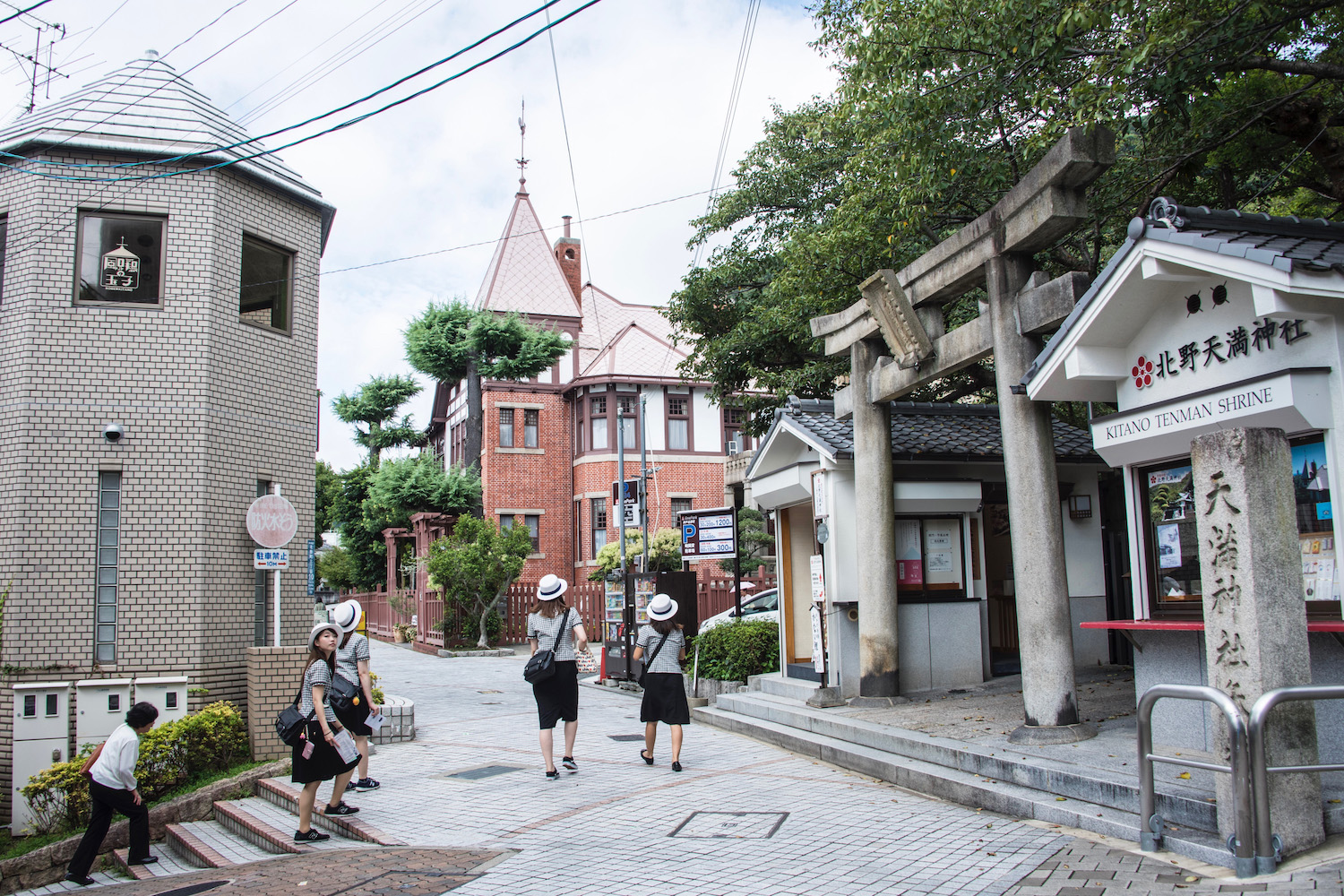 Kobe, in many ways, does not feel like Japan, which makes sense if you consider both its ancient history and the more recent chapters of it. The historical districts of Kitano-cho and Kyo-kyoryuichi hearken back to the 18th and 19th centuries when Kobe was one of the only places in Japan open to foreign commerce; the area near Kobe Port, which was all but obliterated by the Great Hanshin Earthquake of 1995, consists of such modern construction and contemporary dining concepts that it almost feels like one of the more gentrified districts of one of America's more affluent cities.
To say nothing of the fact that so many things to do in Kobe buck typical Japanese trends. I started Monday morning as the only non-Shinto at the shrine in Kitano (which, to be fair, is quite typical as Japan attractions go), which offers the best view in the city of the 1909 Weathercock House (which is definitely not). Kobeites, for their part, jaywalk.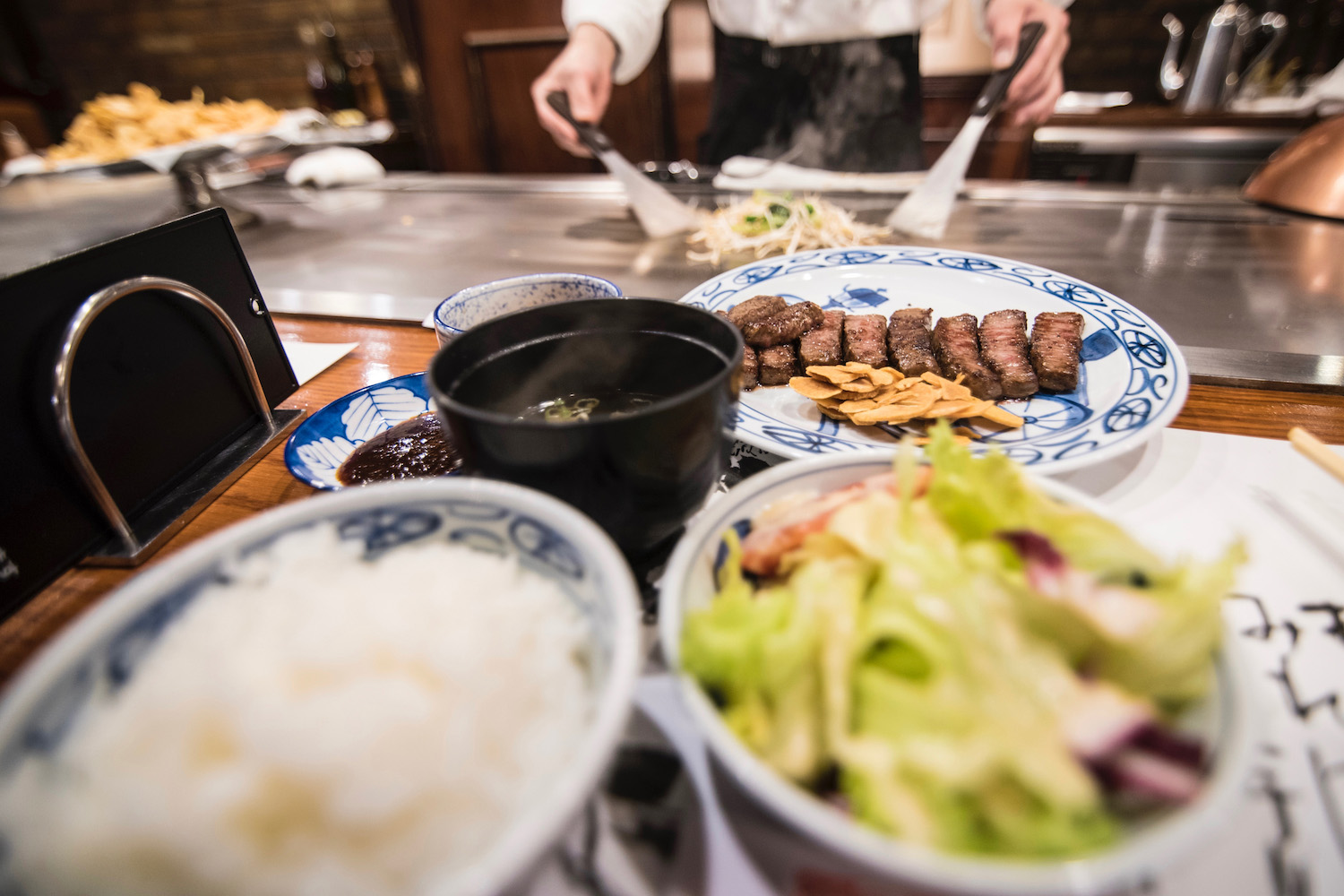 I may have jaywalked a couple of times as I walked down the hill to Sannomiya, which is like a grungier Shinjuku or a less photogenic Shinsekai, I passed no less than two dozen "best in Japan" (their characterization, not mine) Kobe beef restaurants en route to the one Eriko swore by. To my surprise, the Japanese woman who greeted me there not only did so in perfect English (unheard of in Tokyo, much less in a tertiary Japanese city), but with a Western name. "Amy," she introduced herself, to my surprise, after agreeing with me that gyuu tastes better with a little fat on it.
Slapped My Own Skin
By this point, the lighting was pretty awful, even if the Monday air was much clearer than Sunday's had been, the temperature and humidity higher. It didn't feel like the end of summer anymore, at least not as I walked from Sumiyoshi Station to Hakutsuru Sake Brewery Museum, which was forgettable (certainly, compared to my recent Nihon-shu experience in Kyoto's Fushimi ward) apartment from sake-flavored ice cream.

In spite of this, I decided to make my way to the first of two viewpoints (three, if you count the smudged-window observation deck of Kobe City Hall—I don't): Nunobiki Herb Garden, to which I might've hiked if I wasn't still exhausted from Fuji and my anything-but-relaxing time amid the Shimoda Beaches. Is Kobe worth visiting? The answer became more affirmative as the day passed, though much more so when I could sit down in a vehicle (alone, in the case of the ropeway leading to the herb garden).
It's not awful, I conceded, my lower legs in a fragrant herbal foot bath overlooking Kobe's (and part of Osaka's, I guess) sprawling cityscape. I wasn't sure whether I should order something to eat at the nearby cafe (namely, the Nunobiki Herb Burger), or hold out for a patty made with Kobe beef near sea level later in the evening.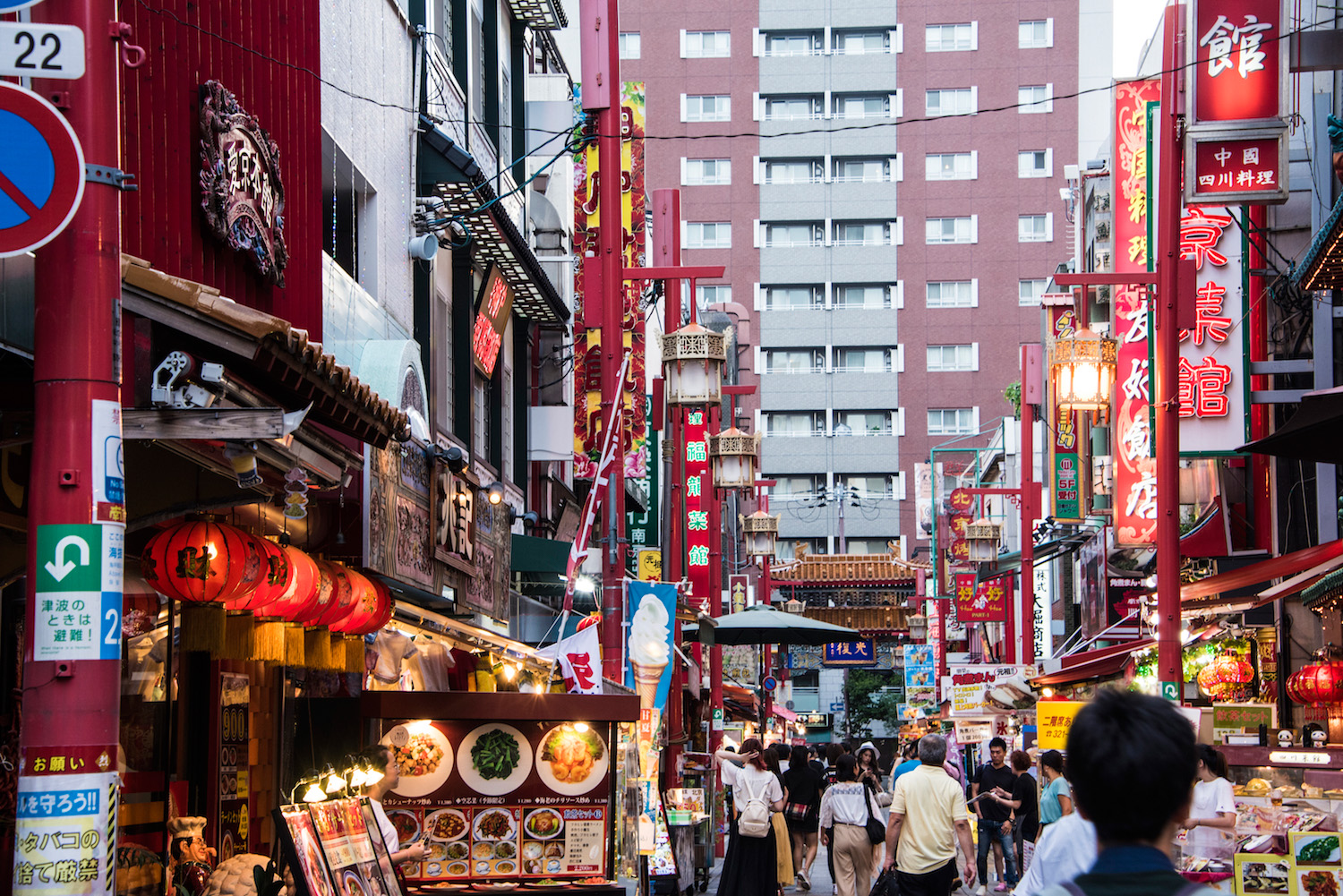 I had just made my decision, passing through a burnt-out lavender patch and a half-spent field of sunflowers on the way back down to the so-called middle ropeway station, when I felt crawling on my calf. I quickly slapped my own skin, assuming that it was one of the massive hornets that, along with the fondness of the Japanese for mayonnaise, is my least favorite thing about the country.
The Corporal Sort
It was a grasshopper, it turns out, a beautiful emeraldine one—probably, I imagined, the same sort of insect signing to Eriko and I as we made our way back to her apartment Sunday evening. Whether executing a Kobe itinerary or not, it never ceases to amaze me what harm a rush to judgmental (of the corporal sort, especially) can do.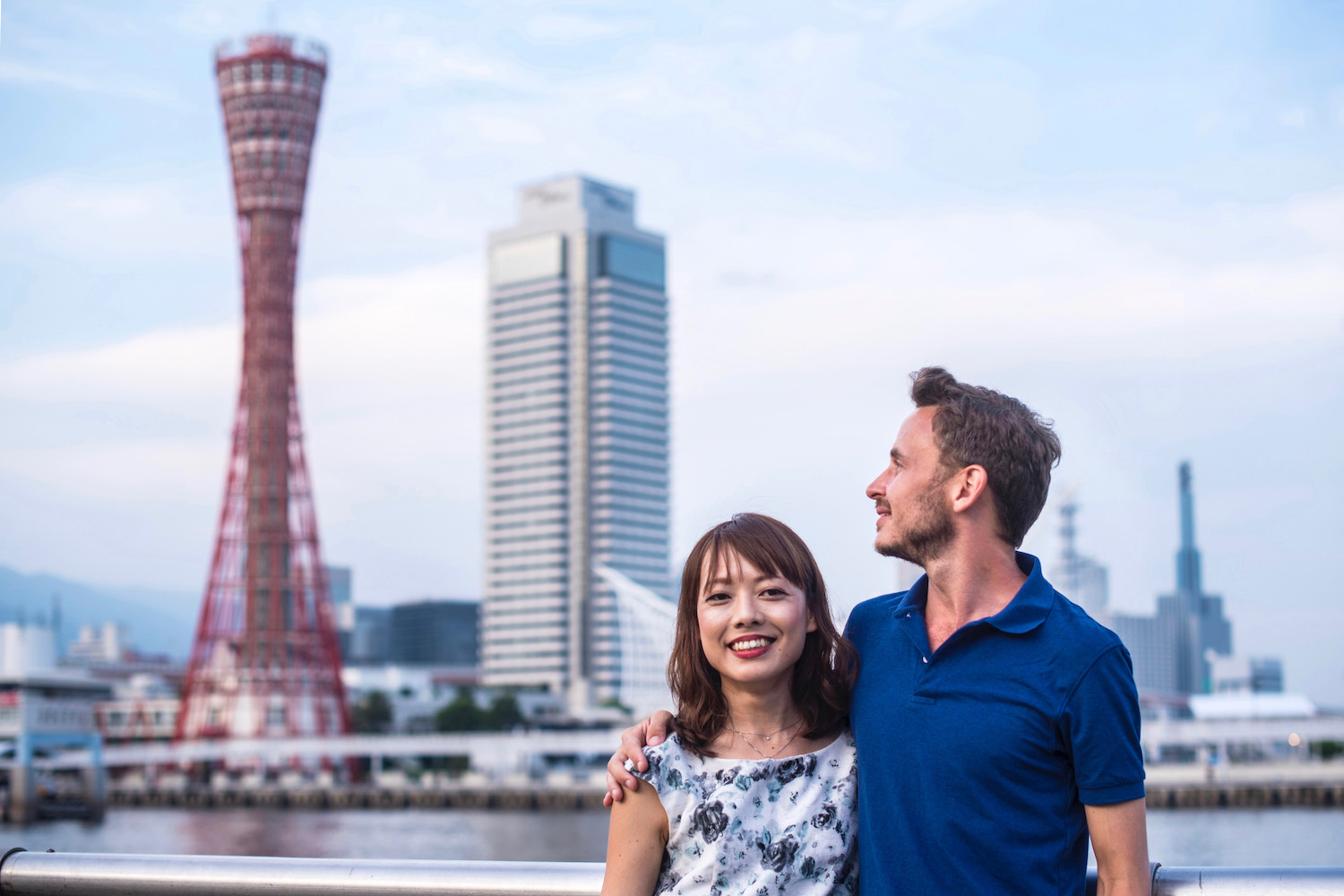 It served me well, then, that my time atop Mt. Maya was defined by no less than a half-dozen oriental hornets cavorting around my ankles during the entire 20 minutes I could stand to be up there. (If the ropeway operated past 5 PM on Monday nights, to be fair, that might've motivated me to stay and enjoy the famous night view.)
Anyway, what I saw during the end-of-day light was perfectly acceptable, especially since I could definitely see most of Osaka (and even Kansai Airport) from this vantage point. I oscillate between preferring the Osaka vs. Tokyo metro areas—from this stunning perspective, it's absolutely no contest.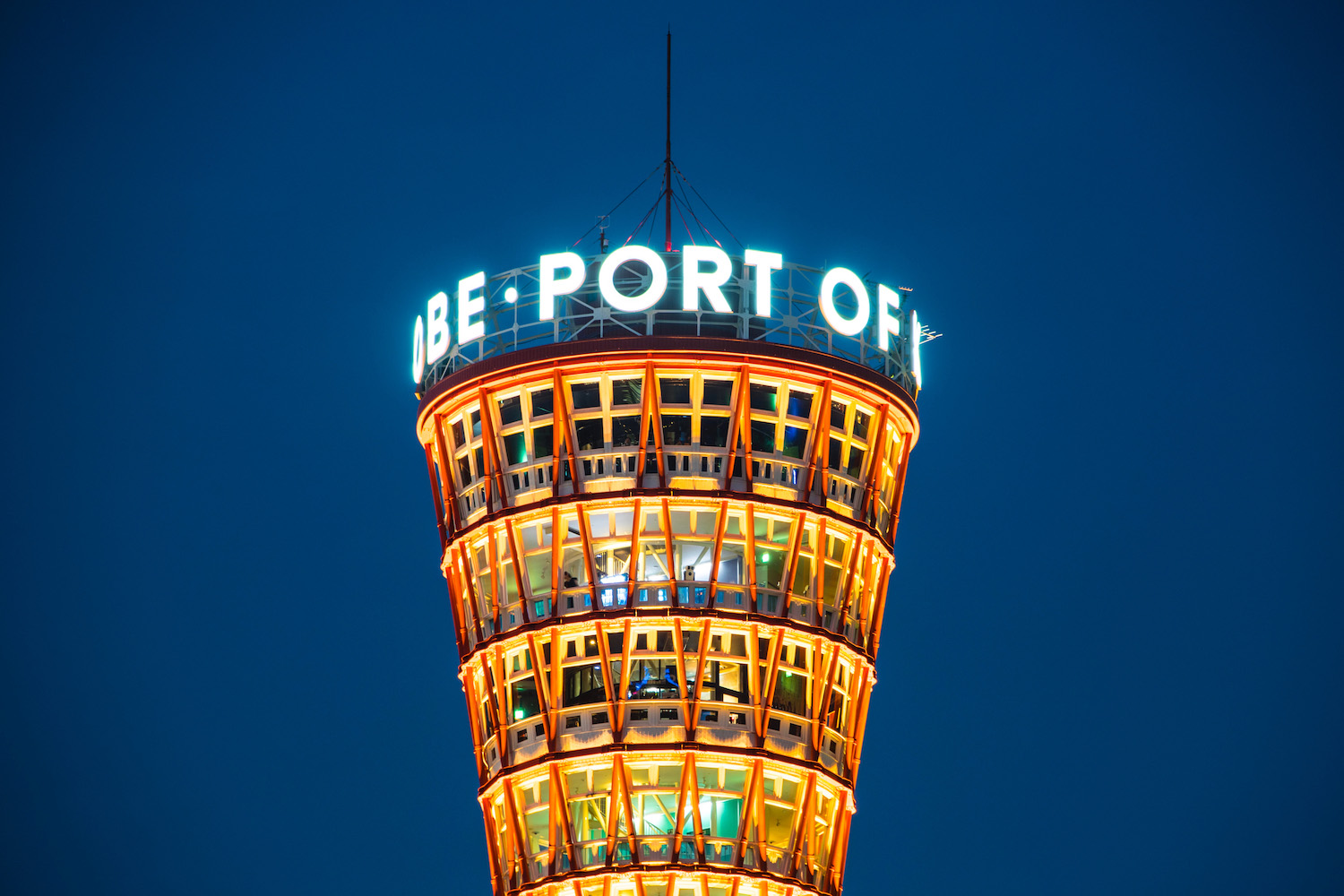 Most of my things to do in Kobe completed, I headed down to Motomachi (technically Nankin-machi, Kobe's colorful Chinatown) to try my luck with a Kobe beef burger. It was at least as juicy and flavorful as the steak I enjoyed at Steakland, though minimal enough in quantity that it didn't really fill me up.
Kobe Night Cinema
When I walked back into her Asagiri apartment, Eriko had already closed the door separating the back half of her apartment from the front, where I was staying. From my room, I could hear her speaking in Japanese to a student who seemed to alternative between Nihon-go and Ee-go.
Minutes before, I'd sent her a Facebook message explaining just how much I'd enjoyed exploring her city, though I was eager to describe my day in more detail in person. My 12 relatively touristic hours in Kobe had completely transformed both my impression of the city, as well as where I place it in my ranking of Japan destinations. I had been to Kobe before the end of summer, 2019, though at many turns it did feel like this was my maiden voyage.
Laying down to sleep and realizing I probably wouldn't get to hear the Kobe night symphony again, at least not tonight, I thought about the fact that today I had permanently stopped the singing of one soul. Is Kobe worth visiting? Absolutely, though the city's grasshopper population probably wishes I didn't feel that way.
Other FAQ About Visiting Kobe
Is Kobe worth visiting?
Kobe is absolutely worth visiting—and not just for the beef. I love exploring the historic Western houses of Kitano-cho as much as I love watching sunset behind the futuristic Kobe Port Tower. The port, for its part, is just as beautiful as the view of it from Mt. Rokko and Nunobiki Herb Garden.
Why do people visit Kobe?
People visit Kobe, first and foremost, to try the delicious Wagyu beef that bears the city's name (although it is actually farmed on nearby Awaji Island). Beyond this, Kobe is a popular day trip from Kyoto and Osaka, and a mid-point between those cities and Himeji Castle, which is further west in Hyogo prefecture.
How do you get to Kobe?
Kobe is most easily accessible via the Shin-Kobe Shinkansen station, connected to Hiroshima and Shin-Osaka via the Shinkansen Sakura, to Kyoto and Shin-Osaka via the Shinkansen Hikari and via all major stations if you're using the Shinkansen Nozomi (but aren't using a JR Pass). From Kyoto or Osaka, you can also ride a JR Special Rapid Service, which goes to Sannomiya station.