When you travel to Hokkaido—by Shinkansen, this is—there is neither pomp nor circumstance. One moment you're speeding away from Tohoku (and, quite literally, down under the ocean); the next you've emerged from under the Tsugaru Strait and are on Japan's northernmost island, at least ostensibly.
This is fitting for me: Hokkaido has never been a place I loved, although I'd been hoping this trip would change that.
The notable exception to this rule—Hakodate, its southernmost city, and the only one accessible by bullet train until 2030 or 2031—would be my first port of call. Yet upon calling, I was torn.
On one hand, it was impossible not to feel nostalgia upon exiting Hakodate Station, whether laying eyes upon hotels where I'd stayed on previous visits, or squinting in the general directions of landmarks like the Morning Market and Mt. Hakodate. I remembered what I'd done back then, and who I'd been—I always seemed to pass through this frontier city at pivotal crossroads in my own life.
On the other hand, Hakodate's city center was more rundown than I remembered, although I conceded quite immediately that might've been because of pandemic-era pallor. The lack of crowds, and the way shadows seem deeper and darker on cloudy days.
Which is not say that I planned to dwell on the past here, or to shrink from what little sun broke through the clouds. No, my mission was new, or at least reanimated: I had to come to see the season's last sakura.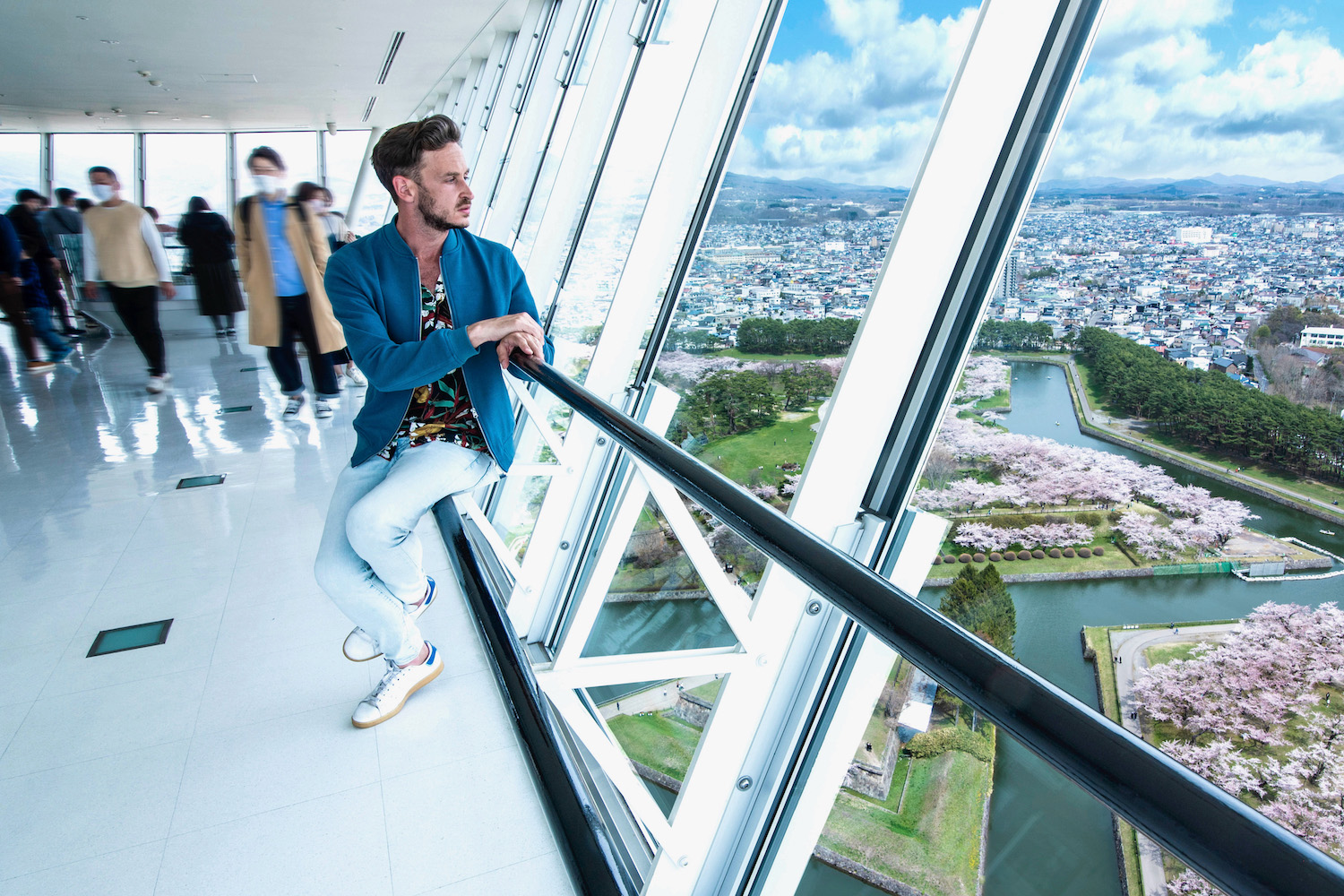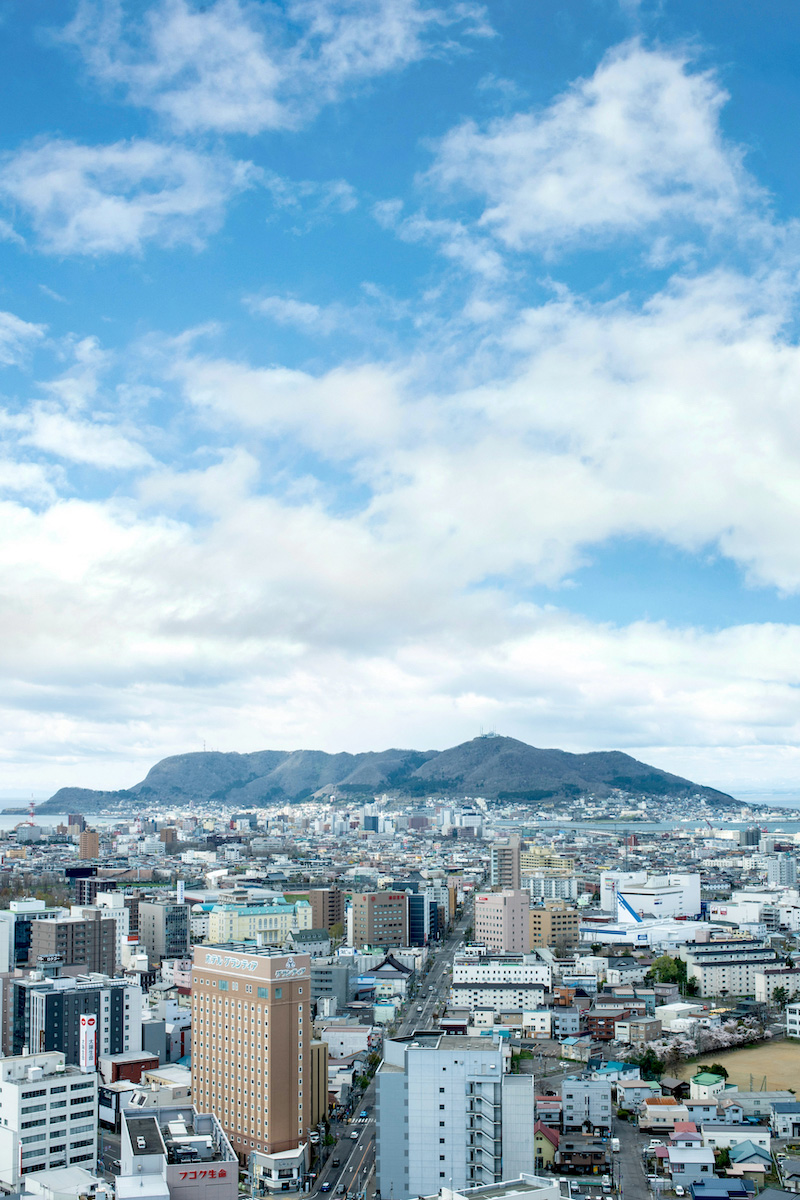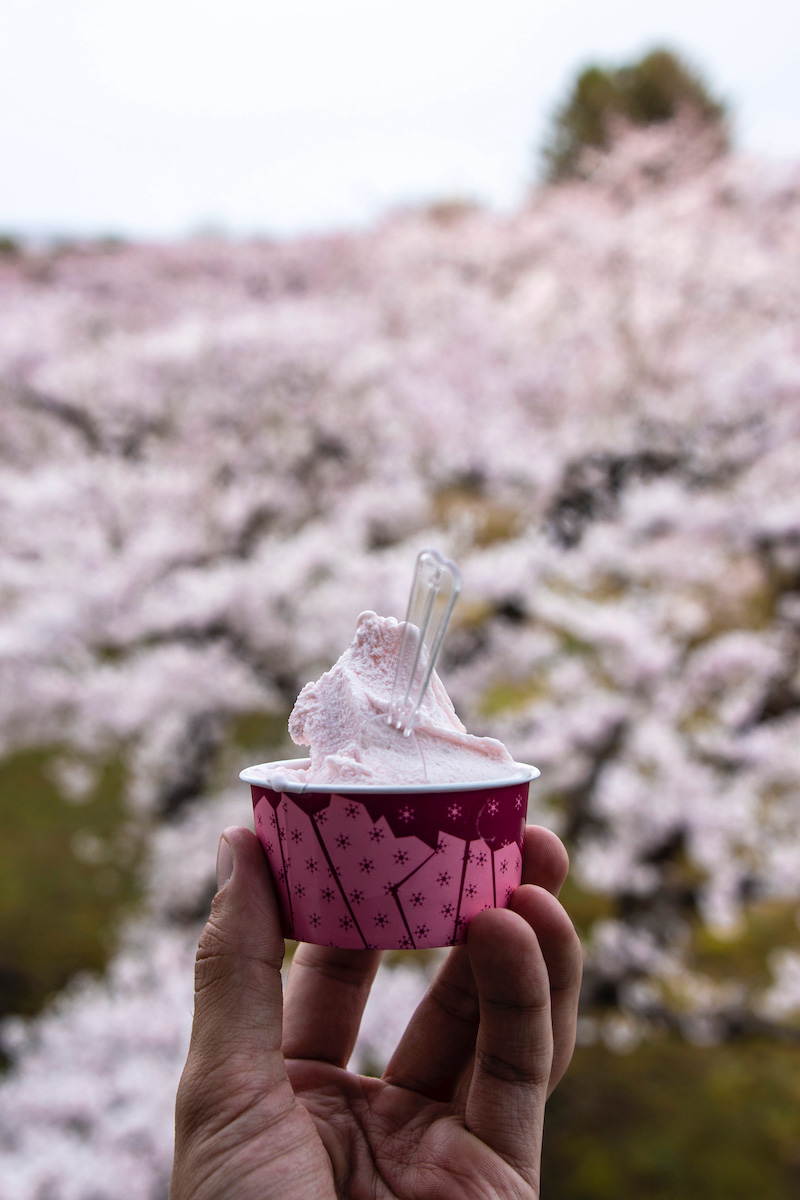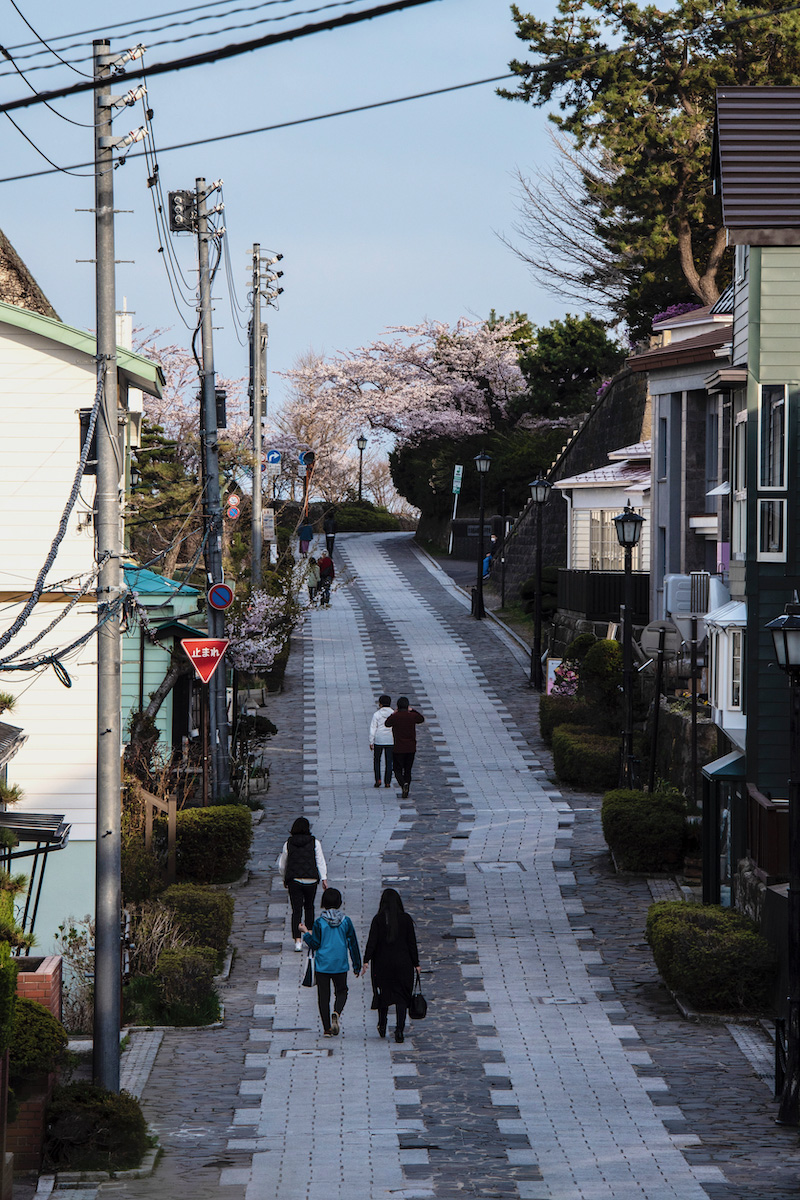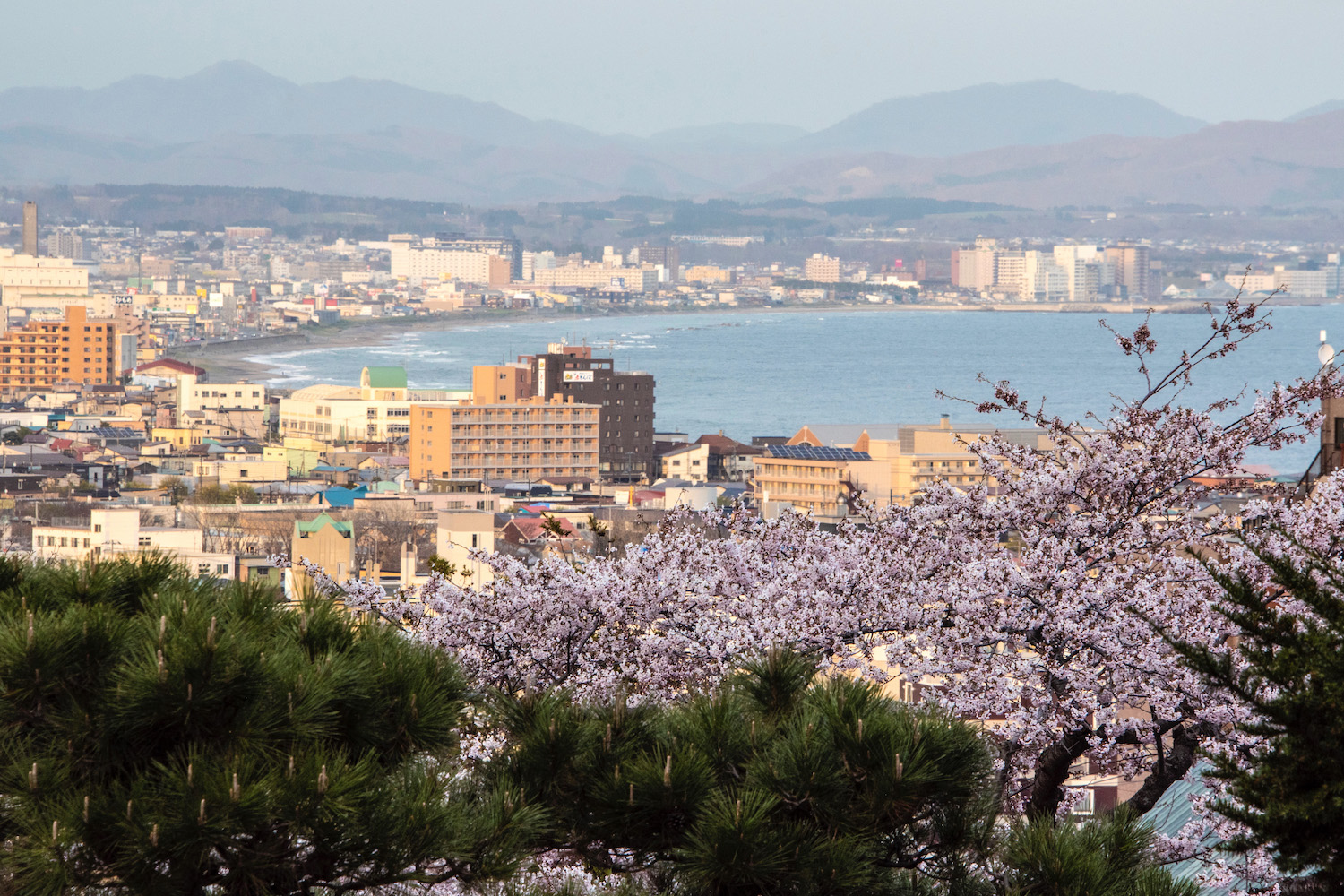 I felt strangely calm as I boarded the tram bound for Goryokaku, and not just because the frigid air had mostly frozen my limbs in place.
Anxiety should've reigned. This—seeing, from overhead, the hundreds of cherry trees filling the star-shaped fort like cream crammed inside a Japanese kurimupafu—was the last formal item on the sakura bucket list I'd planned to tackle last year, before getting trapped in Taiwan by borders that closed days before I was supposed to cross them.
The English-language adornment on the brochure the ticket seller handed me mirrored my own internal dialogue. The fort, in the mind of local historians anyway, was a "symbol of unfulfilled dreams of the end of the Shogunate years."
It was ironic that it was at this place (or rather, looking down on it) where my own reverie was manifesting into reality.
The experience was ethereal and transcendental; it was almost like a spiritual ceremony, and not just because I circled the observation deck no less than two dozen times, like a Himalayan lama around a prayer wheel.
Nourishment abounded: The creative sustenance of endless pink profusions at perfect full bloom, and the milky sweetness of gelato (in precisely the same color) I indulged in upon descending almost to ground level.
In truth, it all blended together: The cloudy afternoon, the clearing skies of evening and the bright sunshine of the next morning; the sloping streets of Motomachi and its Russian Orthodox cathedrals, and no less than two round trips on a streetcar between Hakodate Ekimae and Goryokaku Fort.
At some point—I think it was Sunday morning, but I can't really be sure now—a dramatic, orchestral instrumental version of Bette Midler's signature song blared over a strangely placed loudspeaker. I was certainly flying—I have certainly flown, for months now—in spite of how long my wings were clipped.
Or maybe because of it.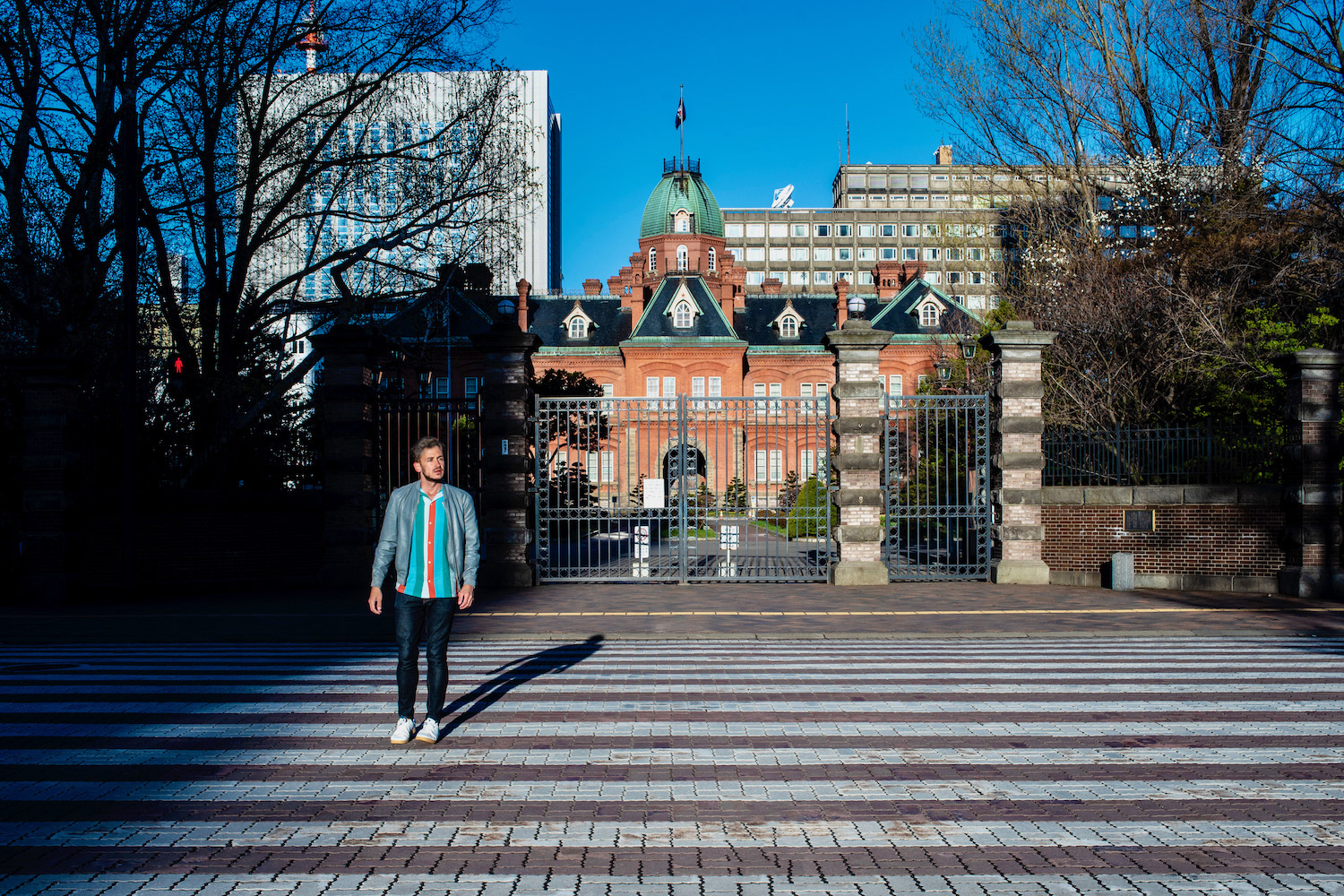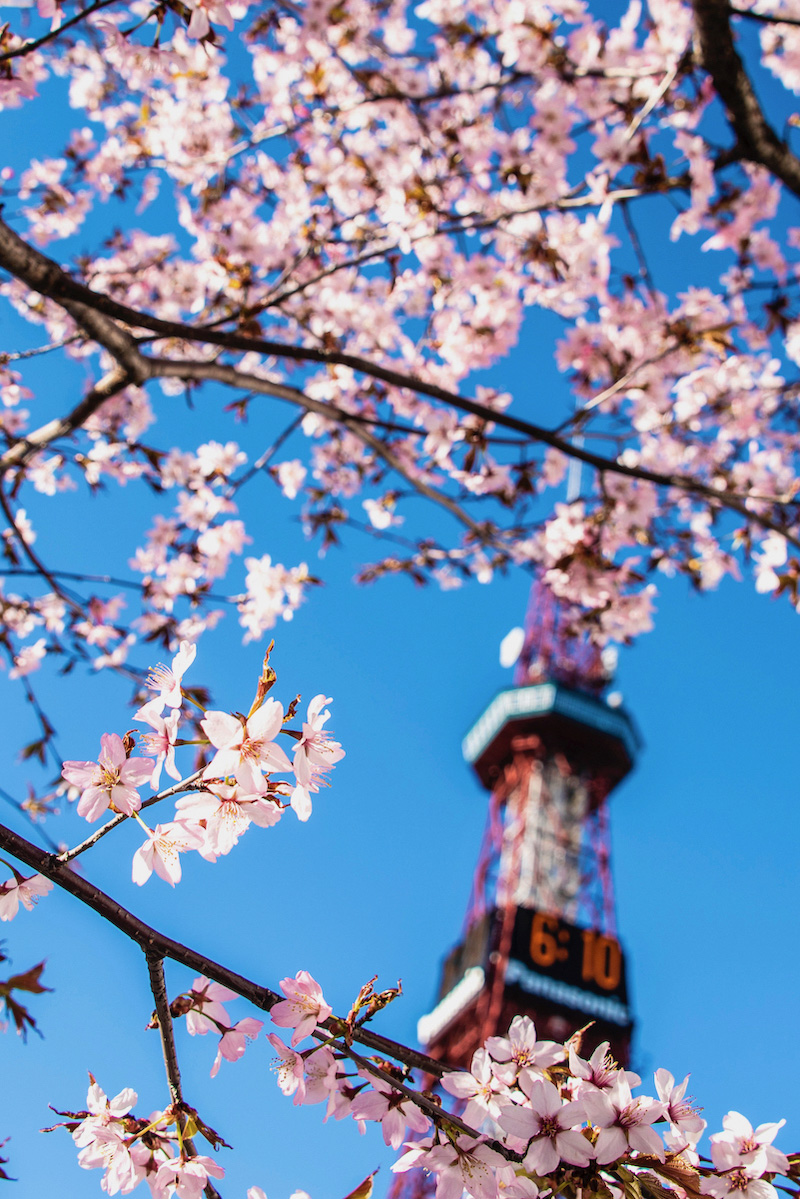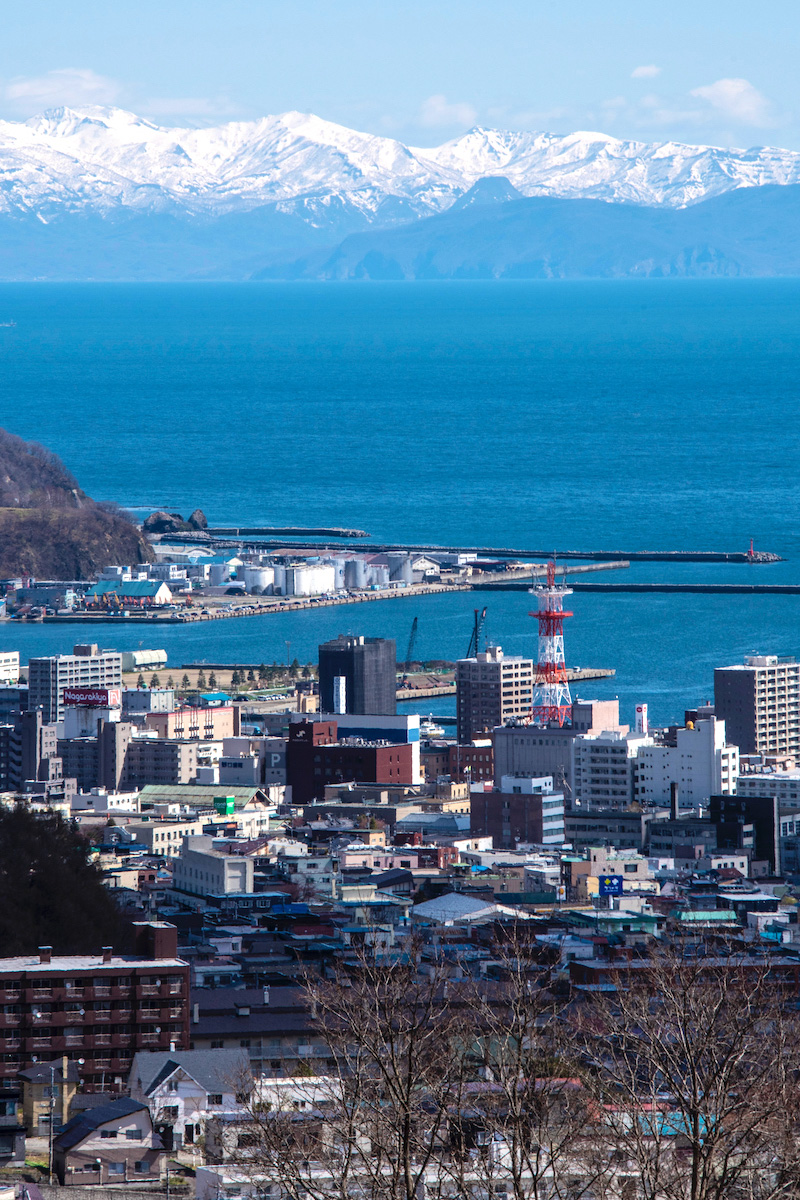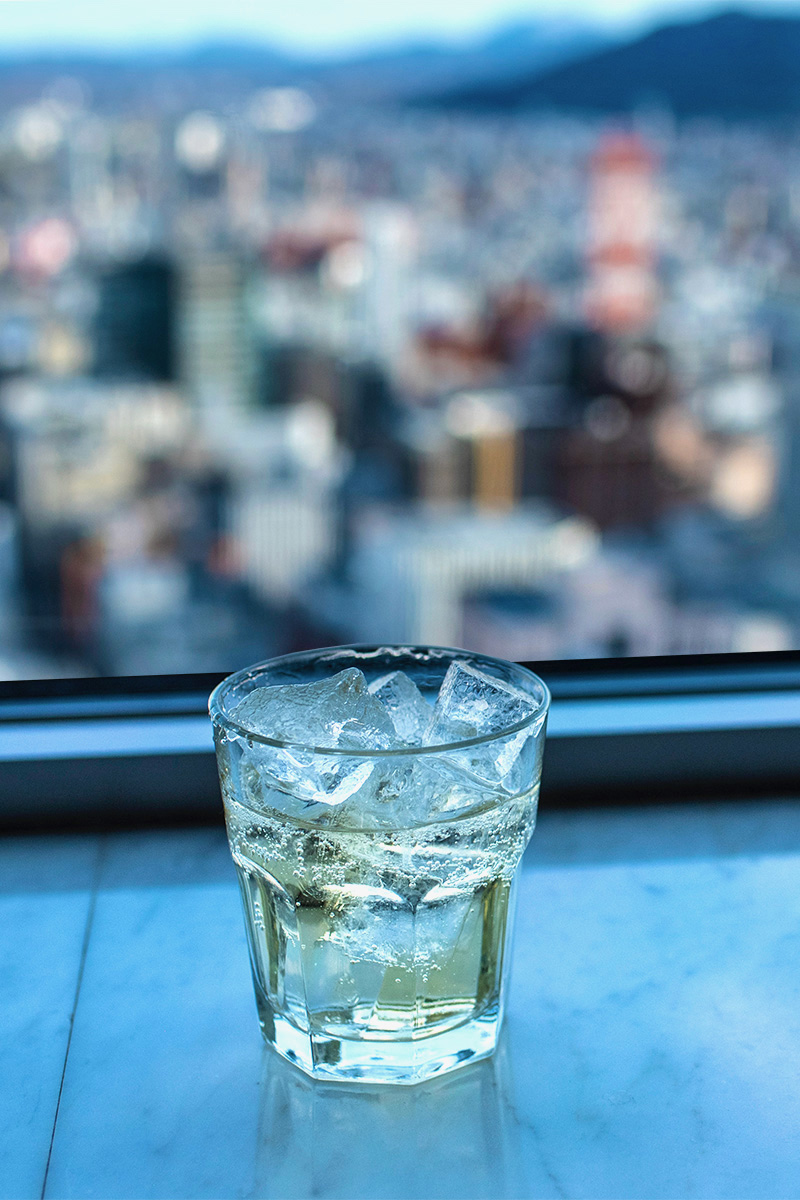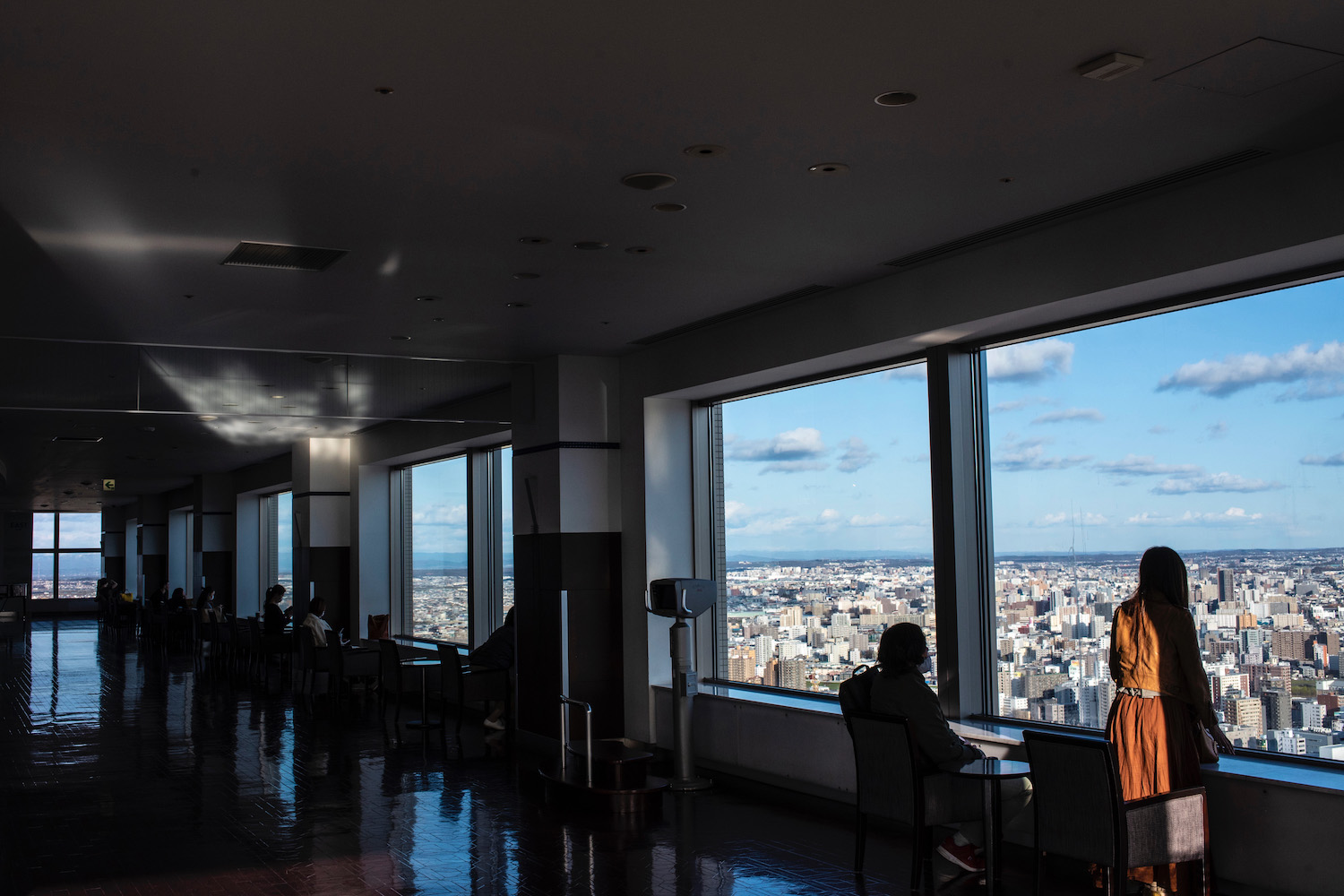 I spent most of Sunday afternoon on the slowest rapid train in Japan: Hakodate and Sapporo won't be connected by Shinkansen for nearly another decade.
The good news, in this instance, was that I learned from the mistake I made six years ago, when I'd endured the four-hour journey without having reserved a seat, and (mostly) standing in the area between cars as punishment for my neglect.
Not that this would've been an issue in 2021: Almost no one was on the train, for reasons none of you who remember the chaos of the plague years will need to have explained.
By the time I arrived in Hokkaido's largest city, it was hours from sunset; the sun wasn't going to set, however, since clouds has obscured almost the whole sky. I braved the rain only once: To purchase konbini no ramen at Family Mart, my least favorite Japanese convenience store.
Here, as always, the Muzak was instructive, and not because the place on earth where I was felt like heaven at that moment.
No, it was what I imagine will now be my permanent association with Belinda Carlisle's seminal 1987 hit: The 2016 Black Mirror episode "San Junipero."
Will anyone choose to return to the Covid era, I wondered, in a not-so-distant future where simulations are indistinguishable from reality, when travel becomes a matter of closing your eyes?
They might, if only for the nostalgia factor: It was arguably in these days, with so many people forced to stay in one place by tyrants, fools and cowards, that humanity began in earnest to plot its Matrix-escape in all four known dimensions.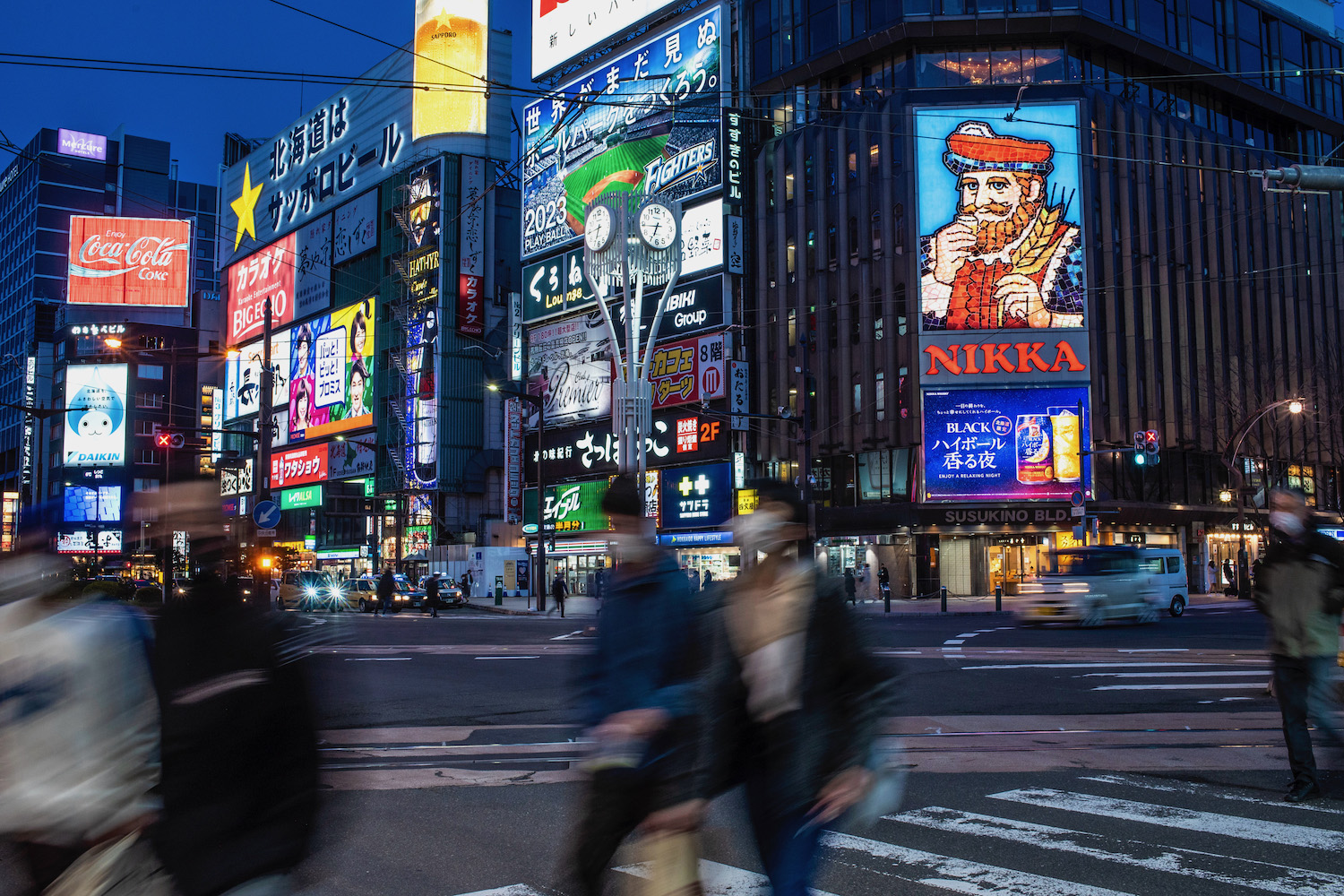 I would like to tell you that I love Sapporo now. In some ways, of course, this is true.
Indeed, while Sapporo (which probably has the lowest cherry tree concentration of any Japanese city I've visited) is far from a hanami destination, my third time here was charmed enough.
My perspective, for one, has become broader. This was true Monday morning, alone atop Tenguyama looking down onto the center of Otaru, snow-capped Russian mountains in the distance; and in the evening sipping a whisky highball on the 38th-floor observation deck of JR Sapporo Station. Here, for the first time the sheer scale and sprawl of Sapporo's cityscape impressed me to the point of silence, as much because of the bell-clear sky as because I was one of only a few people in the lounge.
(Never mind the fact that my outfit, which I had chosen completely at random, had perfectly matched the Former Hokkaido Government Office earlier that morning, as well as the particular, deep blue of the sky just after sunrise.)
While I'd be lying if I said the neon lights of Susukino later that evening seemed slightly dimmed by the diminutive crowds waking far too slowly through its zebra crossings, there was also something perfect about the moment, and about the place.
I imagined snow falling here next winter, and normality being so much closer than it is now. I saw myself, my just-completed sakura bucket list long since in the history books, in the midst of executing a wholly new set of goals.
I took comfort in the fact that Sapporo (and Hokkaido, more broadly) would be a destination, in my consciousness as a traveler, not to be grudgingly revisited so that I might finally conjure love for it, but—at long last—to warrant a return trip (my fourth one, at that time, assuming I don't find a way to make it back before) to refine my adoration, to galvanize my nostalgia with fresh shoots of inspiration and the dream of more paths protruding forward.
The cherry blossoms are gone—but I'm still blooming.
Other FAQ About Hokkaido Cherry Blossoms
Where can I see cherry blossoms in Hokkaido?
Most of the best cherry blossoms in Hokkaido are located in the southern part of the island. In addition to the ones you find in Hakodate city (namely, within star-shaped Goryokaku Fort), the cherry blossoms at Matsumae Castle a bit farther north are known to be among the best in Japan.
Are there cherry blossoms in Japan in May?
Cherry blossoms bloom in certain parts of Japan's Hokkaido island during May, although this is more than in some years than others. In 2021, for instance, sakura in Hakodate and Sapporo reached full bloom during the last weekend in April, a full week before the first of May.
What month is cherry blossom in Hokkaido 2022?
In 2022, depending on how warm the winter is, cherry blossoms in Hokkaido are likely to reach full bloom during the first few days of May. Generally speaking, those farther south in Hakodate tend to reach mankai a bit sooner than the ones to the north in Sapporo.