I had Sakata all figured out. Or at least I thought I did, as recently as 6:30 two mornings ago. Then, I saw the sign.
酒田, it had read, in Japanese. Sake field. On one hand, it pleased me to learn that this is what Sakata's name meant. On the other hand, the fact that I hadn't previously made that connection brought me great embarrassment.
But I've got the rest figured out, I reassured myself upon boarding the train, which within an hour or so after it left Akita had almost completely cleared out. Sakata is going to be a slam dunk.
As the sun rose to the left side of the train, it became clear that harvest was imminent for the rice fields that extended all the way to the Asahi Mountains. While they'd appeared a uniform lime when the morning was still dim, the harsh backlight of 9 am highlighted just how golden their grains had become.
I was laughing as I wondered if any would eventually be made into sake, when the email came in. Thank you for choosing Toyota Rent-a-Car, it read. We look forward to seeing you Thursday morning.
I panicked silently. Though I swore I'd changed my reservation to Wednesday while driving the Oga peninsula on Tuesday, there was no record of this in my inbox. Worse, perusing the agency's website revealed that there were no more cars available to rent.
Just then, the train begin to slow—we were nearing the terminal station. Suddenly, I didn't have Sakata figured out at all.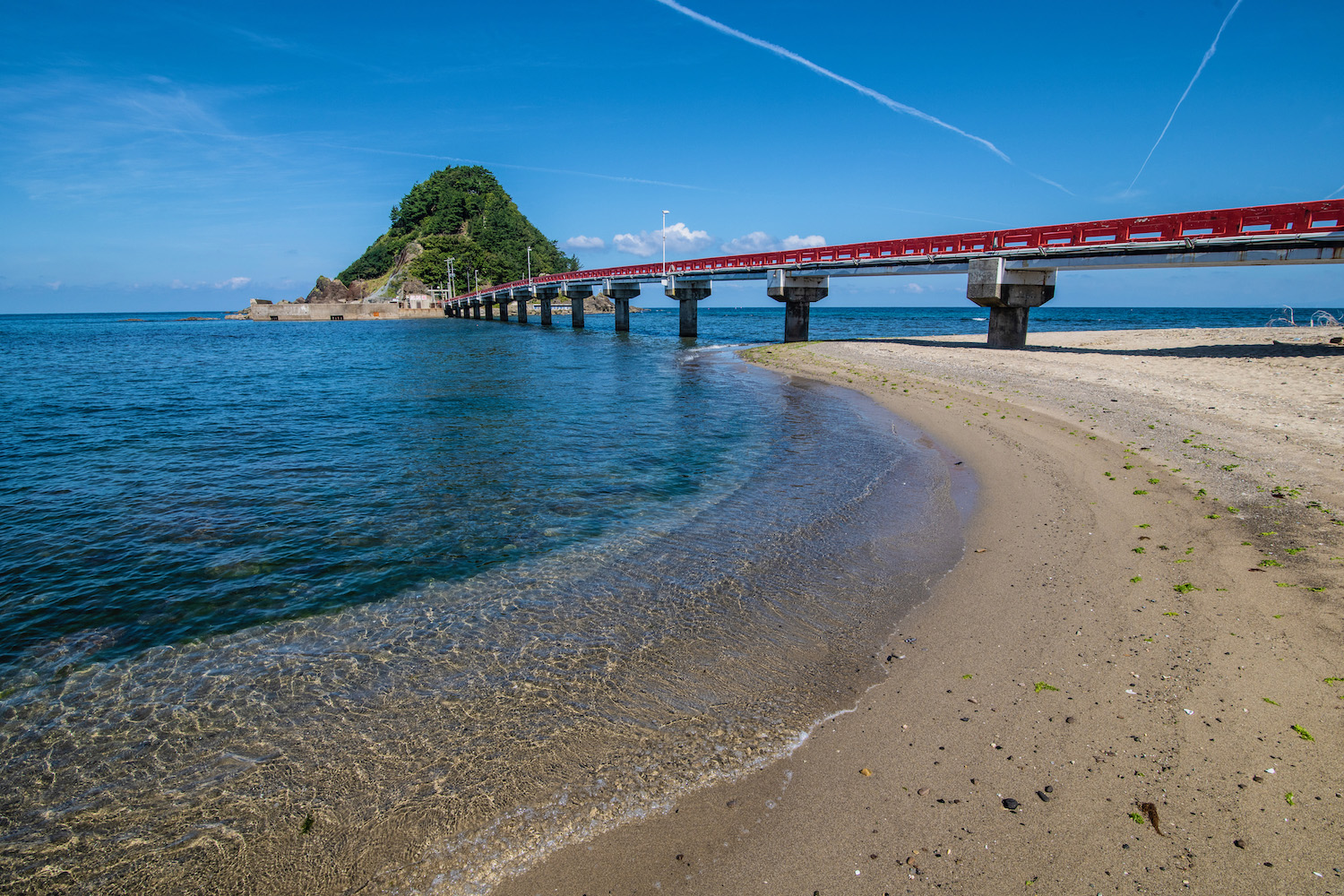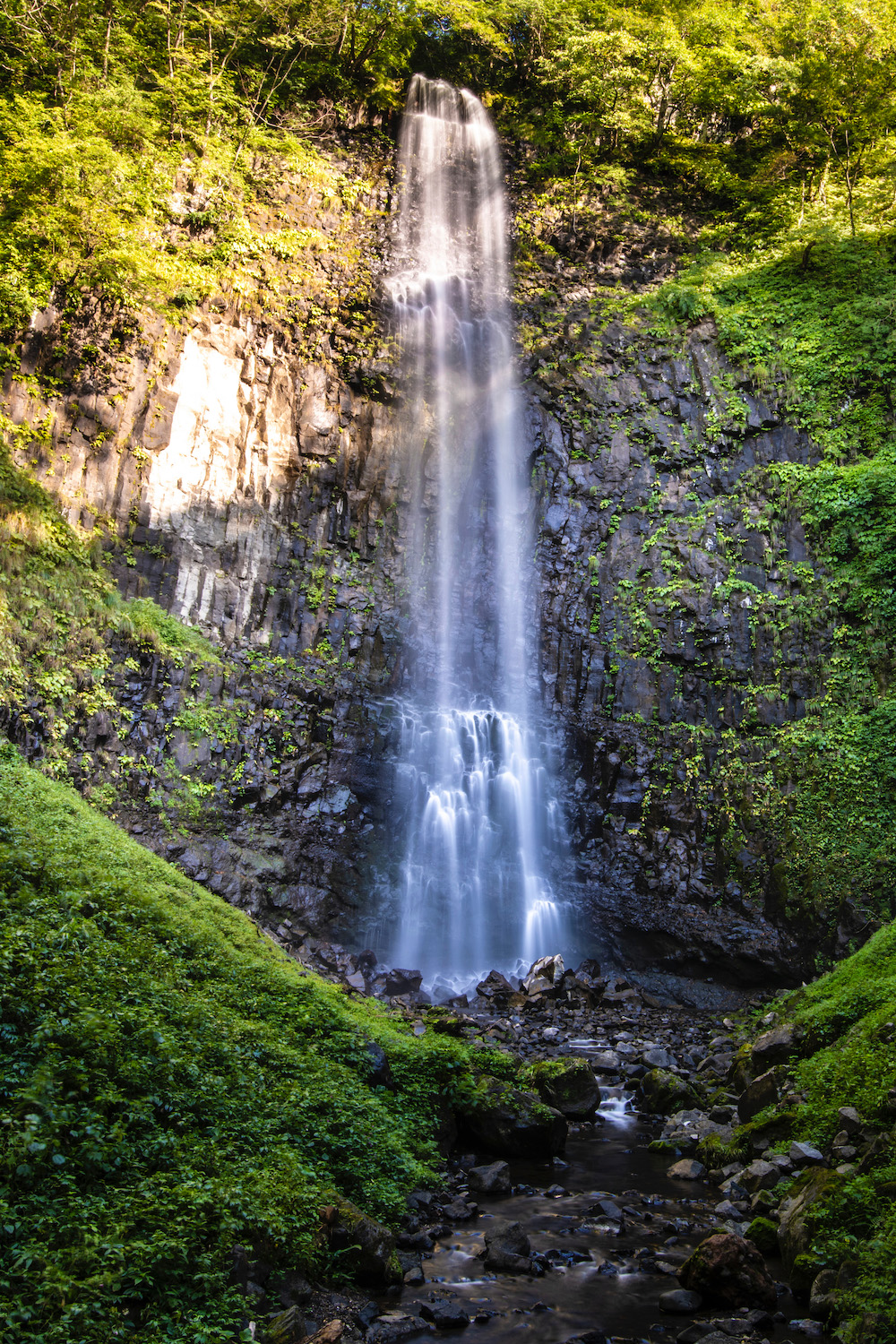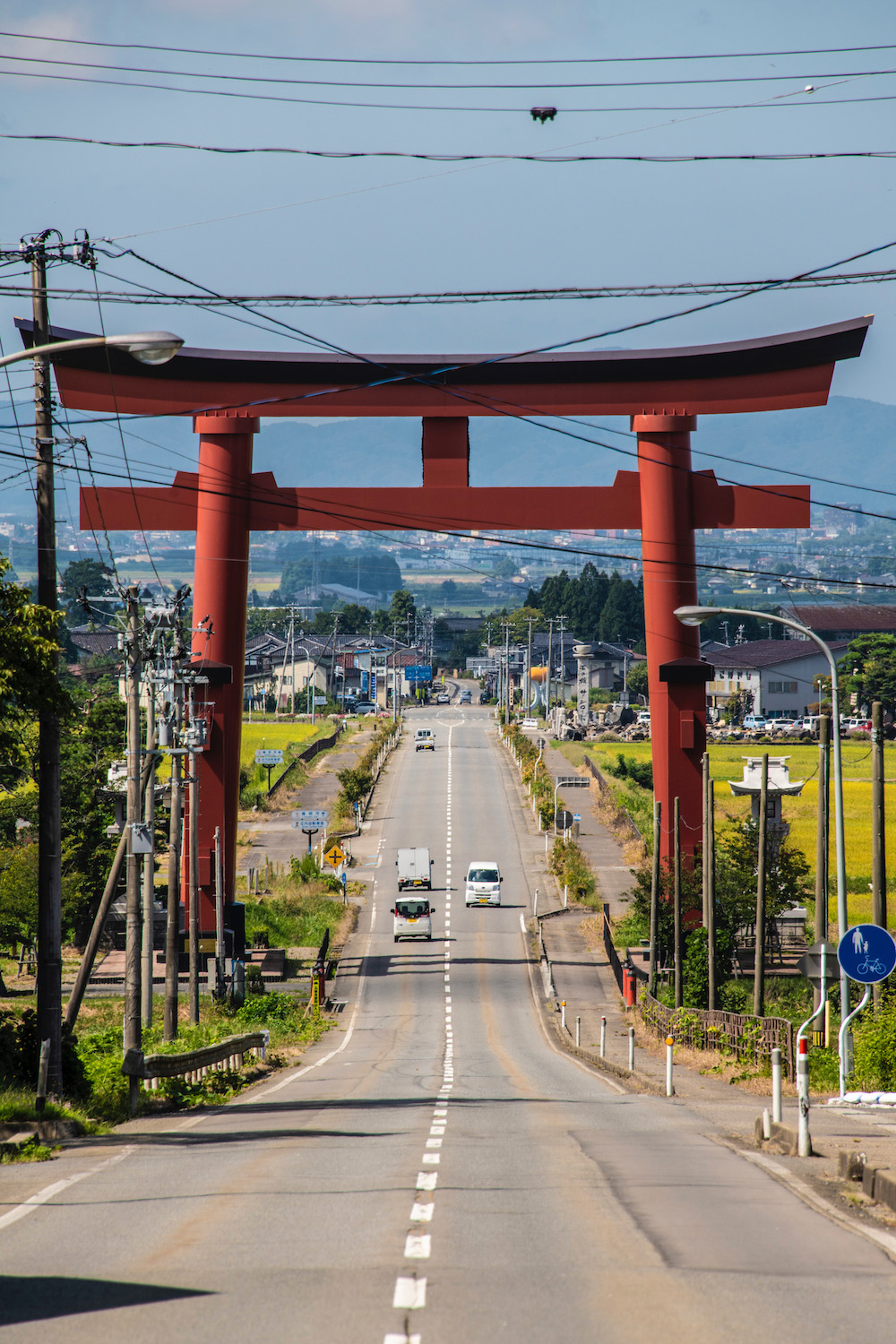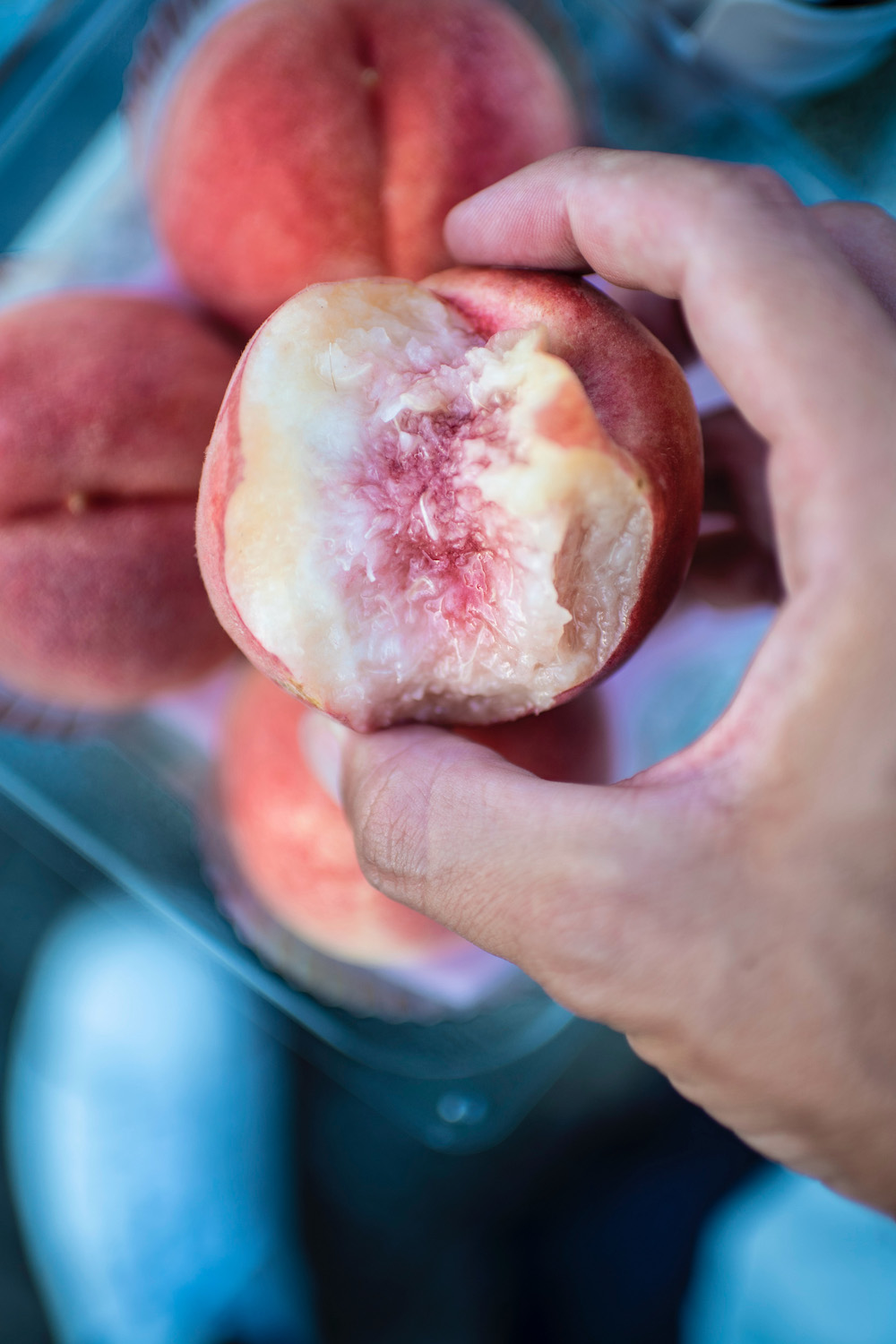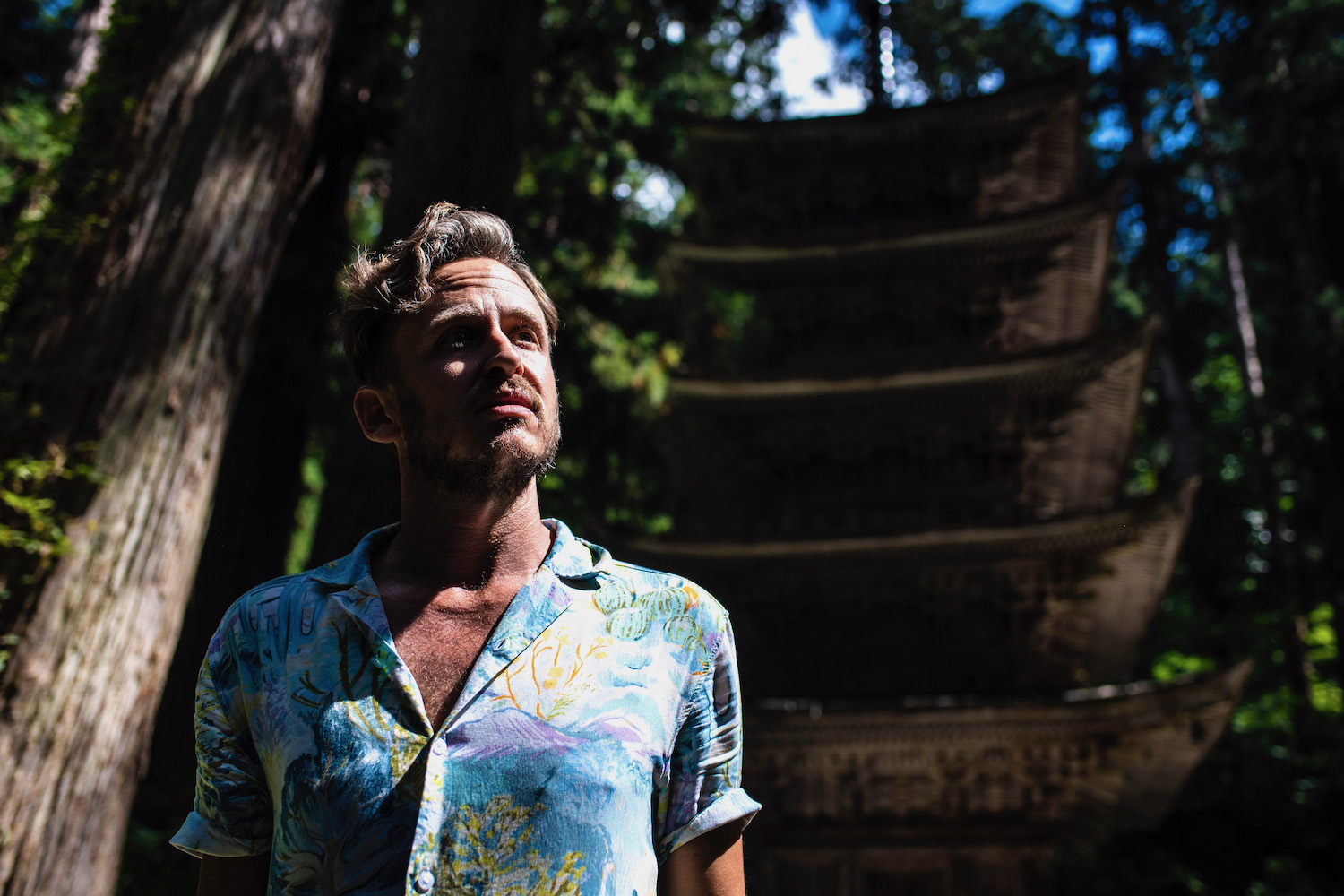 With little left to lose, I decided to visit Toyota Rent-a-Car, where precisely one vehicle meeting my specifications was still available. As I drove southward out of the city, relief escaped my pores with the same certitude Mt. Chokai escapes gravity and rises over Sakata's skyline.
My first stop was Yura Beach, where a vermillion bridge links a small coastal town with an island shrine. The sparkling sea, which glistened a crystalline blue in the morning light, contrasted perfectly with the bold red. The people who chose the paint had either been very precise in their selection, or very lucky.
Next up was the five-story pagoda of Mt. Haguro, one of three sacred mountains along Yamagata prefecture's Sea of Japan coast. As I descended down a few dozen steps into a forest whose darkness belied its distance from the main road, I caught my first glimpse of the gojunoto through a clearing.
Making my way closer, it was almost as if the structure was drawing me closer. You'd think, given how many of these I've seen over the years, they'd eventually have less of a pull.
As I stood in a shady spot between the stripes of sunlight that had seeped in through its five tiers, a sense of triumph came over me—in this moment, it seemed, I'd finally hit my trip's stride. I felt like I was floating, not unlike the white and yellow sulfur butterflies wafting through the late summer air.
After driving back to town briefly to check in and freshen up, I made my way back into the sacred foothills, this time to Tamasudare Falls. Arriving at the base of the cascade, I noticed that some elderly photographers had scurried up the hill just behind me; I briefly hiked up to see what the fuss was about.
"Do you see the rainbow?" one asked me, in English, gripping his tripod as he spoke.
I nodded and smiled, though I wanted to laugh: The "rainbow" was barely perceptible, a faint iridescence at best. The view of the take had been much better from the base, so I went back down there and set up my own camera stand.
Back in town with about an hour of light left in the day, I returned my car and got a wild hair. The peaches at the fruit shop next store looked delicious, almost erotic. I bought a four-pack and, against all Japanese etiquette, tore into one while I was making my way down the sidewalk. Its juice rushed down my hand and forearm as I headed into the direction of Sankyo-Soko Rice Storehouses, Sakata's closest thing to a tourist attraction.
Crossing the Niida River, the nectar still clinging to my arm and thickening in the cooling air, I looped around to the back side of the building, where the last rays of the golden hour were about to disappear.
A woman walking past me responded to my "konbanwa" in English. "I wish you peace on Earth," she said solemnly, and handed me a cut-out cartoon Geisha.
I didn't try to read premeditation or even intent into the woman's gesture, but simply accepted it within a smile. As the last light vanished, I looked up and realized it was being blocked by massive Zelkova billows. The trees always make me think of Yukio Mishima's "Sea of Fertility" tetralogy, which I finished just before Japan's covid closure began.
Nostalgic but not wanting to miss sunset, I walked back around to the front of the storehouse—just in the nick of time, it turned out. Clouds were glowing pink and orange above three boats docked on the river's north bank, and above the front side of the storehouses as well.
The scene called to mind my very first night in Kyoto almost nine years ago, when a similar color had fluoresced across the sky, albeit a much colder one. The colors reminded me of peach flesh.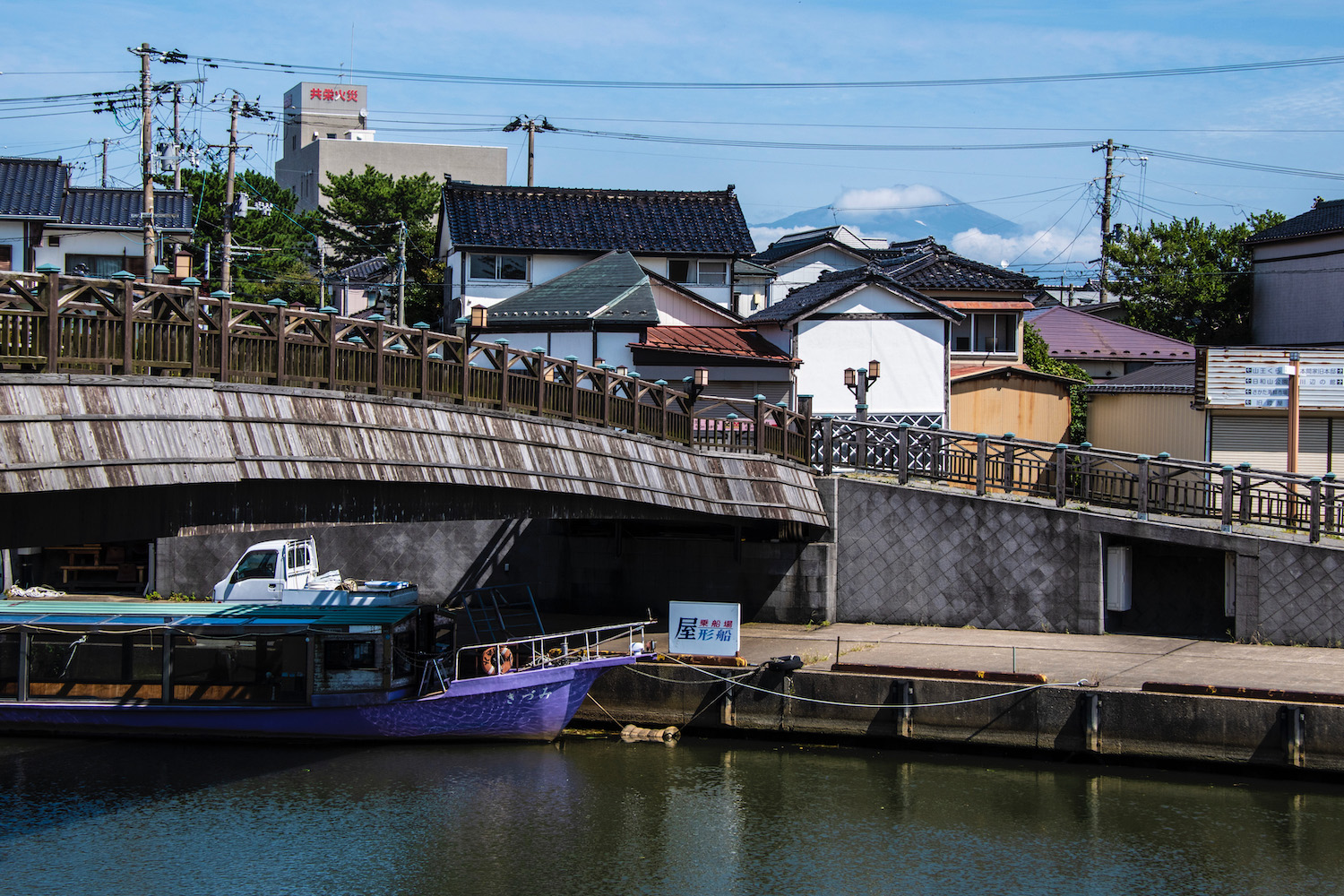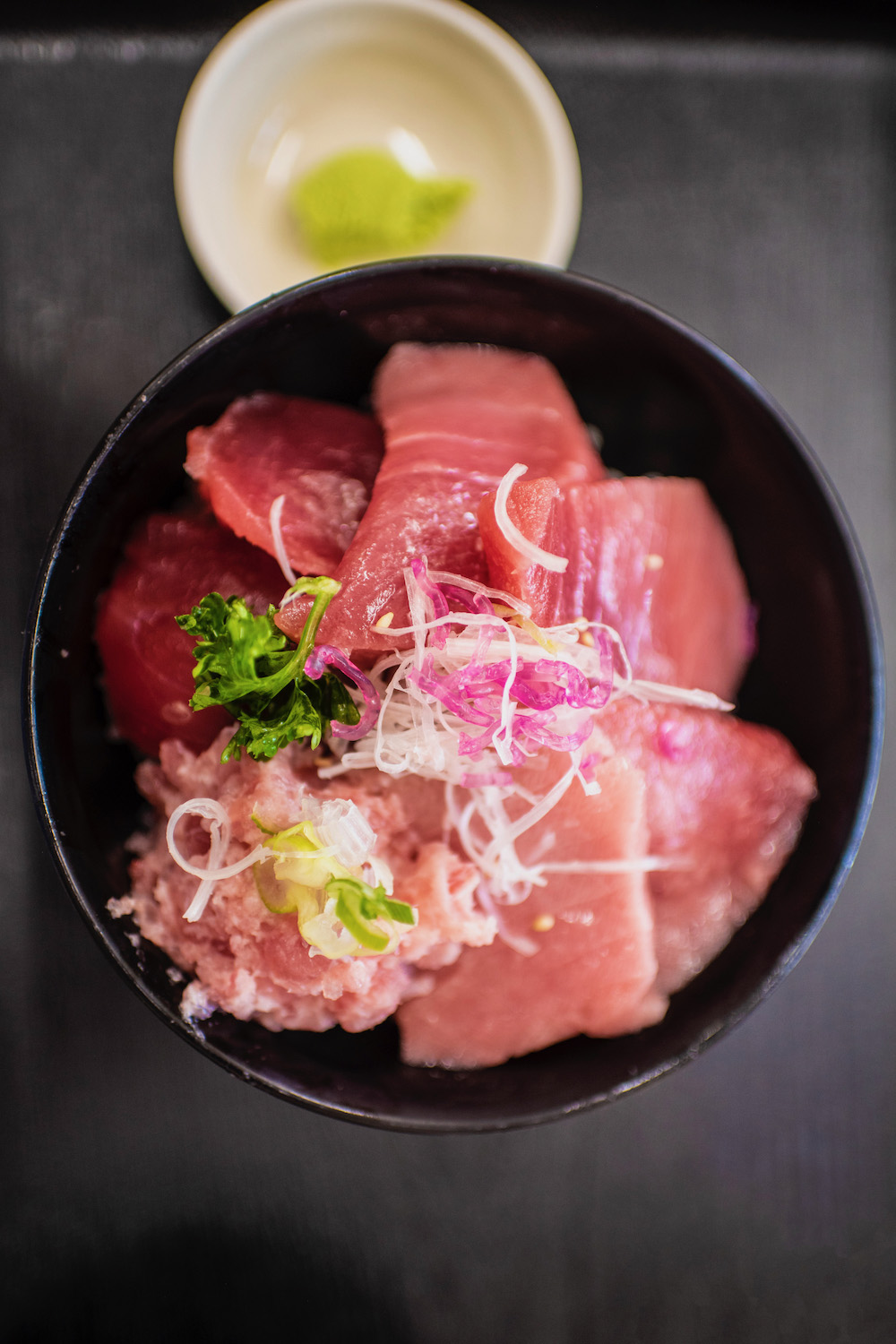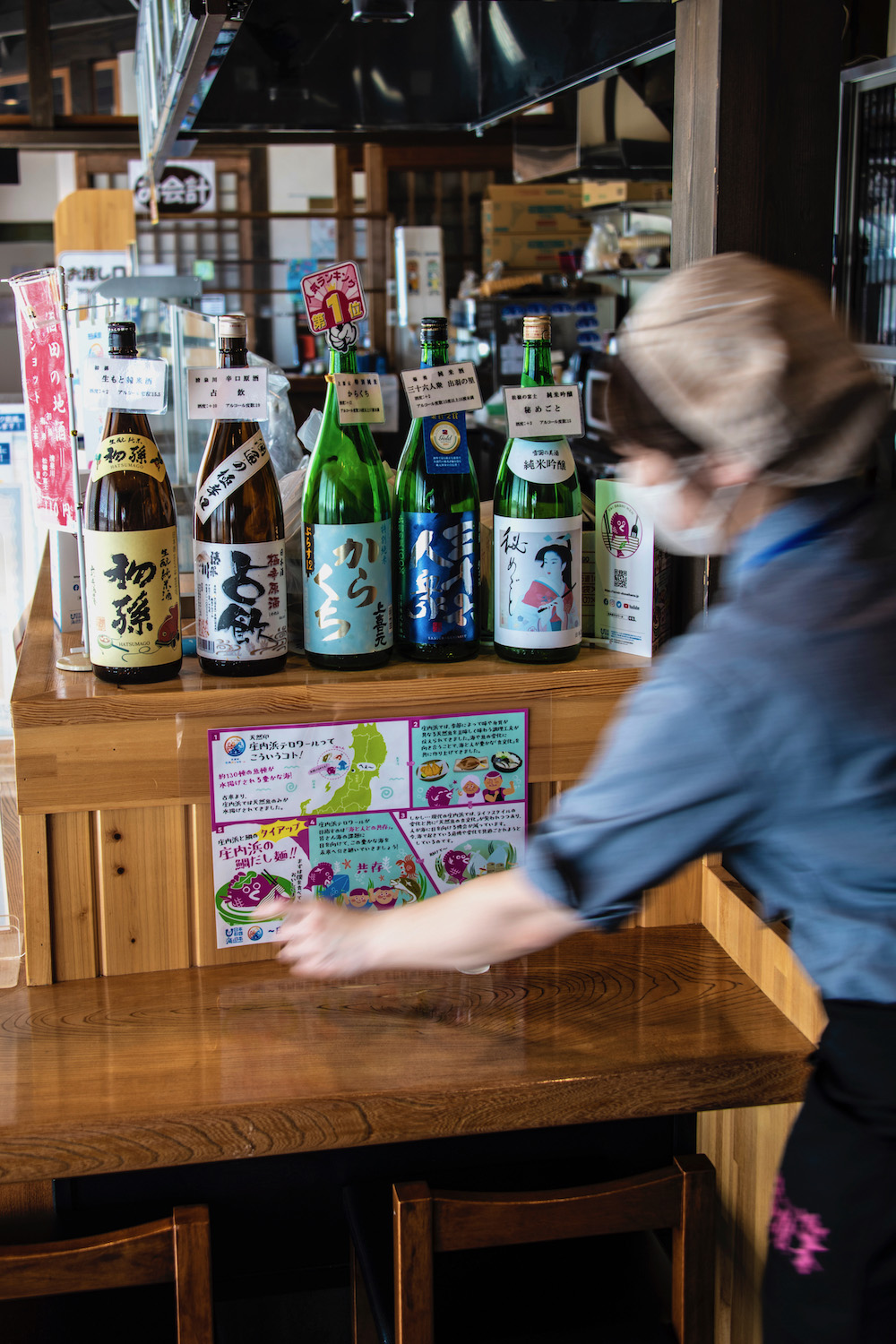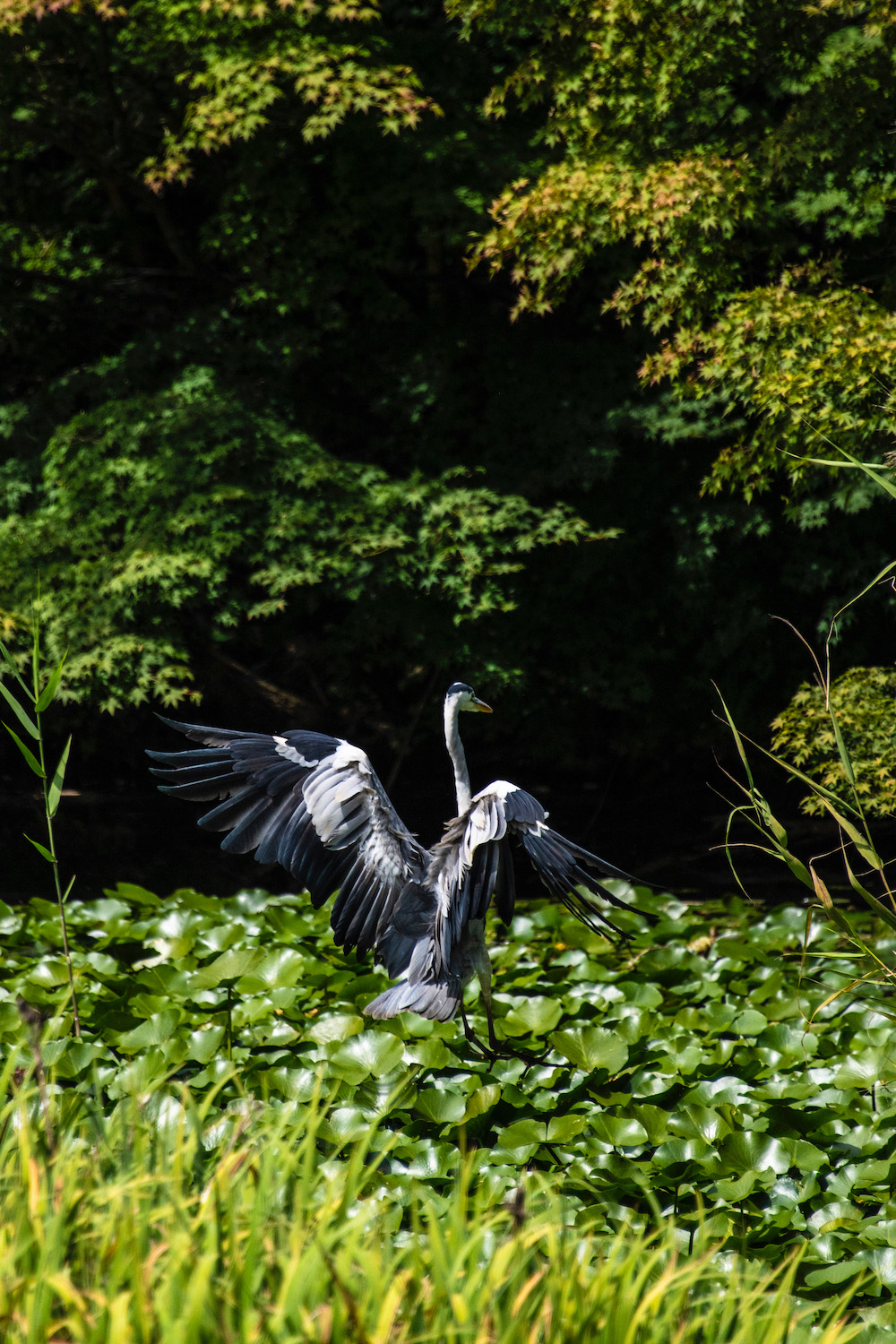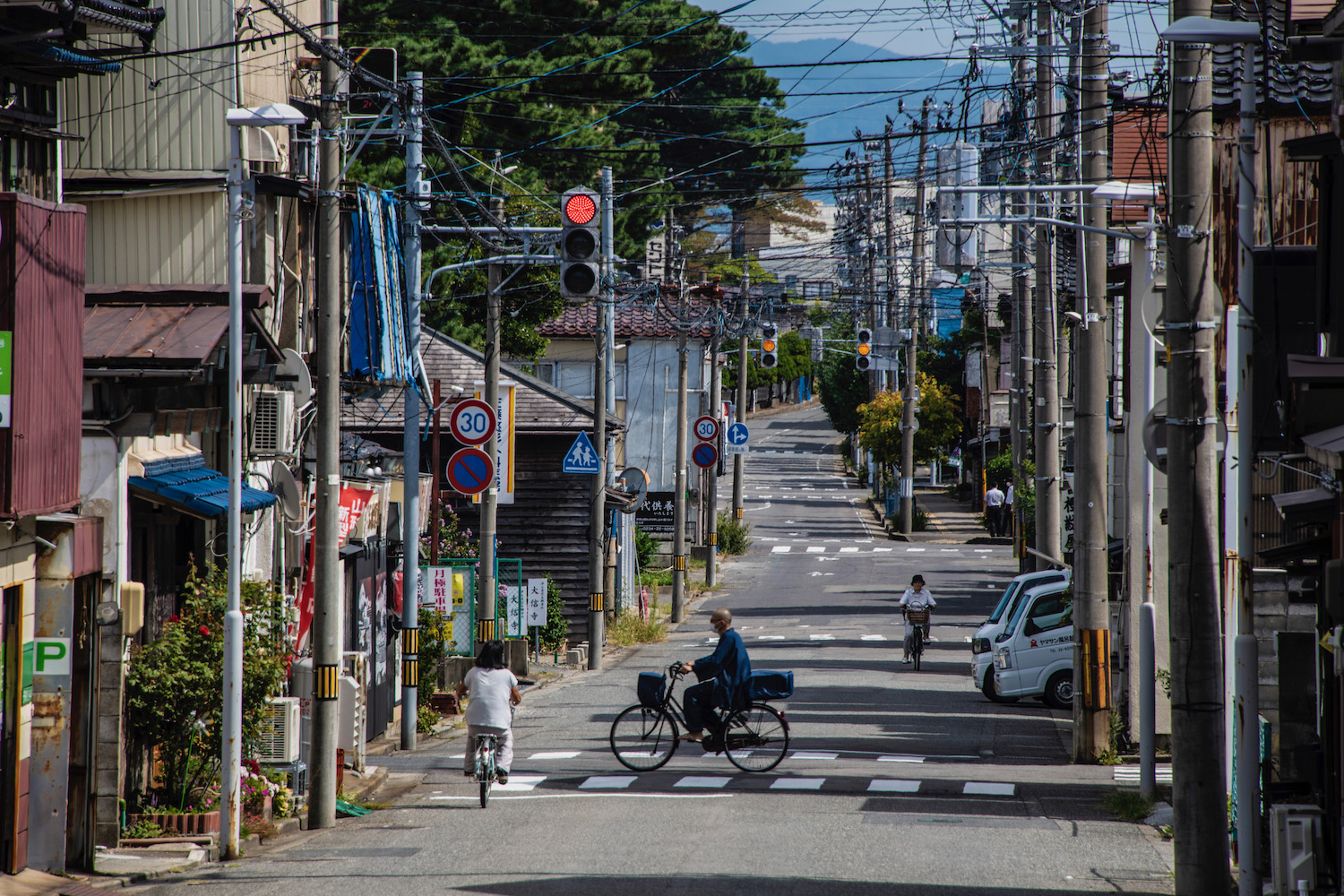 I knew I'd made the right decision skipping my hotel's complimentary breakfast the moment I arrived at Maguro, a restaurant in Sakata's port-side seafood market. No less than a dozen people were queueing when I got there at about 30 minutes before opening time. The time passed slowly—it was a hot morning, unseasonably so—but once the doors opened, the line moved fast.
"Nani wa ichiban ninki desu ka?" I asked the woman at the counter upon arriving at the vending machine, not wanting to choose hastily—and certainly not wanting to choose wrong.
She pointed to one right in the middle of the buttons. "Kore wa zenbu ga arimasu." She went on to explain that customers liked being able to try a bit of each of the shop's different tuna—maguro—varieties. I inserted two thousand-yen notes and took her word without further question.
When the donburi arrived about 15 minutes later, I was surprised by how small the bowl itself was, but thrilled with how thick the pieces of tuna were, to say nothing of their color. The lean pieces were an almost translucent pomegranate, while the fatty ones were roughly the color of sakura petals. Both had a pure yet complex taste profile, even if all their flavor was fleeting: The flesh literally melted into my mouth as I was chewing, and had vanished almost immediately before I had a chance to swallow it.
I'm not much of a foodie, compared to many other bloggers, but this was as close to a religious eating experience as I've had in quite some time.
Back at the storehouses, the sake tasting I'd long looked forward to felt cold and detached, even if I liked every sample of Nihonshu I tasted. Neither the Honma Residence nor the museum of the same name were anything to write home about; the three-tiered pagoda I randomly happened upon was much more my speed.
Local people weren't as convinced. "What exactly are you photographing?" Asked one, mostly in English—she literally got off her bike in order to ask me what I was doing.
I replied by pointing at the structure and saying some complimentary words about Sakata in Japanese, which seemed to satisfy her curiosity. She sped away so quickly I couldn't even get a shot of her leaving.
Alone again, I remained in the spot for several more minutes, and asked myself her question again—I didn't have a good answer. I mean yes, the pagoda was fabulous and added a certain je ne sais quoi to the frame I'd created around it, but the houses and streets were ordinary, maybe even ugly.
I supposed, as I walked westward toward the location of my 2 PM obligation, that the neighborhood's solitude (apart from the woman on a bike and a few other passers-by) had been the core of its appeal. It was like my own private Sakata—my own private Japan.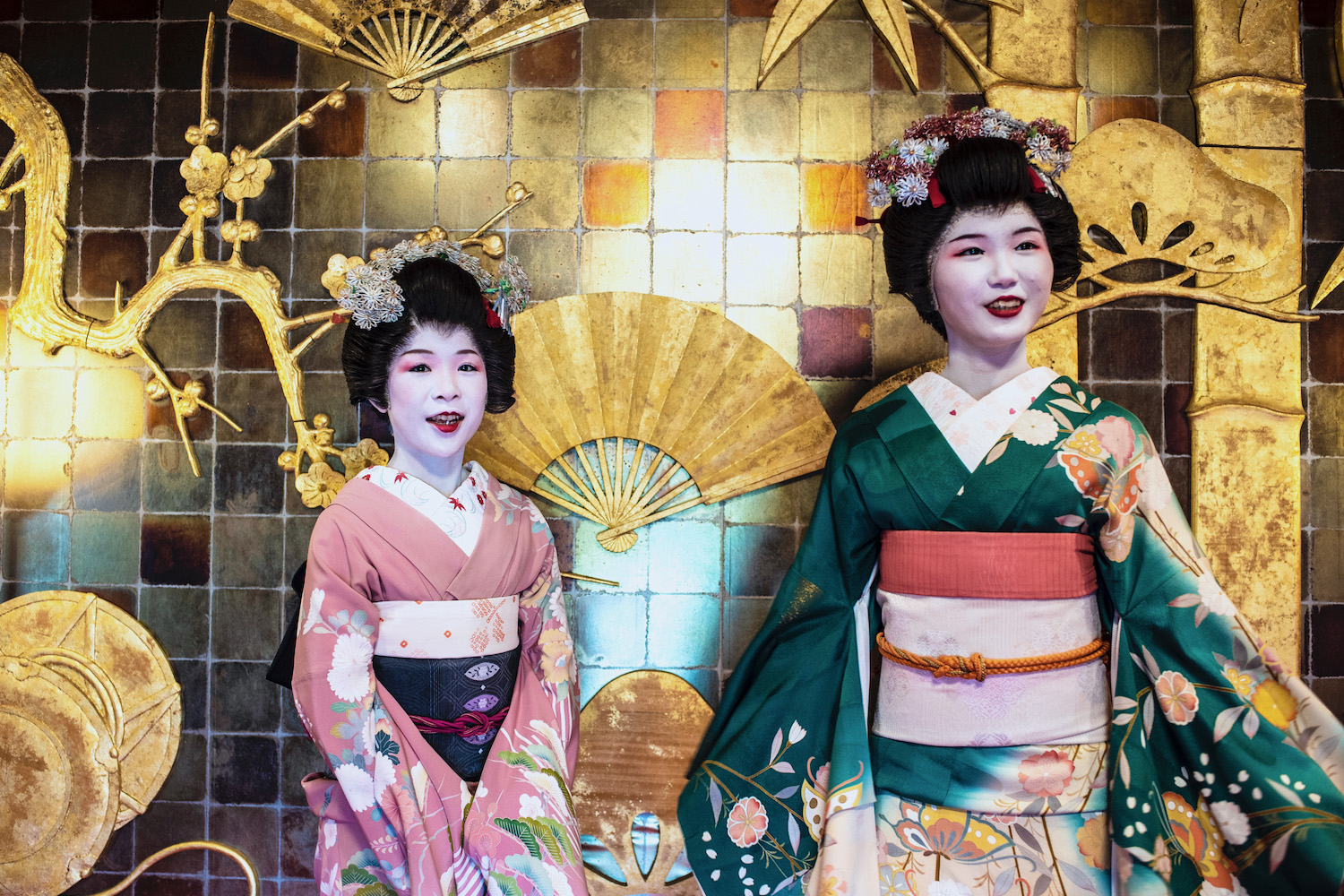 As the woman behind the two Geisha began strumming the shamisen, a strange calm came over me. I'd felt strangely nervous exploring the interior of Somaro, which had been a hopping bar and restaurant pre-war when Sakata was a much more important city.
And not because of how quickly I sucked down my iced coffee, which had clearly been poured from a carton, in spite of its ¥600 price tag.
The woman started singing in a low, hypnotic voice; the Maiko began their own verse with a note so high I immediately excused how out of tune they were. They were out of sync, too, at least for the first couple bars. Within a couple minutes their second song had begun, this one with each clicking a pair of castanets—this time, the ladies were perfectly in sync—over the guitar melody.
Just as I was about to fully lose myself in the music, I pictured the paper cut-out the woman had given me the night before at the rice storehouses, although I couldn't for the life of me remember her face, her voice or a single other thing about her. While she certainly couldn't have known that I was planning to watch this performance, it does seem serendipitous looking back.
The third and final song seemed more or less an echo of the first, which tipped me off to the fact that the entire spectacle was coming to a conclusion. When it did, I had about a minute to photograph the Maiko before they disappeared behind a shade, and the receptionist appeared to hurry me downstairs. Politely but insistently, she handed me and all the other guests our shoes, and waved us out in rapid succession.
It was over before I knew it, like my trip to Sakata itself.
Other FAQ About Visiting Sakata
Is Sakata worth visiting?
Sakata is absolutely worth visiting, no matter how extensively you've explored the rest of Japan. With sake factories, Geisha performances and some of Japan's freshest seafood, this off-the-beaten-path port city boasts the extra benefit of having almost no tourists.
How do you get to Sakata?
Although a couple flights per day depart Tokyo for tiny Shonai Airport, most people reach Sakata by train from Akita or Niigata. While some of these are Inaho Limited Express services, most are local trains. Regardless, travel times are short and the journey is beautiful, so just enjoy the ride.
What do people do in Sakata?
Most travelers to Sakata begin at the Sankyo-Soko Rice Warehouses, but that's usually where paths tend to deserve. While some people will head to Somaro to watch a Maiko dance, others go to the city's seafood market and have a tuna donburi, while still others have a Yukiguni cocktail at local-favorite bar Köln.