Let's be frank: There's not a lot written online about Takamatsu, at least not in English. Most of what exists is vague, inaccurate or both.
Not to mention uninspiring, and lacking insight. I've aimed to make this post an impactful one, addressing both the day-to-day of your Takamatsu trip, as well as more existential questions, such as "is Shikoku worth visiting?".
Is Takamatsu worth visiting? Whether you're on the fence about traveling to Shikoku, or just prefer to dig right into the nitty-gritty of Takamatsu attractions, I think you'll want to continue reading.
Why Should You Visit Takamatsu?
I'll get to specific things to do in Takamatsu in just a second, but for now, let's speak in broader strokes. Takamatsu isn't a city that most foreigners could find on a map; it's also not a popular destination for Japanese domestic tourists. Importantly, it does serve as a rail and sea link between Shikoku and Honshu. Direct train services operate between Takamatsu and Okayama, while a variety of ferries and other vessels connect the two islands, often via smaller ones in the Seto Inland Sea.
So why is Takamatsu worth visiting, the ease of doing so notwithstanding? It comes down to three things: 1) Amazing (albeit limited) city-center attractions; 2) Great destinations within day-trip distances; 3) The status of the city as a gateway to or from Shikoku. Whether you begin or end your trip here, it's extremely easy to combine Takamatsu with Shikoku's other cities, not to mention the rural paradises between them.
What to Do in Takamatsu
Stroll Through Ritusrin Garden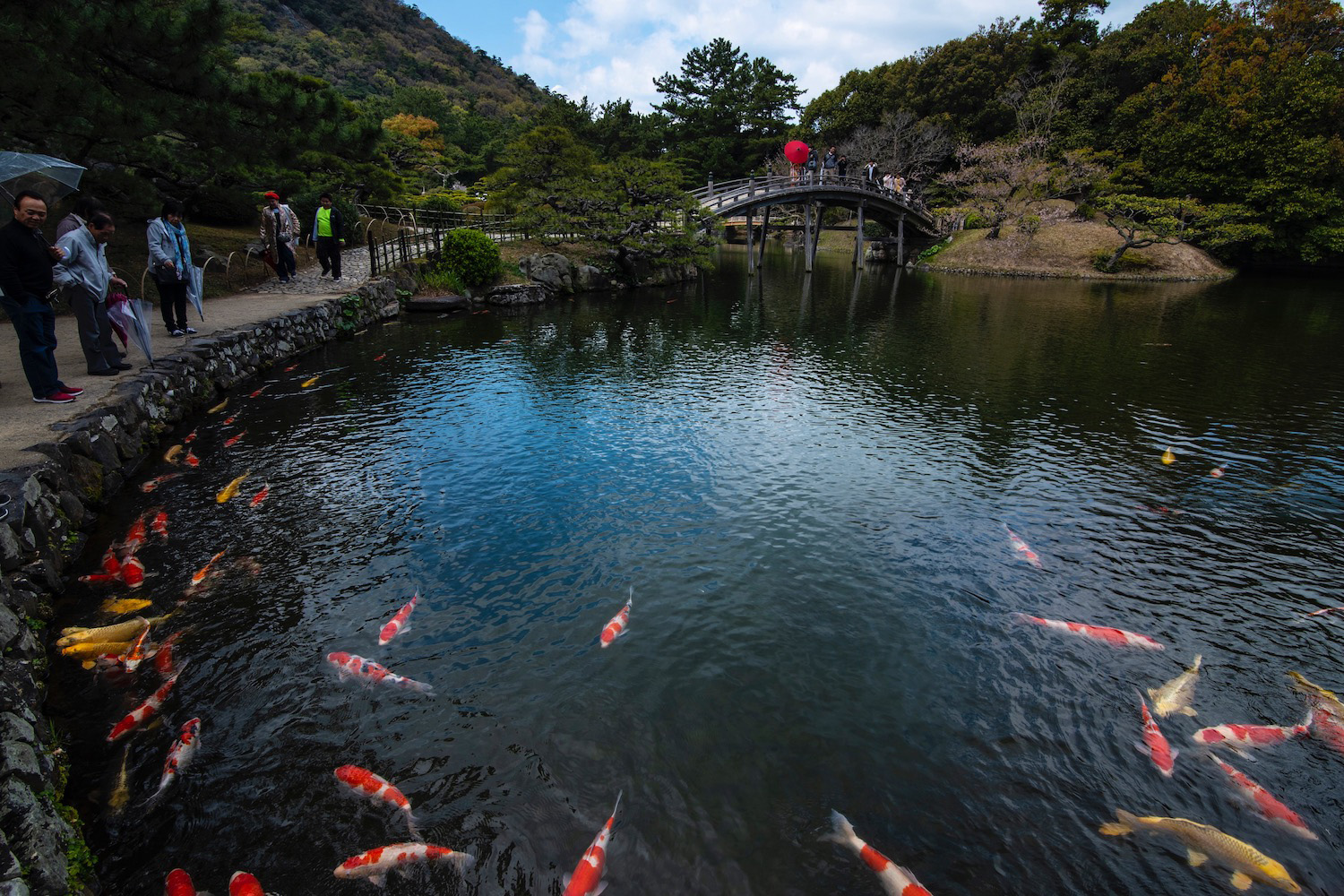 I can't say, for certain, that Takamatsu's Ritsurin is the most beautiful garden in Japan, even if it's very high up on my list. Built in the early 17th century by one of the feudal lords ruling over the area at the time, the lush garden has a little bit of everything. It's a great place to see cherry blossoms and autumn colors but also, any time of year, on account of its many evergreen trees and the fact that colorful koi are almost always swimming in its waterways.
Explore the Takamatsu Castle Ruins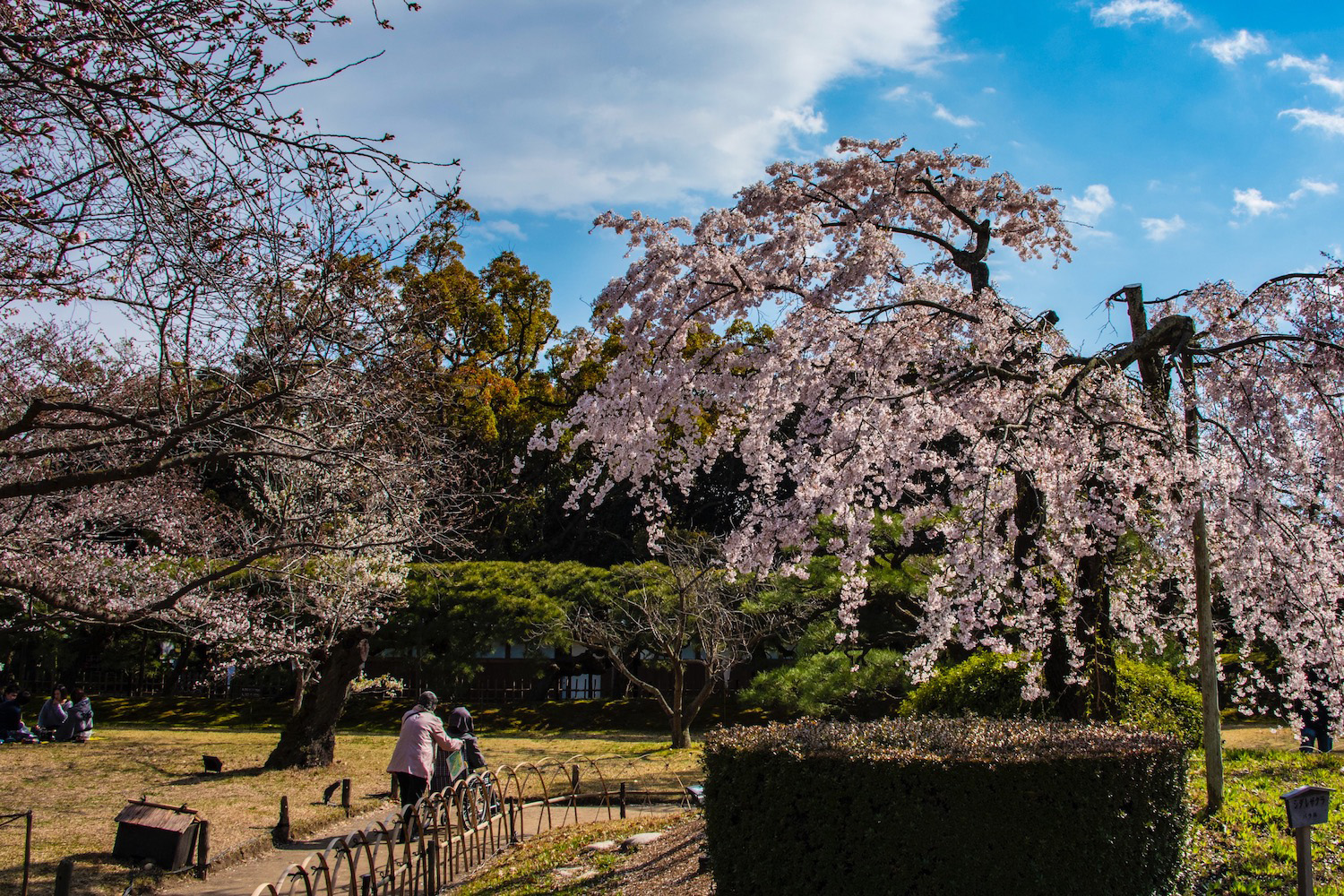 Takamatsu Castle doesn't typically rank high among things to do in Takamatsu, and with good reason: It doesn't exist, at least not as a complete entity. On the other hand, parts of the original 16th century structure do remain; the site makes up for its lack of its completeness with its location. Situated near the waterfront and with gorgeous views of the Seto Inland Sea, Tamamo Castle (as it's also sometimes known) remains a bastion of beauty.
Ride a Boat to Megijima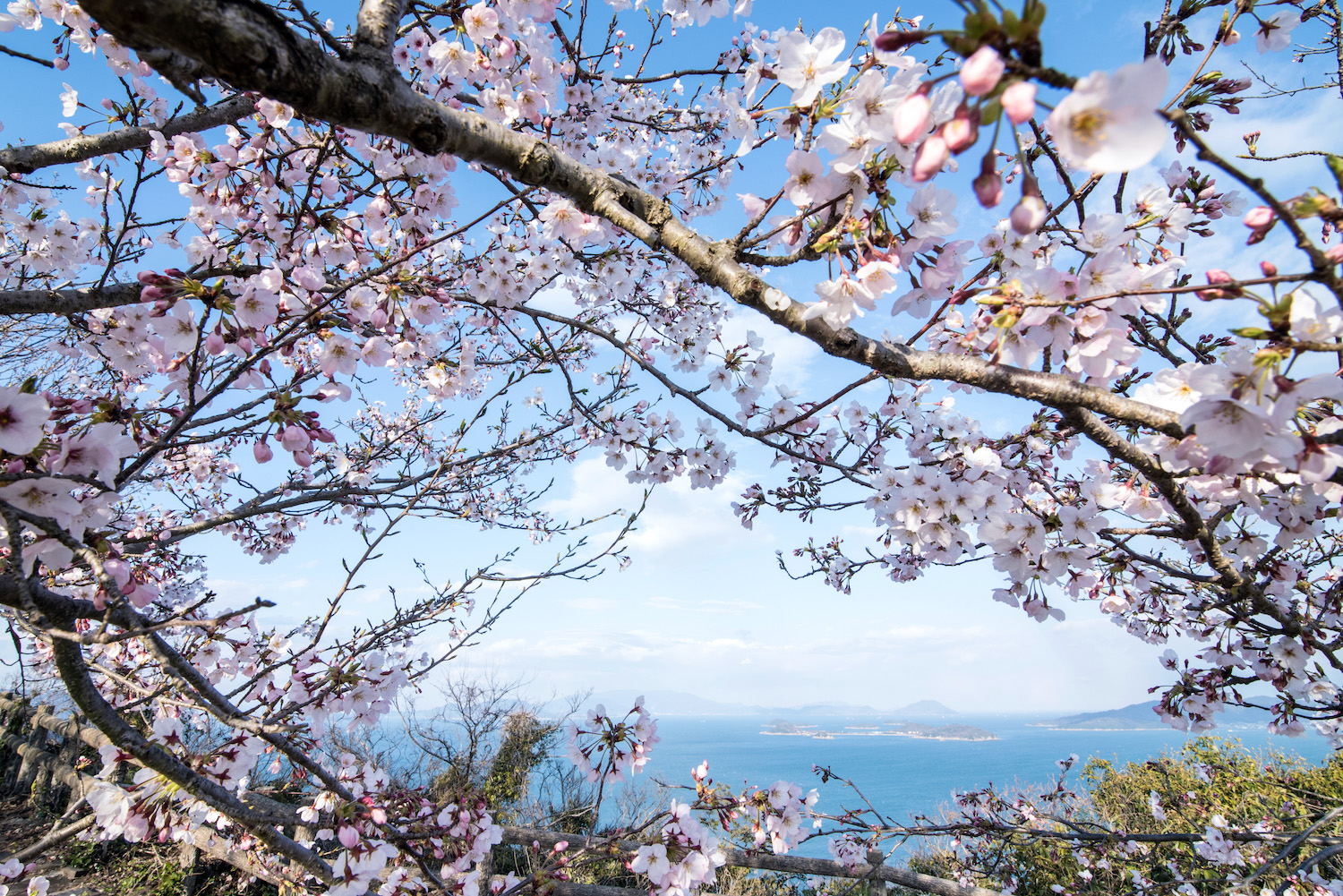 At a bare minimum, Takamatsu-jo is a nice stopping off point. En route to where? The Sunport, which is where boats to outlying islands depart. I'll get to a (very famous) one of these in just a minute, but my favorite is slightly lesser known. Megijima is especially worth visiting if you happen to be in town when the Takamatsu cherry blossoms are blooming, but provides awesome scenery and ambiance any day of the year.
Go to Marugame for a Day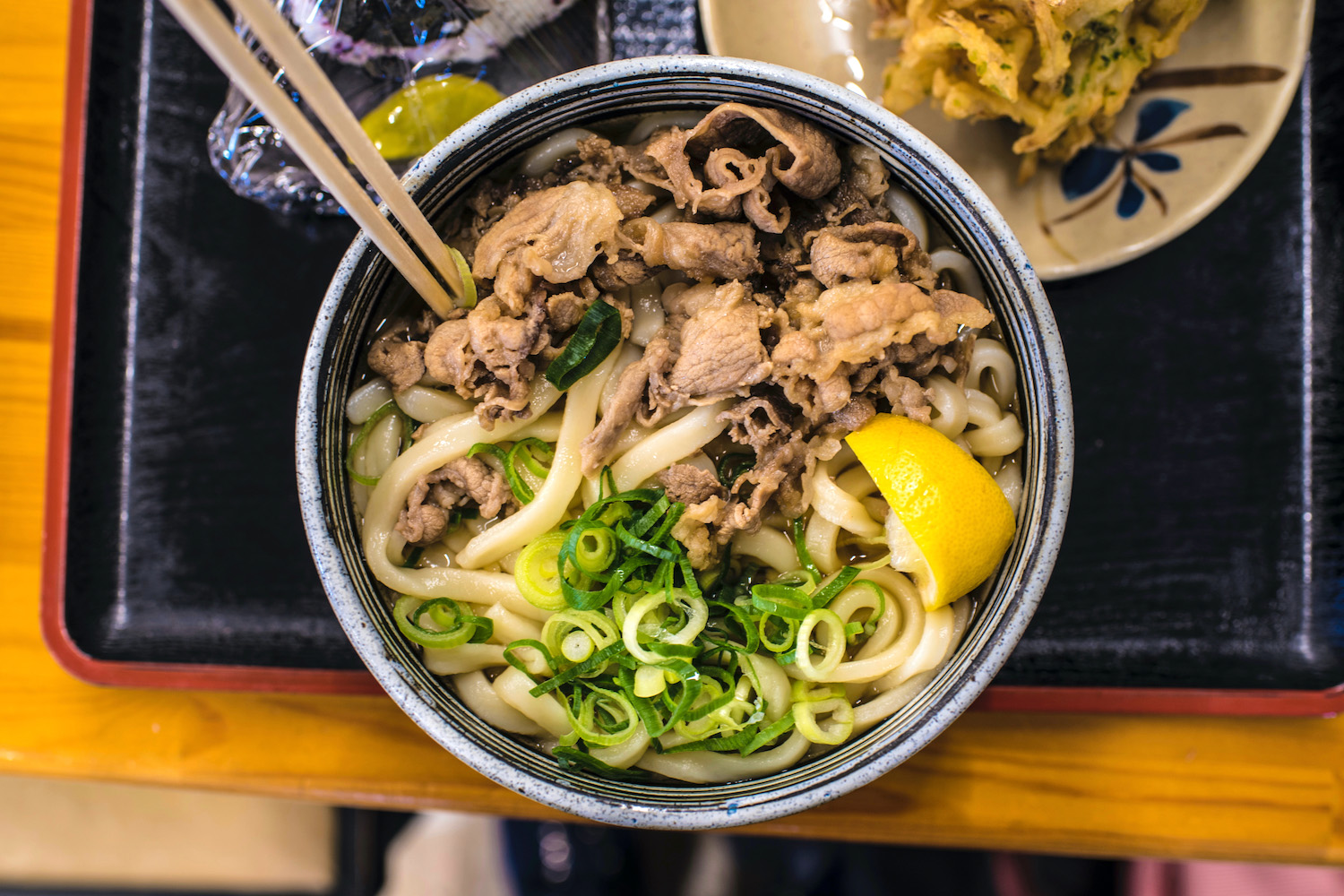 Now, let's transition in the part of the discussion where things to do in Takamatsu go on to day trips. The first of these you can take is to Marugame, a smaller city about 30 km to the west. In addition to being home to a castle far more impressive than Takamatsu's own (Marugame Castle is probably among my favorite such fortresses in all of Japan), Marugame is famous for beef udon noodle soup, which you can find all over town.
(Or To Kotohira-Gu, for a Morning or Afternoon)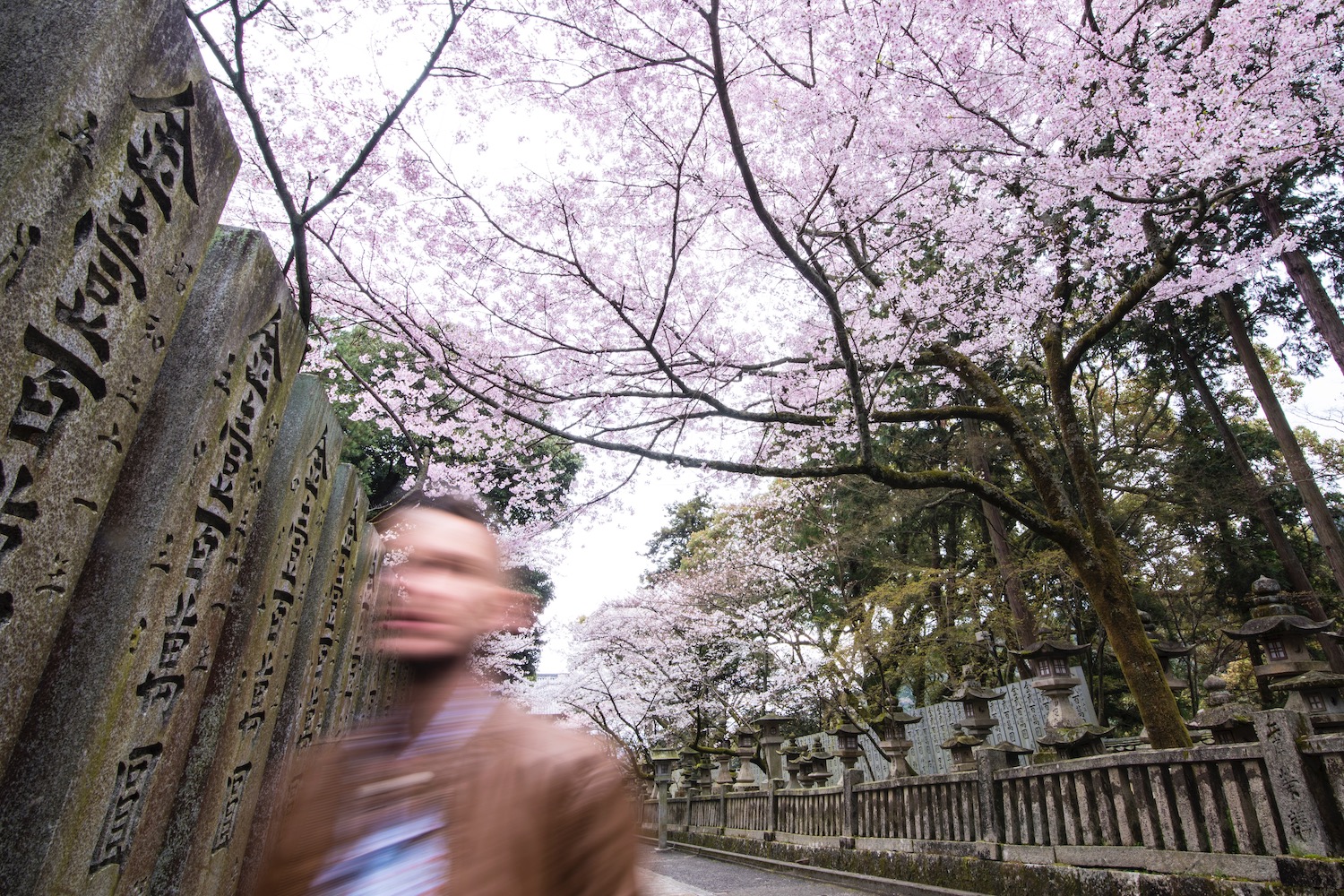 Kotohira is about 30 minutes south of Marugame; you could combine the destinations into a single journey so you can enjoy day trips from Takamatsu for the price (or, at least, the effort) of one. As far as what to do in Kotohira? Scaling the magnificent Kotohira-gu shrine, which some records say dates back as far as the 1st century. Whether the trees billowing over you as you climb are deep summer green or frosted with sakura, there are few other places in Japan so enchanting.
Where to Stay in Takamatsu
As is the case with most secondary cities in Japan, Takamatsu hotels leave something to be desired. The advantage of such low expectations, of course, is that the properties you do find here will do anything but disappoint you. Most are what I like to think of as boutique (some, not-so-boutique) business hotel properties, such as Super Hotel and the city's branch of Daiwa Roynet, one of my favorite homegrown Japanese hotel brands.
Which is not to say there aren't nicer hotels in Takamatsu. JR Hotel Clement Takamatsu, for example, is just a few minutes by foot from JR Takamatsu Station, to say nothing of the fact that it's convenient to many of my favorite things to do in Takamatsu. Takamatsu also boasts several dozen Airbnb apartments, although I doubt you'll remain in the city long enough to make availing one of these worthwhile.
What About Naoshima?
If you've ever Googled "Japan art island" and either haven't come up with a name or can't remember it, allow me to help you. You're thinking of Naoshima, which is accessible via ferry both from Takamatsu and from Okayama. If you've arrived at this article via Google, I'll assume your travel plans are centered on Takamatsu, at least for the moment. Not that it matters: You can arrive on Naoshima via one city and exit via the other.
At any rate, I'm agnostic about Naoshima. On one hand, the experience of staying in the Japan museum hotel (aka Benesse House) is very special, especially if you are a legitimate art of museum fan—I can't say that I am. Indeed, if you just want to get a selfie (or an ordinary image) featuring Yayoi Kusama's famous pumpkins, I'm not sure if the journey to Naoshima and the cost of staying there is worth it.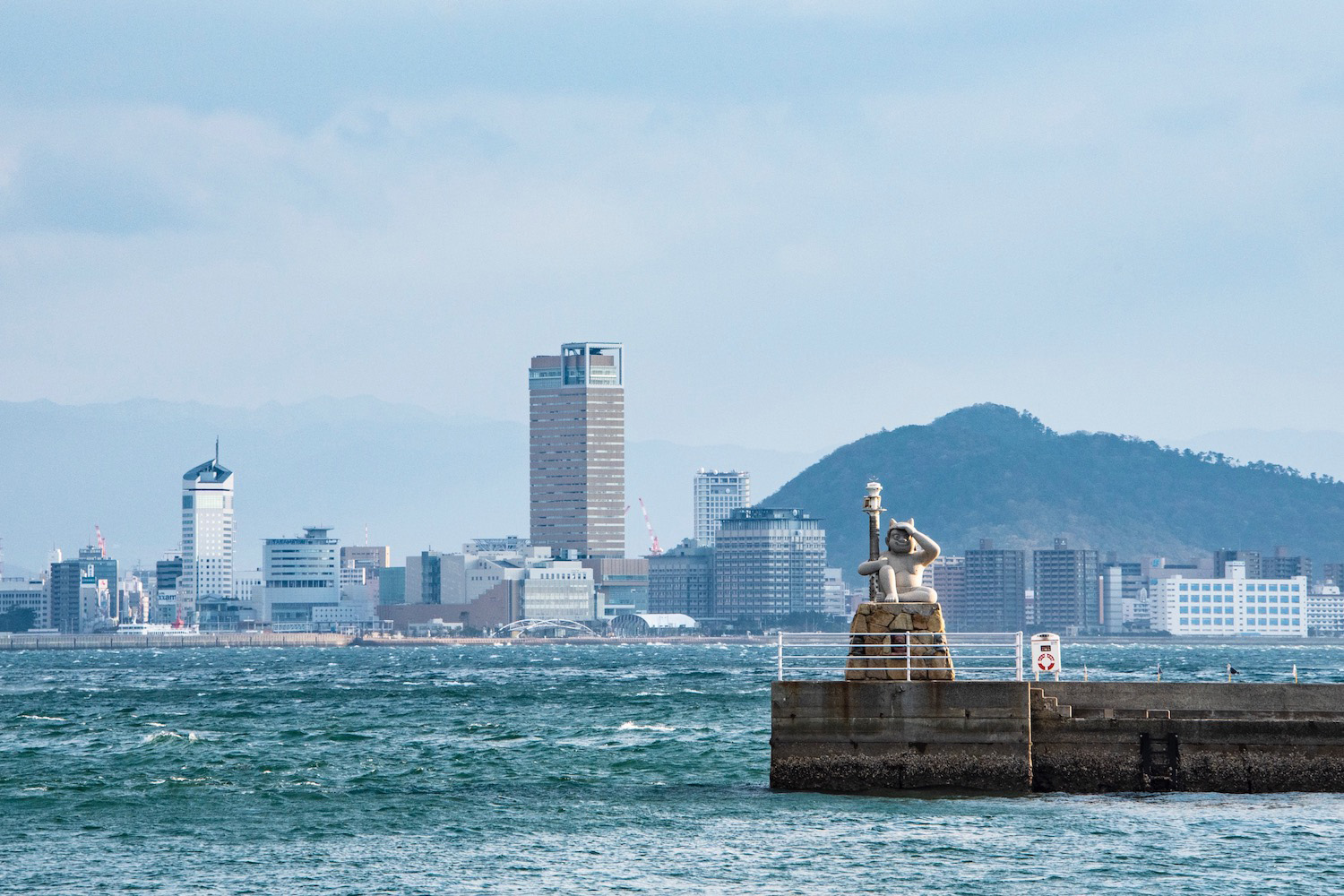 Other FAQ About Travel to Takamatsu
Is Takamatsu worth visiting?
Takamatsu is definitely worth visiting, if only for a chance to traipse through Ritsurin Garden, which is one of my favorite traditional Japanese gardens in Japan. Locally famous udon noodles are the icing on the cake, and offer an irresistible culinary dimension to your travel.
What food is Takamatsu known for?
Takamatsu is known for udon noodles, which are also famous in Kagawa prefecture more broadly. Keep in mind that while there are plenty of Udon restaurants in Takamatsu-proper, the best udon is actually found in Marugame, a castle town about an hour from Takamatsu by train.
Is the library in Kafka on the Shore real?
The bad news? The library in Kafka on the Shore is not real. The good news? You can visit the town of Sakaide, which inspired the scenes that have the library in them, by taking a local train only about 15 minutes from Takamatsu. I recommend re-reading the book just before you trip for the ultimate immersion!
The Bottom Line
Is Takamatsu worth visiting? The city is eclectic and enthralling, but manageable in just a couple of days. The better news? Whether you pop over from Okayama (and head directly back), or integrate Takamatsu into a larger Shikoku itinerary, a trip here is worth every bit of effort you put in. Moreover, while Takamatsu's most famous attraction (Ritsurin Garden) lives up to every bit of the hype built up around it, it's merely the beginning of all there is to discover here. Still feel stumped as you plan your Shikoku adventure? Commission a custom Japan itinerary—and let me sweat the details!