My first trip to Kamikochi wasn't a very calculated one. In fact, I went there on the last day of the year it was open—and completely oblivious to this fact.
In contrast to lower-lying Matsumoto, where temperatures were tolerable and colorful leaves were still on the trees, Kamikochi was a veritable winter wonderland, even though it was only the second week of November. All the deciduous trees along the Azusa River were bald; snow wasn't falling, but it seemed like it would only be a matter of time.
I bring this up as a cautionary tale. Is Kamikochi worth visiting? Yes, but only if you're intentional about your trip—and realistic about what you'll find when you get there.
Why is Kamikochi So Popular?
As you'll see the moment you get off the bus, many travelers—both Japanese and foreign—find Kamikochi worth visiting. I often say that while Kamikochi is a natural area, it sometimes feels like a city park, as if all of Tokyo is there on weekends. Unless you come on a day with very bad weather, it's very difficult to have even a moment to yourself on the main trails!
There's a few reasons for this, in my opinion. The first is that it's easy to reach. In addition to being easily accessible from alpine cities like Matsumoto and Takayama, there are two daily direct buses from Shinjuku to Kamikochi. The second is that the trails are extremely easy; literally anyone can hike them (it's a walk really). Finally, the scenery is sublimely beautiful, in a way that belies the ease of access.
What to Do in Kamikochi
Start at Kappabashi Bridge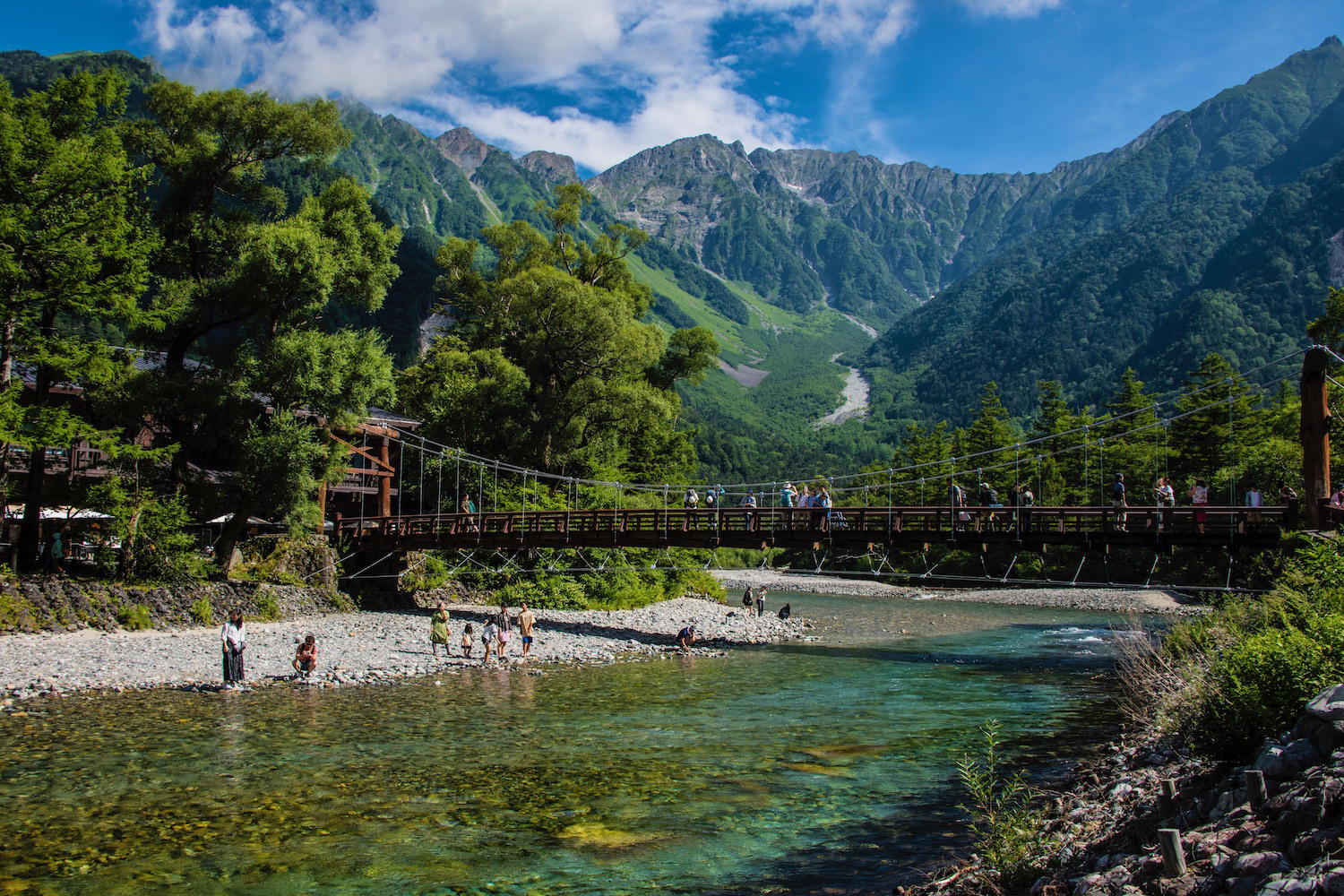 Once you arrive at Kamikochi Bus Terminal, Kappabashi Bridge is less than 10 minutes by foot to the north. Although its closeness no doubt contributes to its popularity, it's the visual you get—an old bridge the gorgeously frames a crystalline river running beneath the towering peaks of the Japanese Alps—that really sells me on it.
Hike to Taisho Pond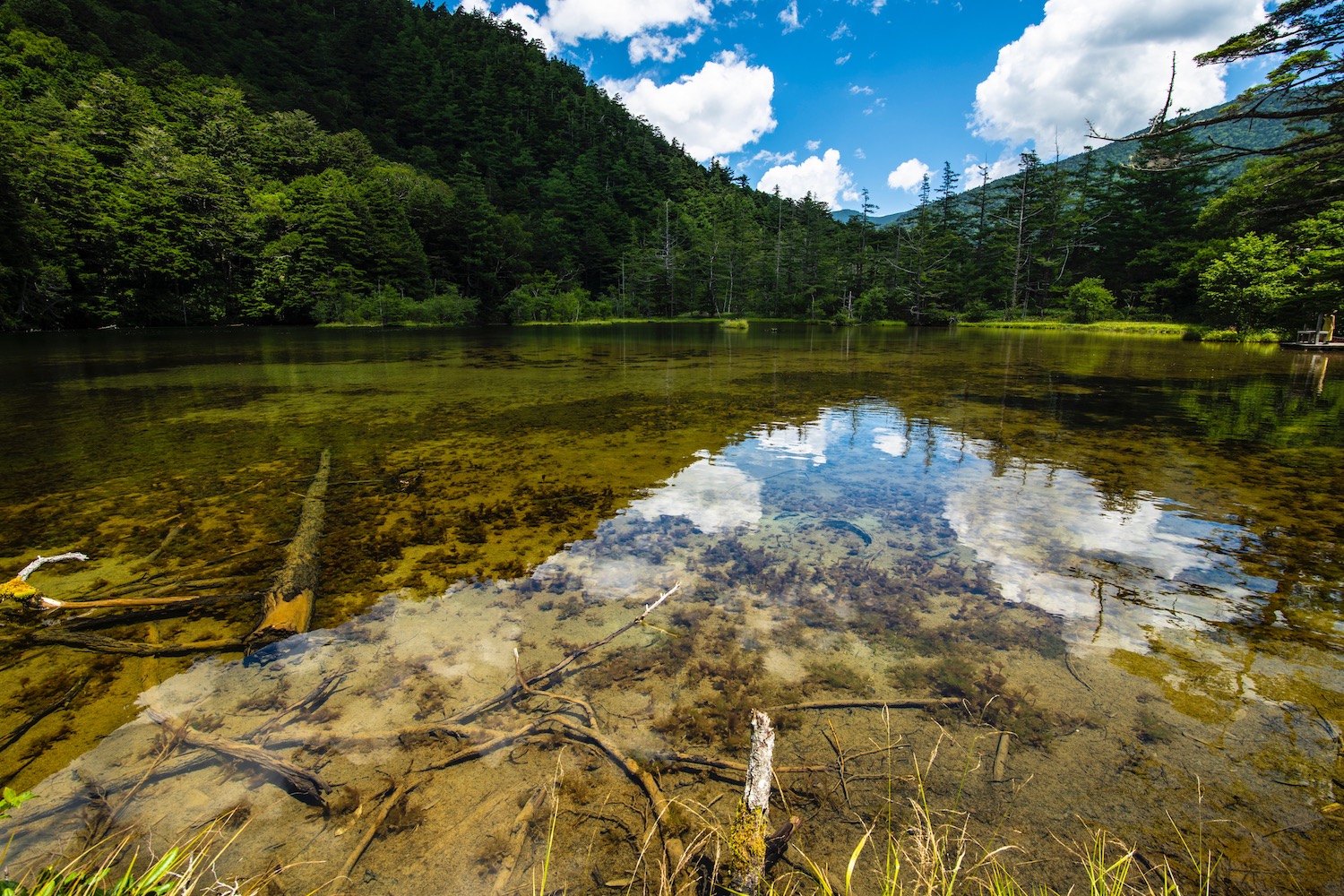 Of course, if you're simply coming to get a "money shot" of the bridge, I wouldn't say that Kamikochi is worth visiting. Rather, you need to take a hike (or a walk, as it were). Personally, I prefer to head south from Kappabashi, passing by the bus center one again before ending up at a pair of ponds: The smaller Tashiro-ike and the large Taisho-ike, the latter of which actually has its own bus stop.
(Or to Myojin Ponds)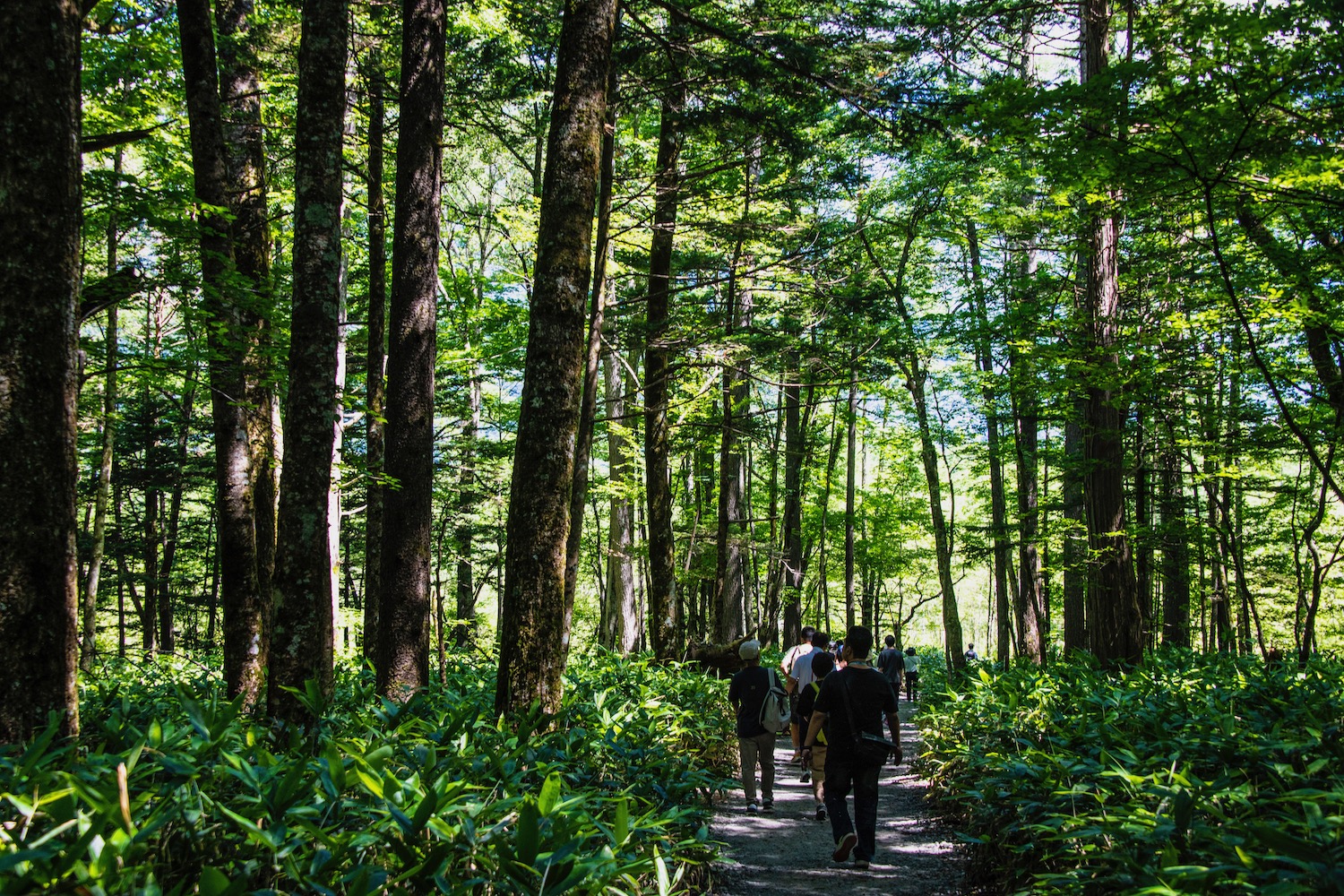 Whether you head back to the bus terminal on foot or by bus, you'll want to cross Kappabashi Bridge. You may choose to have a bite to eat (more on that in a second), or instead walk past the restaurants and head north to Myojin Pond. Or ponds, as it were: There are at least two (connected) ponds here; note that you need to pay a fee to enter the natural area.
Sit down for lunch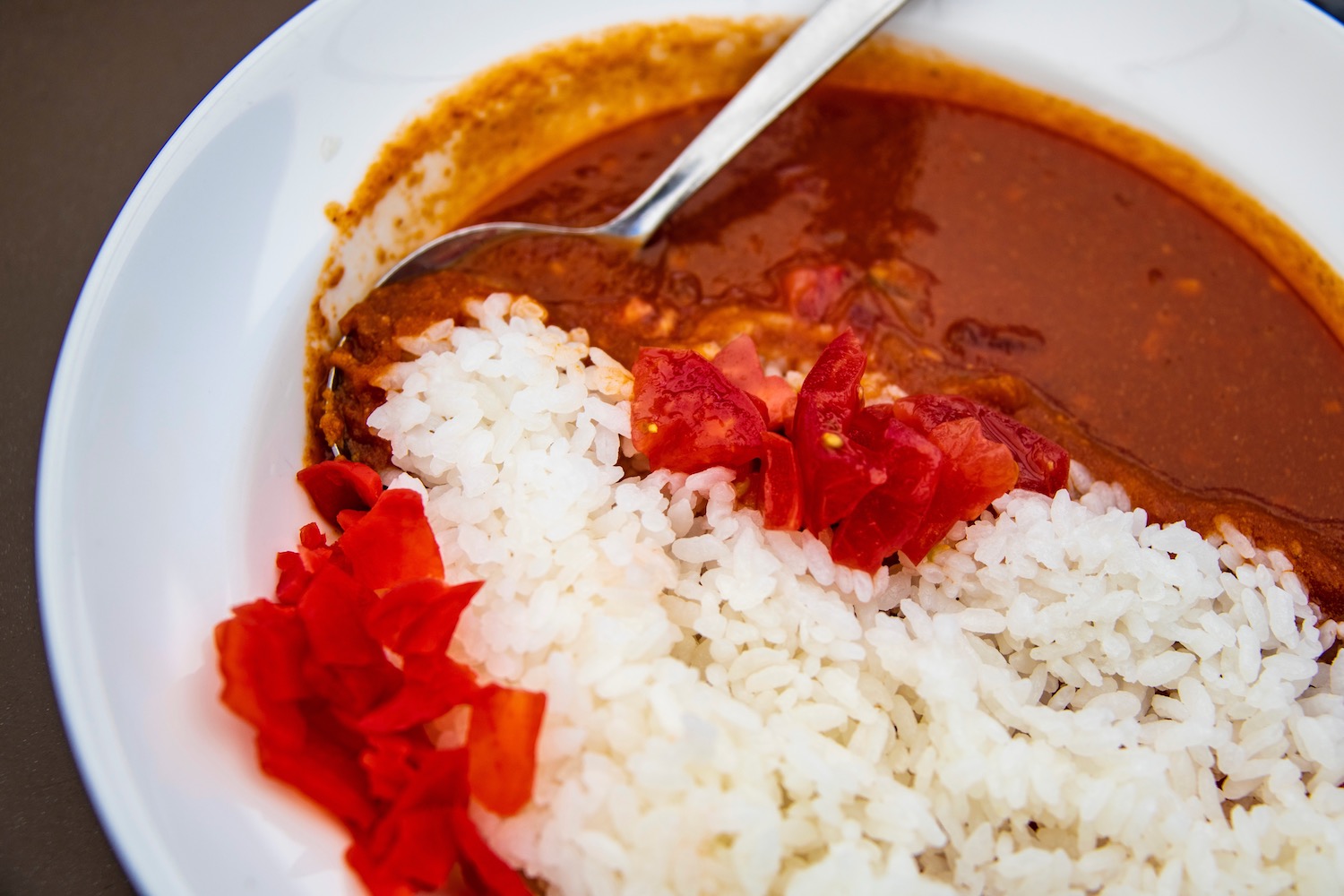 The ability to make a day out of your excursion is a big part of what makes Kamikochi worth visiting, to me. As a result, I suggest having lunch (or at least a snack), be it at the self-service restaurants just over Kappabashi Bridge from the main viewpoint, or at the table service restaurant on the same side of the river as the bus terminal (which, to be fair, is not always in service).
Set realistic expectations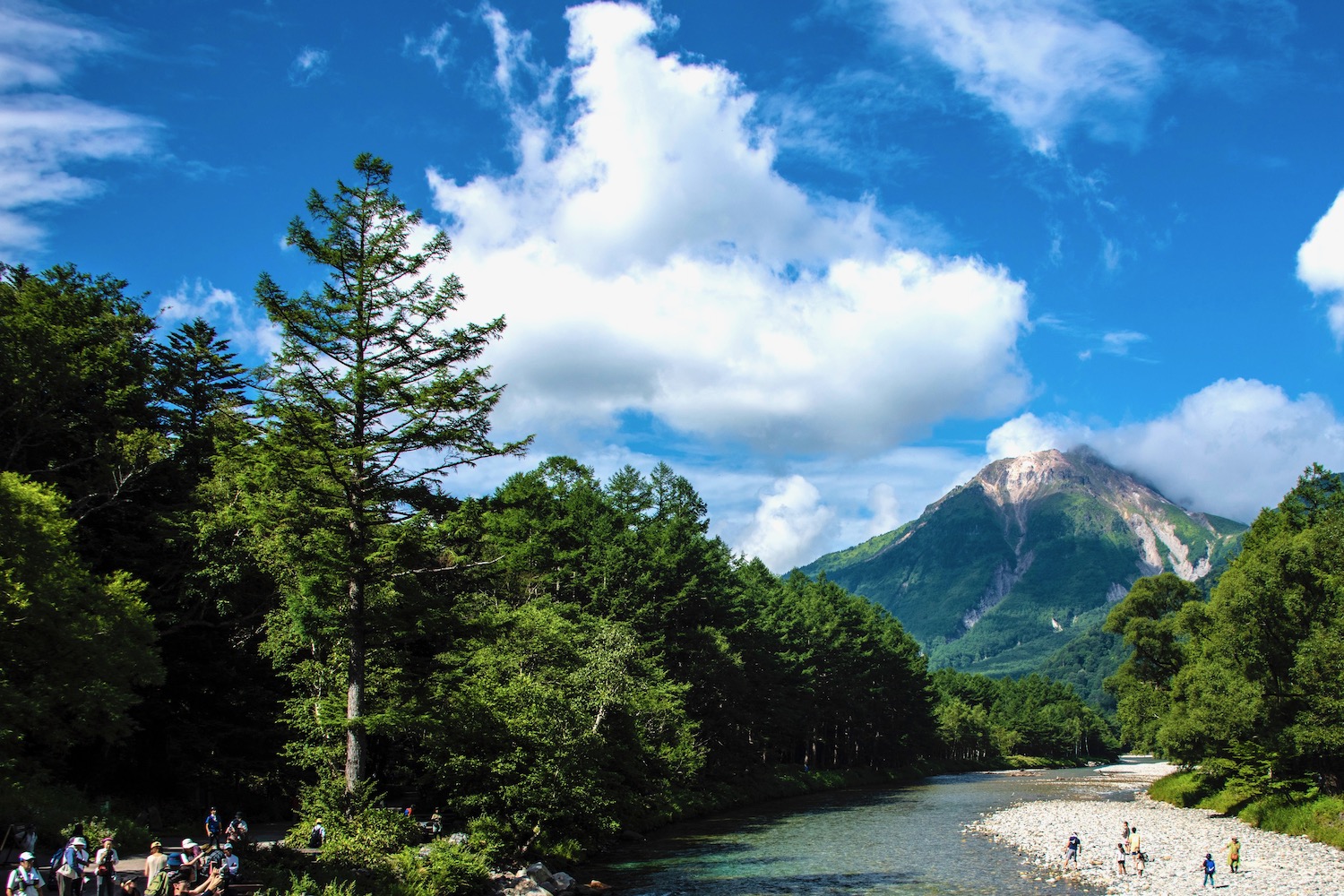 Is Kamikochi beautiful, and maybe one of the most beautiful places in Japan? Absolutely! But it's not some forlorn wilderness; hiking there, unless you stay a few days and go way up into the mountains, isn't even much of a workout if you're reasonably fit. In my opinion, you should plan to enjoy and maybe even love Kamikochi, but going there probably isn't going to change your life.
How to Get to Kamikochi
Kamikochi is easy to reach. As I mentioned earlier, there are now a couple of daily direct buses from Shinjuku. However, the easiest way to access Kamikochi is if you're already in the Japanese Alps. For most travelers, this involves starting in Matsumoto. From here, you'll ride a privately-operated Alpico train to Shin-Shimashima, where you'll transfer to a bus, also operated by Alpico.
From Takayama, on the other hand, you'll board a Nouhi Bus, which you'll ride to Hirayu Onsen. At this small mountain station, you'll transfer to another bus, which will take you all the way to Kamikochi. Part of why Kamikochi is worth visiting is that it's less than two hours each way from both Matsumoto and Takayama. You can easily visit on your way between the cities, or indeed as a day trip from either!
Other FAQ About Visiting Kamikochi
How long do I need in Kamikochi?
Although there are a few hotels in Kamikochi, most travelers can get the gist of the destination in just a day. I like coming relatively early in the morning and hiking to Taisho Pond and then, on my way back up north to the Myojin ponds, stopping for lunch at one of the restaurants near Kappabashi Bridge.
What is the best season to visit Kamikochi?
Most travelers visit Kamikochi in the summer, when warm air and clear skies predominate, presenting both the crystalline waters and the towering alpine peaks in their most resplendent beauty. Since there are no somei yoshino cherry blossom trees here, the other main time it's worthwhile to visit is in mid-to-late October, when autumn colors reach their peak.
Can you drive into Kamikochi?
While there are roads in Kamikochi, these are exclusively for buses and other congregate vehicles. If you have your own car, you can only drive as far as the Sawando and Akandana parking lots; from here, you'll need to take a bus to the Kamikochi Bus Terminal to begin hiking.
The Bottom Line
Is Kamikochi worth visiting? Yes, but not if you come when the weather is bad, or expecting some extreme level of physical exertion. Although Kamikochi does have brief, pleasant periods during late spring and early autumn, you really need to come in summer to see it at its maximum beauty. Likewise, Kamikochi's hiking trails are mostly flat paths, unless you plan to stay overnight and undertake serious treks up into the mountains. Want to make sure Kamikochi ends up fitting into your travel plans perfectly? Consider commissioning a custom Japan itinerary!