For many years—many decades—it was possible to buy food and drink from carts running down the aisles of the Tokaido Shinkansen, which runs between Tokyo and Shin-Osaka. This ended in October 2023, at least for passengers not seated in the Green Car.
The bad news? Unless you want to shell out much more money for a marginally better seat, you can't satiate your hunger or thirst while already on board Japan's most popular bullet train. The good news? If you're mindful of this change, you can take action to blunt the worst impacts of it.
So, is there food on the Shinkansen? Sometimes, there is—sometimes, there isn't.
Why You Can No Longer Buy Food on the Tokaido Shinkansen
The discussion of food on the Shinkansen (at least the Tokaido Shinkansen, Japan's busiest bullet train) is both simple and complex. On one hand, onboard food purchases were declining, even before covid-19. The hysteria that overtook Japan during the pandemic locked out foreigners for over two years, but also caused fewer Japanese to travel domestically, further compounding matters. The revenue wasn't there—and then it really wasn't there.
On the other hand, it's arguable that it wasn't just lack of cash flow that inspired JR Central to stop selling food and drink on the Shinkansen. After all, many bullet train routes in Japan have either never sold food, or suspended those sales years or decades ago. You can very easily make the case that riding the train is more pleasant without service carts clogging up the aisles. And, frankly, without so many people noisily eating and drinking.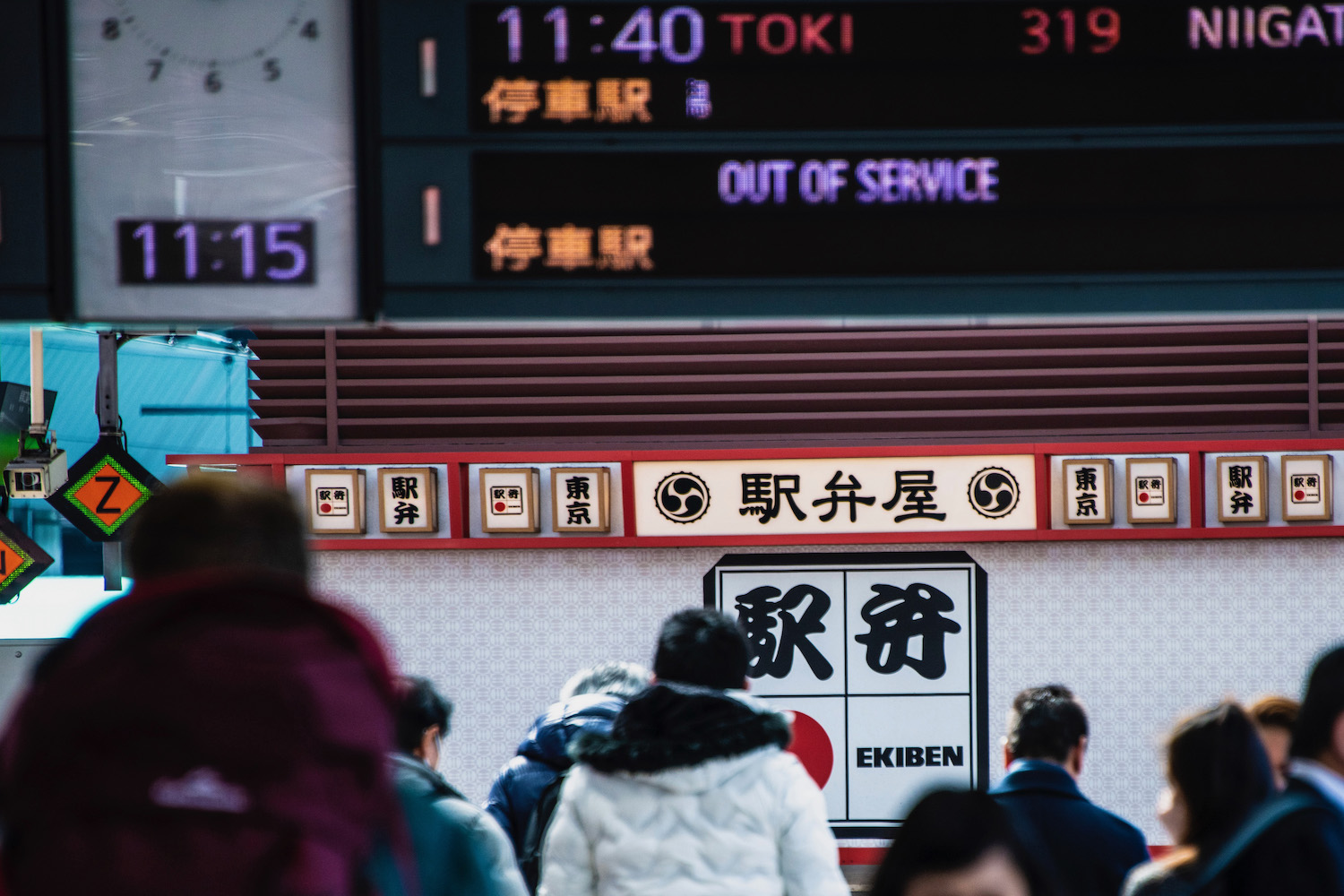 Ways to Eat When You Travel by Bullet Train
Buy an Ekiben lunch box
The most efficient way to feed yourself on a Shinkansen is to arrive to your departure station a few minutes early, and proceed to one of the shops with the word Ekiben (駅弁 in Japanese) written on it. Here, you can choose from several (in some cases dozens) of lunch boxes (ben-to) prepared especially for purchase within a train station (eki).
Bring convenience store grub
Another option for food on Shinkansen is simply to visit a normal convenience store, such as 7-Eleven, FamilyMart, Lawson or NewDays. While the bento sold here aren't necessarily as fresh or nutritious as those you buy at Ekiben shops, you have at least as wide a variety. Indeed, you can also purchase a wide selection of snacks and beverages, including alcohol.
Eat before you set off
If you aren't in a rush or have simply planned your day well, another option is to sit down for lunch before you leave. This is especially easy when departing from major train stations in Tokyo or another large Japanese city, where there tend to be many restaurants. The only challenge for this option is that it may be cumbersome to bring your bags into a restaurant (or, alternatively, to put them in a coin locker).
(Or on a "layover")
No food on the bullet train? No problem! Popular Shinkansen station for layovers, including Tokyo and Shin-Osaka, have restaurants within the ticketed areas. While these tend to be fast food establishments selling soba and udon, you can sometimes eat something more substantial. If you have 15 minutes or longer between trains, this can be the most sensible option.
Travel in the Green Car
Food will still be available in the Shinkansen Green Car after October 1, 2023—well, at least technically. While carts will no longer travel up and down the alleys, you will be able to order à la carte food and drink via a mobile website. Of course, this may not be enough on its own to justify the greater expense of traveling in the Green Car, which (in my opinion) is not significantly more luxurious than ordinary Shinkansen cars.
The Truth About the Shinkansen's Former Food Service
While I always liked having the opportunity to buy an iced coffee or highball onboard the Shinkansen when I'd forgotten (or simply been too rushed) to do so before departing, the reality is that the food wasn't all that. Many trains didn't sell actual bento; in many cases, the only food you could buy was packaged snacks that were neither very healthful or nourishing.
The food on bullet train, if I'm being honest, wasn't even as good as what you get on a plane. When you combine this with the fact that Japanese railway stations are home to many restaurants (as well as ekiben shops and, of course, konbini), there's really no argument to be made that the elimination of food service onboard the bullet train is any major loss.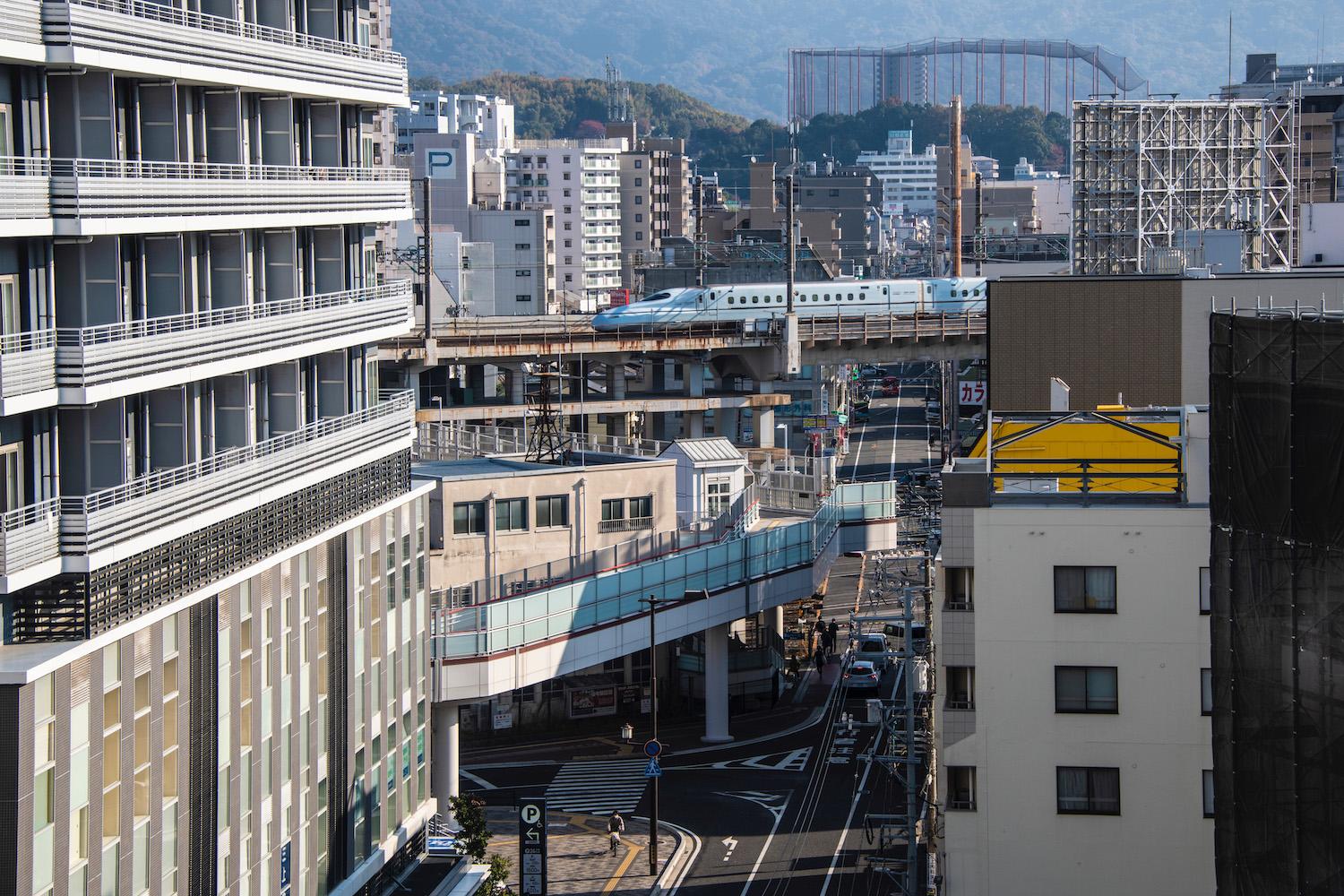 Other FAQ About Food on the Shinkansen
What food is served on the Japanese bullet train?
Historically, Japanese bullet trains have offered cart service with snacks and beverages, and in some cases bento lunch boxes for sale. Over time, however, these services are being removed from trains, leaving the onus on passengers to purchase food and drink before departure if they want to eat onboard the train.
Is it OK to eat on bullet train?
Eating on the bullet train is completely fine, although you should do so mindfully. Don't use your neighbor's tray or any of their personal space while eating, and try to be as quiet and unobtrusive as possible. If you drink alcohol, make a point of not drinking to excess, so as not to annoy those around you.
Do they serve drinks on Shinkansen?
While certain Shinkansen trains still serve drinks onboard, the Tokaido Shinkansen stopped drink service for ordinary class passengers on October 1, 2023. However, you can always buy drinks at a convenience store before departure and consume them onboard during the train journey.
The Bottom Line
Is there food on the Shinkansen? While ordinary class passengers can no longer order food and drink onboard the Tokaido Shinkansen between Tokyo and Shin-Osaka, it is still possible to satiate yourself on certain bullet train journeys within Japan. Moreover, you can always buy an ekiben before boarding, or stop at a konbini to purchase any number of food or drink items—all hope is not lost. Need personalized helping planning out your journey along Japan's rails? Whether in the broader sense (i.e. do you need a Japan Rail Pass?) or hammering out the day-to-day details, I encourage you to consider commissioning a custom Japan itinerary.