When I decided I would travel to Japan's Wakayama prefecture at the end of May, the idea was that I'd trek the whole time. Where, precisely, was up in the air—I could just as easily do a three- or four-day Kumano Kodo trek as I could spend the entire time exploring Mt. Koya. But I was eager to spend time in this underrated part of Japan, and to see as much of its as possible by foot.
A few weeks before my trip, however, a Japanese friend of mine asked if he could join me. I agreed without question, but is soon became clear that Suguru's work schedule would throw a wrench into my original plan. Like most people who work in Tokyo, he was only off work from sunset on Friday to sunrise on Monday.
The good news? I'm skilled enough at planning trips to Japan that I happily accepted the challenge of this new time constraint. The bad news? Our Wakayama weekend was exhausting and stressful at times, in spite of all the incredible memories we made—you just can't travel here the way you can in the rest of Japan.
Tokyo to Osaka to Wakayama
I'd booked a flight to Tokyo prior to realizing Suguru would be joining me. It was significantly cheaper than if I'd flown directly to Osaka, and since I had a Japan Rail Pass, a couple of hours on the Shinkansen was all I had to lose. After landing at Narita in the morning and spending the afternoon in Nikko, I met Suguru at Shinagawa station around 7 pm—this was when I made my first miscalculation.
"Either one is fine," I told Suguru as we waited in line to buy his ticket, me more focused on the contents of the bentos I'd picked up for us than on the important difference between Hikari and Kodama trains.
Unfortunately, the teriyaki flavor did little to assuage the extra hour we spent in transit, or the fact that we checked into our hotel near Osaka's Umeda Sky building just minutes before midnight.
Though I gave myself an extra two hours of sleep the next morning (I usually wake up at five), I still felt sluggish, even after three cups of coffee at breakfast. It was nearly noon when Suguru and I arrived at Kudoyama station along the Nankai Koya line, and by the time we'd finished climbing the steps at Jison-in, the first temple of the 20-kilometer pilgrimage route to the top of the Koyasan, bells were chiming to mark the arrival of midday.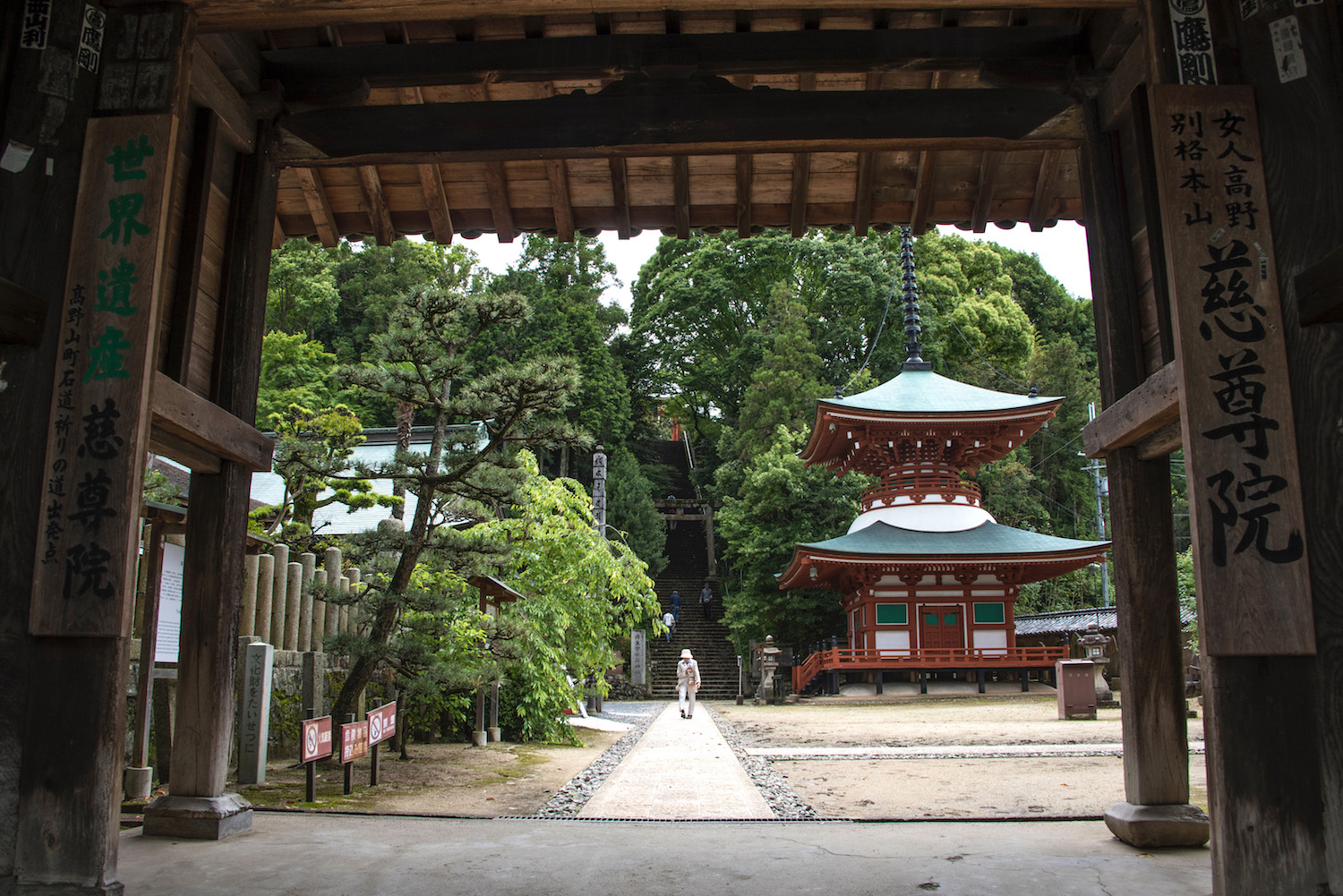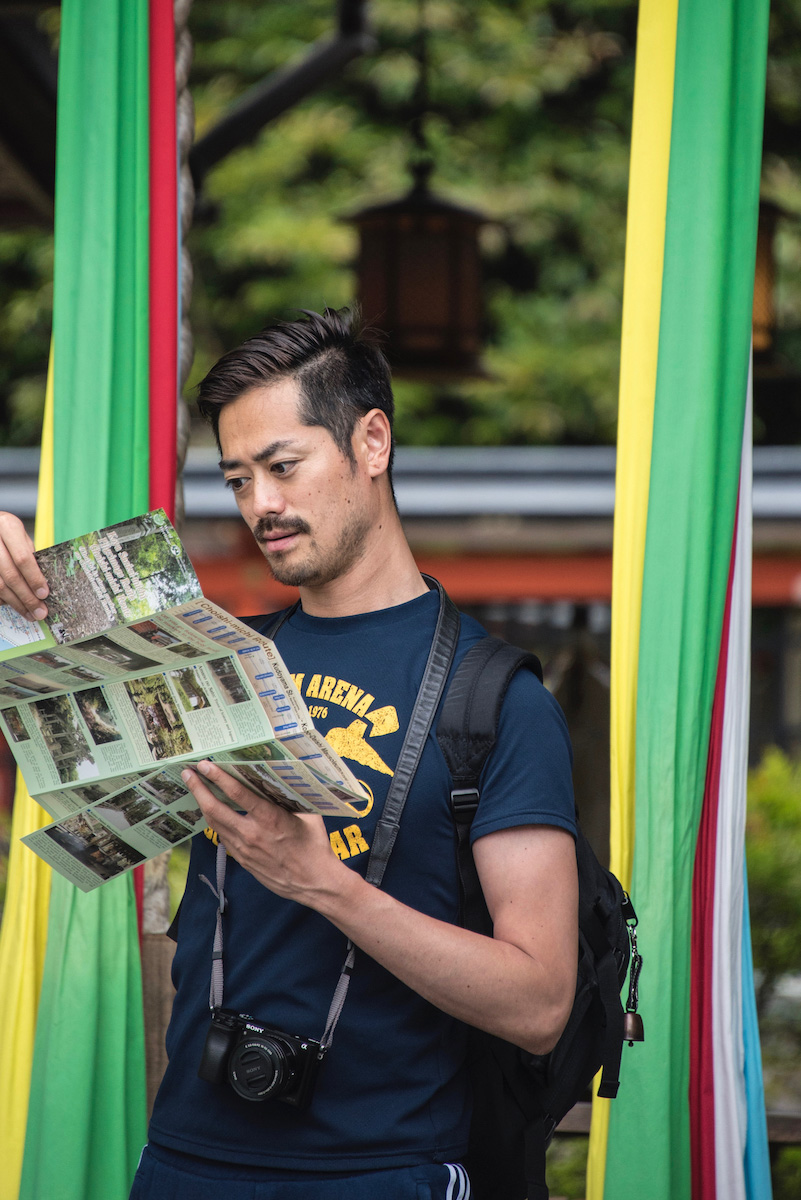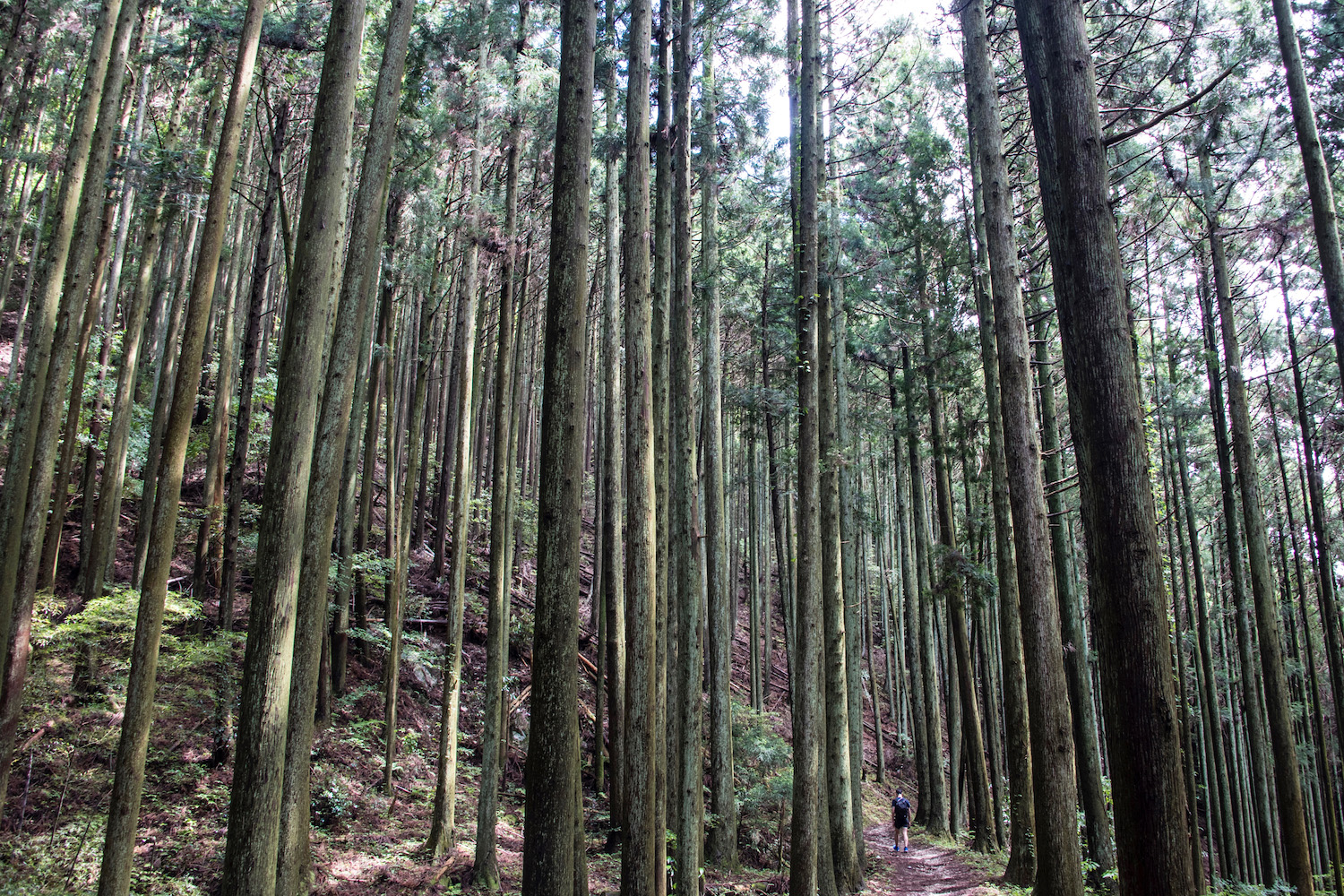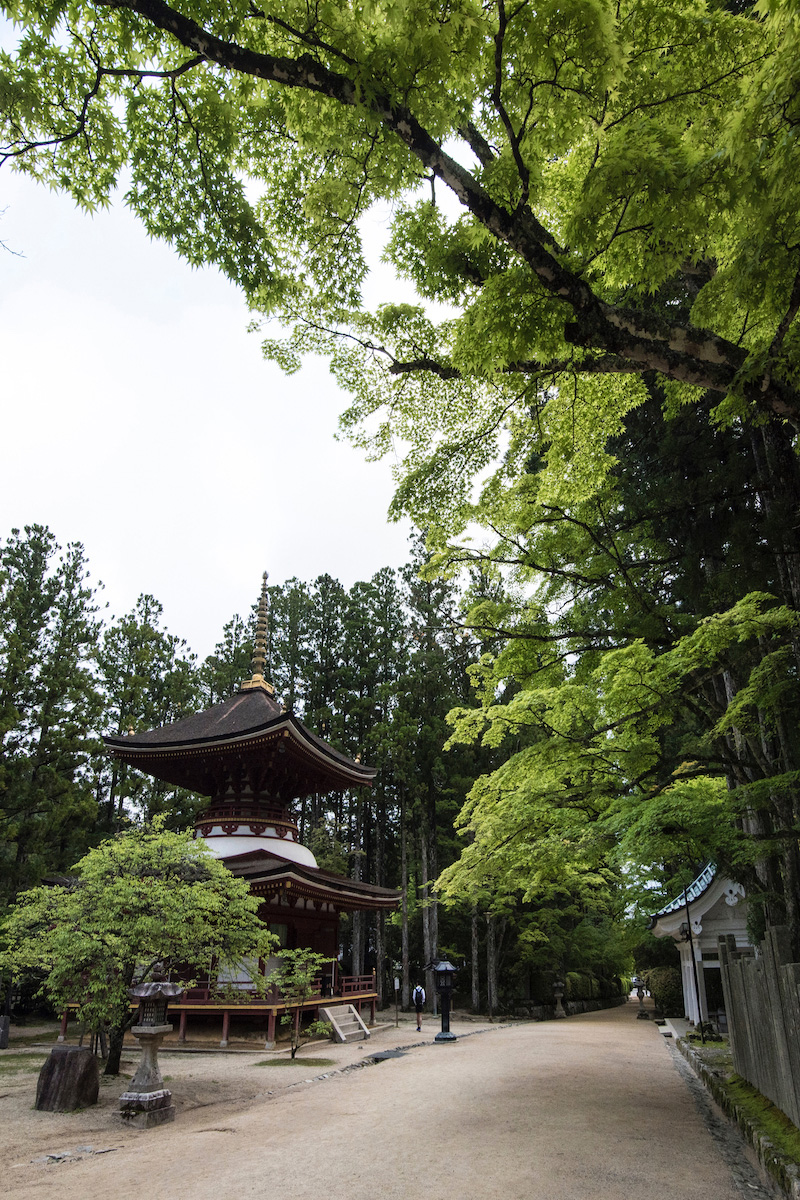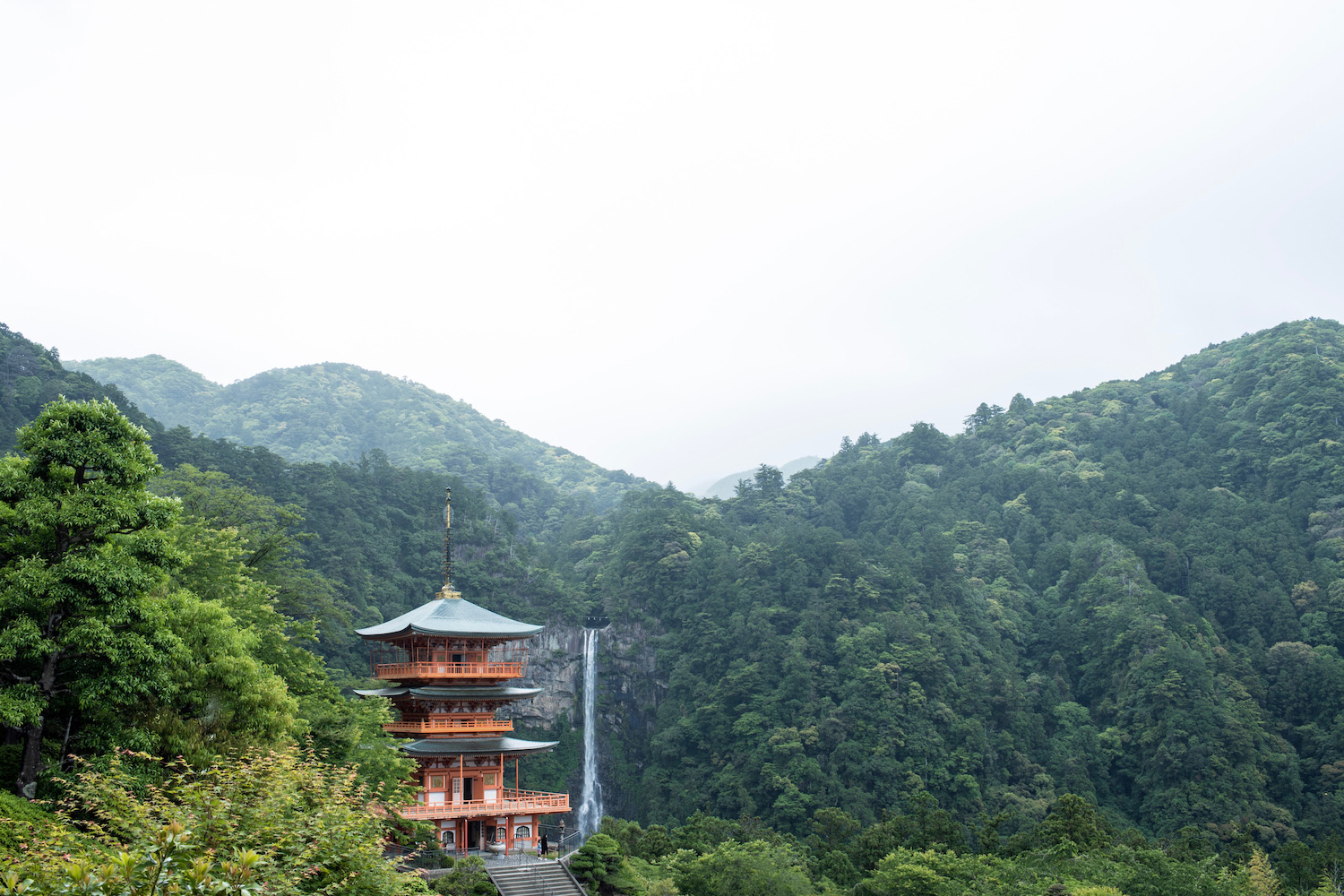 The Koyasan Pilgrimage
I run about five kilometers a day (in the 30-plus degree heat of Bangkok, no less), so the physical strain of the Koyasan trek, on its own, didn't bother me—even in my exhausted state I knew it was a matter of endurance more than strength. We would eventually reach the top, provided our bear bells functioned as designed.
Problem was, I wanted to reach the summit in no less than five hours, given that sun would set around 7 pm and I'd need at least an hour after that to see even a fraction of the temples that pepper Koyasan's precipice, those at Danjo Garan and otherwise. I also wanted to explore the grounds of the real-life Buddhist temple where we'd be staying. Come to think of it, I didn't know exactly how far our lodging was from Daimon, the gate that marks the entrance to the sacred portion of Mt. Koya.
Endure we did, for closer to six hours (we stopped twice along the way: Once, near a pine grove about a quarter of the way up, so Suguru could change into shorts; and about an hour from the top, at the only tea house we saw the whole way), and as we laid eyes on the gate for the first time, the only reaction more dramatic than ours (Daimon is incredibly huge, especially after seeing no impressive built environments for 5+ hours) was the look on the faces of people, all of whom were clad in parkas and scarves, at seeing us turn up in summer clothes.
"You'll probably want to head there as soon as possible," the monk pointed to the temple's onsen as he led Suguru and I to our room, having scolded us upon arrival for missing the last check-in time by nearly two hours. "I'm surprised you're not frozen solid, to be honest." (His coldness, for its part, stuck with me all the way through our meat-free dinner, the highlight of which was vesan nise sashimi.)
Kumano Kodo Nachi Falls
Make no mistake: I was impressed by the Koyasan trek itself, beyond the natural high than enabled me to frolic around nearly naked in nearly-freezing temperatures for the better part of two hours. But at some point, the pines and the trail markers and the beautiful vistas blended together in the vortex that swirled around Suguru and I as we traversed the inhumane distance, like the way the monks the next morning became entranced in the prayers that gently woke us from our sleep.
To be sure, as I looked out onto the sea of mountains as we descended the funicular railway toward Gokurakubashi, a cheesy 70s Muzak saxophone cooing underneath a passenger announcement that was way too polite for the types of characters on the train (present company very much included), I felt strangelry thankful that we wouldn't be doing any of the Kumano Kodo proper. Instead, Suguru had taken it upon himself to rent a car, and we'd be driving between the main sights of the trail stress-free—or so we thought.
"Three hours? Are you sure?" Suguru asked as we pulled onto the freeway from Wakayama city around 11 am, me having just plugged the name of our first stop (which would end up being our only one on account of the fact that we had to go all the way back to Tokyo that night) into the GPS unit. I nodded, he frowned, and we proceeded as un-emotionally as we could.
Nachi Taisha, also known as the "waterfall temple," proved an appropriate denouement for our frenzied not-quite-48 hours in Wakayama—the postcard-perfect shot existing only from a single view point, which that Suguru was savvy enough to find in the mere 30 minutes we had available to spend there. Like Kansai in general, which many Tokyo-ites consider a "different country," Wakayama is different from the rest of Japan—for better and for worse.
The Bottom Line
Our drive back to Wakayama station proved the most stressful part of our entire trip. We'd seemed poised, as we set off, to arrive nearly 45 minutes before our train departed, but a 30-minute traffic jam brought us just seconds away from being stranded for the night.
As I sat on the stalled highway, wondering which genius had decided to build an expensive toll road with only one lane, and staring wistfully at the fluffy tufts of bamboo that seemed to float above all the mountainsides like chartreuse clouds, a friend of mine from Kobe put things in perspective via Facebook message.
"That's just how we travel," she said matter-of-factly, referring to the short weekends, packed-full itineraries and scant room for error that had defined my trip to Wakayama. Suguru confirmed this, laughing as I showed him the screen, but take my advice as seriously as his good sense of humor: Give yourself significantly more than a weekend in Wakayama if you want to see all the places we did—even if you're Japanese.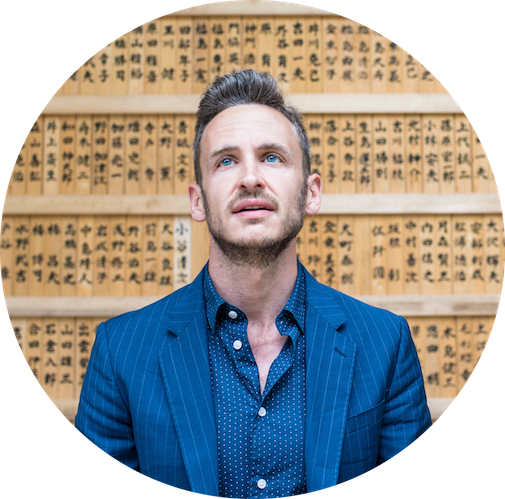 Japan Starts Here is information—and inspiration—for all your trips to Japan. My name is Robert and I'm happy you're here!