It struck me, as my bus careened through the Japanese Alps to begin my Takayama winter adventure this morning, how little snow seemed to be on the ground. Much of it was melting, which suggested a day in late March or even April, rather than one day shy of February.
I though about my home country, plunged once again into the throes of the now-annual polar vortex, which our accidental president had used to rationalize his latest denial of climate change. A creepy, automated voice came over the loudspeaker, announcing our imminent arrival at Takayama Station.
Honey-Sweetened
I could tell that it was still below freezing as I walked toward my ryokan beneath the ruins of Takayama Castle. A thin layer of ice covered the slope that led in its general direction, though it seemed as eager to melt as the icicles hanging from Edo-era buildings on either side of the road, whose glistening outer layers occasionally shed drops of water.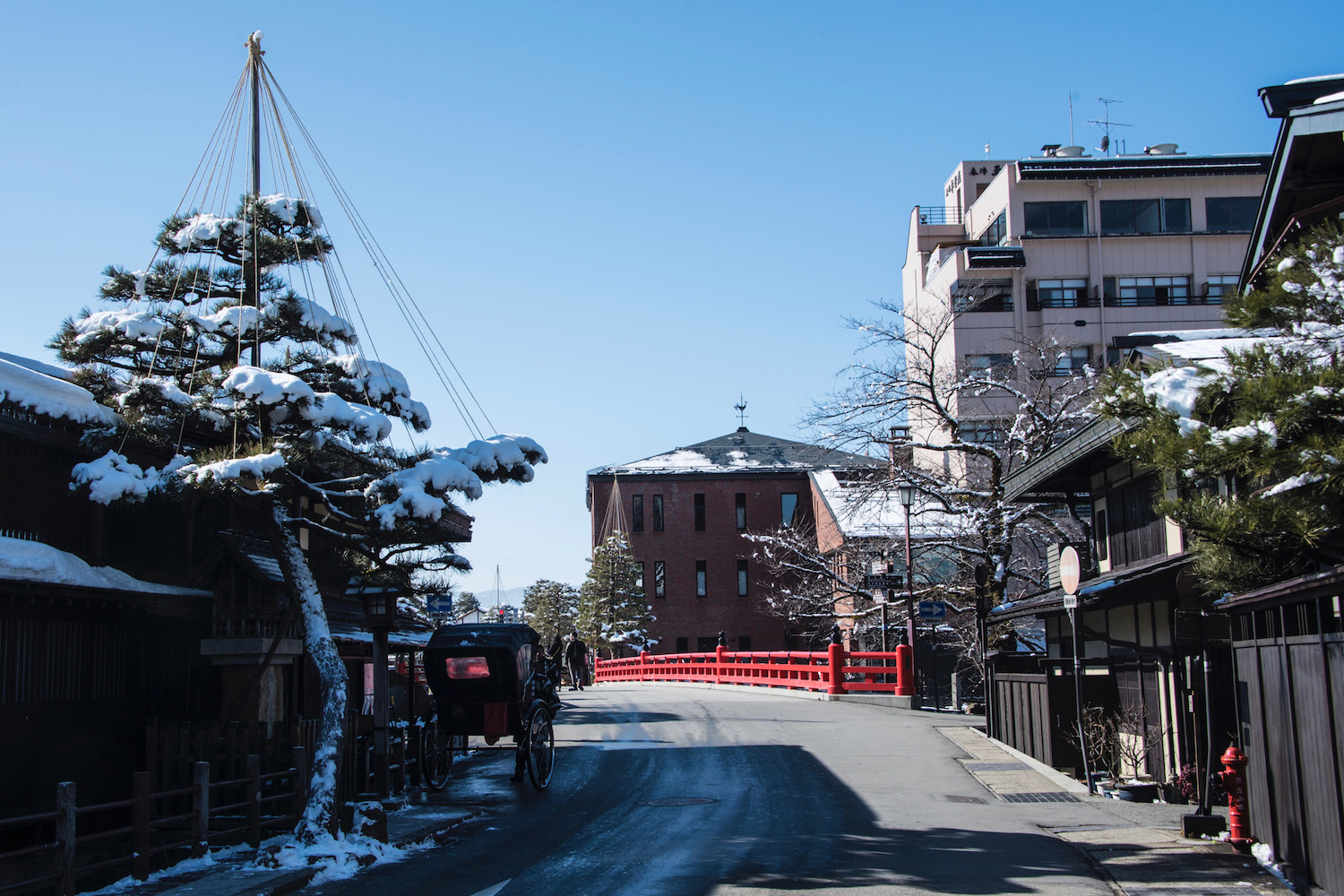 "It's too early to check-in," the surprisingly young owner of the guest house informed me as he cheerfully allowed me to check-in anyway. He sat me down at the table of the communal kitchen and pulled out a paper map, drawing particular attention to the best things to do in Takayama in winter—and those that might not be a good idea.
"Don't waste your time going up there," he pointed to the hill atop which the castle once stood, warning that the climb would be not only unfruitful, but treacherous. My time would better spent, he explained, walking the Higashiyama Route, which like the Kyoto district of the same name was home to more Buddhist temples than one could ever want to see on a single trip.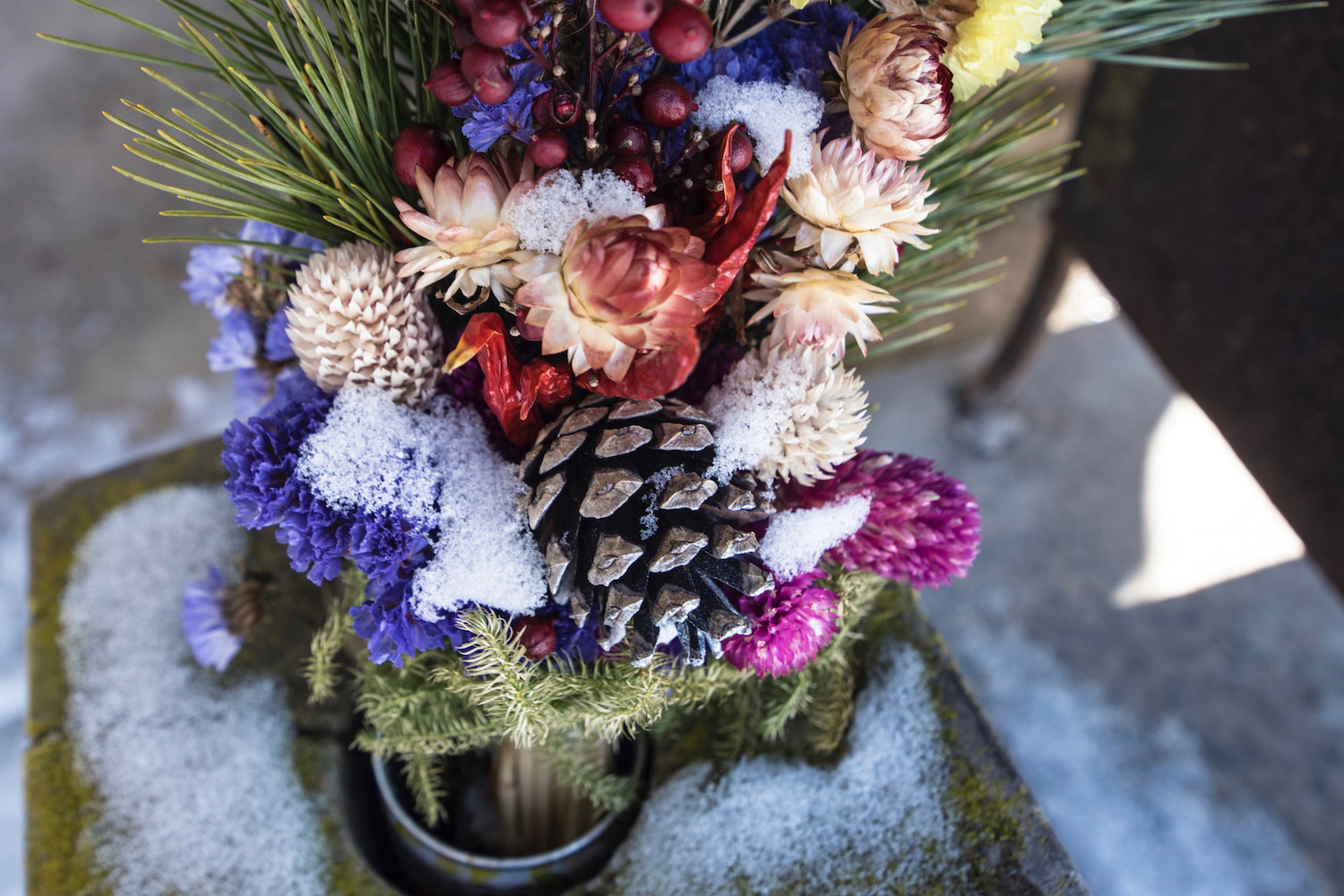 I stopped for a honey-sweetened soft cream near the entrance to Sanmachi shopping street, and followed a series of signs that announced, every 50 meters, how close I was to the beginning of the temple trail. All it's missing is the creepy voice, I laughed, and crept up the snowy steps of Soyu-ji.
Worse, Not Better
This part of my Takayama winter was everything I hoped it would be, notwithstanding how the comparable lack of signage on my previous trip to the city, which had taken place in autumn, prevented me from walking the Higashiyama Route at all. I literally saw one other tourist during my very short pilgrimage, and one man that was either a monk or a maintenance worker.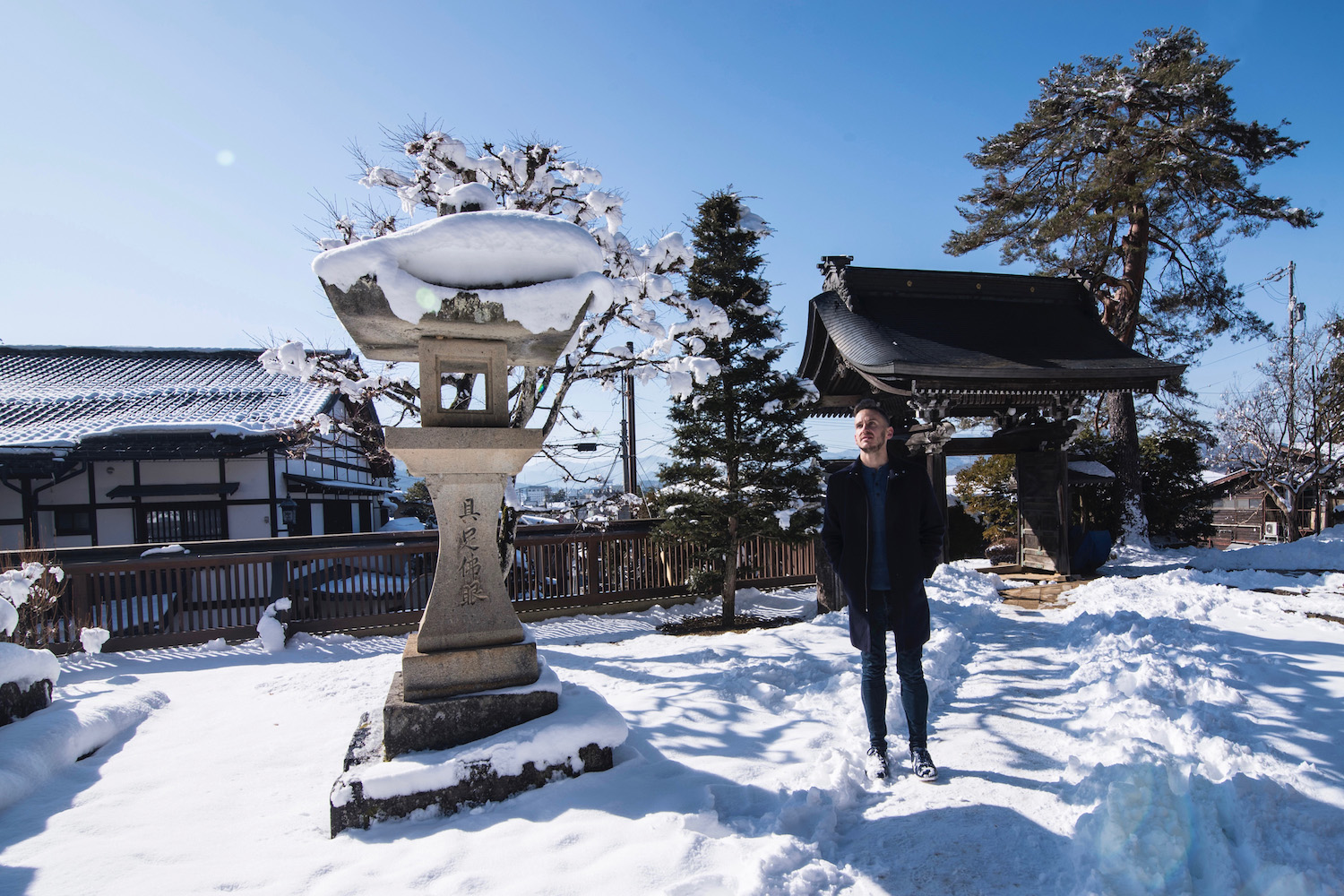 During my descent in the general direction of the Old Quarter and Miya River, I stopped on the bridge just south of iconic Nakabashi to make sure that the particular photo I'd come here to take would have plenty of snow in it—affirmative. The aroma of medium-rare beef wafted out of a nearby window and up my nose, though the snack it inspired me to purchase made my appetite worse, not better.
H-a-m-b-u, I typed into my phone before I'd even finished the last chunk of Hida Niku, the device completing my thought for me and displaying a list of options. The most practical one, in terms of cost and the reviews previous diners had left, was also the farthest walk away, just steps from the bus station where I'd begun my visit to this not-so-wintry wonderland.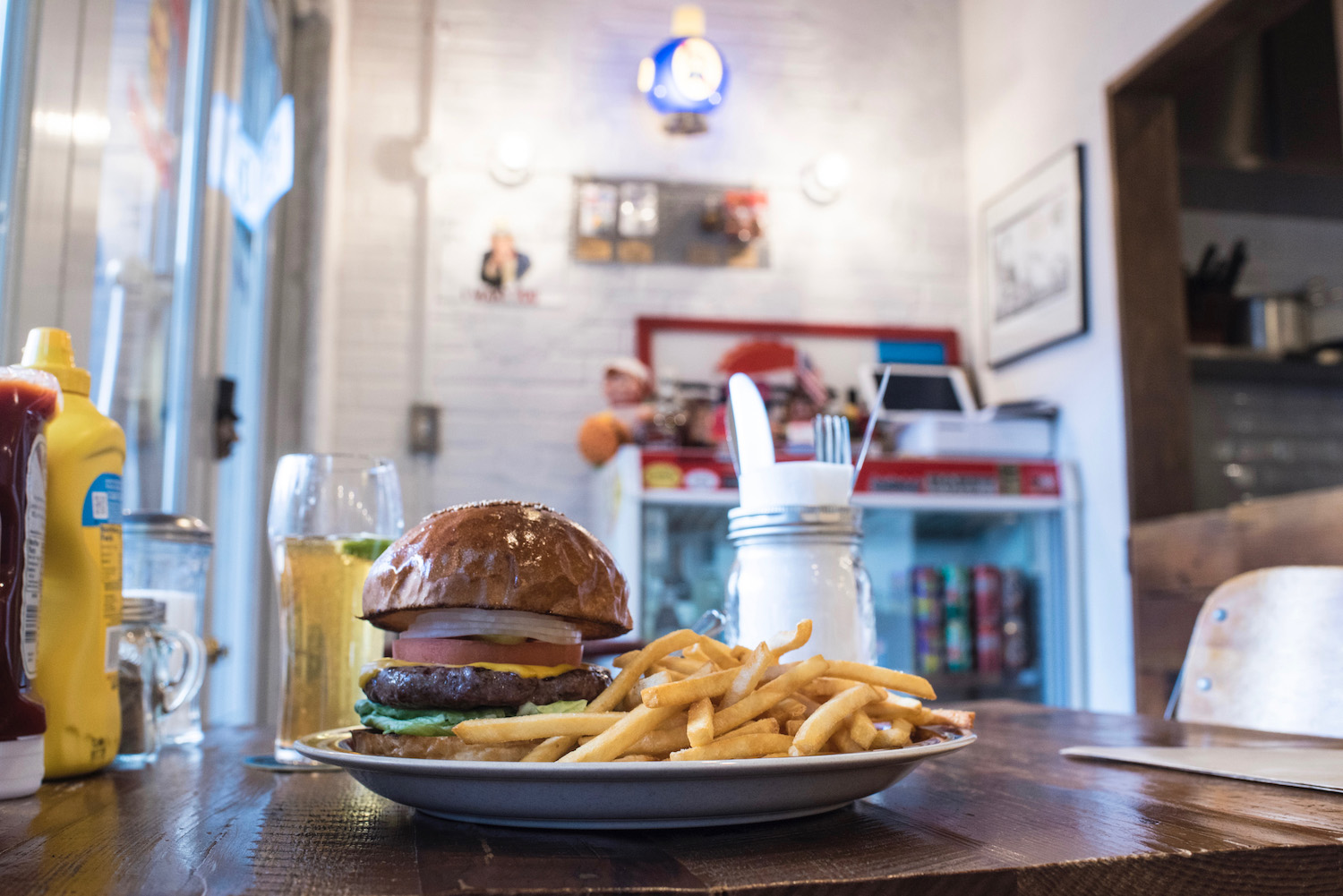 My experience of visiting Takayama in winter wasn't going to get any colder, at least not for a few hours. But it was going to get a bit more interesting.
Uncle Sam's Face
"Bikes. Booze. Broads," read the placard just inside the sliding door of Eviltex, whose bizarre logo had blocked out the fully-nude cartoon wench depicted in the ad. A middle-aged woman who spoke better English than anyone I'd ever met in Takayama sat three menus down in front of me, and a Southern voice crooned over the speaker system.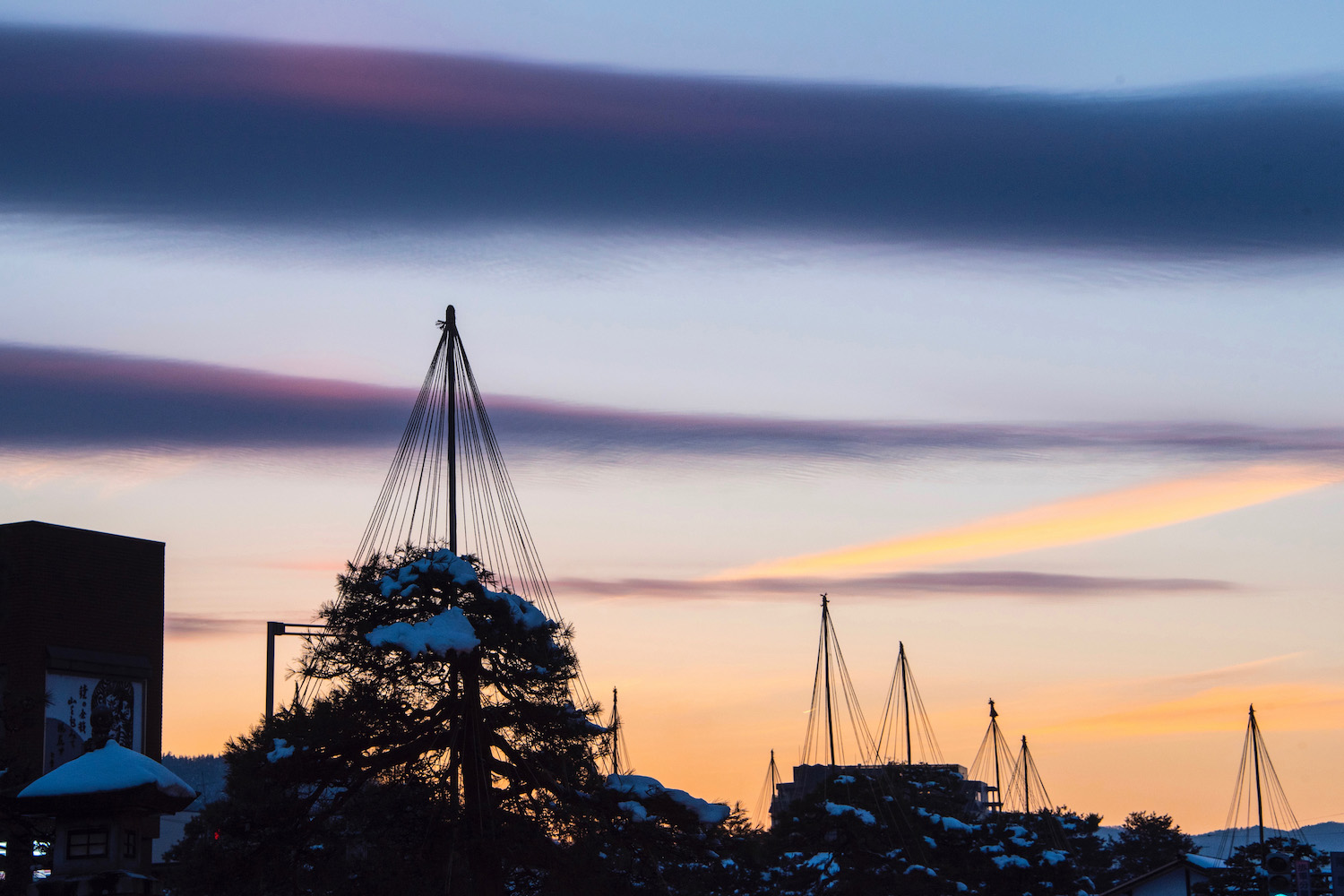 "This one is alcohol," she smiled, and scurried back behind the bar with a man who was either her husband or her son—it wasn't clear. More American kitsch than I could categorize or even identify adorned the walls, from an "I Want You" poster with random hiragana and hatakana scrawled around Uncle Sam's face, to a lit-up PBR sign that seemed stolen from somewhere in Brooklyn circa 2009.
Although the surrounding region is famous for beef, I never imagined that I'd have spent the better part of an hour eating a burger with fries, in utter apathy when it came to what to do in Takayama in winter, a country song written a decade before I was born blaring in the background.
"I never promised you a rose garden," the voice, which was neither automated nor creepy, sang defiantly as I washed a bite of meat down with a sip of Tecate (Eviltex is also famous, well as famous as any non-Japanese restaurant in Takayama can be, for Tex-Mex.)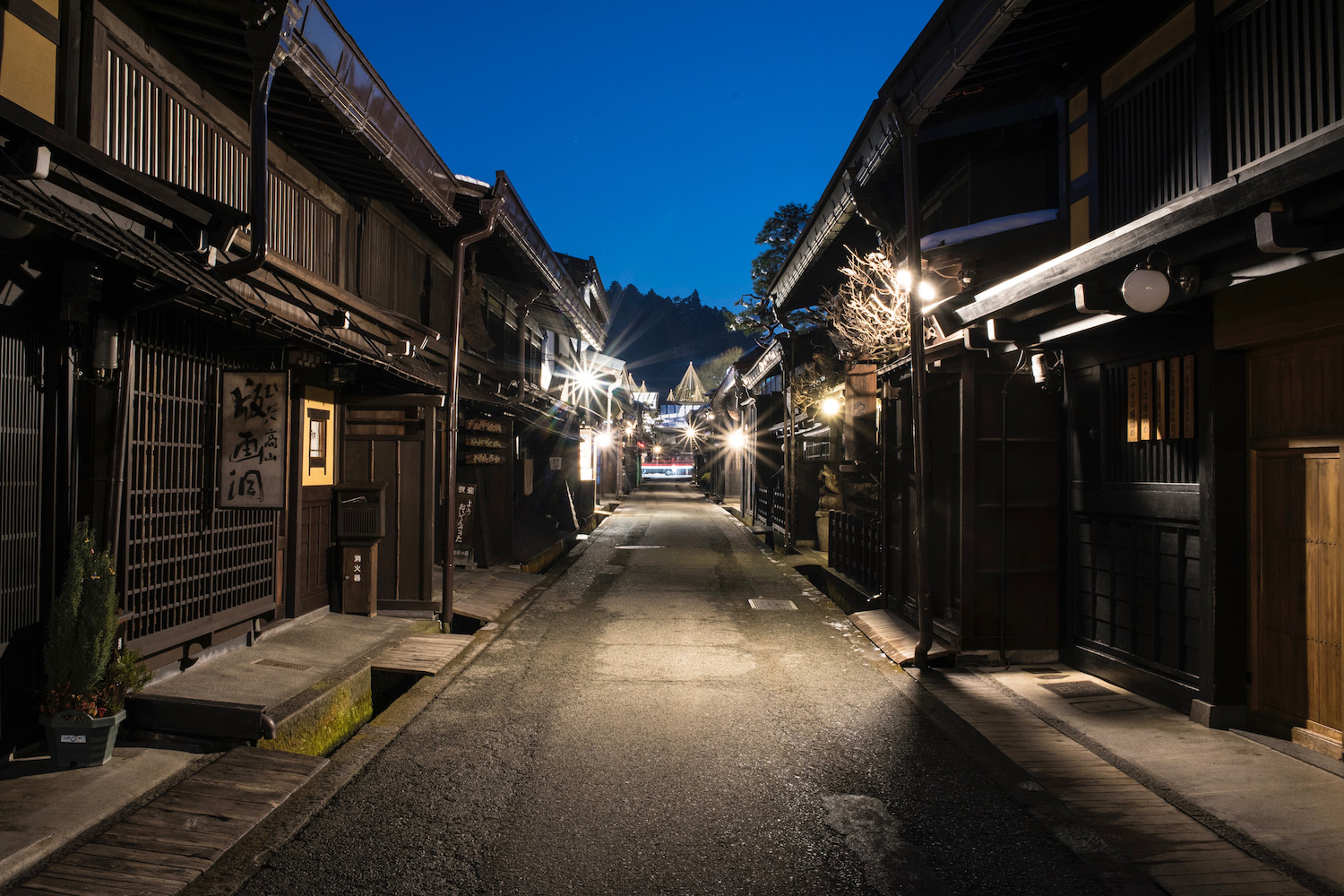 I struck up a casual conversation with the woman and her male companion on my way out the door, during which she mentioned they'd soon be headed to Albuquerque, Santa Fe and El Paso, which came as absolutely no surprise—they were as passionate about my country as I was about theirs. I pointed myself back toward the Old Quarter, wondering as I had 24 hours earlier in Matsumoto what colors (if any) the setting sun would paint in the sky.
Decidedly Colder
A handsome Indian-Australian man eyed me as he walked past me photographing the now-illuminated Nakabashi with its Takayama winter backdrop. He came back after he saw me return his gaze, becoming immediately flirtatious and flattering to the point I expect him to invite me to his (or himself to mine).
Instead he told me he hoped to see me around, then turned and walked away, seemingly oblivious to the near-certainty of us never seeing one another again. By this time, it was decidedly colder.
Other Takayama Winter FAQ
Does Takayama have snow?
Takayama gets frequent and heavy snow in winter. The earliest you can expect to see snow in Takayama is mid-to-late December, while fresh snows can take place in Takayama as early as the first week of March. In some colder years, old snow can linger on the ground even as the first cherry blossoms bloom!
What is there to do in Takayama in February?
Takayama's top activities in February are much the same as they are any time of year. These include eating your way through Migawa Morning Market, traipsing along the Higashiyama temple trail and marveling at the vermillion Naga-machi bridge.
Is Takayama worth visiting?
Takayama is definitely worth visiting, although the context of your trip matters. Rather than attempting to visit Takayama on a day trip from Tokyo or even Nagano, which will be a rushed and stressed endeavor, stay a night here en route between other destinations. Namely, a night in Takayama makes a great stop en route between Matsumoto and Shirakawa-go or Kanazawa.