I knew I had to visit Tsuru no Yu the first time I ever saw an image of the onsen, which is perched in the mountains of Akita prefecture overlooking Lake Tazawa. Although I don't remember where or precisely when I saw the photo, I never forgot the milky blue-green waters or the fluffy snow falling into them.
To my dismay, the hotel was fully booked several months ago when I began planning my Japan winter trip, and availability never did open again. Thankfully, day visits are possible, and while English-language information about how to execute one is in short supply online, the staff at my hotel in Kanazawa a few nights ago helped me iron out the details.
Ghosts of Fallen Cherry Blossoms
I knew, from my own research, that I'd need to ride the Shinkansen from Morioka to Tazawako, where I'd board a bus bound for Nyuto Onsen. But it wasn't until a native Japanese speaker was able to call the property that I learned at which stop I'd need to get off the bus (Arupa Komakusa) and that when I did, a blue microbus would whisk me (and any other day trippers) away to hot springs paradise.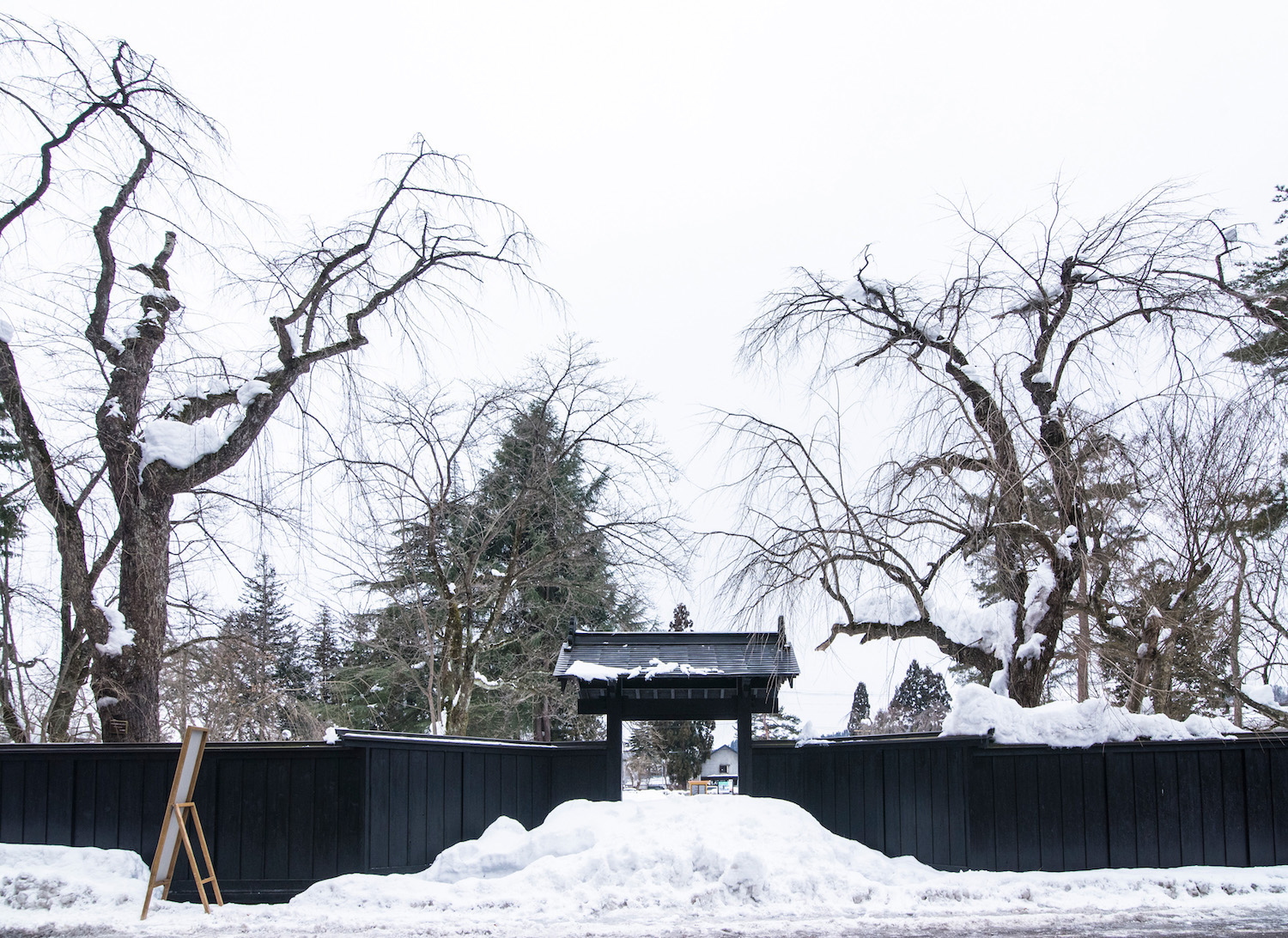 Secure with the knowledge that visiting the (maybe) best onsen in Japan was actually super-easy, I decided to spend the morning someplace extremely cold: The former Samurai town of Kakunodate. Mostly famous for the hundreds of cherry trees that bloom along its main road and riverfront every April, Kakunodate was totally deserted when I arrived, apart from two Thai tourists who asked me to take their picture in front of one of the historical homes.
"คุณเป็นคนไทยใช่ไหม?" I confirmed with them, eliciting shock, then awe and finally delight. We conversed in Thai for a few minutes, which exhausted most of what I know of the language, though they ironically spent most of the chat praising my abilities.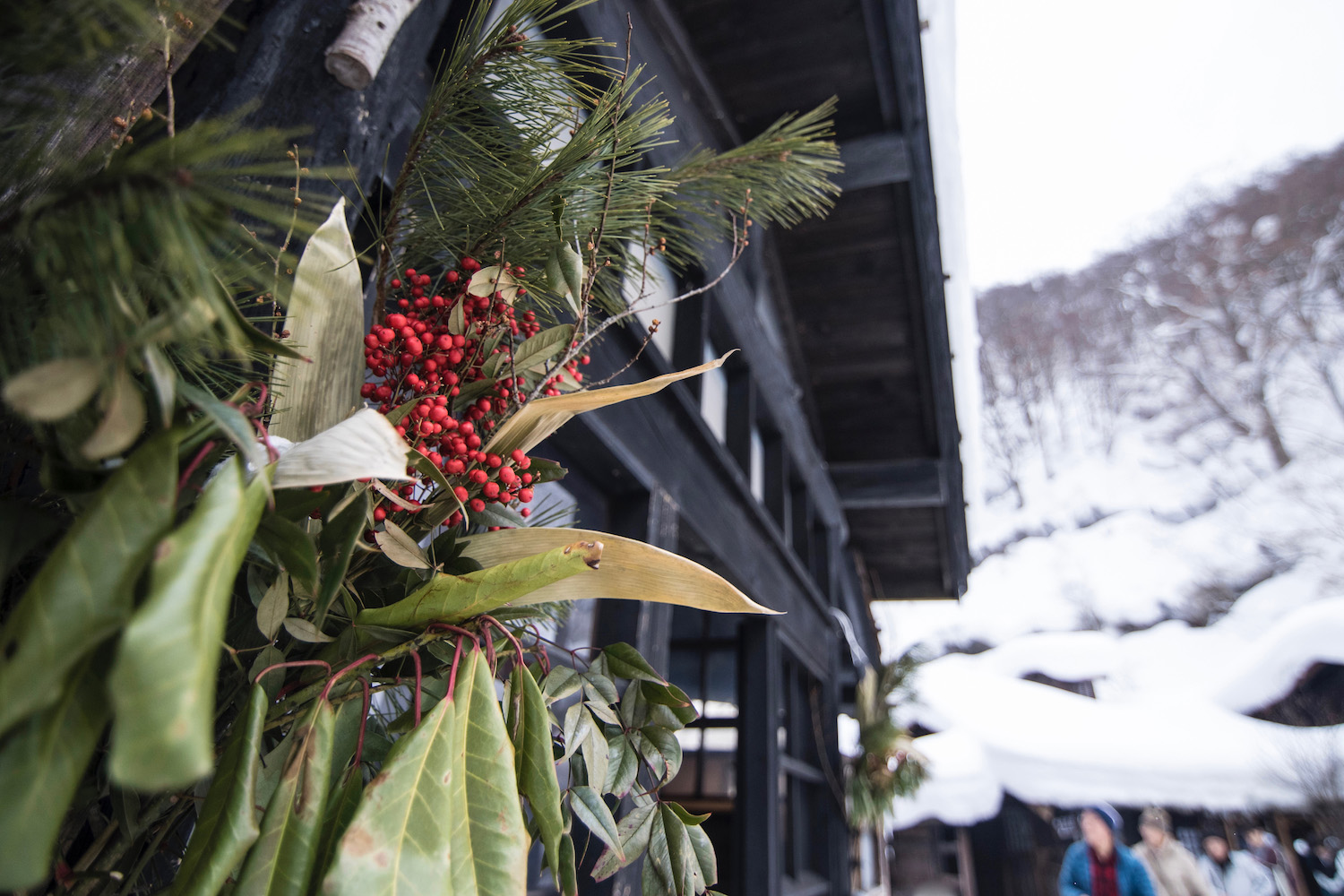 Eventually we went our separate ways, and I retreated back into my thoughts. The sky was precisely as white as the snow on the ground, the barren shidarezakura branches like skeletons, the frigid wind howling through them a message from the ghosts of fallen cherry blossoms: Now is not the time.
Bathing Area
I can't lie: I felt trepidatious as the blue microbus wound up the mountain road toward Tsuru no Yu.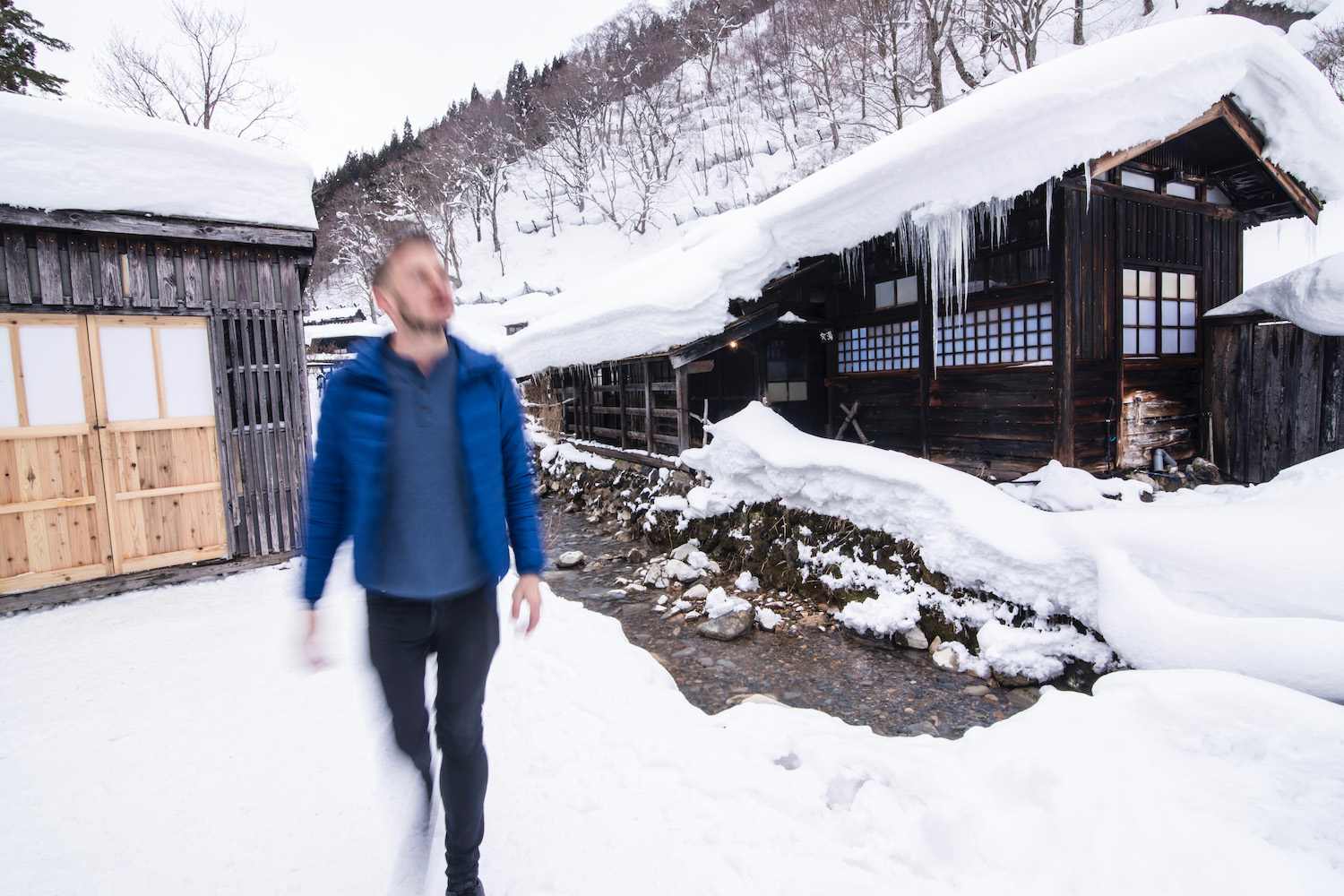 On the most basic level, I was certainly the onsen couldn't live up to the expectations I'd set for it—I've lost track of how many other amazing hot springs I've visited since I first saw that photo. The experience would underwhelm me, I was sadly sure of it, and I'd feel creatively restricted as well.
They said you can take pictures outside the bathing area, the woman in Kanazawa had cheerfully relayed, clearly oblivious to the fact that the waters of said bathing area were most of what set this onsen apart. Is that fine?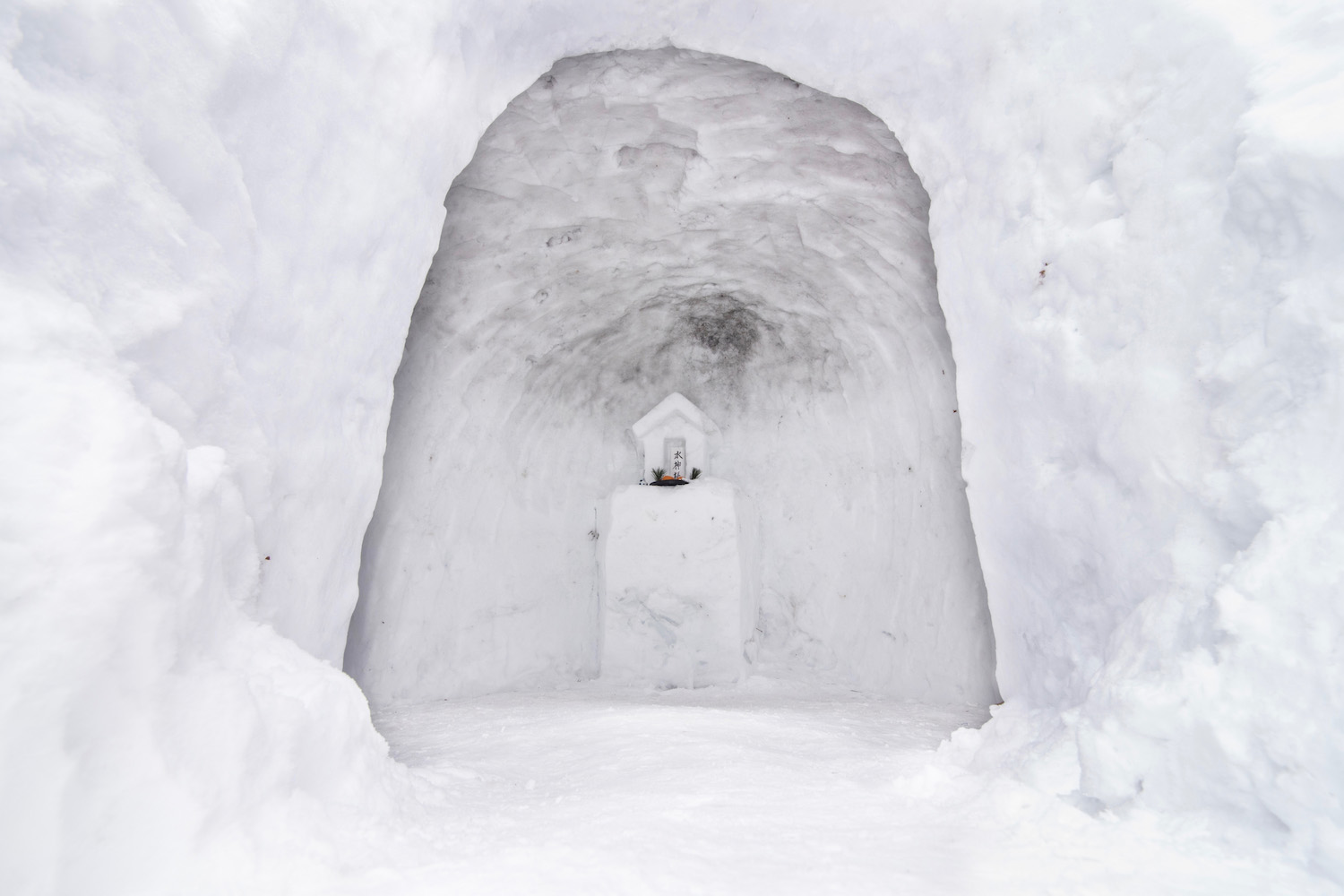 I nodded, not wanting to express anything other than gratitude given all the trouble she'd gone to. But I wondered to myself, in that moment, where I should find another property at Nyuto Onsen with a more liberal photography policy (or, better yet, overnight availability)—maybe I should've shelved the idea entirely?
Naked Men and All
In fact, I was able to discreetly snap a couple photos of the public bath, which you actually walk past (naked men and all) en route to the changing room. No one even seemed to notice my massive DSLR camera, even if my presence in the water a few minutes later (I was, as is often the case, the only gaijin) definitely turned some heads.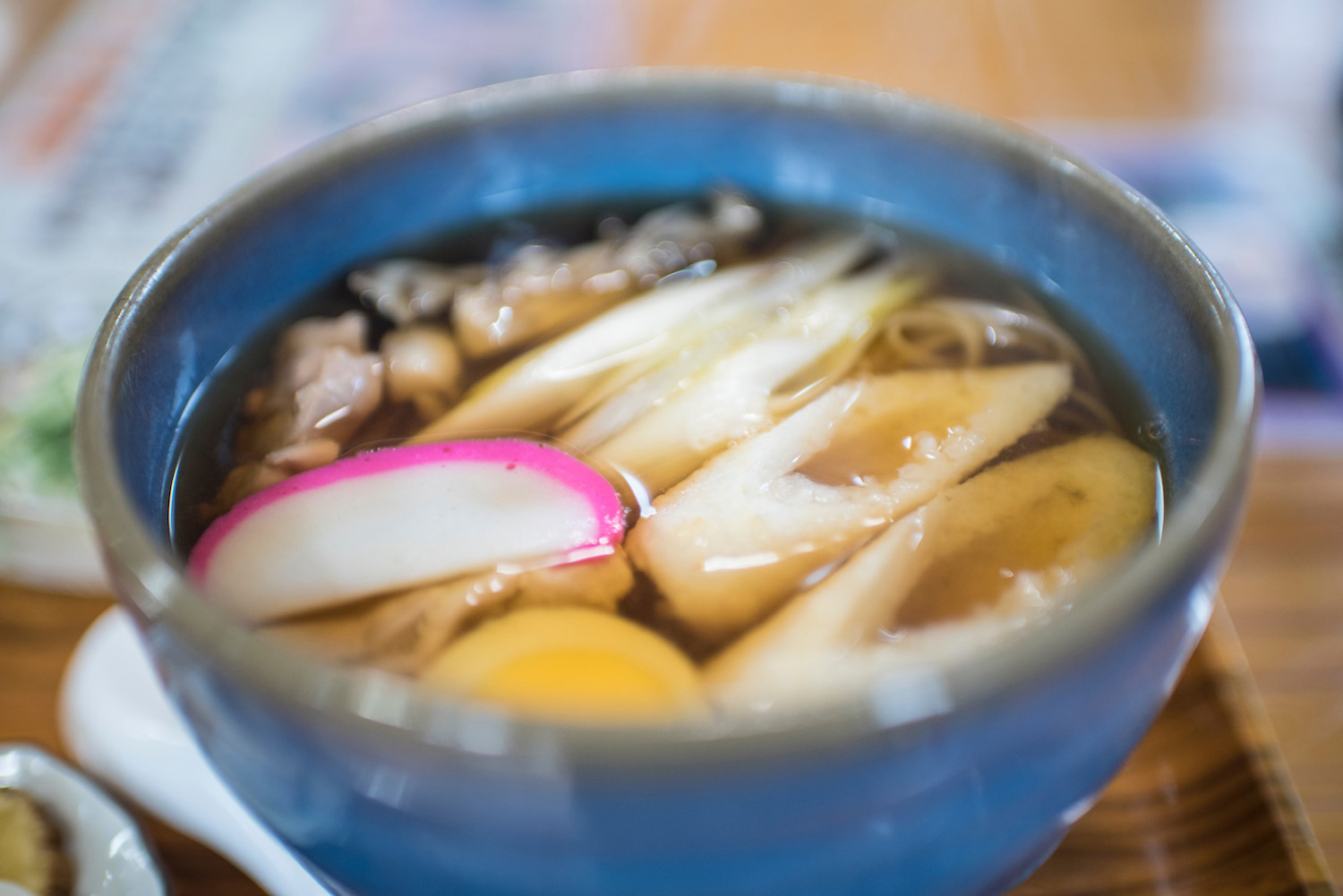 The most surprising thing, for me, was that the water wasn't all that hot. Usually, when I'm at a Japanese hot spring, the challenge of trying to cope with the extreme temperature distracts me from how awkward the experience makes me feel. (Being the only white person, not being naked around a bunch of men—please!)
That, and how small the property was, at least the publicly available portion of it. The public bath, which I assume is where the injured crane from which Tsuru no Yu takes its name allegedly regained the ability to fly, could maybe fit 20 bathers (or 100 cranes) in it comfortably. On the other hand, this could be the standard size of an Akita onsen—today was actually my first time bathing in the prefecture.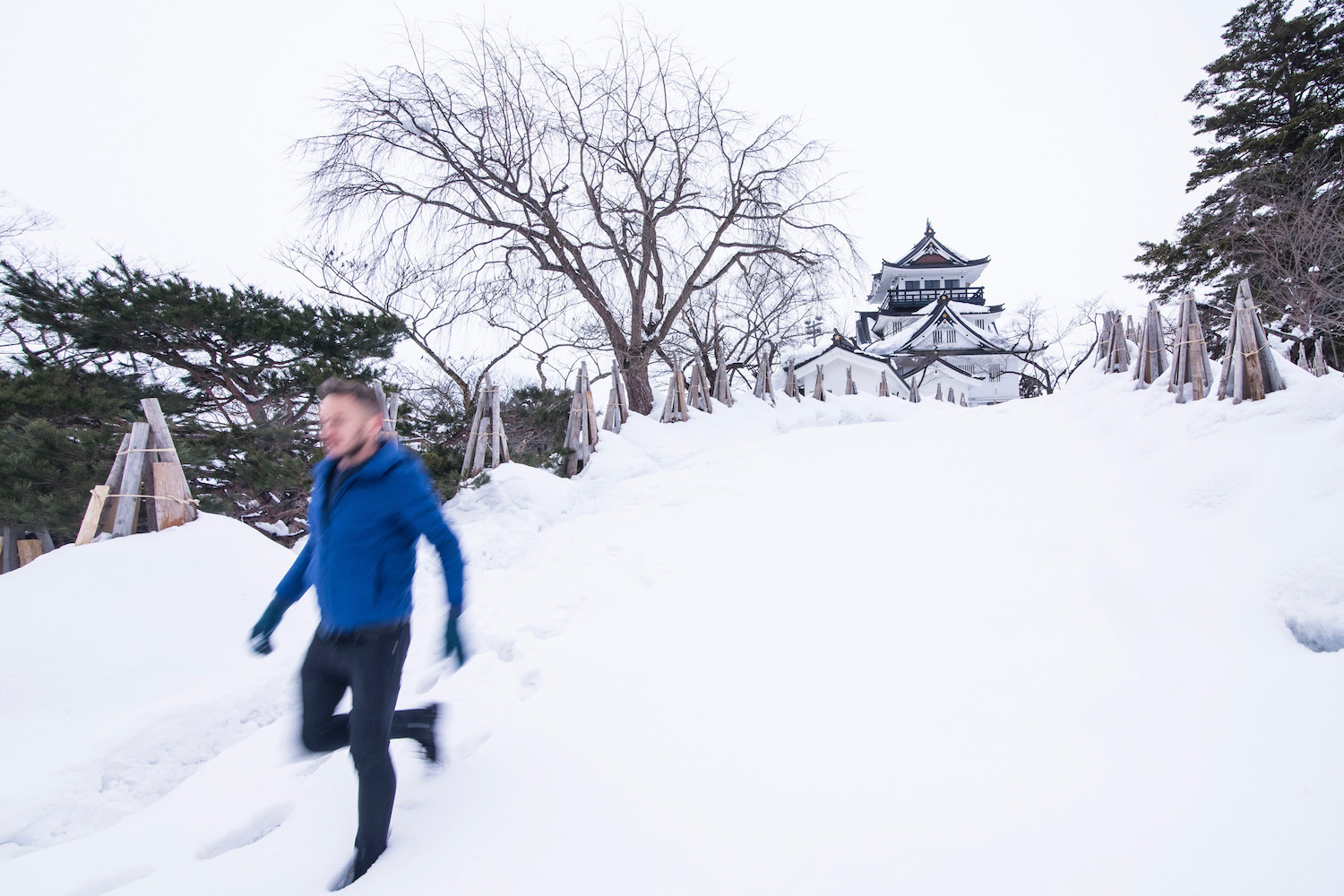 I spent about an hour after my 25-minute soak photographing the entirety of the hotel's grounds outside the public bath, from the various wooden residential buildings, to the seasonal floral arrangements hung everywhere like Christmas wreaths, to a kamakura igloo at the exit—I stepped inside it and scrutinized the shrine hewn into its icy wall.
The Bottom Line
This proved a fitting segue to Yokote, the small castle city where I intended to finish out my evening, even if the kamakura festival that takes place here every February was still a couple of weeks away. I was one of only three people at the base of the hilltop fortress as daylight waned, the other two being students.
One of them was wearing a hoodie screen-printed with the Eagles' 1995 tour dates over her heavier coat, which I can only assume was an ironic fashion choice. An orchestral karaoke version of the Carpenters' "Top of the World" was blaring from a 7/11 I passed on the way back to Yokote Station, but tried not to read too much into it: Tsuru no Yu is beautiful, but it didn't lift me into the stratosphere.
Other FAQ About Tsuru no Yu
What is the best hot spring in Japan?
In terms of individual hot spring areas, my personal favorite is probably Takaragawa Onsen, in Minimaki, Gunma prefecture. Tsuru no yu in Akita is very pretty, although it's difficult to get a reservation and it can get very crowded if you come on a day trip. Popular hot springs destinations also include Kanagawa's Hakone city and Beppu, which is along the coast of Oita prefecture in Kyushu island.
Which city in Japan has the most onsen?
Numerically, this is a difficult question to answer. However, if you're looking for an excellent onsen experience with a wide variety of accommodation and ambiance options, Kyushu's Beppu and Hakone (which is located within day-trip distance of Tokyo) are great options to avail.
What is a Japanese onsen like?
Japanese onsen, first and foremost, are very hot—the temperature can be between 45-50ºC, which is shockingly hot if you're not used to it. On the other hand (and I say this as a man—it might be different for women), I don't find the nudity element to be very unnerving after your first time in an onsen. No one at the onsen cares that you're naked; as you long as you reciprocate this indifference, you'll be fine.