I got my first glimpse of this year's Kyoto cherry blossoms while still onboard the train from Osaka—and I liked what I saw very much.
Not that I was trying to get carried away. Having arrived when the most harsh afternoon light was shining on Japan's erstwhile capital, I'd planned to have a relaxing lush of rare beef tonkatsu near the station before heading to my ryokan in Higashiyama. As I approached the restaurant, I brushed past the hordes of people waiting for the Raku Bus, and told the hostess I needed a table for one.
"You need to wait in the queue," she pointed back at the crowd, which was in fact a few meters behind the bus stop.
Southward Through the Chaos
I'd booked a stay at Ryokan Uemura out of curiosity more than anything. Shared bathroom notwithstanding, it had been remarkable to find a guest house in the heart of Higashiyama, during the middle of cherry blossom season, for under ¥10,000 per night.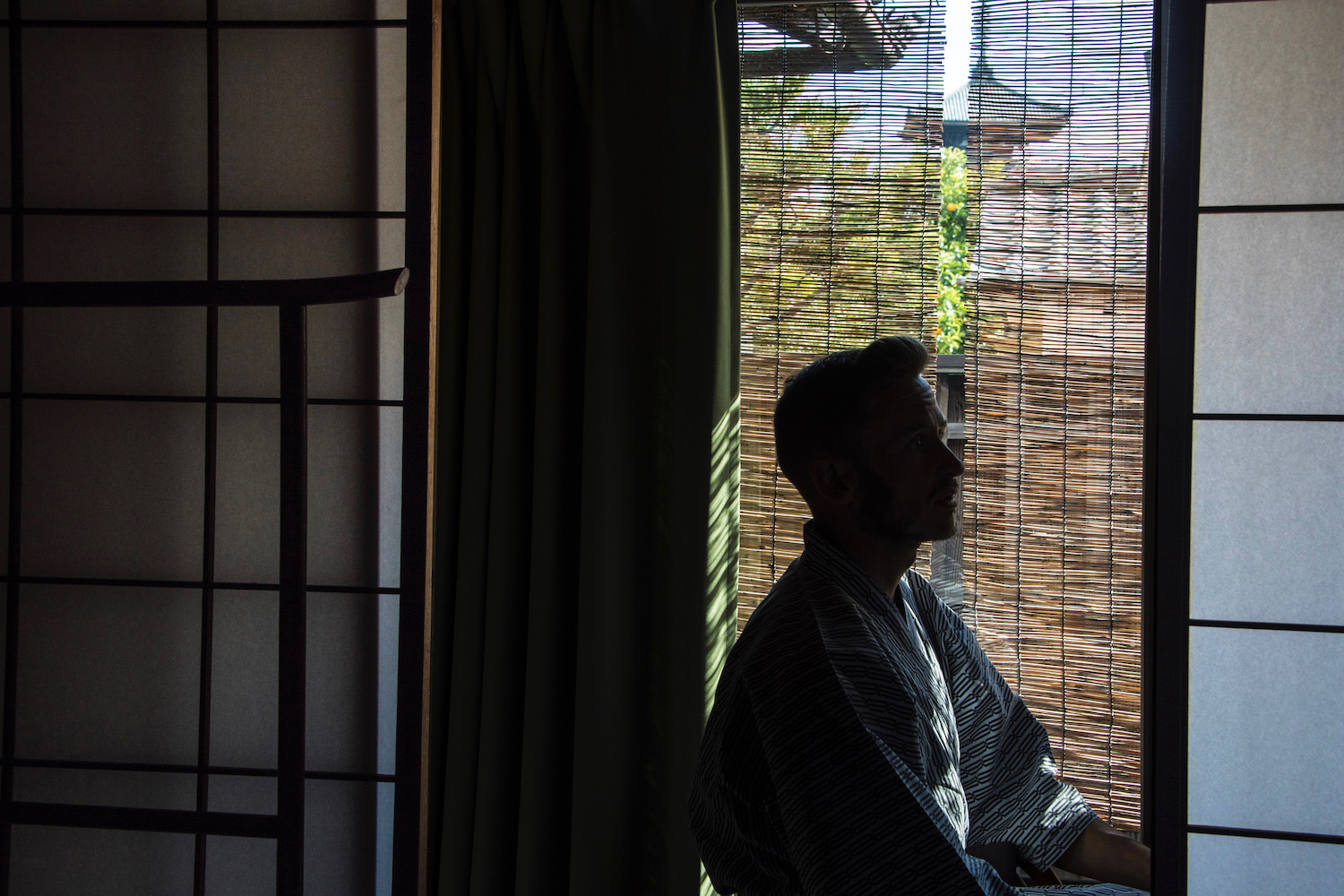 And I do mean right in the heart. "I've been here 65 years," Hikedo said, handing me a fresh-brewed cup of matcha and a slice of cake she'd made herself at the sitting area in my room, which looked out onto Yasaka Pagoda. "But my husband's mother, grandmother and great-grandmother all lived in this house."
Were I not so eager to get some Kyoto cherry blossom photos, I'd have stay and talked to Hideko until she got sick of speaking English. The light was getting good, however—and I didn't have nearly as long in Kyoto this time as I did back in autumn.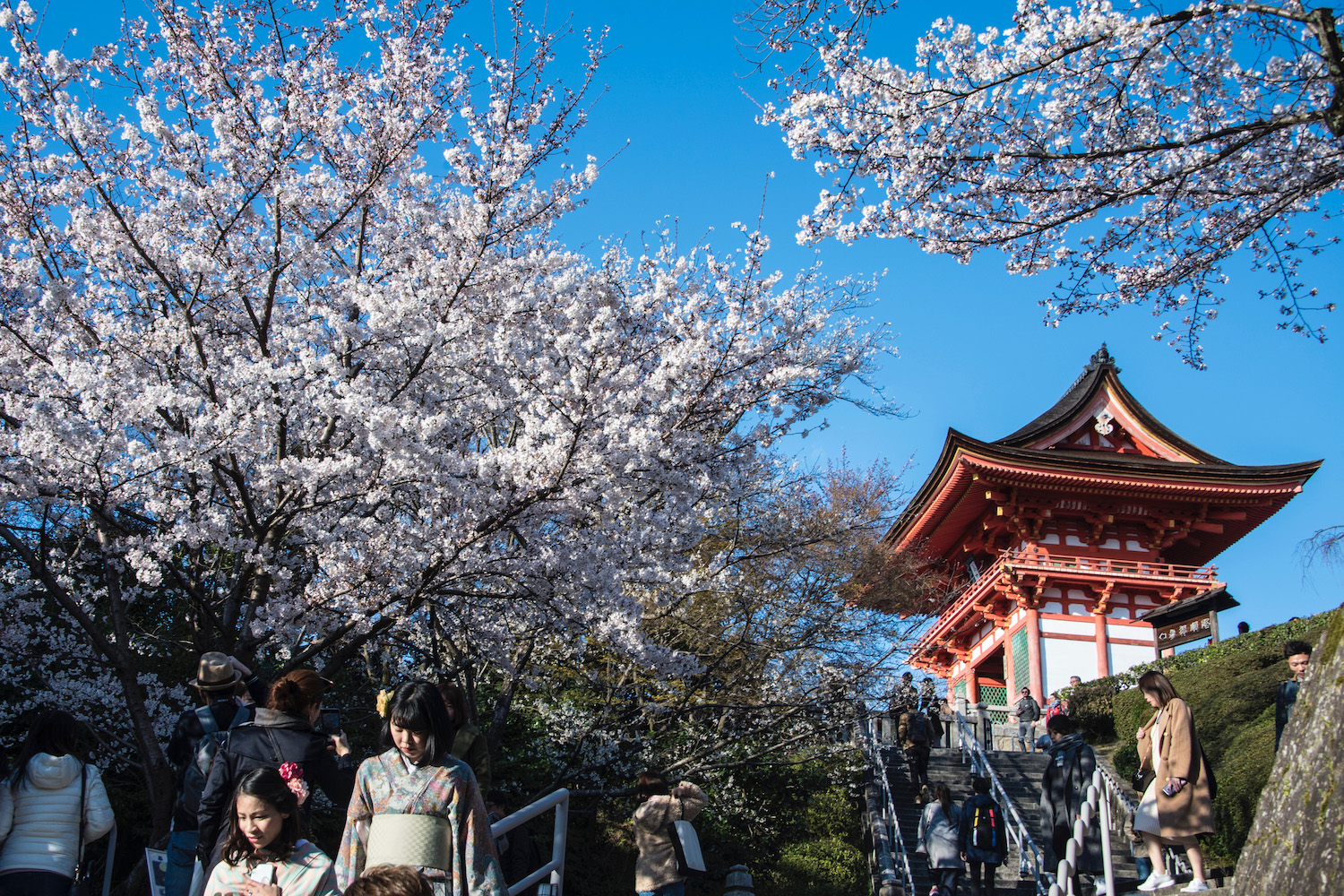 After walking northward to Maruyama Park to assess the condition of its shidaerazakua (bloom: full; crowds: pandemonium), I headed back south through the chaos, snapping random shots of rickshaws and Chinese girls in kimono on my way up to Kiyomizu-dera. I was surprised how far most of its trees were from mankai, given how the bloom was progressing in most of the rest of the city.
Ohanami Edition
Not wanting to wait at Kiyomizu-dera until sunset—the main hall was still under renovation, the meager blooms of its trees nowithstanding—I headed back down the hill to Higashioji Dori and into Smile Burger, whose cashier (who was also its cook and owner, apparently) seemed perplexed by my condiment requests.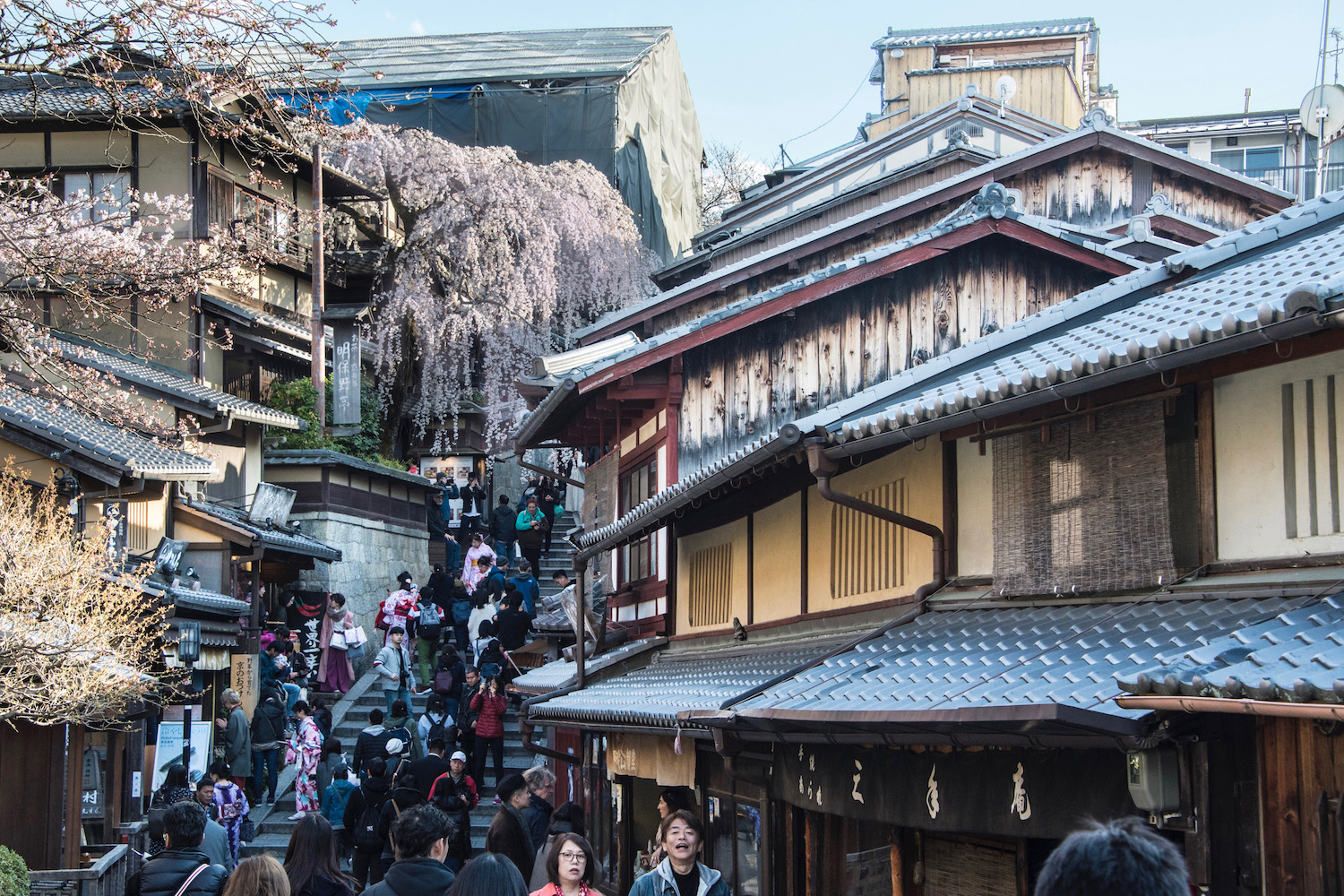 "So only ketchup," he confirmed without judgment but with clear curiosity, referring to the liquid toppings on the burger. I nodded and then, after ordering a highball to wash my meal down, sat down to begin shuffling through my Kyoto sakura photos.
The patty was only moderately tasty, but the highball was strong enough that I lacked discernment by the time I finished it. This—my conspicuous buzz—is also why I ended up biting the bullet, dropping ¥700 for a small glass of ohanami-edition Moët from a devilishly handsome vendor on the south side of Maruyama's weeping cherry.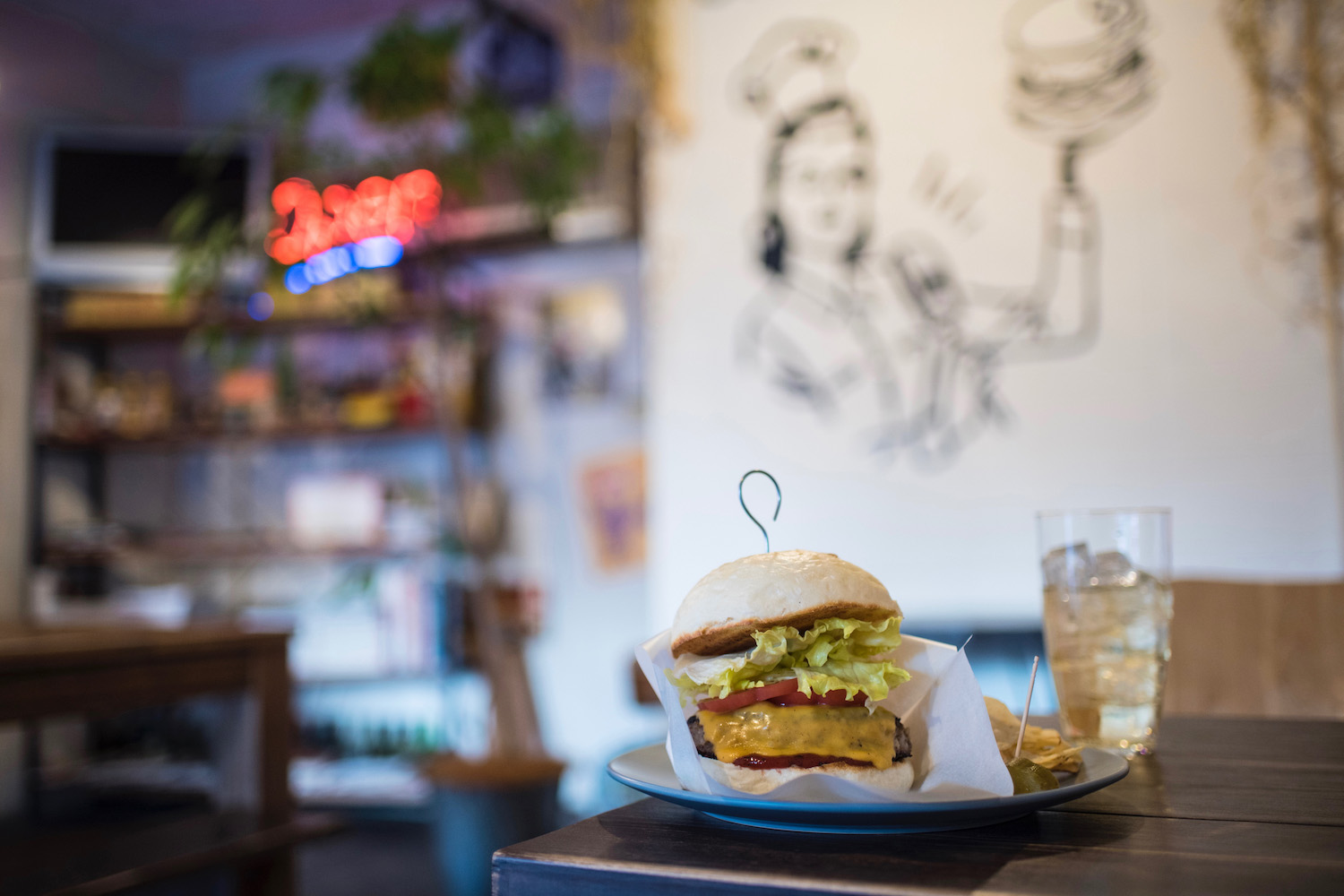 "Kanpai," he said, holding the glass up to the tree right as it was illuminating, although it didn't seem he would be joining me for a drink. I considered purchasing some karaage or takoyaki to accompany my champagne, but ultimately decided against it.
Paradise on Earth
A similar dilemma faced me before dawn this morning—to run or not to run? I go to exhaustive lengths to maintain my exercise routine when traveling, but thought for a moment I might buck tradition to enjoy longer amid the Kyoto cherry blossoms, while most other tourists were still hours from waking up.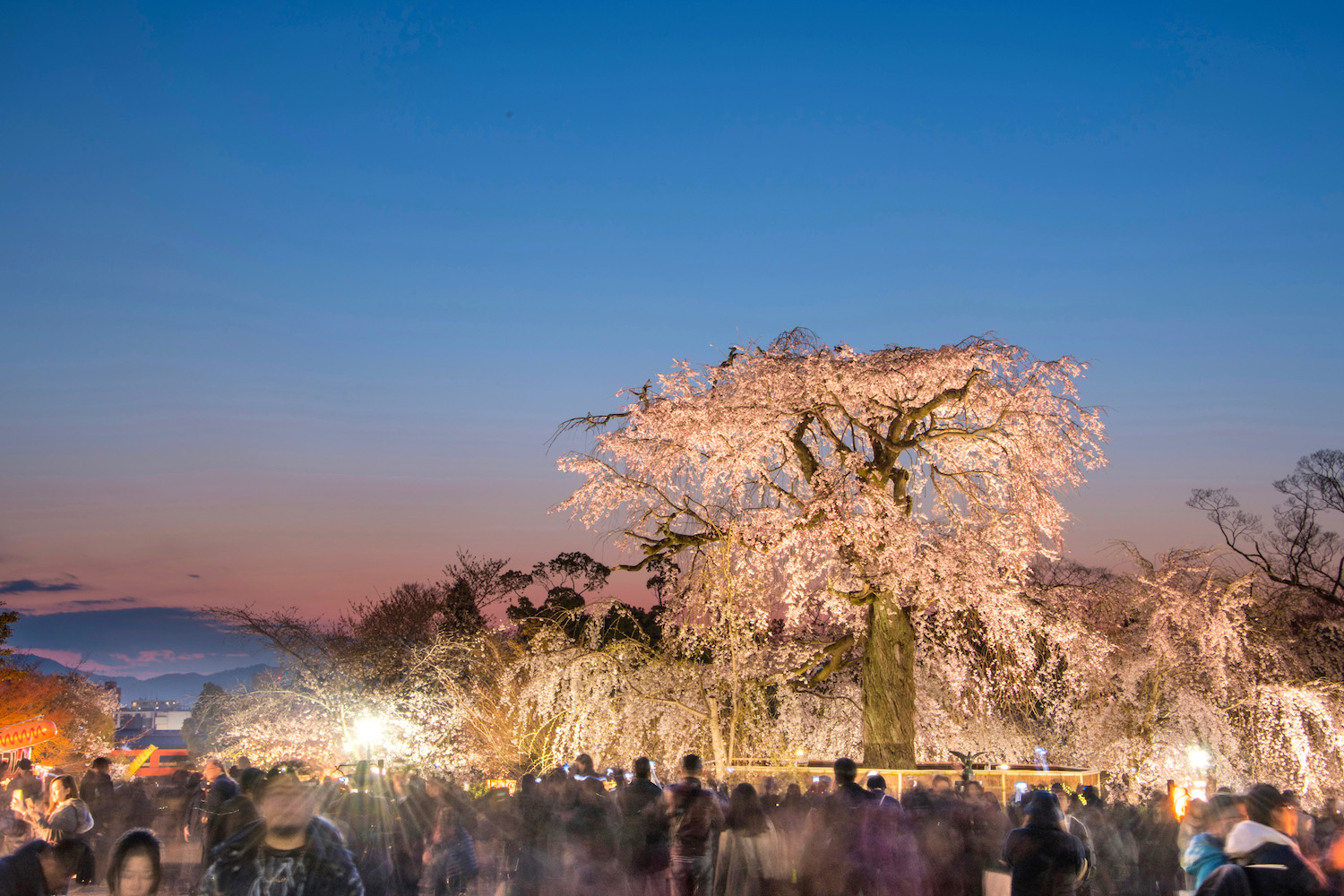 Fitness won out in the end—my desire not to wake Hideko with my stirring was less successful. "Be careful," she said, in a way that suggested a general desire for well-being rather than a particular warning, not unlike my own mother is prone to doing when we end one of our phone conversations.
My 7 km complete, I began roaming amid the sakura began right as the sun rising. I was literally the only person photographing the shiderazakura, a curiosity that piqued the interest of the roving Japanese TV crew (their presence was quite curious to me), who pretended to interview me—I doubt the footage will ever be used.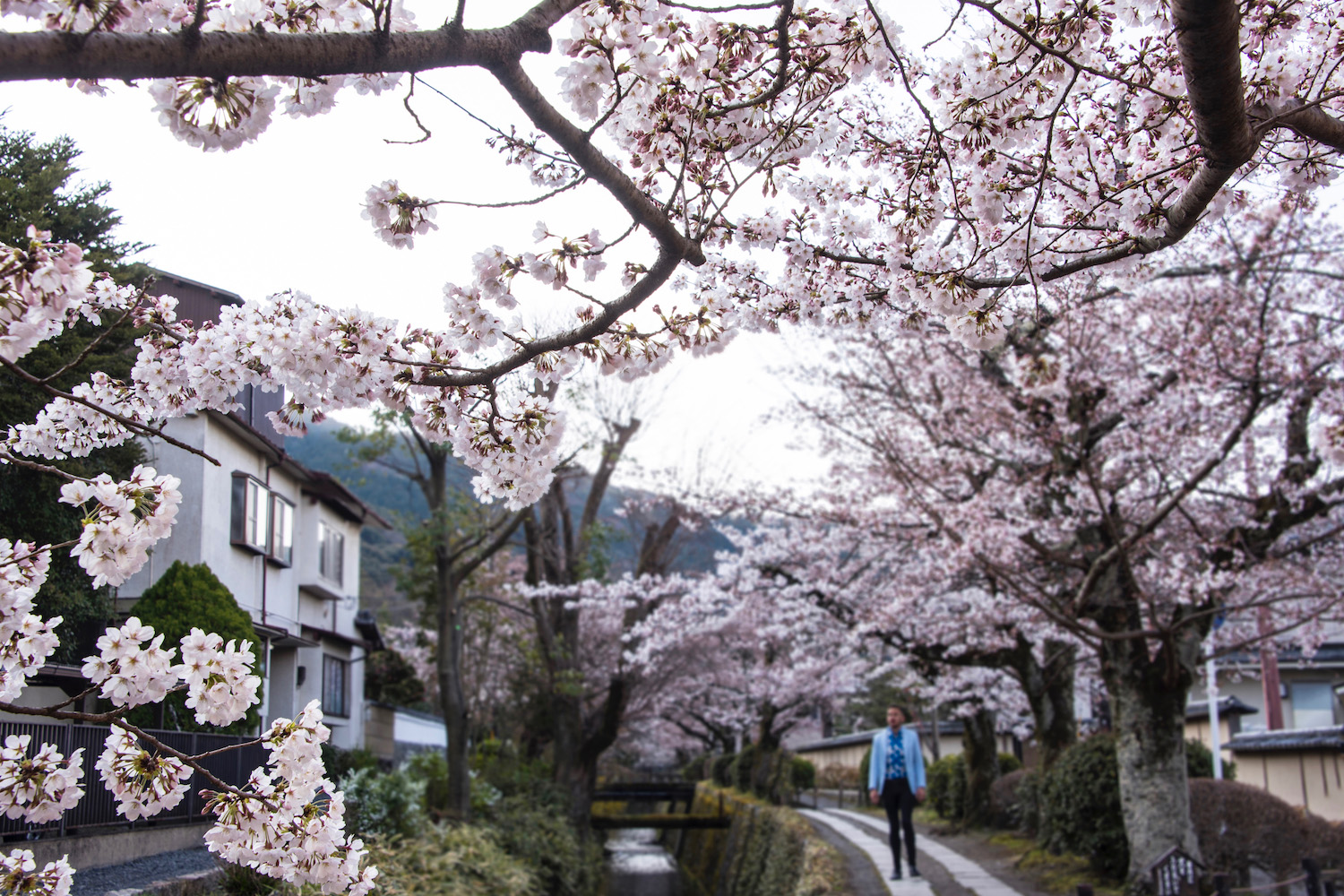 "Seeing cherry blossoms in Kyoto is like paradise on Earth," I beamed anyway, as if a million people were going to hear it—and without wanting to elaborate on the purgatory it can sometimes be—then got back to the business of snapping selfies. The host bid me farewell, first in English then in Japanese, and I made my way in the general direction of the Philosopher's Path.
Fears of Frostbite
Generally speaking, I prefer Tokyo's Meguro River to the Philospher's Path, whose notoriety—it's probably the #1 sakura spot in Kyoto—I've never quite understood. (Though I must say it's much prettier during cherry blossom season than it was in autumn, especially because this morning seemed to be peak bloom for these particular trees.)
My mind was all over the place as I walked along the canal—this was by design. I'd forgotten to wear gloves, and since it was only a couple of degrees above freezing, I needed to distract myself from my fears of frostbite.
I returned to my ryokan with all 10 fingers intact, feeling totally satisfied with my time under the Kyoto cherry blossoms. Hideko told me she hoped we'd meet again as I left, and though I'm sure this was more due to politeness than any aspect of my personality, I sincerely felt the same.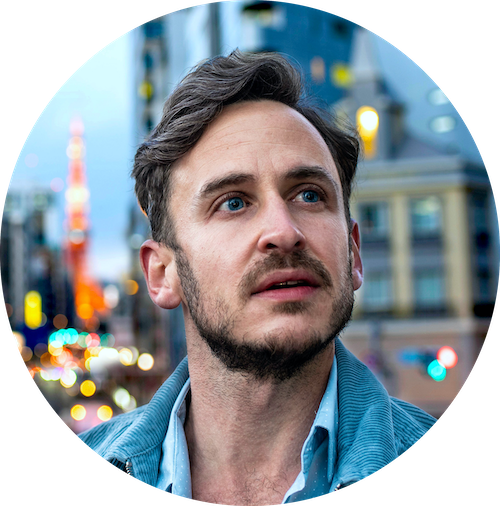 Japan Starts Here is information—and inspiration—for all your trips to Japan. My name is Robert and I'm happy you're here!