The sky was overcast this morning as I prepared to travel to Takachiho Gorge. It was only the second day (out of 10 in Kyushu, so far) without perfect weather, and the first that actually felt like November.
Patches of blue began slowly peaking through as I drove northward on the Higashi Kyushu Expressway. I mostly avoided Japan's famously slow drivers en route, easily overtaking the plebs going through speed limit (which was 70) along the few stretches of highway where it was possible.
Not that it mattered. I imagined that the depth and heavy forestation of the gorge (which is actually located closer to Kumamoto than to Miyazaki City) would render the light (or lack thereof) coming from the sky superfluous.
Sushi or Sashimi
I was right, though I didn't have much time to enjoy my self-satisfaction. From one side of the main observation deck, no less than five busloads of group tourists (and their flag-waving guides) approached; from the other, yellow-capped school children armed with clipboards had me in their sights.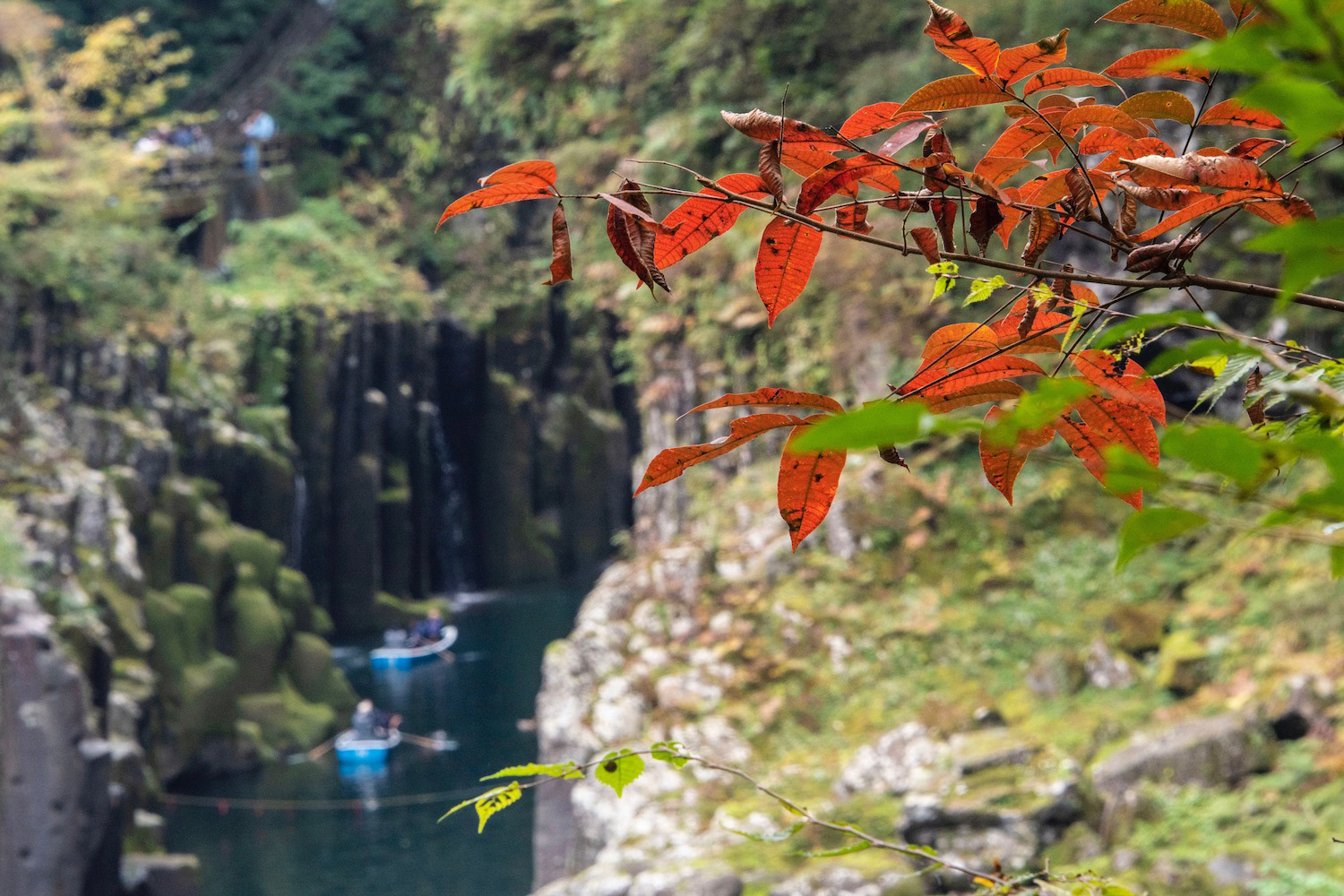 I picked the latter poison. "My name is (unintelligible) from (unintelligible) Elementary School," the boy, who must've been 8 or 9, read nervously off his script. "Would you mind if I asked you some questions?"
Would it matter? I indulged my cynicism internally, while outwardly feigning the toothiest smile I could. Takachiho Gorge is wonderful, I answered their question with a single adjective, and surprised them by saying my favorite Japanese food was tonkatsu—most foreigners, according to a girl who seemed much more capable than the boy tasked with questioning me, say "sushi" or "sashimi."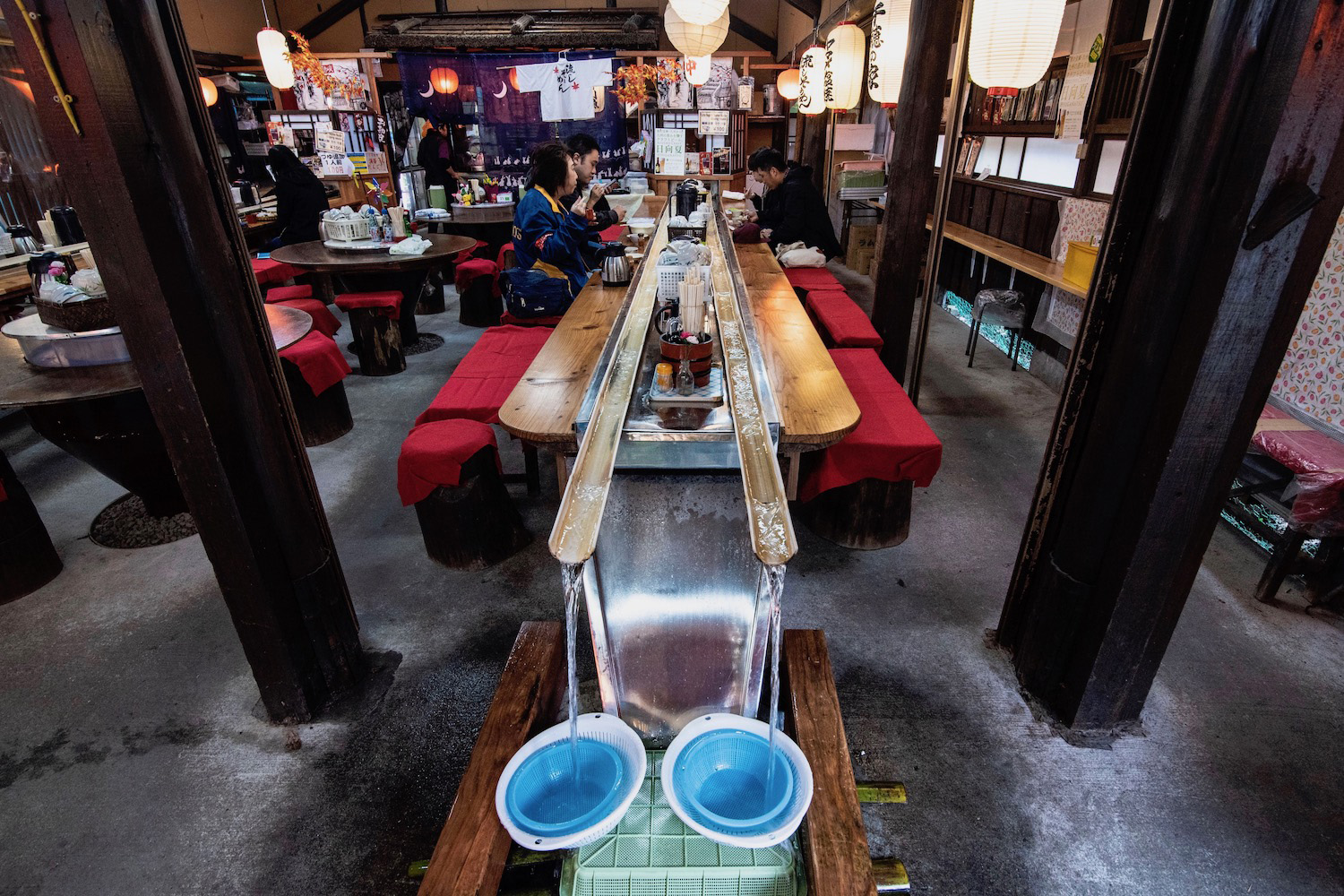 Certainly, I was hungry by this point. And conveniently for me, the "flowing noodle" restaurant where I'd planned to lunch was literally a minute away by foot.
Shrine'd Out
The better news, when it came to filling my stomach this is, was that this particular restaurant opened at 10 (the time on my phone read 10:36 when I noticed), which is almost unheard of in Japan. Never mind the fact that the gimmick of nagashi somen is every bit as tiresome in practice as I feared it would be.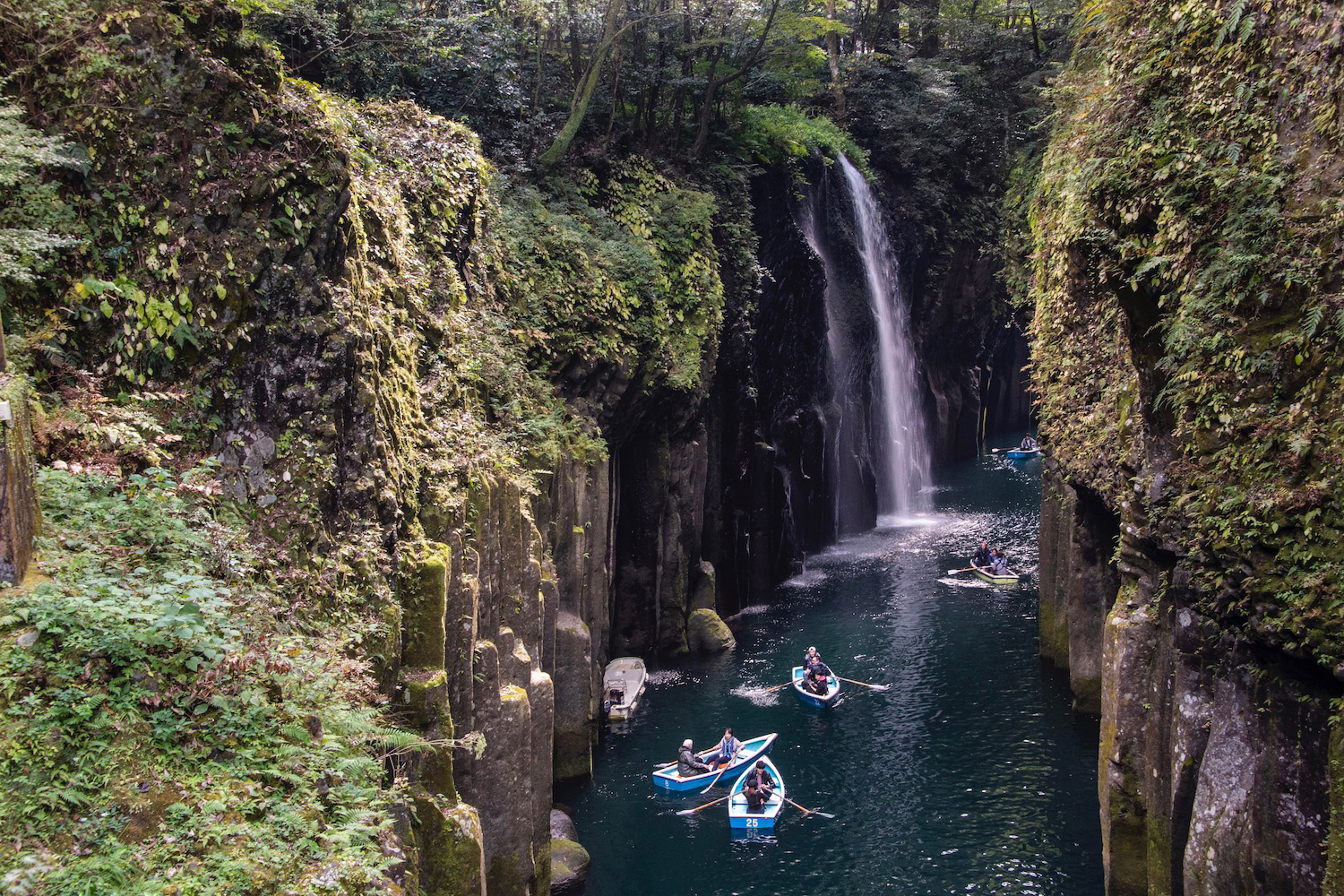 "You have to grab it with your chopsticks," a Singaporean woman who'd photobombed one of my shots at Takachiho Gorge shouted as I did just that, causing me to miss the majority of them on account of the distraction. (The lady whom I presumed owned the restaurant was kind enough to fetch them from the collection bowl at the end of the bamboo spout, and place them next to the grilled fish platter I'd ordered, which inexplicably cost ¥1,700.)
After finishing my misguided (but unmissable) lunch order as quickly as possibly, I indulged in a Matcha-dusted Cremia, then got back in my car and pointed the GPS to Takachiho Shrine, which was just five minutes away. I was more impressed by the site than I had expected to be, both by the massive cedars that dominated the southern expanse of its grounds and the buildings themselves.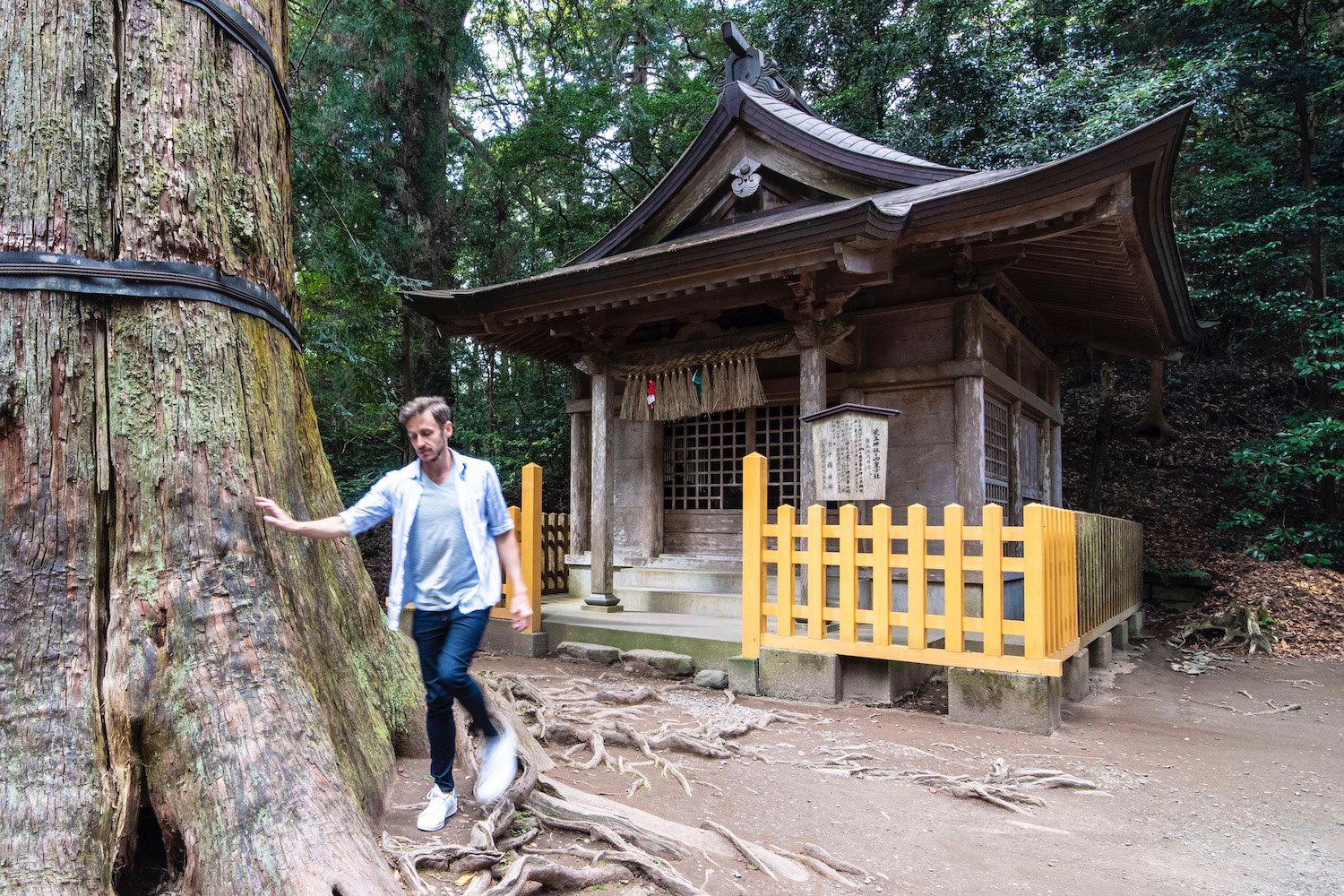 I feared, on the other hand, that I would be shrine'd out by the time I reached Amano Iwato Shrine, about 20 minutes farther from the gorge than Takachiho Jinja. Nothing could've been further from the truth.
My Own Tastes
The site where the shrine is built was at least as pleasing to my own tastes as Takachiho Gorge itself had been, even if it was objectively far less dramatic.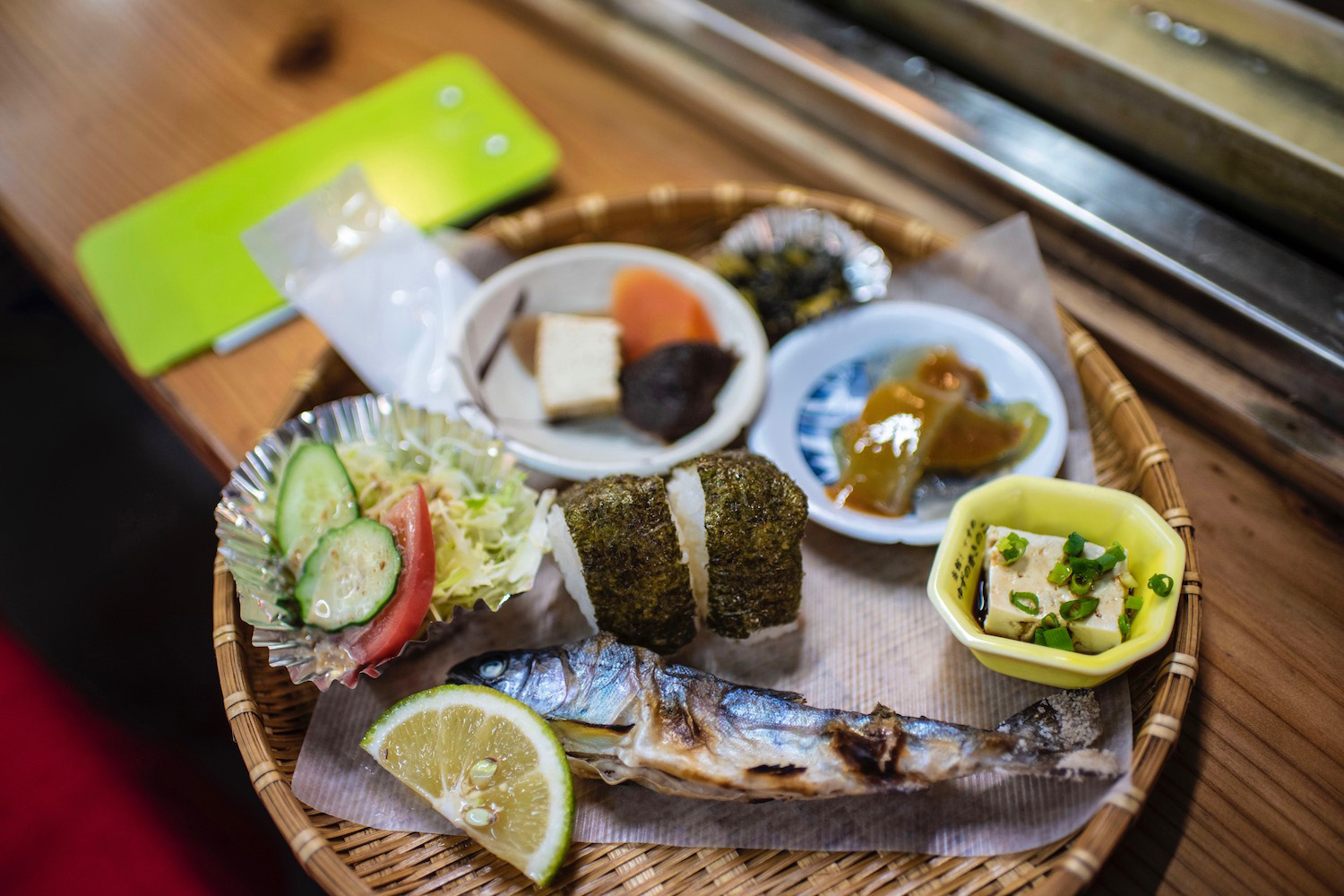 Located at the end of a path about 20 minutes by foot from the nearest parking lot, the site consisted of a stone torii, a spartan honden and at least 1,000 stone stupas (you know, the ones dude bros and yoga babes make at every mountaintop, cliff face and riverside in the American West) within a large cave opening. A moderately fast river flowed just in front of it
It did seem strange, given how far I'd driven to reach this part of Miyazaki prefecture and the relatively long list of things I'd done, that it was just shy of 1 PM by the time I made my way back to the car. I briefly considered stopping for a drink or snack at a cafe that jutted out over a ravine, but decided against it on account of how many other patrons were there.
(Call me a snob, but after having endured the relatively crowded environs of Takachiho Gorge, I really just wanted to sip an iced coffee in peace. Is that so much to ask?)
Rivers Changing Course
Yesterday, I wrote (and thought) a lot about power—acquiring it in the first place, as Emperor Jimmu had done 2,600 or so years ago, and as I had done more recently and to a much less dramatic degree. Today, as I reflected on my time at a place that met my expectations so exactly my mind remained calm the entire while, my focus shifted slightly: How does one regain power, or reset a power dynamic?
This particular landscape—the interior of Miyazaki prefecture, that is—seemed to hold a possible answer, even if I haven't studied the geology fully enough (at all really) to specifically qualify the parallels I'm about to draw. In general, however, it does seem that something seismic needs to take place.
In the case of Takachiho Gorge, I would imagine this took the form of more than a few earthquakes, which resulted in canyons forming where solid ground had once been, rivers changing course and perhaps, in a roundabout way, the birth of the cedars that now tower over the town shrine. I wondered what sorts of tremors lurked within me, and how the modern Earth might soon move under my feet.
Other FAQ About Takachiho Gorge
Is Takachiho Gorge worth visiting?
Takachiho Gorge is beautiful, and not just because of the "money shot" area of the gorge itself. This rural part of southern Kyushu island is also home to forest shrines and tranquil rivers, to say nothing how far the cities of Miyazaki and Kumamoto seem when you're on your way there.
Why is Takachiho Gorge important?
According to some, Takachiho Gorge embodies the very origin of Japan, although I don't know the country's mythological history well enough to verify that. The story goes that the deity Amaterasu decided to hide in a cave near the gorge to escape an attacker, thereby darkening the entire world for a period.
Can you swim in Takachiho Gorge?
The bad news? You can't swim in Takachiho Gorge. The good news? You can enjoy the water, whether from above at one of the many observation decks, or at canyon level onboard one of the canoes that you can rent when you arrive within the main park area.