Back in 2018, a reader of mine inquired whether a trip to Fushimi Inari Shrine at night was possible, as part of a trip to Japan I was planning for him. I didn't think a lot about this request, if I'm honest. Once I verified that one could indeed visit the shrine at night, I included instruction about how to reach it and what to do there, and was done with it.
However, during a trip to Kyoto later that autumn, my curiosity got the better of me. I hope you'll continue reading to learn my thoughts about seeing Kyoto's most popular shrine at a decidedly unpopular time of day!
I'll also be describing some other things to do in Kyoto at night—and you won't want to miss those either.
How to Get to Fushimi Inari Shrine
Irrespective of when you visit, you can get from Kyoto Station to Fushimi Inari by riding a local JR Nara Line train to Inari Station. It's important to take a local train, as express services zoom past Inari, meaning you'll need to get off at the next stop and head all the way back, delaying your gratification of seeing Fushimi Inari Shrine at night even farther. You can also access the shrine from Fushimi Inari Station of the Keihan Main Line, which is privately operated and thus not covered by the Japan Rail Pass.
Fushimi Inari at Night FAQs
Is Night Photography at Fushimi Inari Shrine a Good Idea?
Having just finished a unique sake experience a bit further south in Fushimi City, I made my way to Inari Station (where the find the red gates Japan is known for all over the world) and toward the shrine, the full moon shining over me. Even before I began walking under its mesmerizing and seemingly countless torii, my Fushimi Inari Taisha night experience was wholly different than it had been during the day.
Thankfully, there's no tripod ban in place (as there is at many other places in the city), in spite of the fact that Fushimi Inari is the most famous shrine in Kyoto. As a result, the focus of my hour or so here was Japan photography, which saw my Fushimi Inari evening photos take on an entirely different aesthetic from the images I'd captured during previous daytime visits.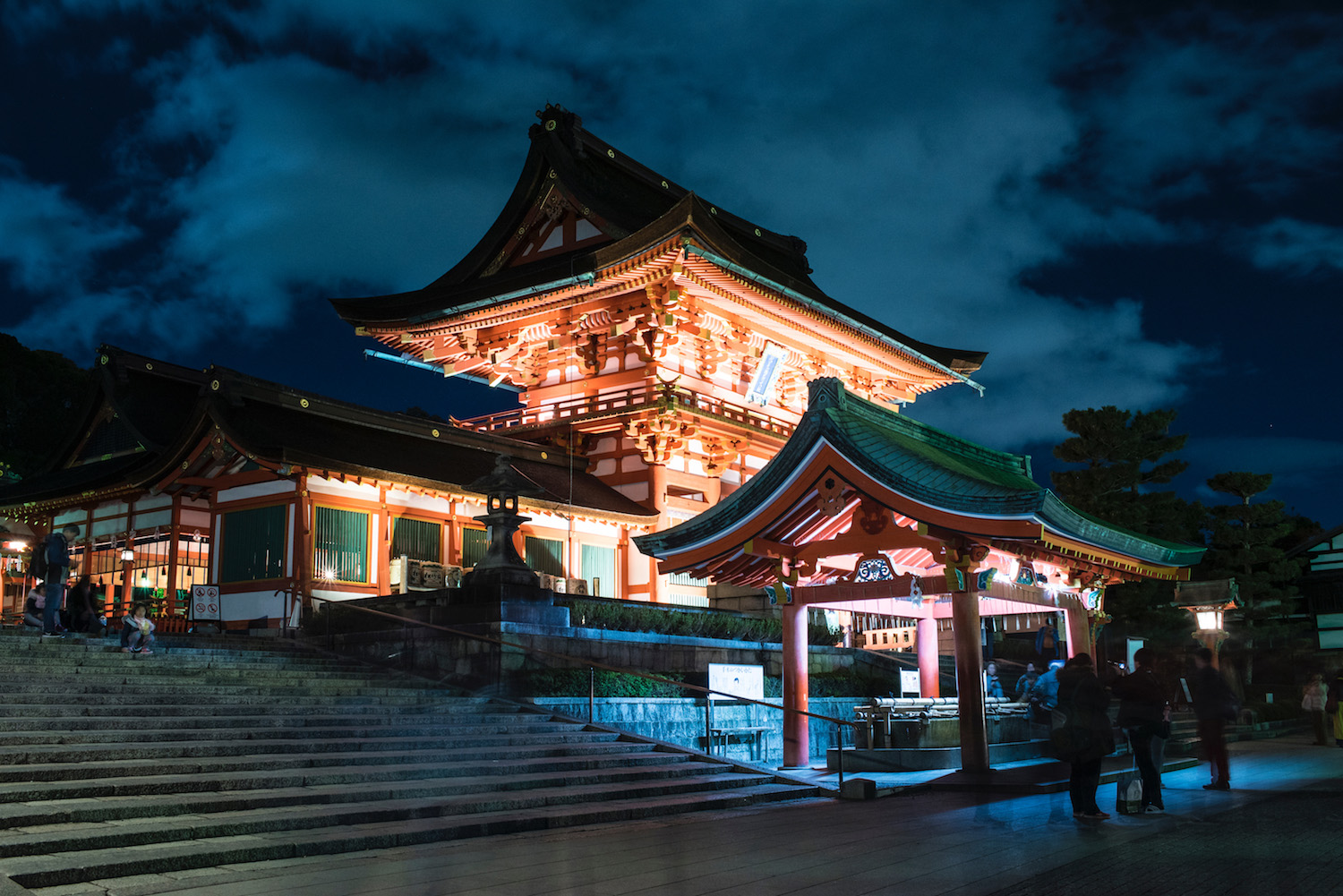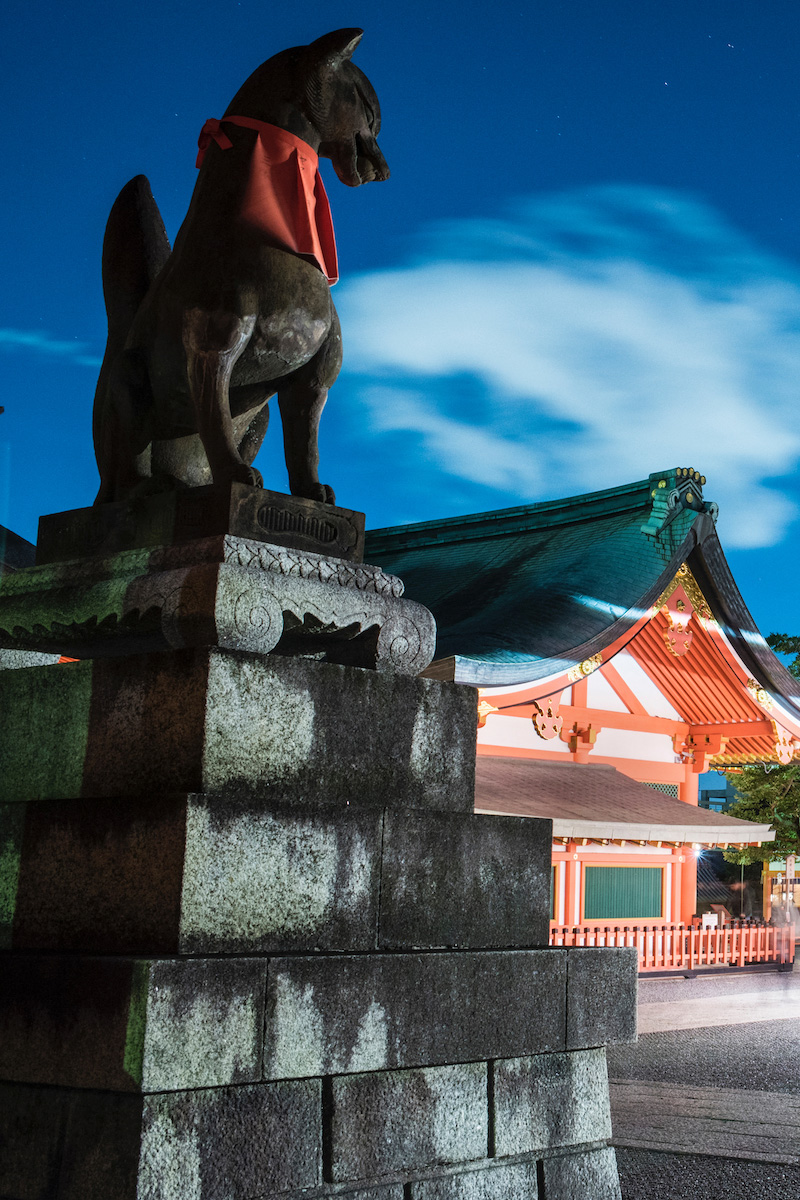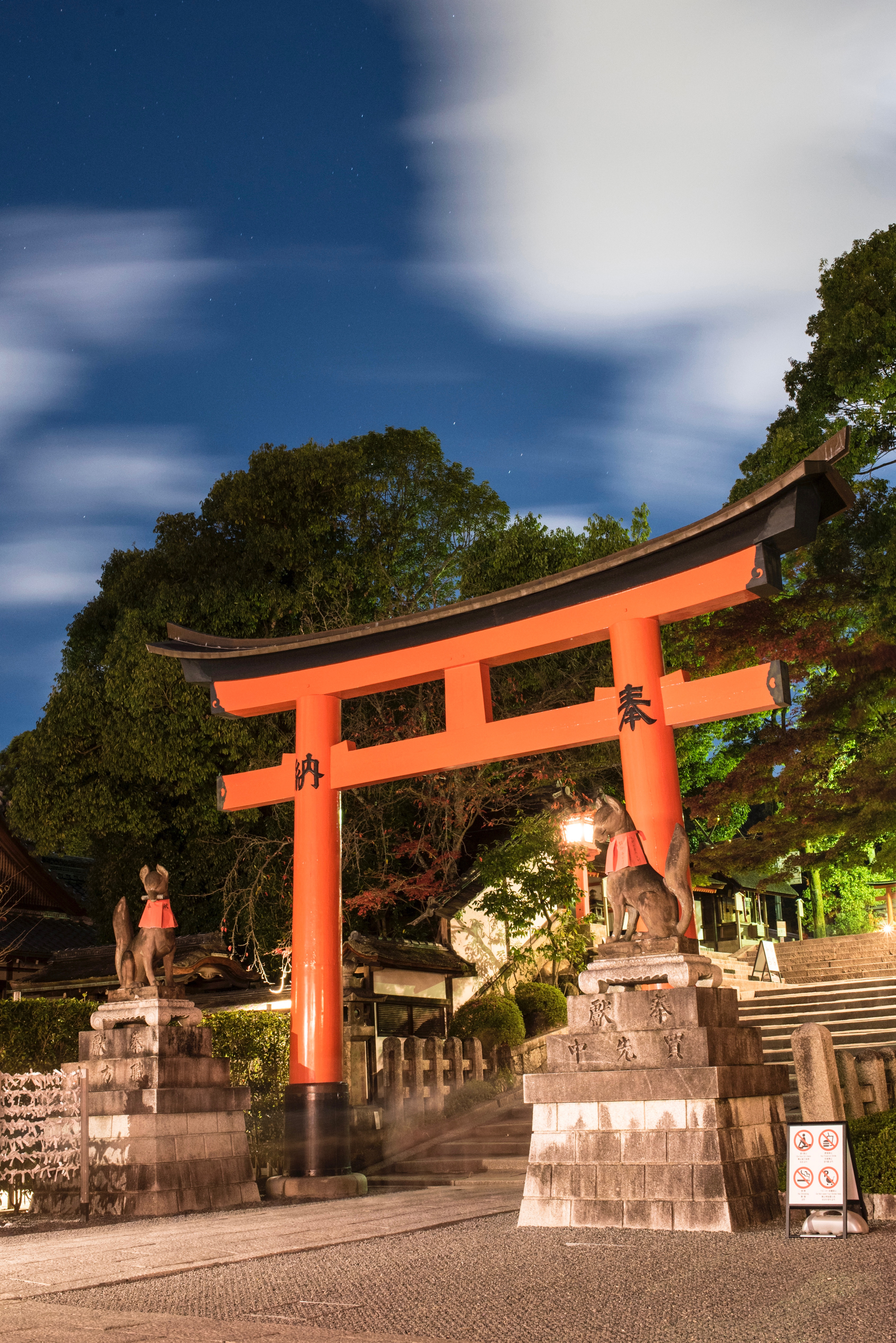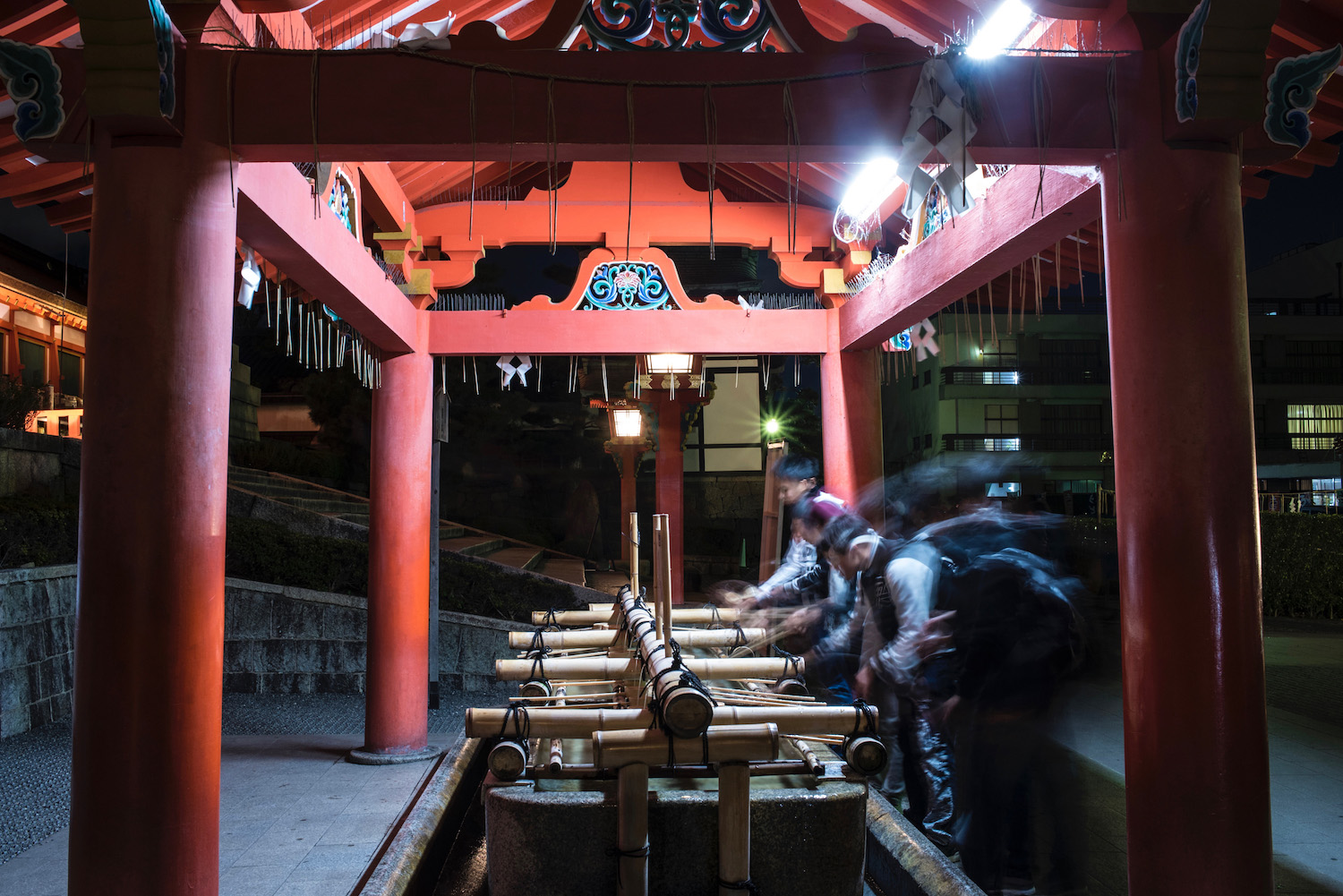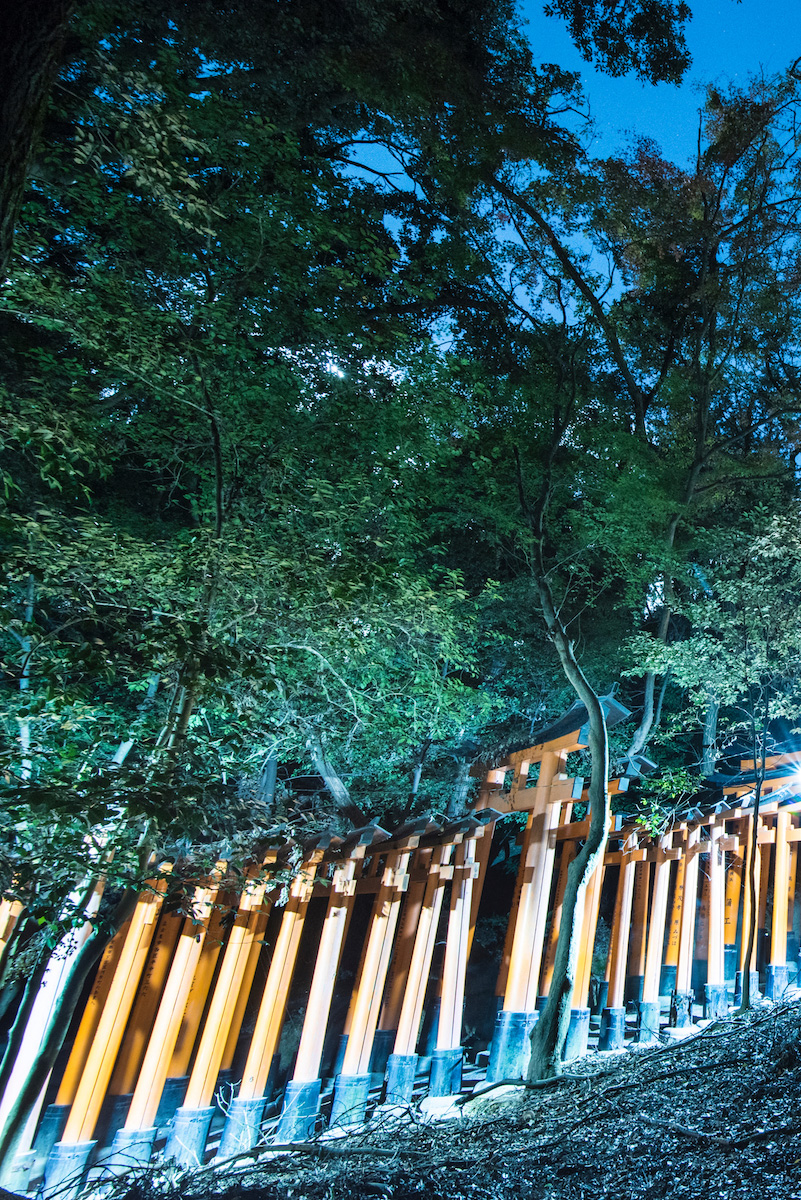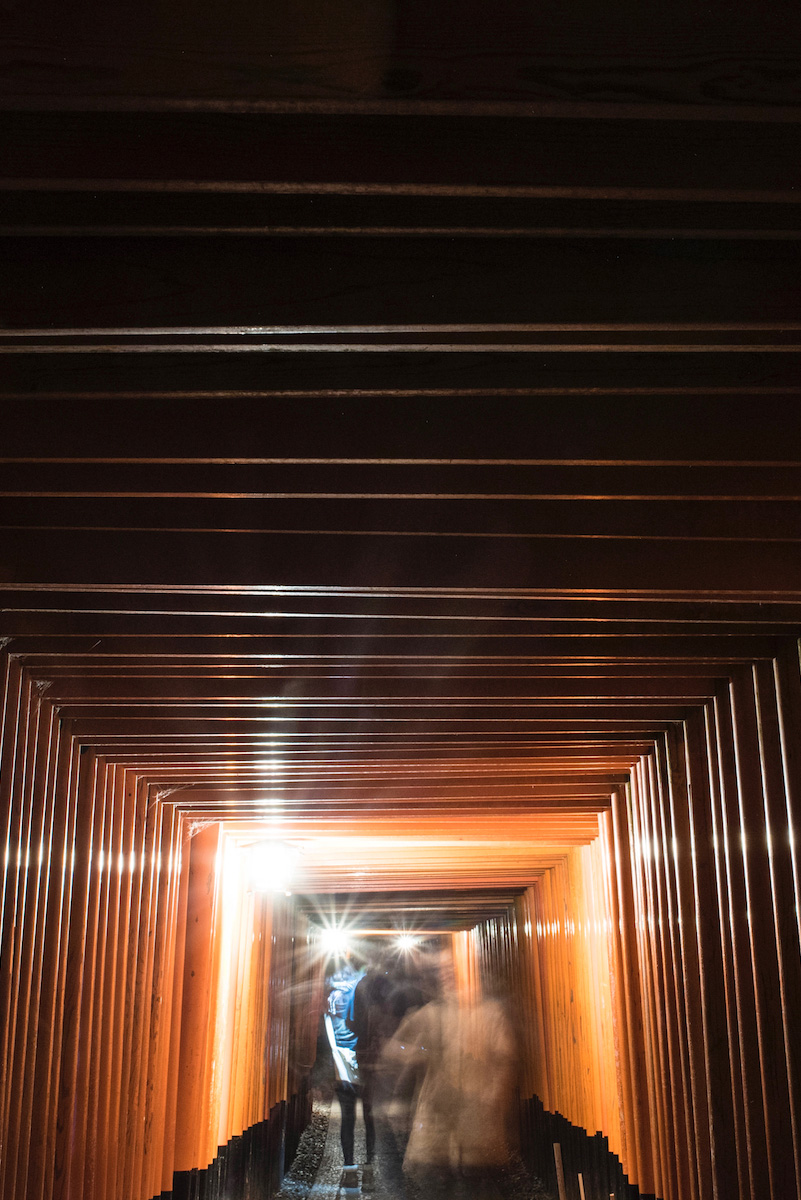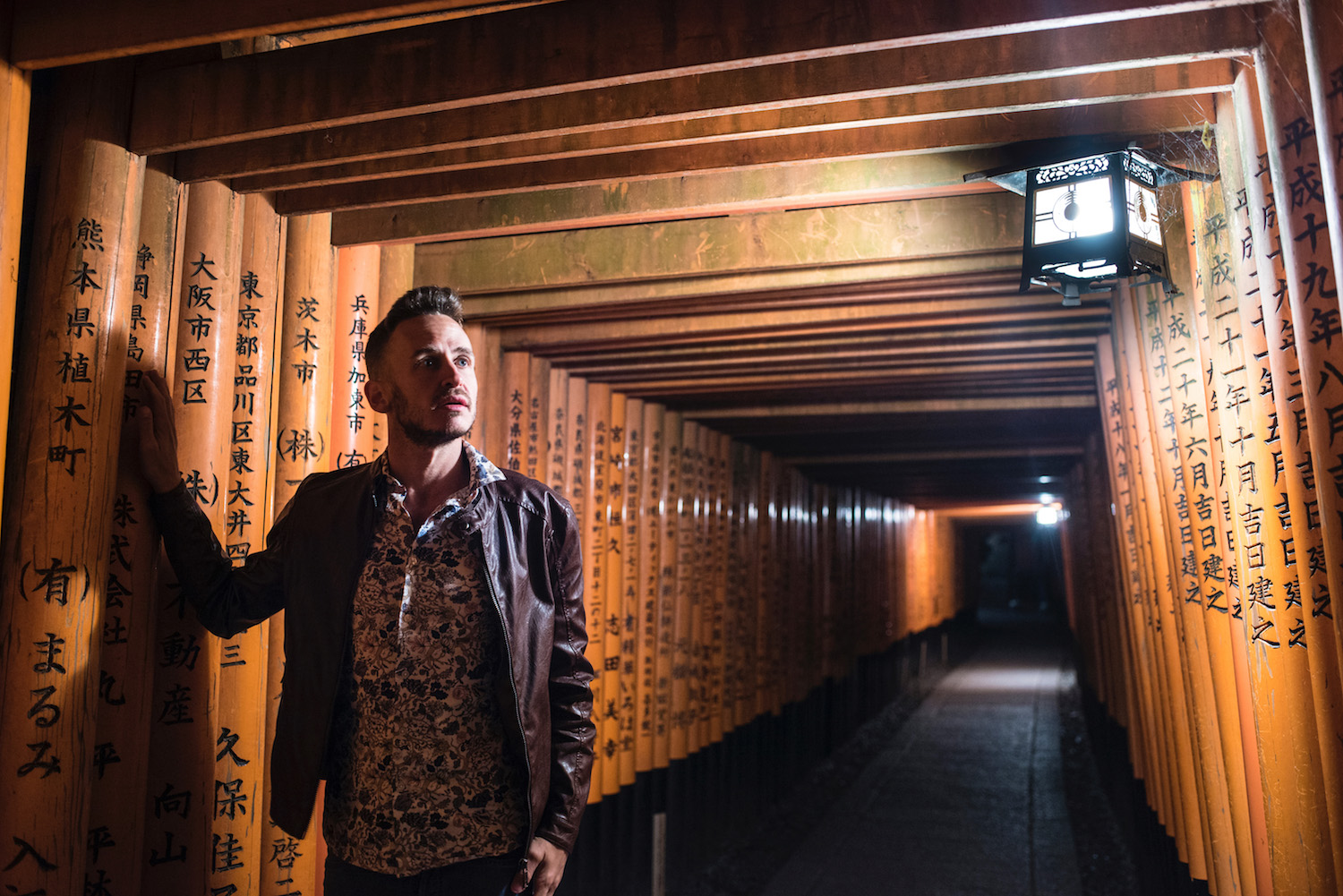 Is Fushimi Inari Shrine Open All Night?
Although I could've spent all night admiring (and photographing) the Kyoto gates, it was cold and I was tired. In fact, I didn't walk very far up the mountain (you can continue for two hours or even longer, depending on your page), but rather focused on the lower torii and other structures, since there's little change in the overall aesthetic of the city as you ascend anyway.
However, I could've stayed all night if I wanted to. As it turns out, one of the reasons it's becoming so popular to visit Fushimi Inari Shrine at night is that it (and every shrine in Japan) is open 24 hours. Temples, by contrast, tend to have fixed opening and closing hours, certainly popular ones that attract big crowds during cherry blossom season and during autumn in Japan.
What Else is There to Do in Fushimi?
Apart from seeing Fushimi Inari Shrine at night and the aforementioned Kyoto sake tour, there's actually a lot to do in the Fushimi district of Kyoto—that's the good news. The bad news? The Fushimi district is sprawling and many of its main attractions are even farther from central Kyoto than the shrine, whether you visit Fushimi Inari Taisha at night or in the middle of the day.
Specifically, in addition to your Fushimi Inari night visit, you can visit Fushimi Momoyama Castle, which boasts a unique red color, and is a 1964 reproduction of the original, which was built in the late 16th century. Other things to do either before or after you explore Inari Shrine at night include a visit to Rengeoin Sanjusangendo, a temple with 1,001 statues of the goddess Kannon, and Tofuku-ji, which is actually closer to Kyoto Station than to Fushimi Inari Taisha.
Other Things to Do in Kyoto at Night
Although Japan's erstwhile capital is an amazing city to explore during the day time, there are plenty of items that fit best on a Kyoto itinerary after night has fallen. The most obvious option would be to head to Gion (Kyoto's de-facto Geisha district) and try to find Geishas walking around. Higashiyama district in general is a great place to head after dark (not unlike Fushimi Inari by night), with attractions like Yasaka Pagoda and Heian Shrine illuminated and looking even more beautiful than they do in the daytime.
As far as nightlife is concerned, Kyoto does have some, though I must admit I've never felt compelled to do more than indulge in a bit of sake with dinner. A final option you might entertain, either before or after walking through the Kyoto shrine gates under a black sky, is exploring Kyoto's restaurant scene. One great place to escape the crowds of the old city is in the basement of Kyoto Tower (which, for what it's worth, also looks stunning at night).
Other FAQ About Fushimi Inari Taisha
What time should I go to Fushimi Inari?
For the purposes of this post, I recommend going to Fushimi Inari Shrine after nightfall. However, the shrine is open 24 hours per day, so you can really go whenever you want. One very nice time to visit Fushimi Inari Shrine is in the early morning, when it's unlikely that many tourists will be there.
How much does it cost to go to Fushimi Inari Shrine?
The orange gates of Fushimi Inari themselves are free, like every other shrine in Japan. However, if you wish to enter the shrine museum, you will need to pay a modest fee of ¥300, as of April 2023.
What are torii gates red?
In Japanese culture, the color red (which, in the case of Fushimi Inari is really more of a vermillion orange) is thought to ward off evil. However, it might interest you to know that in very ancient Japanese history, most torii gates were white, rather than red.
The Bottom Line
I'm almost tempted to say that visiting Fushimi Inari Shrine at night is more enjoyable than during the day, and not just because of the lighter crowds. Seeing Kyoto's famous orange gates lit up in the darkness, wind blowing mysteriously through the evergreens that tower overhead, is nothing short of a magical experience, regardless of how far up the hillside you walk, or how long you spend there. Plus, a Fushimi Inari evening is just one of a very long list of things to do in Kyoto at night. Commission a custom Japan itinerary to put your Fushimi Inari Shrine night excursion into a more meaningful context.