Kyoto takes on a different character at night—but that's not the only reason you might want to explore the city after the sun has set.
At some times of year, it's a matter of practicality. During cherry blossom season, for example, sightseeing at nighttime (i.e. when most other tourists are having dinner or getting drunk) can be the best way to beat the crowds, especially at popular attractions.
In the case of Fushimi Inari at night, of course, there's another major benefit. Kyoto's most famous shrine gets lit-up every evening, to absolutely enchanting effect.
Is Fushimi Inari Shrine Worth Visiting?
Separate from the Fushimi Inari night discussion is the question of whether the shrine is worth visiting at all. On one hand, its orange gates are absolutely iconic; images of them are what inspire many travelers to come to Japan in the first place. Sure, they're crowded, but isn't there a reason for that? It's really no wonder that so many travelers want to get their own pictures here.
On the other hand, it can be extraordinarily packed here, especially if you come during Japan's busy spring and autumn seasons. While climbing up the hillside away from the first couple sets of gates can mitigate this, the reality is that most travelers don't have the 90-120 minutes to get all the way to the top and back. Thankfully, there is another way to visit Fushimi Inari without feeling like you're in Shibuya Scramble.
Why You Should Go to Fushimi Inari Shrine at Night
It's much less crowded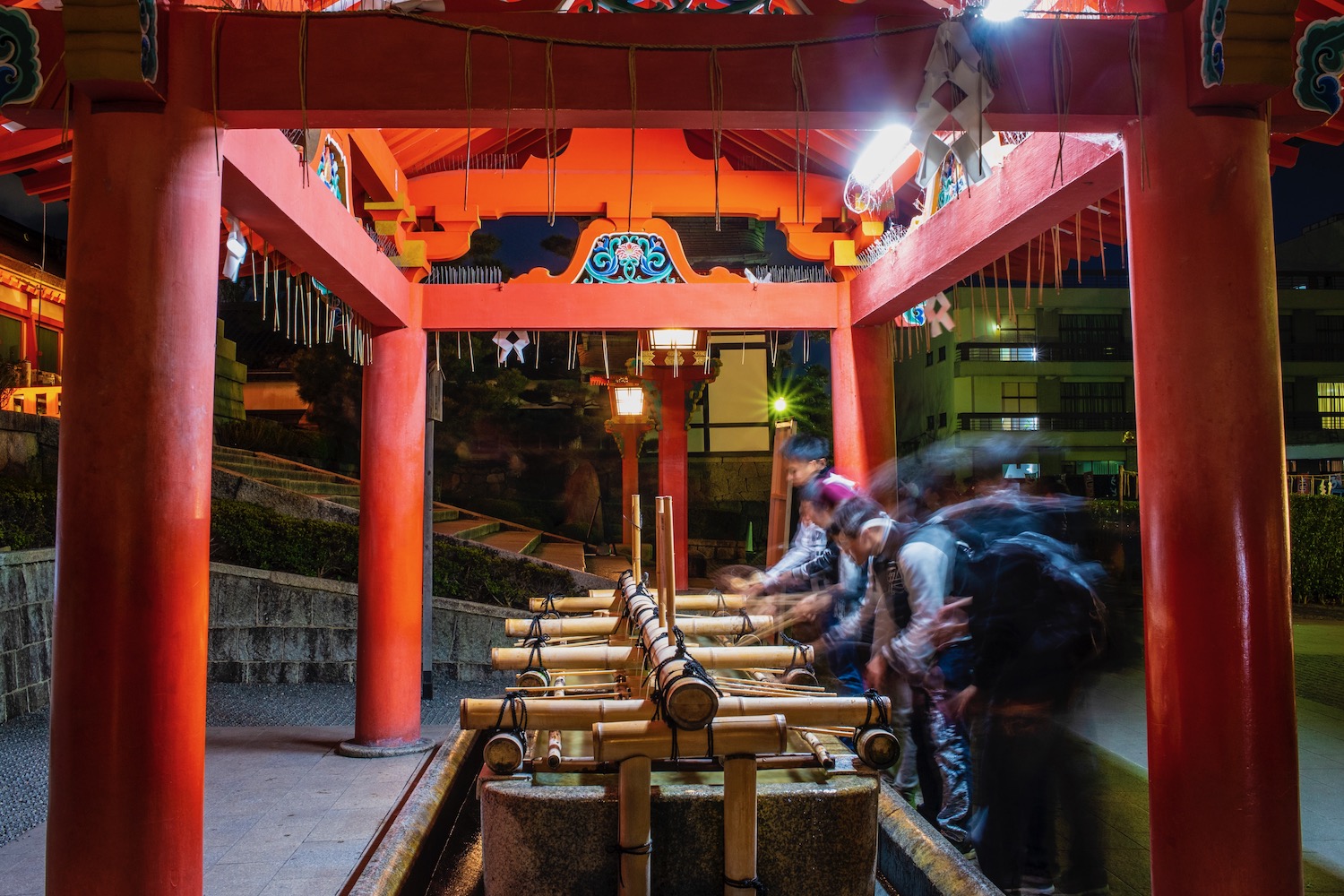 Indeed, the first advantage of visiting Fushimi Inari by night is that there just aren't that many other tourists. The majority of visitors to Kyoto will be back in their city center hotels freshening up for dinner, or exploring more popular sights in Arashiyama or Higashiyama. You won't have the shrine completely to yourself, but it may feel like it in places.
The vibe is different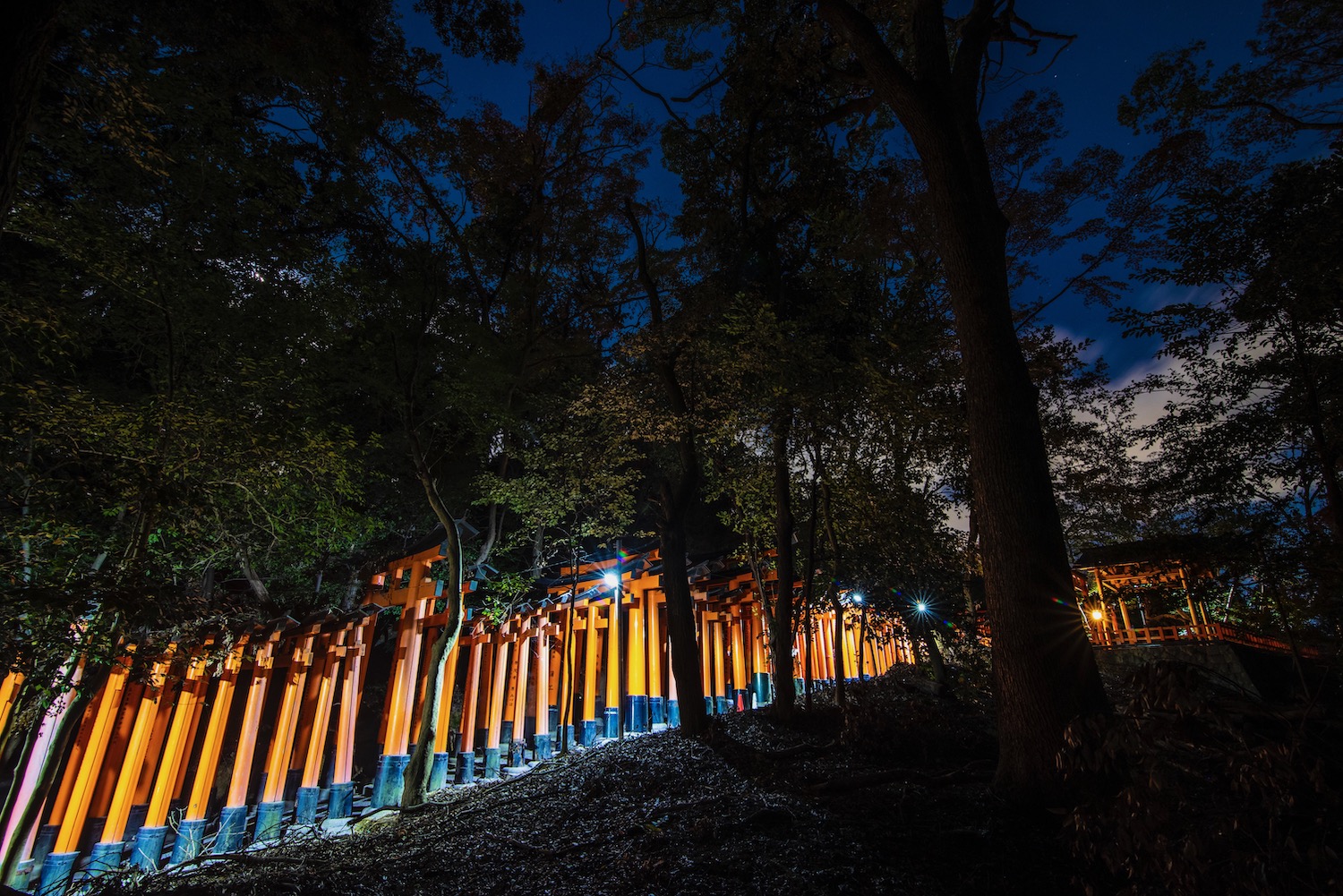 Everything changes after nightfall—even Japanese shrines. As you'll see in the pictures that accompany this article, the main visual draw of Fushimi Inari Shrine at night is that its gates are lit up, which gives them an almost haunting appearance. However, it's not just the way they look. The entire place feels different, a fact that also owes to the lower number of visitors, and the quiet that brings with it.
You can practice your night photography
Did you really go to Inari Shrine at night if you don't have photos to show for it? Whether you come with a "real" camera and a tripod, or a newer-generation smartphone that can take great nighttime pictures without any fancy equipment, Fushimi Inari is a revelation for photographers after night has fallen. This might also be the best time to get a selfie without dozens of other people in the shot!
(Or get buzzed on sake beforehand)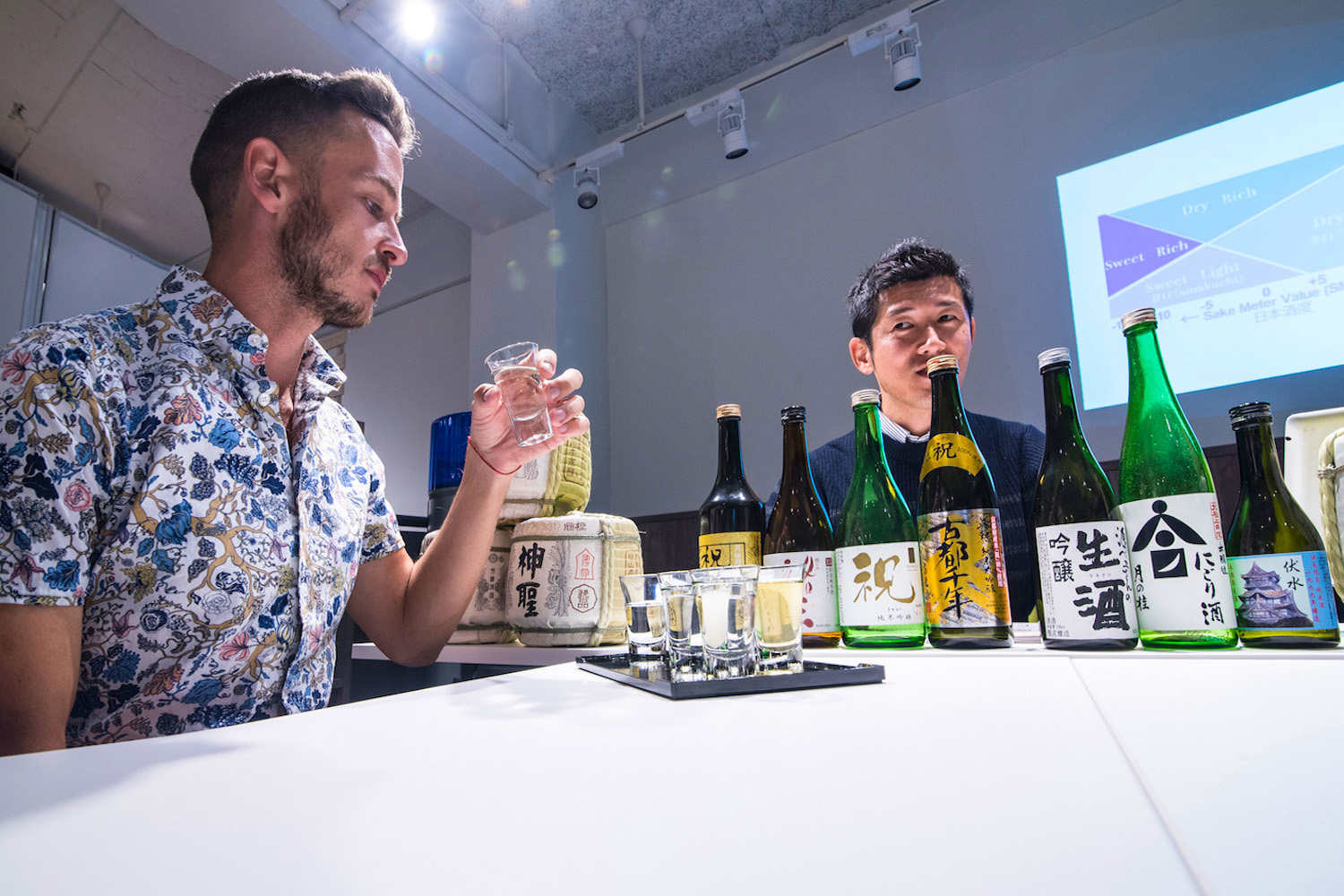 While you shouldn't drink alcohol at the same time you visit Fushimi Inari Taisha at night, nothing says you can't go there after you've already imbibed. If you love Japanese rice wine, I highly recommend spending a few hours with my friend Kotaro, who runs awesome sake pairing tours just a few stops south at his amazake shop in the heart of Fushimi City.
There are too many things to do in Kyoto during the day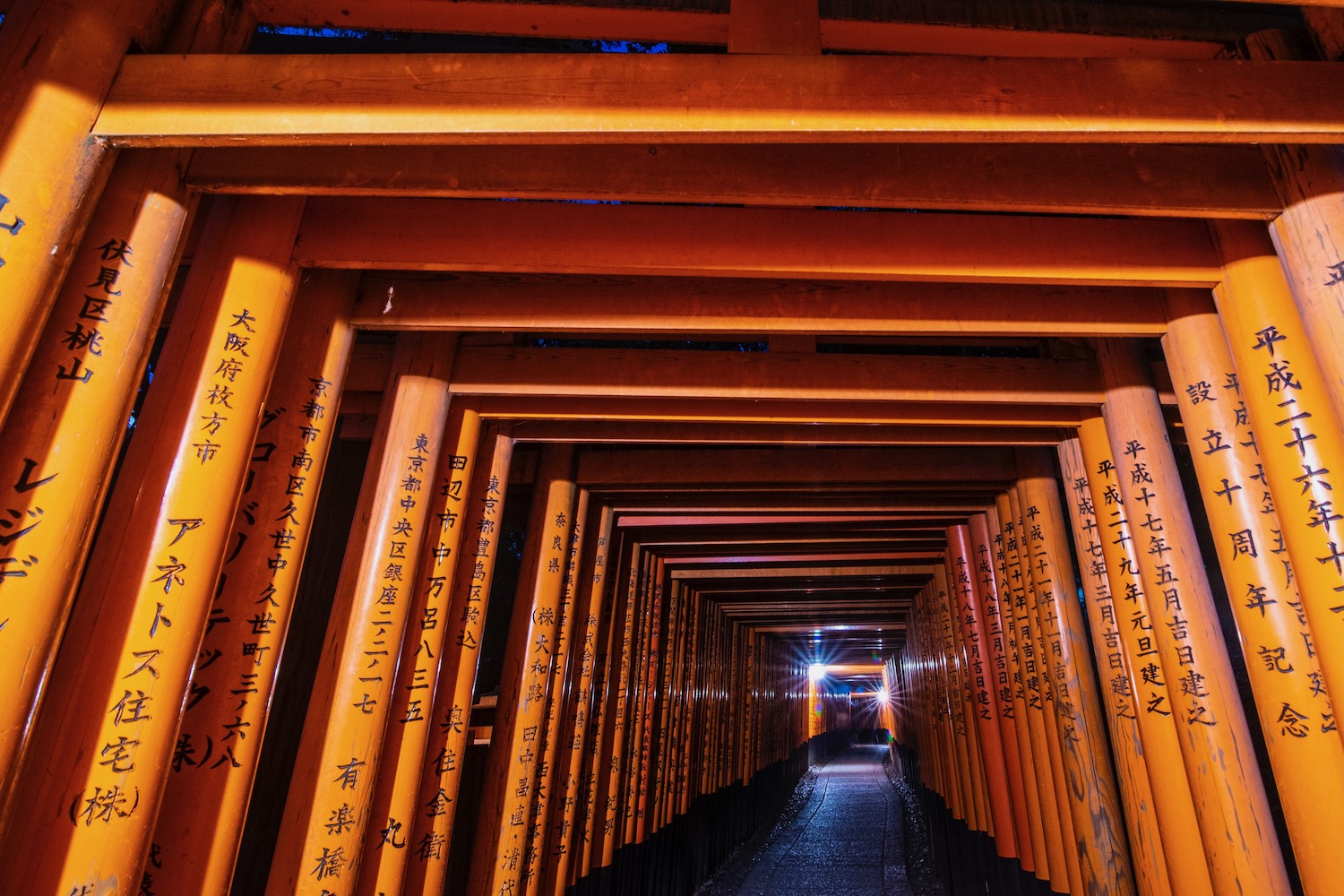 In some sense, a Fushimi Inari evening trip just makes practical sense. For example, after spending the morning in Arashiyama, mid-day at the Golden and Silver Pavilions and the evening exploring temples in Higashiyama, it may simply be that evening is the only time you have available to visit Fushimi Inari Shrine! Rather than being upset by this, lean into it.
How to Get to Fushimi Inari Shrine
There are two main ways to reach Fushimi Inari from central Kyoto. If you want to use a Japan Rail Pass, simply take the JR Nara Line from Kyoto Station to Inari Station. Do make sure, however, to board a Local train. Rapid trains (including the Miyakoji Special Rapid service) do not stop at Inari. If you accidentally do board a Rapid service, you'll need to get off at Rokujizo and backtrack on a northbound Local service.
If you want to travel directly from Higashiyama, on the other hand, use your PASMO or Suica card to take the private Keihan Main Line from Sanjo, Gion-Shijo, Kiyomizu-gojo or Shichijo Stations to Fushimi Inari Station. In any case, you won't spend more than 30 minutes each way en route for your Fushimi Inari Taisha night experience, so it really is an easy excursion.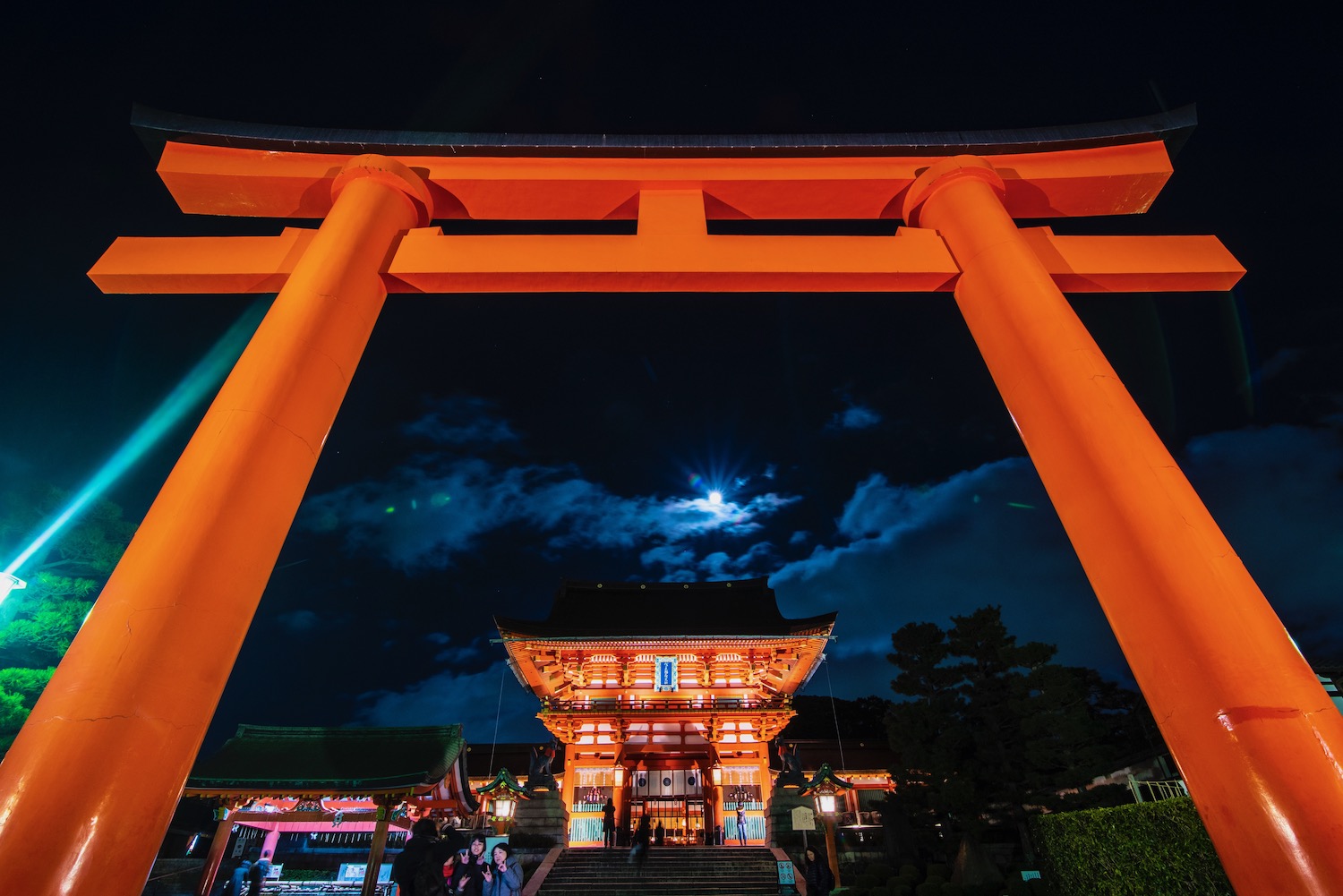 Other FAQ About Visiting Fushimi Inari at Night
Is Fushimi Inari open at night?
Like all shrines in Japan, Fushimi Inari Taisha is open 24 hours per day. If you do come at night, however, use good manners. Namely, don't bring any open containers of alcohol with you, and don't loiter on the site as if it's a recreational area.
Is Fushimi Inari good at night?
Fushimi Inari Shrine is absolutely enchanting at nighttime. In addition to the fact that it's much less crowded than it is during the day, the shrine is lit up after dark. This can give it almost a magical quality, especially when seen from within the forests that surround its mesmerizing orange gates.
Is Fushimi Inari better day or night?
As you contemplate a Fushimi Inari Shrine night trip, you might be wondering whether nighttime is better than daytime. The answer is that they're two different experiences—I like both for different reasons! However, as I've explained above, nighttime is both less crowded, and also more enchanting due to the fact that the shrine is lit-up.
The Bottom Line
Travelers have different reasons for wanting to visit Fushimi Inari at night. Some want to avoid the crowds that clog up the place during the day, while others want to enjoy the ambiance of the iconic orange gates being illuminated, whether to add a different element to your Kyoto photography, or simply to live in the magical moment. No matter where you fall on this continuum, I hope this my guide has helped inspire you. I also hope you get a chance to visit the shrine during the daytime so you can compare. Want more personalized insights to make your next trip to Japan unforgettable? Commission a custom Japan itinerary!