If you're on the fence about a trip to see the Kyoto cherry blossoms in 2024, allow me to knock you off it. Kyoto is exquisitely beautiful most every day of the year, but during cherry blossom season, I'd say it's the most gorgeous place in the world.
Which is to say hanami in Kyoto is a perfect experience. Most notably, if you don't get out amid the temples and bamboo forests as soon as possible after the sunrises, you will very likely contend with apocalyptic crowds.
The second complication travelers tend to have is deciding upon where to see cherry blossoms in Kyoto. I can't help with the hordes of visitors, but if you continue reading, you'll learn the best cherry blossom spots in Kyoto.
When Will Kyoto Cherry Blossoms Bloom in 2024?
In a normal year, the Kyoto sakura bloom in the last days of March or the first days of April, and reach full bloom (mankai in Japanese) somewhere between April 4-6. Of course, "normal" means very little in the era of climate change. I've been in Kyoto during several cherry blossom seasons, and have witnessed full bloom as early as March 26 and as late as April 7. As is the case throughout Japan during spring, the most flexible you can be, the more likely you are to get some cherry blossom action!
This doesn't mean you have to spend a full week in Japan's former capital in order to enjoy full bloom in Kyoto, of course, although that is helpful (Not to mention, doing so also allows you to partake in some of the day trips I'll be mentioning in a few paragraphs.) Another way to be "flexible" is to be open to seeing different species of cherry blossoms in different spots around the city. I'll try and point out some early- and late-blooming varieties in the subsequent paragraphs in order to illustrate this, all of which I consider to be among the best places in Kyoto for cherry blossoms.
The Best Spots to See Kyoto Cherry Blossoms
Kiyomizu-dera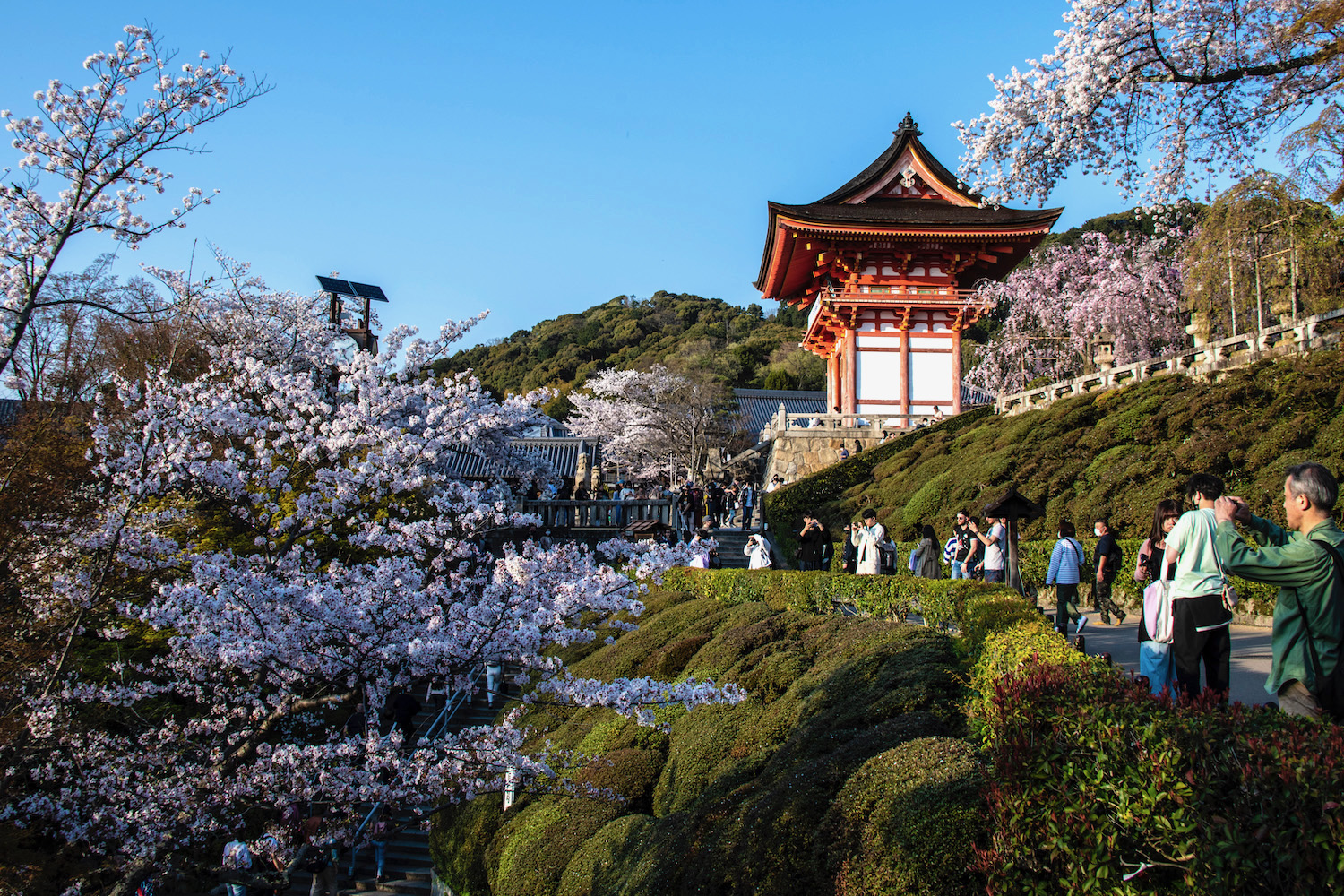 While it's certainly not the only place to enjoy Higashiyama cherry blossoms, Kyoto's famous Kiyomizu-dera temple (whose main hall re-opened in 2020, after several years of renovation) has a lot going for it. For starters, in addition to the gorgeous sakura, you can enjoy a panoramic city view from various points on the temple's property. This is especially beautiful if you're able to come at sunset, when the kaleidoscope of light colors the cherry blossoms into a veritable rainbow.
Philosopher's Path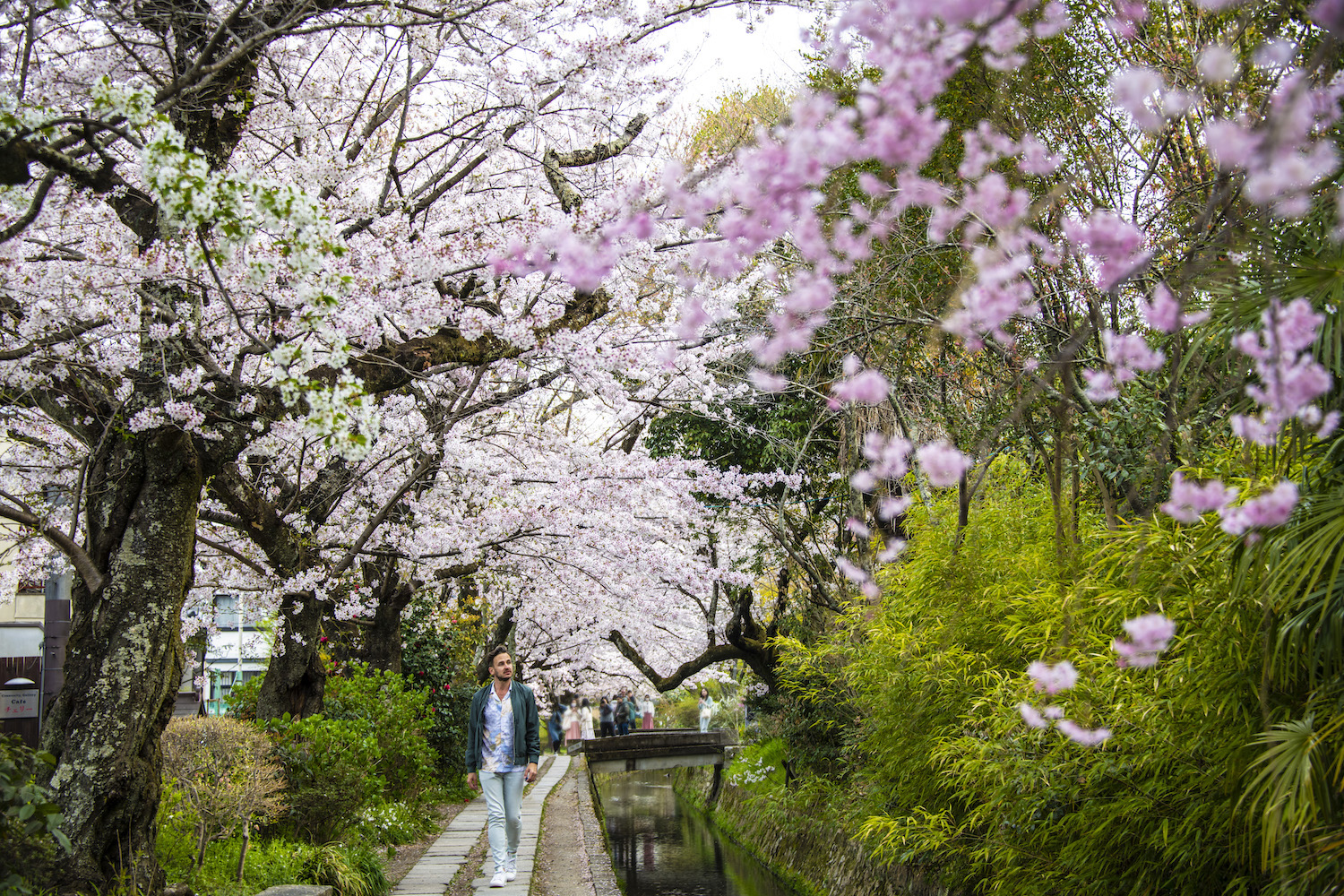 On the other end of historical Higashiyama, just to the south of the Kyoto Silver Pavilion Ginkaku-ji, the Philosopher's Path is probably one of the most famous cherry blossom spots in all of Japan. I recommend heading here early in the morning, which not only allows you to avoid crowds, but gives you time. This way, you can follow the path all the way back into the main part of Higashiyama, a district that writ-large definitely one of the best places in Kyoto to see cherry blossoms! I'll be explaining some of the other top spots here in just a moment.
Ninenzaka and Sanenzaka Slopes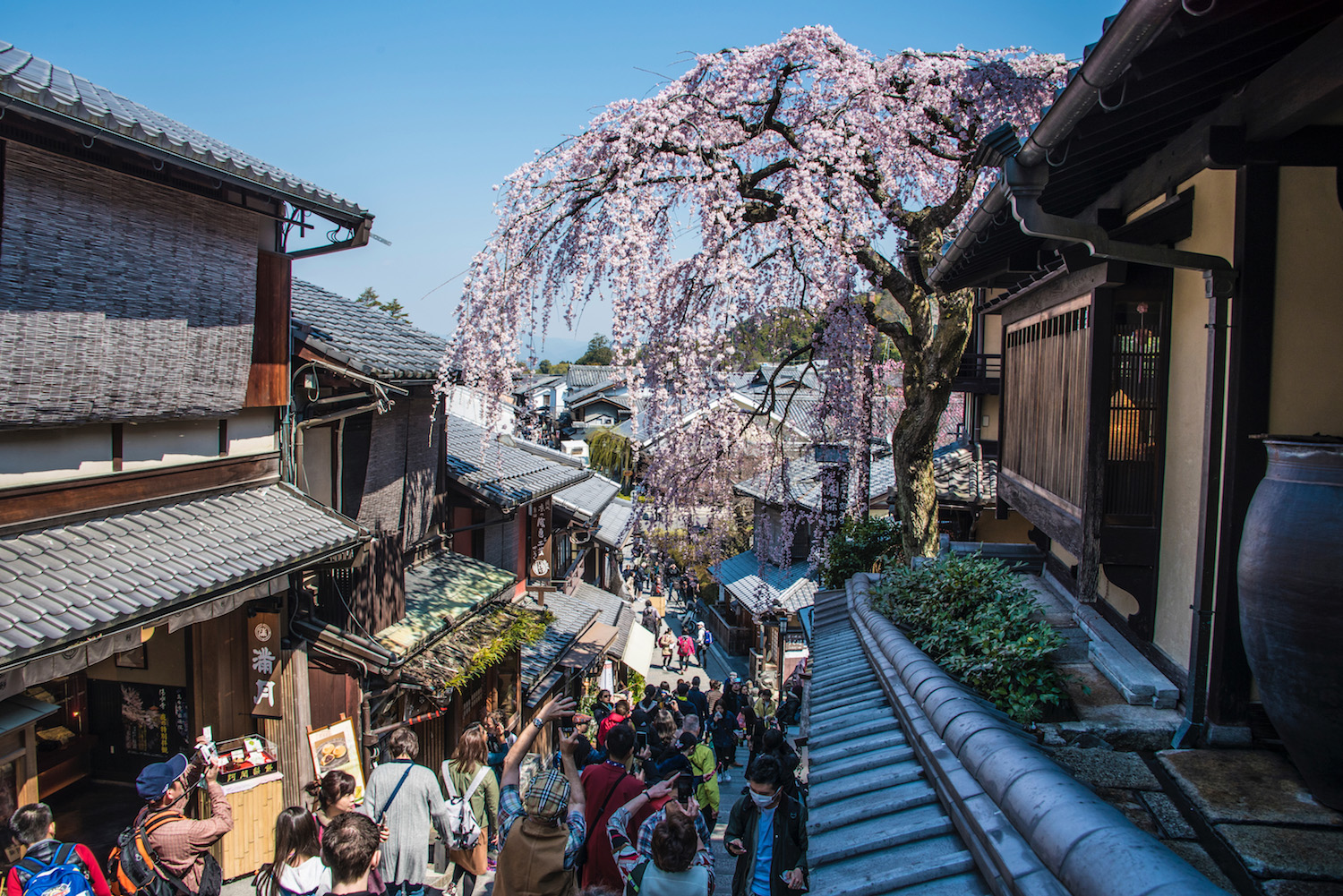 If you follow the Philosopher's Path then continue walking southward (in the direction of Kiyomizu-dera, to be specific), you'll arrive to another one of my favorite Kyoto cherry blossom spots. Specifically, the Ninenzaka and Sannenzaka slopes, over which a massive shidarezakura "weeping" cherry trees hang, making them among the most popular spots in all of Kyoto to photograph. In my opinion, these locales are most beautiful in the morning, when the light falls just right on their pastel pink blossoms.
Hei'an Shrine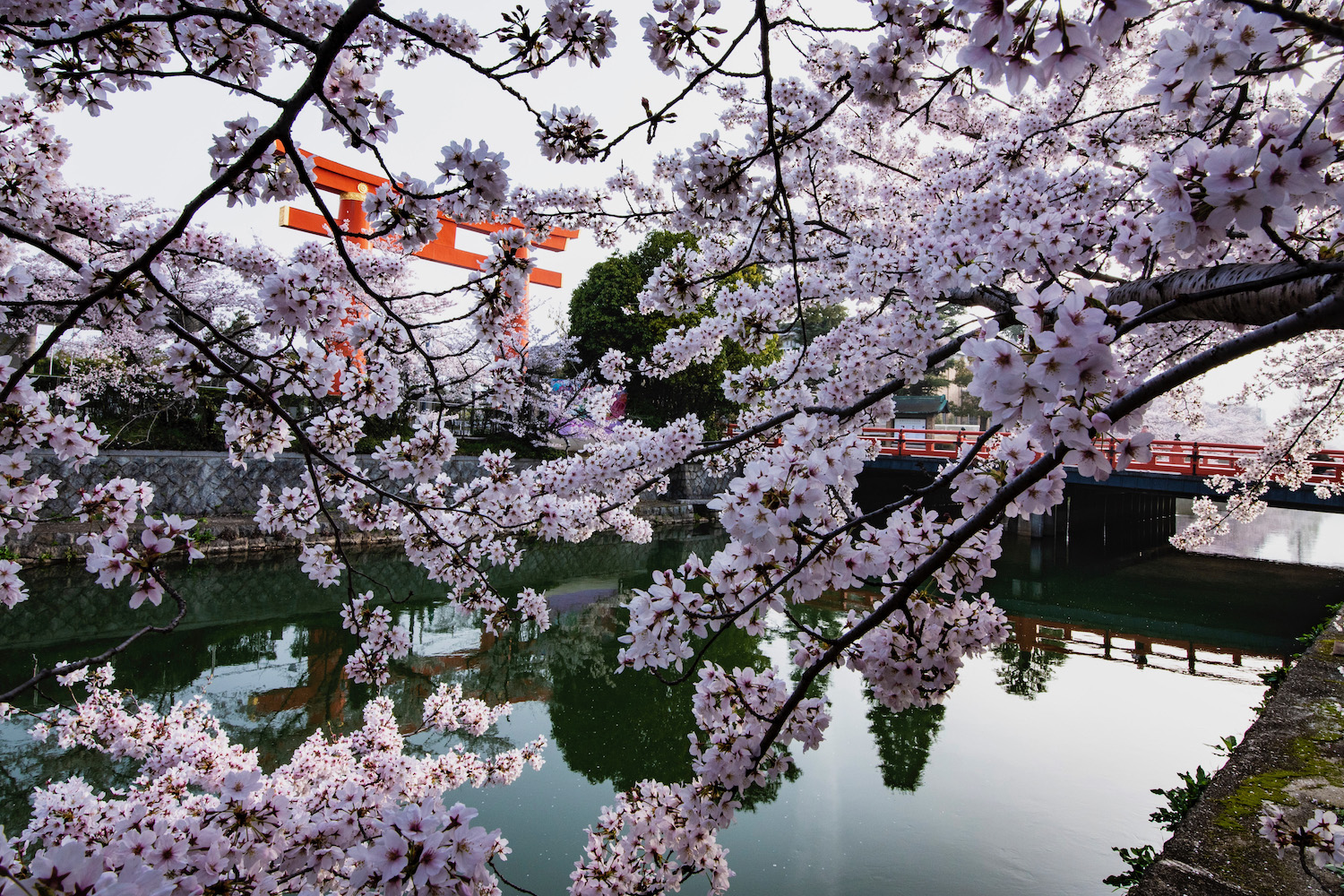 Hei'an Shrine is great in all seasons, whether you traipse through its inner garden during autumn, or admire the massive torii gate out in front of it basically any other time of year. If we're being honest, then during sakura season, it is not so much the shrine but the Okazaki Canal in front of it that's one of the best places in Kyoto to see cherry blossoms. Try to come early in the morning if you want to avoid photographing too many other revelers.
Tatsumibashi Bridge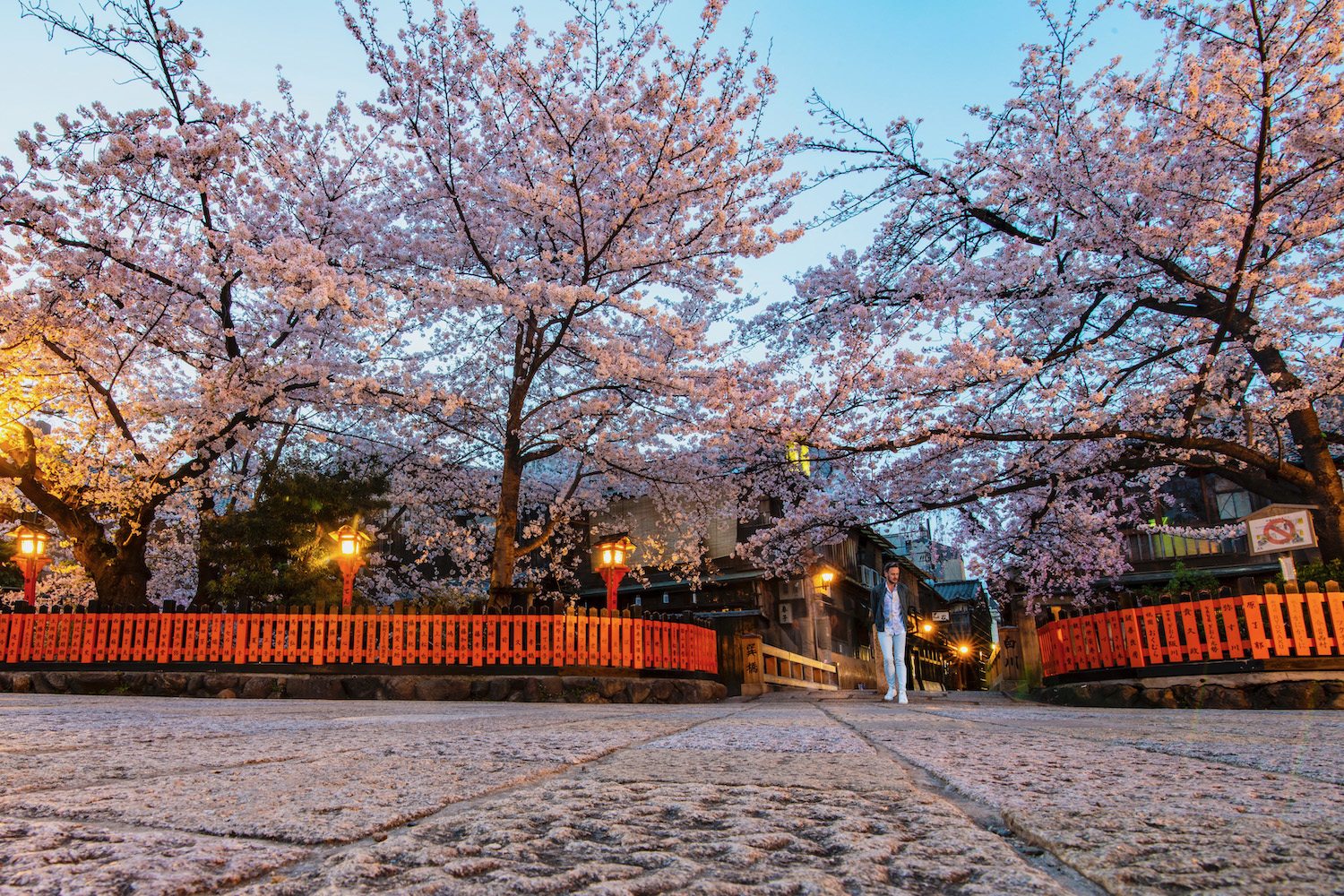 When it comes to seeing cherry blossoms in Gion, meanwhile, my favorite place is probably Tatsumibashi Bridge. While the ideal shot would be taken in the evening, when Geisha are walking across this pedestrian bridge, you're going to have to come early in the morning if you want anything resembling a selfie. Indeed, the portion of Hanamikoji-dori just south of the bridge is actually better for seeing Maiko, as a general rule.
Kamo River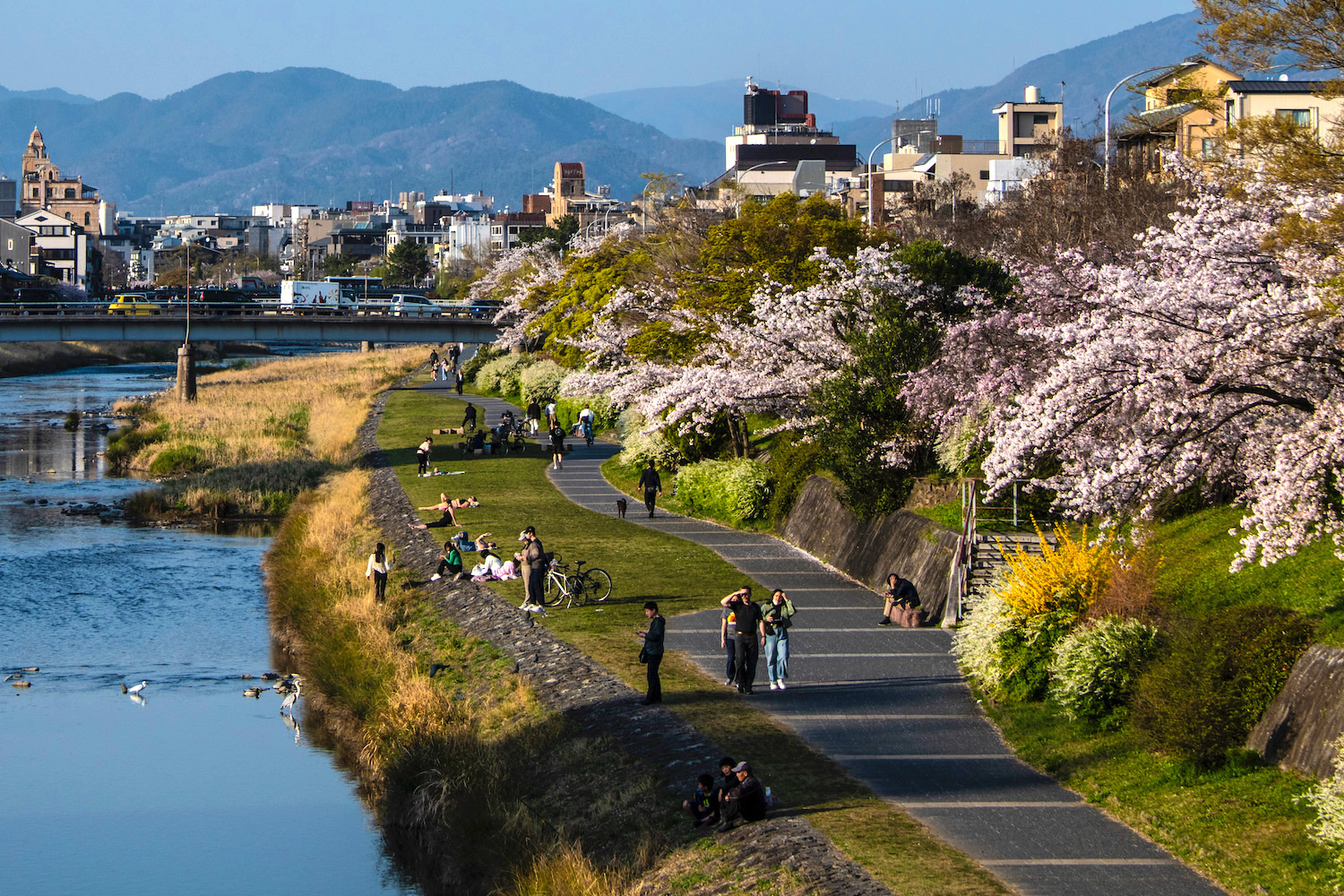 Love the Philosopher's Path, but want to see cherry blossom trees along a larger Kyoto river? Walk westward from Higashiyama or Gion toward the Kamo River, which runs north-south through the heart of Kyoto. The entire bank is lined with cherry trees, which makes it one of the most gorgeous spots in the city to see them; the namesake ducks ("kamo" means "duck" in Japanese) just add to the atmosphere. One thing I love about Kamo River is that trees here bloom a bit early. If you happen to arrive in Kyoto just before mankai, you can see the trees here at full bloom.
Keage Incline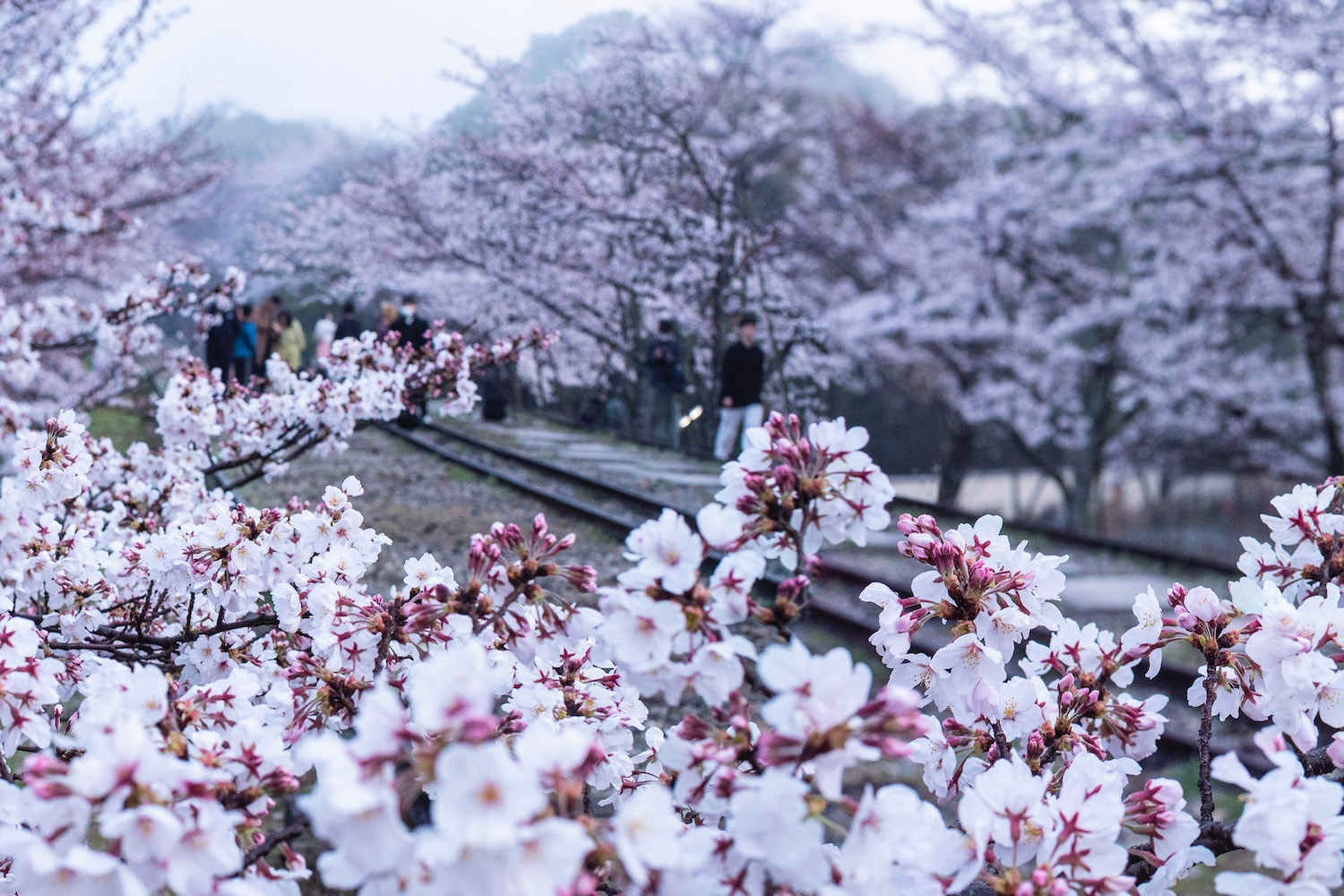 I have to be honest: While Keage Incline is generally known as one of the best Kyoto cherry blossom spots, it's not one of my favorites. It's beautiful, of course, and I guess somewhat interesting: Rather than being a temple or shrine, it's a decommissioned railway line. But that's the thing about it—it's not in use, except for these few days when sakura are blooming. Part of what I generally love about cherry blossoms, after all, is how they interact with the normal world.
Arashiyama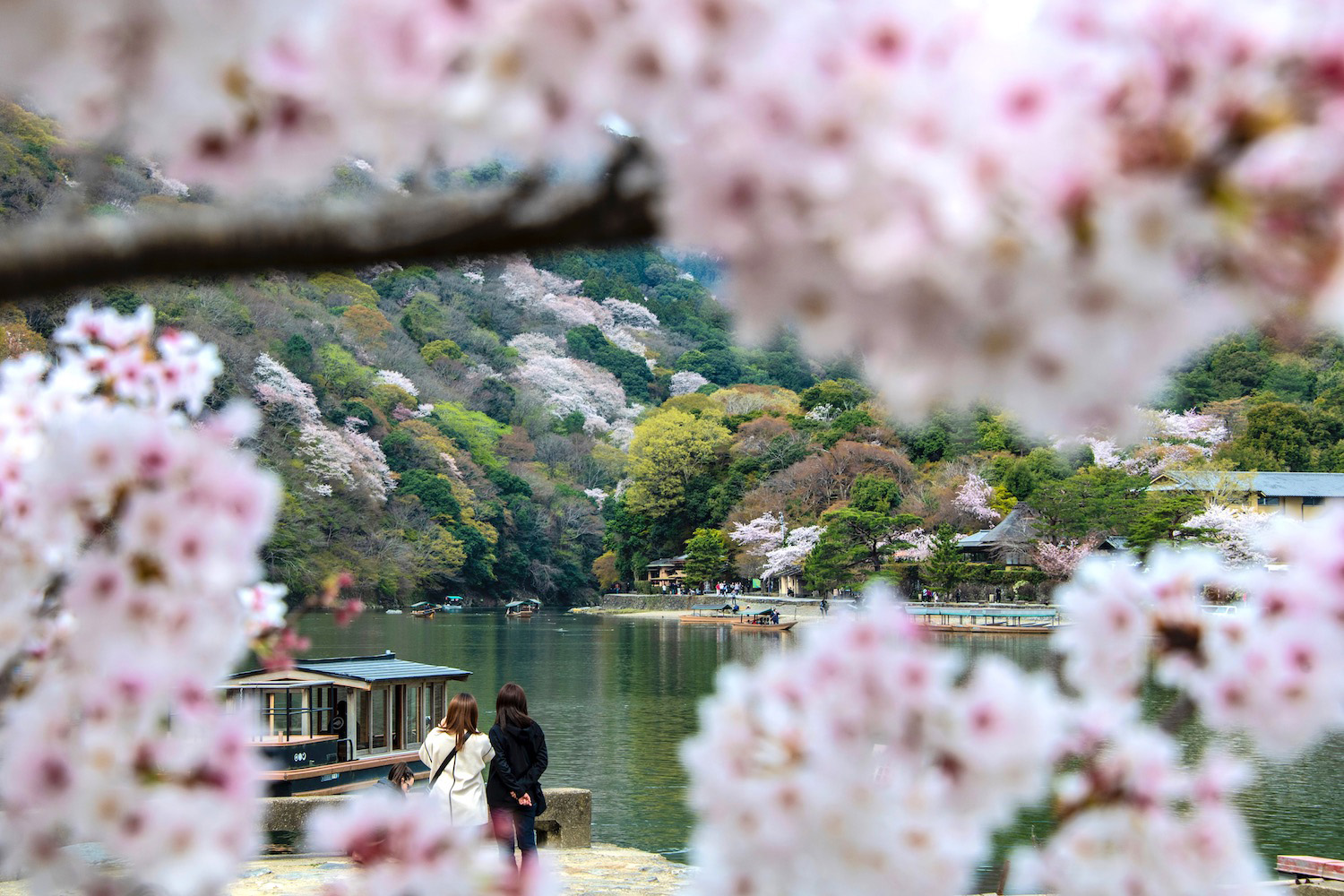 Arashiyama is mostly famous for the Sagano Bamboo Grove (which is lush and beautiful all years), but there are botanical treasures of the pinker sort as well. One of my favorite cherry blossom spots in Kyoto is right along the south bank of the Hozu River, where you can marvel at sakura-covered hillsides and the historic Togetsukyo bridge from underneath a lush canopy of white and pink. Tenryu-ji temple is also a great place to see sakura in Arashiyama.
Maruyama Park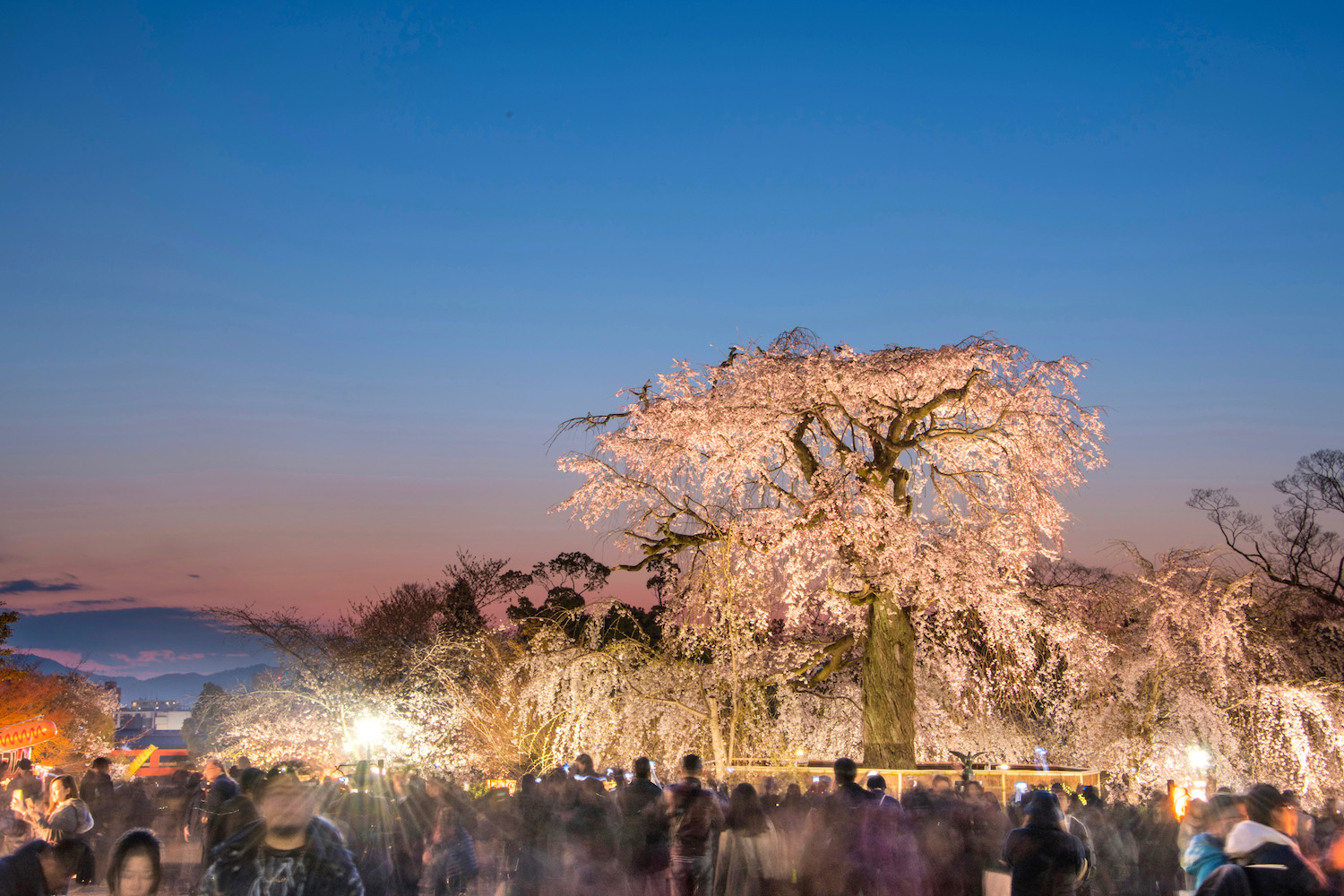 Another place to see a gorgeous weeping cherry tree (TIP: This one also tends to bloom relatively early) is Maruyama Park, located right in the heart of Higashiyama. Whether you come in the early morning before the crowds, or at night time when this special specimen lights up for the whole city to enjoy, one thing I love about Maruyama Park is the extent to which all roads (in Kyoto, anyway) lead here.
Fushimi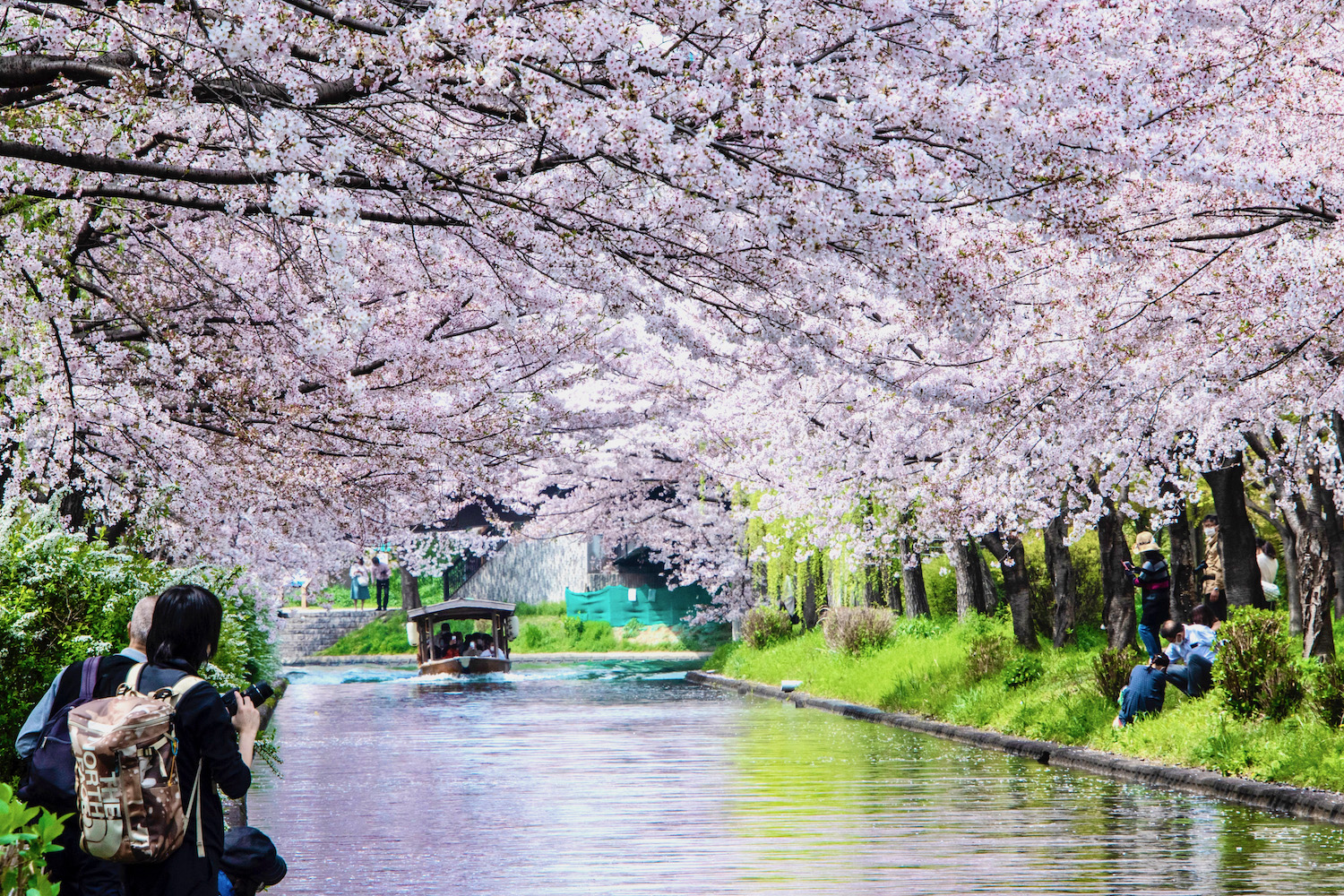 As is the case with Arashiyama and the Bamboo Grove, most tourists who come to Fushimi visit solely for its famous orange gates. As I've written about in another post on this site, the Fushimi District has so much more going for it, namely its centuries-old sake culture. If you come here in spring, you'll find the canals that run beneath the breweries shaded in boughs of pink; the best way to enjoy them is to take a boat ride underneath.
Cherry Blossom Day Trips from Kyoto
Whether you're pondering a Himeji day trip from Kyoto or want to frolic under the sakura with the deer of Nara, there are worthwhile reasons to escape the center of Kyoto to see cherry blossoms. One particularly enticing option (although it's a very long "day" indeed) is Mt. Yoshino, located in Nara prefecture south of Nara city. The namesake mountain of Japan's most famous type of cherry tree, this pink and white-covered slope is notable for several weeks of blooming, on account of its variable altitude. Uji, which is on the way to Nara, is another great choice.
In the opposite direction of a Kyoto to Nara excursion, you can head north and east toward Lake Biwa, where several potential hanami vistas await. Castles in Nagahama and Hikone (the latter of which, in my opinion, is the most worthwhile) are less-crowded alternatives to sightseeing spots in central Kyoto. Another option is to head due north from Kyoto's city center to Kurama-dera, which is an enjoyable day hike in addition to being full of cherry blossoms.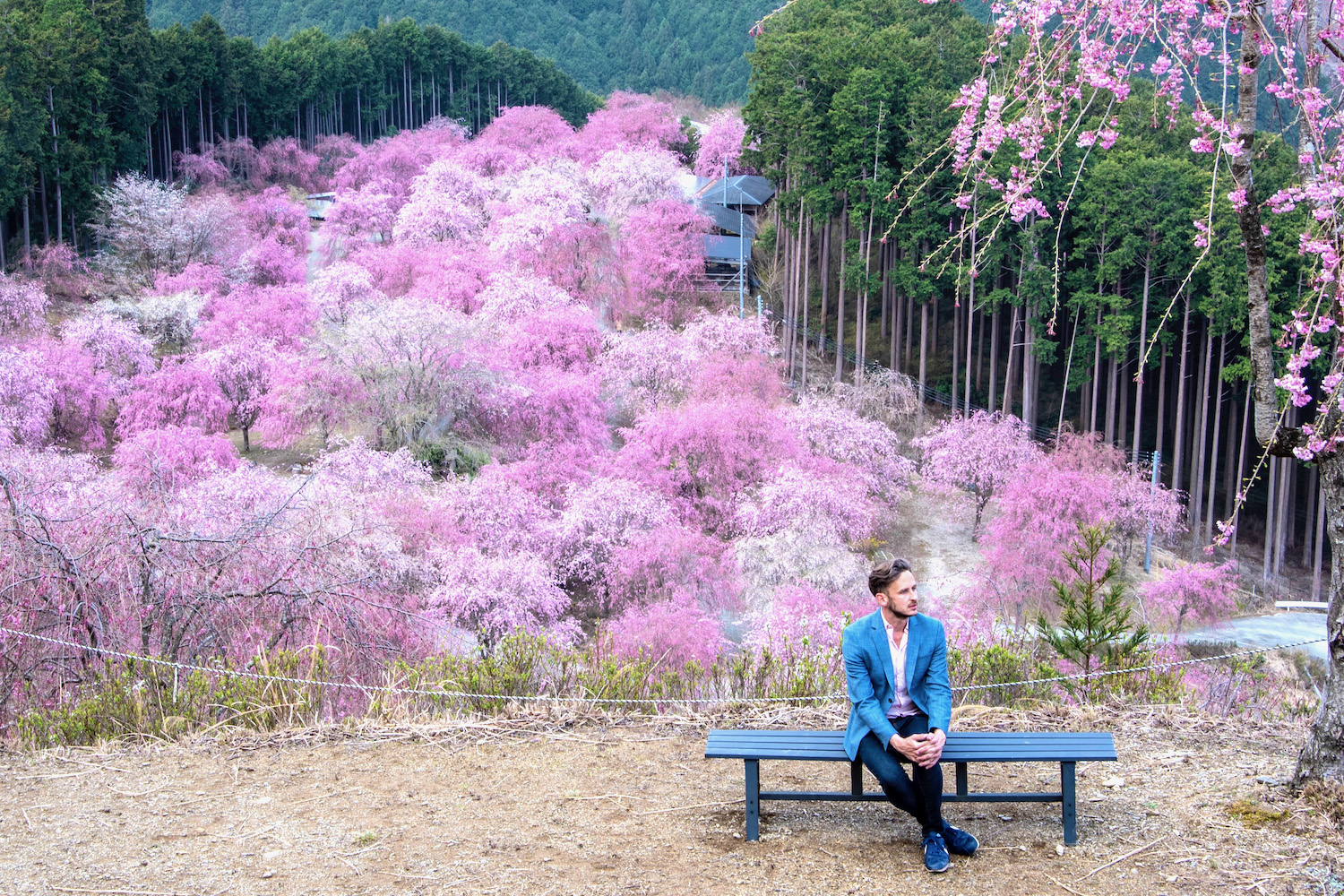 Other FAQ About Cherry Blossoms in Kyoto
Are there cherry blossoms in Kyoto?
Kyoto has among the largest number of cherry trees of any city in Japan, not to mention in the most diversified settings. Enjoy cherry blossoms amid the historical architecture of Kiyomizu-dera temple, beside waterways like the Kamo River and Philosopher's Path or in more urban districts like Fushimi and the Hanami-ko-ji Geisha street in Gion.
What month is cherry blossom in Kyoto?
Cherry blossoms in Kyoto generally start blooming the last week of March and reach full bloom the first week of April, but this is not a hard-and-fast rule. In 2021, for example, Kyoto's sakura reached mankai on March 26, the earliest date in more than 1,200 years.
Where can I see cherry blossoms in Kyoto?
Kyoto's cherry blossoms are most famous for the beauty amid the temples of Higashiyama, including Kiyomizu-dera, Kodai-ji and Chion-in. However, there are dozens of other places to enjoy cherry blossoms here, including the gardens at Hei-an Shrine and the Kyoto Imperial Palace, as well as along the Hozu and Kamo Rivers. If anything, it's difficult not to see tons of cherry blossoms on your trip to Kyoto—and literally everywhere you go.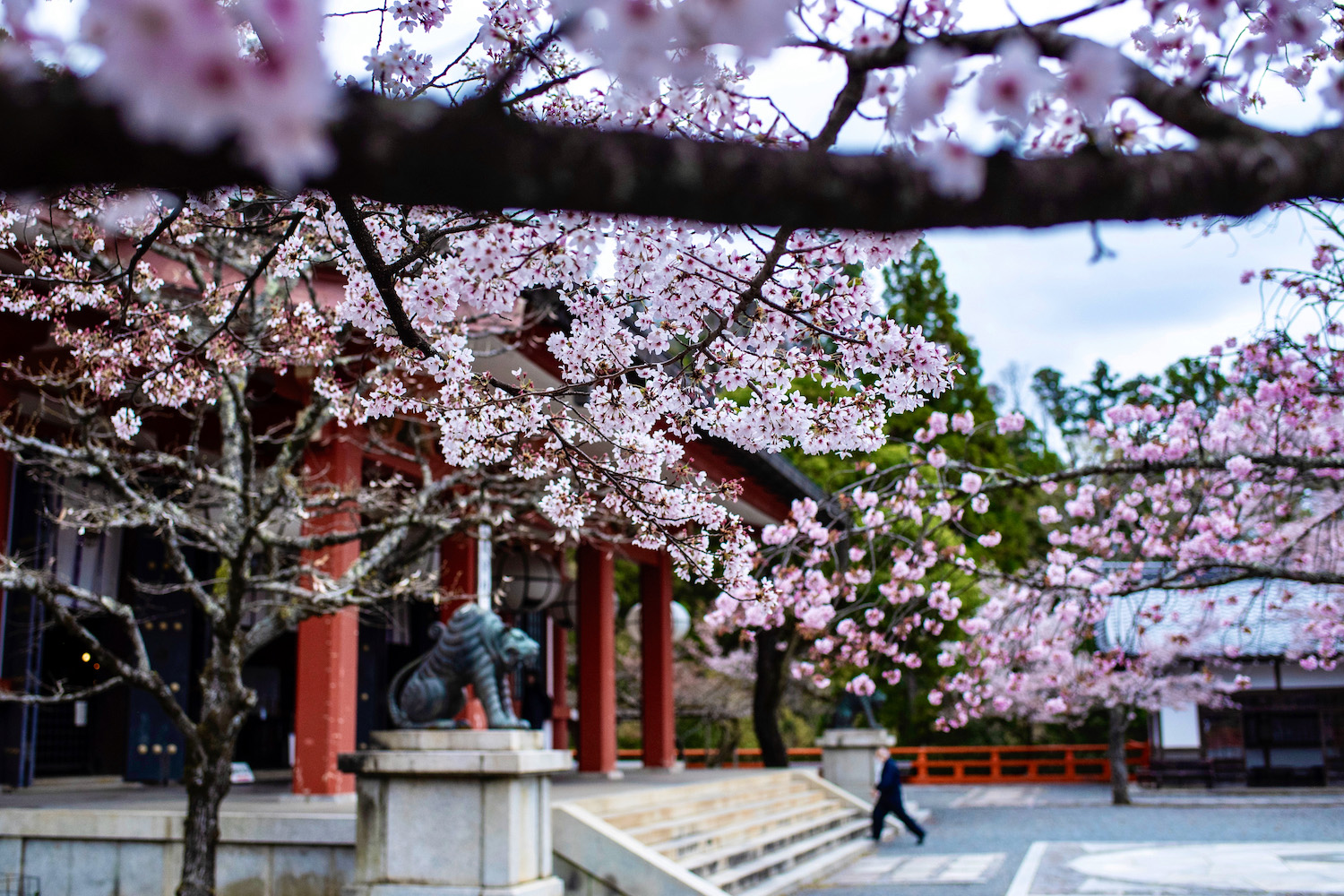 The Bottom Line
If you've been stressed as try to decide where to see cherry blossoms in Kyoto, that ends today. Over the past 1,500 words or so, I've not only told you when to visit Kyoto to have the best chance of seeing mankai, but have outlined nearly a dozen incredible cherry blossoms in the city. In, and around: I've also cited several cherry blossom day trips you can take from Kyoto, to make your exploration of the Kansai region complete at this most beautiful type of year. Kyoto during cherry blossom season is the most beautiful place in the world, even if you fly blind. Can you imagine how flawless your trip will be if you follow just a few of my suggestions on your next trip to Japan—or if you hire me to plan it?