Has a single image ever inspired you to book a trip somewhere? For me the answer is "yes"—and, as you might imagine, many of those trips have been to various places in Japan.
One of them—the one we'll be talking about today—is the place depicted in the main image of this article: Nachi Taisha, located in Wakayama prefecture near the eastern terminus of the Nakahechi, the main artery of the Kumano Kodo pilgrimage route.
If you, too, now feel compelled to take a trip to see the pagoda waterfall in Japan, you'll want to continue reading.
History of Japan's Pagoda Waterfall
Like many "historical" structures in Japan, the waterfall temple isn't actually that old, at least not in its current form. While the original Seiganto-ji pagoda was completed in the 4th century, it was destroyed several times after that, most completely in the 15th century during Japan's Warring States period. The current structure is actually just over 50 years old, having only been completed in 1972.
Interestingly, local people have been worshipping at the site, even before religion formally existed in Japan. Specifically, ancient people of the Kii peninsula saw the waterfall itself as a sort of deity. And not just ancient people: The presence of the waterfall at the site where the original Seiganto-ji went up almost two millennia ago is not coincidental, in my mind.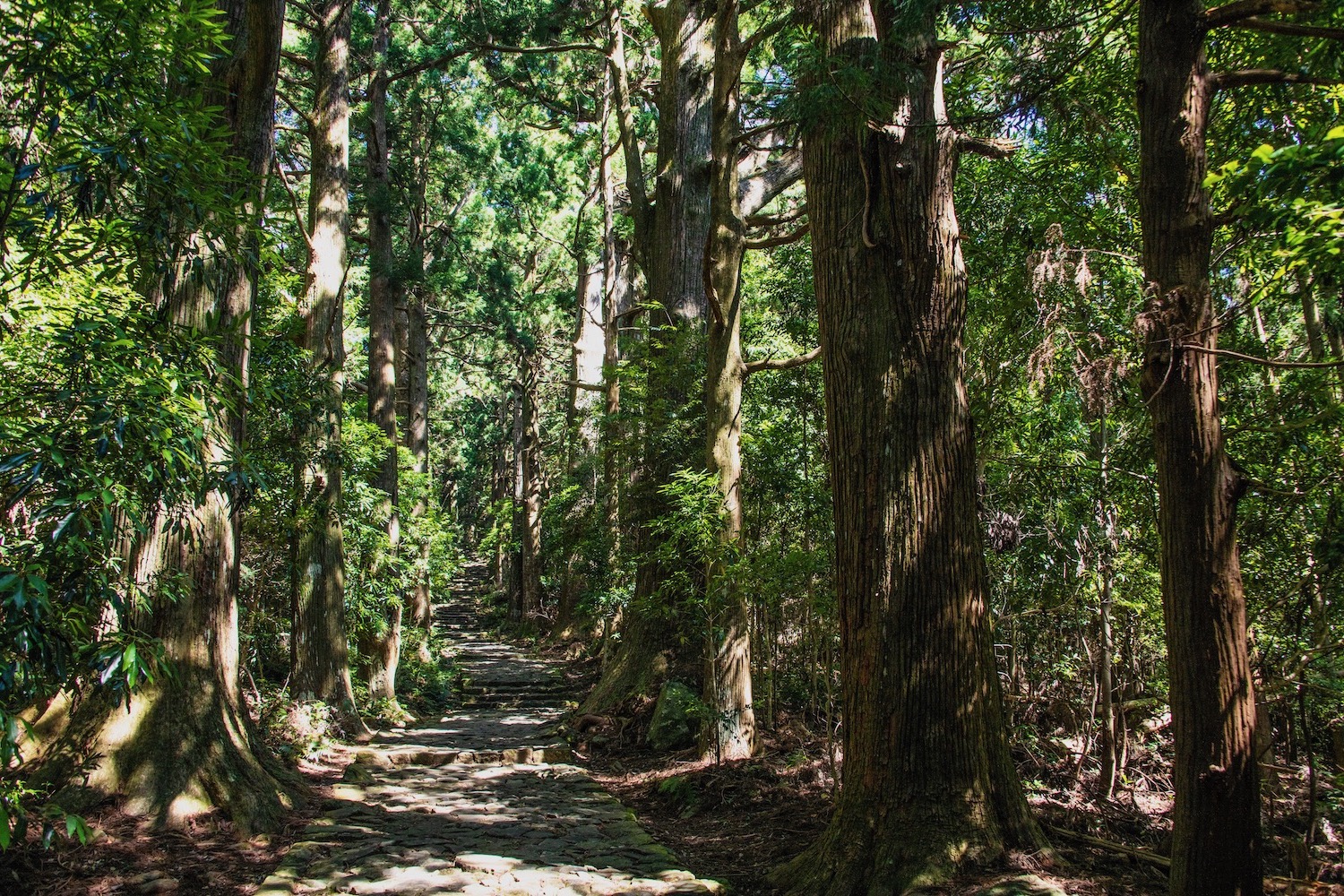 How to Get to the Pagoda Waterfall in Japan
Find your way to Shingu
Most journeys to Nachi Taisha begin at Shingu Station, even though it's not the closest depot to the shrine. While some travelers will walk here (more on that in a second), the majority will arrive in Shingu by bus from Hongu, or by train from either Nagoya, Osaka or somewhere else in Wakayama or Mie prefectures.
(Potentially via the Kumano Kodo)
Of course, you can reach the Japan waterfall pagoda by foot. From Hongu, there are two branches of the Nakahechi heading southeastward. Depending on where you plan to sleep, you can either walk directly to Nachi Shrine (and then onward to Kii-Katsuura), or instead to Shingu via Kumano Hatayama Shrine.
Take a train to Kii-Katsuura
If you do find yourself in Shingu, you will want to take the train southward to Kii-Katsuura. Do note that if you choose to take Nanki Limited Express (as opposed to a local train), you'll need to reserve a seat, even if you have a Japan Rail Pass.
Then a bus to Nachi Taisha
The (potentially) final step of reaching the Japan pagoda waterfall involves following the signs from Kii-Katsuura Station to the nearby bus station. You'll then board one of the hourly buses to Nachi Taisha; you can get off right at the shrine entrance and walk up one set of stairs to get the awesome view.
(Or Daimon-zaka slope)
On the other hand, I personally find it very fulfilling to instead get off at the Daimon-zaka bus stop, and walk up the slope of the same name. This adds just 30 minutes to the time it takes to reach Seiganto-ji, but is much more exhilarating. If you've just come off a Kumano Kodo trek, this can be a nice epilogue.
Is Nachi Falls Worth A Visit?
Nachi Falls is one of the most magical places in Japan, but there are a few things you should be aware of. The first is that getting the "money shot" can be difficult. Most postcards and other official materials that depict Seiganto-ji against the waterfall are taken from another temple, which is actually off-limits to the public. As a result, your pictures will show the waterfall as much closer to the pagoda tower.
Pictures notwithstanding, another way to make your visit to the Japan waterfall temple more worthwhile is to incorporate some sort of hike. Unless you are completely wiped out from your time along the Kumano Kodo, I recommend getting off the bus at the Daimon-zaka stop and walking from there. This 30-minute hike will get your blood pumping (and your sweat flowing!) and will make the pagoda an even sweeter sight.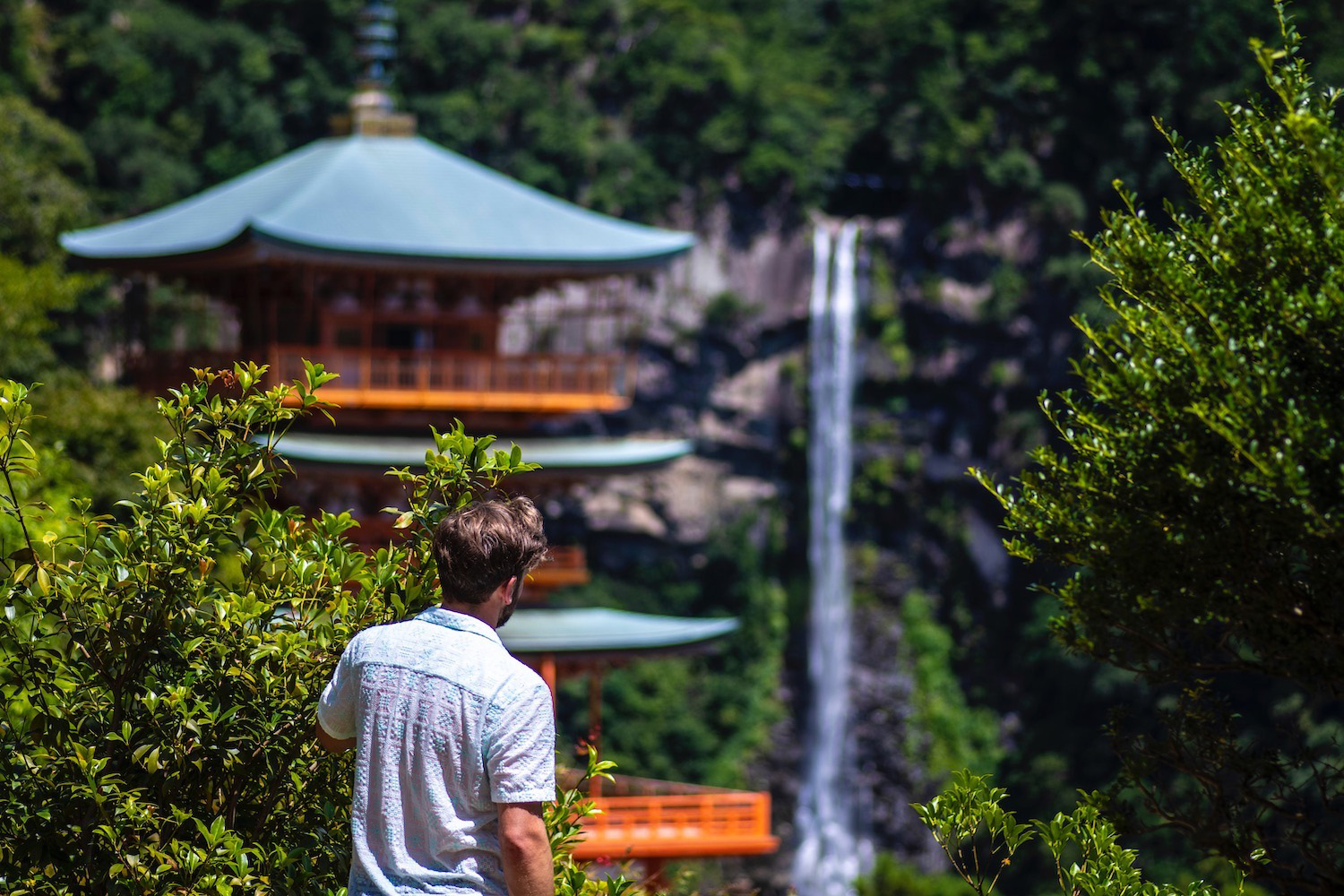 Other FAQ About Visiting Japan's Pagoda Waterfall
How do you get to the Nachi Waterfall?
To get to Nachi Waterfall, you first need to find your way to the east coast of Japan's Wakayama prefecture, specifically to Kii-Katsuura Station. From there, you'll board one of the hourly buses bound for the waterfall; you can either ride all the way there, or instead scale Daimon-zaka slope to reach Seiganto-ji, the pagoda.
How long is the hike to Nachi Falls?
If you hike to Nachi Falls from Daimon-zaka slope, it will take you between 30-45 minutes to reach Seiganto-ji, and another 30 minutes or so to reach the base of Nachi Falls. Obviously, if you come via the Kumano Kodo from Hongu in the central part of the Kii Peninsula, your hike will take many hours.
What is the best waterfall in Japan?
For me, Nachi Falls in Japan's Wakayama prefecture is one of the best waterfalls in Japan. In addition to being tall and dramatic, it sits amid emerald mountains and not far from Seiganto-ji pagoda at Nachi Taisha shrine. After Chureito Pagoda near Mt. Fuji, I'd say it's one of the most scenic views in all of Japan.
The Bottom Line
The pagoda waterfall in Japan is one of the most spectacular places in the country—and not just in a visual sense. Whether you hike all the way here from the interior part of the Kii Peninsula, or simply add on a mini-trek up Daimon-zaka slope after you arrive in Shingu or Katsuura by train following a longer Kumano Kodo pilgrimage, you can be sure you'll feel a profound sense of wonder—and maybe relief—upon arrival. Still feel stumped by the logistics of reaching Nachisan? Hire me to plan your entire Japan trip, and let me sweat the details!