Hokkaido, I often tell prospective clients when they ask me about visiting the island, is not really Japan. I don't mean this in a bad way, I explain, noting how comparatively little traditional architecture Japan's great, white north has, never mind how devoid of culture it largely is. Which makes sense, what with it being a wilderness.
If I'm honest, I still consider Hokkaido to be something separate from the rest of Japan, even after what is (I believe) my sixth trip there. Or maybe my seventh.
On the other hand, as you'll see scrolling through my Hokkaido autumn itinerary, the island is arguably at its most appealing when it's decked out in hues of blazing red, orange and yellow.
Hokkaido in Autumn: Why I Saved the Best for Last
I'd be lying if I said that my decision to visit Hokkaido first in winter, then in summer, then in spring and finally in autumn was by design. It just kind of happened that way! I knew that winter had to be first, keeping in mind what I said about Hokkaido being Japan's great, white north. Summer? Well, my July 2018 took place largely because I was living in Thailand at that time, and there was a crazy marketing campaign there RE: Furano's lavender.
When I undertook what was then (and still is) my most exhaustive sakura season travel in 2021, when I was living in Kyoto, it made sense to end them in Hokkaido—why would I have followed the cherry blossom front all the way across Japan, only not to see it through to its completion? Autumn (although it would follow a second winter trip) was all that remained at this point. And I'm happy to say that I definitely saved the best for last.
The Best Places to See Autumn Leaves in Hokkaido
Noboribetsu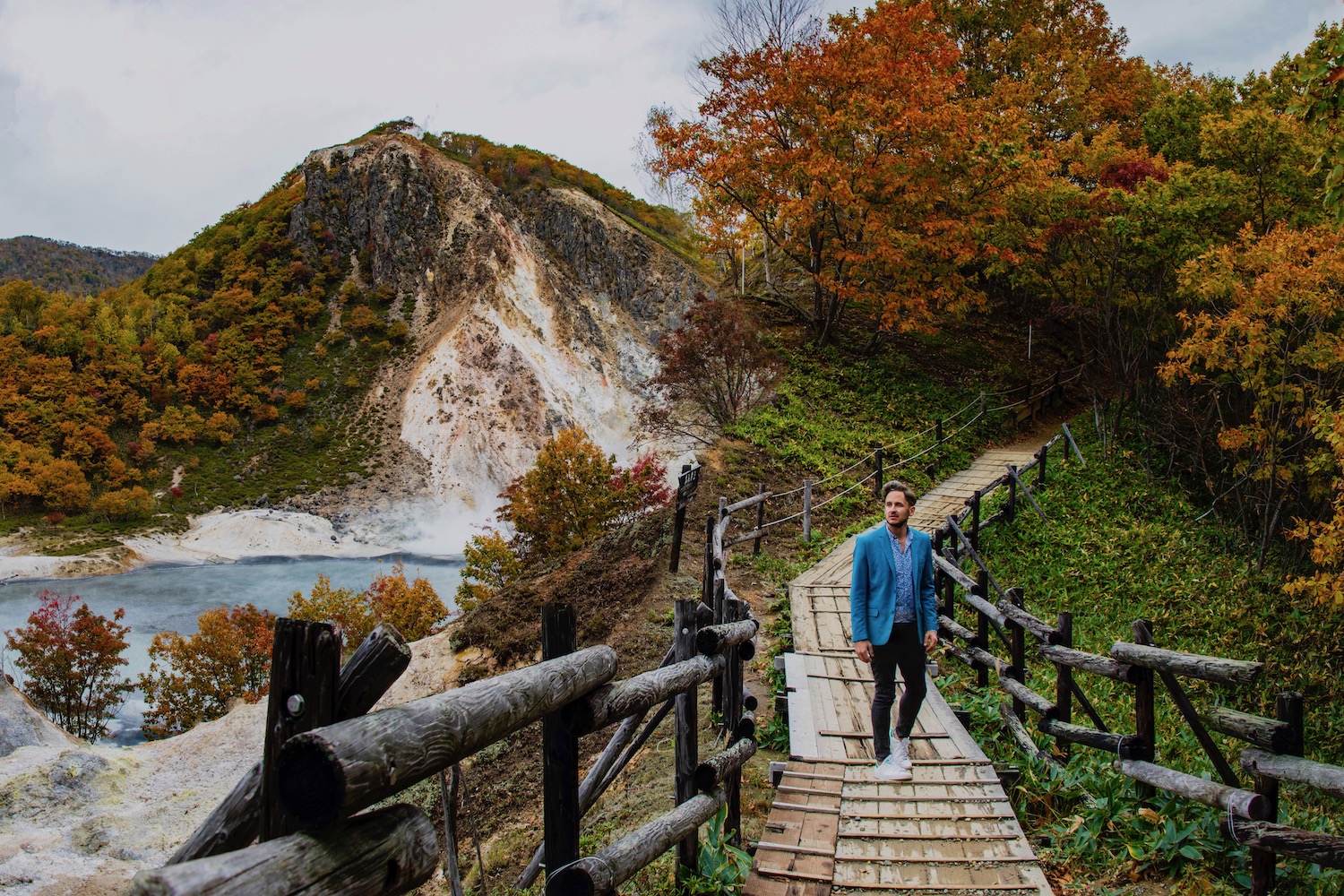 The good news? Even if you simply follow the signs to Jigokudani (aka Hell Valley) after getting off the bus in Noboribetsu Onsen (which is about 15 minutes away from JR Noboribetsu Station), you'll be impressed by the autumn colors on offer here. The better news? If you continue hiking up and over to Onyuama Pond, you'll see even more amazing scenery and foliage.
Jozankei Onsen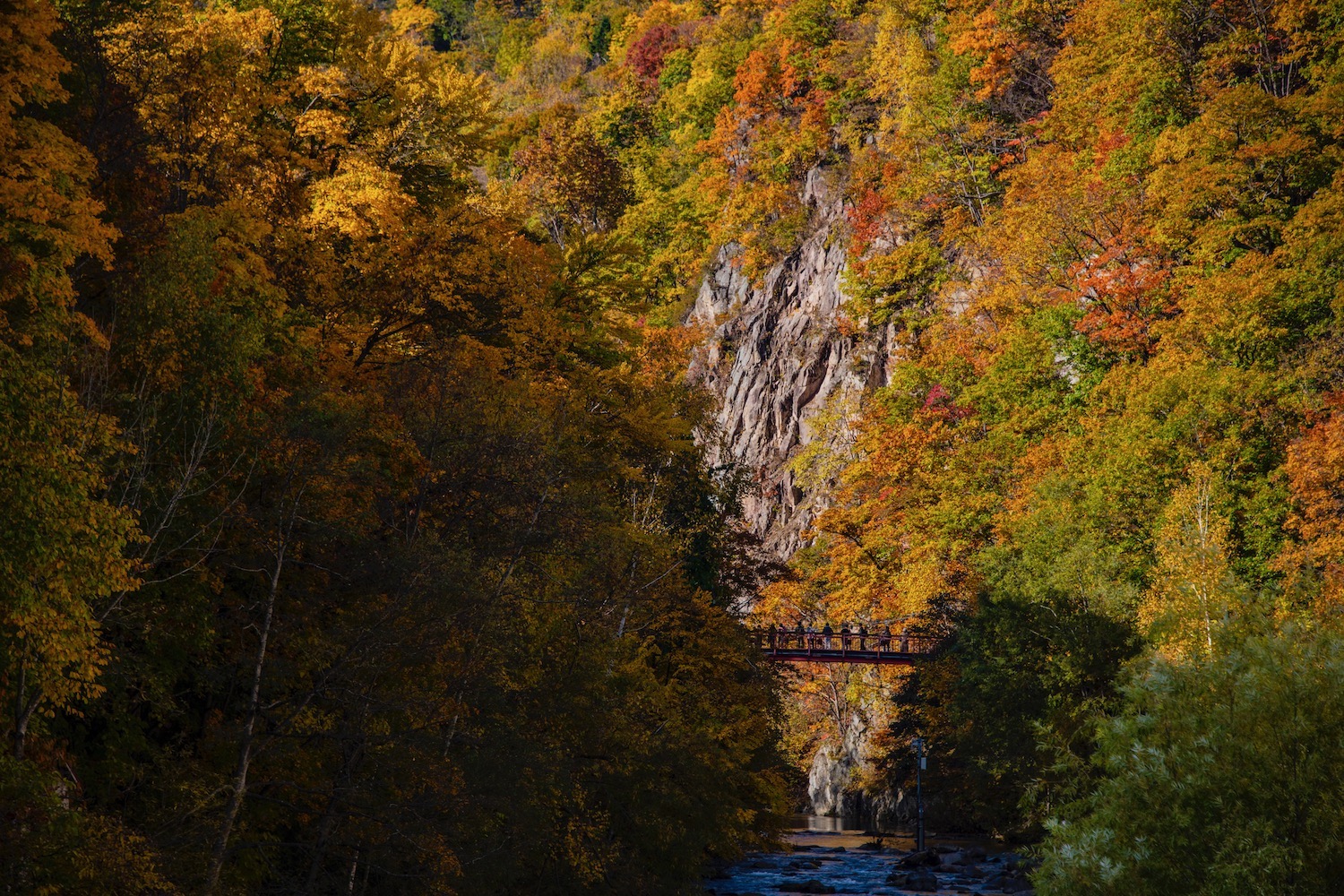 Another amazing onsen town to visit during your trip to Hokkaido in autumn is Jozankei. While the hot springs hotels themselves leave something to be desired, I do enjoy the views, be those of the town itself from Jozankei Bridge or from the riverbanks just downstream from Futami Tsuribashi Bridge, which serves as a canvas for the autumn colors on the canyon behind it.
Shiretoko Peninsula
Eastern Hokkaido is underrated in general, from the Ainu culture on display near the shores of Lake Akan, to Kushiro's cuisine and the various boat trips you can take from Abashiri. Autumn, too, is amazing here. I recommend driving past the towns of Shari and Utoro, whether across the peninsula for captivating views of the Shiretoko Pass, or to the Shiretoko Five Lakes, which is actually something of a swamp.
Biei Blue Pond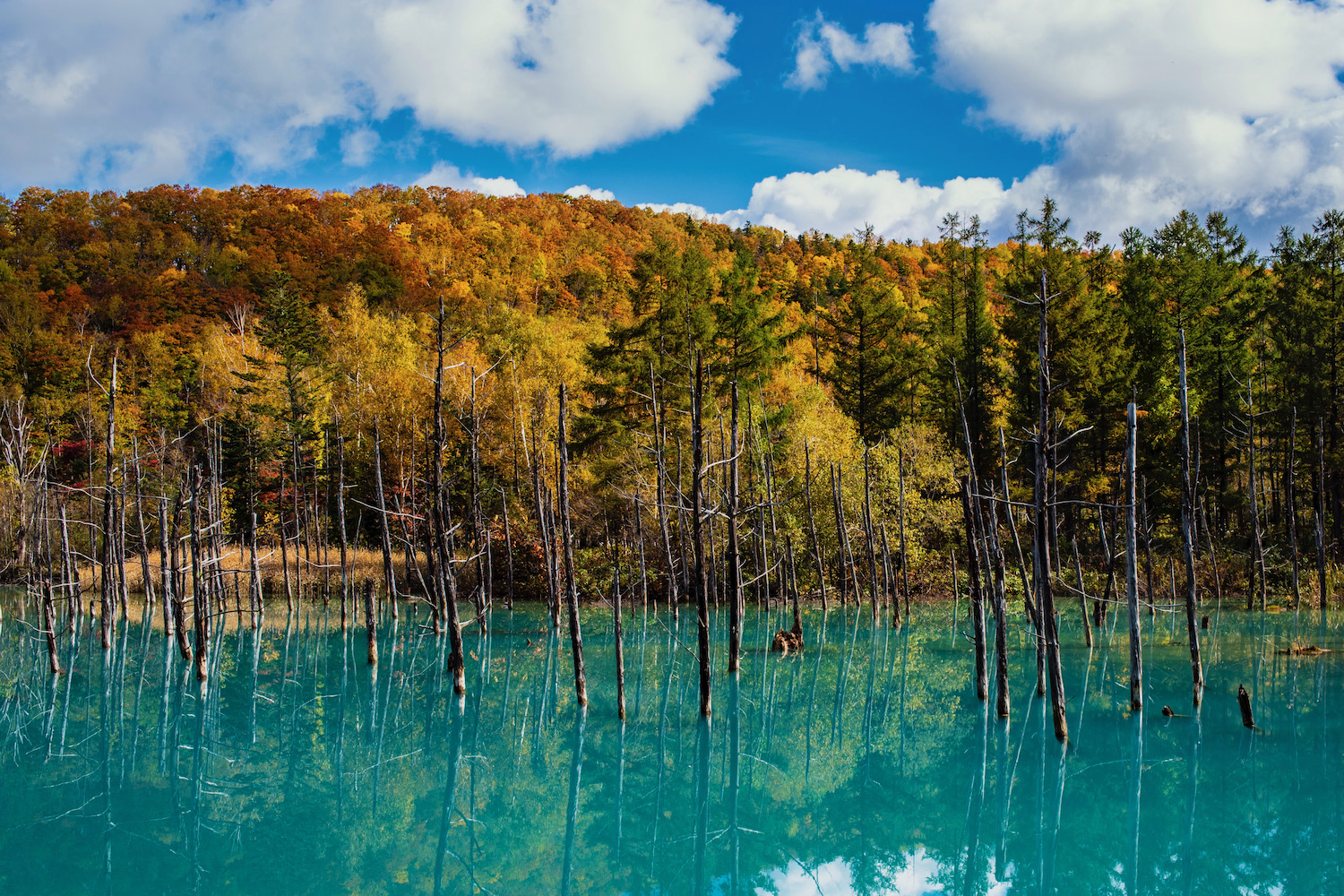 In my opinion, one of the true highlights of a Hokkaido autumn trip is this easy-to-miss water feature near Asahikawa. I saw "water feature" because although it's technically part of the Biei River, the Shirogane Blue Pond is the result of manmade engineering works. It's beautiful in all seasons, but especially during autumn, when colors blaze around it, as well as above and beneath nearby Shirahige Waterfall.
Daisetsuzan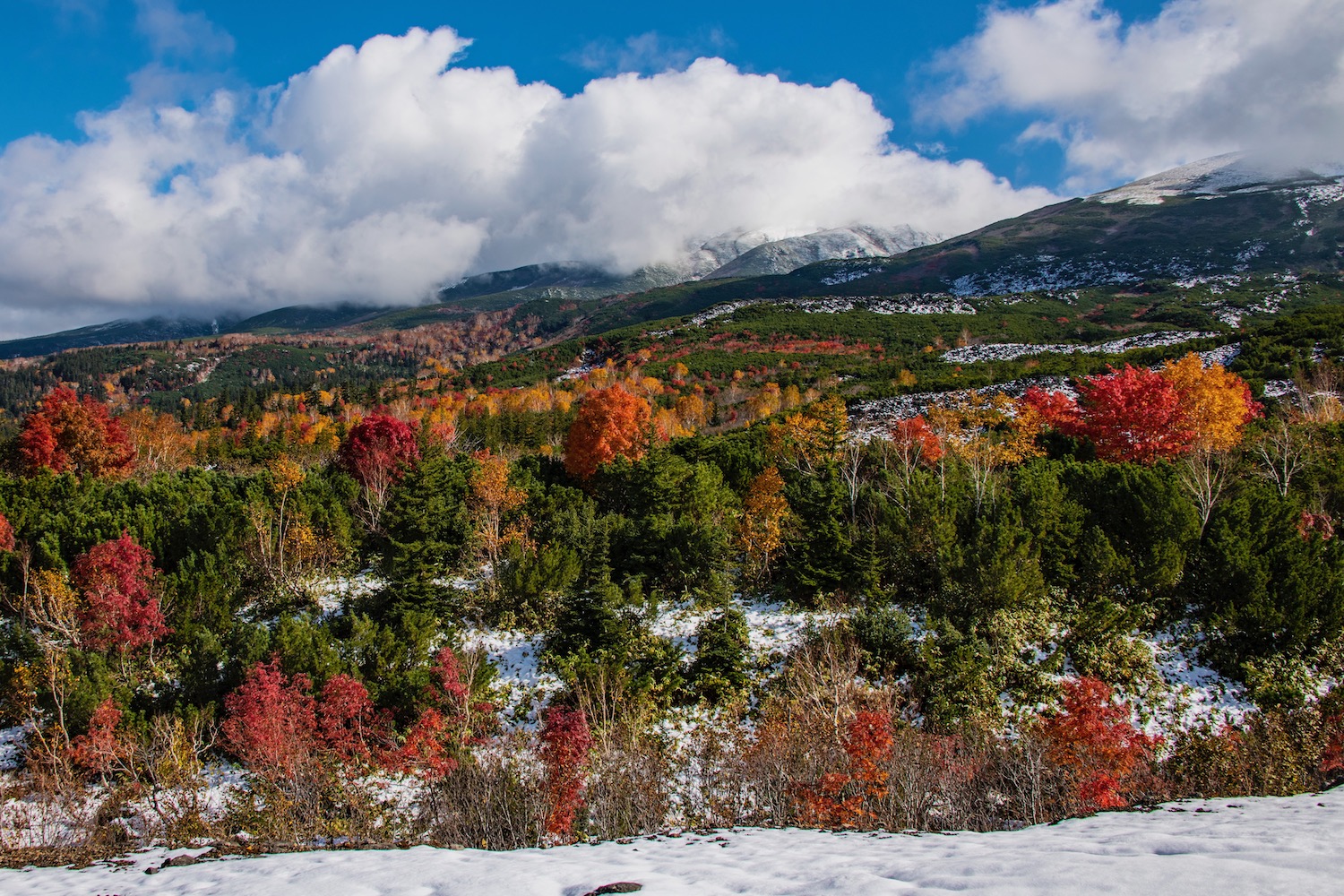 Like many mountainous regions in Japan, it can be difficult to say for sure where Daisetsuzan National Park begins or ends. Personally, I'm a huge fan of the parts of it near Mt. Biei, whether an alluring spectrum of maple and ash trees blazes scarlet and golden beneath peaks that are already covered in several inches of snow. This is in contrast to the hikeable portions near the summit, where it's mainly ground cover that takes on autumn color.
When Do Autumn Leaves Reach Their Peak in Hokkaido?
Although autumn leaves in Japan are generally less fickle than cherry blossoms, they've become slightly more so in the era where every summer seems to be the "hottest on record." Moreover, the further north you go in latitude and the higher up you go in altitude—in other words, the two things Hokkaido is known for—the less predictable the koyo becomes.
A good primer, keeping in mind that certain places may be just before or slightly after peak viewing, is to approach your Hokkaido autumn travel in a bifurcated way. If you want to explore eastern Hokkaido (so, anywhere east of Asahikawa, whether the Blue Pond and Sounkyo Onsen, or even Lakes Mashu, Kussharo and Akan or the Shiretoko Peninsula, mid-to-late October is your best bet. West of Sapporo? It's best to wait until early November.
Other FAQ About Visiting Hokkaido in Autumn
Is October a good time to visit Hokkaido?
October is a fabulous time to visit Hokkaido, particularly if you can time your visit to coincide with the changing of the autumn leaves. Do keep in mind the timing. While early October sees peak or near-peak colors in Daisetsuzan National Park, you'll need to go later in the month if you plan to see colors in lower elevations. Moreover, if you plan to focus on destinations west of Sapporo, early November is really the optimal time to visit.
Which month is autumn in Hokkaido?
Autumn in Hokkaido begins in late September for meteorological purposes, but in terms of fall foliage, the answer is different. Leaves atop Daisetsuzan Mountain change from the end of September, while October sees changing colors move from east to west—first on the Shiretoko Peninsula, then in Sounkyo Onsen and finally in and around Asahikawa. Onsen towns like Jozankei and Noboribetsu, to the west of Sapporo, are meanwhile at their best in early November.
Is Sapporo worth visiting in autumn?
Sapporo's city center is perfectly pleasant in autumn, particularly well-known foliage destinations like Nakajima Park and Hokkaido University's Ginkgo Avenue. However, the most beautiful displays of leaves near Sapporo are in more rural areas, whether in onsen towns like Noboribetsu and Jozankei, or around the rims of volcanic lakes like Toya and Shikotsu.
The Bottom Line
You don't have to follow my Hokkaido autumn itinerary exactly in order to experience the same magic I did—you don't have to follow it at all. But I do encourage you to pay a visit to Hokkaido in October or November, if only because Japan's great, white north actually looks its best with a little color on. Do take care to time your visit right (October for eastern Hokkaido and the heights of Daisetsuzan National Park; November for anywhere west of Sapporo). And don't feel shy to hire to me to plan it for you: My custom Japan itinerary service takes all the guesswork out of your next trip, whether or not it includes Hokkaido.