When the sun set on yesterday, I was in awe. A marmalade glow lingered above the precipice of Mt. Fuji for at least a half-hour, long enough for the skyscrapers of Shinjuku and Roppongi and even the Tokyo Sky Tree to light up at its base. It was one of the most picture-perfect moments I've ever had in Tokyo—though reality, for its part, has five senses.
The aftertaste of cheap green tea. The smell of sighs photographers let out at they try to steady their gear without the use of tripods, which are of course prohibited atop the i-Link Tower in Ichikawa, Chiba. The shriek the wind makes as it creeps in through the open ceiling of the glass observation deck, slapping you in the fact to protest its inability to escape.
And the feeling that even if your entire body is already frostbitten, it's still worth staying up here a bit longer: Perfect pictures rarely arise from ideal circumstances.
A Little Old Lady and a Shinto Priest
A successful photography expedition to i-Link was a score I desperately needed to settle. I'd spent a day in Tokyo during the hottest part of last summer after a week-long road trip through Hokkaido, but the haze on that particular evening obscured the fact that there was even a city (let alone the world's largest) splayed out beneath me.
When the sun rose on yesterday, however, I was otherwise without an agenda. Sure, I had a little bit of FOMO when I saw how perfectly pink the sky (and yes, the top of Fujisan) was glowing from my seat on the Keikyu Kuko Line somewhere between Shinagawa and Shimbashi. But my list of things to do in Tokyo in winter was rather anemic.
I capitalized on this immediately. After dropping my bags at the chic Akasaka hotel that's inching closer to becoming my favorite base in the capital, I made my way across the street to Tokyo's so-called "hidden shrine," where contrasting with quirks one could only find in Tokyo (where else in Japan would someone ride up not one, but two escalators to go pray?) was a scene I thought only existed at Kyoto's Fushimi Inari Shrine.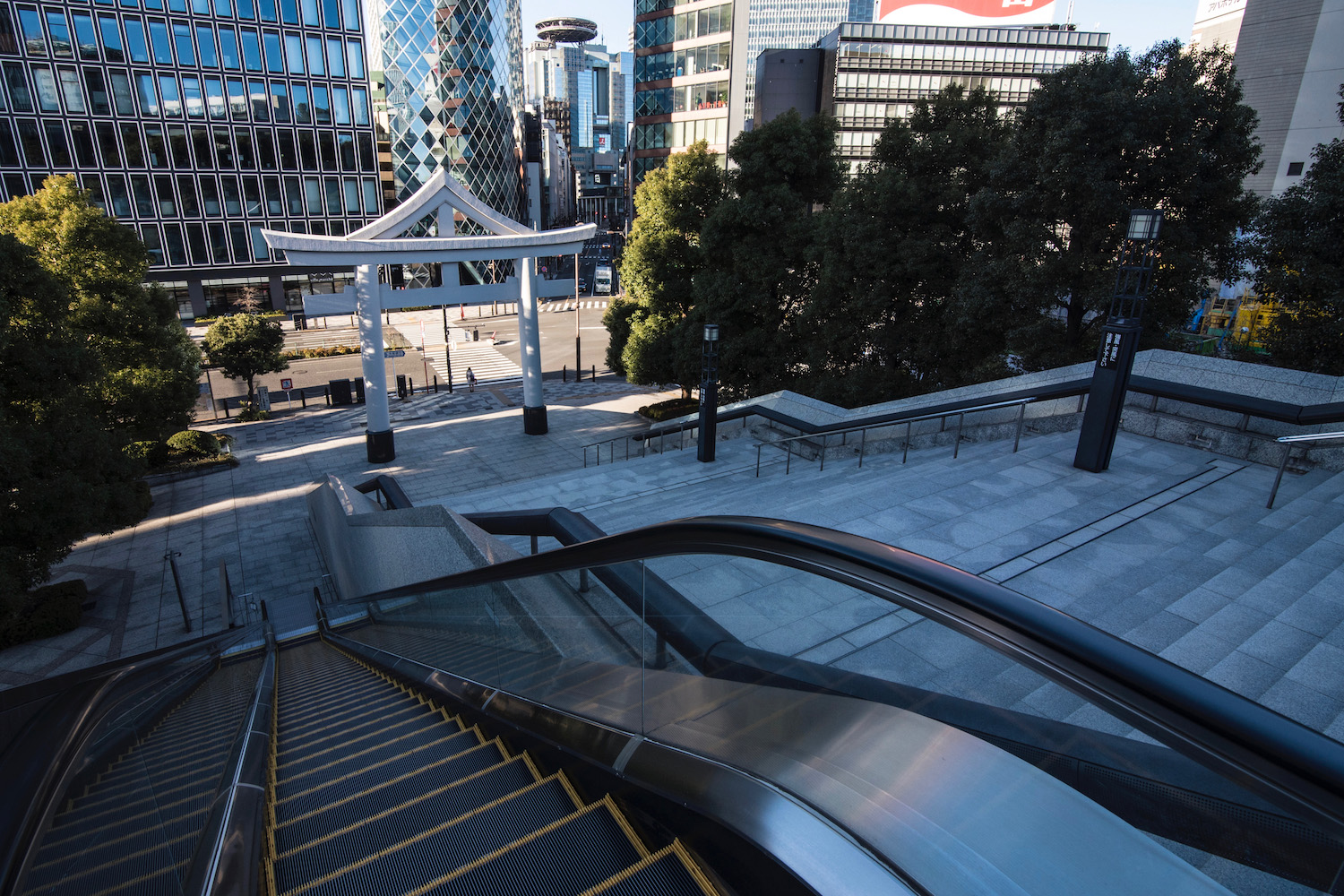 I had the Hie Shrine all to myself, with the exception of a little old lady and a Shinto priest or two. Toshio hadn't texted me back yet.
Misplaced Palm Tree
As I descended the staircase underneath these two dozen or so red gates for the last time, my initial though had been to bypass Tokyo attractions that were known to me, heading perhaps to the historical district of Yanaka, where the soul of Shitamachi would flow through me like the Sumida River. You wanted to go there with Toshio, I reminded myself, and descended into Akasaka-Mitsuke station without a clear destination.
Toshio was someone whose acquaintance I'd made in Krabi, Thailand in early last May, and met up with in his sort-of hometown of Nagoya later that month. He'd been the first person in Tokyo (where he moved in November) I alerted to my then-upcoming trip a few weeks ago, and seemed unfazed by the fact that I'd be arriving across the crack of dawn. Of course I can meet you in the early morning, he'd replied, almost immediately.

But Toshio was M.I.A., and while I hoped we would eventually end up meeting, the show had to go on. So I rode the subway to Tokyo Station and took the Yamanote Line to Nippori, where I wandered into Yanaka Cemetery on my own.
Immediately, I saw an old woman accosting one of the cats that are allegedly (but not, in my own experience) so bountiful in this boneyard, the umeboshi tree above the pair in full bloom. As I walked through valley of the shadow of death, a seemingly misplaced palm tree swayed in the frigid breeze, and Tokyo Sky Tree loomed in the distance.
Lost, by His Own Admission
I met up with Toshio shortly after lunchtime, greeting him somewhere deep in the bowels of Shinjuku Station, where we caught a Chuo-Sobu Line train to Ichikawa together. Though he wore two jackets and a tartan-print wool scarf, he mostly stayed inside as I froze my ass (and other body parts) off atop the i-Link Tower. He faithfully accompanied me to a couple spots in Shibuya and Kabukicho, where I settled other photographic scores from the past.
(TIP: Photography, especially long-exposure night photography, is not among the most pleasant things to do in Tokyo in winter, particularly if you're not a cold-hardy person.)
We had two dinners together, but they passed as quickly as a single bite of gyoza. Before I knew it, I was taking the last sip of my ginger high-ball, and we were high-tailing it out of the smoky, second-floor izakaya, Toshio at his wit's end with the inebriated young women that surrounded us on all sides.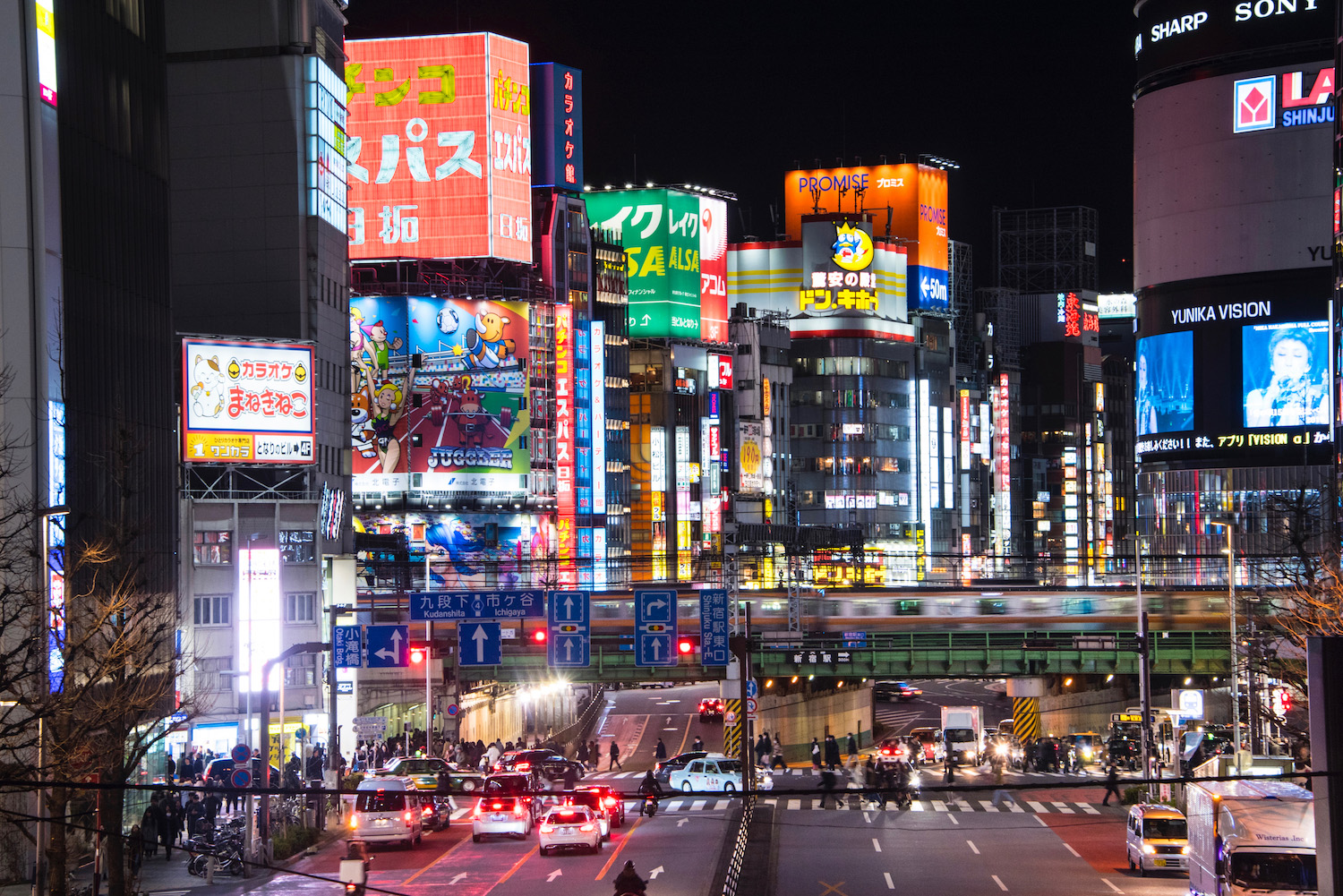 I escorted him to the entrance of the Keio New Line (though he's lived in Tokyo for months he still gets lost, by his own admission) and said we'd meet again before I returned to Thailand, knowing full well that this was an unlikely outcome. As I turned to walk away, I realized we didn't even snap a selfie together.
When the Sun Set on Yesterday
Like each of the dozen or so times I've returned to Tokyo, my reunion with Toshio was bittersweet. We don't know each other well enough for me to have any expectations—and the moment I feel we've finally re-acquainted ourselves, it's time to say goodbye. Many of my favorite things to do in Tokyo (and, in general, Japan) in winter seem picture-perfect, though the circumstances of doing them are far from ideal. When the sun set on yesterday, I was in awe.
Other FAQ About Visiting Tokyo in Winter
What is Tokyo like in the winter?
Although it doesn't snow much in Tokyo's city center, winter is a great time to visit Tokyo. Days are sunny and mild, and usually aren't very windy, which means even colder days are bearable and great for sightseeing. The nights can be quite cold, but plenty of locals in areas like Shibuya and Shinjuku will make sure you don't feel too frigid.
Is Tokyo fun in the winter?
Tokyo is a lot of fun in the winter! Winter is a great time to enjoy dining experiences in Tokyo, from hot crepes along Shibuya's Takeshita-dori, to yakitori chicken skewers at stalls in Shinjuku's Omoide Yokocho. Likewise, winter is one of the best times to take a day trip from Tokyo to Nikko, whose ancient shrines and towering waterfall are at their most resplendent amid the snow.
Is winter a good time to visit Tokyo?
Winter is a good time to visit Tokyo if you aren't fussed about seeing cherry blossoms or autumn colors in the city. Indeed, what Tokyo lacks in color or foliage during the winter months, it makes up for with its minimal tourist crowds, beautiful lighting conditions and slightly lower prices.