Standing at the end of a pedestrian bridge dedicated to the victims of a grisly fireworks accident many years ago, I stared wistfully through the haze over the Seto Inland Sea toward Awaji Island. Japan—at least the Kansai region—is increasingly less elusive to me, but I hadn't yet set foot on the eastern link between Shikoku and Honshu until about 11 am yesterday.
My first impression was less than stellar. "He said foreigners can only drive electric cars," Eriko informed me, translating what the stout, smoke-smelling man behind the counter of the makeshift rent-a-car counter had just told her, in contradiction to what I'd found to be true literally everywhere else in Japan. "And that Sumoto Castle is a waste of time."
I held back my nastiness, commenting to Eriko once we finally pulled away that a Google review I said had listed the fortress as an excellent spot for sunset. For now, however, both of us were famished—and Mr. No-fun had recommended an excellent lunch spot for us.
Real Peach Flesh
At least I imagined it was excellent, in the same way I imagine that a visit to a Japanese castle could never be considered a waste of time. The restaurant, like many others throughout Japan in all but the country's largest cities, was closed on account of it being Tuesday.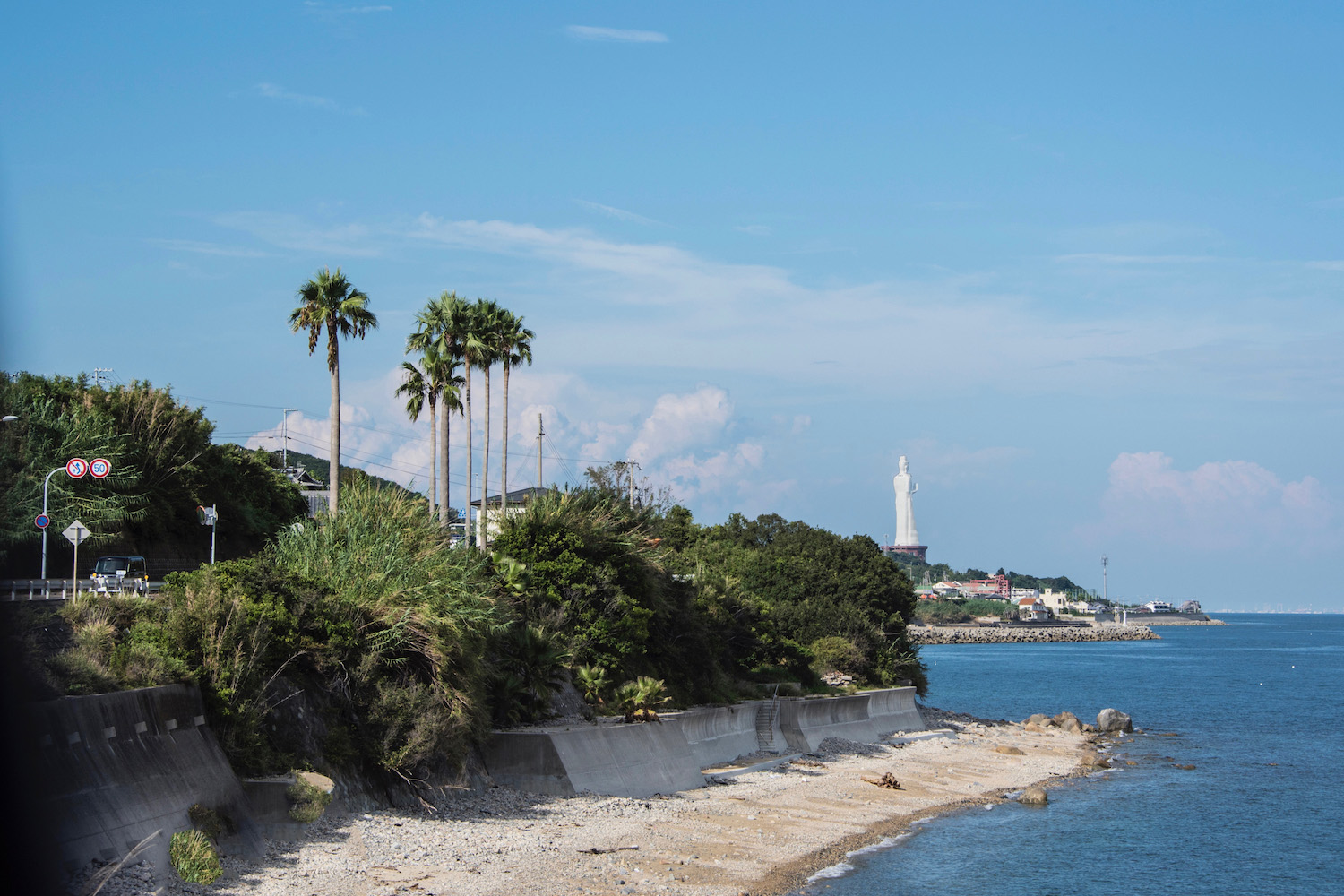 Thankfully, Eriko has an eagle eye for detail, so as we meandered back eastward through Sumoto town she spotted an eatery selling similar fare—Awaji beef yakiniku, served inside a traditional Japanese house, like the one that housed the closed restaurant, no less. We even had our own private dining room, though it thankfully didn't result in too inflated a bill.
Our next stop on Awajishima (which is to say, our first real attraction) was Izanagi Shrine, which Eriko has decided for a reason I don't have the knowledge of Shintoism (and indeed, her spiritual outlook) to decode is "her" shrine. After passing under a couple of sterile concrete torii, we made our way to the main jingu building, whose grounds also included a red-bridged koi pond, a couple of trees that had literally grown together and a sundry shop selling soft cream with real peach flesh in it.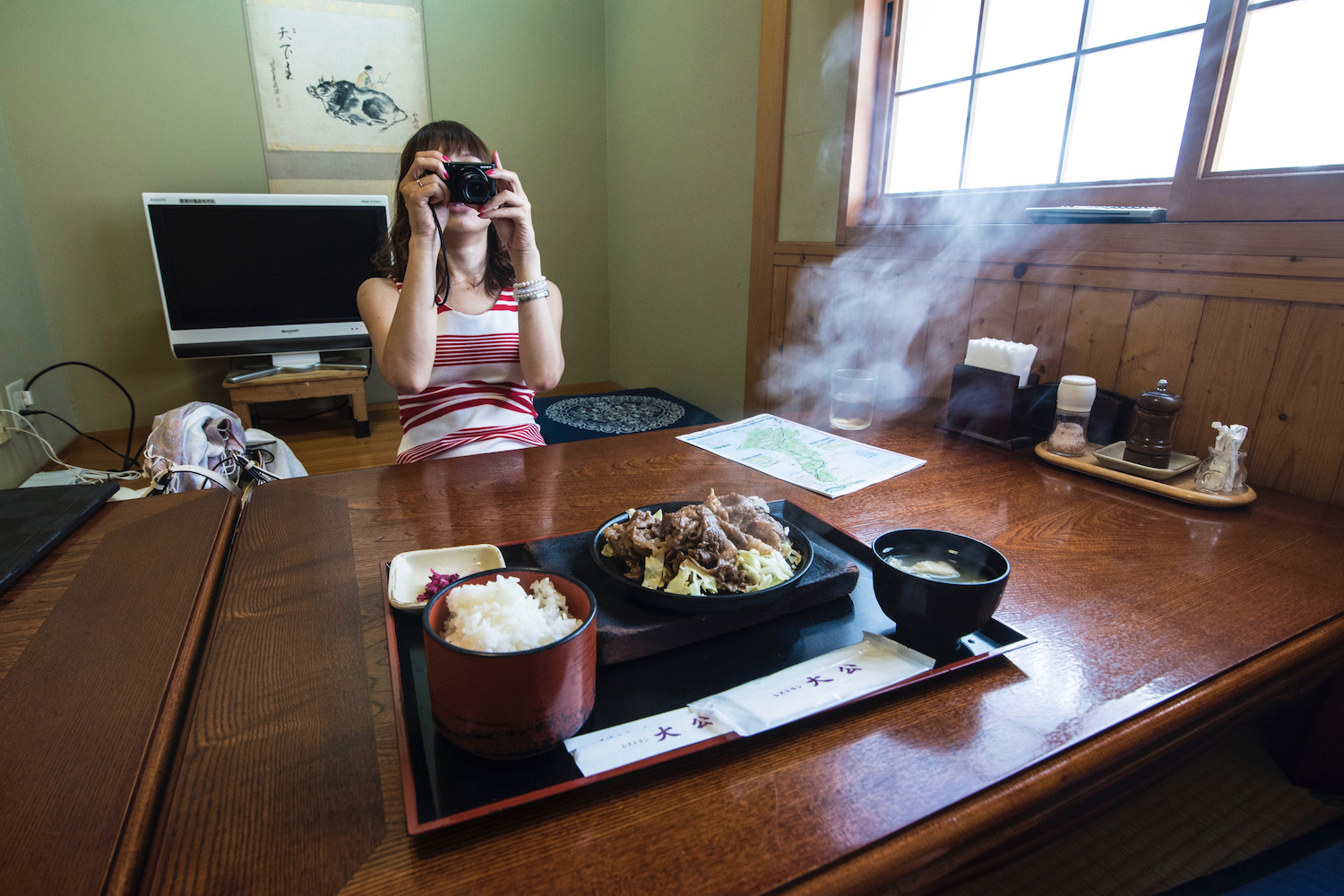 "Is Awaji known for its peaches?" I asked Eriko as we both tried to finish our desserts before they melted in the scorching early September sun. She shook her head, reminding me that Awaji's most famous crop was its onions.
The Rest of the Stock
They're second only to Maui's in sweetness, or at least that's what some marketing materials I recently read had said. They were certainly photogenic, or at least the ones a local man had hanging outside his home along the west coast of the island were, to the extent that we stopped—Eriko to buy some, and me to photograph the rest of the stock.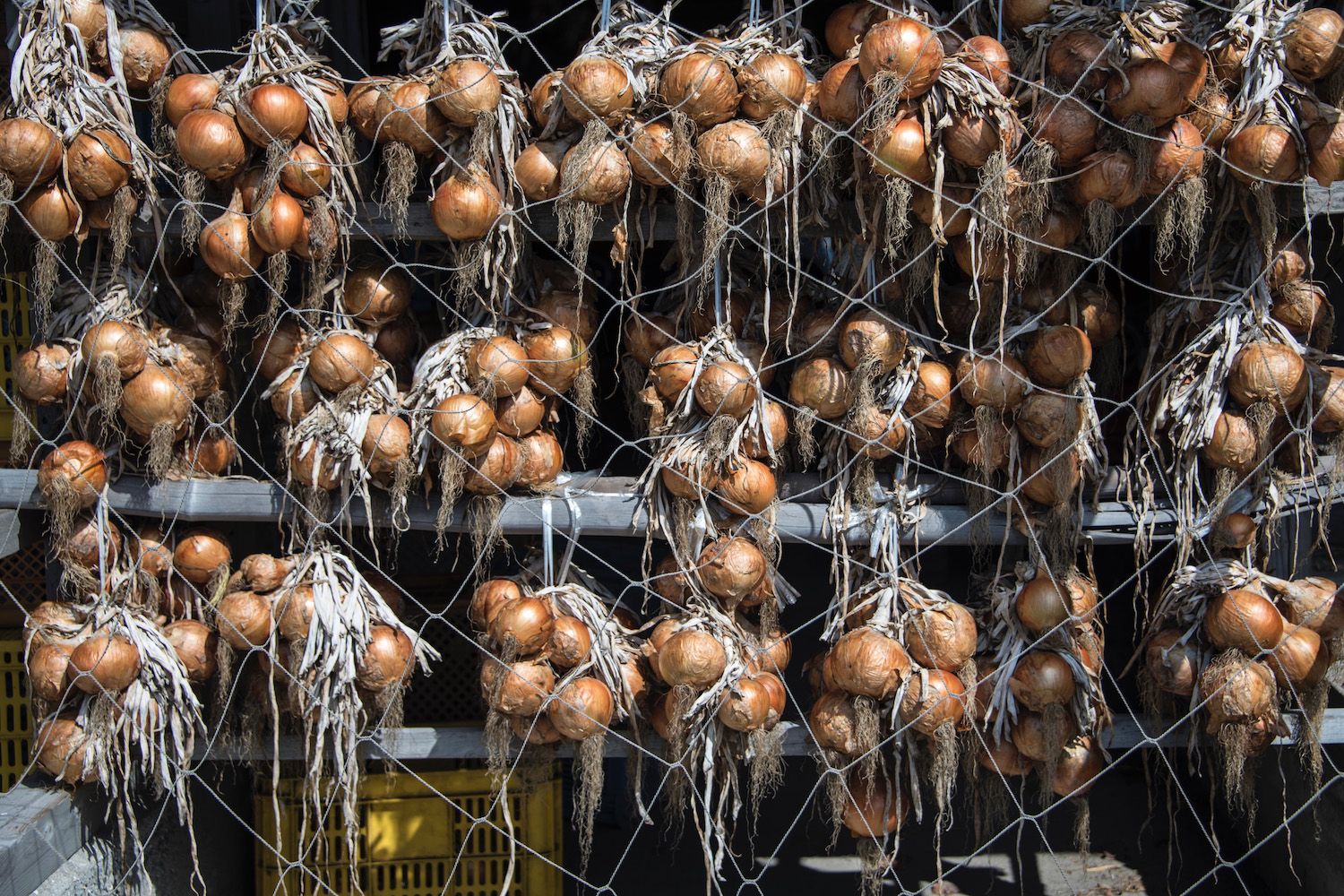 She only asked for yellow onions but the man, either annoyed by my creative venture or charmed by Eriko fascination with his inventory, threw in a free purple one as well. I remarked to her, as we pulled away, that apart from Awaji Island, Japan is not a country where I've ever seen anything given out for free.
"I got free incense today, too," she reminded me, hearkening back to our brief stop at a fragrance emporium en route from the shrine to the Seto Inland Sea. As we headed north back toward the Akashi Kaikyo bridge that links Awaji to Kobe, the road became clogged with several dozen cyclists, though none of the beaches Eriko and I expected to find off to our left side were worth stopping for.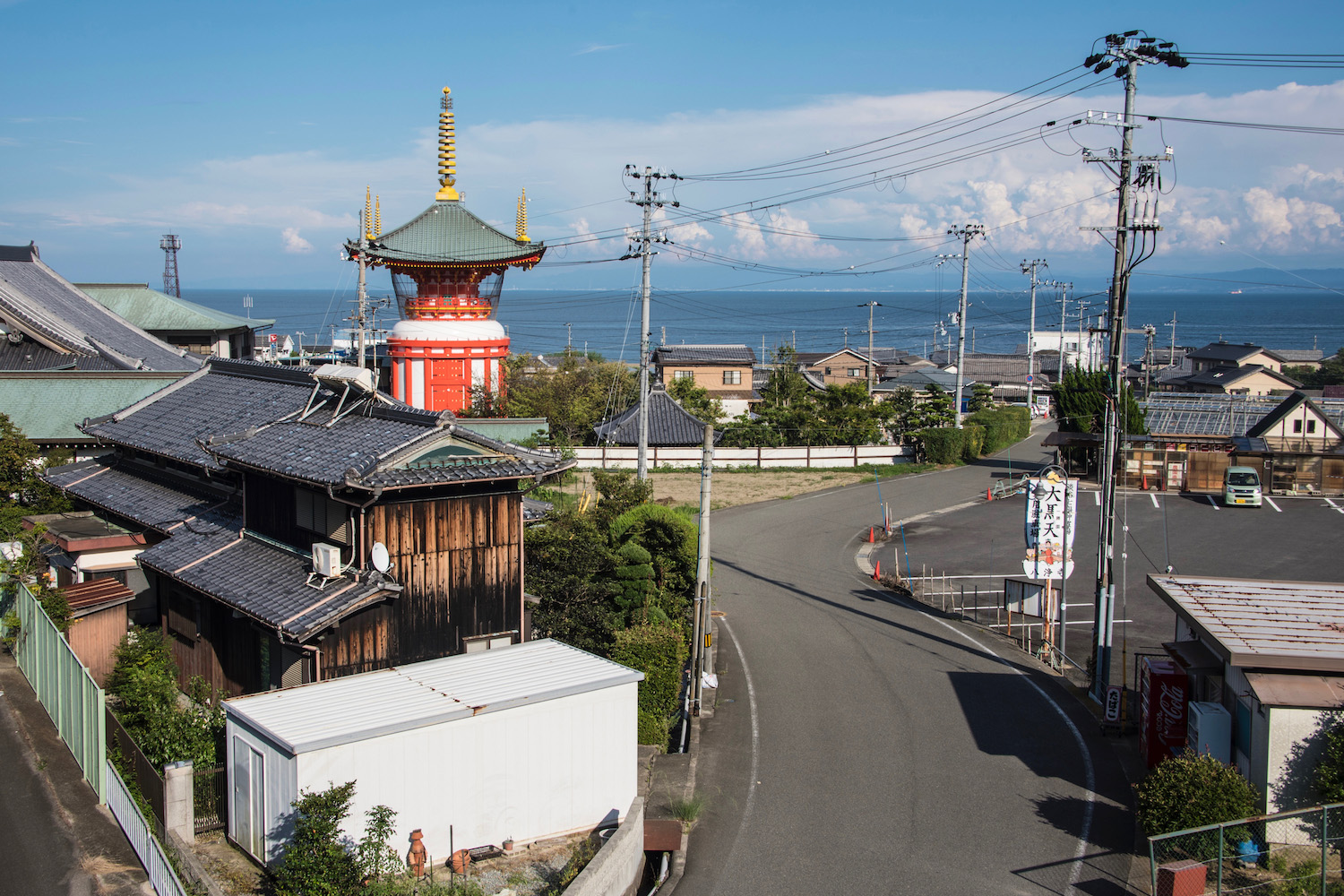 In spite of Awaji's awful beaches (even once we headed east and then back south, passing through the port town of Iwaya that connects Awaji to Akashi near Eriko's home, we found them to be defined by coarse, brown sand and generous helpings of plastic), I felt significantly more charmed by the island than I had expected.
Million-Yen View
As the sun was reaching its most flattering point in the sky (from the perspective of a photographer, I mean), we made an unexpected stop at Hachijo-ji
It reminded me ever so slightly of Danjo Garan atop Mt. Koya, though obviously this one was purpose-built.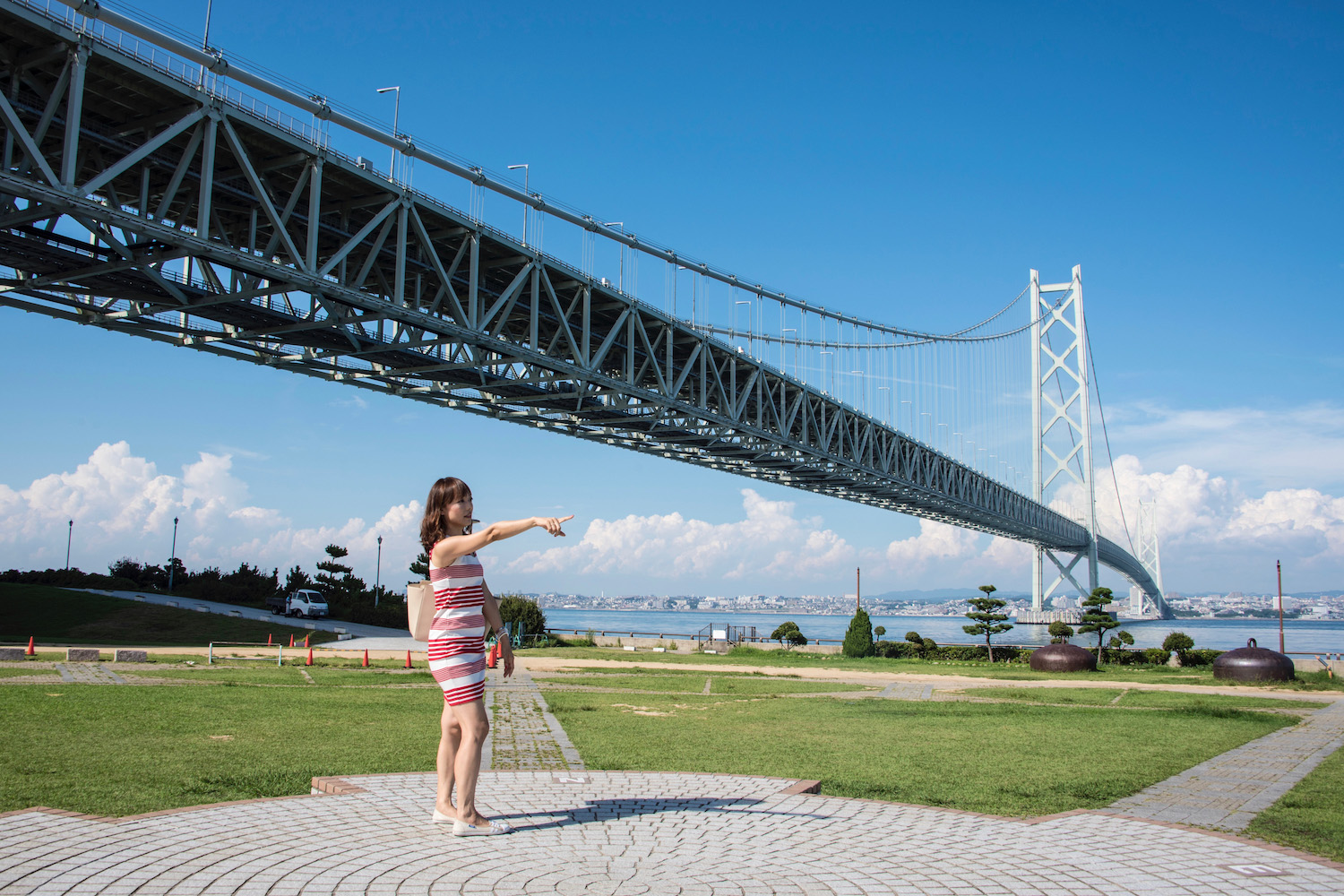 We then ducked into a charming (but empty—I guess everyone else assumed it was closed on account of it being Tuesday) cafe, with a noble social mission—employing the mentally impaired—and a delicious fig tart dusted with chocolate powder. From its parking lot, I had a clear shot of a distant standing Buddha statue I'd noticed during the first moments we'd arrived on Awaji Island, but couldn't photograph from onboard a moving bus.
Eriko made a brief trip down to the beach, too, though I didn't think it was worth taking my shoes off to frolic through such nasty sand. (Later, upon reaching a now-defunct foot bath at the base of Sumoto Castle, Eriko too conceded that it probably hadn't been a great idea.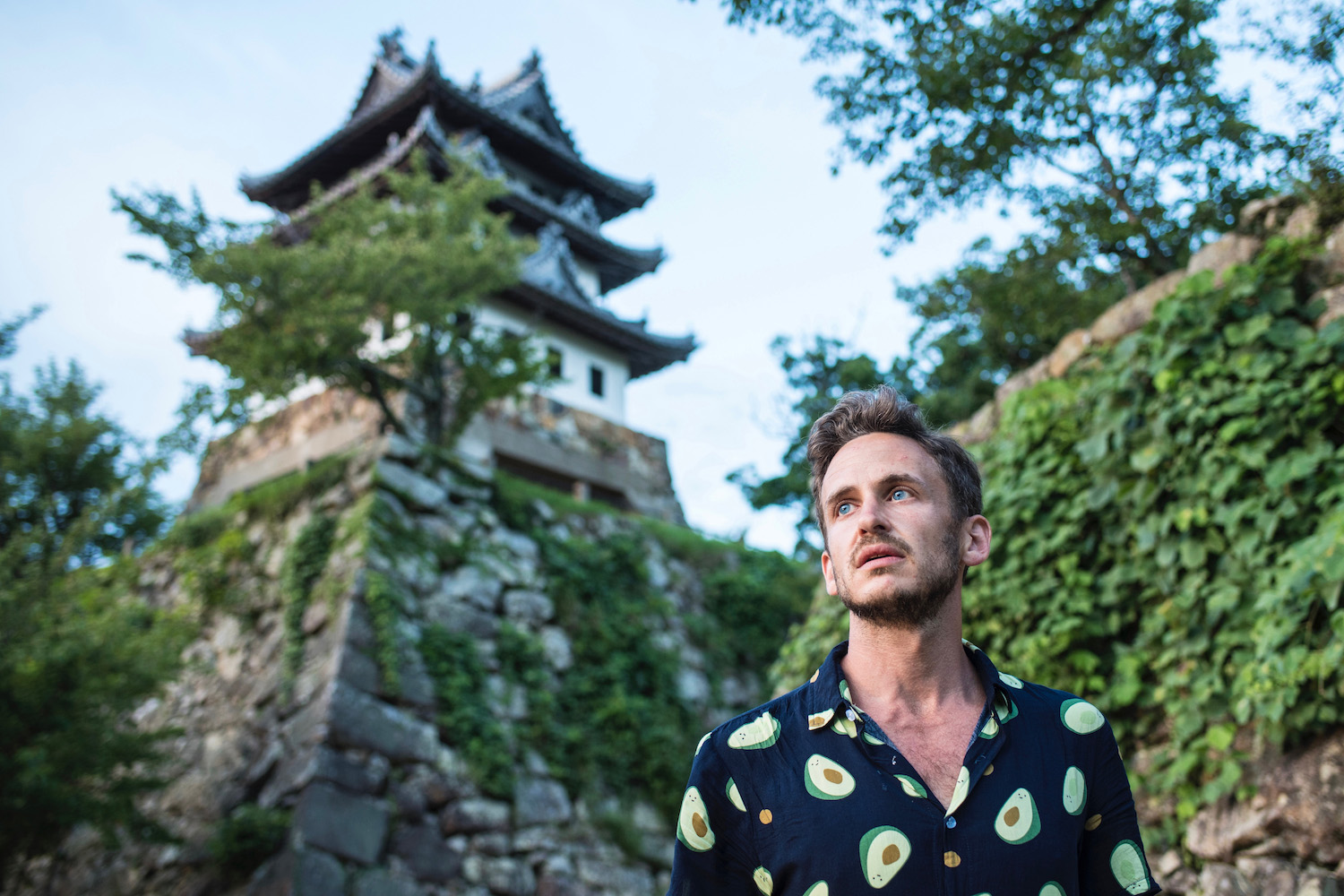 And as for Sumoto Castle? Well, I don't know if I can say it was my favorite place I visited on Awajishima, but it was far from a waste of time, if only for the million-yen view it provided.
Free Incense and Onions
A million-yen view—notably, not a million-dollar one—in spite of a lackluster sunset. Eriko and I waited beneath the tenshu for more than a half-hour after the castle's official closing time, given that the only other person there was an elderly woman playing croquet—she certainly wasn't going to bust us for having violated the rules.
When we returned the rental car, the man (the same stout, smoke-smelling man from before) told us we were dangerously close to missing the last express bus back over the sea, and offered to take us to the bus station, which was admittedly about as many minutes away by foot as by car. It was the sort of altruistic act (not unlike the free incense and onions) that you just wouldn't see elsewhere in Japan, and it made me feel bad for having prematurely rushed to judgment.
About the man, and about Awaji Island. Japan surely has better beaches (I visited some just days ago), and Sumoto Castle would be a lot more impressive if I hadn't visited its cousins in Himeji and Matsuyama, but there's something here—maybe in the air, maybe in the water that laps at the coarse, plastic-covered shores—that I just don't have words for.
FAQ About Awaji Island
What is Awaji Island known for?
Awaji Island is known primarily for its gorgeous sea views and the authentic, rural quality of life its residents enjoy. Functionally speaking, it's known as the gateway between Honshu and Shikoku islands; many travelers en route between the two islands stop here.
How do I get to Awaji Island?
You can reach Awaji Island by bus, car or ferry from Kobe or Osaka. Note that if you travel by ferry or private car, you may be subject to surprisingly high toll fares. The optimal way to visit Awaji Island is to go by bus, then rent a car once you arrive on the island.
Where is the Akashi Kaikyo bridge?
The Akashi Kaikyo Bridge connects Awaji Island with the city of Akashi on the mainland of Honshu. The bridge is visible far east and west of Akashi, however, as well as while onboard the Sanyo Shinkansen between Shin-Kobe and Himeji stations.