As I boarded my flight to Hanamaki Airport last Friday afternoon, it dawned on me that I've had a near-death experience during each decade of my life so far. I didn't dwell on this fact, or think about it for more than a few minutes, other than to wonder why it entered my mind when it did.
I certainly would've had time that evening to dwell, had I wanted to. Morioka, for as much as it's come to mean to me over the years, was far from happening as the shumatsu loomed; I had little more to do than visit Matsumoto Kiyoshi for some megusuri to try and heal the second stye to parasitize my right eye in less than a week.
The sunset out the window of my hotel room, which smelled of last century's cigarettes in spite of being officially smoke-free, was without question the best I've seen in Japan this year.
Morioka, for as much as it's come to mean to me over the years, deserves—no, demands—to be painted in such technicolor.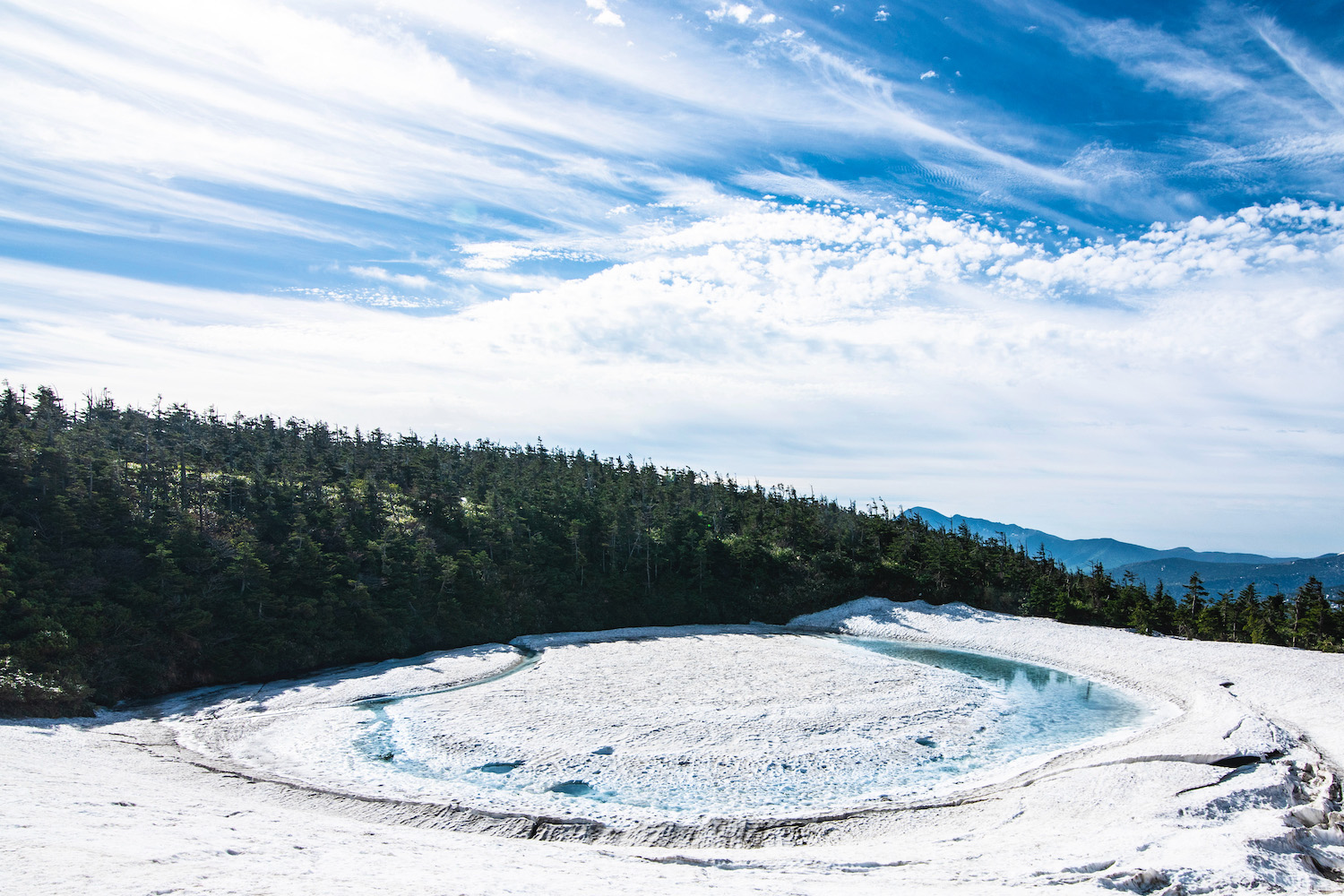 When I was eight I was nearly crushed between the back bumper of one car and the front bumper of another. It was an extraordinarily close call—I'm talking an inch or less of wiggle room—though it scares me more to think about it in retrospect than it did at the time.
Which is not to say that everything becomes clearer when you look back on it. Certainly, the advertisement on which I'd first seen the so-called "Dragon Eye" of Mt. Hachimantai seemed far from memory as I was gazing down at the real thing Saturday morning.
I'd been in Kobe, in 2019 around half a year before the world shut down, and my dear friend Eriko had been unable to help me. "Is that somewhere in Japan?" she asked in bewilderment when I sought her assistance in locating the ice cap, whose meltwater (not surprisingly) rimmed its thawing center like an uncharacteristically (for Japan) blue eye.
I can't remember now how I ended up discovering the location of the pond, nor when precisely I decided it would be worth the journey required to see it for myself. At the moment, I still can't decide whether my effort paid off—perhaps that too with seem more definite in the distant future.
Certainly, the strange looks passers-by gave when they saw me trekking on still-frozen snow dressed for the weather at sea level made me call the wisdom of many contemporaneous decisions into question.
It wasn't long (or it doesn't seem long now, thinking about it from the safety of the shourai) that I arrived outside Koiwai Farm, whose calico milk cows were sunning themselves on a pasture in front of Mt. Iwate. The entire scene was like a postcard.
Well, except for the lengths to which I had to go to photograph it.
I'd arrived an hour in advance of opening, you see, due to inaccurate information from Google Maps. Although my having trespassed to get the proper angle was only true in point of technical fact (the sign demarcating the forbidden boundary I crossed was intended for cars, not pedestrians), I did wonder what might befall me if the sole worker on site noticed me, assuming he didn't.
This reminded me of my second near-death experience. It had taken place during my 17th summer, driving through a part of St. Louis City I didn't know, long before Google Maps or smartphones were a thing.
If I'm honest, I hadn't realized that I'd lightly scratched a car I passed too closely. Even if I had, the crowbar the young man slammed through my window after chasing me for no less than half a mile was overkill.
Had he been as smart as he was angry, I might not have had the privilege of trespassing twice last Saturday.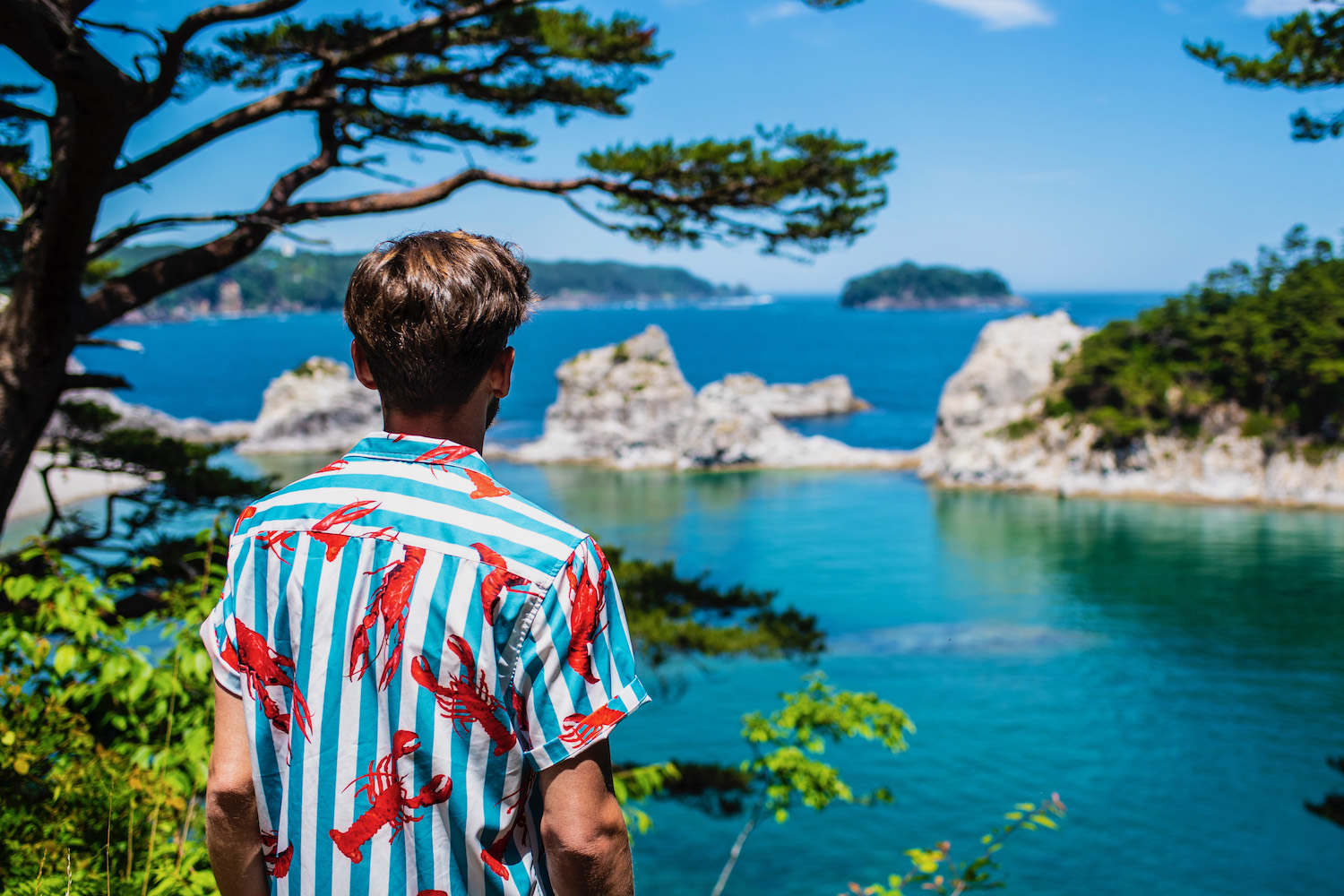 I say "twice" because a similar sort of dilemma presented itself upon my arrival at Jodogahama Beach, on Iwate prefecture's southeastern coast near the port town of Miyako. My GPS had taken me a kilometer past the official entrance, and down a road that said "Do Not Enter" in several languages.
In this instance, I didn't have to wonder whether I was breaching Japanese ethics, the underlying law notwithstanding. I encountered no less than two dozen other people, including employees of the park, on my way down to the seashore, where pyramidal piles of limestone jutted into the sea, its iridescent surface a gradient between cerulean and jade, behind a canopy of twisty pines.
I couldn't manage to stay for long, on account of the weeping of my stye, which was so intense I stopped at a kusuriya for the second time in as many days on my way back to Morioka to return my rental car.
Perhaps this is my punishment for walking not once but twice where I shouldn't have, I sighed, noting in my head how much I hated when other people moralized disease, but that I have no problem doing it myself, at least not to myself.
Which is to say the journey to Yamagata was quite a literal blur, on account of the discharge and discomfort having failed to settle down, in spite of my having removed contact lenses from both eyes after trading in my set of wheels for a train ticket.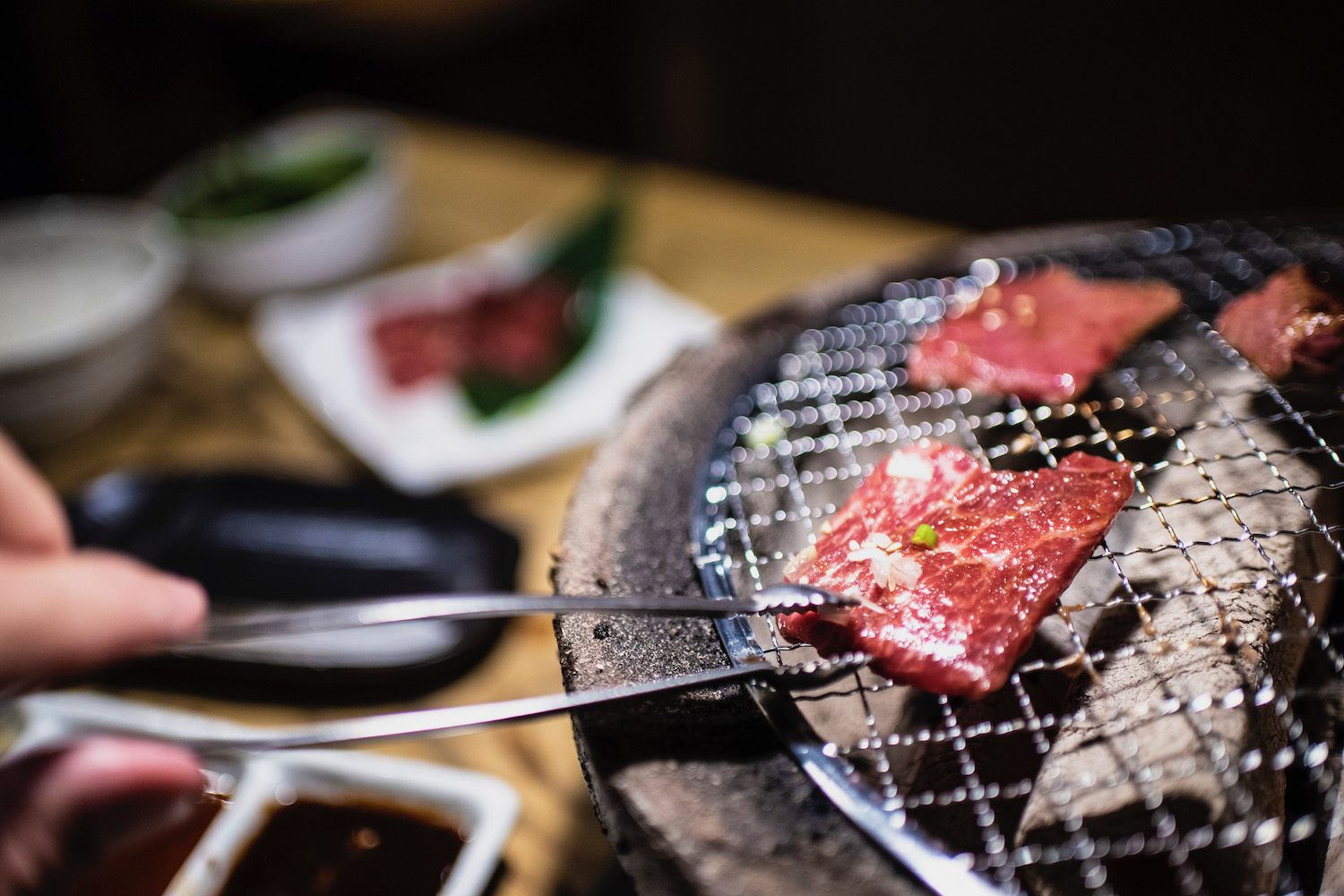 I remember only two visual cues from Saturday night: The transition of searing flesh from pink to brown during my yakiniku dinner, and the analogous way the color of the sky changed—it might have been more intense than Morioka's the evening before—when the sun set over Yamagata city.
Drifting off to sleep, I remembered the brush with death that had occurred in my mid-20s was also sickness related. I'd been in Myanmar, years before its publicized opening to foreign tourism, and a bowl of tainted ice cream had quite literally brought me to my knees.
At the time, I did think I would die. I couldn't even stand up; I'd had to crawl from my bed to the toilet, and down the stairs to the songtheaw that took me to Mandalay's only English-speaking private doctor at the time. My survival, for its part, immunized me against future medical panic.
Saturday night, I did Google "severe eye infections," concerned mine might end up compromising my vision or even my mortality. In my heart of hearts, I had no idea what my condition would be on Sunday morning when I woke up, assuming I did.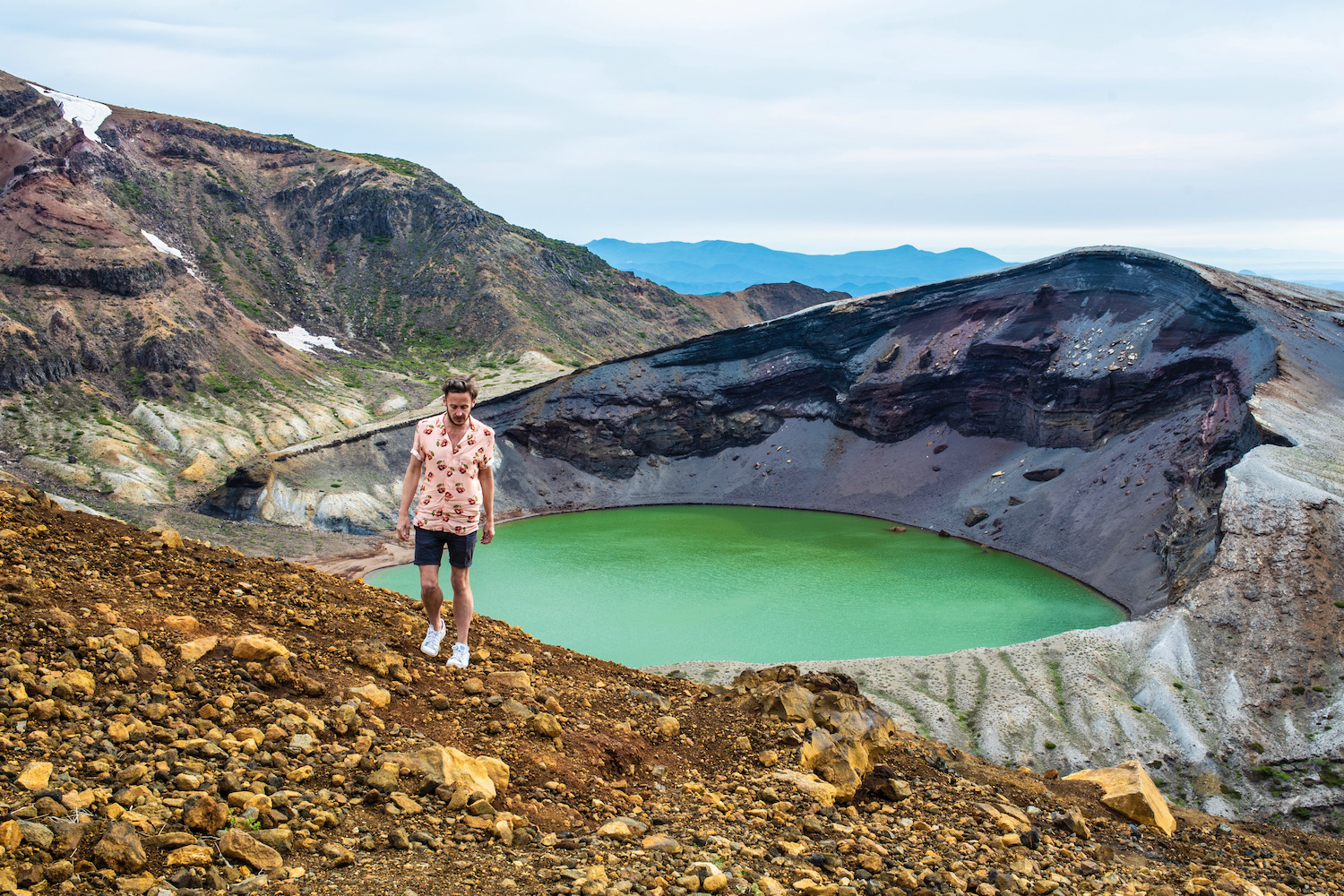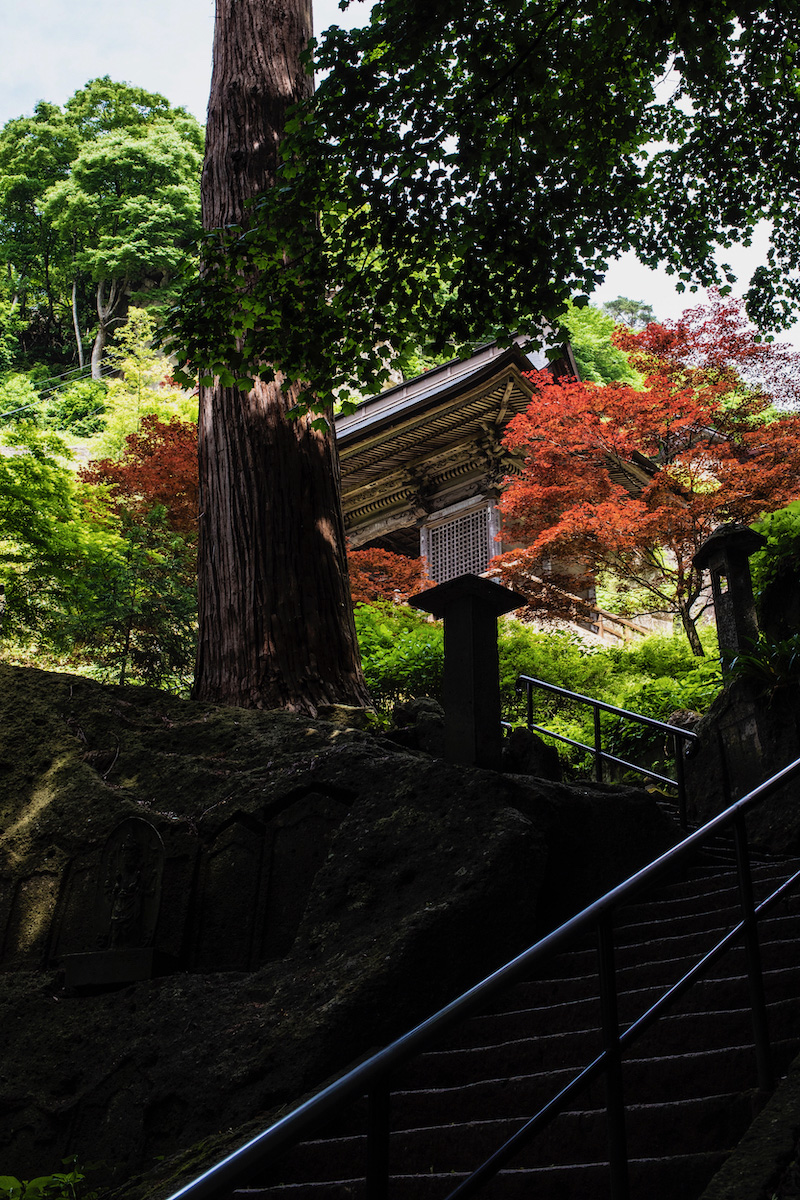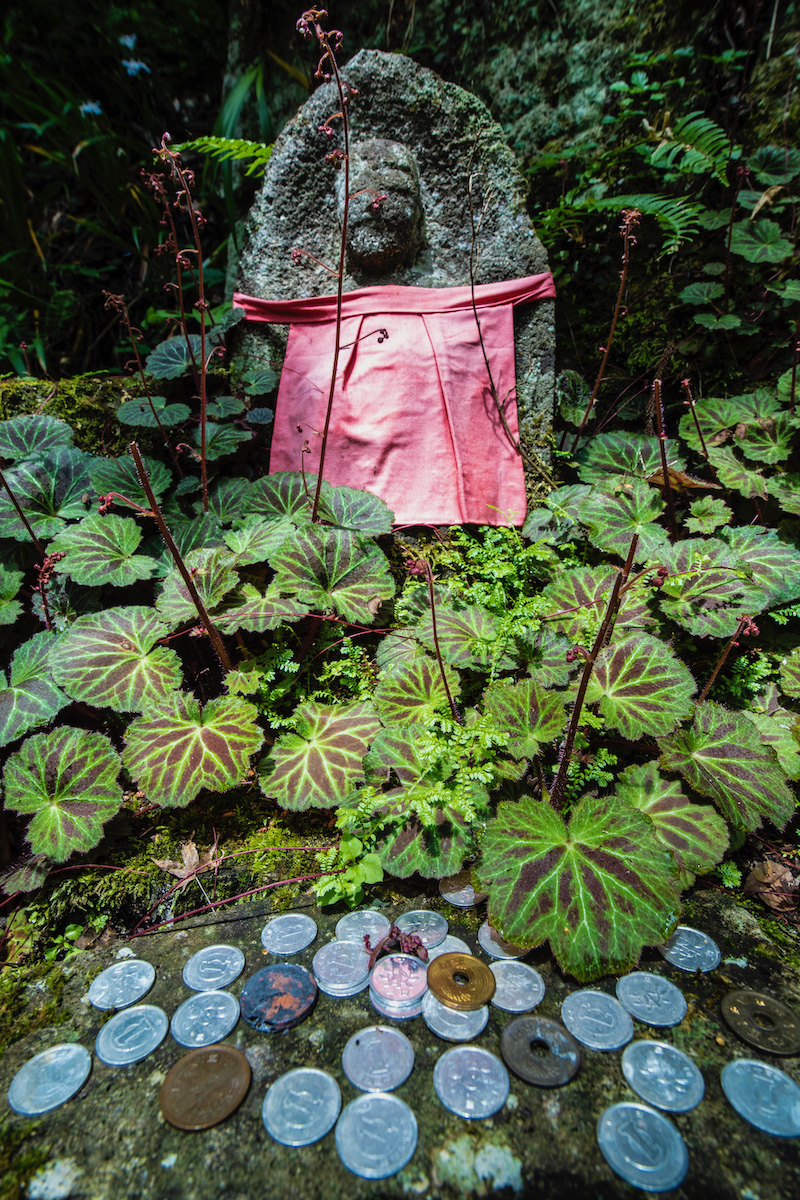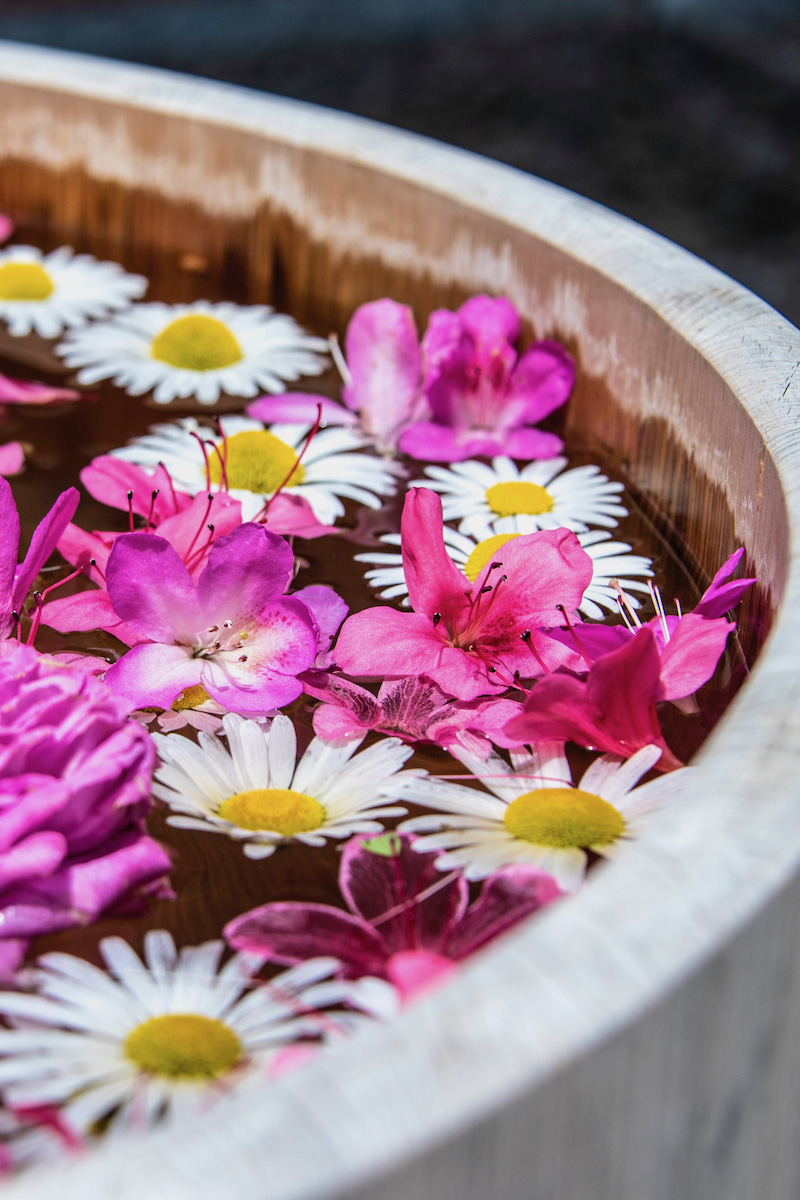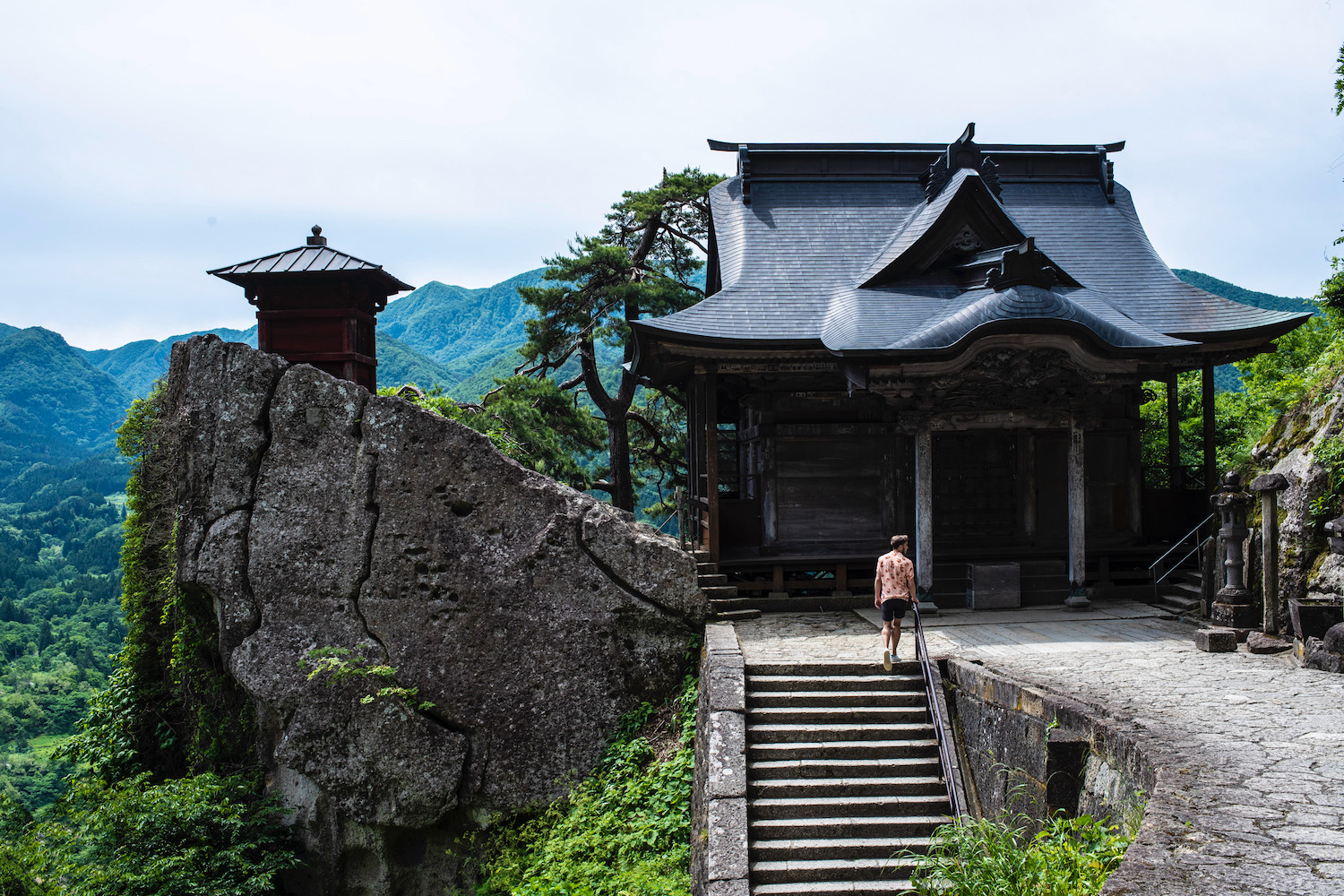 By the time I arrived to Okama Crater, my eye (which had seemed nearly healed during the first two hours of my day) was oozing again, although I imagined it had to do less with my underlying health and more with the howling wind.
I thought back to my previous (and only other) time at Zao Onsen, three winters earlier, and how frigid my totally sunny day amid the "Snow Monsters" had been. If early June here is overcast and unbefitting of shorts sleeves, what does this place look like when January and February kiss?
Clearly, the summer chill had been down to altitude. By the time I arrived to Yamadera, which had been so icy and snowy this past February that I couldn't scale even a dozen stairs, it was downright hot; today I reached the top in less than 30 minutes, via a trail I could've hiked in a suit of armor.
"Anyway, it was superb," I replied in Japanese to the woman selling soft cream flavored with Yamagata cherries. She was thoroughly fascinated with the presence of a foreigner in her shop—the only one in as long as she could remember, apparently.
At the end of the afternoon—at the end of my Tohoku summer trip, at least this particular one—on a cherry farm in Sagae, I wondered if I'd ever come back to Yamadera again (I quickly remembered it was on my autumn bucket list) and whether she'd still be working there—I couldn't come up with a reason she wouldn't.
I remembered her last words, which she had spoken in English. "Have a nice day," she'd said, then not stopping even to breathe continued, "have a nice trip."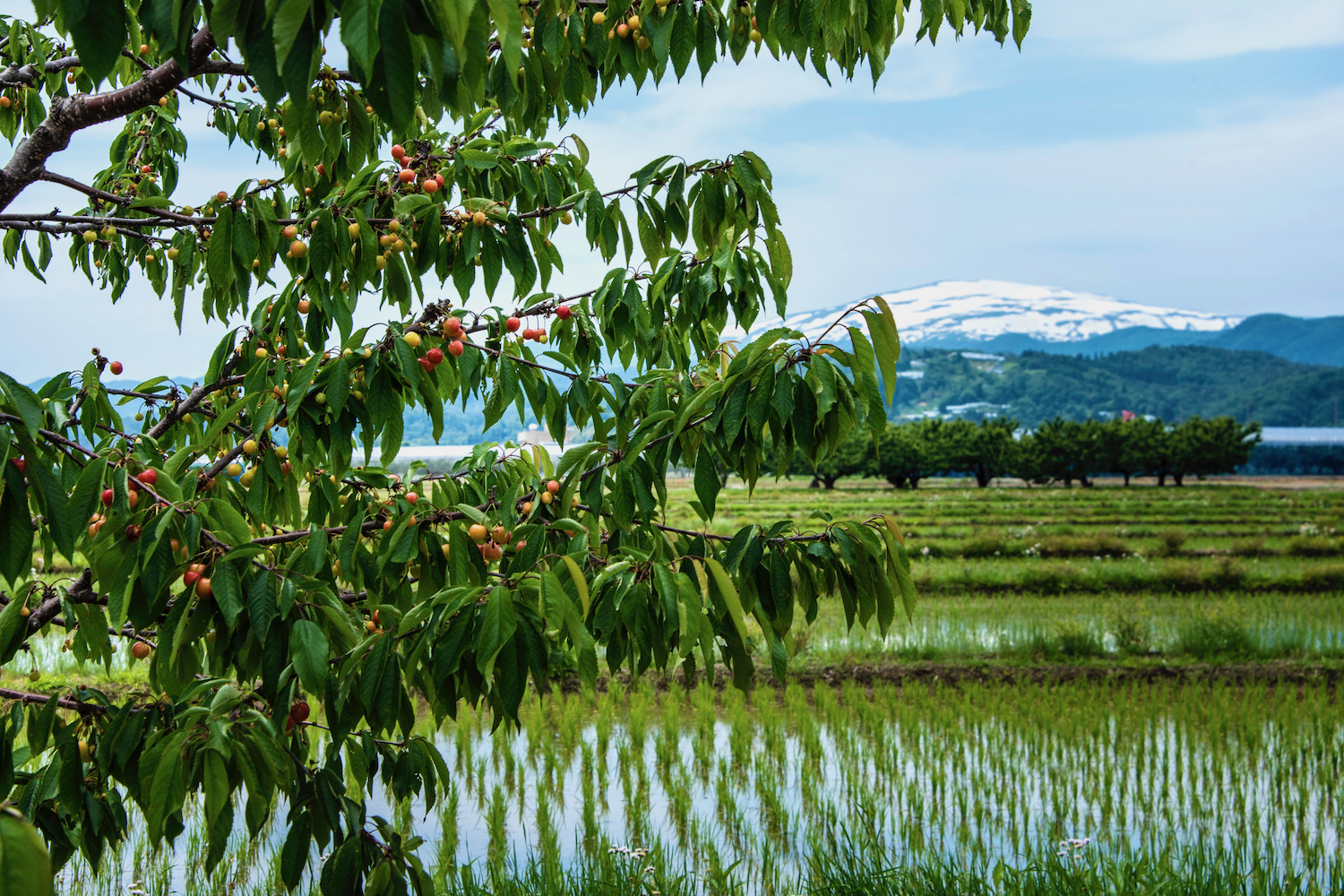 Dropping off my second car in as many days, I felt grateful that I hadn't reprieved my fourth (and so far last) brush with death. None of the "Deer Crossing" signs in Iwate or Yamagata had lived up to their warnings, the way a particular kamikaze no shika had done almost exactly three years earlier.
As had been the case at eight having nearly being smashed between cars, all it would've taken at 33 to have left the scene in a body bag (as opposed to without a single scratch) was a single inch of changed position, a single second of hesitation.
Nostalgia is what I think I'll miss the most once a future near-death experience finally takes me to the other side, hopefully in my 60s, 70s or 80s, instead of during my imminent 40s and the 50s, not far beyond that.
The smell of the grease lubricating the escalator up to Yamagata Station was identical to the one they used on the lift hill of my favorite rollercoaster at Six Flags St. Louis the summer a crowbar-wielding maniac came a few brain cells away from offing me.
For now I'm glad I lived to tell, to have seen the eye of a mythical beast, the hides of dozens of cows, a scenic cherry farm and a turquoise beach shrouded in evergreens, for myself while I still can.
My most important wish is for the plague that locked me out of Japan for a year to lift so I can come back to Tohoku next winter, after my Japanese residency lapses. But if I can make it to 2022 without seeing the Grim Reaper again—particularly if I survive this eye infection, which still isn't healed—I'll count my blessings, regardless of how unduly panicked the planet still is.
Other FAQ About Visiting Tohoku in Summer
Where is there to do in Tohoku is summer?
In summer, the usually cold region of Tohoku comes alive. Pick cherries or hike to Yamadera temple in Yamagata prefecture, visit the Dragon Eye or Jodogahama Beach in Iwate prefecture, or hang out in the city of Sendai and enjoy famous Matsushima Bay amid sunshine and warm temperatures.
Which part of Japan is famous for cherries?
Although somei yoshino cherry trees bloom all over Japan, Yamagata prefectures is one of the only places in Japan where cherry trees bear fruit. If you don't make it to Sagae city, the hub of cherry production in Yamagata, you can enjoy fresh cherries for sale throughout the prefecture during the months of June, July and sometimes even August.
Are there good beaches in Tohoku?
Many beaches in the Tohoku region are absolutely stunning. This is particularly true at Jodogahama, where towering rock formations contrast with jagged pine trees and clear, blue water. Although there are few white, sandy beaches in this part of Japan, it's definitely not short on stunning, coastal scenery.