Many of you know that I used to live in Kyoto. What you might not realize is that in 2018, three years before I call the city my home, I did a test run: I booked out a week in one of my favorite ryokan in late November, and immersed myself in the city's autumn colors.
This trip not only tipped me toward choosing Kyoto as a base when I later decided to live in Japan and study Japanese, but also set in motion my love affair with Japan's fall season. I've since come back to Kyoto often during this magical time of year, and I'm excited to share my findings with you.
So, where can you see fall colors in Kyoto? Everywhere—the city is awash in them—but the places I'm about to list are my very favorites.
When Do Autumn Leaves Peak in Kyoto?
One thing that surprises many travelers about fall colors in Kyoto is how late in the year they appear. In most years, you won't see peak colors—so, deep red maples and bright yellow ginkgoes—until November 20, or even later. So if you're planning a trip to Kyoto in October or even the first half of November, you may want to reconsider, at least if seeing autumn color is a priority for you.
As a general rule, I'd say that it's better to be "late" than early. If you arrive in Kyoto before the leaves have peaked, you probably won't be there long enough to wait for them to change. If you arrive after the peak has started, however, you can expect the colorful leaves to stay on the trees for at least a week or two. And even if some (or most!) have fallen, this creates its own enchanting autumn scene!
The Best Places to See Fall Colors in Kyoto
Daigo-ji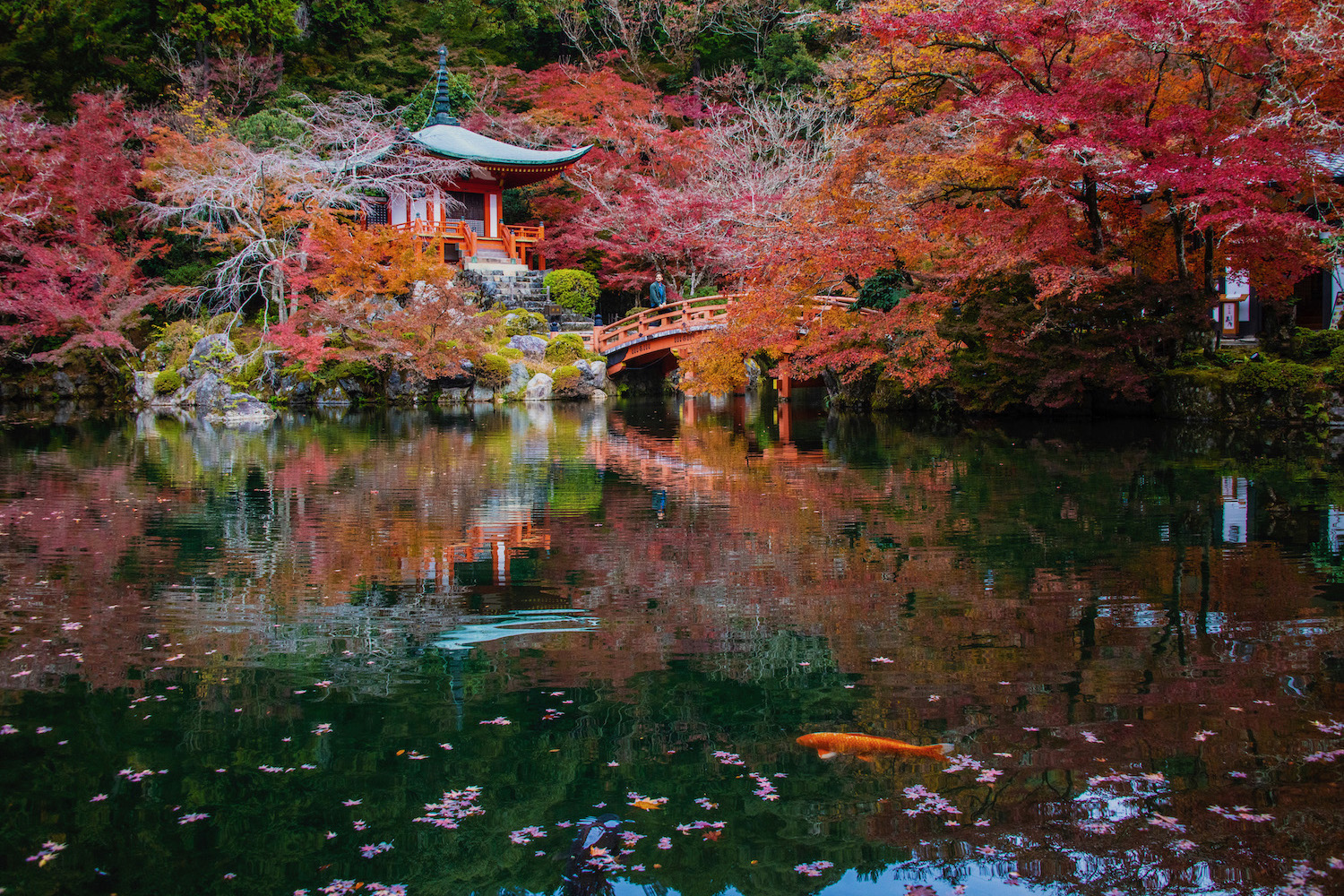 For my money, Daigo-ji is the most beautiful place to see autumn colors in Kyoto. In particular, the Benten-do pagoda (which is located about 15 minutes past the main ticket gates) is especially stunning, rising over a pond that's surrounding by maple trees. To get here, ride the Kyoto Subway Tozai Line to Daigo Station, then walk or take the shuttle bus.
Arashiyama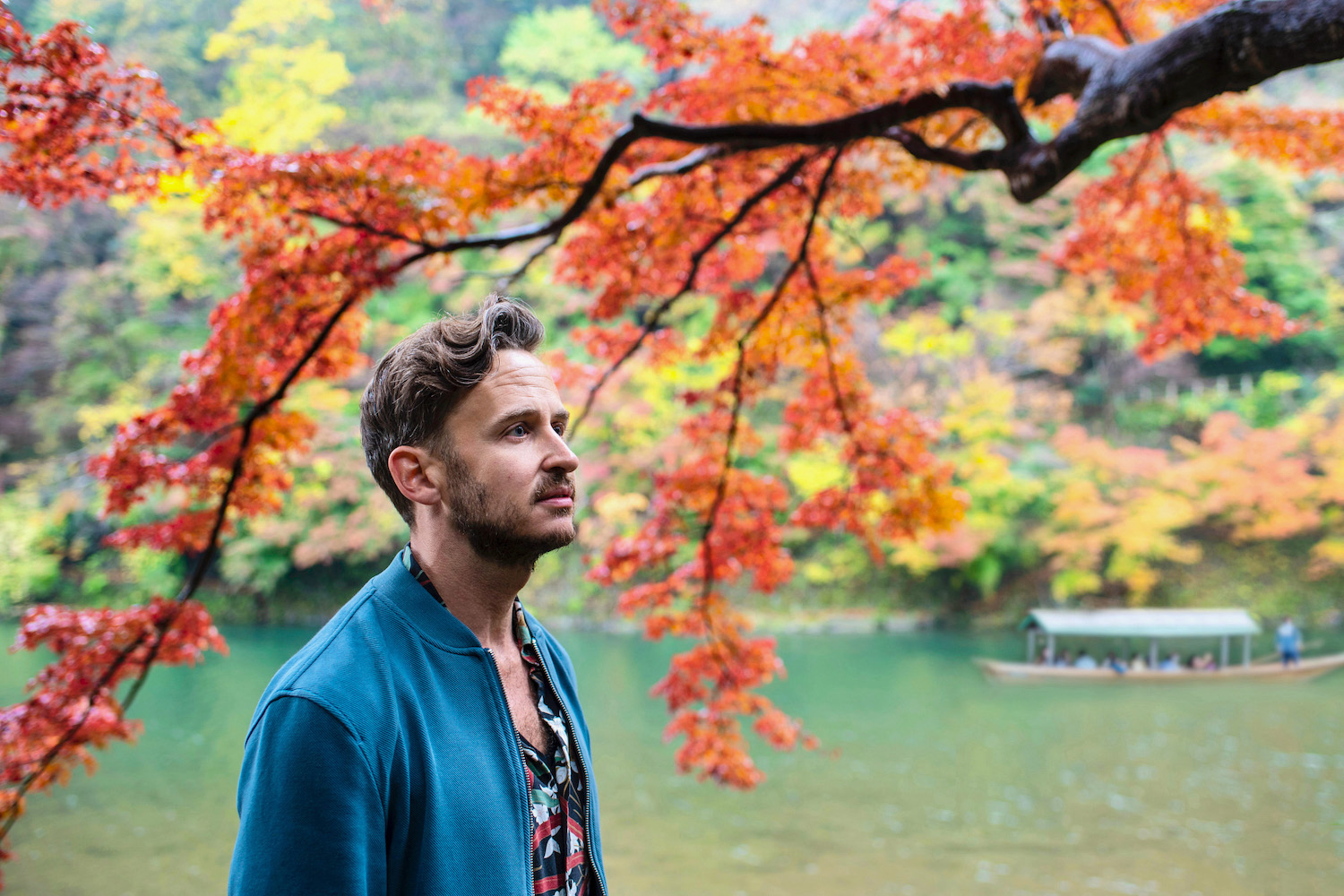 Rather than one specific place, the Arashiyama district hits many different points when it comes to where to see fall colors in Kyoto. While specific attractions like Tenryu-ji temple and Okochi-sanso Villa offer obvious charms, you may also feel enchanted simply walking along the Katsura River, whether you do so mindlessly, or to Daihikaku Senko-ji, the temple featured in the main image of this post.
Eikan-do and Nanzen-ji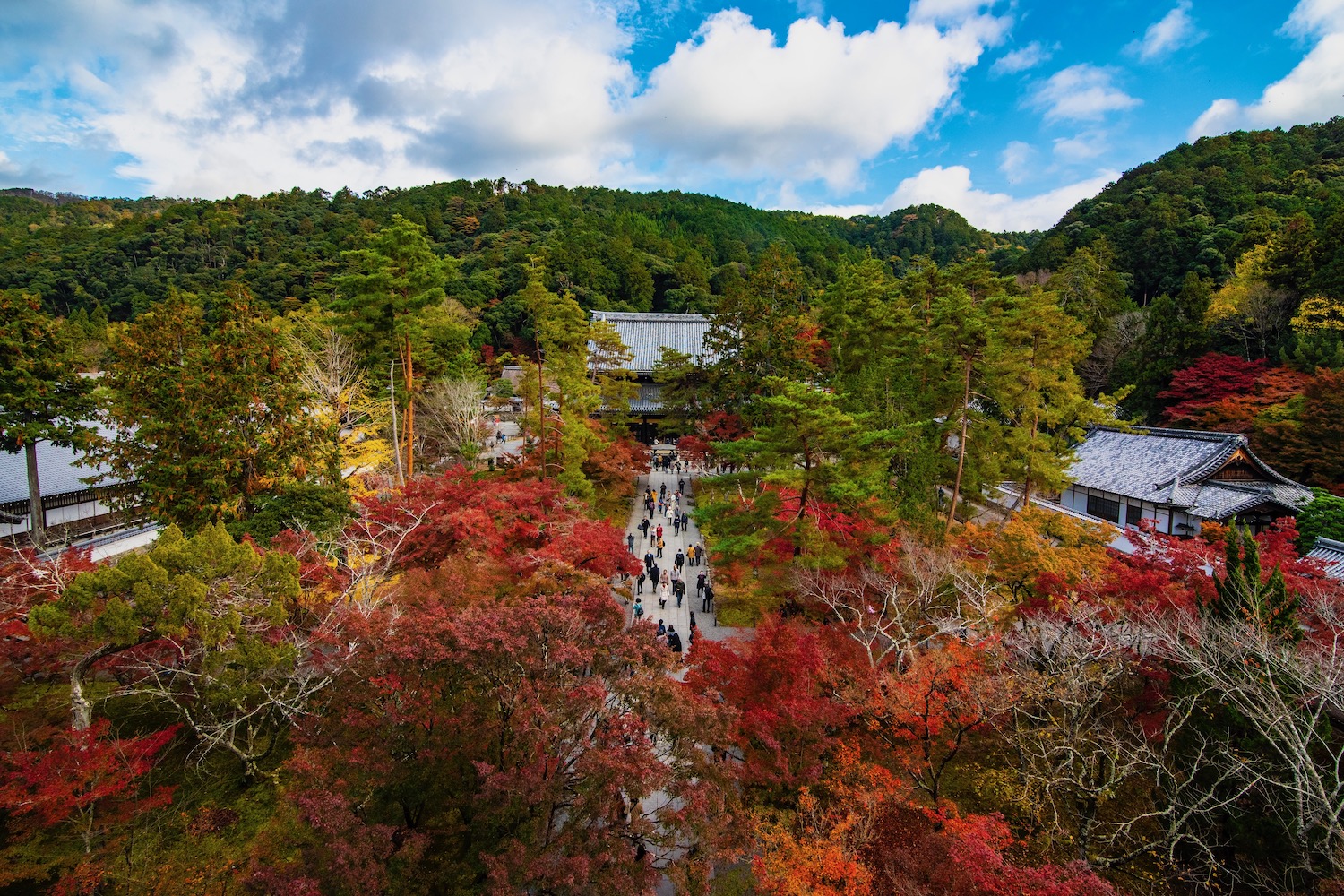 Located at the southern end of the Philosopher's Path (itself one of my favorite places to see autumn colors in Kyoto), this pair of zen temples makes for an autumn color wonderland—I especially love the view from the second floor of Nanzen-ji. If you don't mind staying up late, make sure to come to Eikan-do at night, when illuminations take place every evening between mid-November and early December.
Kiyomizu-dera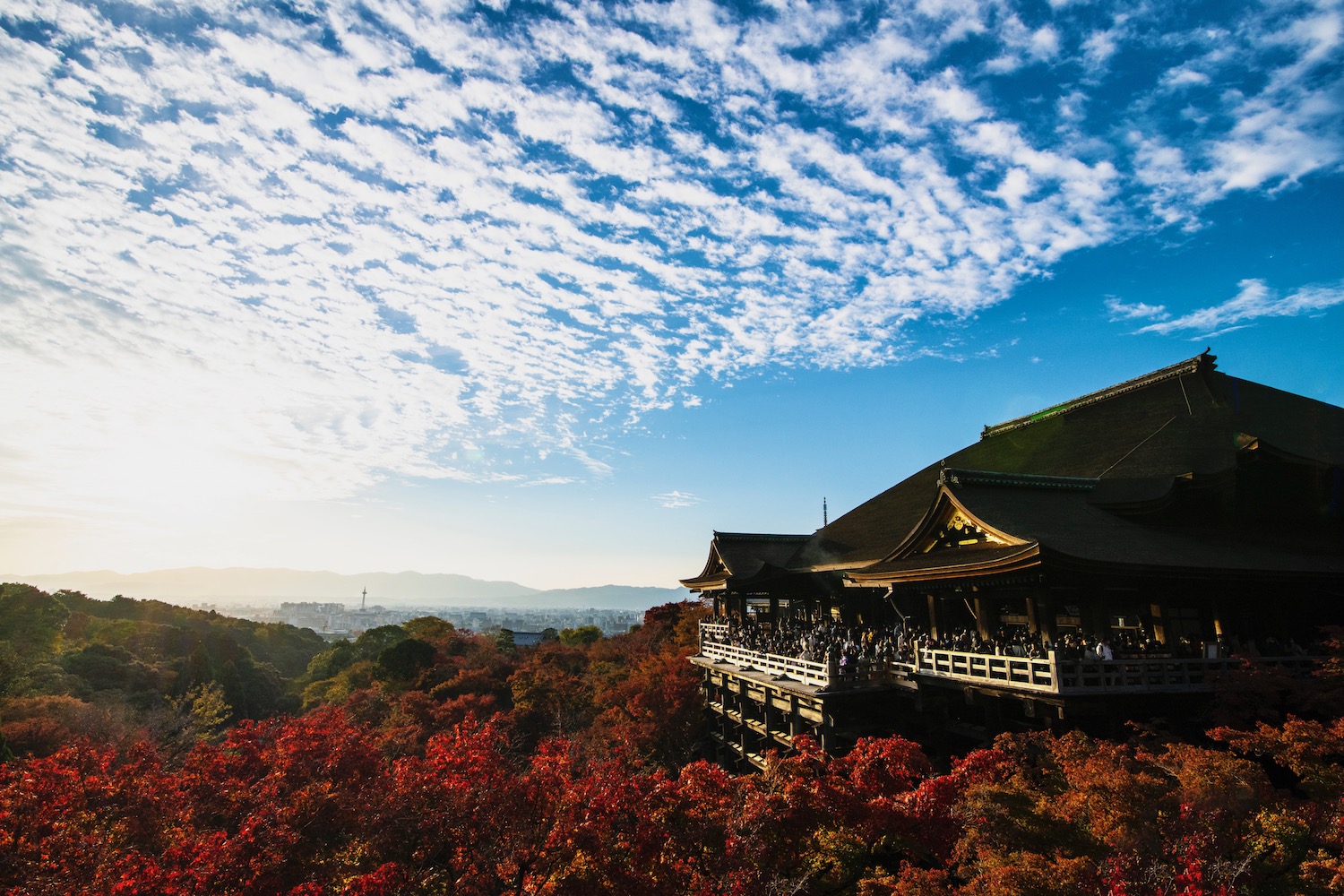 I'll warn you: Although Kiyomizu-dera tends to top lists of where to see autumn colors in Kyoto, it's also one of the most crowded places you can visit at this time of year. Simply getting to the main observation deck requires pushing through crowds of people, to say nothing of how taxing it might be to take a picture once you get there. My advice is to be patient, but not aggressive! Don't be shy about savoring your time.
Tofuku-ji and To-ji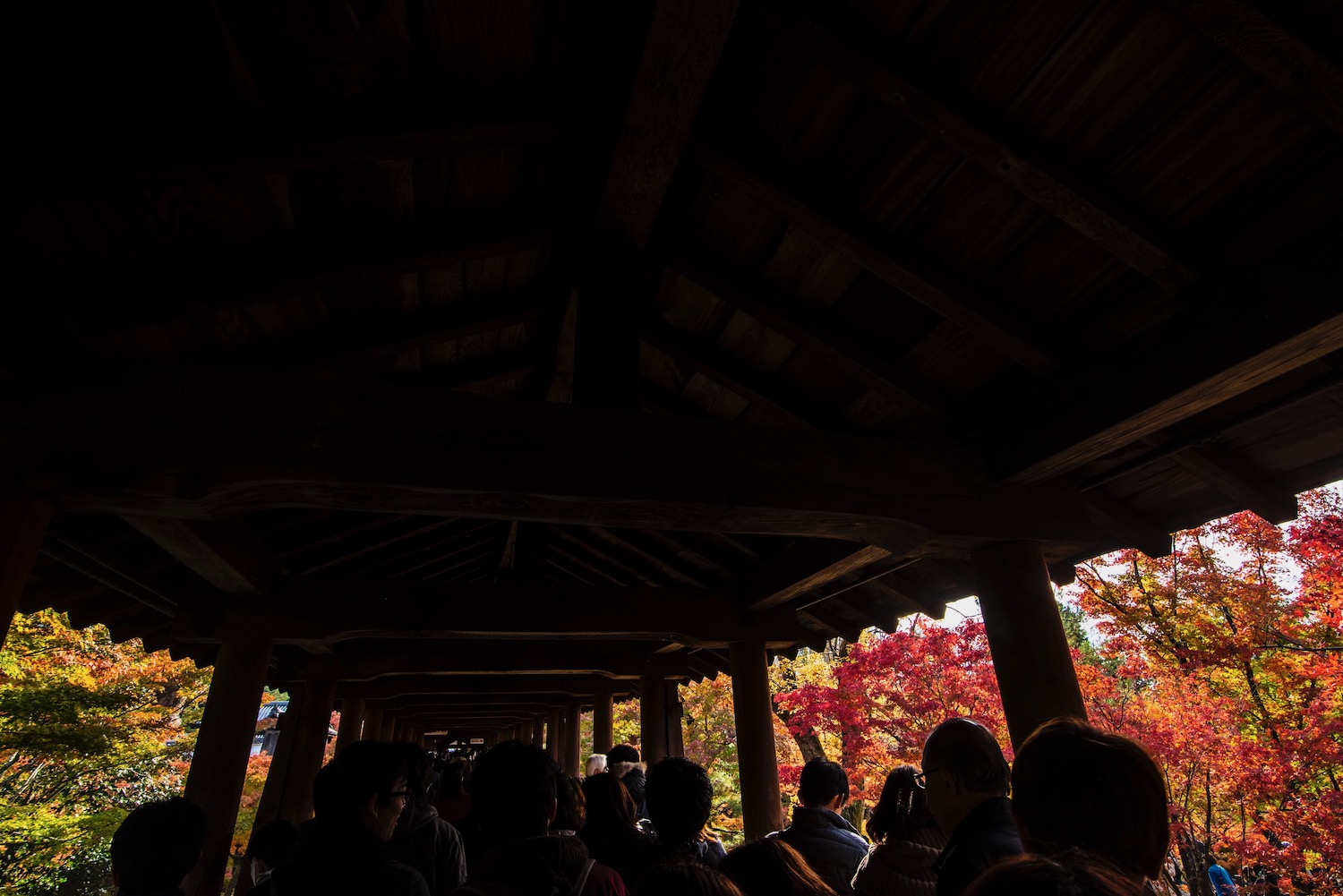 Tofuku-ji is arguably even more crowded in autumn than Kiyomizu-dera, which is crazy to me because it's generally not a temple people pay much mind. This is also the case over at To-ji, which is also located south of Kyoto Station, albeit toward the western front of the city, rather than the east. I usually like to see both these temples on the same day, if I can.
Autumn Color Day Trips from Kyoto
Take it from me: There is enough autumn goodness in Kyoto to spend a week (or even longer) just in the city center! However, there are also a number of awesome day trips:
Nara: The only thing more enchanting than seeing this city's ancient wooden structures in autumn is watching local deer play under the falling leaves.
Lake Biwa: Whether from atop Enryaku-ji on the "Kyoto side," or at Hikone and Nagahama Castles on the other shore, this massive lake is even more beautiful in autumn.
Osaka: You might not think a huge city like Osaka would be beautiful in autumn, but you would be very, very wrong! Osaka Castle in particular is spectacular.
Koyasan: If you're in central Kyoto too early for autumn colors, head up to Mt. Koya to catch the much earlier change of seasons (first or second week of November) there.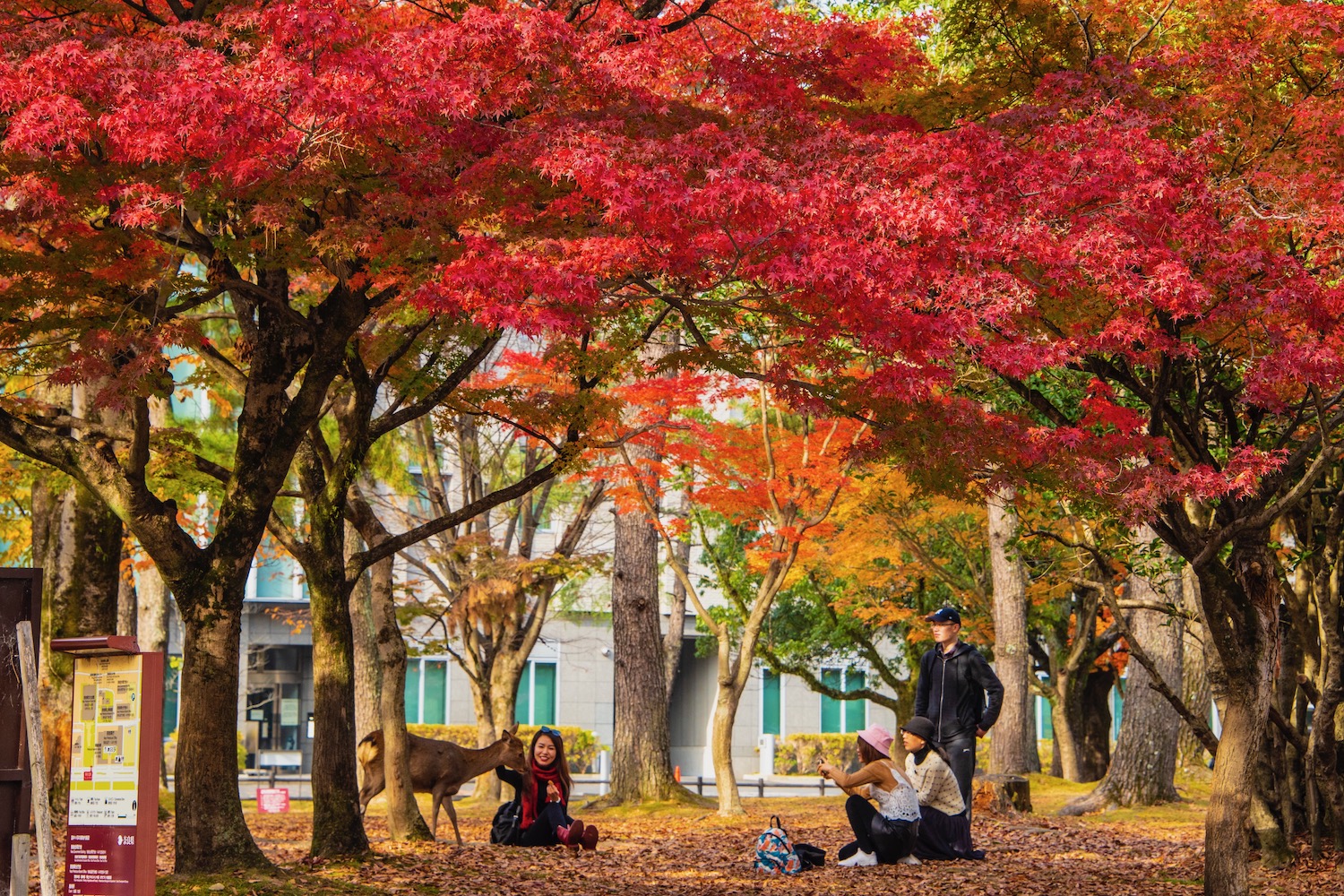 Other FAQ About Seeing Fall Colors in Kyoto
Where is the autumn in Kyoto?
Autumn colors are beautiful all over Kyoto, particularly amid the temples of Higashiyama and in Arashiyama, where tree-covered mountains towering above the thundering Katsura River. Besides these popular tourist districts, you can enjoy autumn leaves on Kyoto's periphery, such as at Daigo-ji temple in the city's southeast.
What color are the leaves in Kyoto?
Kyoto has all sorts of autumn leaf colors. However, the most beautiful ones are the deep red momiji (maple) leaves, and the bright yellow ginkgo leaves. In some parts of Kyoto, entire forests seem to blaze in hues of red and yellow, particularly as you walk through them and look up.
Is Kyoto crowded in November?
During the last two weeks of November, Kyoto is at least as crowded as it is during the last week of March or the first week of April, i.e. cherry blossom season. While this doesn't necessarily detract from the experience—is it any wonder people flock from far and wide to enjoy the season?—you should prepare yourself for it.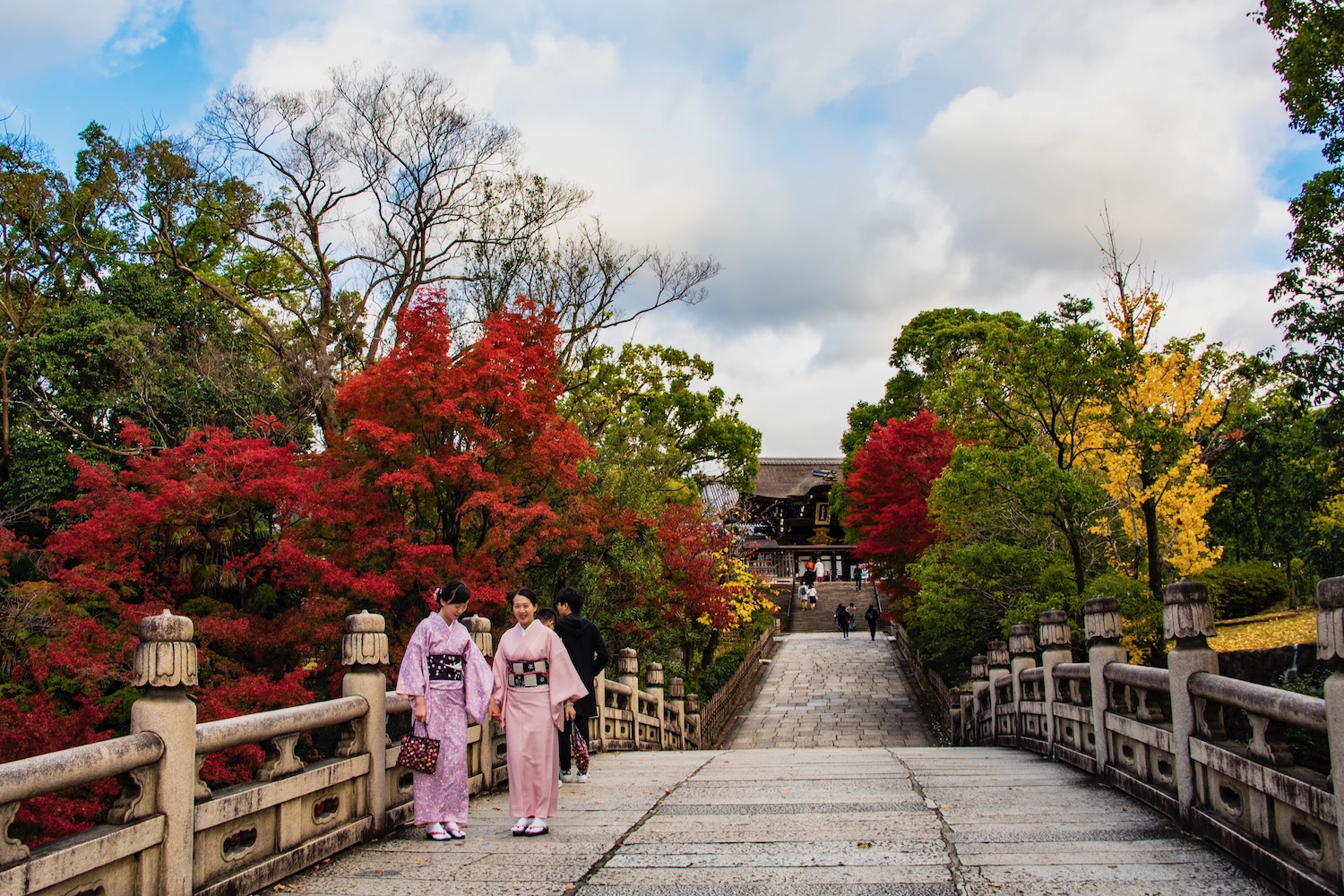 The Bottom Line
Where can you see fall colors in Kyoto? I recommend exploring in different parts of the city, so that you can get a comprehensive portrait of just how much the reds, oranges and yellows of autumn enhance Japan's former capital, which is already (in my opinion) its most beautiful metropolis. I also suggest giving yourself plenty of time—at least three full days—so that you can pause and actually enjoy the change of seasons, as opposed to simply hopping from spot to spot. Need help putting together the ultimate autumn adventure in Kyoto, and throughout Japan? Commission a custom Japan itinerary today!