In Japan and elsewhere, some places just don't click immediately. One such place, for me, was the Shirogane Blue Pond in Biei, near Asahikawa in central Hokkaido.
When I first visited the pond in the summer of 2018, I was of course struck by its namesake color, even if I wasn't aware of its interesting origin story. Yet the blue hue was so close to that of the more verdant trees and shrubs around it that I found it less than impressive, even if it was certainly beautiful.
Today, I'll not only talk you through how to visit Shirogane Blue Pond, but explain to you why you should visit not in summer, but during Hokkaido's underrated autumn if you can.
Is Blue Pond Worth Visiting?
The Hokkaido Blue Pond has many things going for it, and would even if it didn't live up to the hype. For starters, it's pretty easily accessible, being less than an hour from the center of Asahikawa by car. Even if you have to use a combination of train and bus, it's unlikely to take you more than two hours, presuming you research schedules in advance and time your transfers just right.
Now, for the pond itself. As I mentioned in the introduction to this piece, I did feel less than overwhelmed when I visited the pond during the summer. Part of this was the weather—there was basically no sunshine to make the water of the pond sparkle and shimmer—but part of it was the lack of contrast between the green trees and the blue pond. Autumn, as you'll see comparing my summer and fall pictures, really does make all the difference.
Things to Do in and Around Shirogane Blue Pond
Photograph and admire the Blue Pond
Even if you can't manage to come during the autumn like I did, the blue pond is still a photographer's dream. Regardless of the time of year, I do recommend coming on a sunny day if you can, as this will cause attractive refractions within the water.
Walk or drive to Shirahige Falls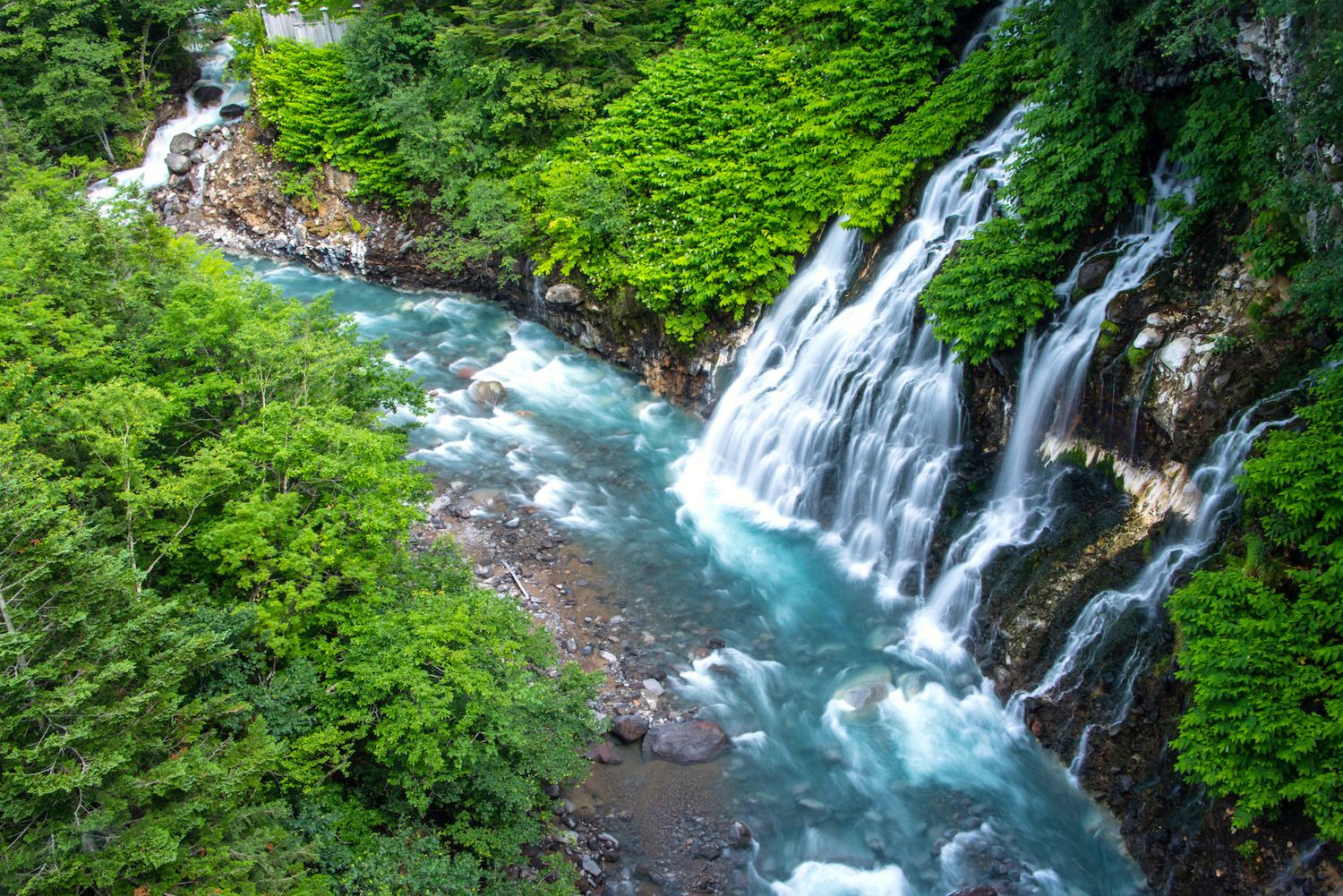 If you're coming to the Hokkaido blue lake by train and bus, it'll take a bit more work to reach Shirahige Falls, which is less than five minutes away by car. In either case, this waterfall makes a perfect companion to the pond, as both are fed by the same milky, blue-green waters.
In autumn, head up to Mt. Biei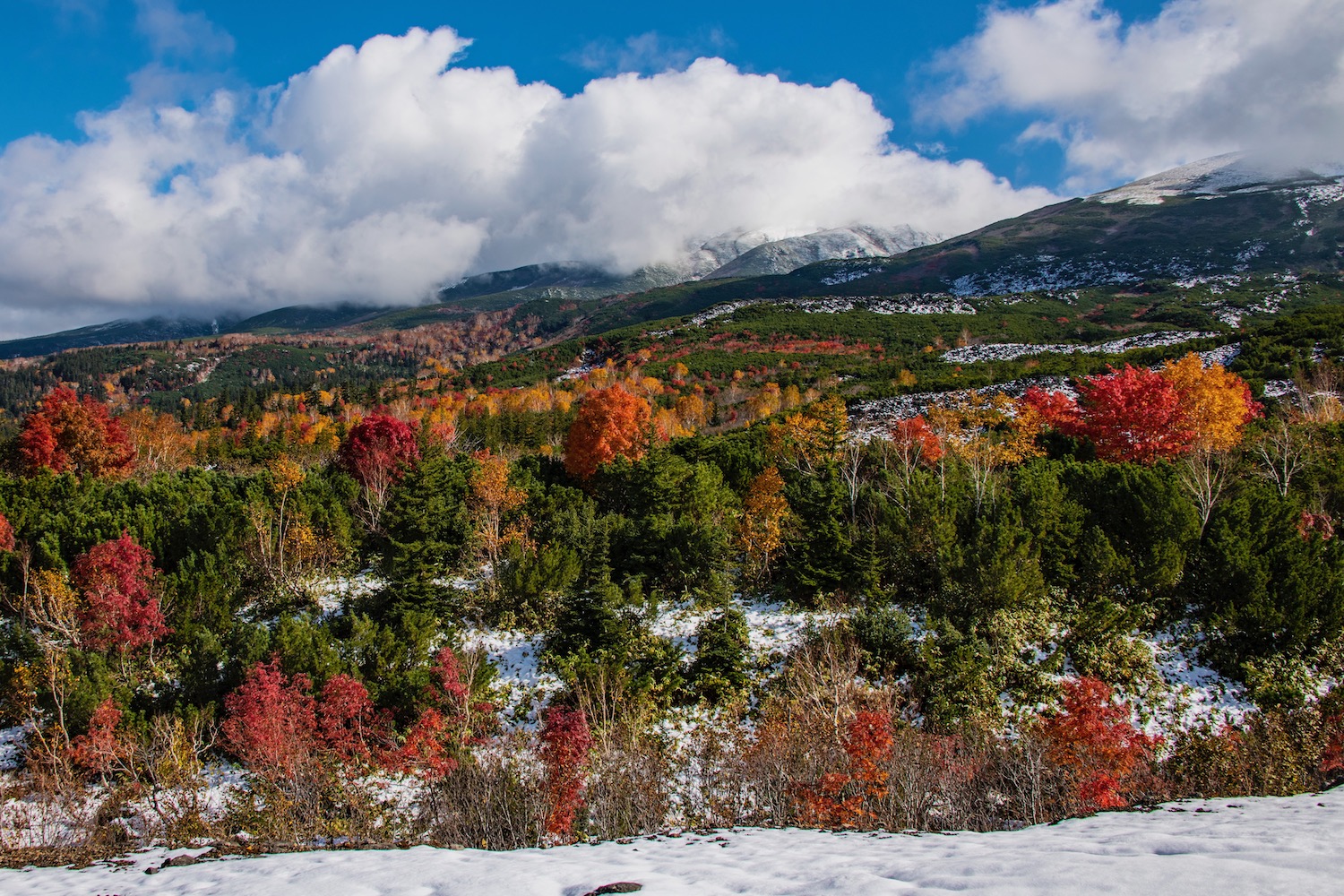 Is Mt. Biei part of Daisetsuzan National Park? Kind of, but that's not the point. The point is that it's right up the road from the blue pond and Shirahige Falls—and that, especially during autumn, it's even more colorful than both. This makes for a nice trifecta of sightseeing in fall.
In summer, head down to the Furano lavender fields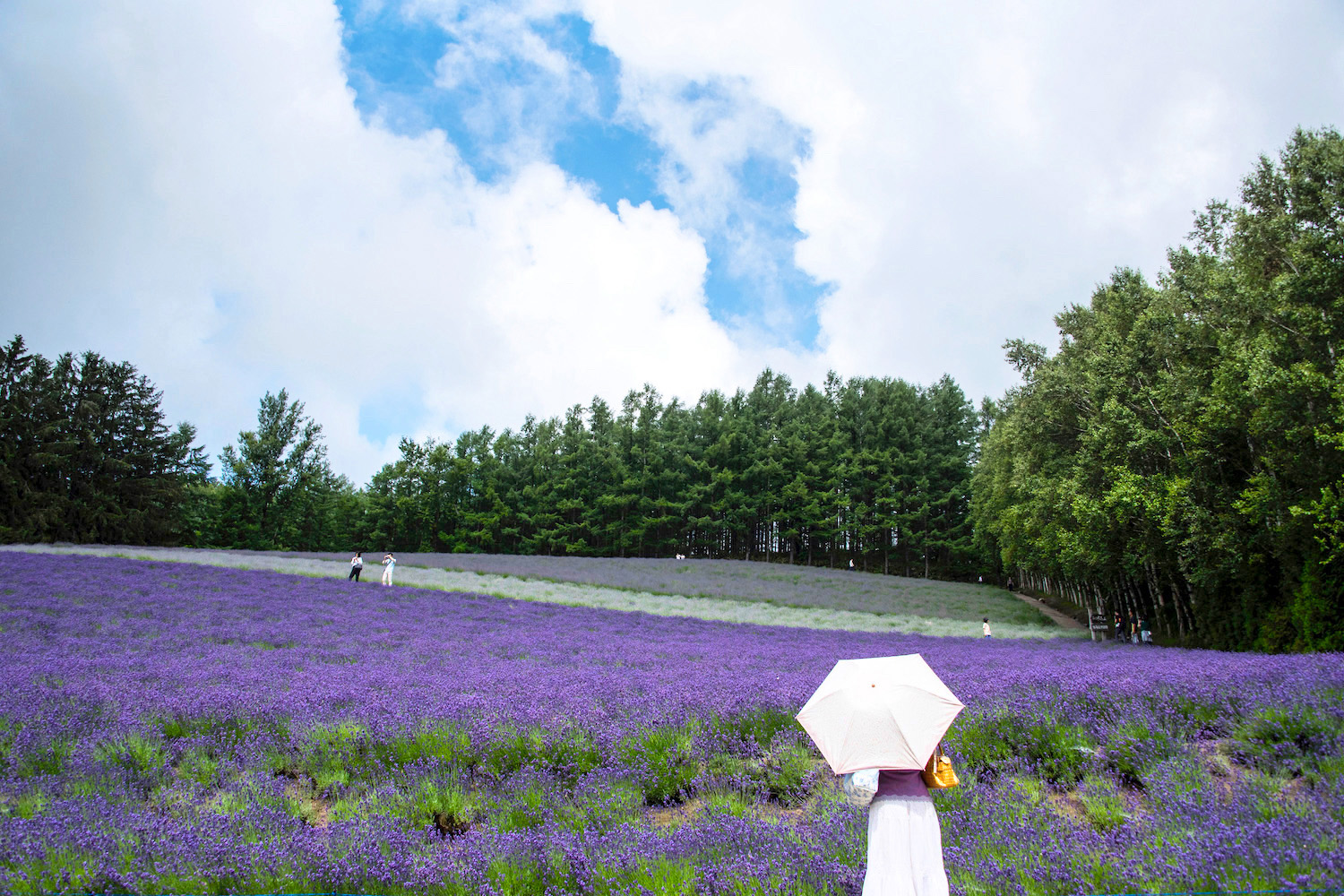 On the other hand, if you come to the Hokkaido blue pond during summer, you should around head down toward Biei Town, and then onward to Naka-furano. This is where you will find Hokkaido's famous lavender fields, which are worth a summer Hokkaido trip on their own, the pond notwithstanding.
Remember that Hokkaido only begins here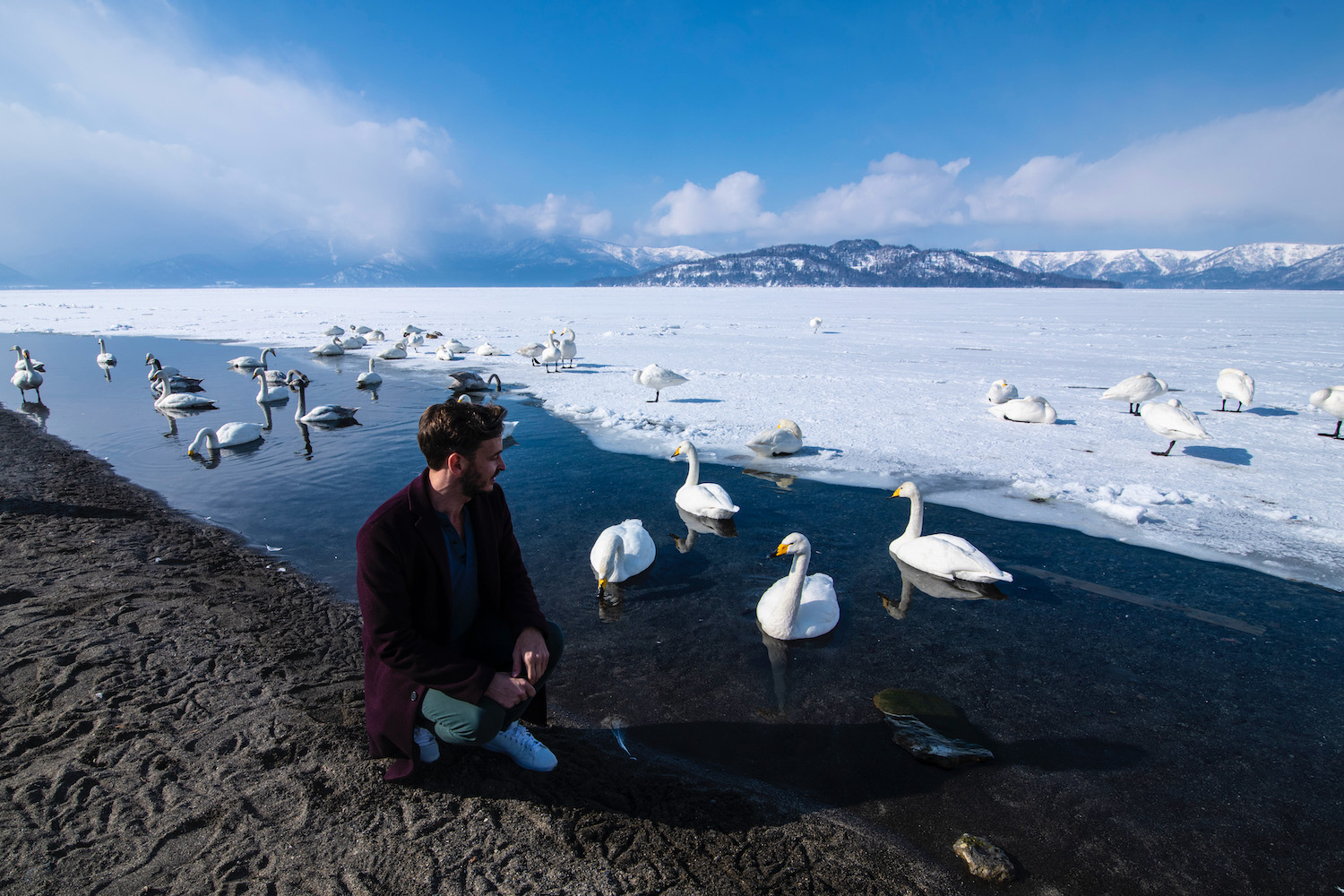 Hokkaido is an absolutely massive island—and the Asahikawa area is really only the beginning of what there is to discover there. Make sure to head back to Sapporo (and farther west) if you haven't explored in and around the capital. Or drive east to Lakes Akan, Mashu and Kussharo, or even onto the Shiretoko Peninsula.
When is the Best Time to Visit Shirogane Blue Pond?
As I've articulated pretty strongly throughout this post, autumn is a much better time to visit the Blue Pond than summer. Whether at the pond itself or down the road at Shirahige Waterfall, the contrast between the blue-green water and the fiery hillsides paints a much better picture of the scenes than the green of summer. I haven't been to the pond in winter, yet, as of October 2023.
Based on Instagram, it would seem that January and February are popular answered for the question of when to visit Shirogane blue pond. However, I have heard from friends and associates who went at this time that the water of the pond tends to be muted in color during this time, and that most pictures on social media are heavily enhanced. If you do go during winter, I hope you leave a comment and let me know about your experience!
Other FAQ About Visiting the Hokkaido Blue Lake
Why is Shirogane Pond blue?
Shirogane Pond is naturally blue—but the pond itself isn't natural. Rather, it was formed when local authorities decided to partially damn the Biei River in the early 90s, in response to the 1988 eruption of nearby Mt. Tokachi. The idea is that doing so would limit the movement of potentially hazardous mudflows in the wake of future eruptions. The birth of the Blue Pond as a tourist attraction was a happy accident!
How do I get to Shirogane Blue Pond?
The easiest way to get to Shirogane Blue Pond is to rent a car in Asahikawa, from which it's less than one hour driving time (or slightly more, if you stop en route in the Furano Lavender Fields). If you go by public transport, meanwhile, you'll need to ride a JR Furano Line train from Asahikawa to Biei Station, and then take one of the buses there to the pond, for a total journey time of 60-90 minutes, including transfers.
Can you swim in Shirogane Blue Pond?
You cannot swim in Shirogane Blue Pond, or anywhere along the Biei River. While I'm not certain if this is legally enforced, the reality is that even in the hottest part of summer, the waters here are unpleasantly cold. Here and elsewhere on the island, Hokkaido is good for many things—but swimming is not among them.
The Bottom Line
Curious about how to visit Shirogane Blue Pond? It's extremely easy, whether you have your own set of wheels or plan to depend upon the admittedly subpar public transportation in central Hokkaido. The real quandary, at least for me, is deciding when to visit the pond. While it's most convenient to go in summer, when you'll probably be in nearby Furano scoping out lavender anyway, I implore you to delay your trip here until the fall. The contrast of the blazing reds, yellows and oranges of late October are really the best time to see the blue pond. Need personalized help putting your trip together? I do hope you'll consider hiring me to plan it!