As I look forward to my next summer trip to Hokkaido, one of the experiences I can't wait to reprise is frolicking amid the Hokkaido lavender fields. Located in Naka-Furano a short drive or train ride from Sapporo, this is one of my favorite summer experiences anywhere in Japan.
Hokkaido's flower fields, to be sure, are more than opportunities to harvest Instagram likes. Among other delights, you can sample lavender-flavored and scented products, including delectable soft-serve ice cream made with real Hokkaido milk.
Nor is Hokkaido only appealing as a destination because of lavender paraphernalia. Continue reading to learn more about why—and how—you should put your Hokkaido lavender trip together, this year, next or anytime in the future.
Where to Stay in Hokkaido if You Love Lavender
The bad news? None of the hotels in close proximity to the Hokkaido lavender fields offer an experience I think is…well, lavender enough. While Pension Lavender, for example, has a garden filled with its namesake botanical, it doesn't go as over the top as I've come to expect themed Japanese accommodation to do. It seems like a missed opportunity to me somehow (although I'm not prepared to open my own lavender hotel, to be fair).
This leaves you with two options. The first would be to scour Airbnb for properties, which come with a caveat: The relationship of the Japanese government with Airbnb means that both the quantity and quality of homes can very greatly. Another option, if you don't mind a long trek out and a longer one back, is to stay in Asahikawa, and travel via train or rental car to Naka-Furano, taking what essentially amounts to a lavender day trip, once you know where to see lavender in Hokkaido.
Can't-Miss Lavender Activities in Hokkaido
Practice your selfie game at Farm Tomita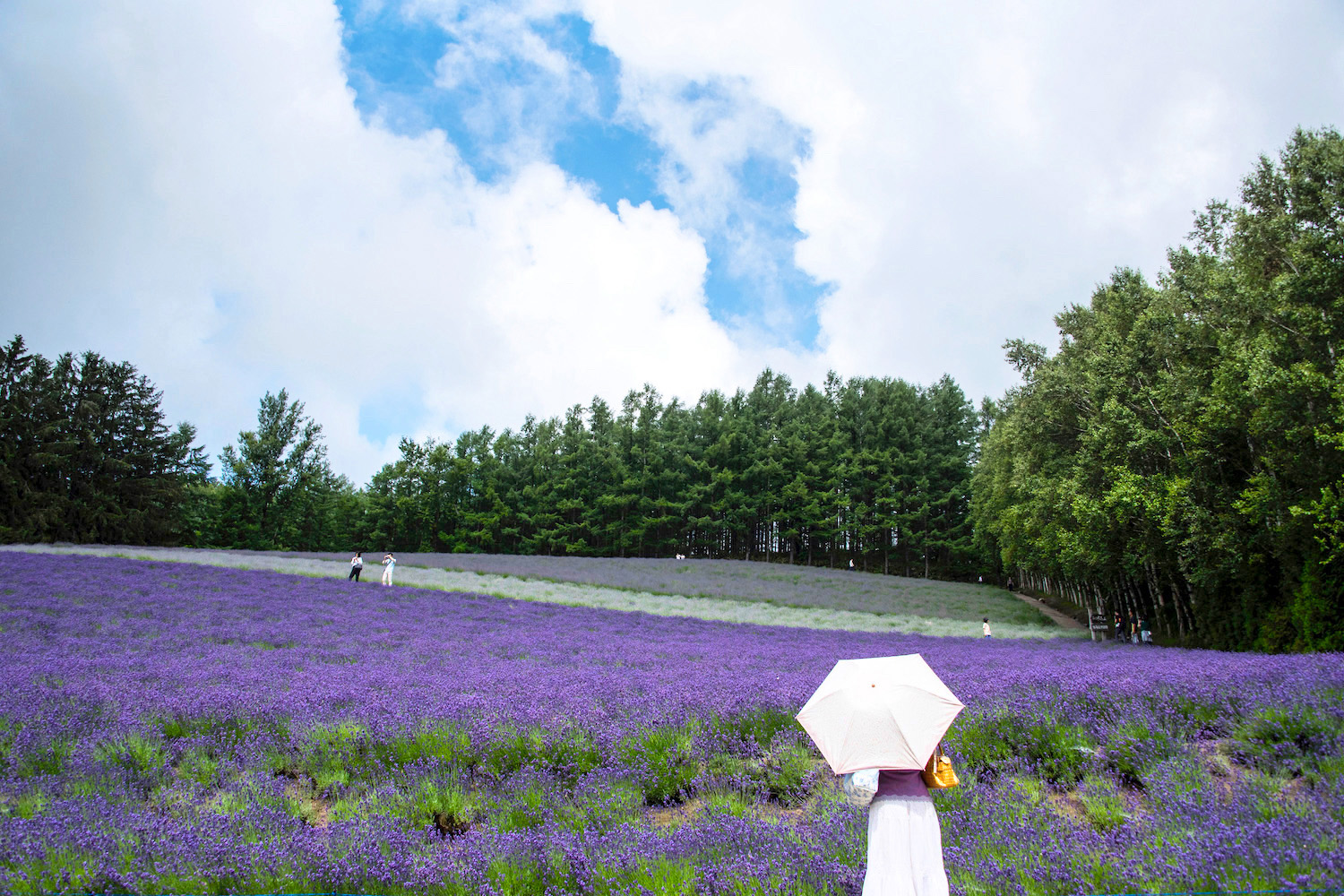 The good news? One of the chief reasons people come to Farm Tomita is to photograph themselves and their friends traipsing amid the lavender. The better news? If you can't bear the crowds at Farm Tomita, and don't consider its hilliness a necessity for your pictures, you can set your GPS for the Hokkaido lavender fields of Lavender East (which is owned by the same people) instead.
Sample lavender soft cream (and other Hokkaido milk concoctions)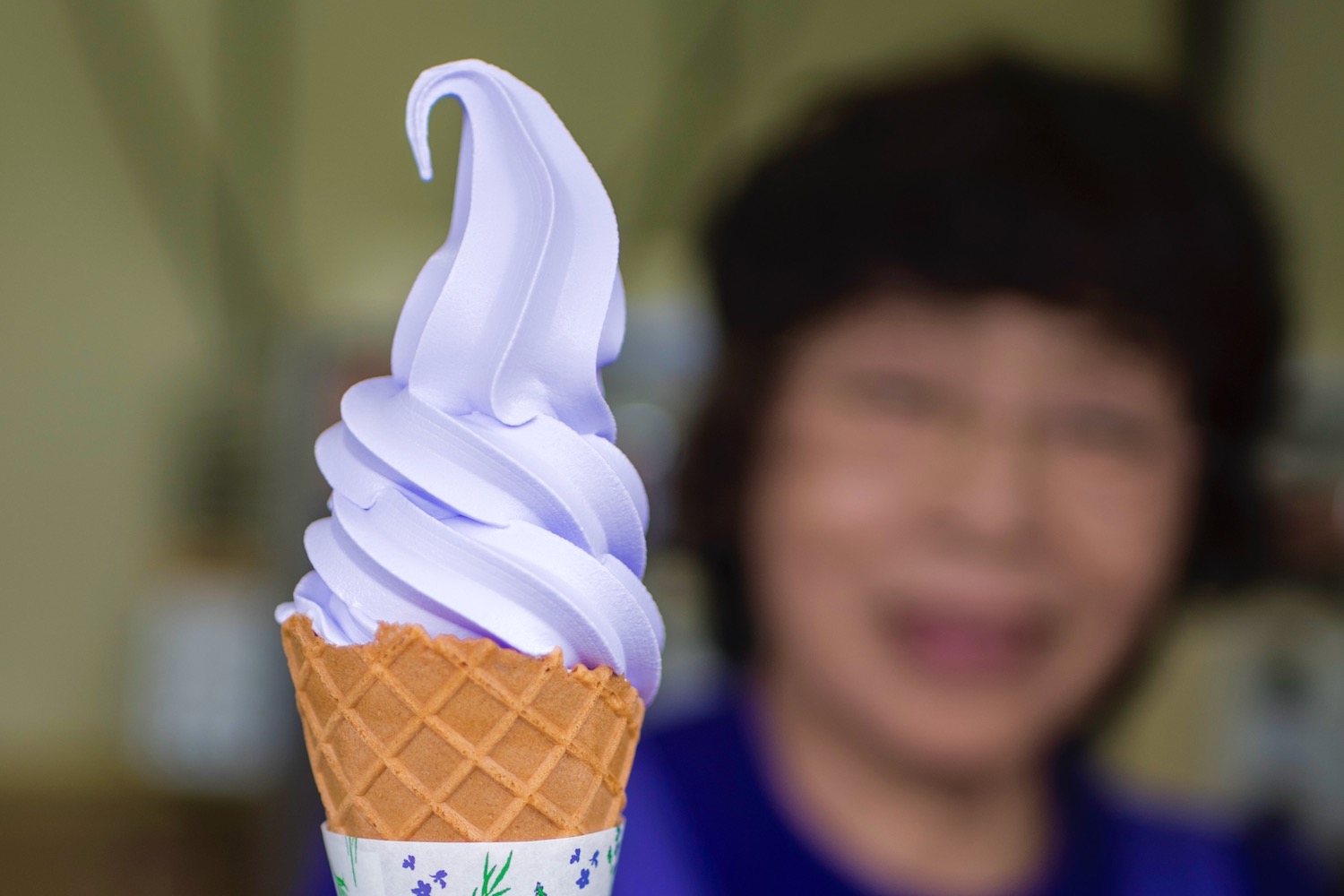 The lavender fields themselves notwithstanding, another reason people flock to Naka-Furano is to eat lavender soft cream. The one served at Farm Tomita has both the aroma and the taste of natural lavender; others can smell and look downright fake. (TIP: Plain Hokkaido milk soft cream served in half a melon is also a nice summer treat!)
Purchase homemade Hokkaido lavender products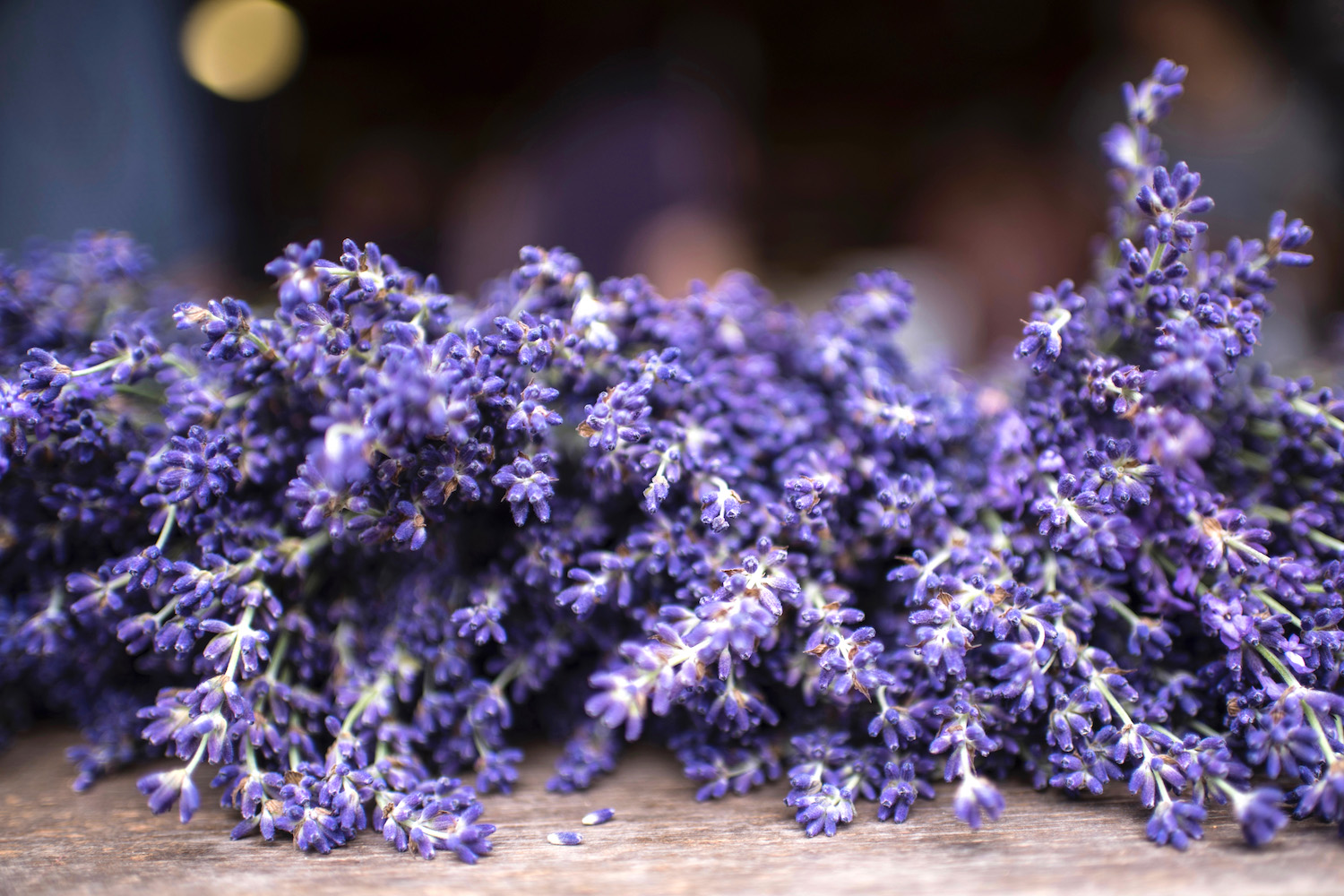 Whether at Farm Tomita or any number of other shops in the vicinity, there's never a shortage of lavender-related goods to buy. In particular, soaps and fragrances are popular, though you can also purchase plush toys, teas and loose lavender, among other seasonal merchandise.
Trade purple for blue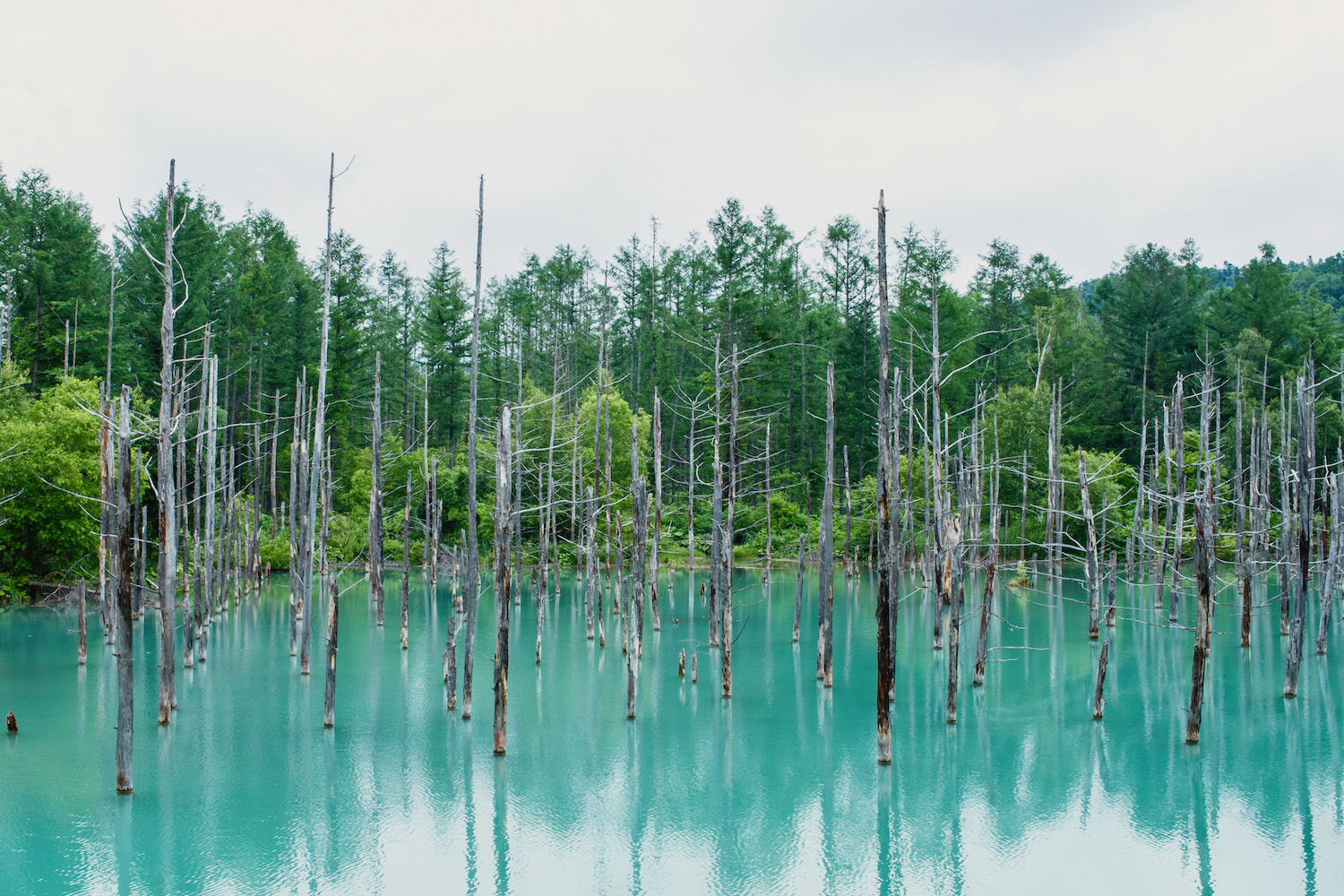 If you've had enough of the Hokkaido lavender fields or just want to break up days on end of Instagram shooting, drive (or, if you're patient) ride the train/bus north to Biei. In addition to several waterfalls and a delicious burger stand I hope is still open. Biei is home to the aptly-named Shirogane Blue Pond, which is especially vibrant and colorful on a bright, sunny day.
(Or the zoo)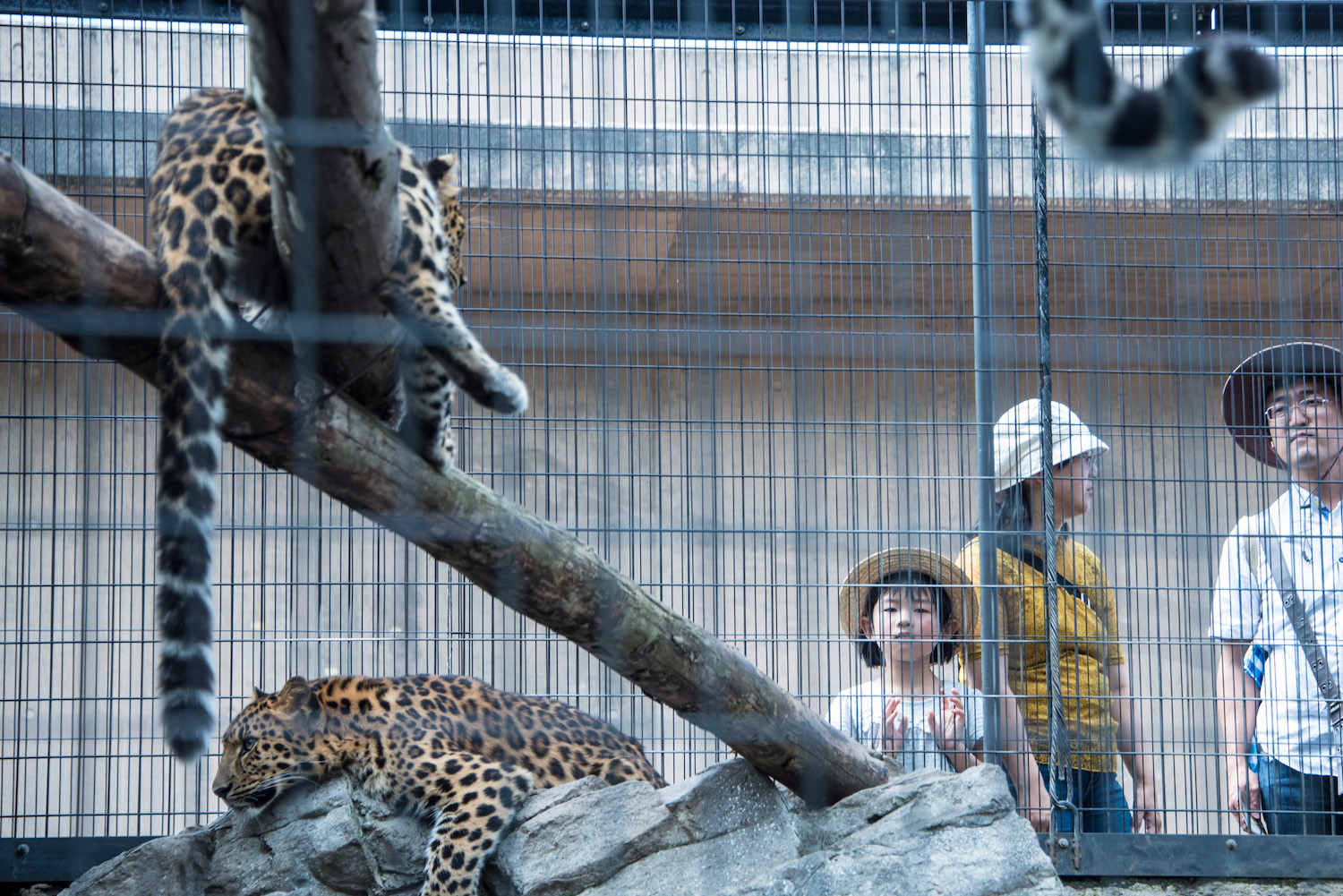 The journey from Furano to Asashikawa is slightly longer than the one to Biei, but the rewards are more complex. If Asahiyama Zoo ends up not being your thing—and let's face it: it isn't for many people—you can spend your time discovering underrated, sleepy Asahikawa city, which can be a nice reprieve, particular if your trip thus far has been tourist-filled.
BONUS: See lavender at a strange Sapporo cemetery
Want to see lavender in Hokkaido 2024 without traveling far from Sapporo? Set your GPS for Makominai Takino Cemetery, which is less than 30 minutes from the city by car (and also only around an hour via public transport). In addition to housing a massive Buddha encased in a lavender-covered dome, the cemetery is home to replicas of Stonehenge and the Easter Island monoliths.
How to Get to and Around the Hokkaido Lavender Fields
You'll find many different Hokkaido rental car options upon arriving at New Chitose Airport, which is the most convenient place to pick one up. Many Western companies have offices there, albeit some in partnership with Japanese providers. I made my booking through Hertz, for example, but ended up driving a vehicle off the lot of Toyota Rent-a-Car, which is now my company of choice when renting a car in Japan.
Of course, you needn't rent a car if you simply want to see the Hokkaido lavender. You can walk or take a bus from Naka-Furano Station (which is itself accessible directly from Asahikawa and indirectly—via Asahikawa—from Sapporo) to both Farm Tomita and Lavender East, and do most anything else in the area using public transport as well, even though doing so will leave you at the mercy of relatively infrequent departures. In this instance, I'd recommend staying at least 2-3 nights so you don't miss out on anything.
Other FAQ About Visiting Hokkaido in Summer
Where can I see lavender in Japan?
The most popular place to see lavender in Japan is in Naka-Furano, a town in the central part of the island of Hokkaido. Although you can find lavender plants (and some scattered lavender fields) in other parts of Japan, this is undoubtedly the place pictured in any photos you've seen.
How do I get to Farm Tomita?
You can reach Farm Tomita by bus or on food from JR Naka-Furano station. Alternatively, you can walk to Lavender East, which is located closer to the station and tends to be less crowded, even if it is also slightly less picturesque (it's flat) than hilly Farm Tomita.
Is Farm Tomita open in winter?
Farm Tomita is "open" in winter, but without its famous flowers is a rather sad place. Certainly, I wouldn't waste any part of a winter trip to Hokkaido in this part of the island, with the possible exception of Biei (whose blue pond is rather colorless during the winter, I must warn you).
The Bottom Line
Where can you see lavender in Hokkaido? Whether you're planning a trip in 2024, 2025 or any other time in the future, there's never a bad time to visit Japan's northernmost island during its warmest time of year. The Hokkaido lavender fields themselves are only the beginning, whether you use them as a jumping-off point for culinary and retail adventures, or explore outlying Hokkaido destinations in Biei, Asahikawa or even farther afield. Still unsure? Consider hiring me to plan your Hokkaido trip if you're unsure at all!