Although it sounds completely..well, foreign to foreign ears, the Japanese word jigokudani is actually relatively common in the country. It means "hell valley," and is a name ascribe to many ravines and gorges near onsen towns, where steam shooting up out of the ground gives the impression of an inferno.
For tourists who don't leave the main Japanese island of Honshu, the most typical of these landforms to visit is the one near Nagano, where the famous "snow monkeys" make their home. If you come to Hokkaido, however, there's another hellish valley you can experience: The one in Noboribetsu Onsen.
In this post, I'll explain how to take a Noboribetsu day trip from Sapporo (or Hakodate), although you can of course spend the night here if you'd like. Continue reading to learn all the demonic details.
How to Reach Noboribetsu from Sapporo (or Anywhere Else)
Whether you're starting in Sapporo or plan to take your Noboribetsu day trip from Hakodate, it's easy to reach Noboribetsu Onsen from major cities in Hokkaido. You'll start by riding a train (ideally a Hokuto Limited Express, which is full covered by the Japan Rail Pass) to Noboribetsu Station. Exiting to the north, you'll walk to the well-marked bus stop and board the next bus to Noboribetsu Onsen (TIP: They all go there!).
Obviously, if you have your own set of wheels, you can drive all the way to Noboribetsu Onsen from anywhere in Hokkiado, although this might not be advisable during the winter. Likewise, there are direct highway bus services from Sapporo and Hakodate, although I personally prefer going most of the way by train, assuming I'm using public transport.
Things to Do in Noboribetsu
Hike in Hell Valley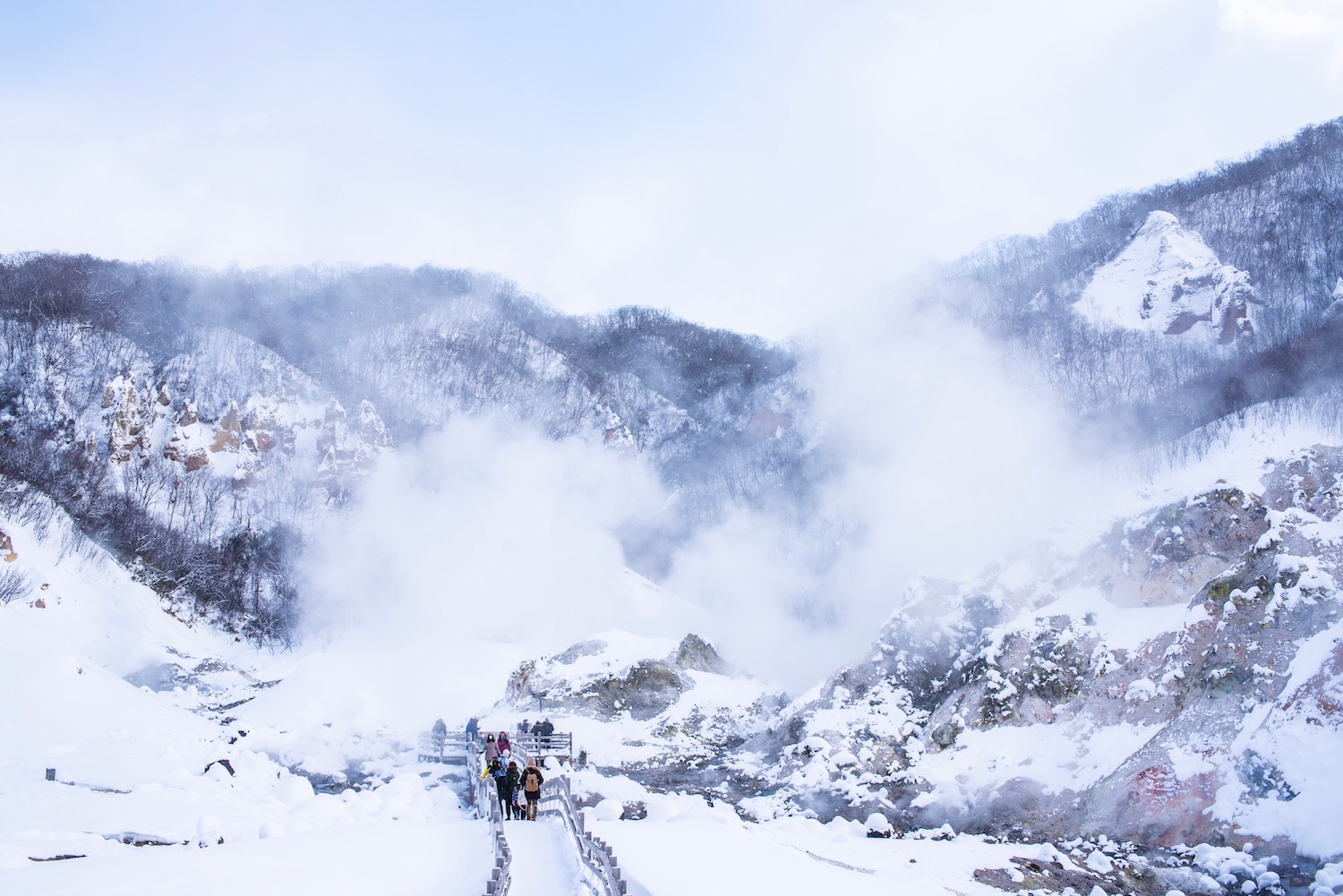 If you walk up the hill from the Noboribetsu Onsen but station, you can't help but walk directly into Jigokudani. The path is easy and relatively short, turning into a boardwalk after a short uphill walk on pavement. You can walk almost all the way up to the jets of steam shooting out of the ground!
(Or all the way to Onuyama Pond)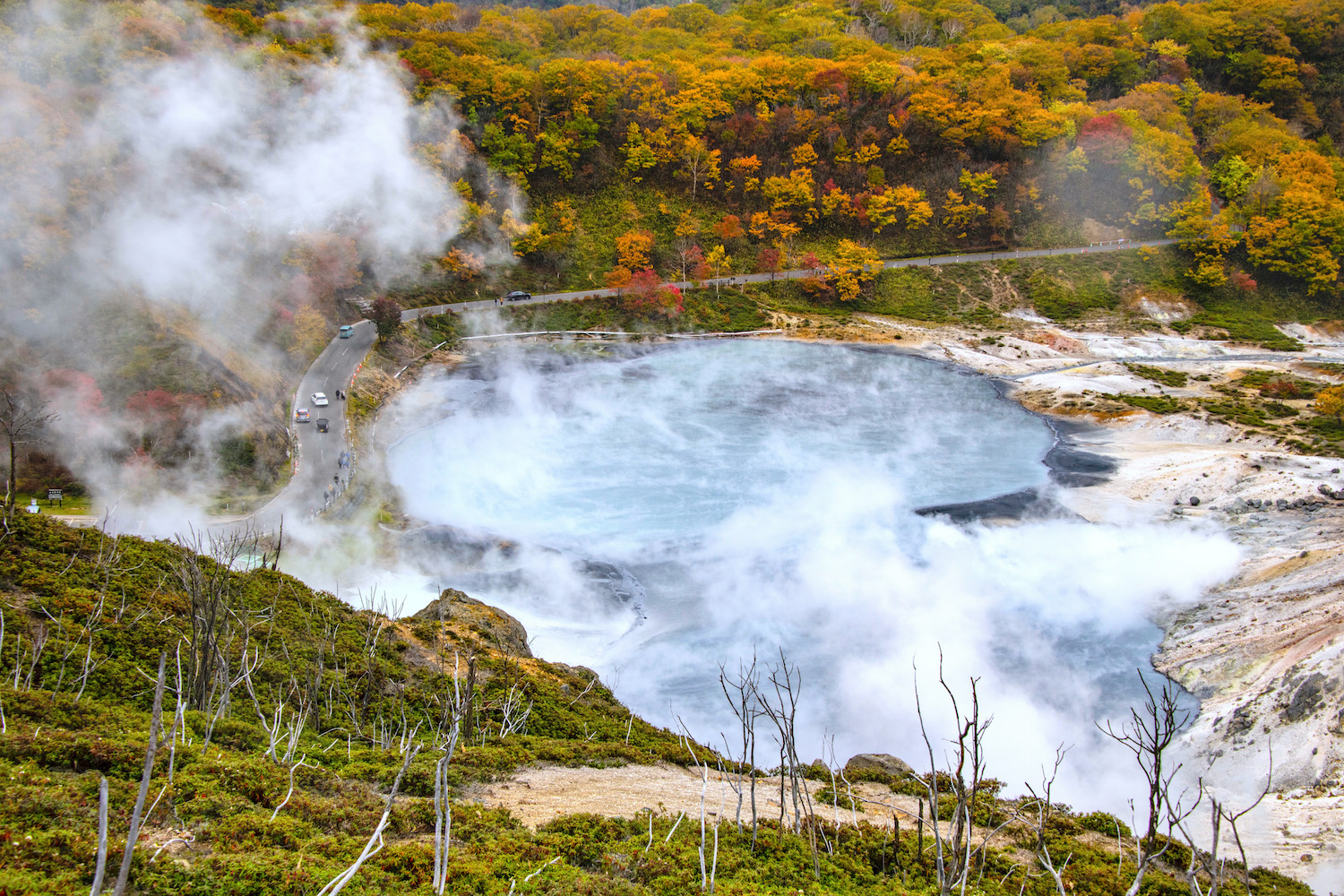 Depending upon how many hours you've devoted to your Noboribetsu day trip, you may decide to take one of the trails that travels northward from the main Jigokudani path. These will all ultimately lead to Onuyama Pond, a blue-green body of water that looks positively primordial, what with volcanic hills rising all around it.
Dip your toes in Onuyama Natural Foot Bath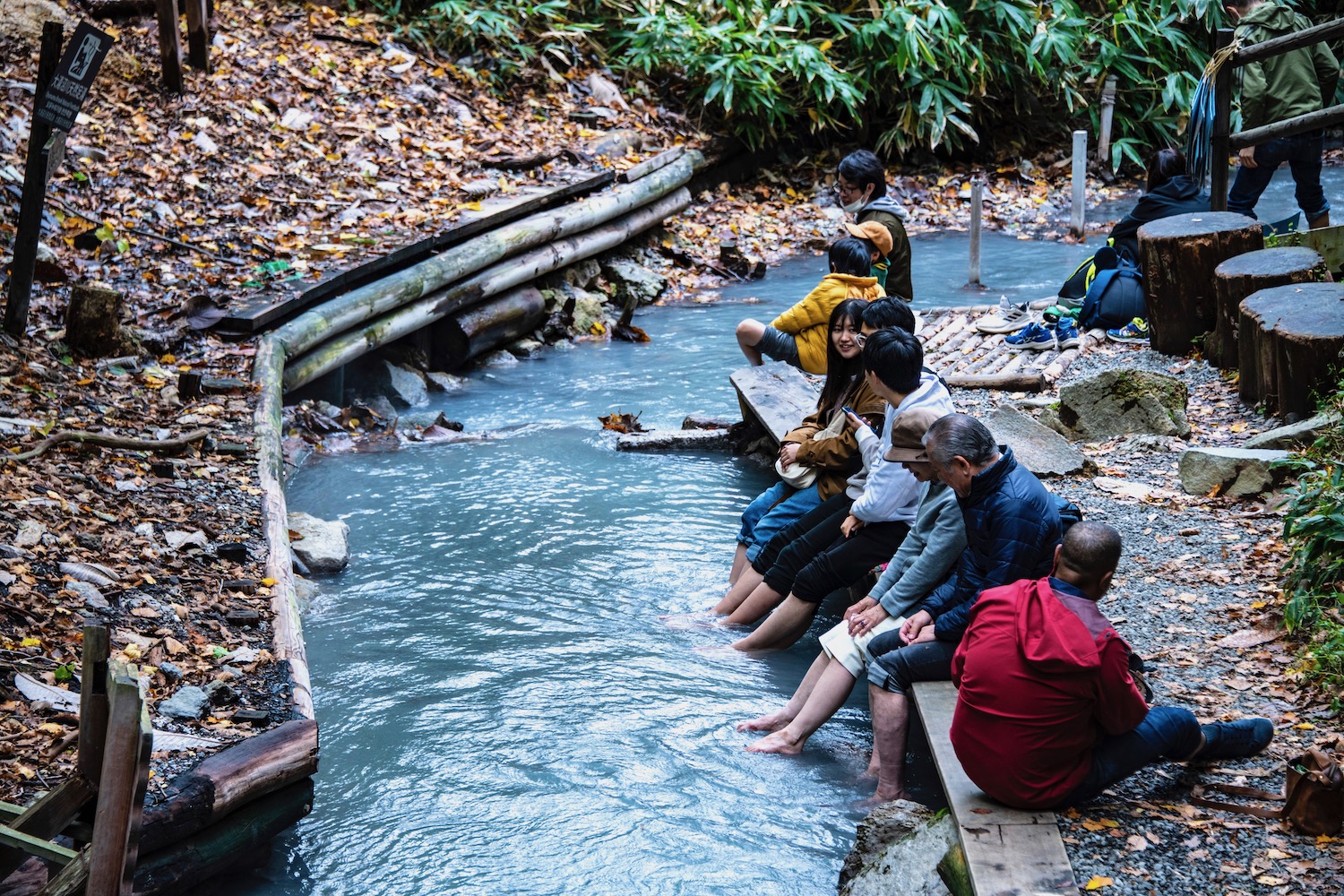 The end of these trails, meanwhile, is in a ravine just beyond Onuyama. As its name suggests, the Onuyama Natural Foot Bath is a shallow, mostly stagnant hot spring that is perfect for relaxing your feet, and is especially refreshing during the colder months.
Visit (or don't visit) Noboribetsu Bear Park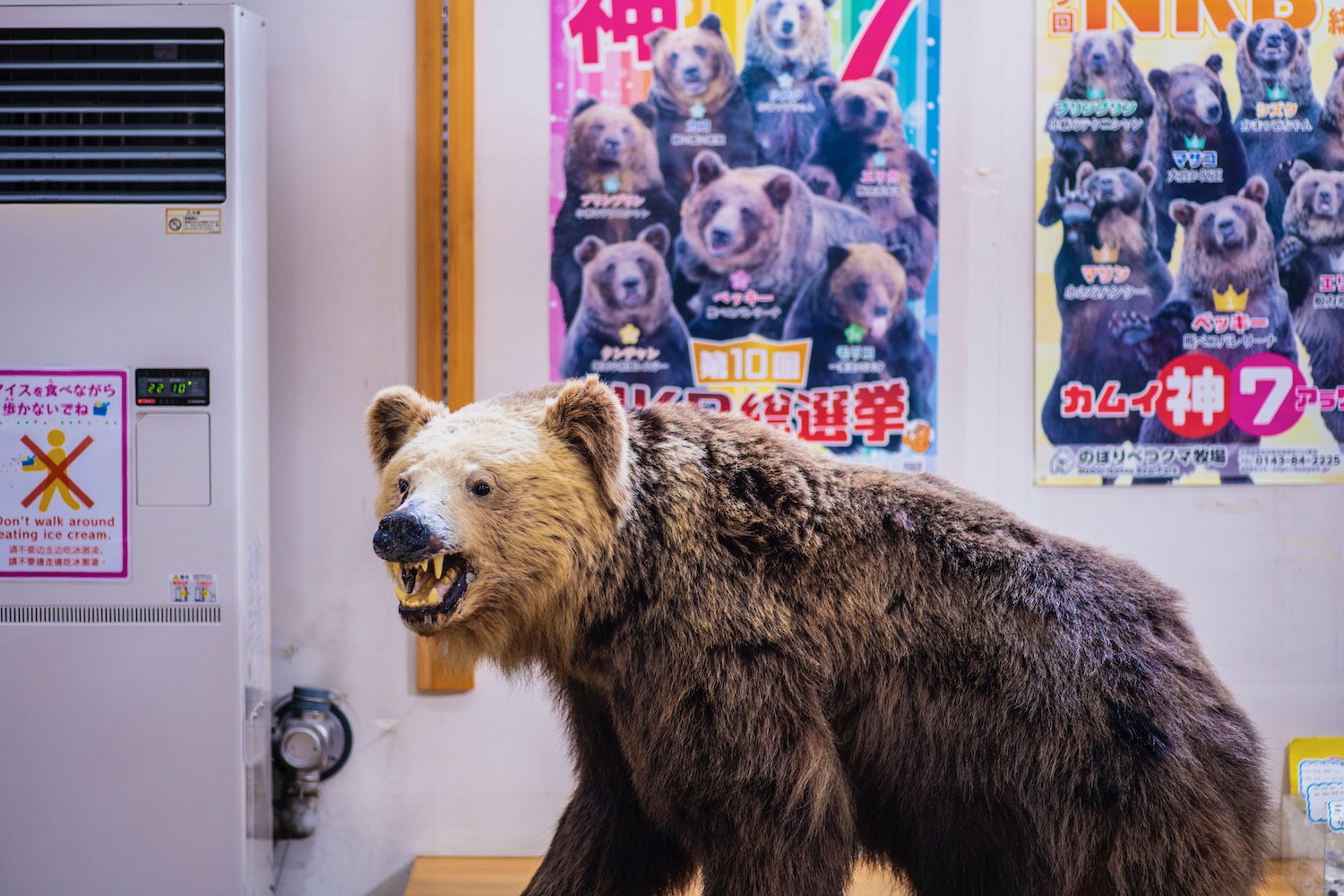 Many travelers on a Noboribetsu day trip visit the Noboribetsu Bear Park, which is one of the only places in Hokkaido you'll actually want to encounter a bear. Unfortunately, this (like many animal enclosures in Japan) is more of a zoo than a sanctuary; I don't personally find it very appealing.
Say "konnichiwa" to the oni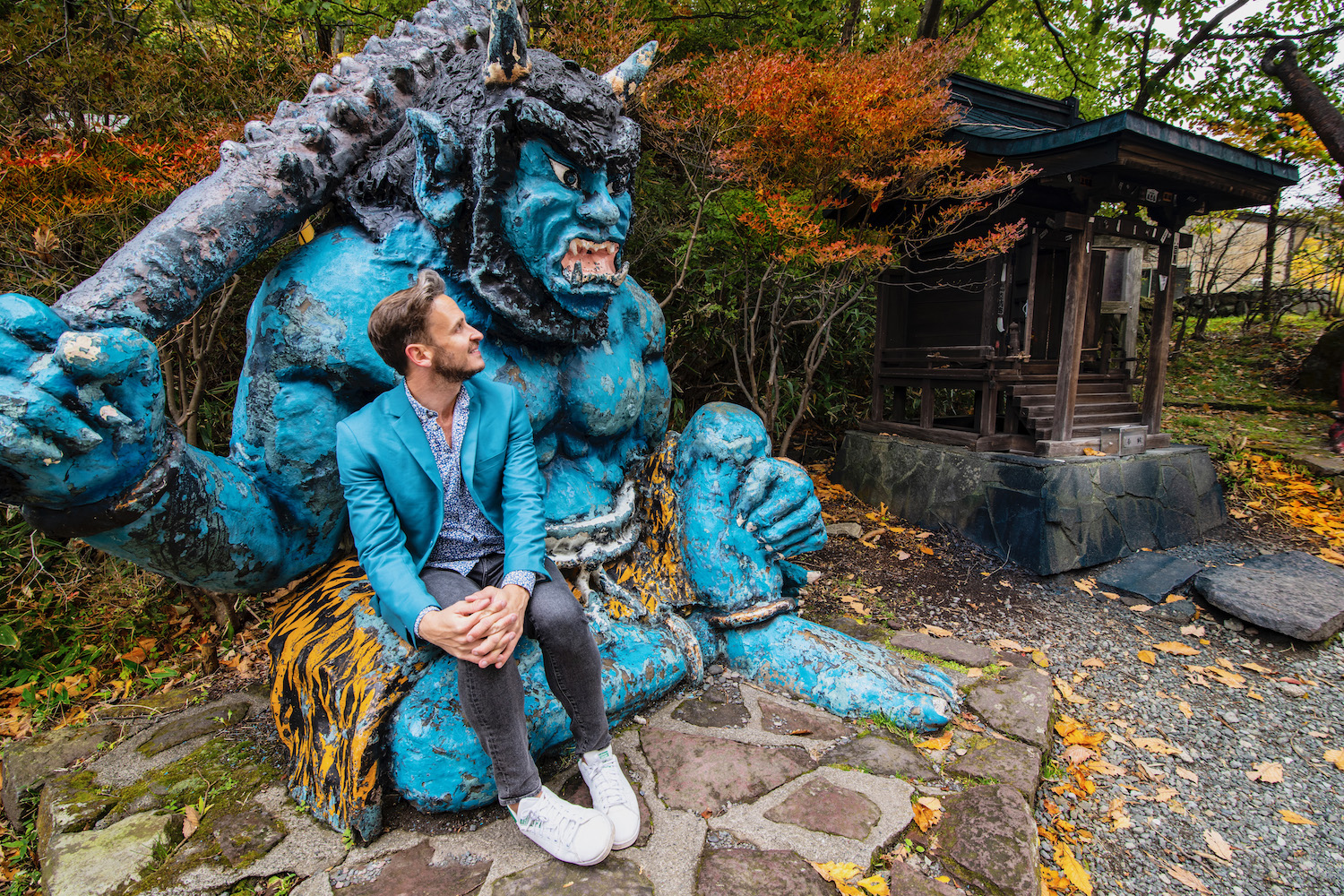 Both at the road entrance to Noboribetsu Onsen, as well as along the path that leads to Jigokudani, you'll find statues of demonic-looking figures, which are known as oni. While I'd be lying if I said I fully understood the mythology, they do all a certain je ne sais quoi to the entire experience.
Should You Stay Overnight in Noboribetsu?
Obviously, as an onsen town, Noboribetsu is home to several hotels and ryokan, which vary greatly in terms of luxuriousness and price—whether or not you stay overnight will depend in part on how much you can afford to spend. Which is not to say a worthwhile stay needs to break the bank. A sleep at the high-end Dai-ichi Takimotokan isn't necessarily more enjoyable than one at the humbler Oyadu Kiyomizuya, for example.
On the other hand, the decision to take a Noboribetsu day trip (and not to sleep there) often comes down more to time than to money. Namely, that most travelers don't plan to spend long enough in Hokkaido to devote a full 24 hours to Noboribetsu, as wonderful as it is. However, if you do—if you're spending at least a week, and probably two in Hokkaido—than I highly encourage you to take this option.
Other FAQ About Visiting Noboribetsu
Is Noboribetsu worth visiting?
Noboribetsu is definitely worth visiting during your trip to Hokkaido! However, depending upon the shape of your trip more generally, you may opt to take a day trip to Noboribetsu from Hakodate or Sapporo, as opposed to staying overnight in one of the onsen town's hotels or ryokan.
How do you get around in Noboribetsu?
Noboribetsu is a walkable/hikeable area, with the paved streets of the town as easily navigable as foot as the many hiking trails. Do note that during the winter months, some of the hiking trails may be impassable due to snow, so keep this in mind if you plan to visit Noboribetsu in January or February.
What is Noboribetsu known for?
Noboribetsu is known primarily for jigokudani or "Hell Valley," a hellish landscape where jets of steam shoot up out of arid landscapes, and that give the impression of being in the underworld. Along with the other attractions and experiences I've described in this article, this has led to Noboribetsu become one of Hokkaido's top tourist destinations.
The Bottom Line
I hope you're now well-versed in how to take a Noboribetsu day trip from Sapporo—or, if you decide to spend the night near Hell Valley, how to get there and occupy your afternoon and evening. While I won't wade into the waters of trying to compare this jigokudani with others in Japan, I will say that Noboribetsu is a superbly satisfying destination, particularly if you're able to visit during the colorful autumn season. Want to make sure your trip to Hokkaido (or to Japan more broadly) is one for the record books? Consider commissioning a custom Japan itinerary, and let me sweat the details.