I'm not sure what possessed me to include Koyasan cemetery in the rough itinerary for the trip I'm currently on. But I woke up today determined to go there as planned, satisfied enough by the fall scenery I saw in in Osaka, Kyoto and Arashiyama that I could go someplace where all deciduous trees were likely leafless.
It was a fitting state of mind, at least in theory. Eight-century monk Kukai founded Koyasan, after all, in hopes that creating a home for the esoteric Buddhism he learned in China might bring peace to Japan. The least I could do, fleeing Kyoto for the hills of Wakayama prefecture like Kukai did no less, was to feign the optimism he lived by.
The Koyasan temple stay I did back in May was fresh in my mind as I entered Nankai Namba Station, but today's journey to the holy mountain would be very different.
Setting Up Shots
I tried to remain focused as my express train head toward Gokurakubashi, and as the funicular I caught there sped up the steep slope to Koyasan. Today was about visiting Okunoin Cemetery, famous among other reasons for the fact that Kukai himself was interred there; any other achievements today, creative or otherwise, were bonuses.
However, I couldn't help but notice just how blue and cloudless the sky became as the day wore on, which made me dwell on how overcast it had been early in my trip.
I mean, cringed at the thought of pushing my way through the crowds of central Kyoto, but I can't lie: I wished I could be photographing Kinaku-ji at peak fall color, rather than gazing through a smudged window at a hillside that was vibrant, but could've existed anywhere in the world.
The bus I caught at Koyasan Station wound its way through the town center and, eventually, to the cemetery's entrance. Though I wasn't so familiar with its grounds to know them by memory, I'd spent the ride setting up shots inside my mind, even going so far as to postulate what the like would be like at certain points between the corporate graves of the entrance, and the bridge that led to Kukai's mausoleum.
By the time I finally crossed it, I thought I was good to go, even if the question of whether there would still be any autumn scenery at Danjo Garan or Daimon was gnawing at me. Just then, a call back to the worst part of my first day in Kyoto: Photography was prohibited, or at least it would be once I crossed the Gobyo no Hashi bridge.
Guardians of the Ghost
My photography is always what grounds and centers me when a trip isn't going my way, so though I could deal with Kyoto's tripod bans, I couldn't oblige the guardians of the ghost of Kukai telling me not to take photos at all.
The thing is, even if I finished at the Koyasan cemetery in less than an hour (which you'll know is doubtful if you've ever been there—it's huge) and spent a similar amount of time at the rest of the mountain's core attractions, collectively, there was no way I could get back to Kyoto before nightfall.
There was no other place I'd be able to take advantage of the day's incredible lighting than here—this was literally my only chance.
And so, peace be upon Kukai's spirit and the other 200,000 or so souls that rest there, I discreetly snapped photos the entire time I was within the mausoleum. No one seemed to care, at least not any Japanese person, though a Western tourist gave me a dirty look when she realized what I was up to.
(Maybe she, too, had been trying to usurp the rules of Okunoin Cemetery, and sent a questionable gaze my way rather than a friendly one, lest either of us get found out!)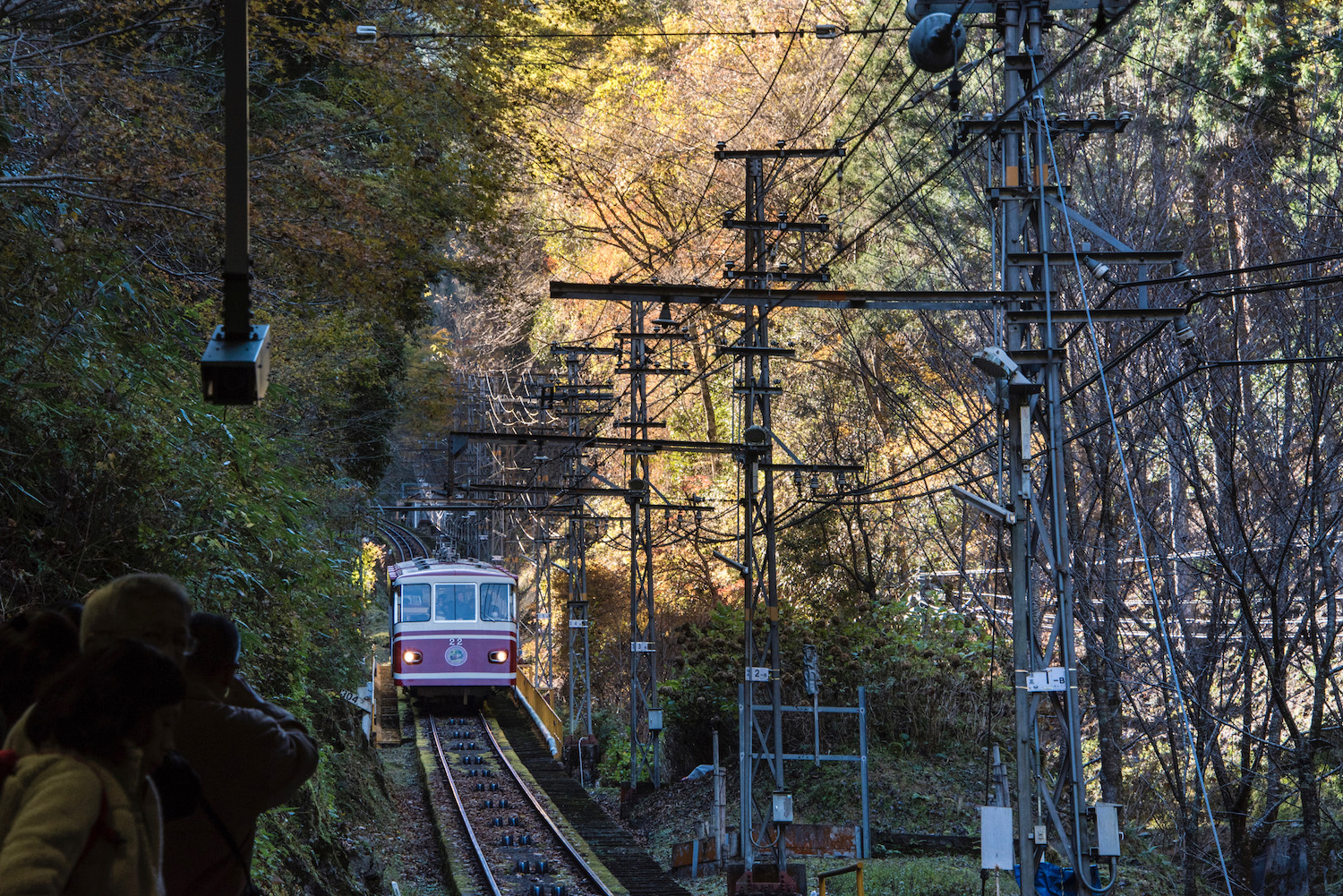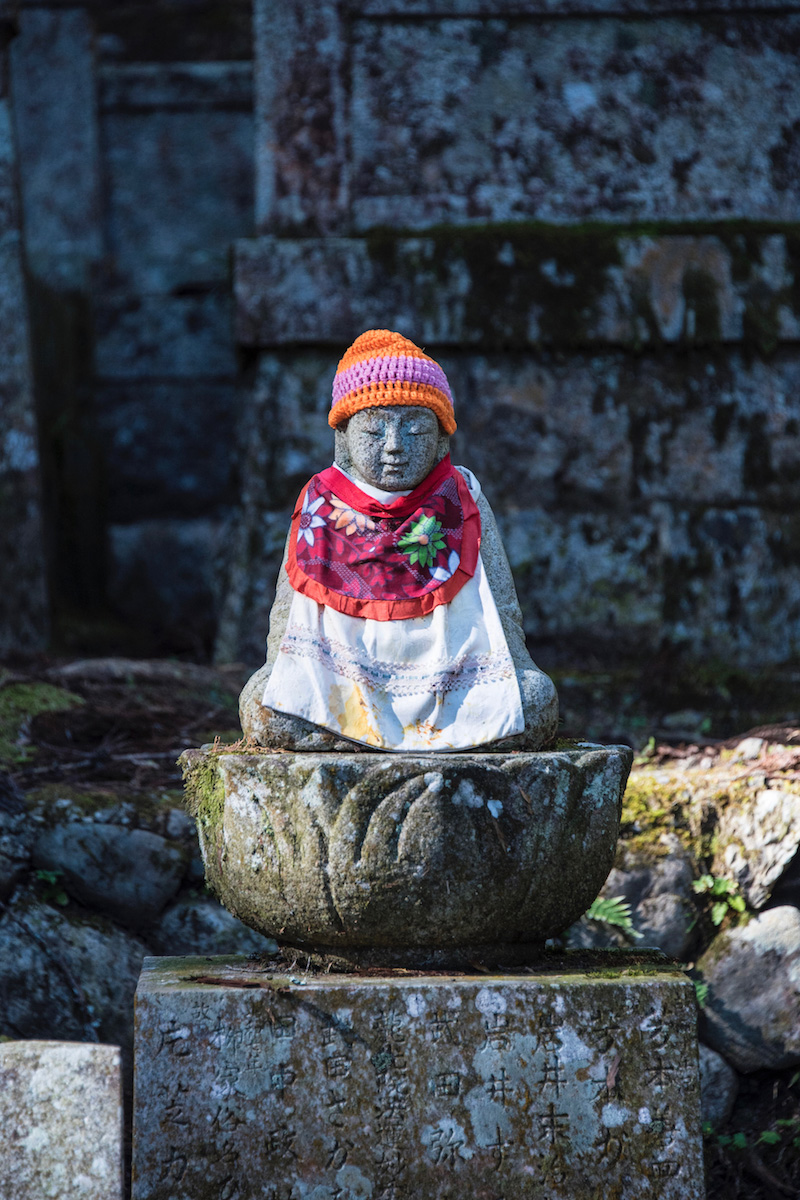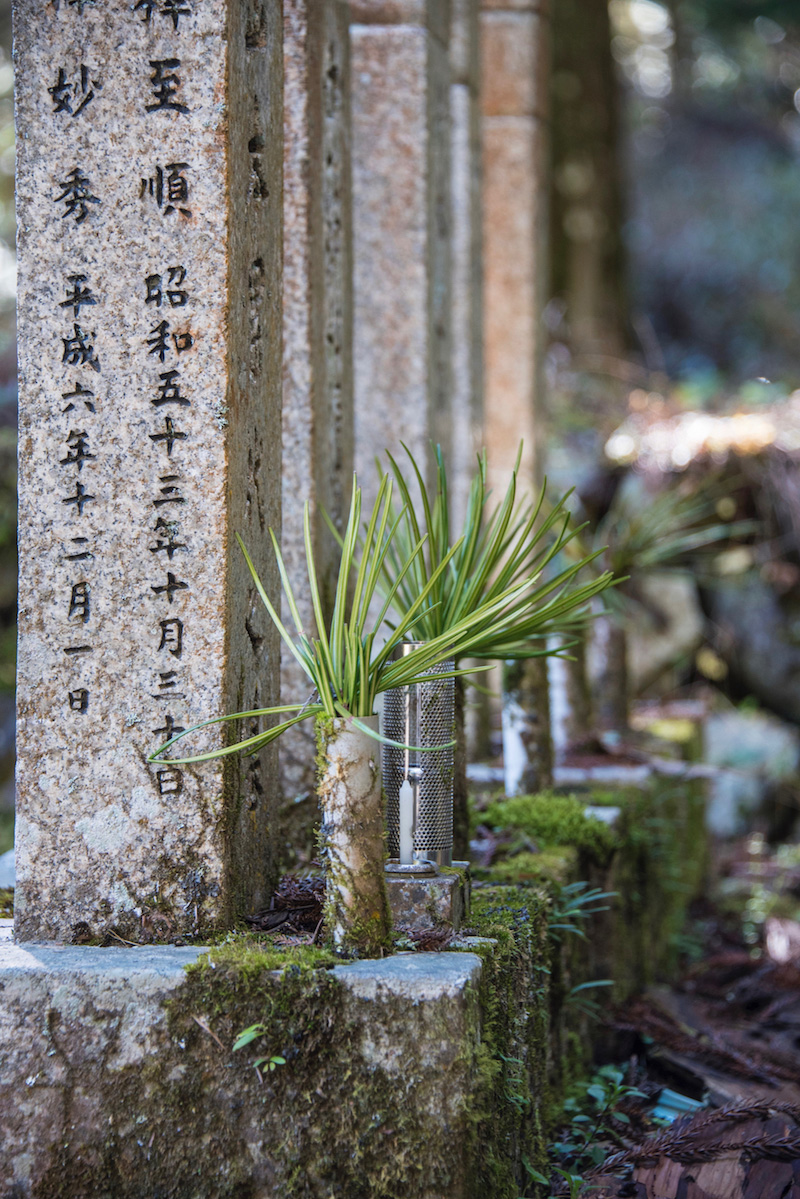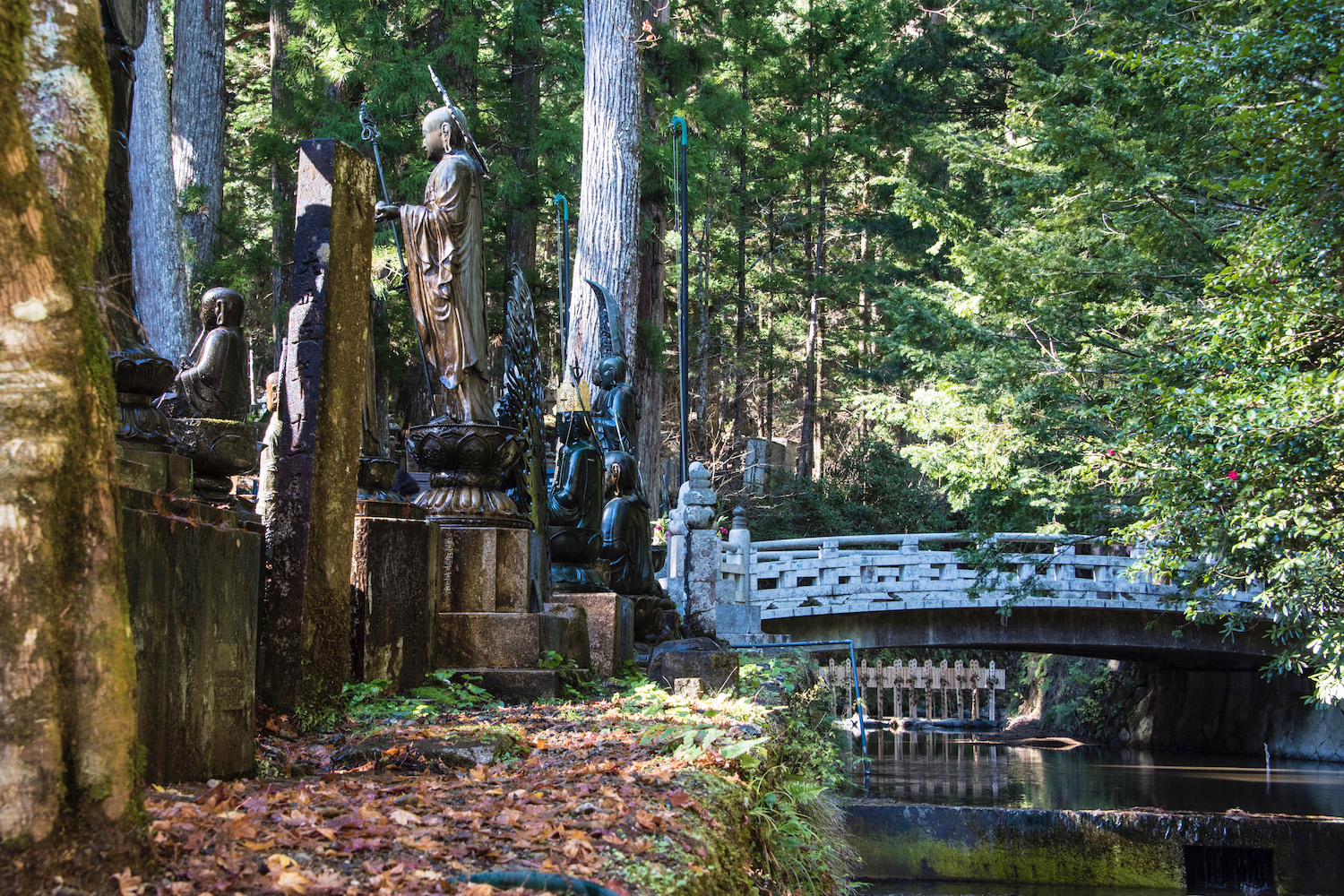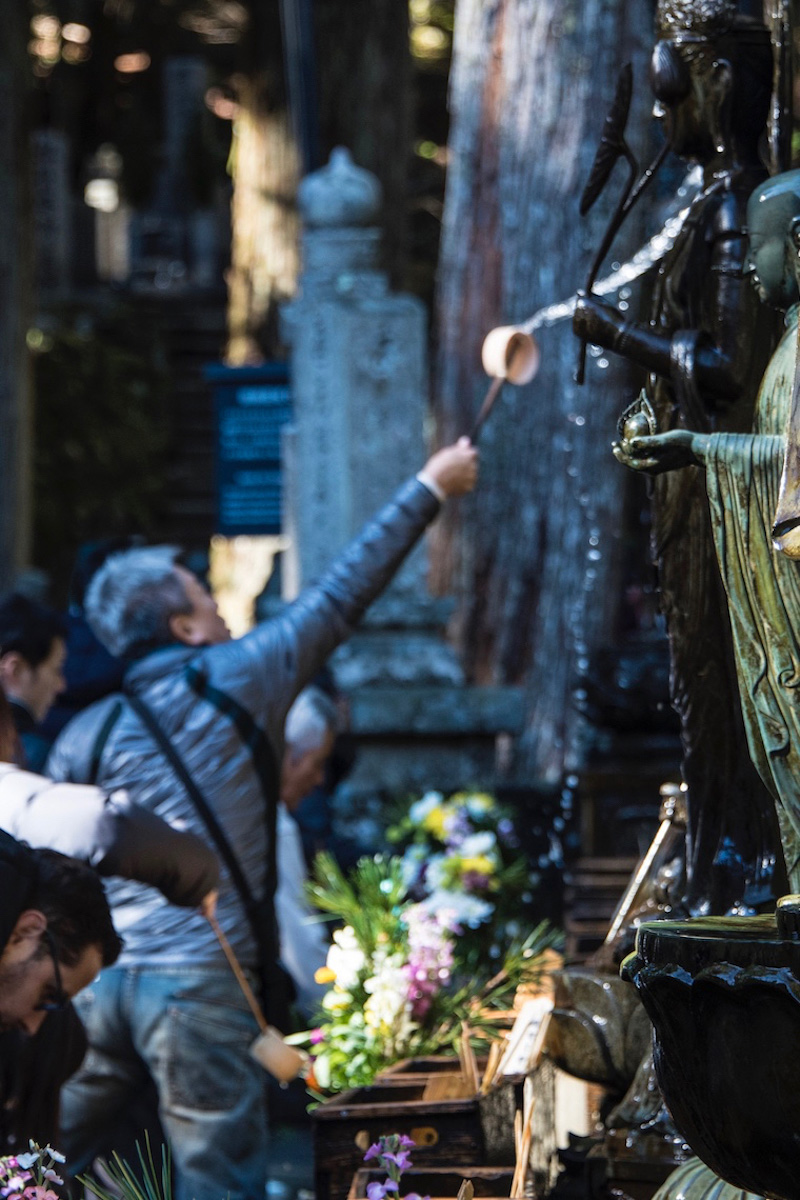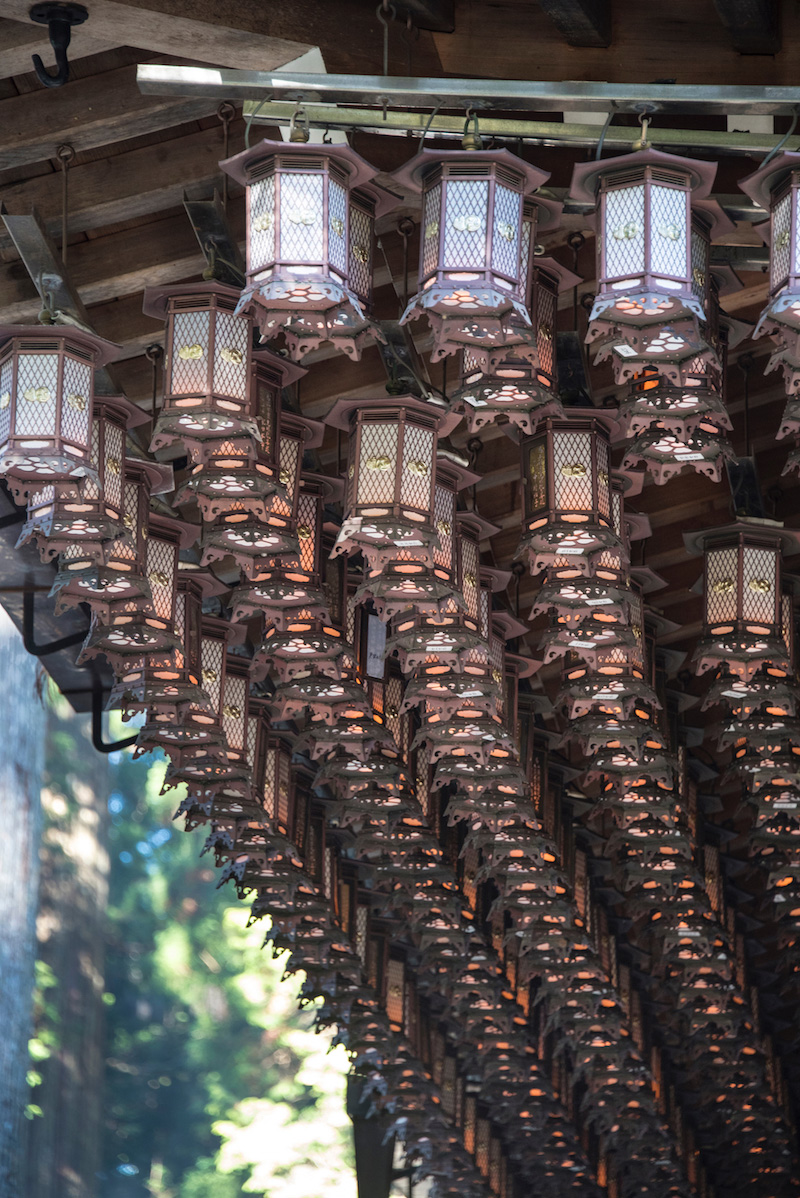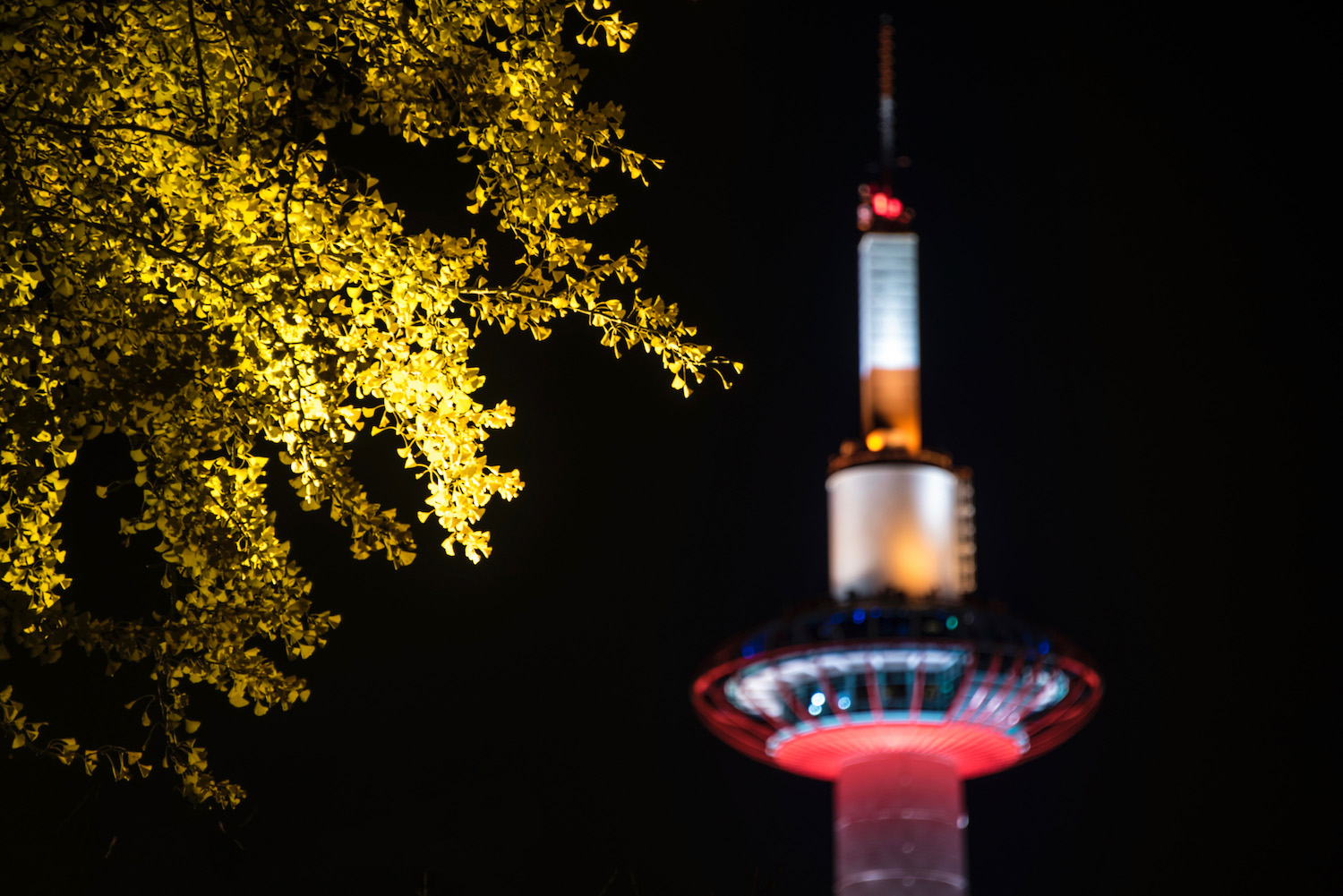 Carmine Cough Syrup
There were no leaves to speak of in the Danjo Garan complex; the one maple I saw on the way there (or the way back, if I'm being technical) was only days away from being barren, its leaves closer in color to carmine cough syrup than the crimson and candy-apple tones I'd seen at lower altitudes.
I wasn't devastated or even really disappointed, but I was pissed off at myself. How could I have squandered away the nicest day of my trip so far? Now, the stream of "what if" that had previously been flowing just underneath my consciousness was so front-and-center I was practically speaking my thoughts out loud; if I were Kukai, there would be no hope for peace in Japan, not anytime soon.
And it wasn't just how relatively underwhelming my excursion to Koyasan cemetery itself had been, or the fact that I'd felt significantly more impressed stumbling upon Konpon Daito pagoda after a 25 km hike in May than I had on the short stroll from the bus stop today. It wasn't anger, no.
It was hanger: Like so many places in the Kansai region at this time of year, Mt. Koya is perilously short on restaurant tables. Even the shitty coffee shop in the worst possible location, whose plastic food looked like rotten-ass real food, was totally full.
"I don't know," the host told me when I asked how long the wait would be, in a way that suggested he also didn't really know what the phrase he uttered meant.
Death Takes Many Forms
It might sound crazy, but I didn't think about death for an even an instant when I was at Koyasan cemetery.
Waiting at Osaka's Shin-Imamiya station to board the second of the three trains that would take me back to Kyoto, however, I immediately recognized the melody that announced its arrival. It was a song whose name I can't remember, but that I played when I was the second-chair clarinetist in my eighth grade band.
Upon my return to Kyoto, seeing the city's somewhat tacky Tower flanked by illuminated yellow ginkgo branches, I felt a sense of resolution, as if I'd been vindicated for squandering my day.
But then, that melody entered my head again. Those four bars I hadn't heard in two decades, which triggered me to hum the entirety of the song as my train sped along the Osaka loop line, reminded me of a harsh fact no traveler—no person—should ever forget.
You never get any day back, whether you live in to its fullest or let it slip through your fingers like wasted talent. Death takes many forms, but no prisoners.
Other FAQ About Koyasan Cemetery
Who is buried at Koyasan?
Ten of thousands of monks are buried at Koyasan, but the most famous eternal tenant is Kukai, the Buddhist monk who founded the settlement atop Mt. Koya during the 8th century. Even if you don't find his grave, however, a trip to the Okunoin Cemetery where he's interred is very worth your while.
Why is Koyasan, Japan sacred?
Koyasan is sacred because a Kyoto monk named Kukai founded it as a holy spot in the 8th century. He intended for the settlement to be a retreat from the gaudy excesses of life in Kyoto (which was the capital at the time), and to inspire more and more Japanese to subscribe to the thinking of the esoteric Buddhism he professed.
How old is Okunoin?
Most people believe that Okuno-in Cemetery, as an institution, is about 500 years old, judging by the age of the cedar trees planted on its ground. However, burials have taken place on the site for far longer than that, on the other of many centuries.