On one hand, it's not surprising that many travelers feel intimidated by the idea of getting around Tokyo. It's the world's biggest city, technically speaking, with a subway map that can look like a plate of tangled soba noodles.
On the other hand, there is a method to the madness of Tokyo's transport networks. And once you understand it, making your way through the city is easy as can be.
No matter how many times you've been to Tokyo, or how confident you currently feel you understand the city's geography, I hope you'll continue reading. I'll break down and demystify Tokyo's various rail and road networks in a way that even total amateurs will find easy and engaging.
Why Tokyo Intimidates Travelers
Before I dig more specifically into how to get around Tokyo, let's talk about why Tokyo terrifies travelers. Part of it is the sheer sprawl. Looking down on Tokyo from the Tokyo Skytree, it can seem like a literally endless array of high-rises, mid-rises and anonymous apartment blocks extending in all directions, with only Mt. Fuji towering in the background to unite it all. How could anyone ever make sense of this mess?
And yet Tokyo is anything but a mess. As I explain in my guide to Tokyo's districts, the city is highly organized, in a way that takes geography, history and even culture into account. When you start with the big picture—Shinjuku and Shibuya in the west; Akihabara and Asakusa in the east—and then dig deeper into each district's nooks and crannies, Tokyo seems less like one big city and more like many (specifically 23) not-so-big ones.
The Best Ways to Get Around Tokyo
Tokyo Underground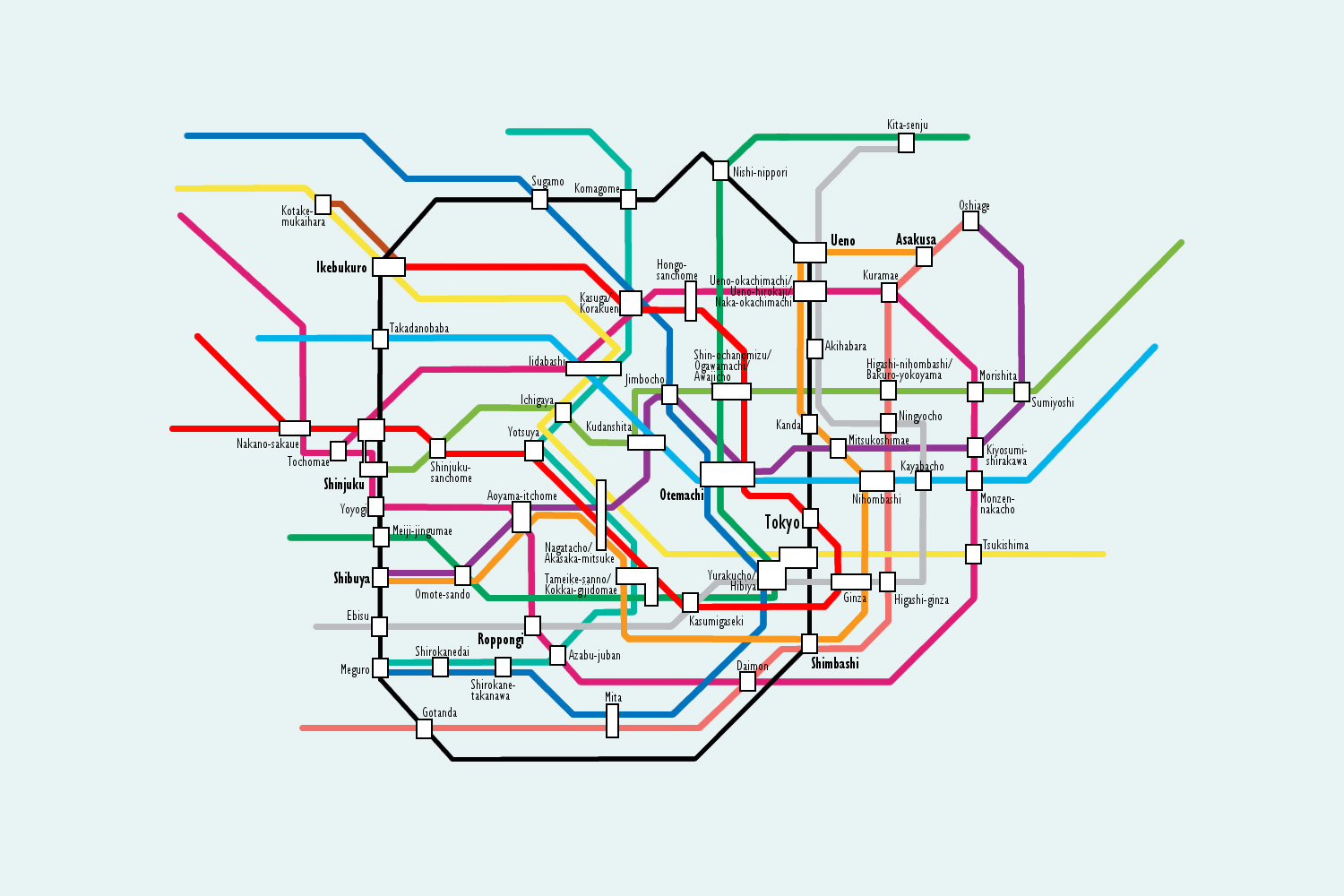 The most popular way to get around Tokyo is using one of its two underground networks: The Tokyo Metro and Toei Subway. For tourists, the most popular lines are the "red" Marunouchi Line (which directly connections Tokyo Station with Nakano, Shinjuku and Ikebukuro stations) and the "orange" Ginza Line that links Asakusa and Shibuya.
The JR Lines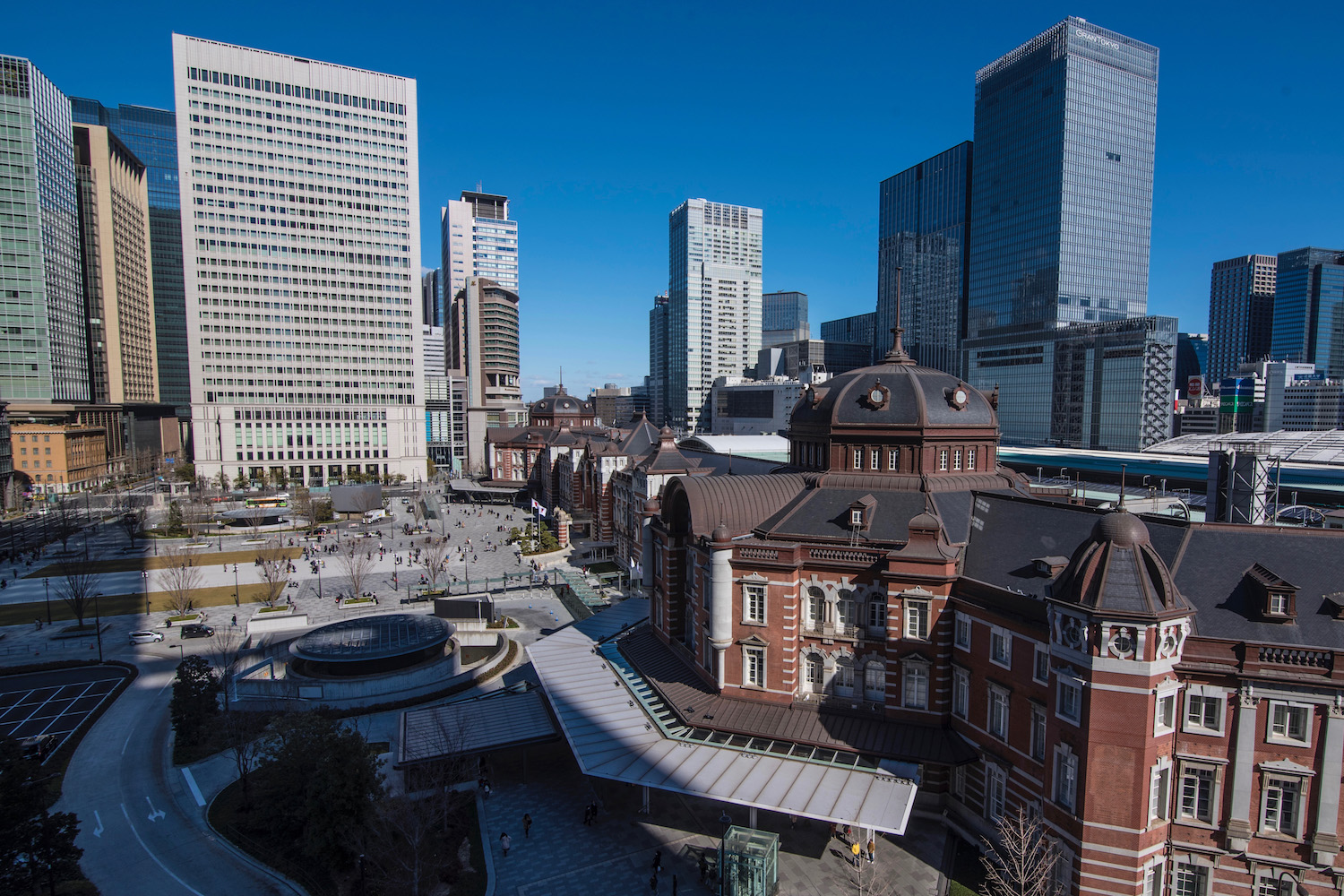 Trains operated by the Japan Railways (JR) corporation are an important part of getting around Tokyo—and, if you have a Japan Rail Pass, are totally free to use. The most important JR Line in Tokyo is the circular Yamanote Line, which loops around the city center connecting important destinations like Shinagawa, Shibuya, Shinjuku, Ueno, Akihabara and Tokyo Station. Other important JR Lines include the east-west Chuo and Chuo-Sobu Lines, and the north-south Keihin-Tohoku and Yurakucho Lines.
Private rail lines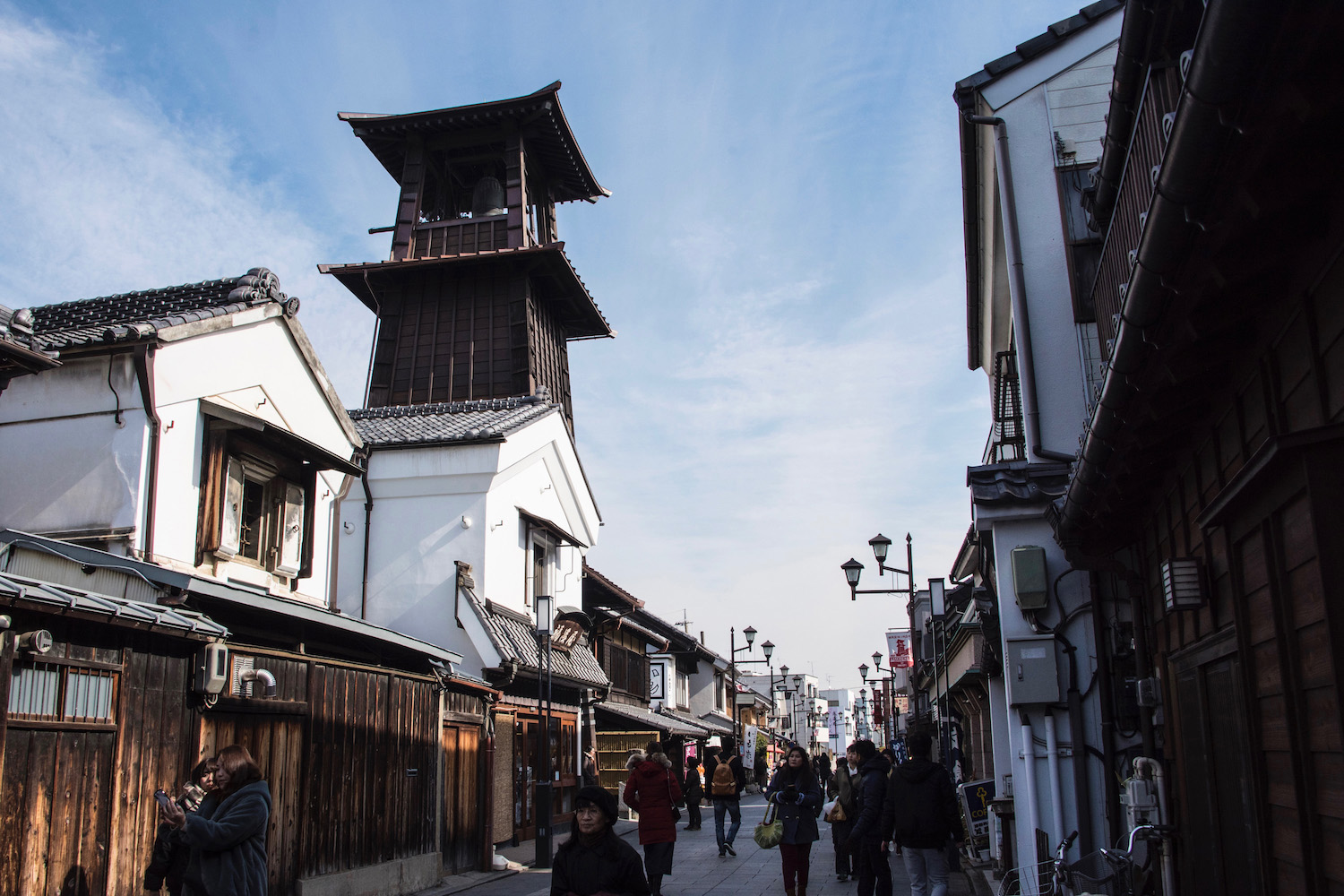 You can generally navigate central Tokyo only using the underground and JR Lines, but more peripheral journeys may require the use of a private rail line. The Odakyu Line, for example, connect Shinjuku with spots in western Tokyo like Setagaya and Shimokitazawa. You can ride the Seibu Line from Ikebukuro and the Tobu Line from Asakusa, meanwhile, for day trips to Kawagoe and Nikko, respectively.
Airport rail lines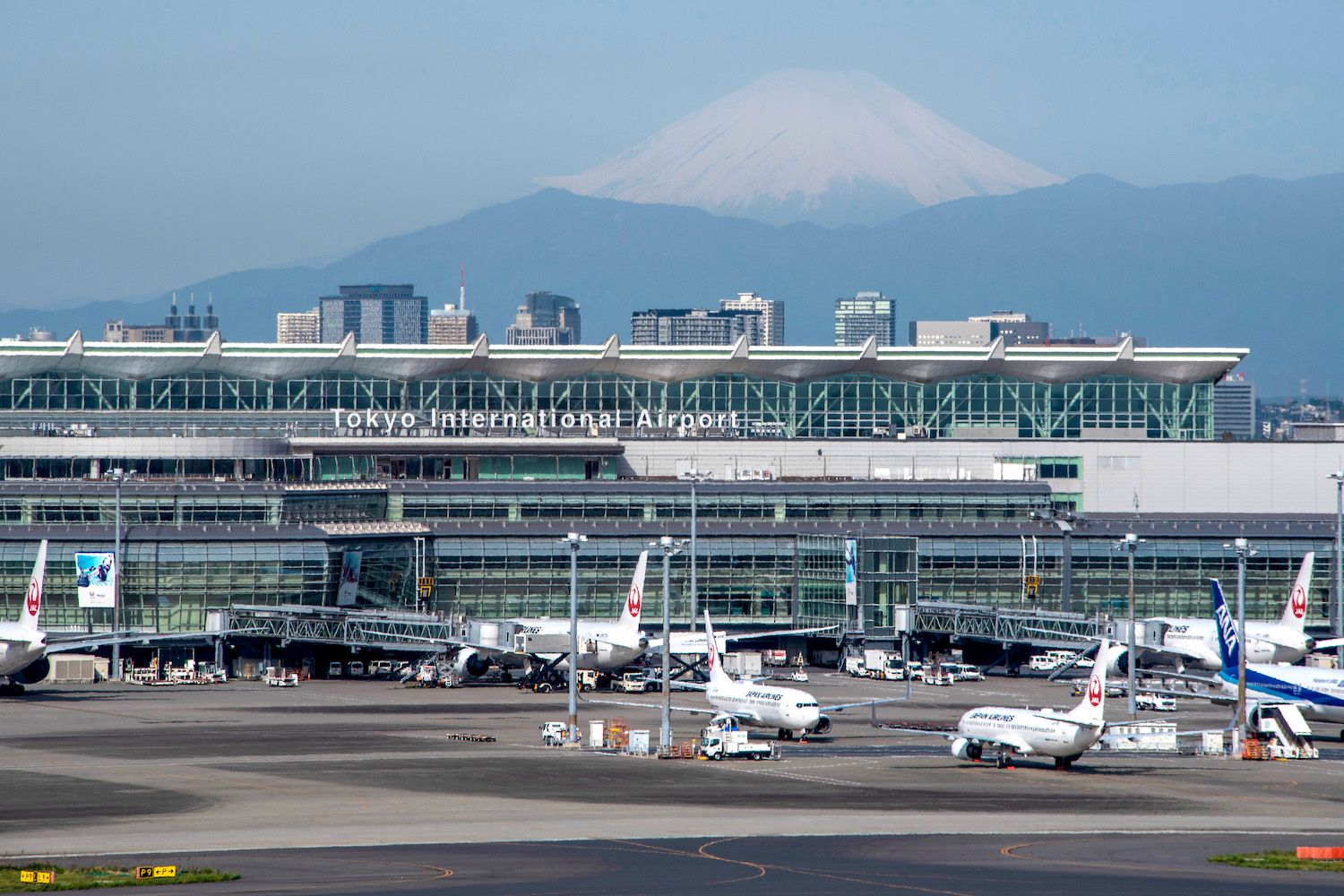 Before you travel around Tokyo, you need to make your way into the city. From Narita Airport, your options are the Narita Express (which goes to Tokyo and Shinjuku, and is covered by the JR Pass) and the private Keisei Skyline, which terminates in Ueno and must be paid in cash. From Haneda Airport, meanwhile, you can ride the Tokyo Monorail to Hamamatsucho and connect to JR Lines there, or take the private Keikyu Kuko Line, which becomes the Asakusa Line of the Toei Subway once it passes Sengakuji.
Shinkansen
Although you can't really use the Shinkansen bullet train to get around Tokyo, there are a couple of scenarios where it makes sense—namely, if you need to travel directly between Ueno, Tokyo and Shinagawa stations, and have a JR Pass. Otherwise, the Shinkansen is merely a means of leaving Tokyo behind. Board the northbound Tohoku-Hokkaido, Joetsu, Yamagata and Hokuriku Shinkansen trains at Tokyo or Ueno stations, and south- and westbound Tokaido-Sanyo Shinkansen trains from Tokyo or Shinagawa.
Other Ways to Explore Tokyo
Train is the most common way to get around Tokyo, but it's not the only game in town. Here are some other ways to navigate Japan's biggest city:
Bus: Although I wouldn't recommend using ordinary city buses to explore Tokyo, "limousine" buses (and other long-distance bus services) can be a good option for reaching Haneda and Narita airports, and destinations in the Fuji Five Lakes region.
On foot: It surprises some travelers to learn, but individual neighborhoods of Tokyo (including very busy and seemingly huge ones like Shinjuku, Shibuya and Asakusa) are extremely walkable.
Taxi: Whether you use an old-school Tokyo taxi or use apps like Uber, private cars are a very expensive way to get around Tokyo, albeit necessary outside typical train operating hours.
Boat: It's common to see boats docked along rivers and canals in Tokyo, but apart from tourist cruises along the Sumida River, there's not really a common way for foreigners to navigate the city.
Rickshaw: Known in Japanese as a jinrikisha (literally, "human rickshaw"), these traditional vehicles are more of a novelty for exploring historical Asakusa, and not a feasible way to travel between different parts of Tokyo.
Other FAQ About Getting Around Tokyo
Is it hard to get around Tokyo?
Getting around Tokyo is easy once you understand the way the city's organized. Half the battle is knowing main stops along big subway lines, and the function major train lines like the Yamanote Line and Chuo Line serve within the city. Once you've done your homework, Tokyo is actually much easier to navigate than most other big cities in the world.
Is Tokyo transport cheap?
Tokyo transport is affordable compared to the relatively cost of living and traveling in Japan. One-way subway rides cost between ¥170-320 ($1.50-2.75), and multi-day passes can be even cheaper. Comparatively, in the Thai capital of Bangkok (where people earn less than 20% what Tokyoites do), one-way rides on the BTS SkyTrain can cost as more than 60 Baht (~$2), depending on the destination.
What time is the last train in Tokyo?
Contrary to popular belief, trains in Tokyo do not run 24 hours, except on certain holidays. As a general rule, you can expect the last Tokyo Metro, Toei Subway and JR Line trains to depart sometime between 12-1 AM, and slightly earlier for other train lines. If you don't want to be forced into paying for a taxi, try to start making your way home before midnight to avoid getting stuck.
The Bottom Line
Is Tokyo easy to navigate? Sort of. Certainly, getting around Tokyo doesn't have to be a nightmare. Once you understand the way the city's subway systems and heavy rail lines snake their way around the city, the seeming labyrinth quickly untangles, at least inside your mind. If you read this guide before you travel, you'll be confidently navigating Tokyo by the time your trip is over! The best thing about Tokyo? Once you've ridden the rails to get where you need to go, individual neighborhoods of Tokyo are surprisingly walkable. Make sure your next trip to Japan (in Tokyo and elsewhere) is one for the record books—commission a custom Japan itinerary today.