It took me years of visiting the city to really embrace the unique things to do in Kyoto. And living there—it wasn't until Kyoto's tourist traps became everyday sight for me that I really wanted to get off its beaten path.
Now, some of you will be more proactive, or even on your very first trip to Kyoto. You might want to explore Arashiyama or temple hop in Higashiyama (both not both), and want to spend the rest of your time doing something truly singular.
Others are like me, and have simply spent so much time getting to know Kyoto's more mainstream nooks and crannies that there's simply nowhere else to go. No matter which camp you fall into, trust me: You're in the right place!
The Truth About Kyoto as a Tourist Trap
When I was in Kyoto just last week, I made a point of re-visiting almost all my favorite typical attractions. I watches sunset behind Gion's Yasaka Pagoda; I walked under the orange gates of Fushimi Inari Shrine; I explored Arashiyama's Sagano Bamboo Forest (albeit at the crack of dawn and as the remnants of a typhoon were blowing through).
The truth is that Kyoto's tourist spots are famous for a very good reason; it does not make you a bad travelers to want to see them. The key is making sure they're where your exploration of Japan's former capital starts—not where it ends. Travel is not a zero-sum game, let alone in a city like Kyoto, where literally thousands of years of history converge.
My Favorite Unique Things to Do in Kyoto
Take a sake tour
Speaking of Fushimi, did you know that this underrated district in southeastern Kyoto is one of Japan's longest-standing and most prolific sake-producing areas? Consider pairing an excursion to Kyoto's famous orange gates with the Kyoto Insider Sake Experience (which, incidentally, includes the option for a fascinating sake pairing session).
Hike to a waterfall temple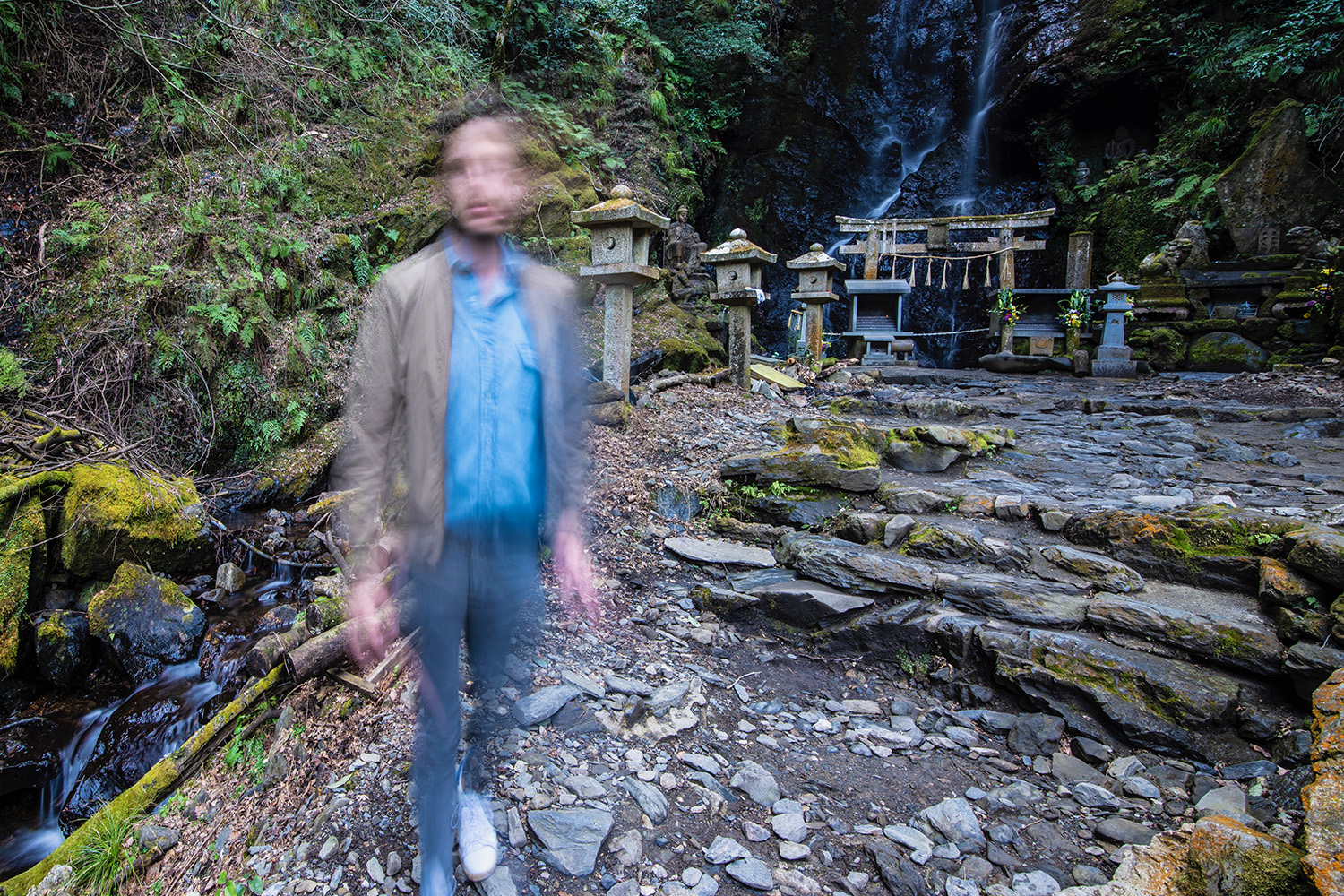 Indeed, many unique things to do in Kyoto aren't actually far from more typical options. For example, after finishing up at Arashiyama's Sagano Bamboo Grove, it's just 30 minutes by foot or 5-7 minutes by bus to the trailhead of Kuya-no-taki, aka the "Waterfall Temple" or "Waterfall Shrine." Even if you don't personally bathe in its water, it's still an enchanting (and barely-visited) place to explore.
Visit a tea plantation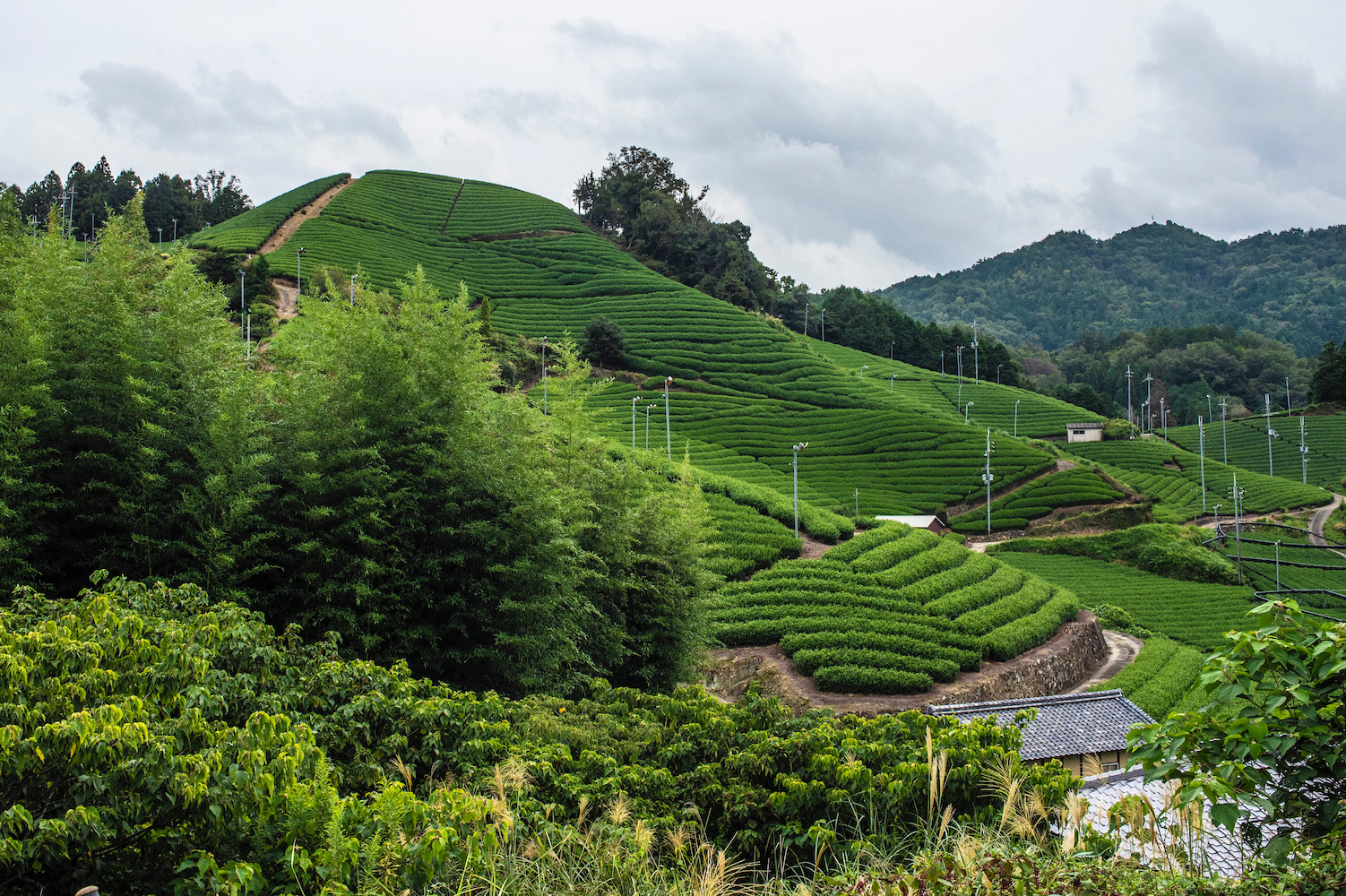 The town of Uji, just south of Kyoto, is rightly associated with Japanese green tea. Unfortunately, Uji-proper is a tea-selling town, not a tea-producing one. For that, you need to travel eastward over the mountains to Wazuka. The easiest way to do this is to a rent a car and drive yourself, although the d:matcha tour company offers a publicly accessible transit option to reach its tea fields.
Stay in the original Nintendo headquarters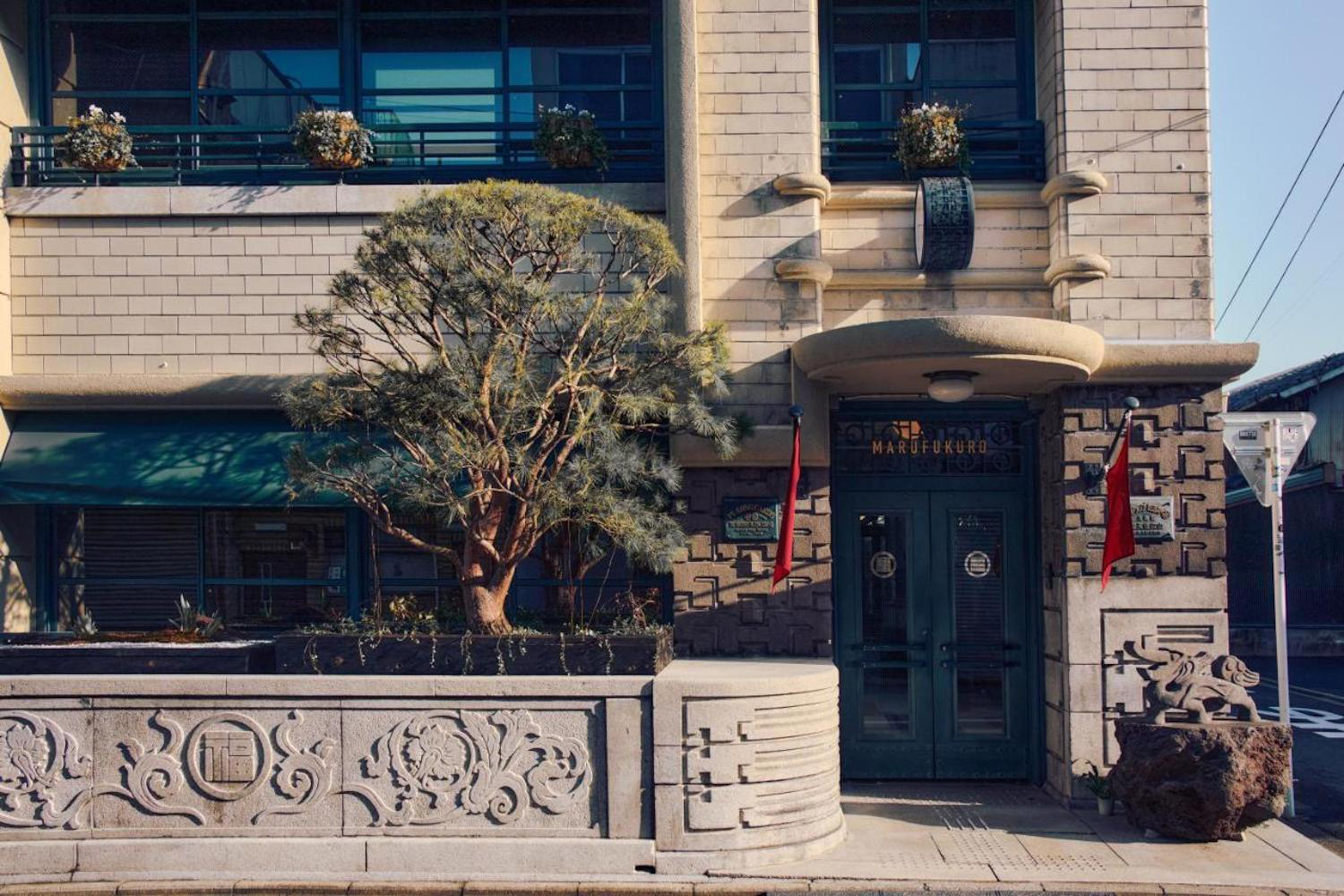 Image via Booking.com
Did you know the Nintendo actually started in Kyoto, and as playing card company, not a video game one? This surprising knowledge is the foundation of one of the most unique things to do in Kyoto: Staying at Marufukuro, a five-star hotel housed in the former Nintendo Headquarters, just steps from the Kamo River in the charming Shimogyo district. This doesn't come cheap, but it is priceless.
See seasonal flowers (besides sakura)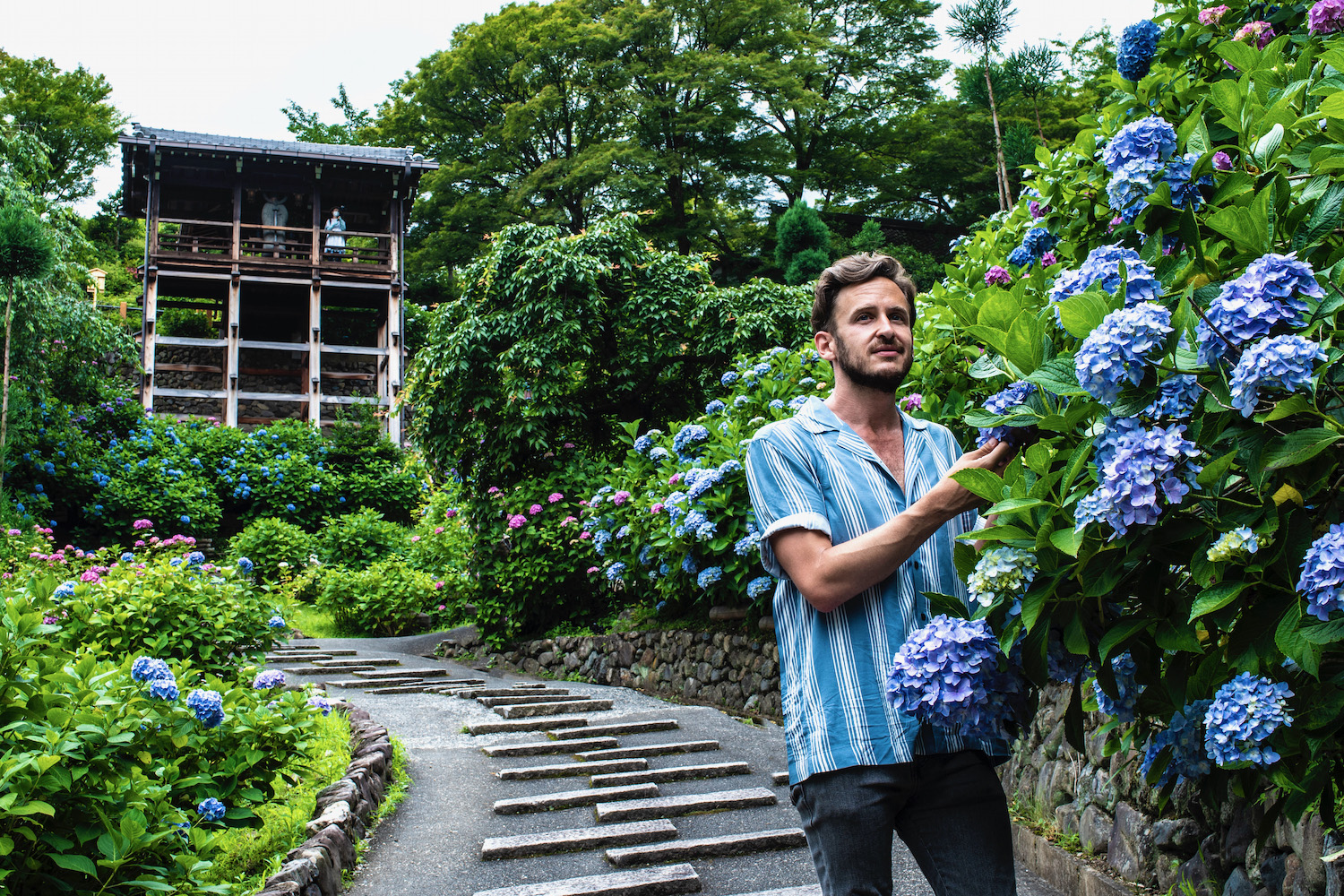 Kyoto is (rightly) known as one of Japan's most famous destinations during cherry blossom season, but sakura are really only the beginning of the floral beauty to enjoy in Kyoto. In late April or early May, for example, the Nagaoka Tenmangu shrine in western Kyoto's Nagaokakyo district erupt in a sea of deep red tsutsuji, or azaleas. June brings ajisai or hydrangea; ume (plum) blossoms are a must-see in February or March, especially at Kitano Tenmangu shrine near Kinkakuji.
Come in July for the Gion Matsuri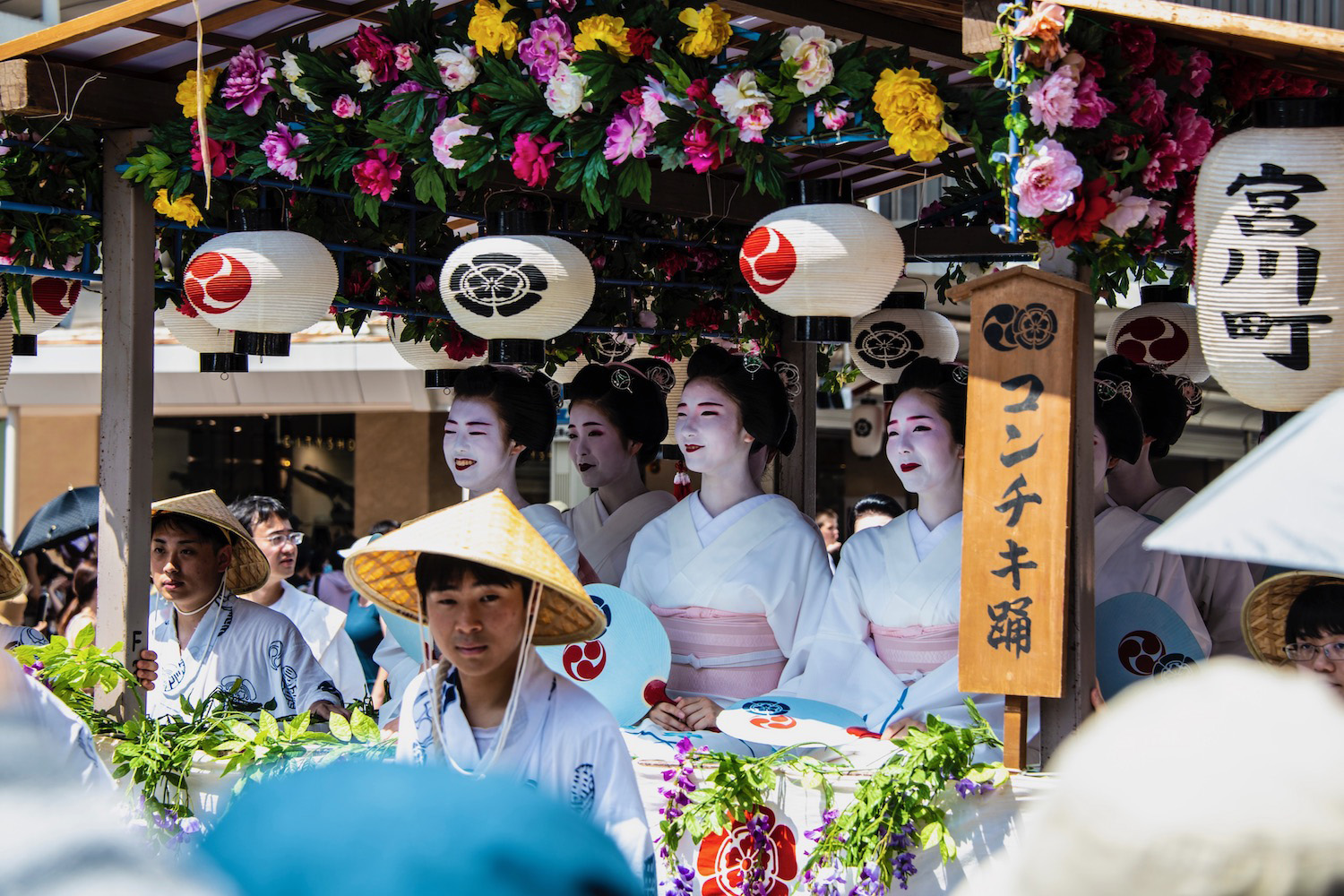 If you've ever been in Kyoto (or Japan at all) during the summer, the idea of willfully visiting in late July (the hottest, most humid time of the year) can seem maddening. However, I promise that if you come on July 17 or 24 (and, ideally, at least a day or two before either day), the payoff is great. I'm talking specific about the Gion Matsuri, which is a traditional that dates back more than a millennium and is one of the great summer festivals of Japan.
When is the Best Time to Visit Kyoto?
Although many travelers (understandably) love Kyoto amid the cherry blossoms and when the fall colors are blazing, it's truly a 365-day destination. Winters are mild and mostly sunny (which is only a problem if you want to see the city covered in snow—it's rare); summers, while hot and humid, are a great time to explore the city's plethora of indoor destinations, not to mention nearby beaches on the ocean and on Lake Biwa.
Part of what makes the unique things to do in Kyoto I've spotlighted here so…well, unique, is that all are actually best enjoyed outside of peak travel times. Some people see visiting Japan in, say, May or September to be less than ideal, but for me it's the opposite. Whether in Kyoto or one or the many alternatives to it, coming to Japan at different times of year is the opportunity to see the country from wholly different perspectives.
Other FAQ About Kyoto Off the Beaten Path
What is special in Kyoto?
Everything is special in Kyoto! But as a former resident of the city, I honestly find the walk from the Ginkaku-ji Silver Pavilion all the way down to Kiyomizu-dera temple—aka all of Higashiyama—to be the most special way to experience the city. It also tends to be the most crowds; do it early in the morning, late at night or during off-peak months if you want the route mostly to yourself.
Is 4 days enough in Kyoto?
With 4 days in Kyoto, you can cover a lot of ground, although you can't see "everything." The reality is that being able to fully explore Kyoto takes many trips, and is something you can only do over months or years, and at different phases of your life. A four-day Kyoto trip is a great means of starting this process, however.
Is Kyoto easy to navigate?
Kyoto is easy to navigate in the sense that it's a grid-pattern city, and that most of its attractions are concentrated in a few areas. What's difficult for some people is that the subway is not very extensive; it's necessary to use a combination of JR trains, private railways and buses in order to truly explore the city.
The Bottom Line
I hope you're inspired to discover some of the more unique things to do in Kyoto. If you're a culinary-minded traveler, you might have already decided to book a sake tour in Kyoto's Fushimi District, or to rent a car so that you can drive to tea fields just east of Uji. If you're more adventurous, you may decide to carve out space in your itinerary to hike to Arashiyama's waterfall temple, while those seeking luxury make decide to book a night in the former Nintendo Headquarters. Whatever you're seeking as your time in Japan's ancient capital approaches, I do hope you'll consider hiring me to plan your itinerary.