Arriving in Japan, the very first time, at the peak of Tokyo cherry blossom season is part of why I fell so immediately in love with the country. The feeling was so special, in fact, that I attempted to re-create it in 2018 by taking a dedicated Tokyo sakura trip.
The good news? In spite of only giving myself a four-day window (which I later discovered was a big mistake), I managed to see most of Tokyo's best hanami spots at full bloom. The better news? In nearly missing mankai, I greatly increased my knowledge of the cherry blossom season's nuances, which I'm excited to share with you below.
So, where can see you cherry blossoms in Tokyo, and when? I'll answer these questions and many more over the next several paragraphs.
This is When Sakura in Tokyo Reach Full Bloom
Picture it: April 2, 2014. I wake up my first real day in Tokyo, after having arrived at Narita Airport just as the sun was setting the day before, and arrive at Chidorigafuchi moat, under a cloudless and perfectly blue sky, at the apex of full bloom in Tokyo. It was a serendipitous occurrence in more ways than one: Cherry blossoms in Tokyo typically reach mankai a bit earlier than this; in a normal year, I'd have been a few days too late.
To be sure, regardless of which Tokyo hanami spots you end up choosing, Tokyo's cherry trees generally start blooming sometime in the third week of March; full bloom almost always occurs before April 4. Without pinpointing a precise date—I don't want to set you up for disappointment—I'd say that if you plan to spend the last week of March in Tokyo, you're basically guaranteed to be able to enjoy Tokyo at full bloom.
Where to See Cherry Blossoms in Tokyo
Chidorigafuchi Moat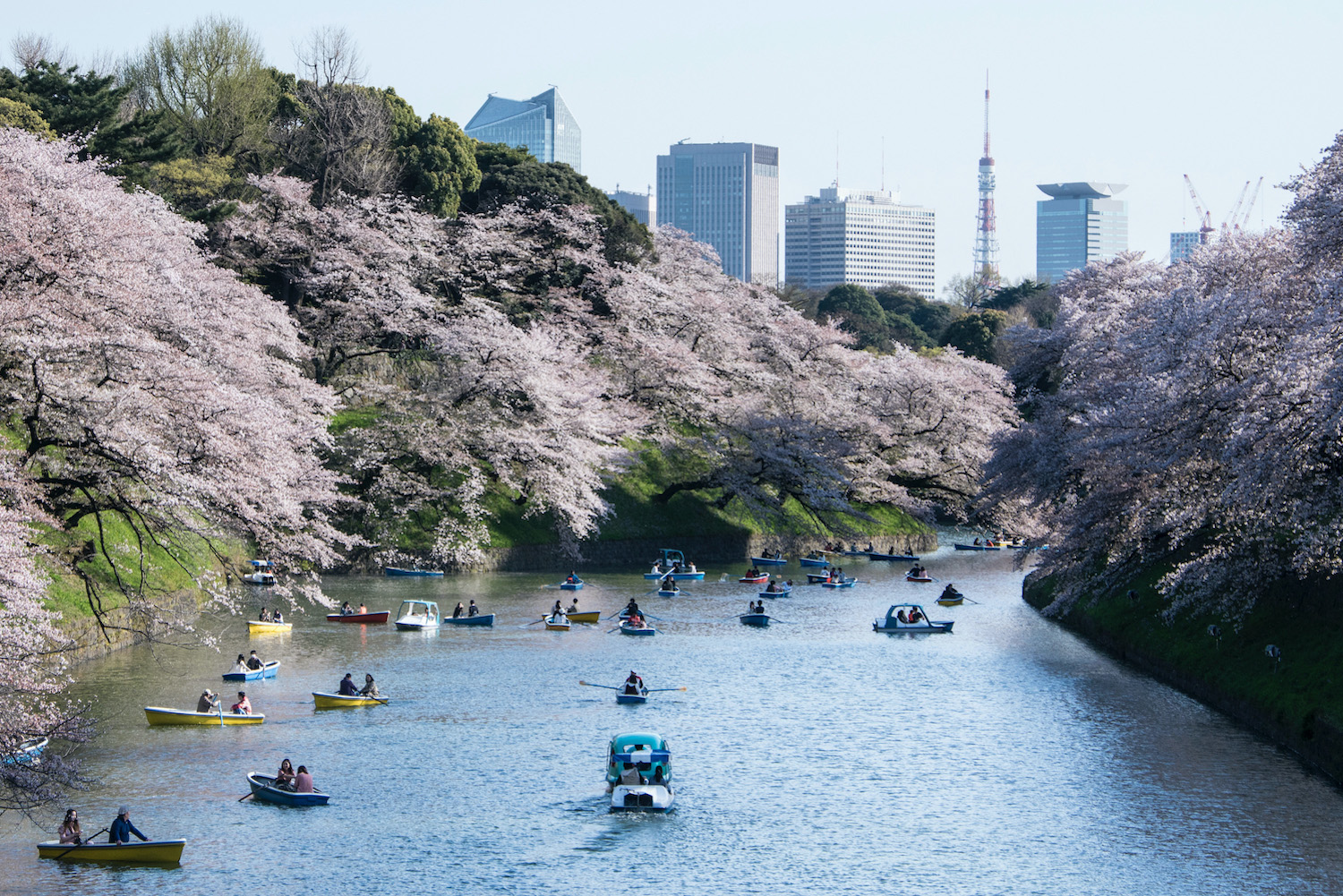 Chidorigafuchi moat was the first Tokyo cherry blossom spot I visited for a reason. Juxtaposing water and cherry trees with Tokyo's skyscrapers, it's one of the most iconic views in Tokyo, bar-none. To get here, you can either ride the Tokyo Metro to Kudanshita station, or simply head to Tokyo Station, and make the 15-20 minute walk counter-clockwise around the Tokyo Imperial Palace (where you'll also see some trees at various stages of bloom).
Asakusa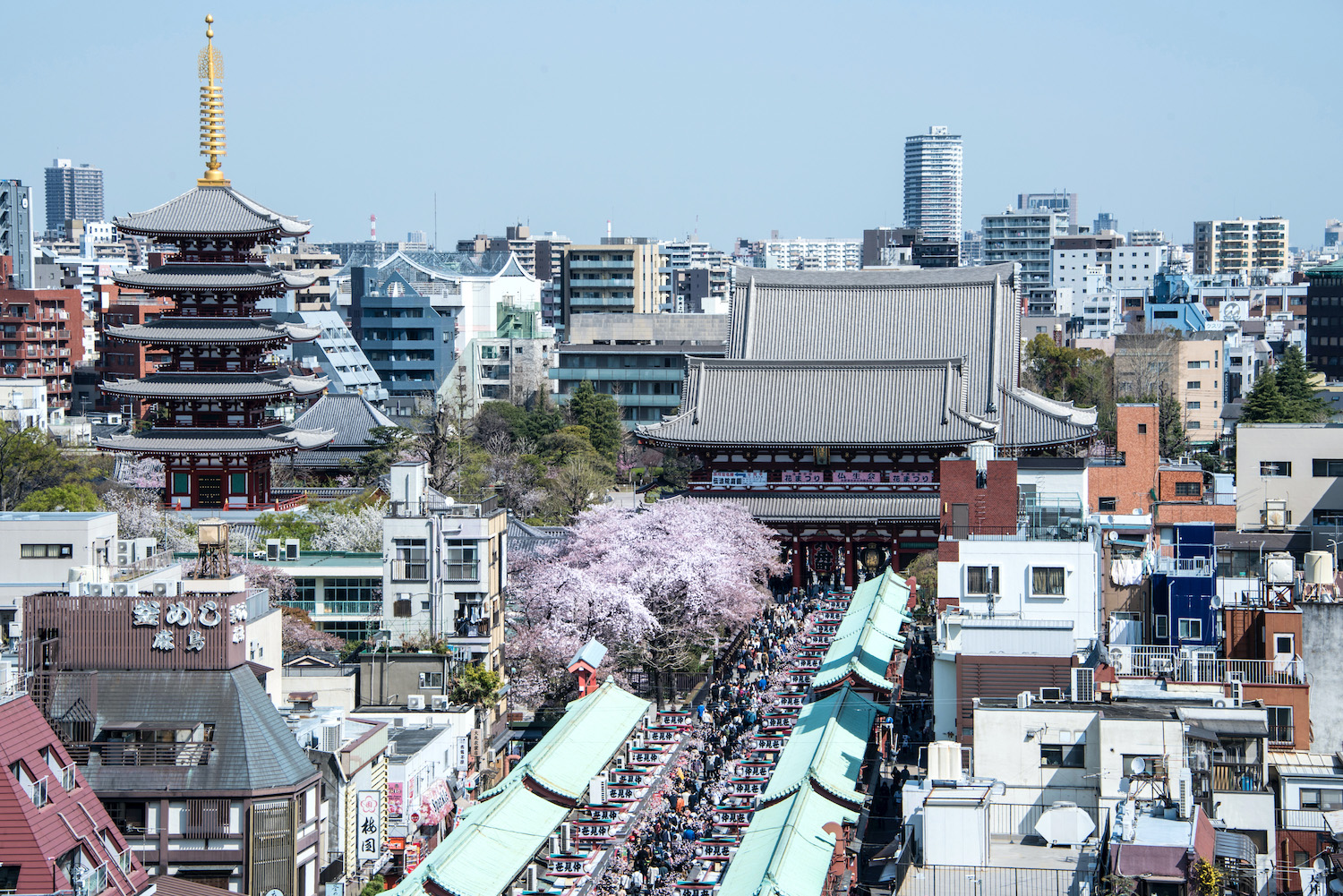 Another part of town you'll want to make sure you visit during Tokyo cherry blossom season is Asakusa, one of the historical areas of Tokyo. Popular sakura spots here include the iconic Senso-ji temple, as well as various spots along the Sumida River. If you find just the right collection of trees, you'll be able to frame the Tokyo Skytree with cherry blossoms, as I've done in the cover image to this post!
Meguro River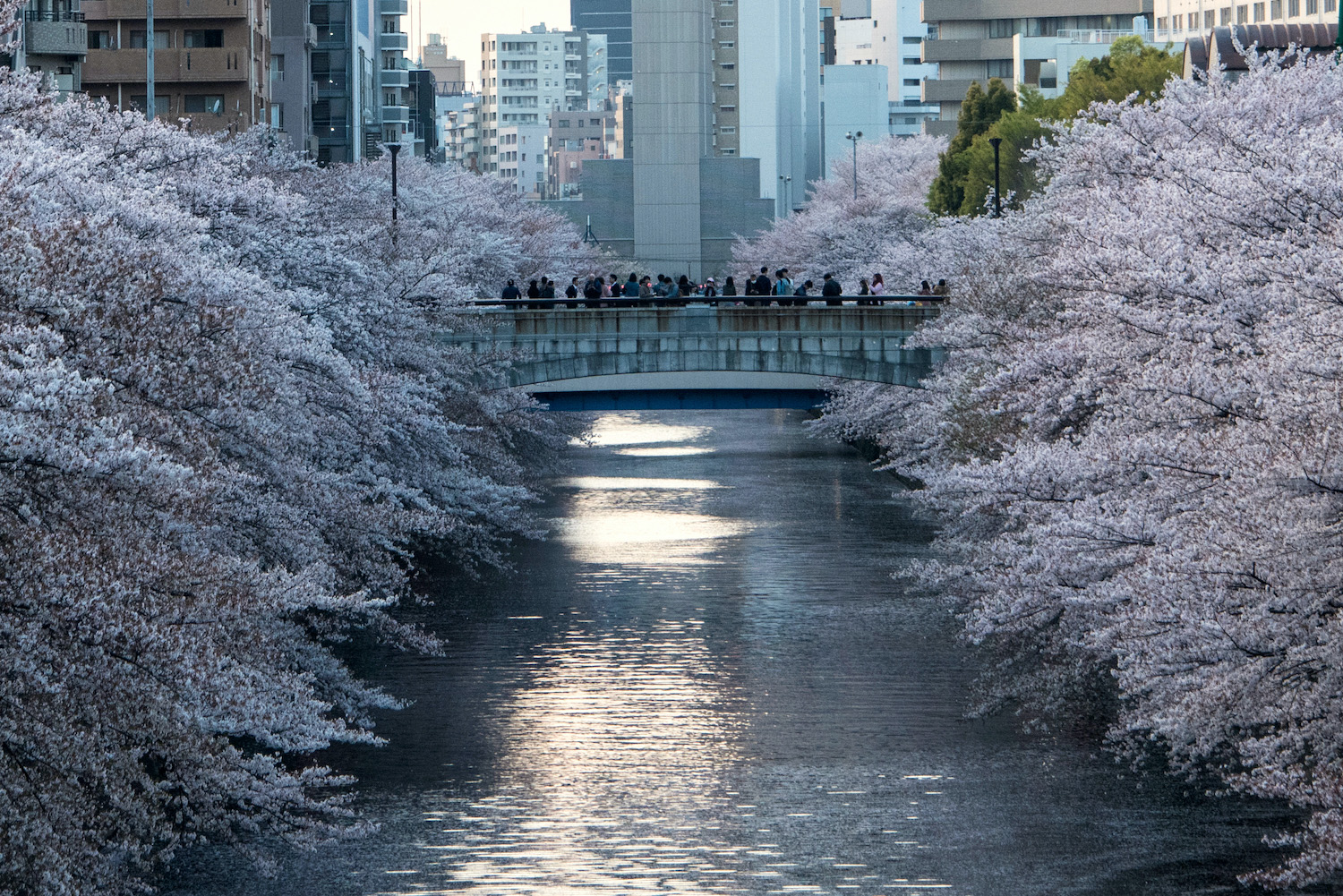 On the opposite end of Tokyo (in the southwest, compared to Asakusa in the northeast) you'll find Meguro River. It's ironic that this is now considered one of the most beautiful places to visit in Tokyo during cherry blossom season, given that in the past, it was a hideous drainage ditch that many locals and travelers avoided altogether. Note that the best station from which to access Meguro River is Naka-Meguro station.
Yoyogi Park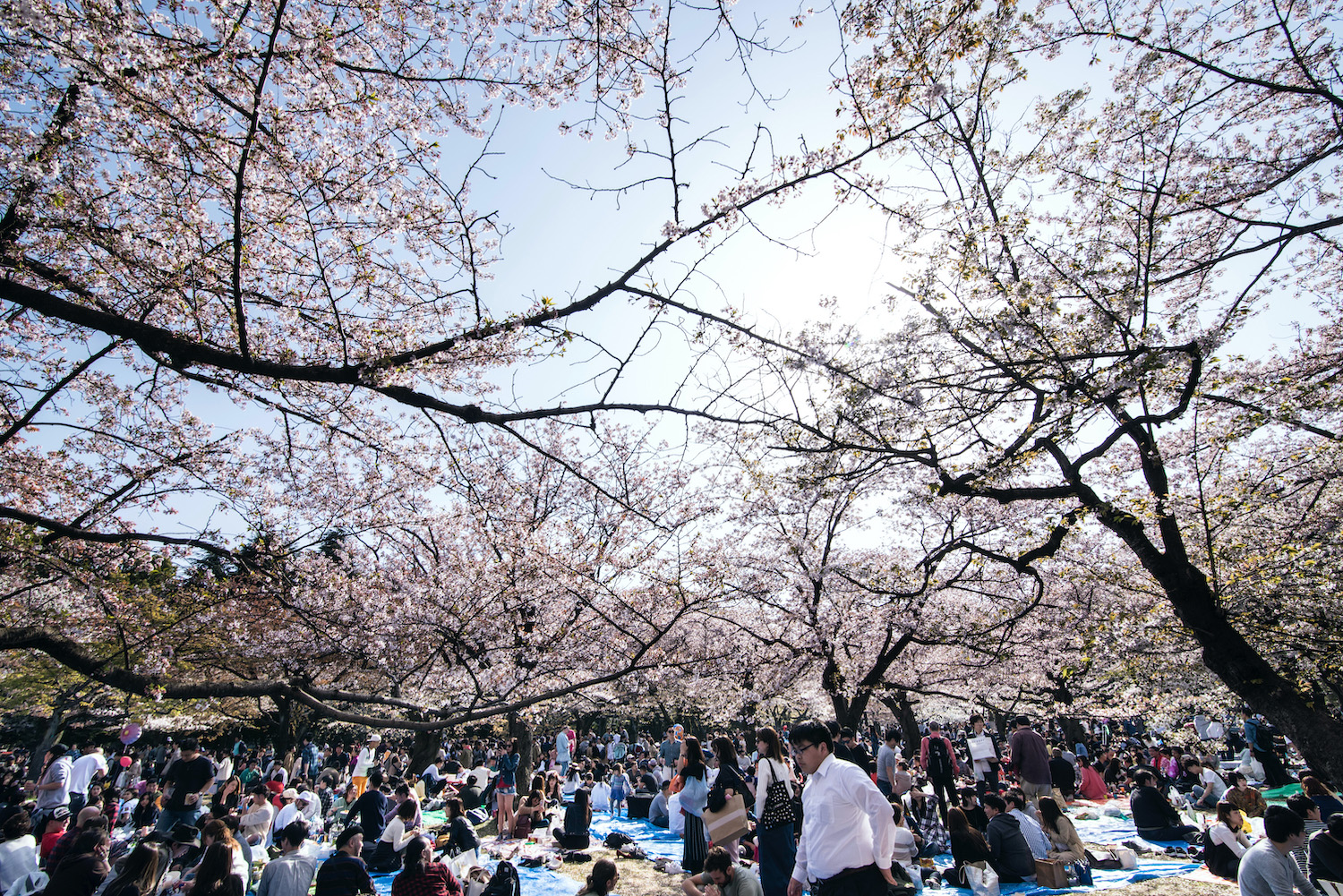 One of the most popular images of cherry blossoms in Tokyo, Chidorigafuchi notwithstanding, is of blue tarps laid out beneath sakura billows: This is the classic hanami picnic. Although these take place all over Tokyo (and indeed, all over Japan), perhaps the most famous place to enjoy them in Tokyo is Yoyogi Park, located not far from Meiji Shrine and Takeshita Street in Harajuku. If you plan to enjoy an actual picnic, I'd recommend going early (or joining someone who has!).
Kamakura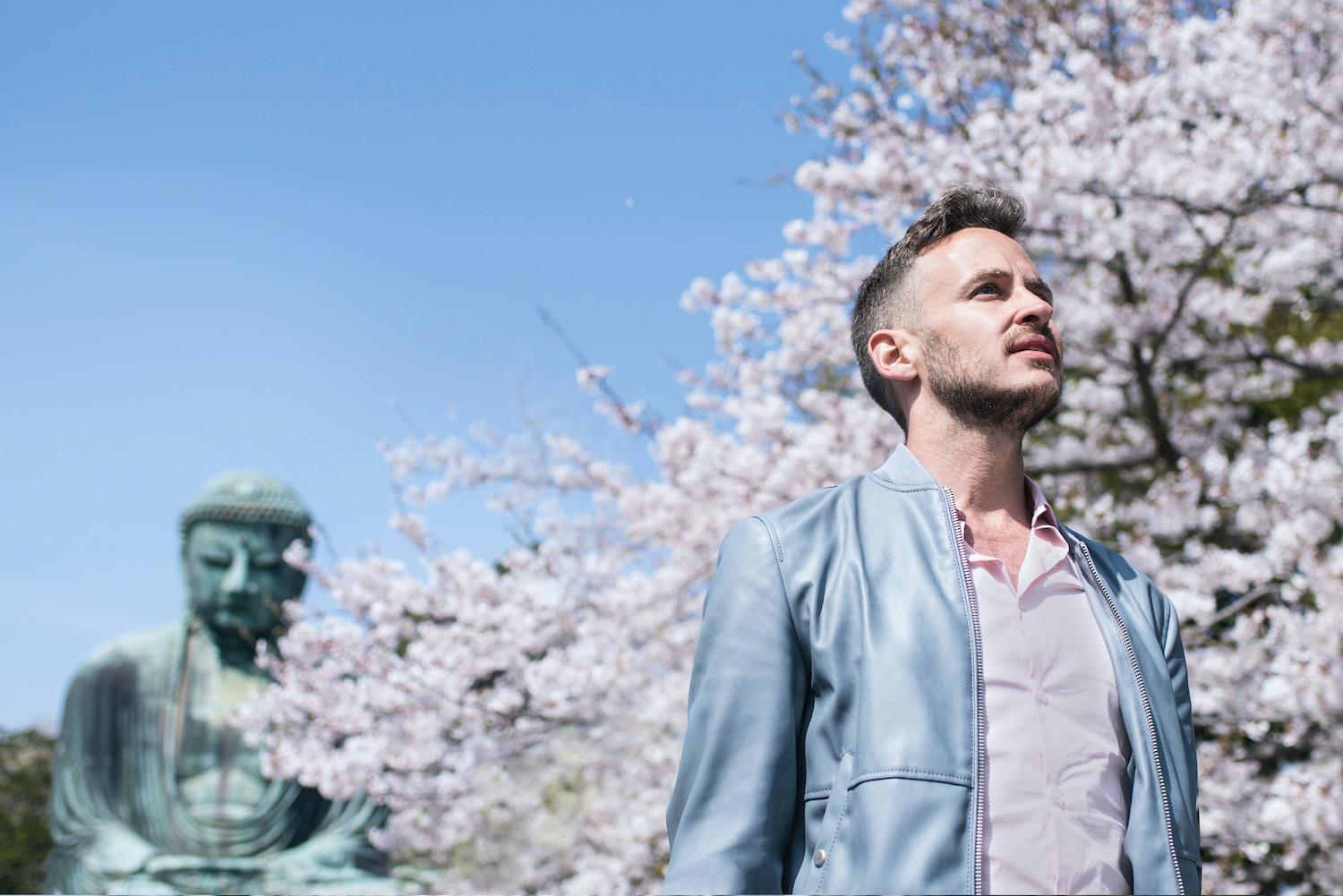 Although not in Tokyo-proper, Kamakura and its various temples and shrines make for great sakura settings, whether you're at a tourist trap like the Daibutsu-ji "Big Buddha" or at some of the lesser-visited temples north of the city center near Kita-Kamakura station. On your way back to Tokyo (where you can visit large parks like Shinjuku Gyo-en and Koishikawa Koraku-en to see late-blooming cherry trees, if you've missed the peak), I'd also recommend stopping at Sankei-en in Yokohama.
Where to Stay in Tokyo in Spring
The bad news? Many of the best cheap hotels in Tokyo I've listed in this post aren't so cheap during the spring, when the sakura are nearing full bloom and otherwise. The good news? If you're flexible about where you stay—which is to say, at least one of them is likely to have rooms at reasonable rates, even if you book during the first couple of weeks at March, you can probably find a place to stay in Tokyo that won't break the ginko.
Of course, if money is no object for you on your Tokyo cherry blossom season trip, why not live it up at one of Tokyo's finer hotels? The five-star Tokyo Station Hotel, for example, is not only located within the historical facade of the Tokyo Station building, but is just a short walk through the skyscrapers of Marunouchi to the Tokyo Imperial Palace and Chidorigafuchi moat, the very spot I first fell in love with Tokyo (and Japan).
Other Top Cherry Blossom Spots in Japan
Want to enjoy the Japan sakura season in places other than Tokyo? Below, I'll list some of my favorites, as well as the best time to go:
Shikoku (last week of March)
Kyoto (first week of April)
Himeji Castle (first week of April)
Fuji Five Lakes (second or third week of April)
Hirosaki Castle (last week of April)
Hakodate (first week of May)
Other FAQ About Seeing Cherry Blossoms in Tokyo
What month is cherry blossom in Tokyo?
Tokyo's cherry blossoms tend to reach mankai (full bloom) during the last week of March. In some years, however, this can happen as early as March 20 or as late as April 1. The more flexible you can be, the greater chance you have of enjoying Tokyo's cherry blossoms to their fullest.
Where can I see cherry blossom in Tokyo?
My favorite places to see cherry blossoms in Tokyo include Chidorigafuchi moat near the Imperial Palace and the Meguro River in western Tokyo. Asakusa is also an awesome place to see sakura, whether at Senso-ji temple or along the waterfront of the Sumida River.
When is the best time to visit Tokyo?
For the purposes of this article, I'd say cherry blossom season—late March or sometimes early April—is the best time to visit Tokyo. With this being said, Tokyo is very much a 365-day destination. You can enjoy your trip here no matter the the month or season, and regardless of what the weather is doing.
The Bottom Line
Where can you see cherry blossoms in Tokyo, and when? The Tokyo cherry blossom season comes early—but often unpredictably so. You'll have a greater chance of success the more flexible you can be with your plans, whether booking your flights to Japan just a couple of weeks in advance, or committing to a relatively long time in Japan so you can make your way to Tokyo internally. Alternatively, if you arrive too late for the main mankai (peak), certainly spots in Tokyo feature early- or late- blooming trees; you can also take day trips to cooler or higher elevation areas. Do all these details make your head hurt? Commission a custom Japan cherry blossom itinerary, and let me worry about them!