On one hand, getting around Kyoto is relatively simply. The city is largely a grid-patterned one; you usually just need to go north, east, west or south.
On the other hand, Kyoto is much bigger than it looks; its public transit consists largely of buses that can be intimidating to foreign visitors. While individual districts of Kyoto are very walkable, the city as a whole is not.
Don't worry, either way. By the time you finish reading this post, you'll know Kyoto at least as well as I do. I'll also answer common questions, including "is Kyoto walkable?".
The Truth About Kyoto's Size and Scope
Getting around Kyoto requires first getting a sense of Kyoto. While smaller than Tokyo both in population and area, the city nonetheless requires a large plain between the mountains that surround it to the north and east, and to the plains heading south and west toward Osaka. The city further occupies the confluence of the Katsuura and Kamo Rivers; most places worth visiting sit near one of these.
The challenge of Kyoto is not so much getting between individual attractions, but getting between areas. For example, once you arrive to temple-filled Higashiyama, it's mostly easy to walk between various sacred sites; the same is true for Arashiyama and its bamboo forest, and for Fushimi and its shrine. Although certain central Kyoto attractions like Nijo Castle and the Kyoto Imperial Palace are most isolated, they're also connected to the city's (admittedly limited) subway system.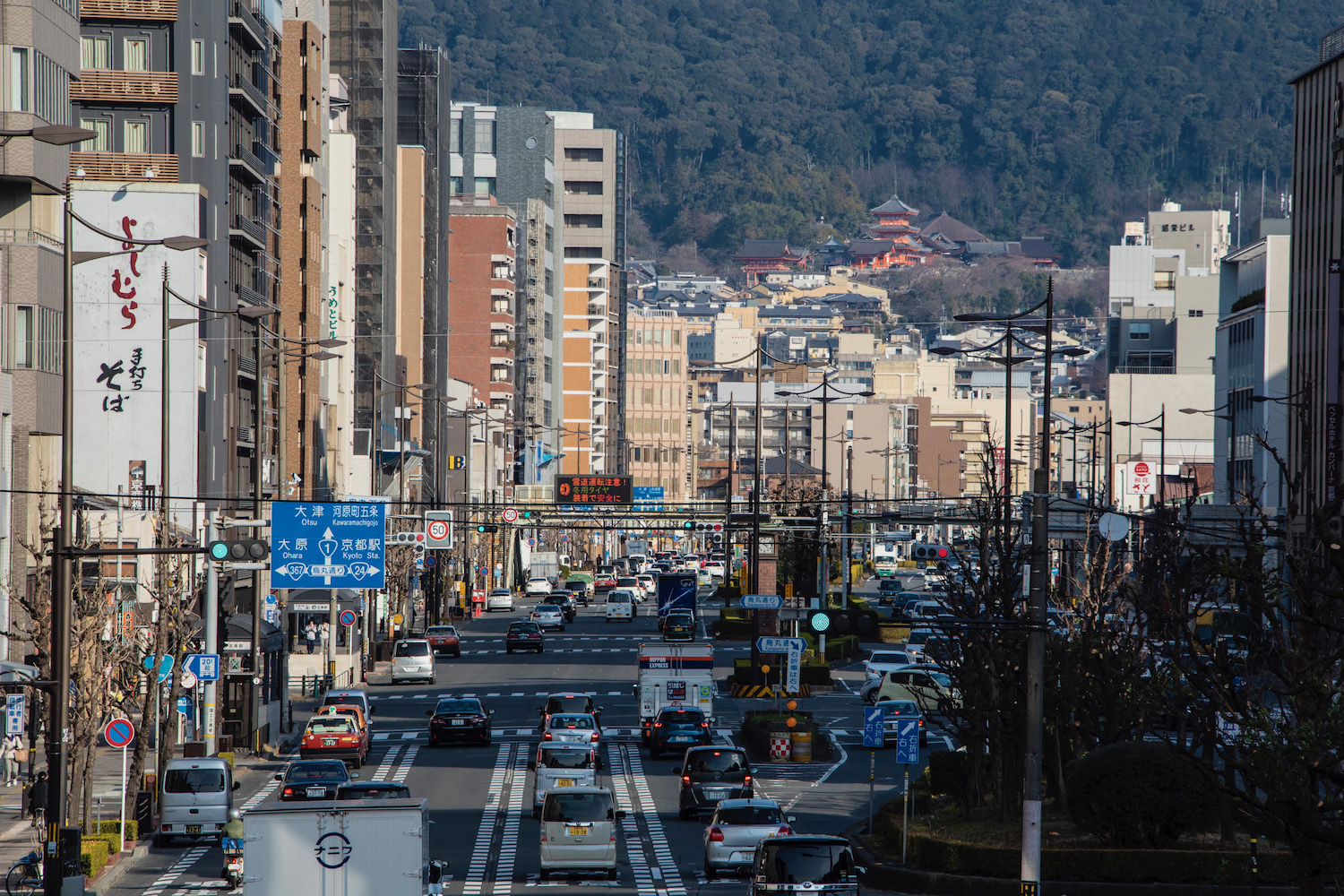 Ways to Get Around Kyoto
Subway
The bad news? The Kyoto City Subway is pretty paltry, and consists of only two lines that stop very short of serving everywhere in Kyoto. The good news? This makes it much easier to navigate than Tokyo's subway system, which makes that fully taking advantage of it (largely to travel to and from Kyoto Station) is simple.
Bus
If you don't speak Japanese or if doing so intimidates you, you might not like what I'm about to say: Buses, both tourist- and local-focused ones, are an essential part of getting around Kyoto. Don't worry, however. Kyoto's transit schedules are very well integrated into Google Maps, which will accurately tell you which bus you need to take and where to catch it.
JR trains
As is the case with subways, Kyoto's JR Lines are far less ubiquitous as Tokyo's. You're mainly talking about the Sagano Line, which travels between Kyoto Station and Arashiyama and the Nara Line, which can take you to Fushimi, Uji and (of course) Nara. You can also use non-Shinkansen JR lines to travel to Kyoto day-trip destinations in Shiga and Osaka prefectures.
Private trains
Unless you are totally opposed to using transportation not covered by the Japan Rail Pass, private trains are another important part of getting around Kyoto. The Keihan Line runs north-south and connects Higashiyama to Osaka and Kyoto's Fushimi district; the Hankyu Line runs east-west and also goes to Osaka, but via Arashiyama and Nagaokakyo. Smaller rail lines include the Eizan Railway that leads from Demachiyanagi subway station to Kurama-dera and the Randen Tram Line that connects the subway Tozai Line to Arashiyama.
Taxi
Taxis are surprisingly cheap in Kyoto, although this statement does come with a caveat. Namely, that most taxi journeys travel between Kyoto Station and Higashiyama, which is only a couple of miles. Sadly, traveling to Higashiyama, Kita-ku, Fushimi or basically anywhere else in Kyoto will be much, much more expensive.
Bicycle
While I don't personally love riding bikes in Japan—I stop too often to take pictures—Kyoto is a pretty bike-friendly city, on account of its grid pattern and flat geography. Do keep in mind, however, that many busy areas require you to walk rather than ride your bike; bike parking can also be difficult, so be mindful of this.
On foot
Is Kyoto a walkable city? Kyoto is too big to walk on the whole, but many of its individual districts are very walkable. Some of my favorite Kyoto walks include the one through Higashiyama from Chion-in temple to Kiyomizu-dera, and then down into Gion and eventually back up to Higashiyama station via Shirakawa Canal. I also love walking around Arashiyama, no matter where I am.
Plan the Ultimate Trip to Kyoto
Trust someone who knows: Truly getting to know Kyoto takes multiple visits and many years. You'll eventually get there, but for many years, you'll feel like Japan's erstwhile capital is an unsolvable mystery. Visiting may overwhelm or even frustrate you, or simply leave you wishing you could explore, discover or understand more deeply. That's the bad news.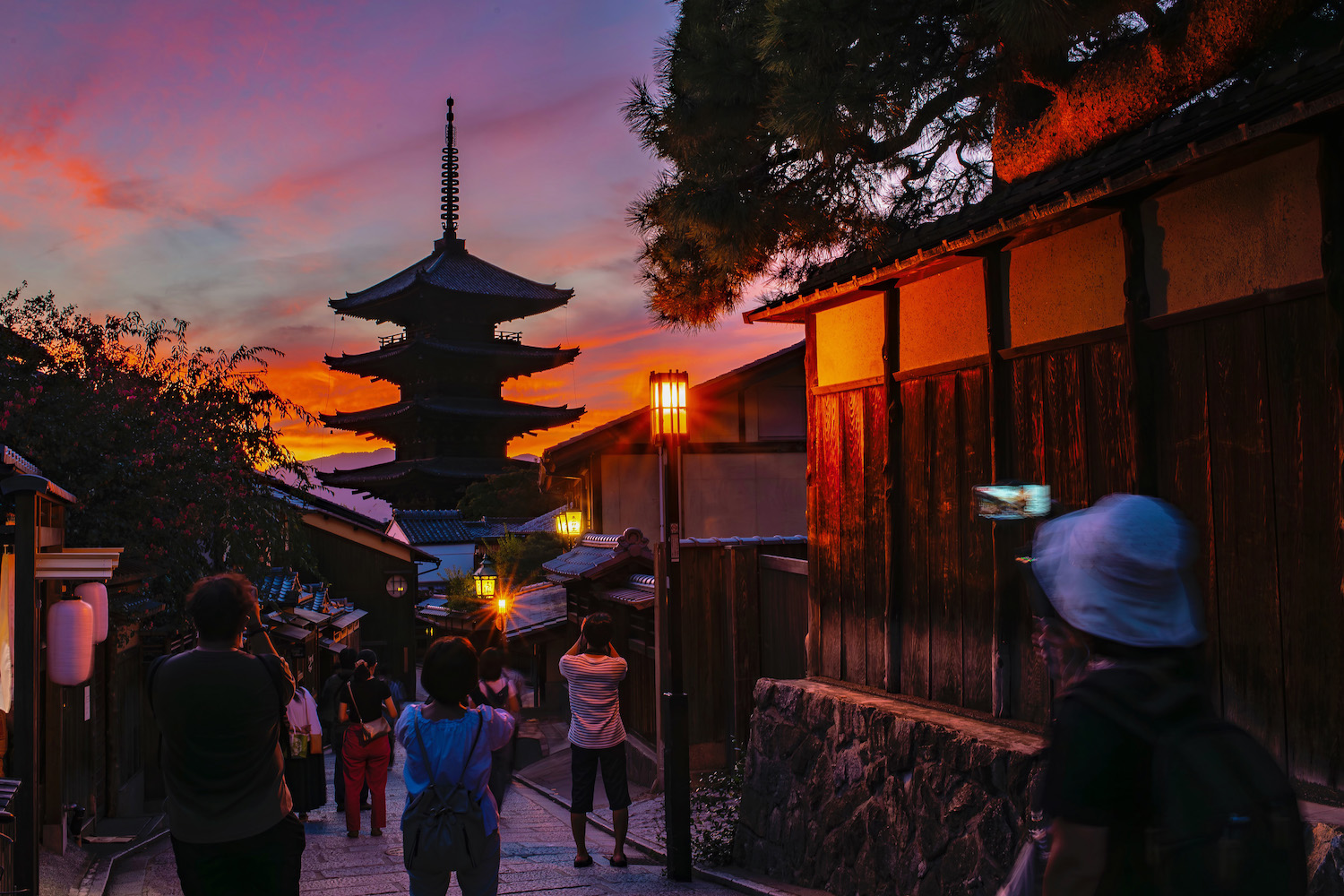 Other FAQ About The Best Way to Get Around Kyoto
What is the best way to get around in Kyoto?
Getting around Kyoto requires a combination of different transport modes. While individual districts such as Arashiyama or Higashiyama are walkable within their borders, traveling between districts requires some kind of vehicle, be that the Kyoto City Subway, private rail lines, JR Lines, local buses, tourist buses, bicycle or some combination thereof. There's no one best way to get around Kyoto, unfortunately.
Is there a subway in Kyoto?
There is a subway in Kyoto, although it's not extremely useful. Composed of the east-west Tozai Line and the north-south Karasuma Line, the Kyoto City Subway forms a cross pattern that mostly serves destinations north of Kyoto Station and within the city center, although the eastern part of the Tozai Line does somewhat buck this trend, as it's useful for travel all the way to Lake Biwa.
How much is transportation in Kyoto?
Buses in Kyoto cost ¥230 for a one-way journey, while trips on the Kyoto City Subway start at ¥220 as of October 2022. How much you pay to use the JR Lines and private railway lines depends upon your origin and destination. Surprisingly, taxis in Kyoto aren't extremely expensive, particularly those between Kyoto Station and Higashiyama.
The Bottom Line
I hope you feel a lot more confident about getting around Kyoto now than you did when you navigated to this post. Once you realize that buses are pretty easy to use, and understand the variety of non-JR train lines running through the city, it seems a lot less intimidating. The key, once you've established a sense of direction within Kyoto, is to right-size your trip: You need to have the right number of attractions for how many days in Kyoto you plan to spend. One way to ensure this? Commission a custom Japan itinerary—and let me sweat the details of your trip.