Most people wouldn't recognize the phrase "Gotokuji Temple"—not even seasoned travelers to Tokyo. However, if you mention that you want to see Tokyo's lucky cat temple, even people who never intend to visit Japan would know the place you're talking about, on account of a viral internet story from a few years back.
Below, I'll go over the practical steps you'll need to take if you want to add Gotoku-ji to your Tokyo temple list. I'll also explain some of the history of this site of worship and take you on a visual tour of the grounds, which are located in a somewhat surprising part of the city.
Finally, I'll contrast Gotoku-ji with other weird places in Tokyo (and some not-so-weird ones) to help you determine if it's actually worth your time to visit. In some instances, you might not want to make the trek!
Where is Gotokuji Temple?
Situated in Setagaya Tokyo just to the west of Shibuya, Tokyo's cat temple is not in the most obvious location. This is compounded by the fact that once you arrive at Gotokuji station, you've got to walk about 15-20 minutes southward through an otherwise anonymous residential area. It's difficult to imagine a place like this might be waiting for you at all!
Another tip, if you want to visit the Japanese lucky cat temple, is that you have to walk around to the entrance on the south side of the rather large grounds of Gotokuji Temple. Google Maps may suggest you try to enter through the northern gate, but don't waste your time trying to take a shortcut—that way is closed and locked. How to get to Gotokuji temple doesn't make much time, but it's not so straightforward.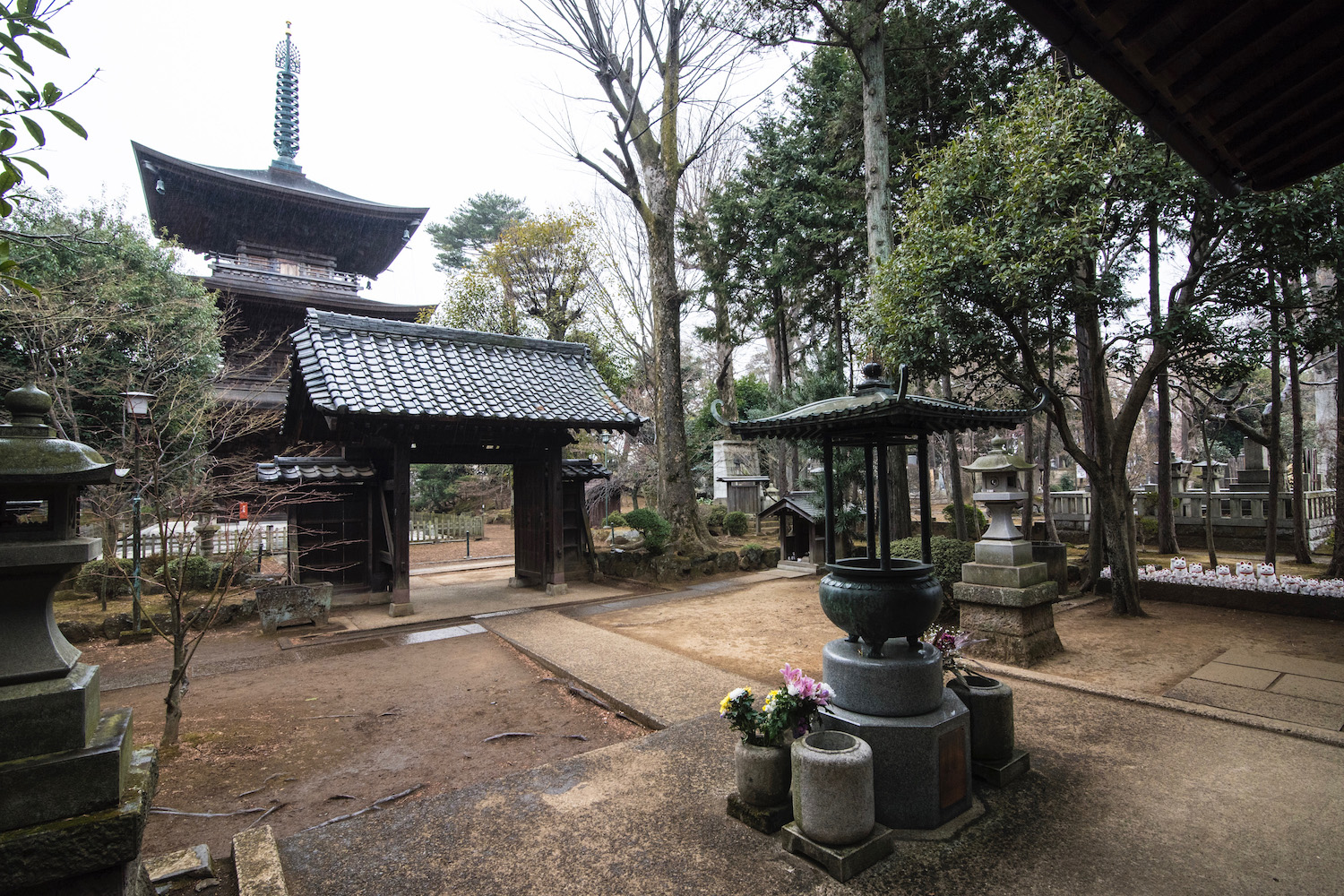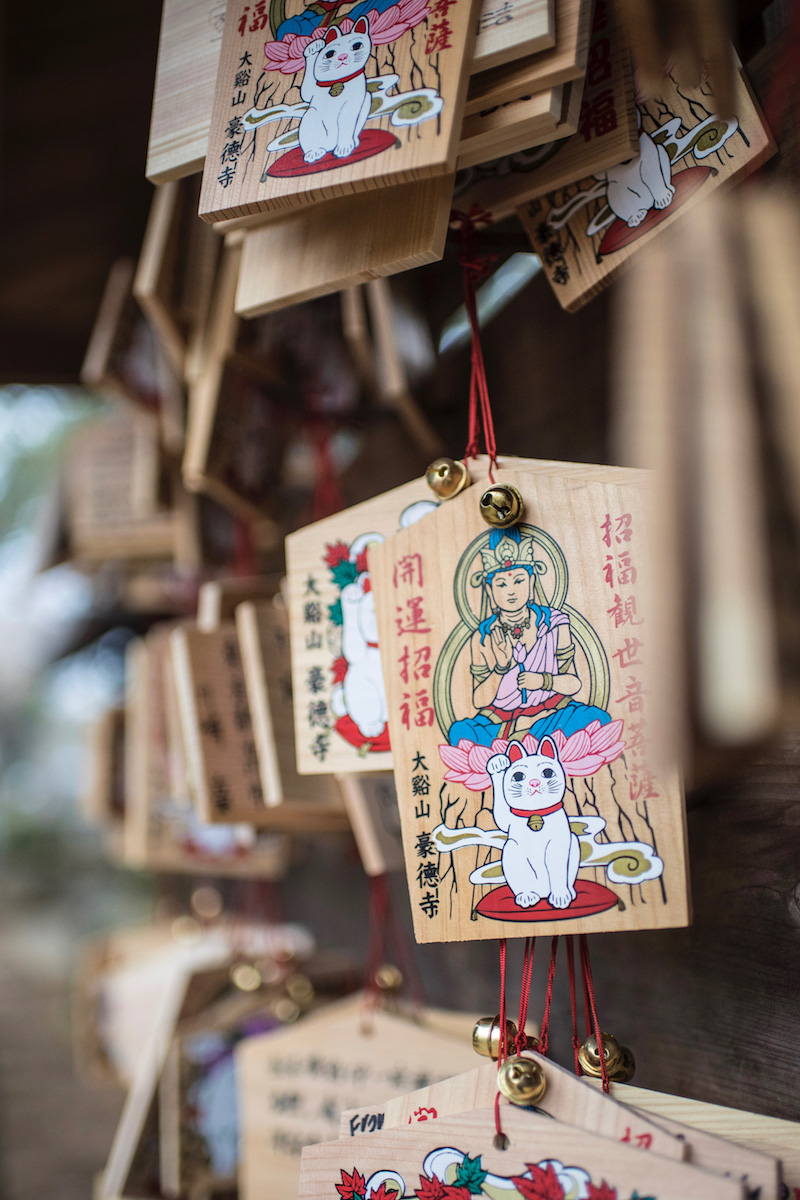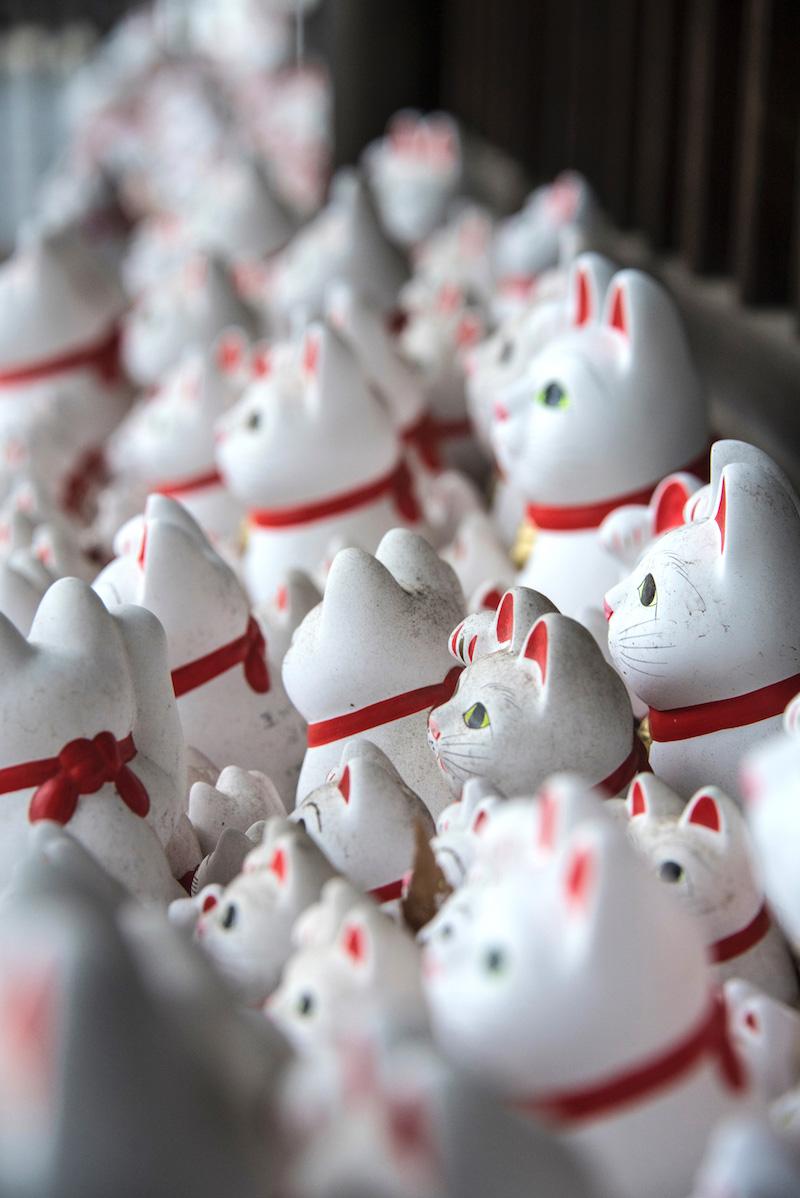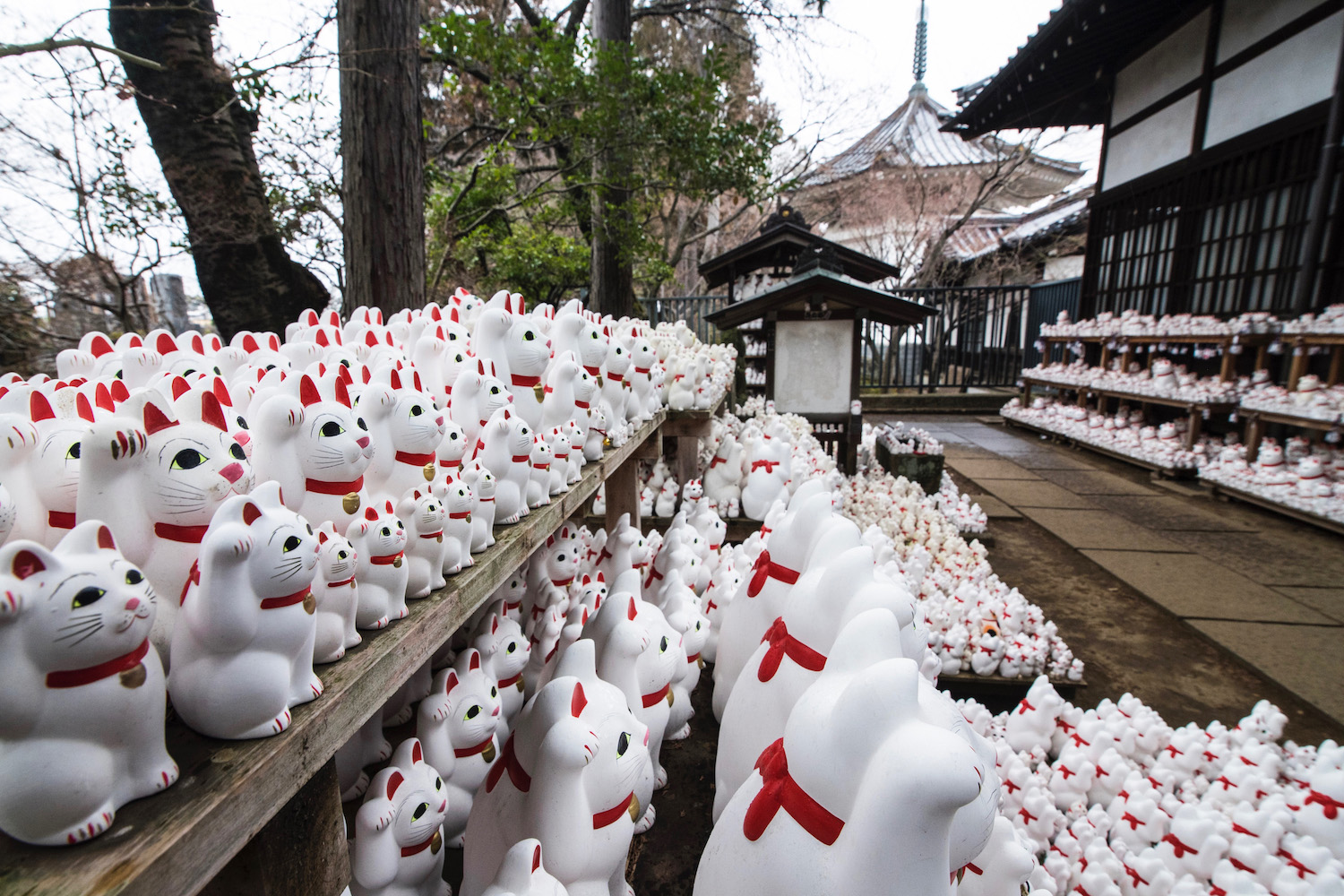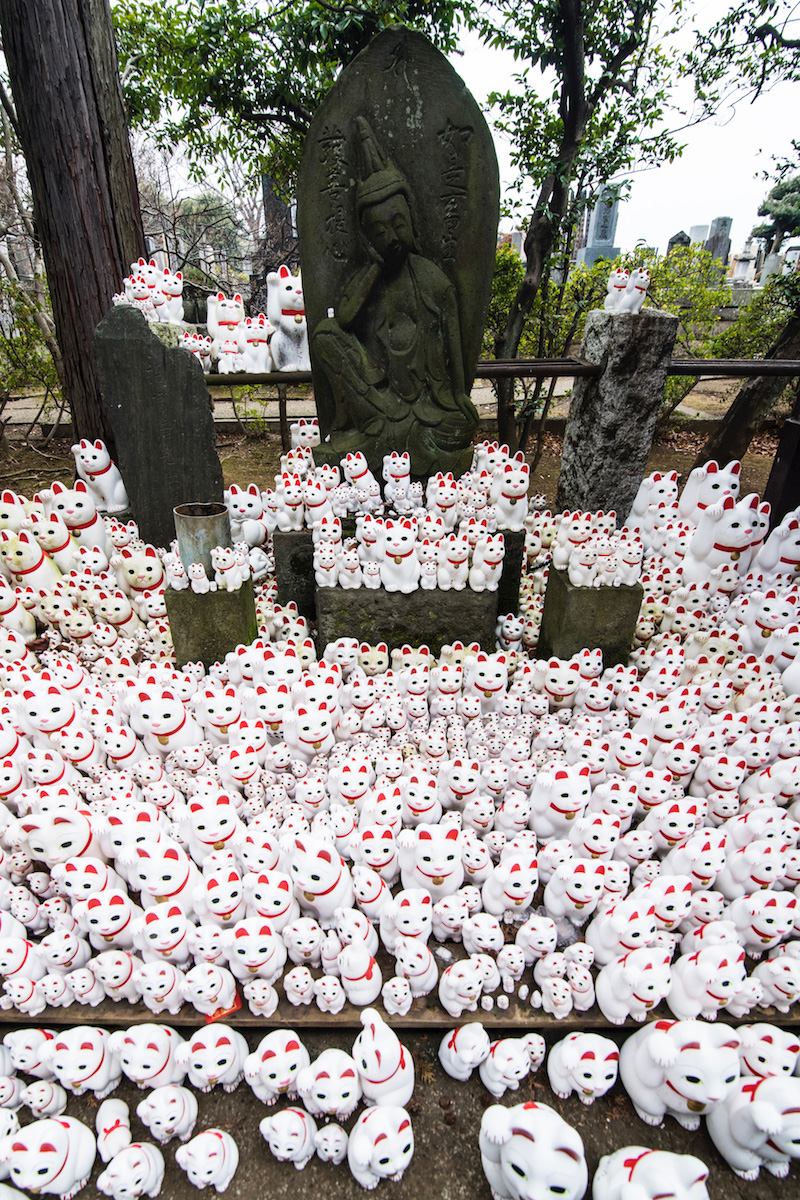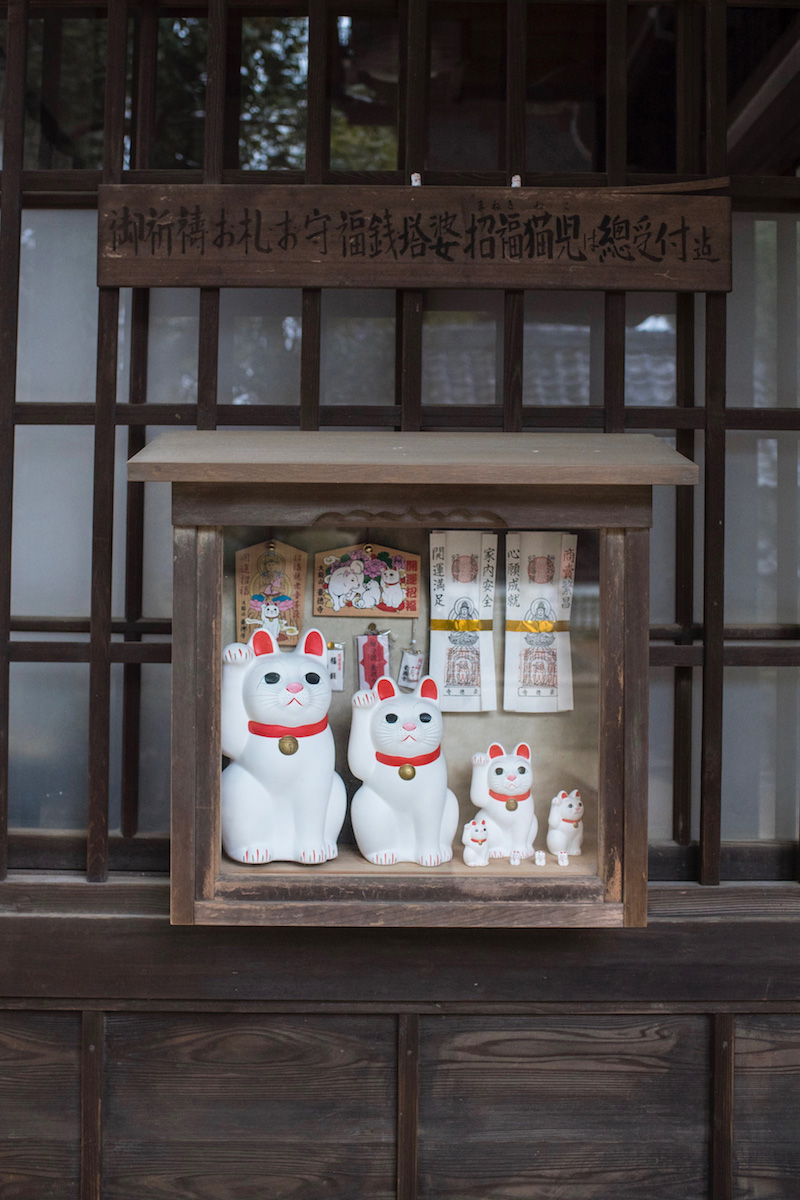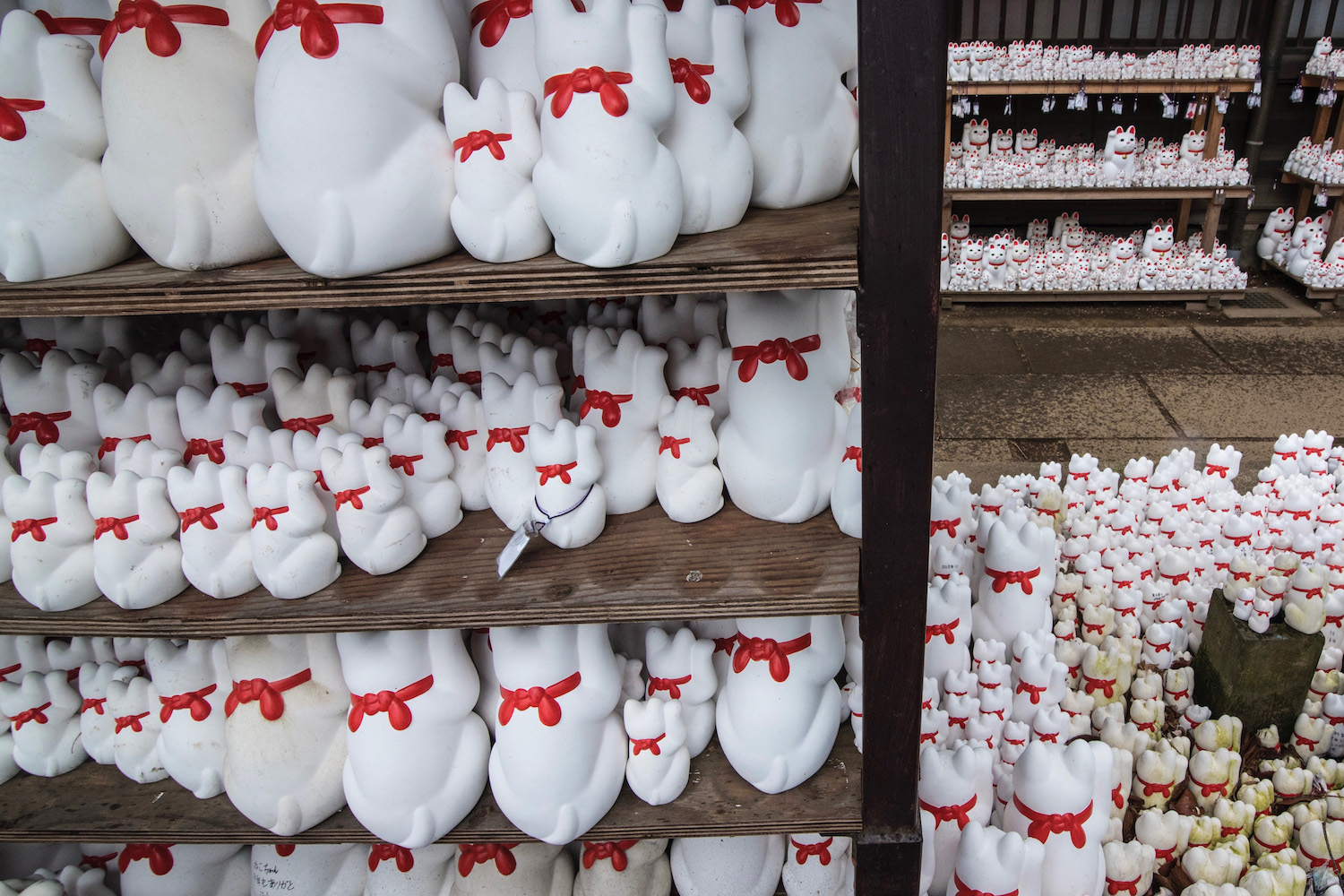 What to See at Gotokuji Temple
Thousands of Maneki-Neko Statuettes
Obviously, if you head to Gotoku-ji, you're wanting to see as many Maneki Neko cat figurines as possible. I didn't count the number of these statuettes at the shrine, but the number has to be in the tens of thousands. However, they're mostly concentrated just to the left of the main hall (if you enter the grounds from the south), so it won't take very long to see them all.
An Attractive Main Hall and Three-Tiered Pagoda
Speaking of the main hall at Gotokuji cat temple, it's an attractive building, albeit a small and understated one. When I was taking photos there, a local man greeted me after he finished praying, which caused me to take note of what an authentic place this remains, in spite of its internet fame. The site is also home to a three-tiered pagoda, which rises dramatically over everything else.
Plentiful Peace and Curious Quiet
Now, it could've been because I visited on a rainy day in the middle of the Japanese winter, but Gotoku-ji is probably the quietest of the temples in Tokyo I've visited. Some of this also likely derives from the fact that Setagaya is sleepy in general. Additionally, since the lucky cats only occupy about 5% of the temple's total grounds, I imagine it's pretty chill overall, even when lots of tourists are photographing the figurines. Officially, the Gotokuji temple opening hours are 6 am-5 pm.
Other Weird Places to Visit in Tokyo
Whether or not you visit the cat temple, Tokyo is full of weird attractions. Ride go-karts through the streets of Akihabara dressed as Nintendo characters, visit cafés filled with cats or owls (or Gudetama and Hello Kitty, as it were) or explore the world's first digital art museum. Tokyo is paradise for lovers of life's stranger things!
Many of these are also more convenient to the center of the city than Gotokuji temple, which is part of why I'm being so reluctant to call the lucky cat shrine a must-visit. If you have time you should absolutely go there, of course. But if you can't, don't stress. Everywhere in Tokyo is a little weird!
Where to Stay in Tokyo
If seeing the lucky cat temple is your main priority coming to Tokyo (unlikely, but hey—I don't judge), your best bet is to search for hotels in Shibuya, which is the closest major district of Tokyo to Gotoku-ji. I really like the boutique-style Hotel Emit, but you can pay a little more and enjoy the luxury of Cerulean Tower Tokyu Hotel or save on a stay at the capsule-stay commun.
Of course, if you don't want to be constrained by location as you search, whether for cheap places to stay in Tokyo or for those five elusive stars, don't worry! Tokyo has the best urban transport system in the world, which puts even distant hotels like Hotel the Celestine Shibakoen and Hotel WBF Asakusa within easy reach of the cat temple (and everywhere else in Tokyo!).
The Bottom Line
Whether you call it Gotokuji Temple or the "Lucky Cat" temple, there's nowhere else in Tokyo—or Japan—like it. On the other hand, the somewhat remote location of the Tokyo Cat temple, and the very limited array of things to see there means that not every traveler should take time out of a busy Tokyo itinerary to visit, particularly if you're not free during Gotokuji temple hours. After all, it's just one of countless weird, wacky and wonderful things to experience in the Japanese capital! Fore more Tokyo inspiration, make sure to check out my guide to three days in Tokyo.